15 Free Women's History Month Coloring Pages
Today I am focussing on women in STEM roles with our 15 free Women's History Month coloring pages.
These free holiday activities for kids are a great way to learn this March.
Women's History Month is celebrated in March around the world. It is the perfect time to look back at all of the inspirational women from the science and STEM field.
Honestly, I am ashamed to say I had only heard of 1/15 of these amazing women before compiling these free worksheets.
These informational coloring pages will tell you what the women were most famous for and when they were born.
My favorite is Alexa Canady, she became the first African-American woman neurosurgeon in the United States in 1981.
But all of these women are so inspirational, and we should learn as much from them as possible.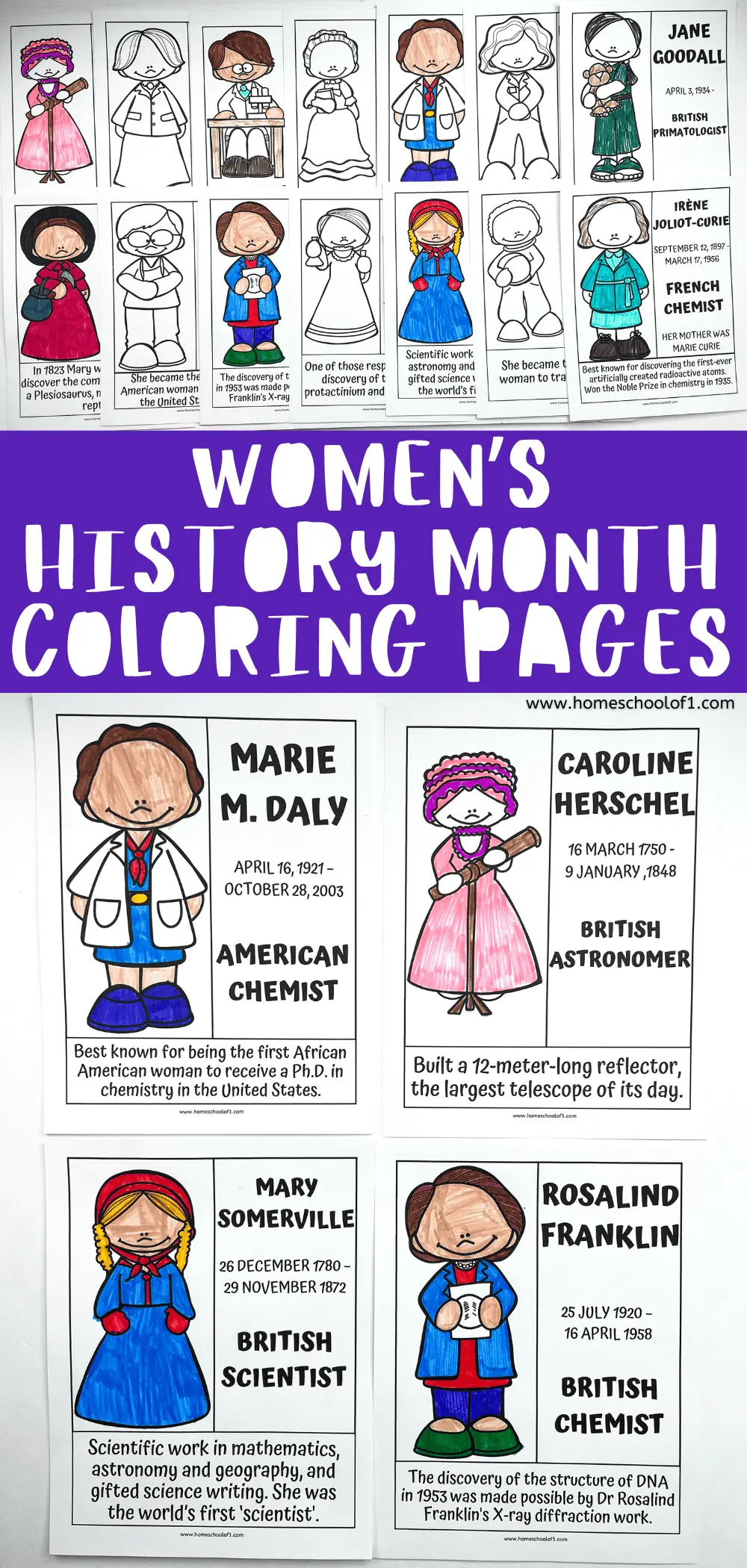 **There may be affiliate links in this post. You can read my full disclosure at the bottom of the page.**
Women in STEM
I am sharing with you 15 amazing women in science, who have done so much for the world.
Barbara McClintock (June 16, 1902 – September 2, 1992) received the Nobel Prize in 1983 for her work on mobile genetic elements.
Mae Jemison (October 17, 1956 – ) became the first black woman to travel into space. I also love this book about Mae Jemison about reaching your dreams.
Maria Mitchell (August 1, 1818 – June 28, 1889) was the first female astronomer in the US. She was also the first American to discover a comet. What Miss Mitchell Saw is an absolutely fantastic book that you will enjoy reading and the kids will love learning all about her.
Mary Anning (May 21, 1799 – March 9, 1847) was the first to discover a complete skeleton of a plesiosaurus. The Dinosaur Lady is a book that you should check out too.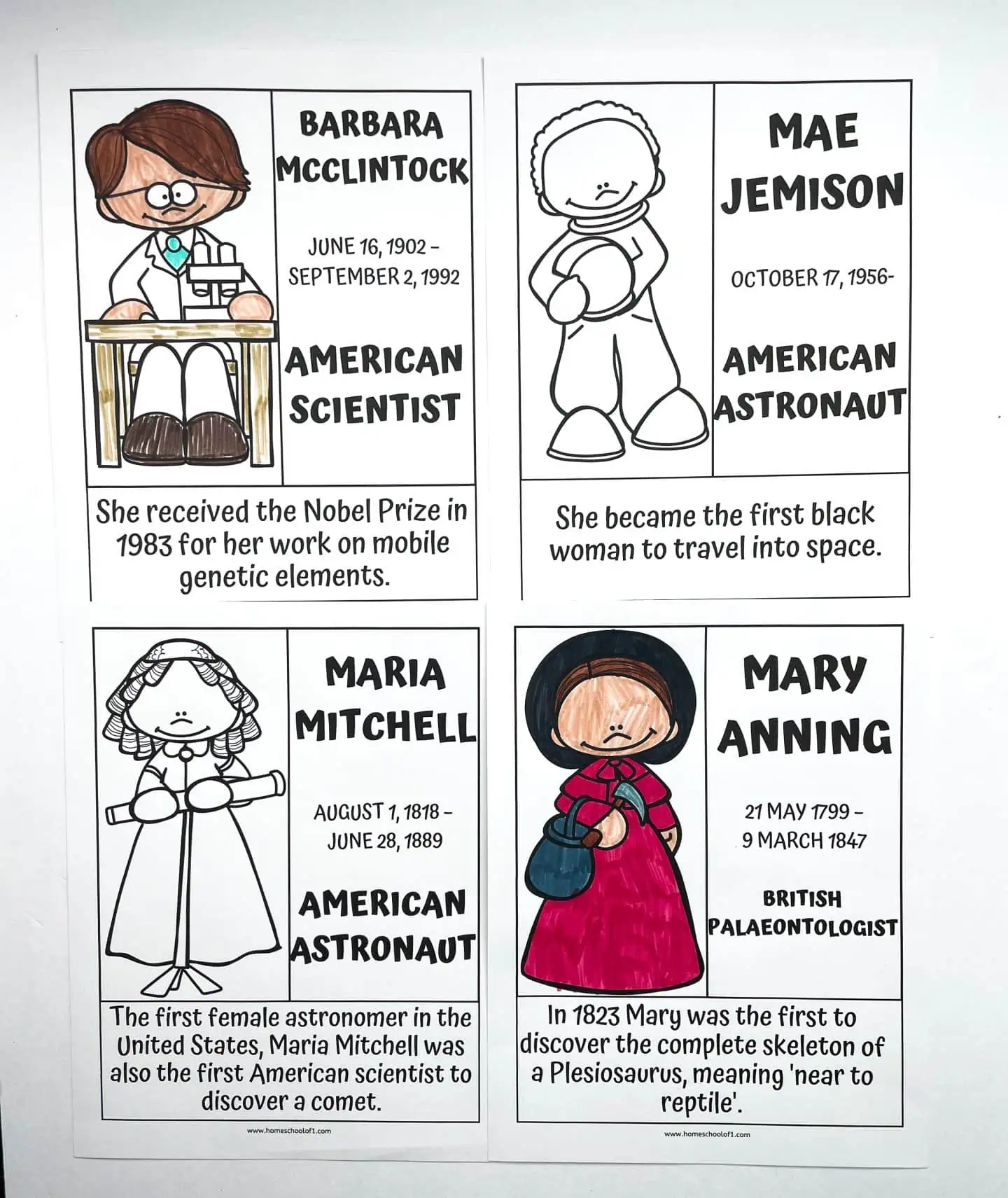 Marie M. Daly (April 16, 1921 – October 28, 2003) best known for being the first African American woman to receive a P.H.D in chemistry in the US.
Rosalind Franklin (July 25, 1920 – April 16, 1958) the discovery of the structure of DNA in 1953 was made possible by Dr. Rosalind Franklin's X-Ray diffraction work.
Mary Somerville (December 26, 1780 – November 29, 1872) was considered the world's first scientist.
Caroline Herschel (March 16, 1750 – January 9, 1848) built a 12 meter long reflector, the largest telescope of its day. Caroline's Comets is a great picture book all about her.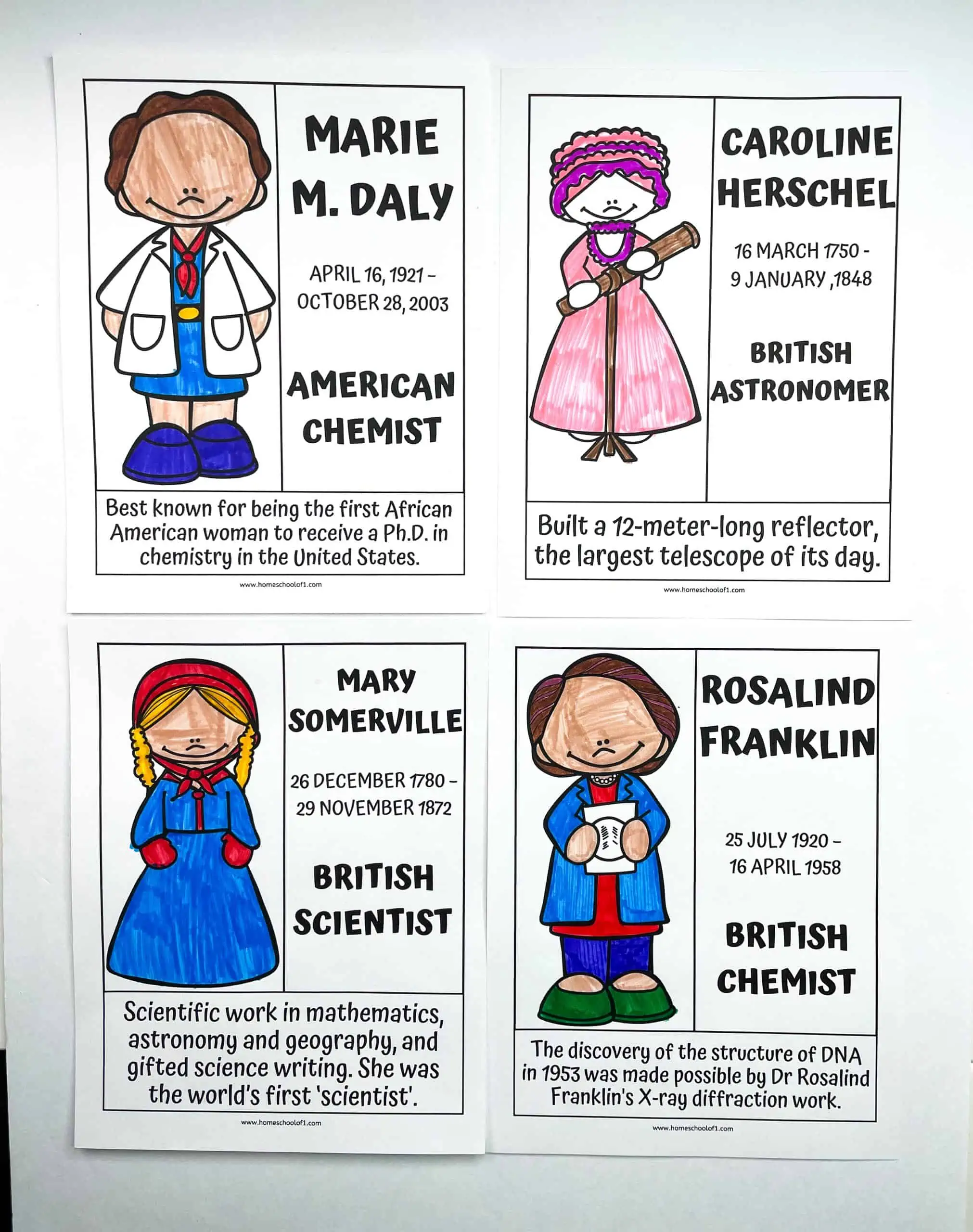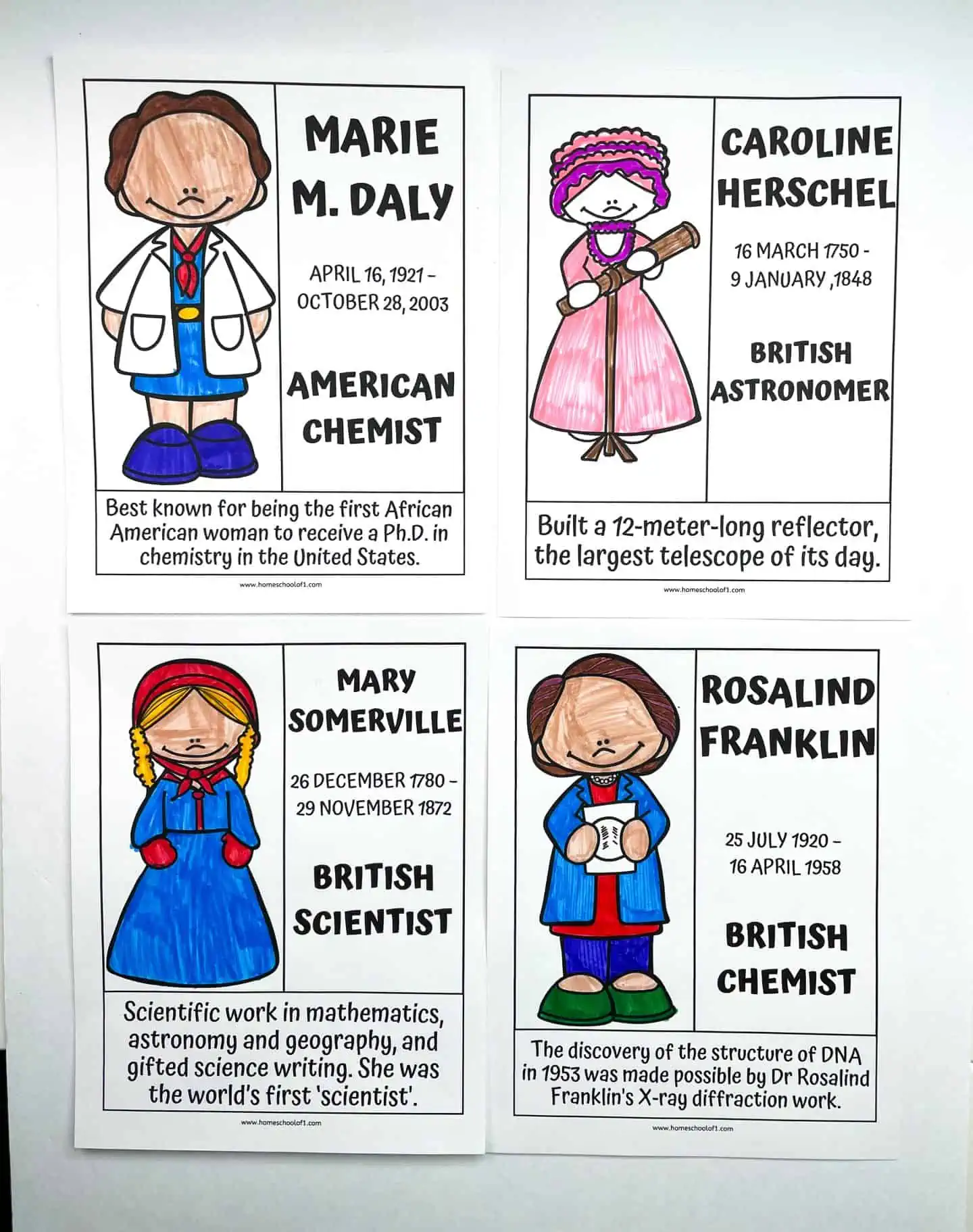 Alexa Canady (November 5, 1950 – ) became the first African American woman neurosurgeon in the United States in 1981.
Emilie du Chatelet (December 17, 1706 – September 10, 1749) translated Isaac Newton's Principia Mathematica from Latin into French, with commentary.
Ridley's Inspirational Women Trivia Card Game – Quiz
Modern HERstory: Stories of Women and Nonbinary People
Herstory: 50 Women and Girls Who Shook Up
Herstory: The Board Game of Remarkable Women for
Elizabeth Blackwell (February 3, 1821 – May 31, 1910) the first woman to receive a medical degree in the United States.
Irene Joliot-Curie best known for discovering the first ever artificially created radioactive atoms. She won the Nobel Prize in chemistry in 1935. Her mother was Marie Curie, they clearly were an amazing family.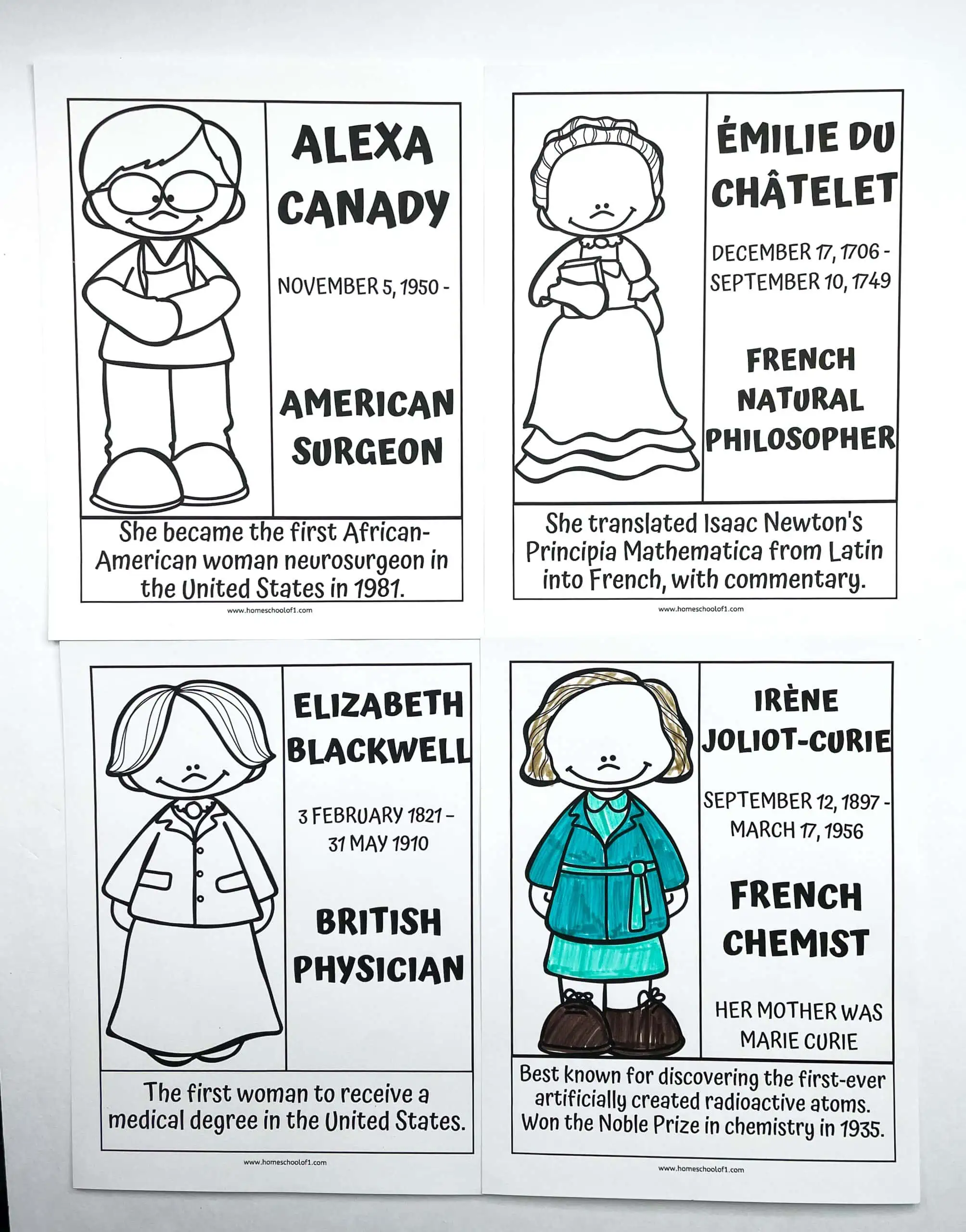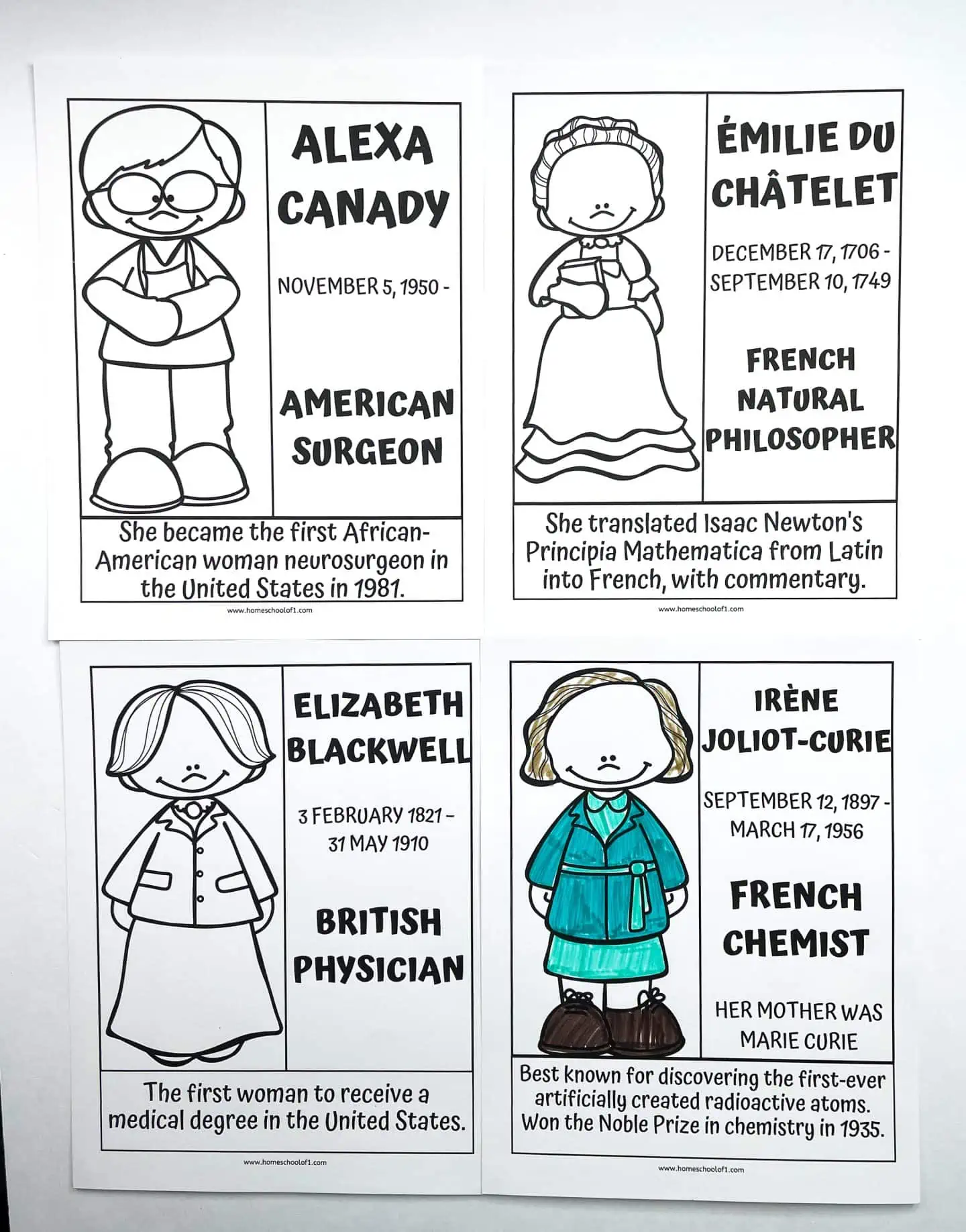 Kathryn D. Sullivan (October 3, 1951 – ) is the first American woman to walk in space.
Jane Goodall (April 3, 1934 – ) was the first person to observe chimpanzees creating and using tools. She also discovered they were omnivorous. I highly recommend this reading biography about the amazing Jane Goodall.
Lise Meitner (November 7, 1878 – October 27, 1968) was one of the people responsible for the discovery of the element protactinium and nuclear fission.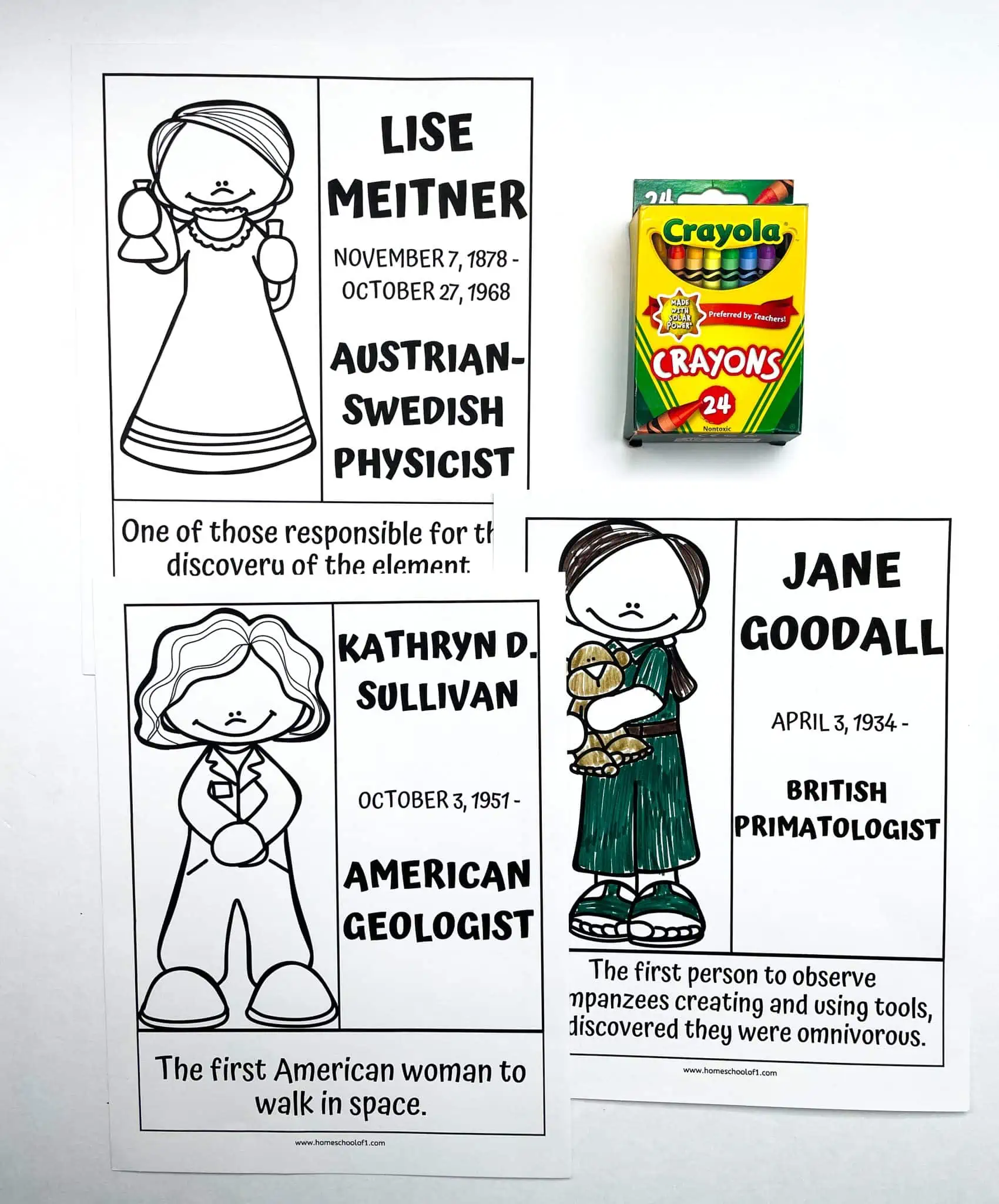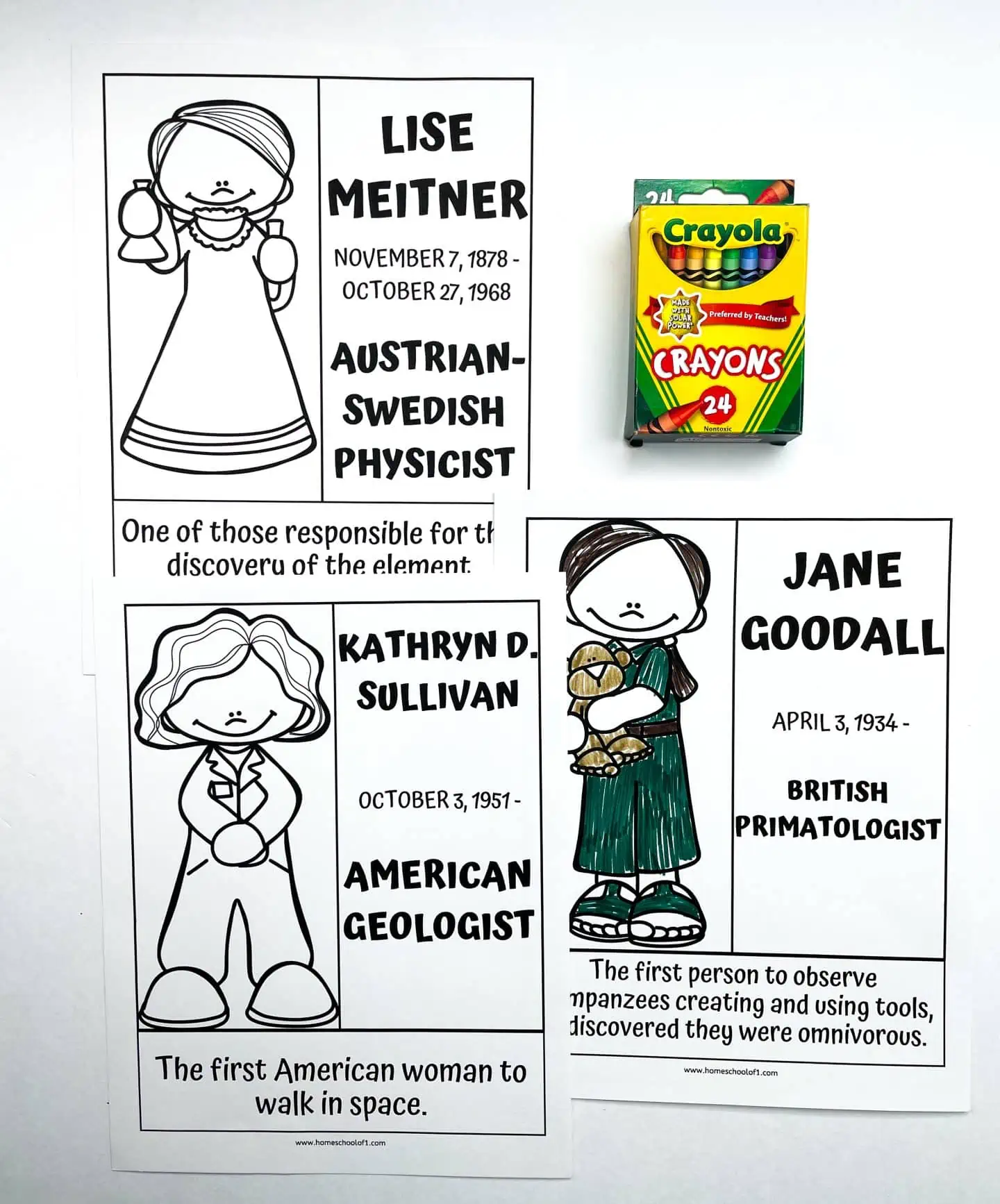 Women's History Month board game
When you have finished with our free Women's History Month coloring pages, why not play a game?
We have been playing the best educational board game called Herstory.
This is a fantastic way to celebrate 120 iconic women in a really fun way. A great game to play on family game night too.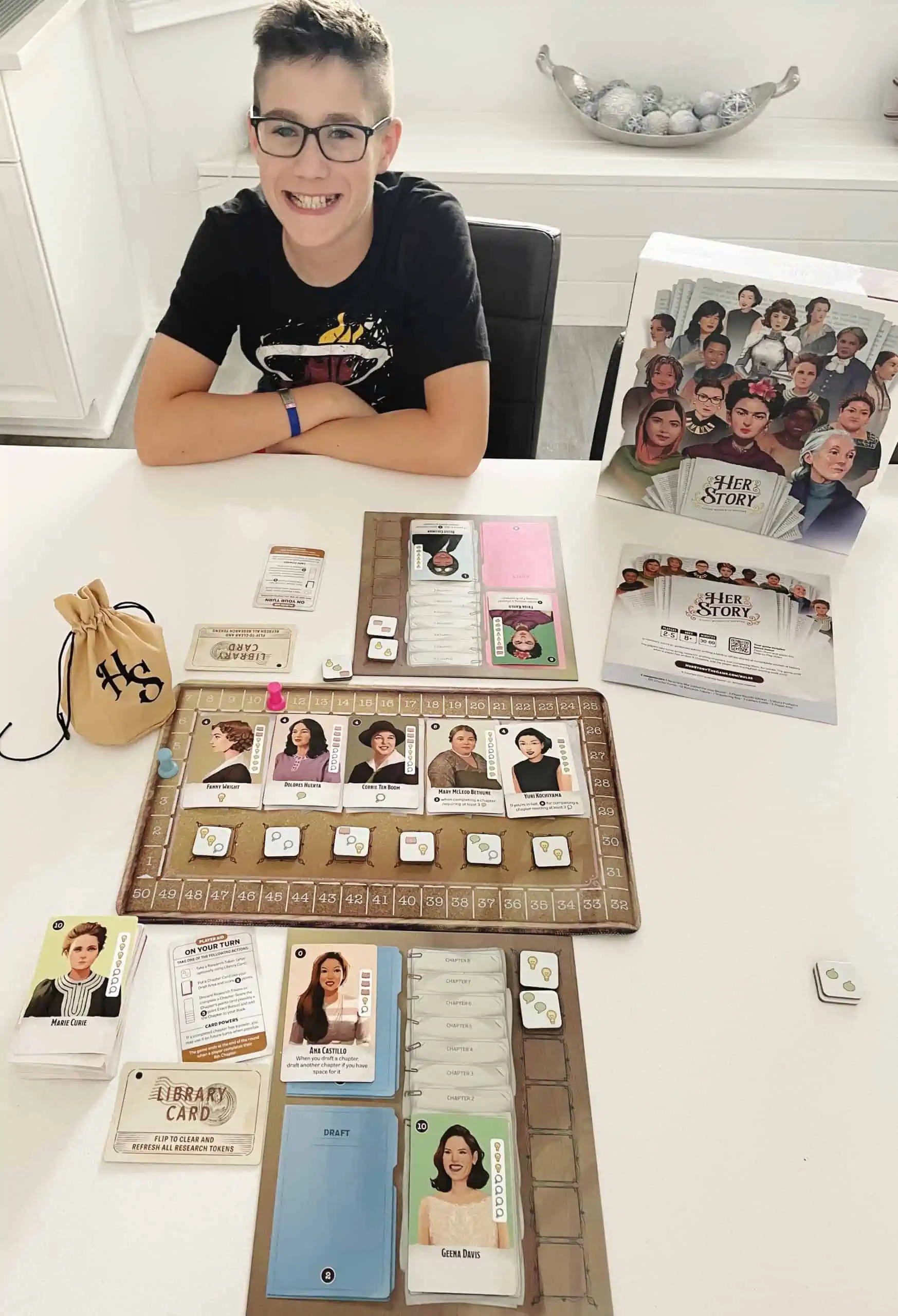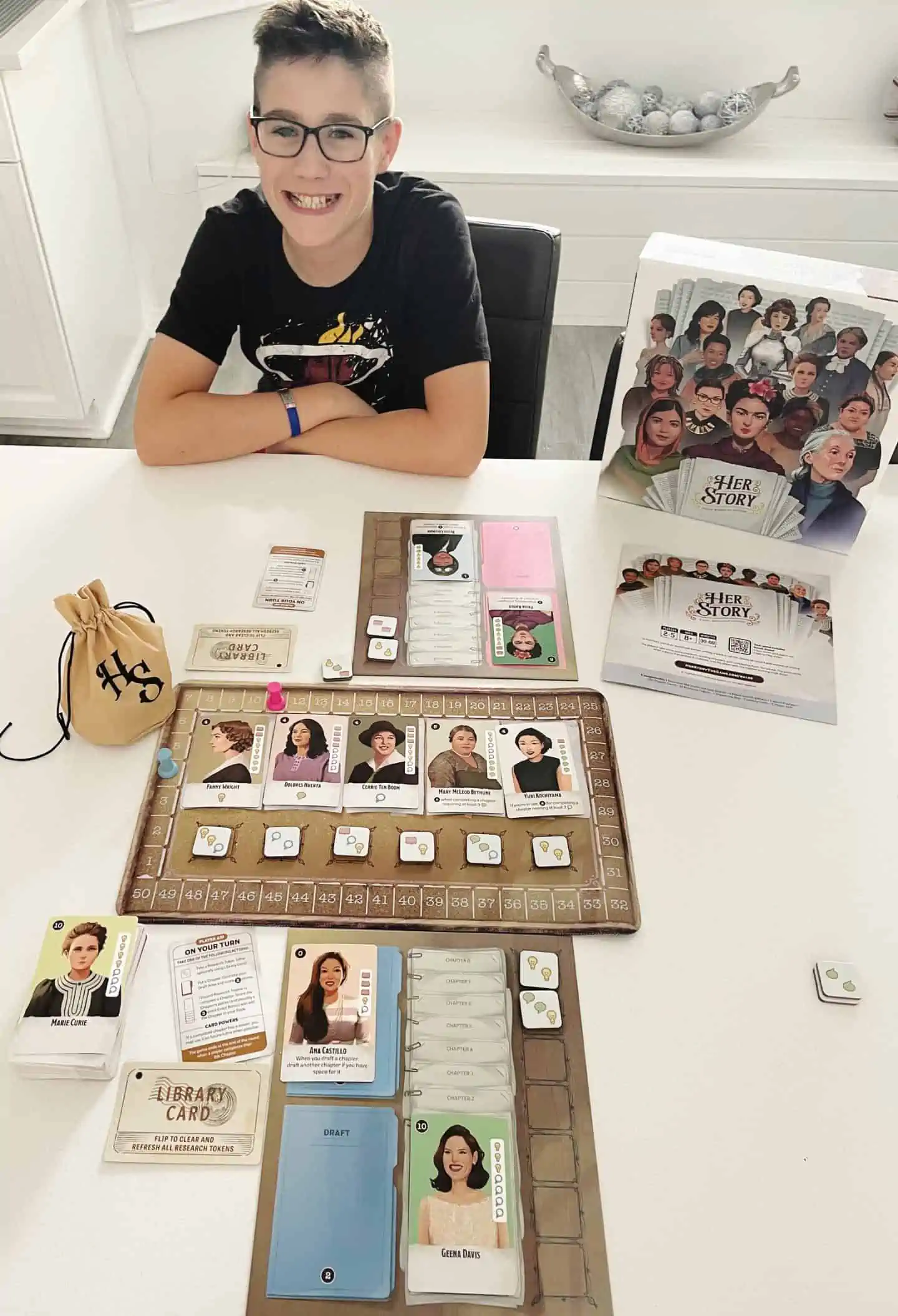 Tips for downloading the free files
Below you will see a large sign-up box where you need to add your name and email address, and press I NEED THIS NOW!
Within minutes you will be sent the free PDF directly to your email address, so you can print it out and start using it immediately.
Sometimes emails get a little wonky, so if you can't see it, please check your spam folder where I am sure it is hiding.
Free Women's History Month printables
Make sure you choose the correct paper size and click on the shrink to fit button. All of our free printables for kids work better when printed on cardstock (this is the one we use and love.)
Last Updated on 3 November 2023 by homeschoolof1