40 Best 4th of July Crafts For Kids
With Independence Day nipping at our heels, a great opportunity arises for fun with your family! I'm not talking about just getting together for a barbeque and watching fireworks. There's more fun to be had beforehand by getting together with your kids and making fun crafts and decorations to prepare for the upcoming holiday. Carry on reading for over 40 of the best 4th of July crafts for kids.
Young children love to do craft projects during any holiday, and the Fourth of July is no exception. Help preschoolers and kids create a fun Independence Day decoration.
Nothing says patriotism like stars and stripes, and this mobile decoration will be the perfect 4th of July craft for kids. With a few simple materials that can be found in the most basic craft box, children can easily put together a beautiful Independence Day decoration.
Set up a craft workstation at the kitchen table and it will be ready for the kids when they need a break from their outdoor summertime activities.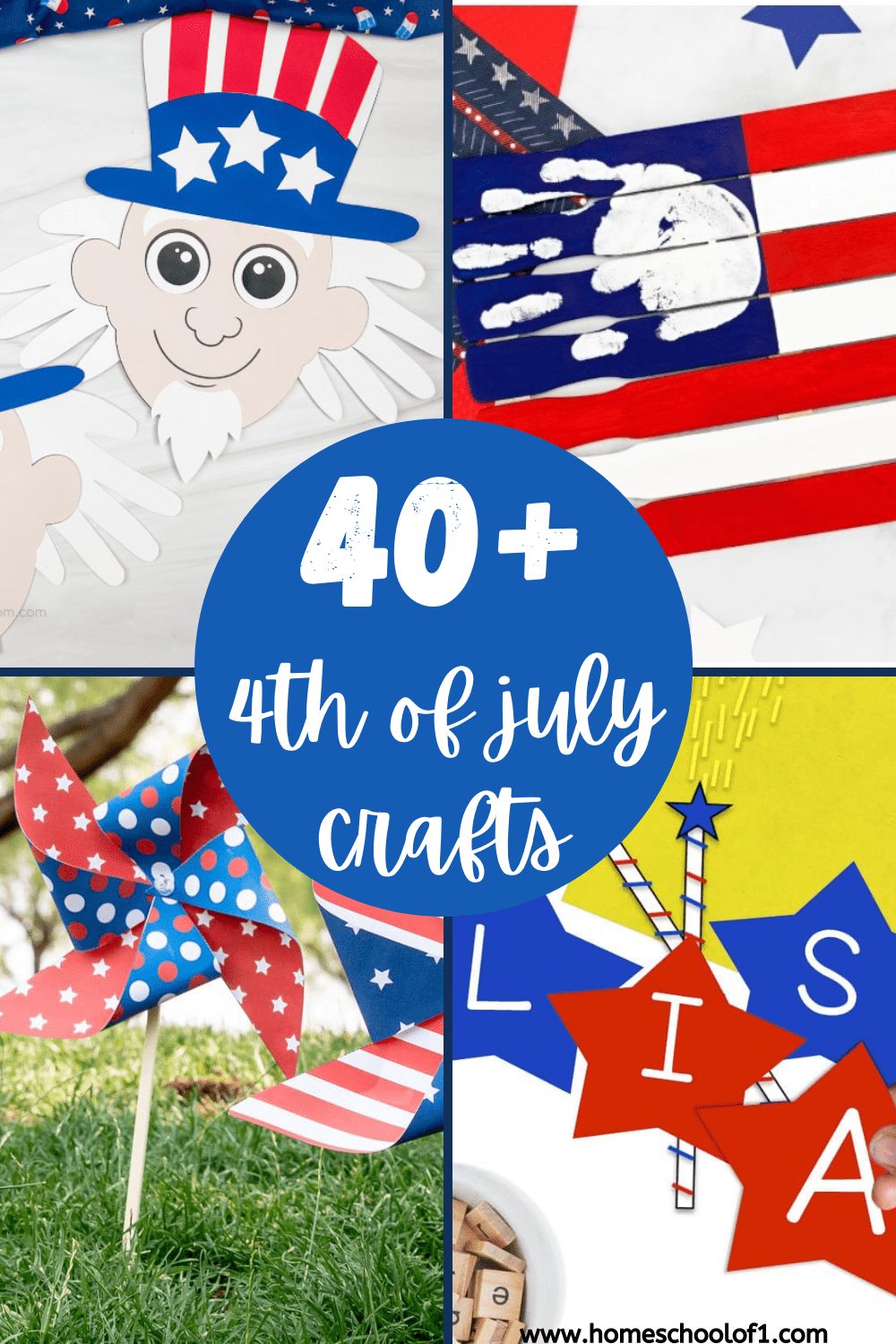 **There may be affiliate links in this post. If you make a purchase (after clicking one of my affiliate links) I'll earn some coffee money, which I promise to drink while supporting your journey. You do not pay a higher price. You can read my full disclosure at the bottom of the page.**
Fourth of July Crafts For Kids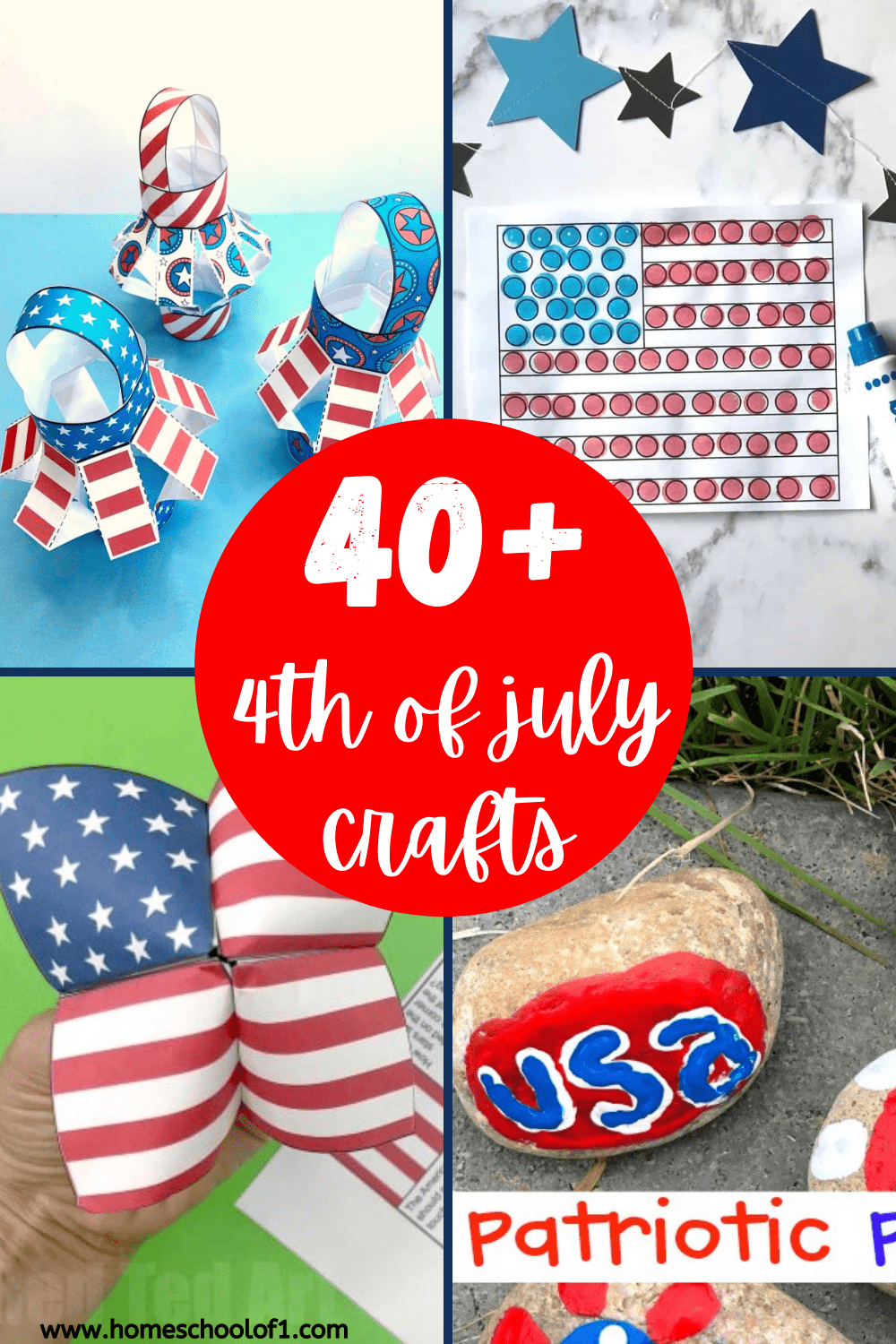 Cool Independence Day Flag
White Construction Paper 9×12
Red & Blue Markers (Or paint, depending on how messy you want to get and how much time you have)
Star Stencil (If you don't have one, you can make one by cutting out a star from construction paper)
Straws (optional)
Pencil
Ruler
Glue or Tape
First, with the paper lying horizontally, draw a rectangle on the very top left-hand corner of the paper about 5 inches long and 4 inches high. Then, using your star stencil, draw rows of stars inside the rectangle. After that, you'll want to draw your stripes by measuring approximately 1 inch from the top of the paper and drawing a horizontal line from the end of the rectangle to the end of the paper, following this pattern all the way down the paper.
Next, color the inside of the rectangle blue, but going around the stars, leaving them white and then starting with the first stripe color every other stripe red, so that it looks like the American flag. After you are done, be sure to let the paint or marker dry before moving on to the next step.
Then, fold the paper accordion-style by folding sections in opposite directions. You can use the straws to frame the fan by splitting the straws, sliding them onto the side edges of the paper, and taping or gluing them into place. Finally fasten the bottom folds together and then open up the top part of the paper making a cool fan. Now you have a patriotic way to keep cool during that hot Independence Day celebration.
Or why not grab the outdoor chalk and draw a giant American flag on the sidewalk?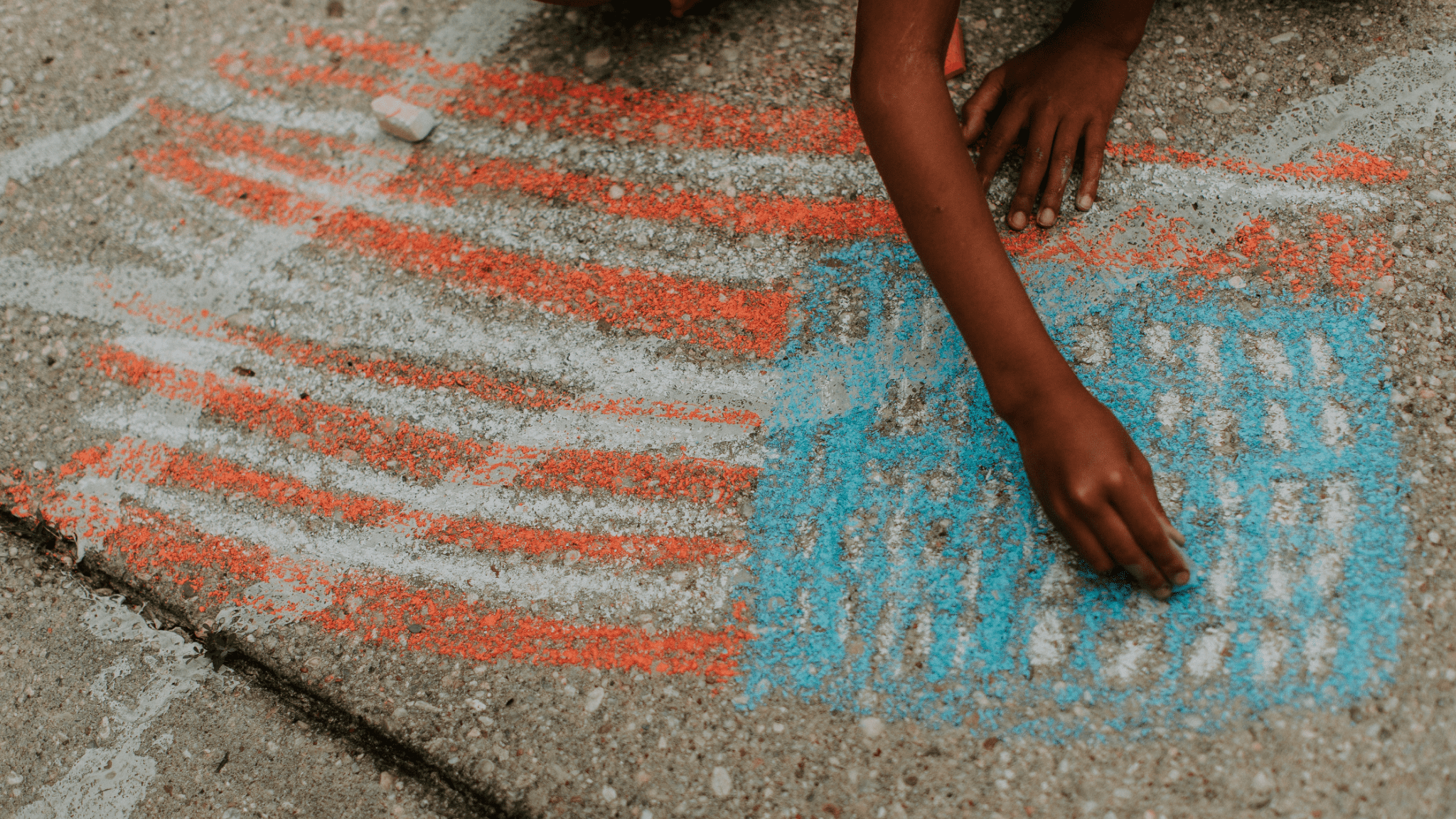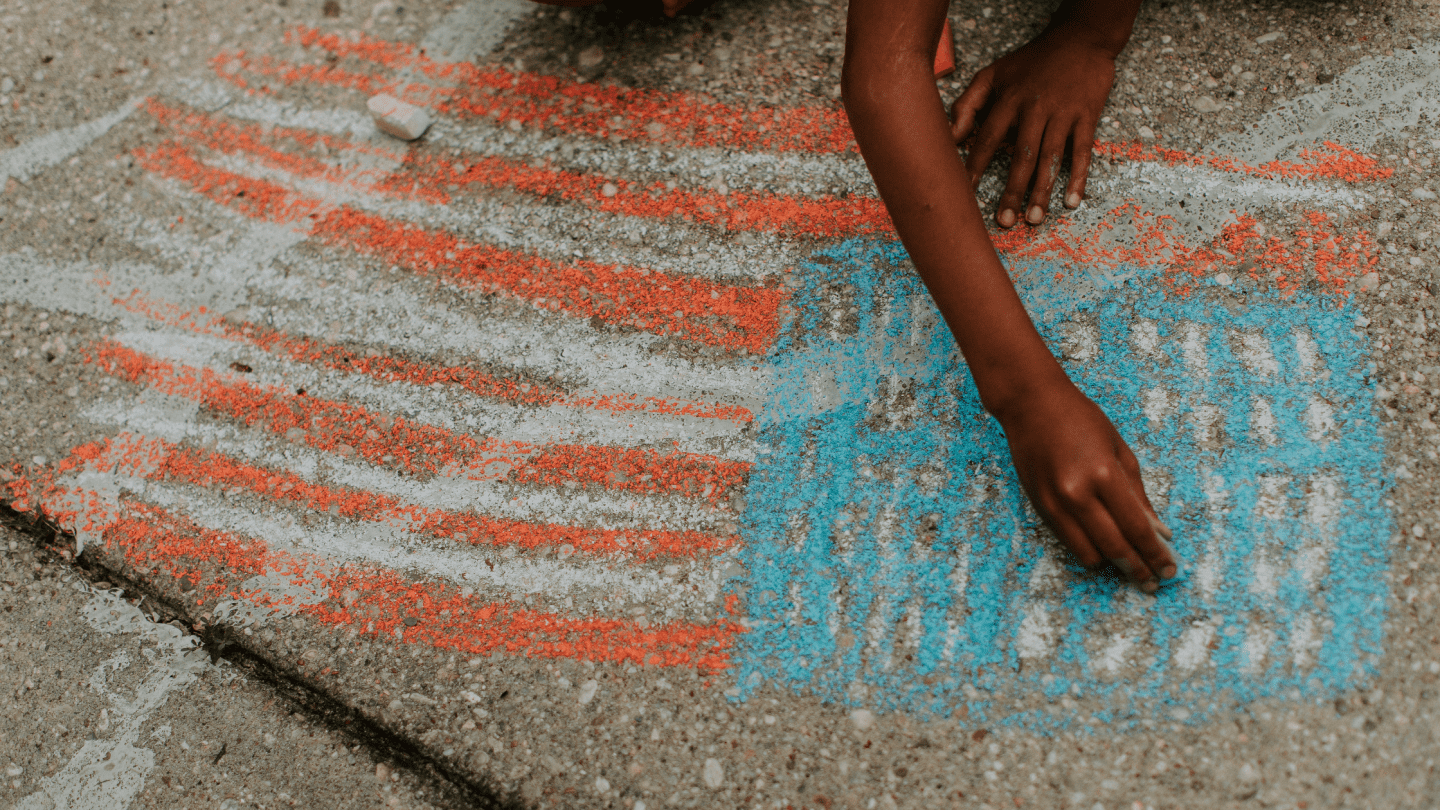 4th of July Windsock Craft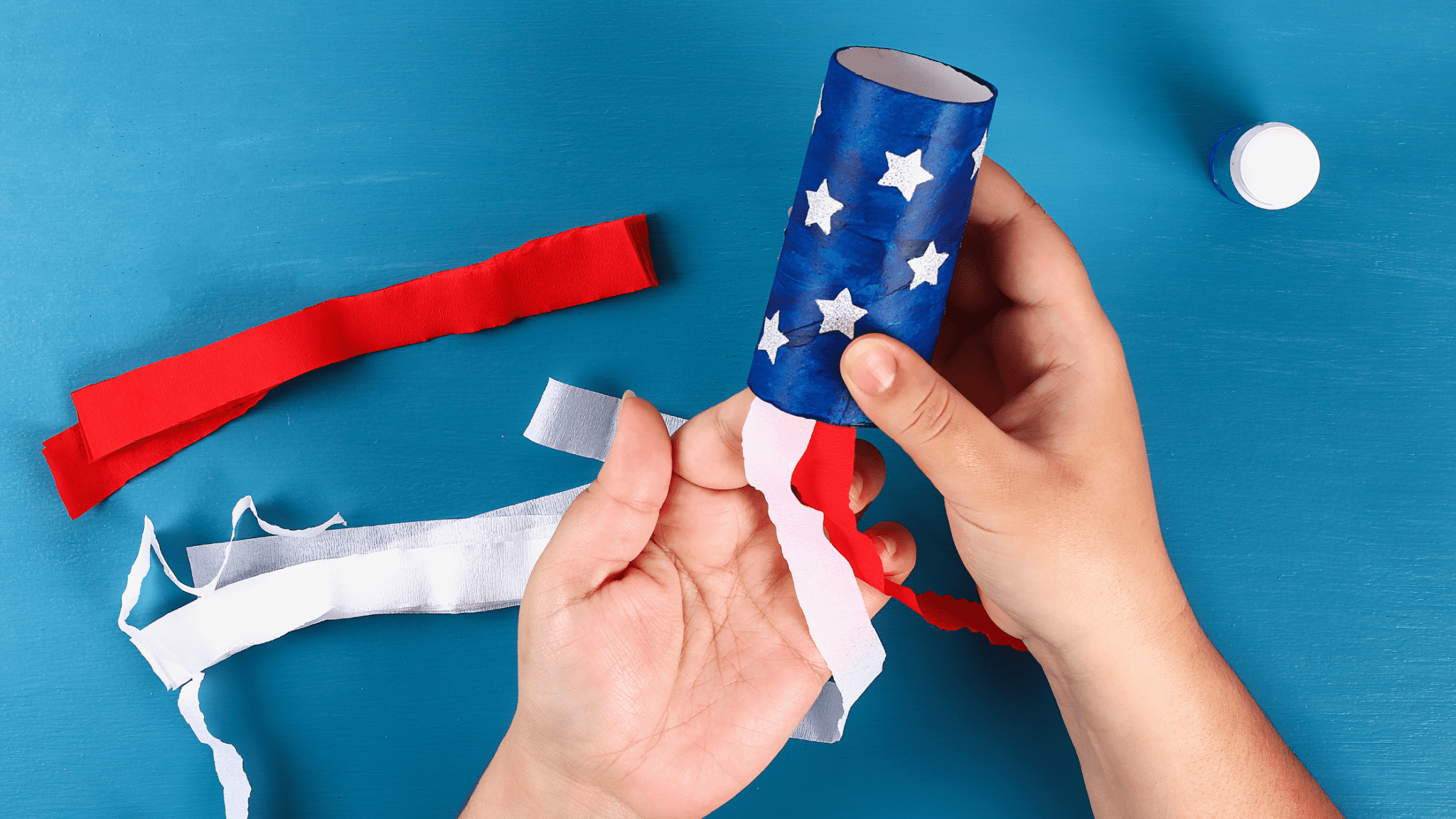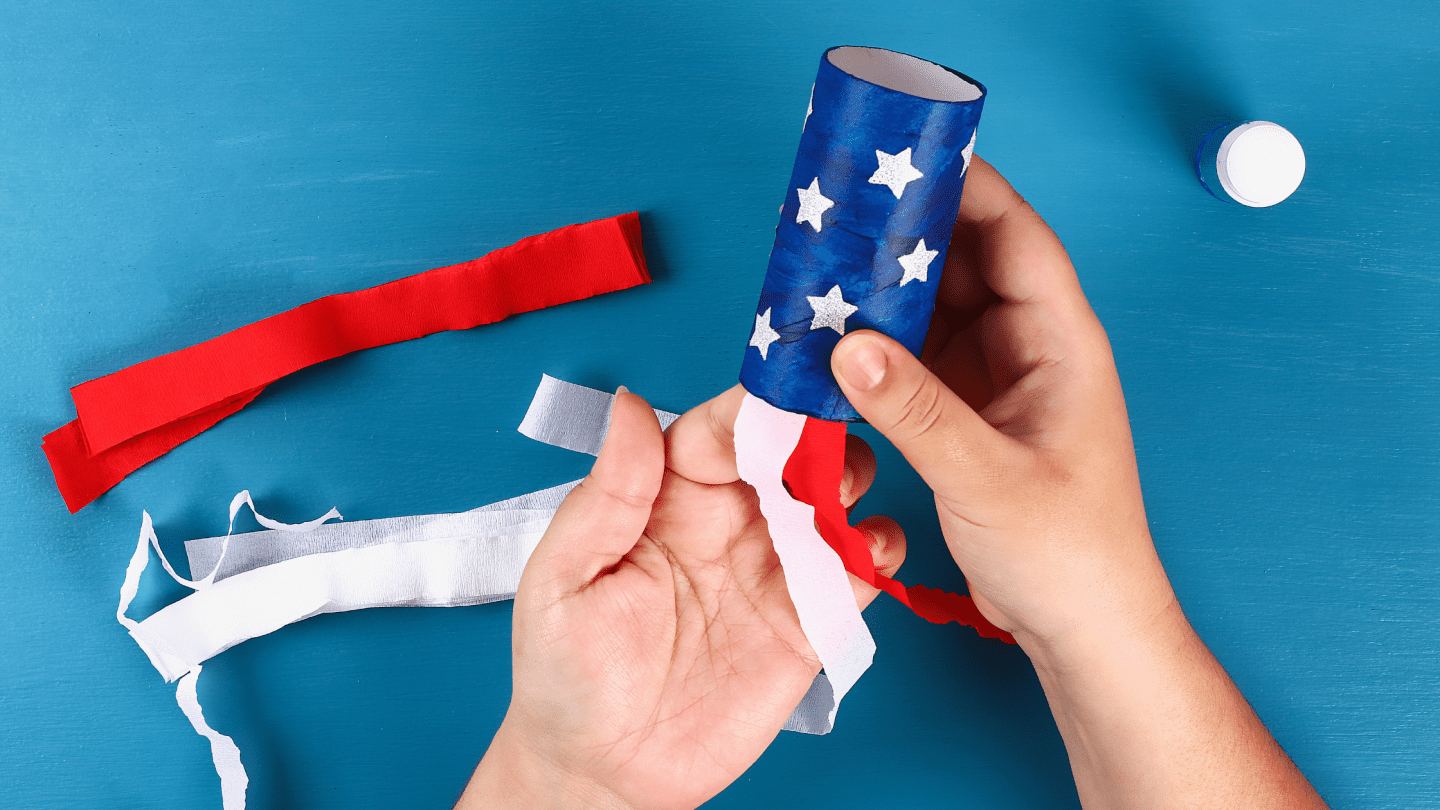 Round oatmeal container or toilet paper holder
Blue and White construction paper
Star Stencil
Red and White streamers
Glue
Hole Punch (Parents may use scissors to punch holes)
Scissors
Yarn
Star Stencil (You can use the one you made from the last project)
The first step is to have parents cut off the bottom of the oatmeal container. Then paste blue construction paper all around. Then, using your star stencil draw several stars, cut them out, and then paste them all around the container.
You can decorate how you please. Then using alternate colors, paste red and white streamers to the inside of the container so that they will hang from the bottom. Next, punch four holes around the top of the windsock and cut 2 pieces of yarn, each about a foot long. Finally, tie the yarn to the holes opposite each other, resulting in the two pieces of yarn crossing each other. Hang to show your true colors: red, white, and blue!
Firecracker Party Favors
Rolls of candy (Lifesavers work best because of the hole through the candy)
Red, White, and Blue colored tape
Toothpicks
Aluminum Foil
Markers
First, decorate the rolls of candy using colored tape in any design you choose. Then take the aluminum foil, color it with markers or leave it silver. Cut several skinny slices into the aluminum foil, but be sure not to cut all the way through the foil.
Then about 1/8 of an inch above the top of the slits, cut across making a piece of fringe. Wrap the solid piece of aluminum foil around the end of the toothpick until it's completely wrapped and tape to fasten.
Then stick the other end of the toothpick through the top of the candy roll, causing the aluminum foil to fall downward creating a firework effect. These will be sure to be a hit at your 4th of July party!
Stars and Stripes Mobile 4th of July Crafts For Kids
The Independence Day mobile craft will require the following simple items:
Red, white, and blue construction paper
Single hole punch
Metal compass (for poking small holes, advanced technique)
Blunt ended scissors
String or thread
Glitter glue
Glue stick
Cardboard
Tape (for attaching stars, preschool technique)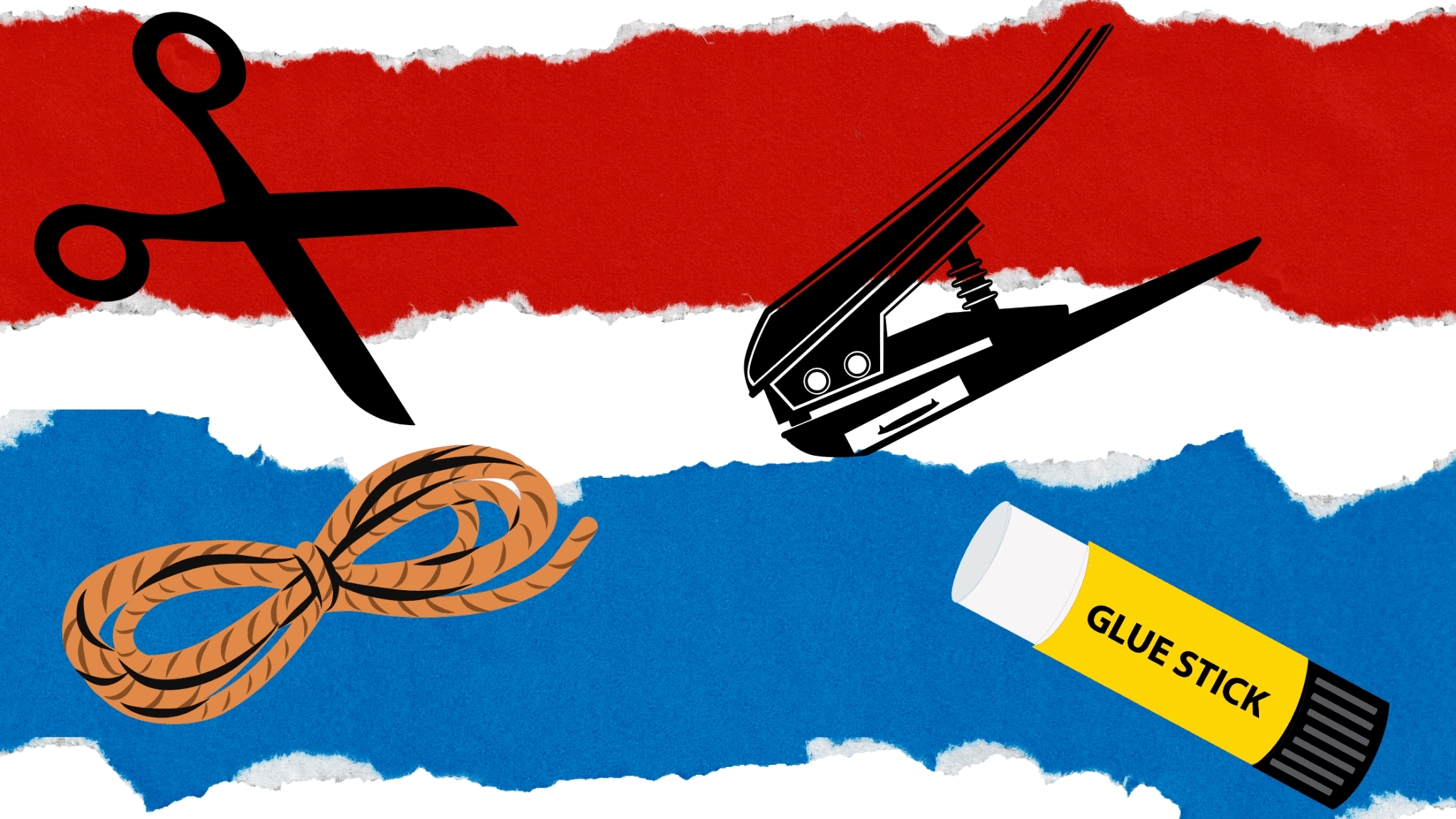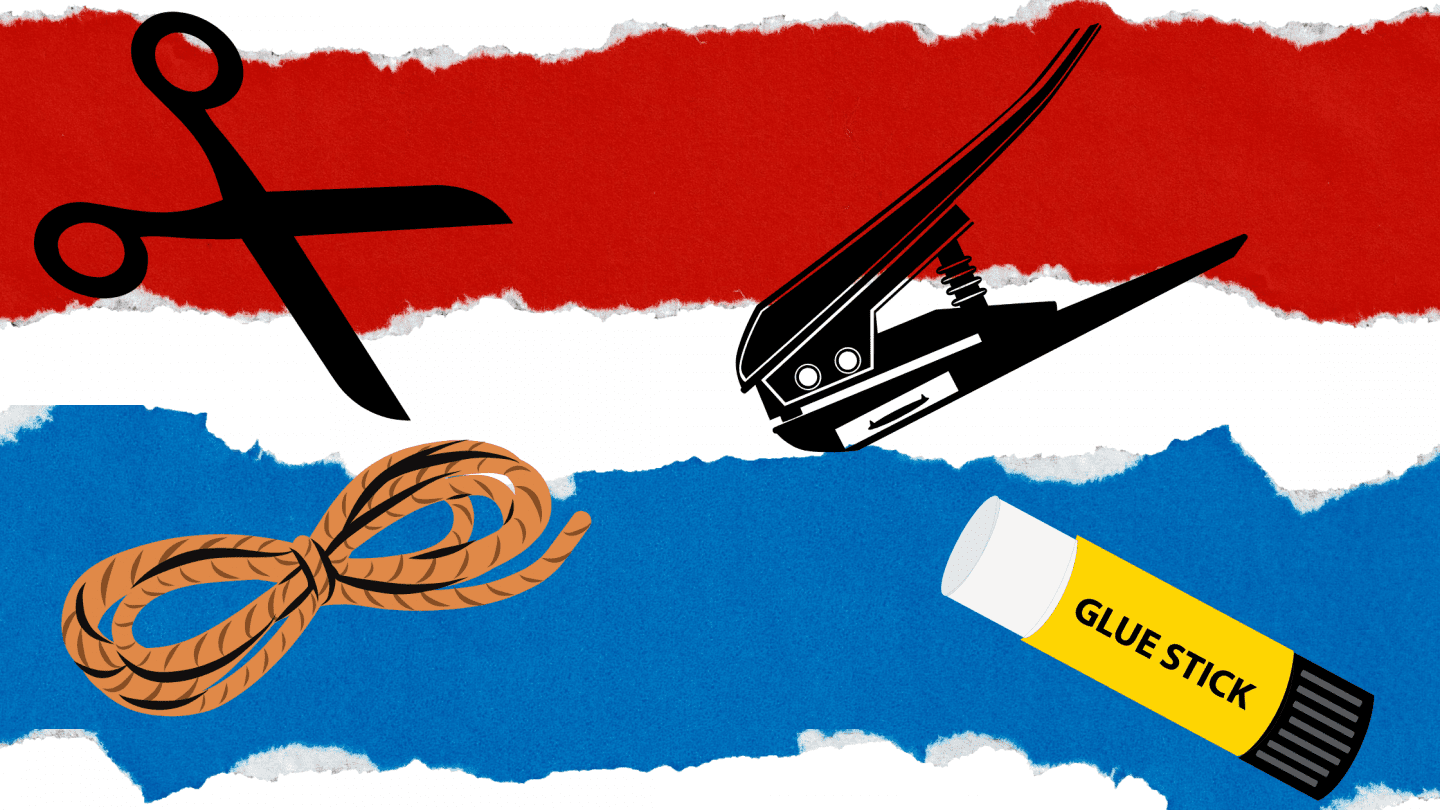 This mobile craft can be made simply by preschool children or can be adjusted to challenge older children in elementary school and beyond.
Cut cardboard to approximately 11 inches wide by 6 inches tall.
Using red, white, and blue construction paper, cut strips that are 11 inches long by 1 inch wide (4 of each color for a total of 12 strips).
Using a glue stick, have children paste the strips onto the back and front of the cardboard, alternating the colors until the cardboard is completely concealed.
Punch four small holes at equal intervals in the bottom half of the cardboard in which to tie the stars.
Draw twelve stars with four points each on red, white, and blue paper (4 of each color or any desired combination) and make the stars 2 inches in diameter from tip to tip.
Let preschoolers decorate the stars with glitter glue and set them aside briefly until dry. Help the children cut the stars with children's blunt-ended scissors.
Proceed to either the preschool instructions or advanced instructions to complete mobile.
Easy Preschool Instructions to Attach Stars Using Tape
Cut string or thread into 4 pieces at least 20 inches long each.
Using tape, attach three stars to each piece of string at equal intervals to make 4 dangling star strings.
Cut off the excess string at the end, if any.
Attach dangling stars to holes in the striped top of the mobile (swag).
Advanced Instructions Using Threading Technique
Punch a small hole in the top tip and bottom tip (opposite points) of 8 stars with the metal compass (adult may do). In the remaining 4 stars, punch only one hole at the top tip.
Cut string or thread into twelve small pieces. To ensure that they are manageable, make the pieces at least 5 or 6 inches long.
Make a dangling star string by threading a string into one hole in a double-holed star. Then thread and tie this string to another double-holed star. Finally, attach a single-holed star onto the bottom of the dangling star string.
Repeat the step above until there are a total of 4 dangling strings of 3 stars each.
Attach each dangling star string to a hole in the cardboard with the remaining four pieces of string.
Independence Day Themed Variations
To make the mobile look more like the American flag, make the stripes with just red and white paper, and make the stars in blue and white or just blue. This craft can also be made into a sturdier mobile by using wooden stars and a wooden strip for the mobile holder (swag). Paint can be used to decorate the stars and stripes.
The stars and stripes mobile can be hung on a front door instead of a wreath, or on any doorway, window, or bulletin board. It is also a great Independence Day project for summer camp, summer school, or daycare. With adult supervision, the Fourth of July mobile decoration can be easily done by preschoolers or older children who want to proudly display their stars and stripes on July 4th!
I think you are also going to love these other 4th of July printables:
Let me know what your favorite 4th of July crafts for kids are by commenting below.
Last Updated on 9 November 2022 by homeschoolof1