7 Oceania & Australia Worksheets (free printables)
If you are learning about the continent of Oceania with the kids you are going to love our free Australia worksheets.
With this free geography worksheet, you will learn all about the continent of Australia and Oceania. Including the top 10 biggest countries, the top 10 most spoken languages, and much more.
Included in the Australia worksheets are the following:
2 x map labeling,
an Australia fact sheet,
matching the flag,
kangaroo worksheet,
Australia word search,
Australia country word scramble.
I have also included answer sheets for all of the worksheets. These are aimed at kids in upper elementary and middle school but can be used with any age group.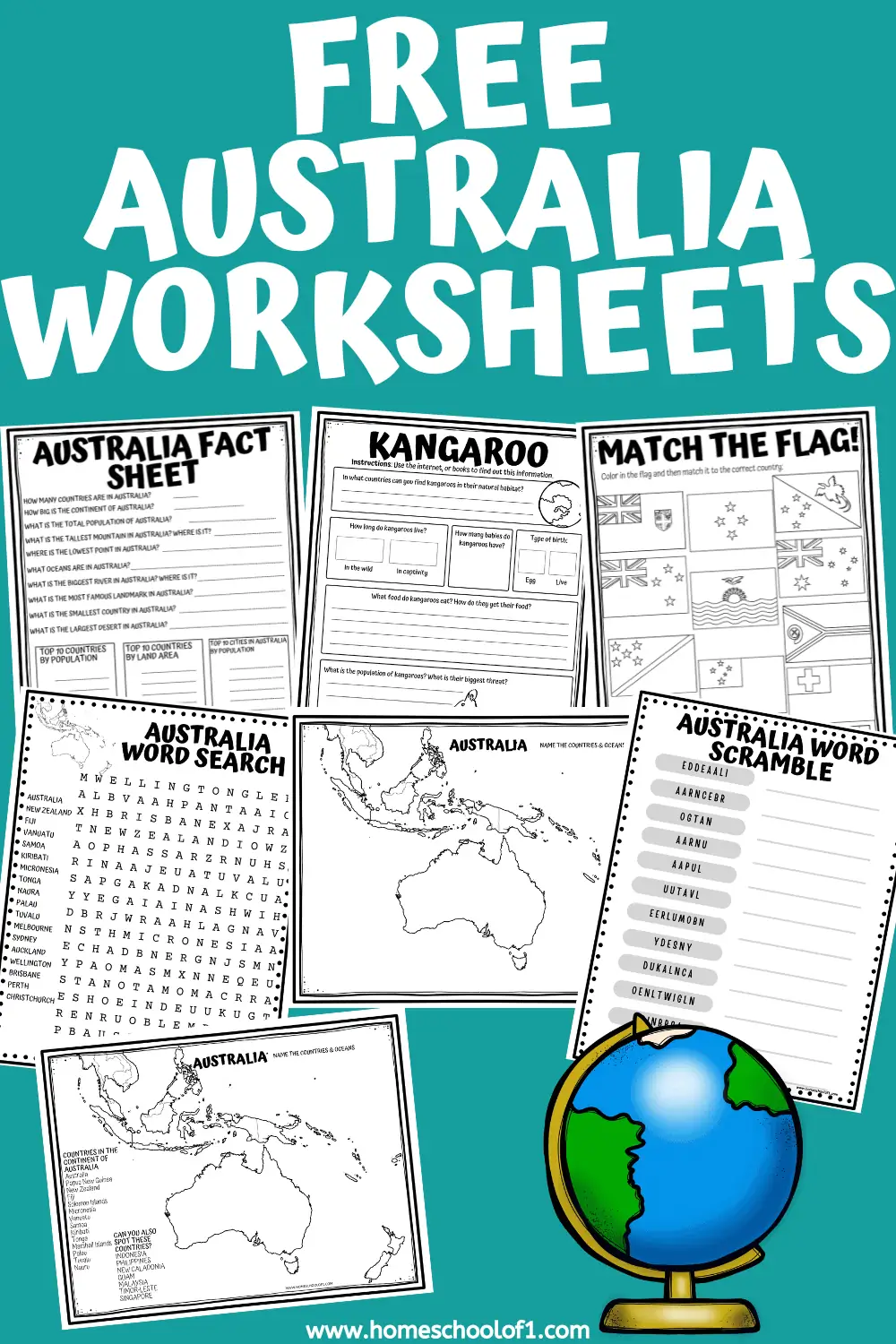 **There may be affiliate links in this post. You can read my full disclosure at the bottom of the page.**
Fun Facts about Australia
Fun and interesting facts about Australia that kids will enjoy:
Australia is home to some of the world's most unique and interesting animals, including kangaroos, koalas, wallabies, wombats, and Tasmanian devils.
The Great Barrier Reef, off the coast of Queensland, is home to more than 1,500 species of fish and over 600 types of coral.
The Sydney Harbour Bridge is the largest steel arch bridge in the world. And it took 1,400 workers eight years to build.
Australia has more than 10,000 beaches, and if you visited one new beach every day, it would take more than 27 years to see them all!
The world's largest population of wild camels is found in Australia.
The world's largest monolith, Uluru (also known as Ayers Rock), is located in the Australian Outback.
The world's largest sand island, Fraser Island, is located off the coast of Queensland.
The kangaroo can jump up to three times its own height in one leap.
Australia is home to some of the world's most venomous creatures. Including the funnel-web spider, the box jellyfish, and the inland taipan.
The platypus is one of only two types of mammals in the world that lay eggs. The other is the echidna.
Map of Australia worksheet
There are 14 different countries in Oceania.
There are 2 different maps of the continent of Australia. One with the countries on the side to make it a little easier, and one with no country names.
The students can either color in the different countries or add the names to the correct country.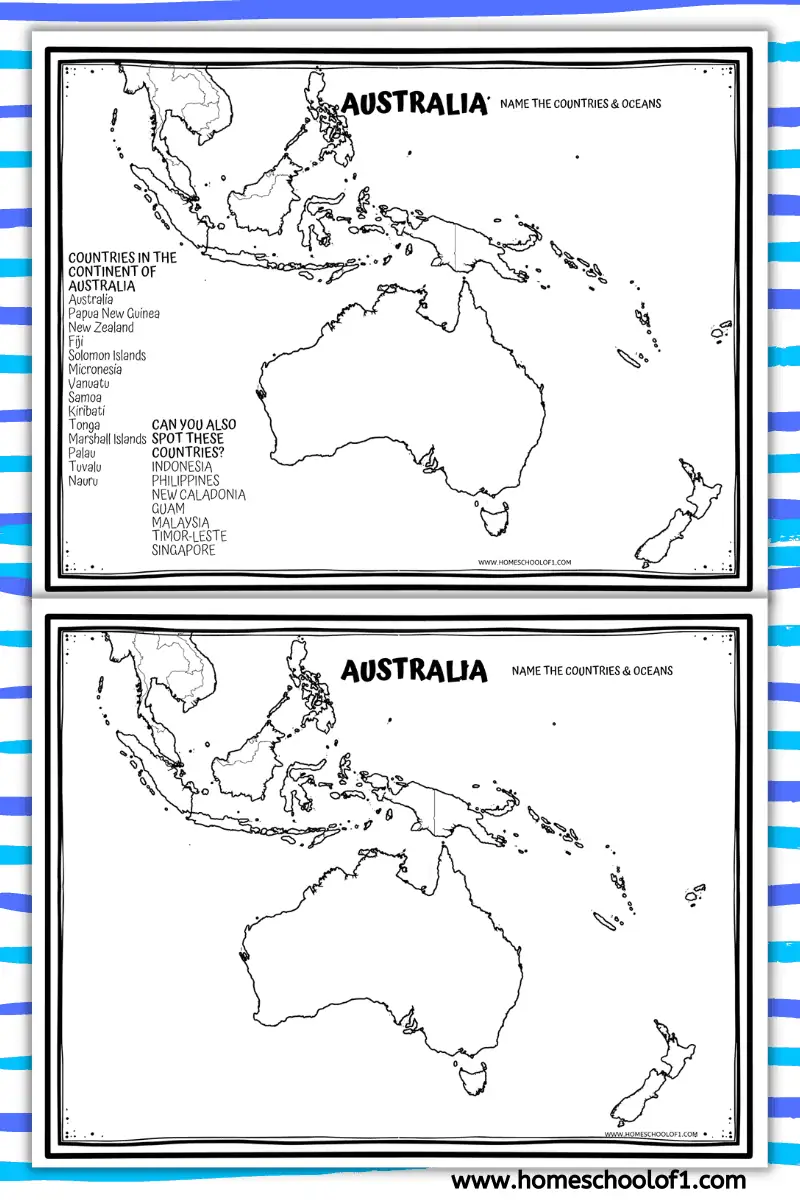 I highly recommend you play the mapology world map game to add to this unit study. This is also included in our favorite geography board games.
Australia Fact Sheet
There are 10 questions about the continent of Oceania. Plus the top 10 countries by population, by land area, and the top 10 cities by population in Australia.
How many countries are in Australia? 14
How big is the continent of Australia? 2.97 million mi²
What is the total population of Australia? 39.4 million
What is the tallest mountain in Australia? Where is it? Puncak Jaya, Island of New Guinea
What is the lowest point in Australia? Where is it? Lake Eyre, Australia
What oceans are in Australia? Pacific, Southern, and Indian Oceans.
What is the biggest river in Australia? Where is it? River Murray, Australia
What is the most famous landmark in Australia? Uluru
What is the smallest country in Australia? Nauru
What is the largest desert in Australia? Great Victoria Desert, Australia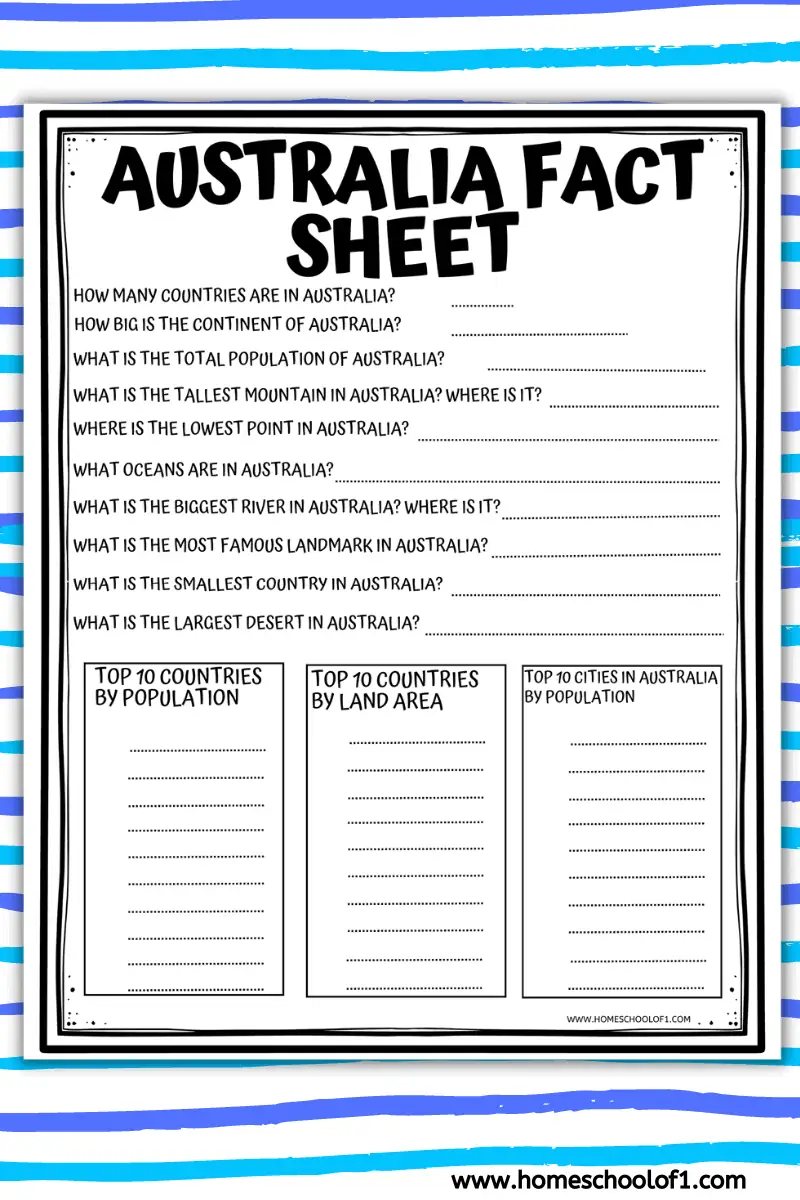 Top 10 Countries by Population in Australia
Australia
Papua New Guinea
New Zealand
Fiji
Solomon Islands
Vanuatu
Samoa
Kiribati
Micronesia
Tonga
Top 10 countries in Oceania by land area
Australia
Papua New Guinea
New Zealand
Solomon Islands
Fiji
Vanuatu
Samoa
Kiribati
Tonga
Micronesia
Top 10 cities in Australia by population
Melbourne, Australia
Sydney, Australia
Brisbane, Australia
Perth, Australia
Auckland, New Zealand
Adelaide, Australia
Canberra, Australia
Wellington, New Zealand
Port Moresby, Papua New Guinea
Christchurch, New Zealand
For even more fun learning about the world, I highly recommend the World card game.
Learn about kangaroos
The students need to research the kangaroo and answer the following questions:
In what countries can you find kangaroos in their natural habitat?
How long do kangaroos live? In the wild, and in captivity
How many babies do kangaroos typically have?
The type of birth, is it egg or live?
What food do kangaroos eat? How do they get their food?
What is the population of kangaroos? What is their biggest threat?
We also use the book Life Cycles for our studies and of course, there is a section on the kangaroo.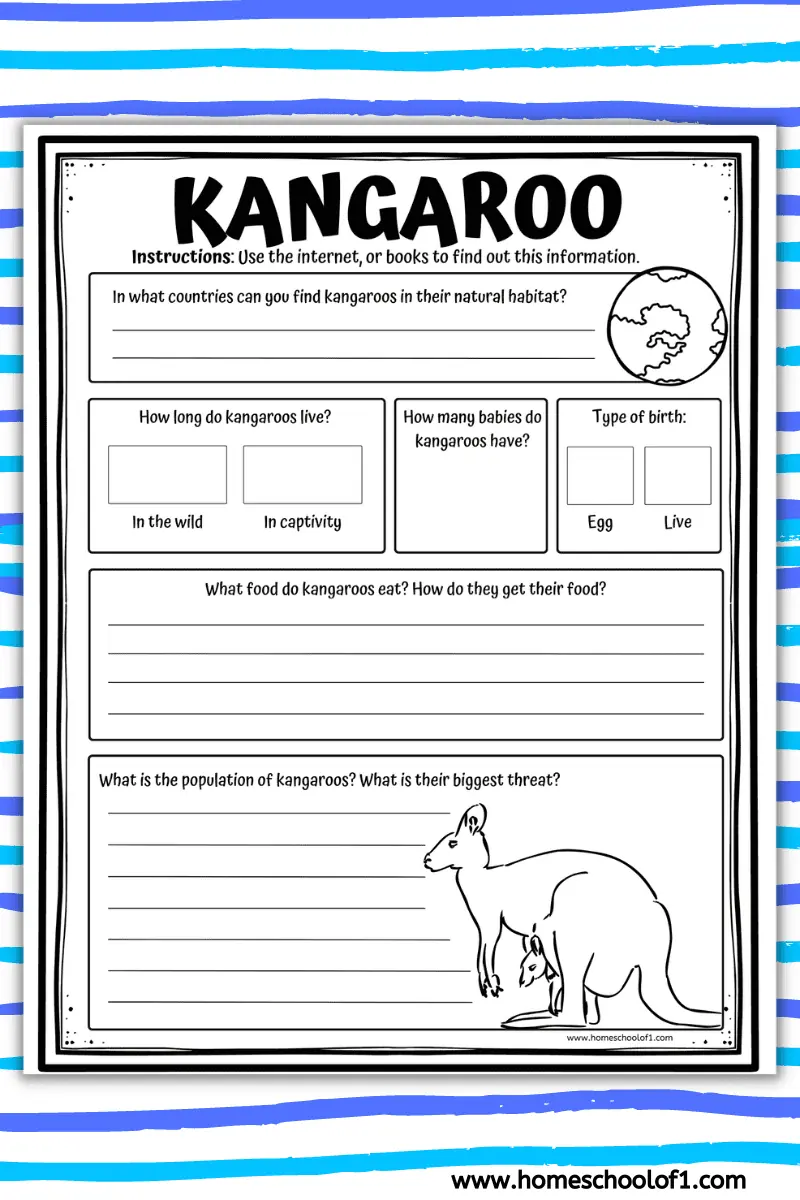 National Geographic Kids Chapters: Kangaroo to the Rescue!: And More True Stories of Amazing Animal Heroes (Chapter Book)
Cami Kangaroo Has Too Much Stuff: an empowering children's book about responsibility (Cami Kangaroo and Wyatt Too)
Miss Koalas' Class: All About Koalas
Does a Kangaroo Have a Mother, Too?
Match the Flag Worksheet
This fun match the flag worksheet is a lot of fun. The children need to research what colors to color in the maps of 10 Australian countries.
When they have colored them in correctly, they need to add a line to the correct country.
The country flags included are:
Australia
Papua New Guinea
Fiji
New Zealand
Solomon Islands
Vanuatu
Tonga
Samoa
Micronesia
Kiribati
You will also enjoy the 100 pics card game. Can you identify the countries from the flag?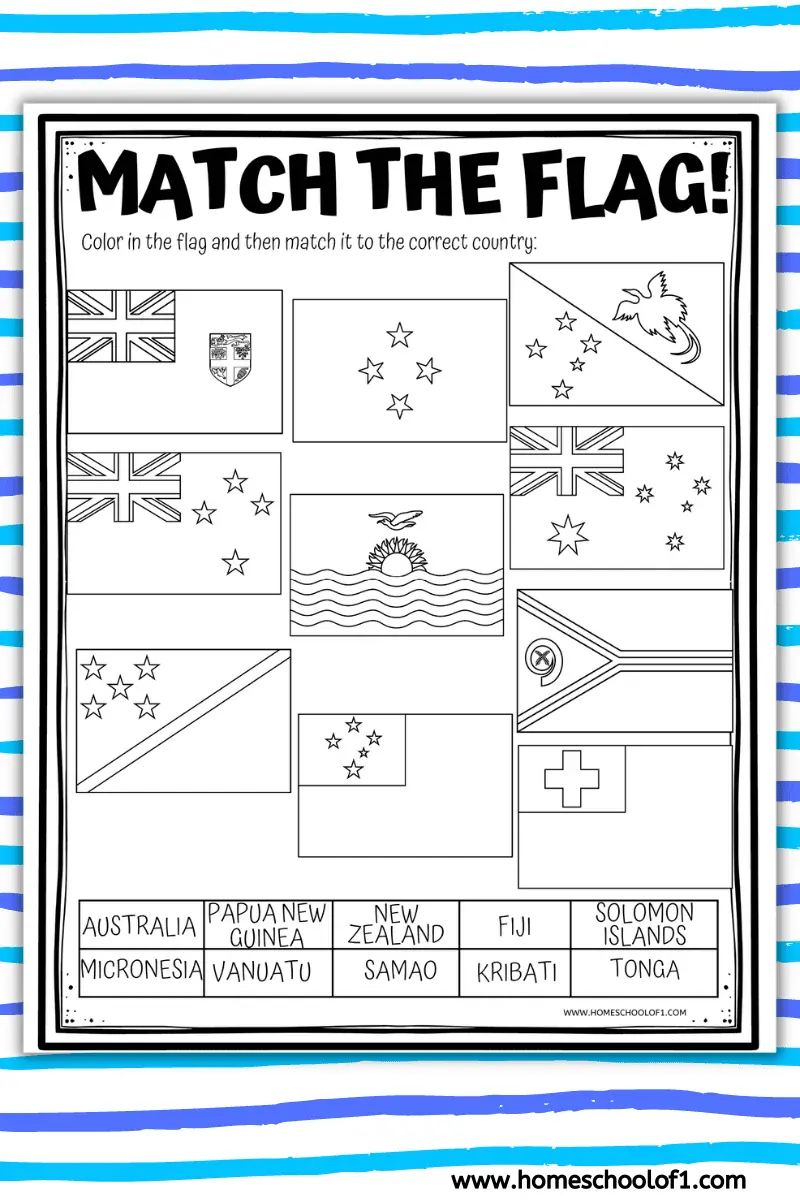 Australia Word Search
The Australia countries can be found, horizontally, vertically, diagonally, frontwards, or backward! Just to make it that much more difficult.
I have also added the word search answers, as some of the words are a little tricky to find!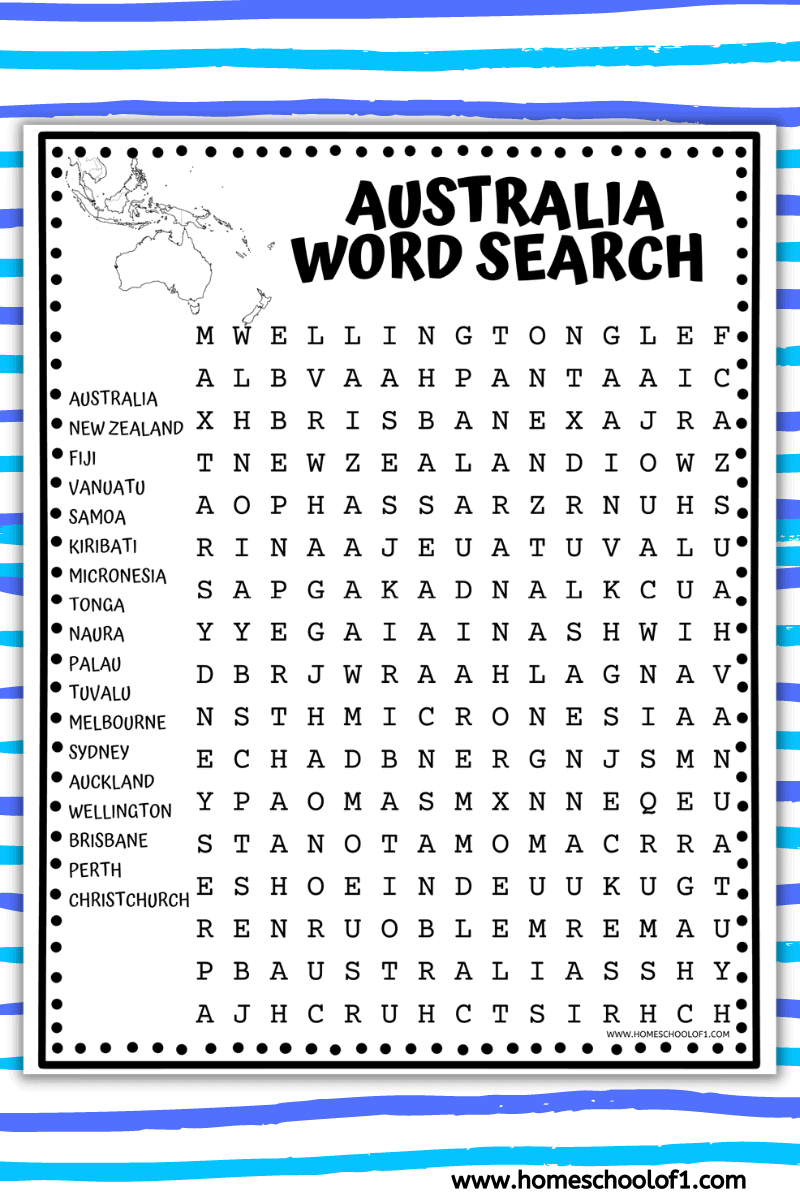 Tip: I recommend either using a highlighter pen or circling around the letters. Do not cross the letters out if you have found a word, as it may be used in another word!
The 18 Australian countries and cities to find are:
Australia
New Zealand
Fiji
Vanuatu
Samoa
Kiribati
Micronesia
Tonga
Naura
Palau
Tuvalu
Melbourne
Sydney
Auckland
Wellington
Brisbane
Perth
Christchurch
Word search printables are an excellent school activity for when the kids just need a break. They are educational, but more importantly, they are fun.
Living in . . . Australia: Ready-to-Read Level 2
Australia and Oceania: The Smallest Continent, Unique Animal Life – Geography for Kids Children's Explore the World Books
Australia and Oceania (The Seven Continents)
Australia and Oceania (A True Book: The Seven Continents) (A True Book (Relaunch))
Australia Word Scramble
There are no clues in our free word scramble, other than the 12 countries or cities are all in the continent of Australia.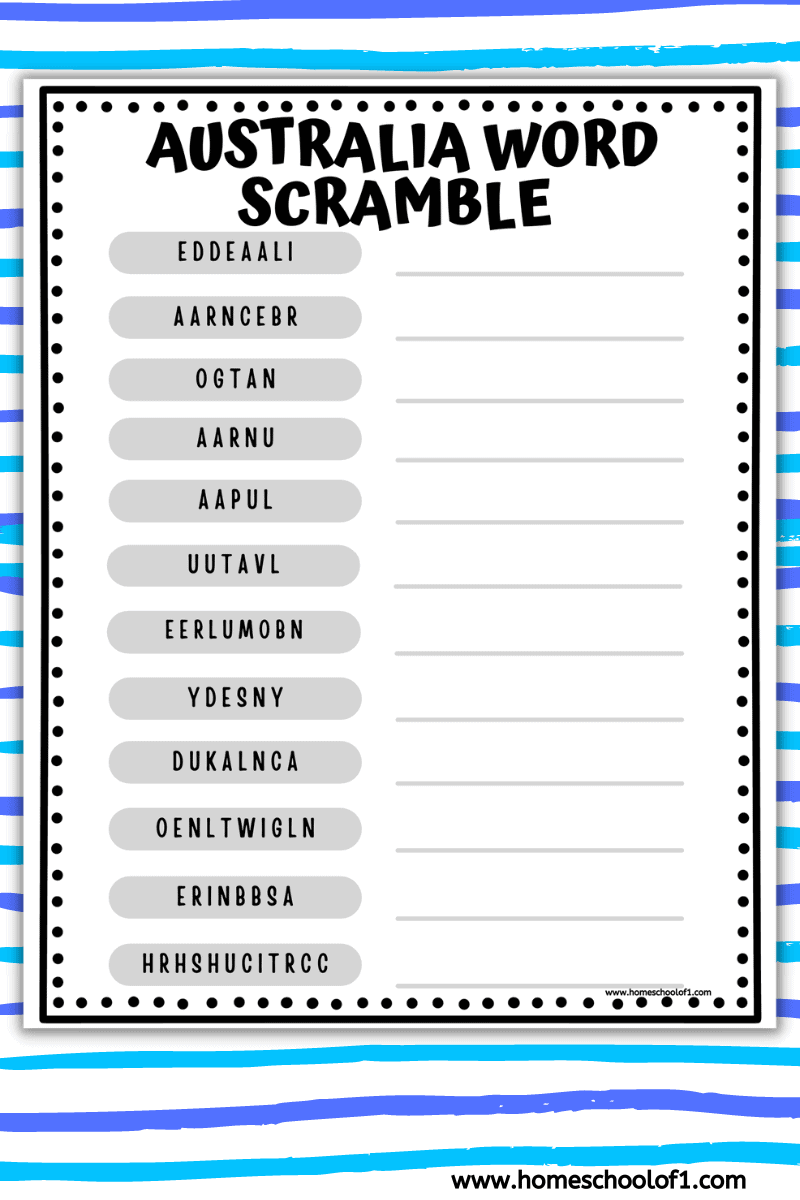 The 12 Australian cities and countries to find are: (I have included an answer sheet with the download.)
Adelaide
Canberra
Tonga
Naura
Palau
Tuvalu
Melbourne
Sydney
Auckland
Wellington
Brisbane
Christchurch
This free word scramble printable is great either for the classroom, the library, or homeschooling.
Books about Australia for kids
These are our favorite geography books for kids:
Other free geography printables
Tips for downloading the free files
Below is a blue cloud with an arrow pointing downward. Underneath that is a large sign-up box where you need to add your name and email address, and press I NEED THIS NOW!
Within minutes you will be sent the free PDF directly to your email address, so you can print it out and start using it immediately.
Sometimes emails get a little wonky, so if you can't see it, please check your spam folder where I am sure it is hiding.
Download the free printable Australia worksheets
This printable Australia worksheet is free to print but is for personal or classroom use only. Scroll to the bottom of the page to get the pdf file.
Make sure you choose the correct paper size and click on the shrink to fit button. All of our free printables for kids work better when printed on cardstock (this is the one we use and love.)
Last Updated on 2 October 2023 by homeschoolof1