Free Back to School Bookmark Printable
Have fun on the first week back with our free back to school bookmark printable.
This all about me bookmark printable is a one page double sided bookmark. One side has a book review and the other side is all about me.
These free printable bookmarks to color are the ideal tool to encourage reading, foster creativity, and develop essential reading comprehension skills.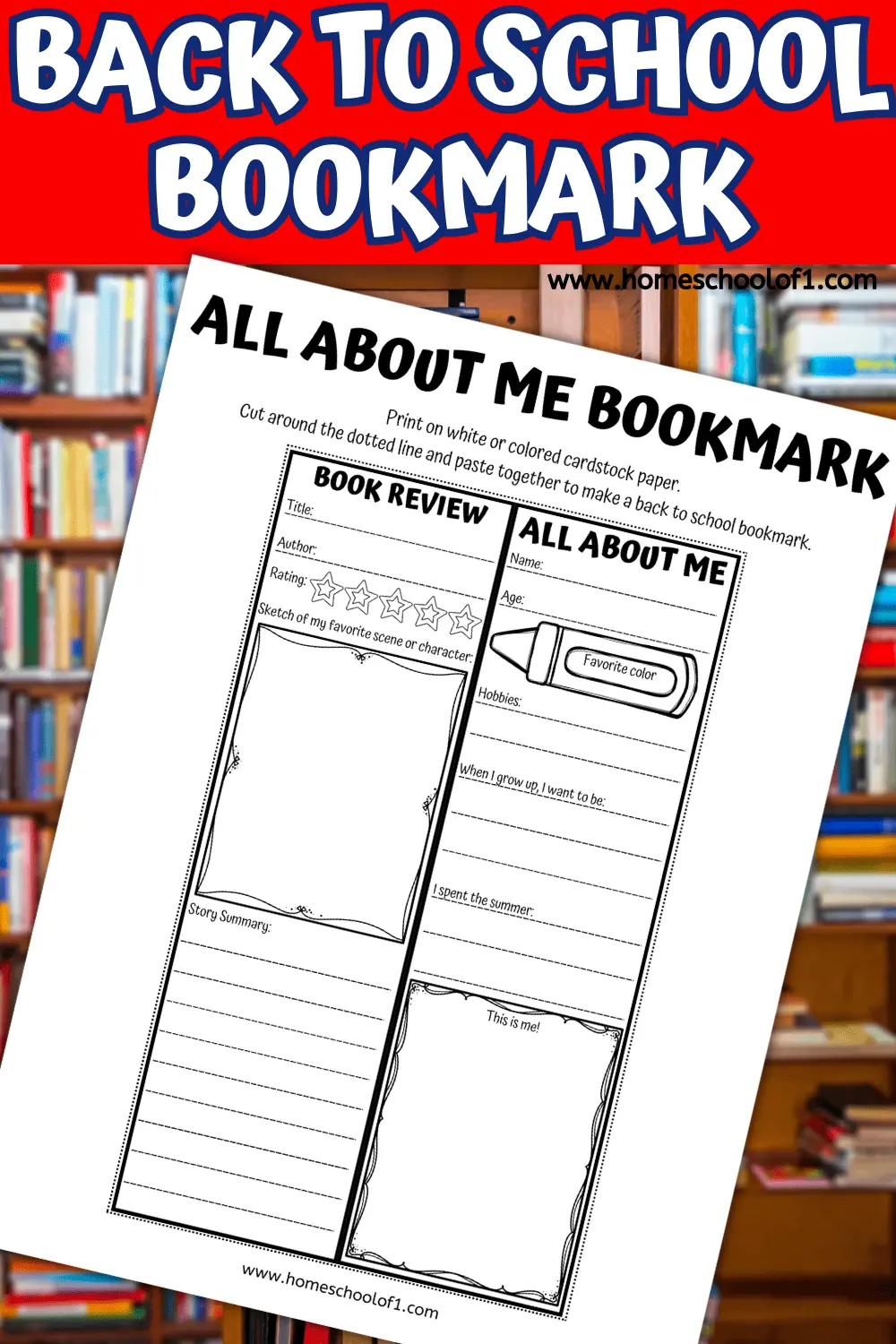 **There may be affiliate links in this post. You can read my full disclosure at the bottom of the page.**
My Mouth Is A Volcano
Our Class is a Family (Our Class is a Family & Our School is a Family)
We Don't Eat Our Classmates: A Penelope Rex Book
A Letter From Your Teacher: On the First Day of School
The Crayons Go Back to School
You're Finally Here!
Benefits of using back to school bookmarks
You might be wondering, besides being fun and engaging, what makes these back-to-school bookmark printables so special?
Well, let me tell you, they come with a bundle of educational benefits that'll make you want to include them in your classroom activities!
Encouraging reading
Improving reading comprehension
Fostering creativity
Self-expression and reflection
Promoting writing skills
Building fine motor skills
Personalized reading tools
Cultivating a sense of ownership
Memorable keepsakes
All about me bookmark printable
There is one printable bookmark included.
On one side the kids need to fill out the following:
Book Title: Capture the title of the book they've recently completed.
Author: Acknowledge the talented author who brought the story to life.
Rating out of 5: Evaluate the book based on personal enjoyment.
Sketch of Favorite Scene or Character: Unleash creativity by illustrating a beloved scene or character.
Book Summary: Summarize the plot concisely, capturing the story's essence.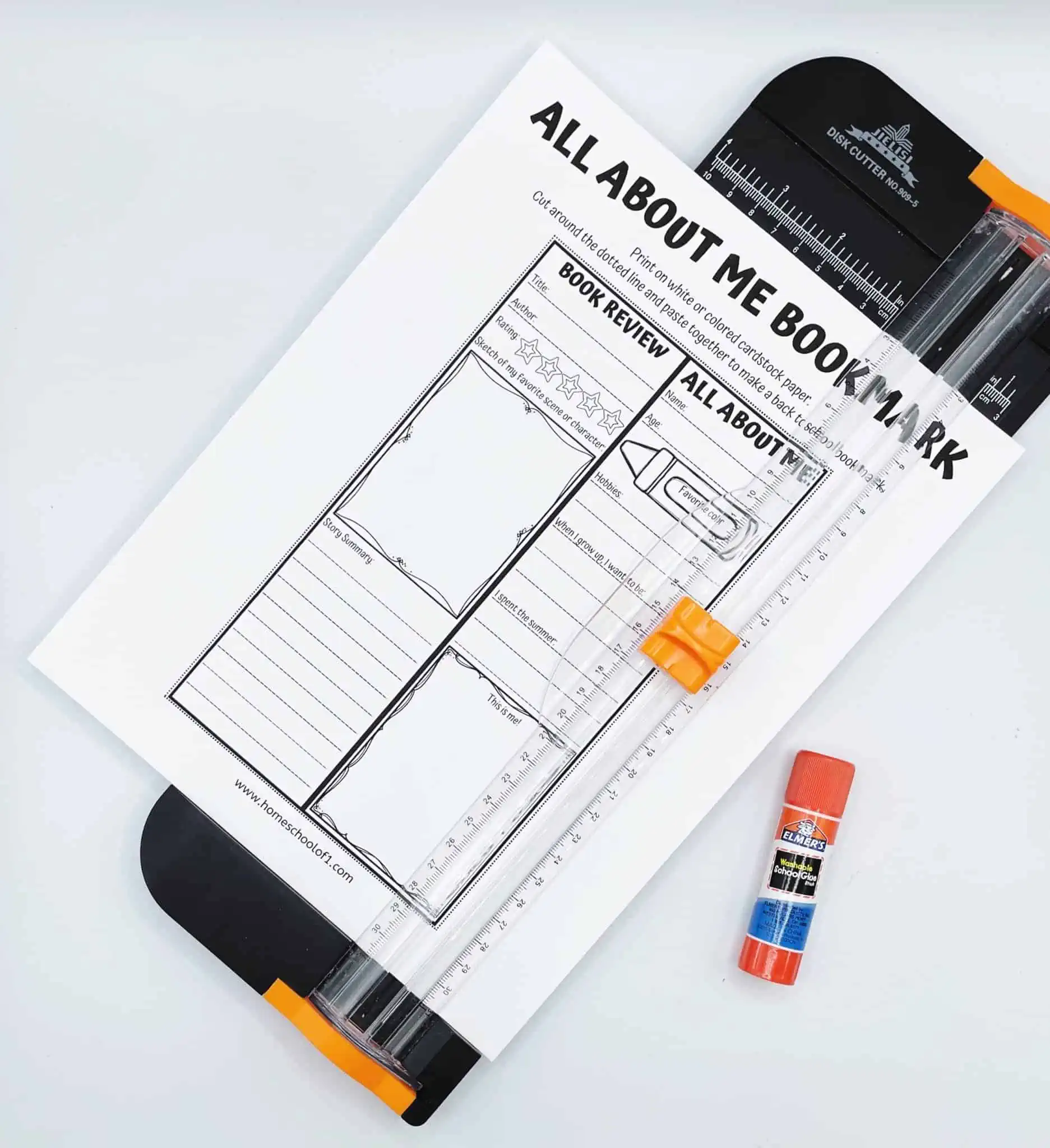 On the reverse side of the bookmark there is the following:
Child's name
Child's age
Favorite color
Hobbies
When I grow up I want to be…
I spent the summer…
This is me, a place where the students can draw a self portrait.
How to use the printable bookmark?
Using the printable bookmark book review is a piece of cake! First, grab the free bookmark download at the bottom of the page – easy peasy!
Now, for the best results, print it on cardstock, but don't worry if you only have white paper or any other cool colors lying around; they'll work just as great! Next, get your scissors or, if you want to be super efficient, a paper cutter to cut along the dotted line.
Once you've got your bookmark all set, fold it in half, and use some school glue to stick it together. Voilà! You've got your very own bookmark, ready to be decorated with vibrant colors by the kids.
Here comes the fun part! Let those creative minds run wild as they color in the books and make the bookmark their own.
Now, when they finish reading a book, it's time for the real adventure – completing the book review! Not only will this activity spark their artistic flair, but it'll also boost their reading and critical thinking skills.
Oh, by the way, did you know that the bookmark measures a neat 2.5 x 8.5 inches when folded in half? It's the perfect size to mark their place in any book they read. Plus, it's a fantastic keepsake of all the amazing stories they've explored on their reading journey!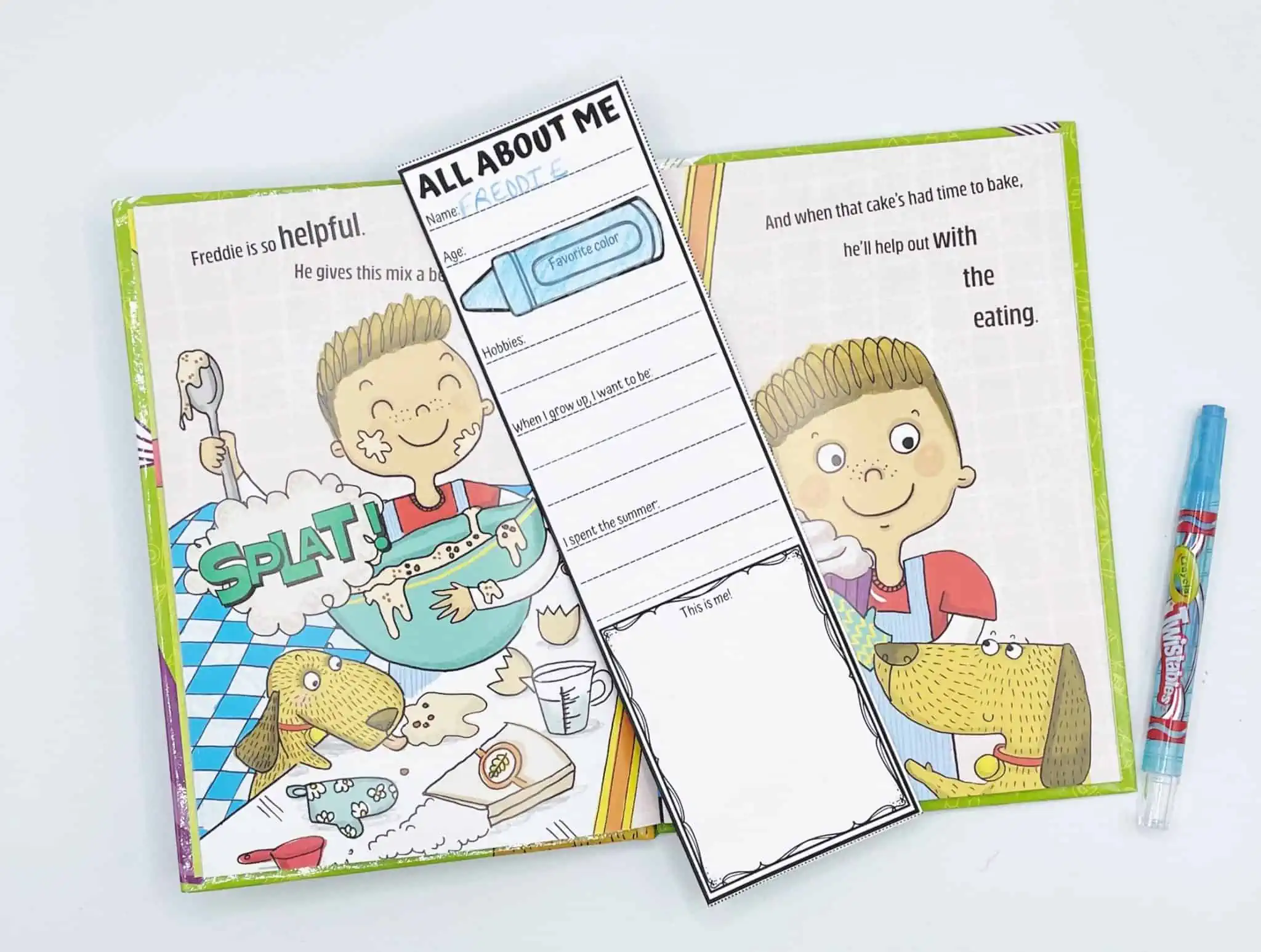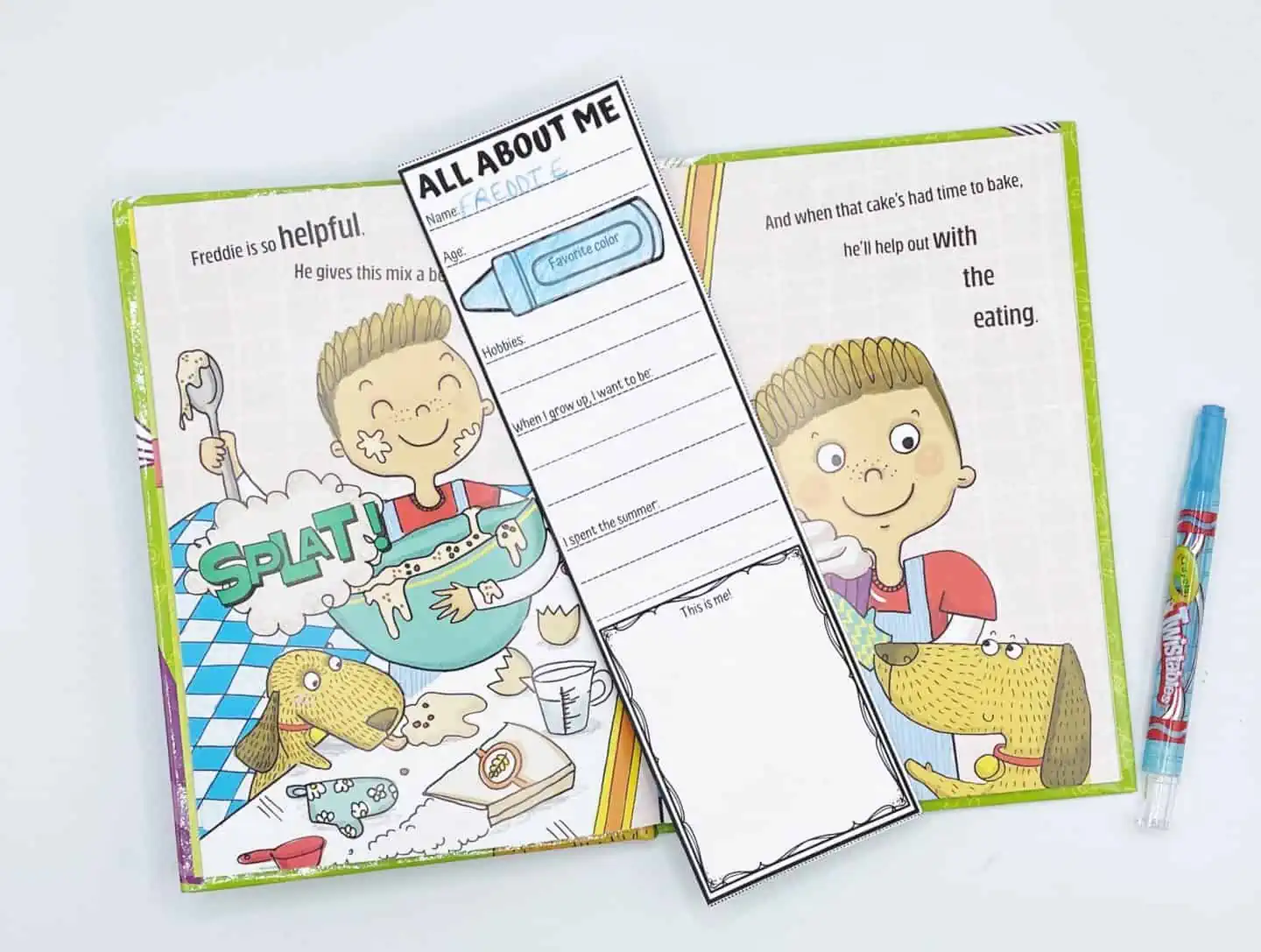 Favorite Back to School Read Alouds
Have fun at the start of the new term with our favorite back to school book lists for kids:
A Letter From Your Teacher: On the First Day of School is a heartwarming story that follows a young child as they write a letter to their new teacher. Expressing their feelings and hopes for the upcoming school year.
We Don't Eat Our Classmates is a hilarious and endearing read-aloud that introduces Penelope Rex, a dinosaur starting school with a big problem. She can't resist eating her classmates! This entertaining tale navigates the challenges of making friends and learning important lessons about kindness.
My Mouth Is A Volcano is a delightful and relatable read-aloud that follows a young boy named Louis who has a hard time controlling his impulses to blurt out and interrupt. Through this charming story, children will learn valuable lessons about respecting others' space and the importance of listening patiently. Making it a perfect choice for the back to school season.
First Week of School Printables
Have even more fun on the first week of school with these free first day of school worksheets:
Tips for downloading the free files
Below is a blue cloud with an arrow pointing downward. Underneath that is a large sign-up box where you need to add your name and email address, and press I NEED THIS NOW!
Within minutes you will be sent the free PDF directly to your email address, so you can print it out and start using it immediately.
Sometimes emails get a little wonky, so if you can't see it, please check your spam folder where I am sure it is hiding.
Download the Free Printable Back to School Bookmark
Enjoy these color in review bookmarks in your homeschool, library, or classroom.
These worksheets are free to print but are for personal or classroom use only.
Make sure you choose the correct paper size and click on the shrink to fit button. All of our free printables for kids work better when printed on cardstock (this is the one we use and love.)
Last Updated on 2 October 2023 by homeschoolof1