Compare and Contrast Movie and Book Template (free printable)
Books vs movies, there is always a big difference, so why not encourage the kids to use this compare and contrast movie and book template?
As we are now finally reading Harry Potter series, I wanted to create a compare and contrast movie and book template to use in our homeschool. I couldn't find what I was looking for online, so I thought I would share with you what we use.
My son absolutely loves reading, check out our favorite book lists for kids there are over 20 book lists included for kids of all ages, for school, for reading, and for every season. Plus lots of free book printables.
We agreed last Friday as he had completed the book and the book report, that we would watch the Harry Potter movie.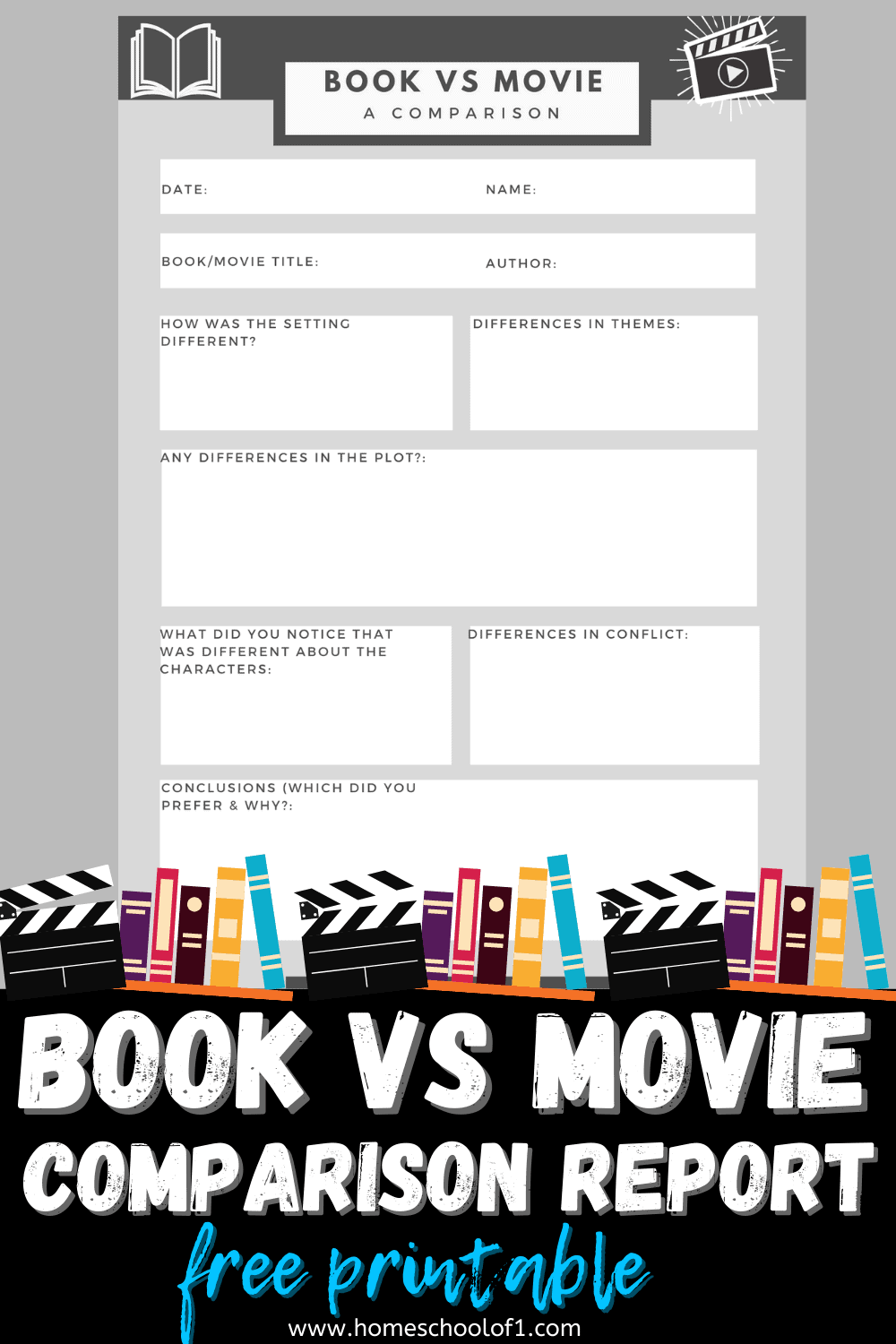 **There may be affiliate links in this post. You can read my full disclosure at the bottom of the page.**
Books and movies compare and contrast
My son always writes a book report after every single book he reads. So when he completed the first Harry Potter book he completed this. (Get your FREE copy of the book report template here).
We are lucky in the fact that our son has always loved reading books, however, adding a movie into the mix as well, has certainly paid off.
If you are not as lucky though check out our top tips on how to encourage reading habits in kids. Number 7 is my favorite!!
The Harry Potter and the Sorcerors Stone would normally take him about 2 weeks to read. However, knowing he would get to watch a movie at the end of it, encouraged him to read twice as fast!
We always make sure the book is read first and then write the book report.
Before we watch the movie I always remind him that he needs to write a comparison report after. That way, he knows, even more, to look out for differences.
Reading Journal: For the Love of Books, A
Workman Publishing Everything You Need to Ace English
Holes (Holes Series)
Success Skills for Middle Schoolers: How to Build
When the movie is finished, and in fact, in my son's case, constantly throughout the movie (not annoying at all!!!!) he will share the differences.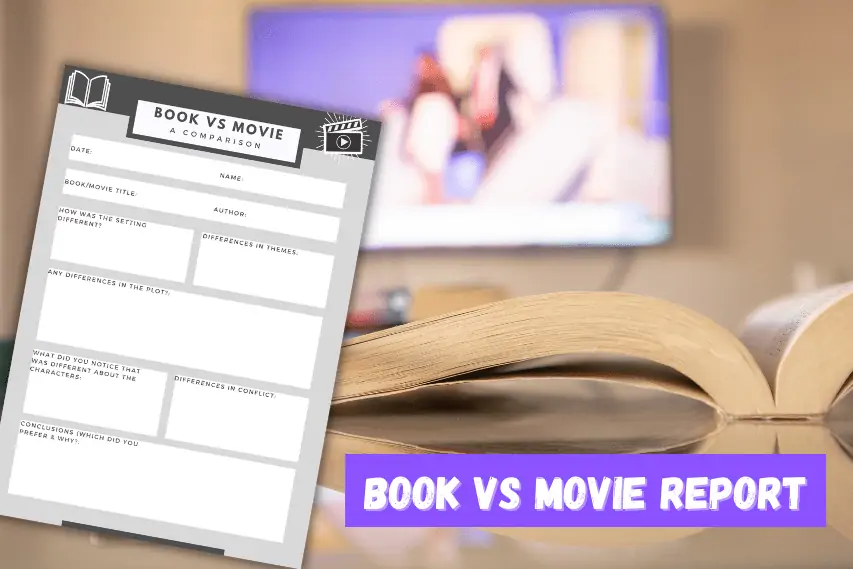 If your child isn't as forthcoming though try asking these questions:
How was the movie different from the book?
Did the setting look as you expected?
Were there things left out or added in the movie compared to the book?
Did the characters look as you expected?
Which did you prefer? The book or the movie? Why?
You are also going to love our free reading log printables, there are 6 different ones to choose from for all ages.
The Best Movies With Books to Study
There are so many!
Pretty much any movie the students will watch is a movie adaptation of a book.
But I will share with you our top five.
What I love about this is you can sneak in a cuddle or two while watching movies!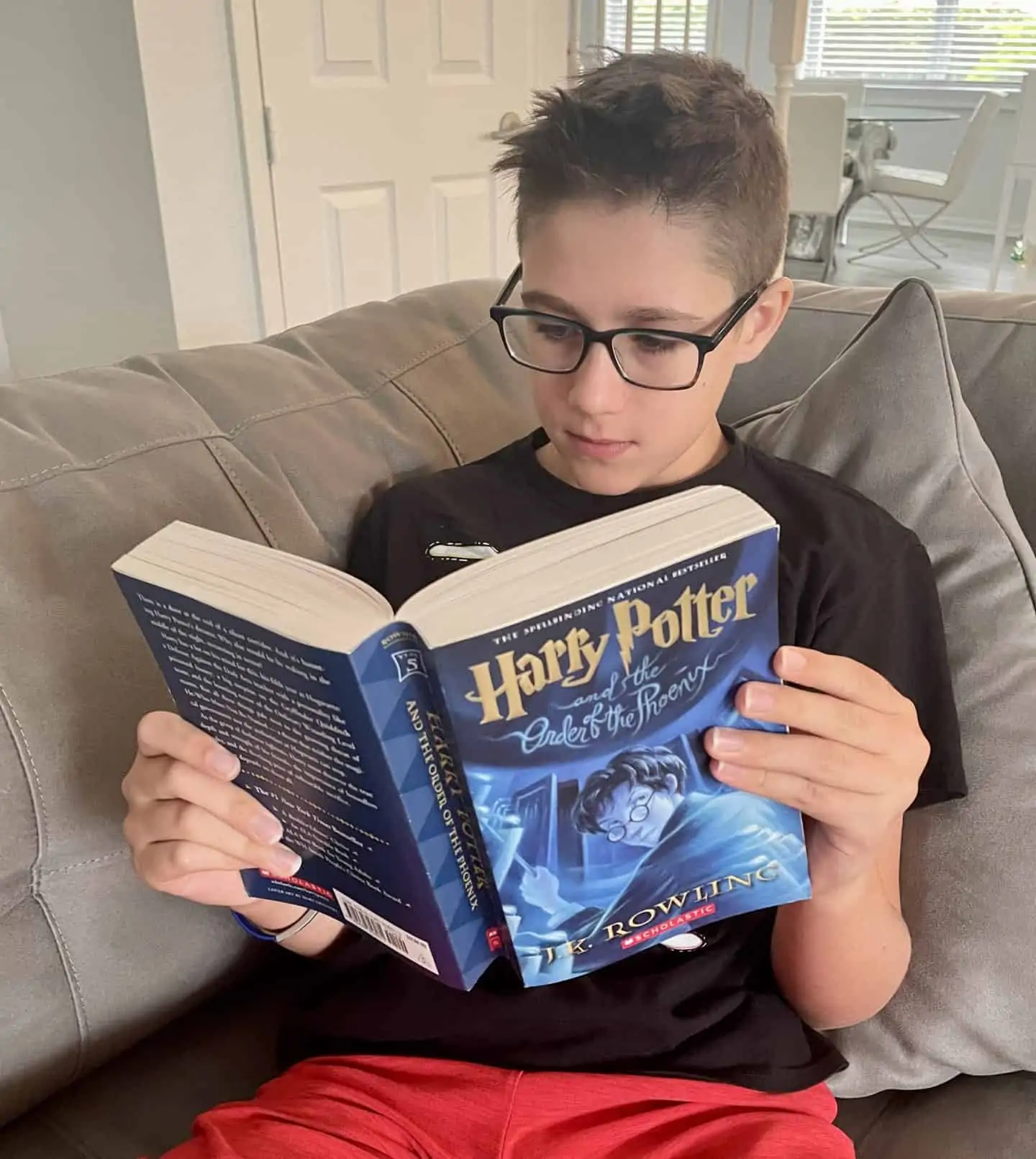 I recommend the kids to complete the books vs movies compare and contrast report as soon after the movie as possible. That way they don't forget it.
I love that it sneaks in writing too! I will try anything! We do love WriteShop (check out our Writeshop review) as his writing curriculum but he will only do the minimum!! But he LOVES to read books so I can't have it all!
Download the free Compare and Contrast Movie and Book Template
This free printable movie book comparison is free to print but is for personal or classroom use only.
Make sure you choose the correct paper size and click on the shrink to fit button. All of our free printables for kids work better when printed on cardstock (this is the one we use and love.)
What are your kid's favorite books that have been turned into films? Let me know in the comments below.
Last Updated on 17 July 2023 by homeschoolof1