Free Middle School Book Report Template (That is Simple)
Are you looking for a middle school book report template? If so you are in the right place.
We are super lucky as our son loves to read, he always has. But he really dislikes writing! He can talk for hours about the book he has recently read, so I thought, why don't I encourage him?
We have created this free book report template for you to use either in the classroom or in your homeschool.
Interestingly the boy who hates to write completely fills up (and often continues writing on the back!) his book report.
I could not believe it, clearly, he just hates to write about things he isn't interested in. This was such a turning point in our homeschool.
We found something he loved doing and incorporated things he didn't.
He now voluntarily chooses to write a book report after EVERY book he completes (and he reads a lot!).
These reports are then added to our homeschool portfolio to show the books he has read.
You are also going to love our free reading log printable that can be used along with this book report.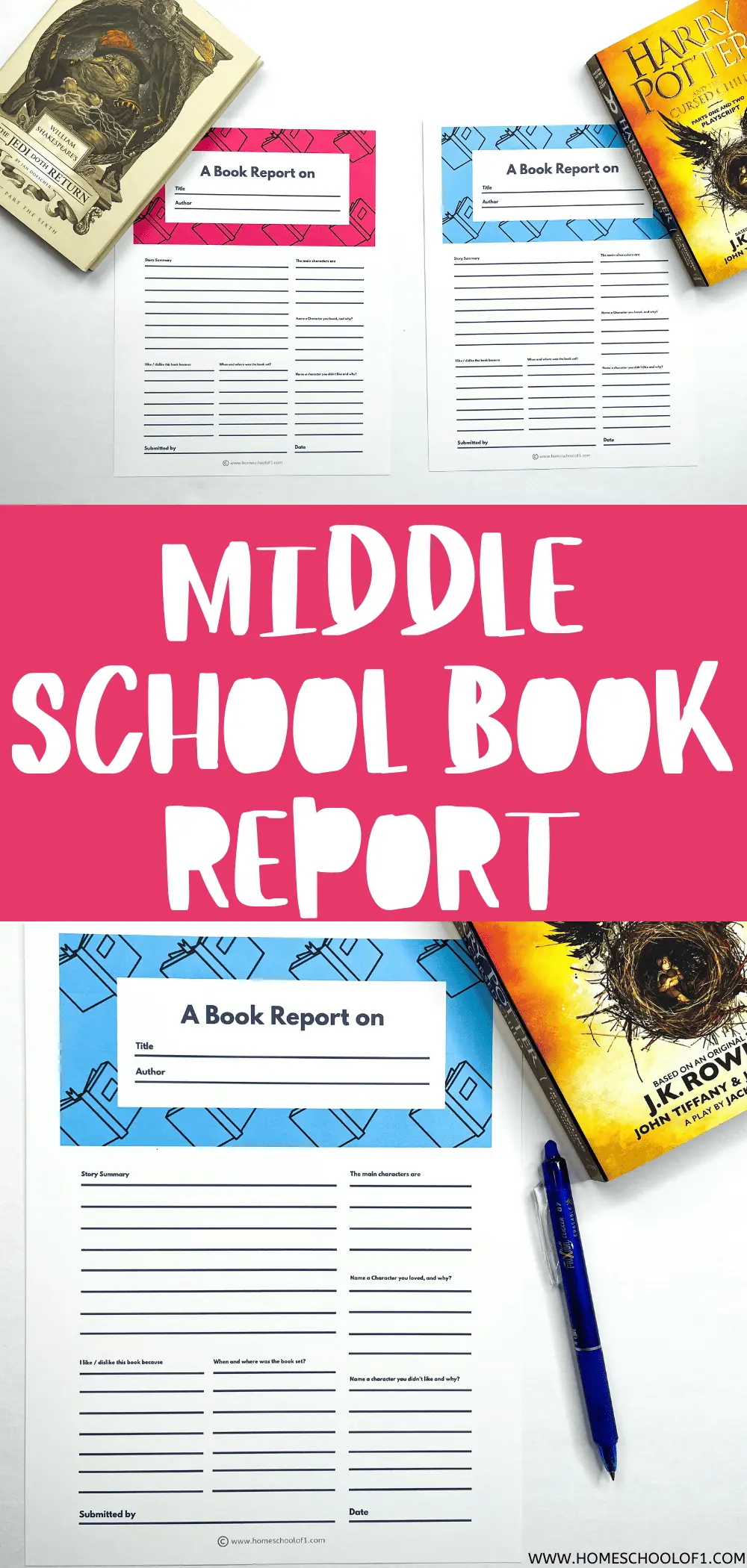 **There may be affiliate links in this post. You can read my full disclosure at the bottom of the page.**
Free Book Report Template
This book report printable is free to print but is for personal and classroom use only. Scroll to the bottom of the post and add your email address to get the pdf file.
I wanted to find a book report form we could use with any book, so I created this one.
This works well for upper elementary and middle school-aged children. But if you are looking for younger kids you will love our free book report for 3rd grade students.
When we get to high school years we will create a more detailed report.
The sections of the book report template are as follows:
Story Summary
The Main Characters
A Character you loved and why
A character you didn't like and why
I like/dislike this book because
Where and when was the book set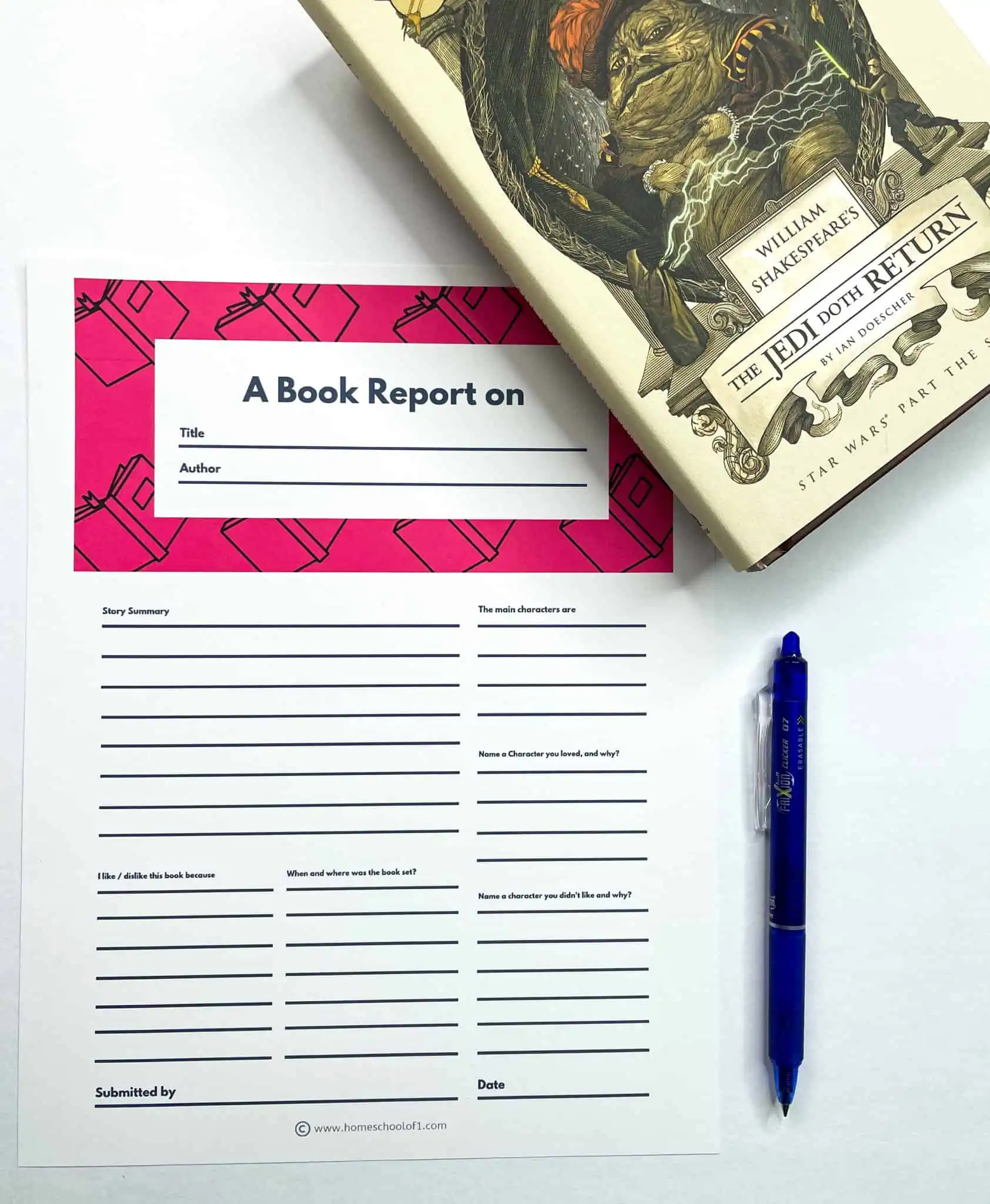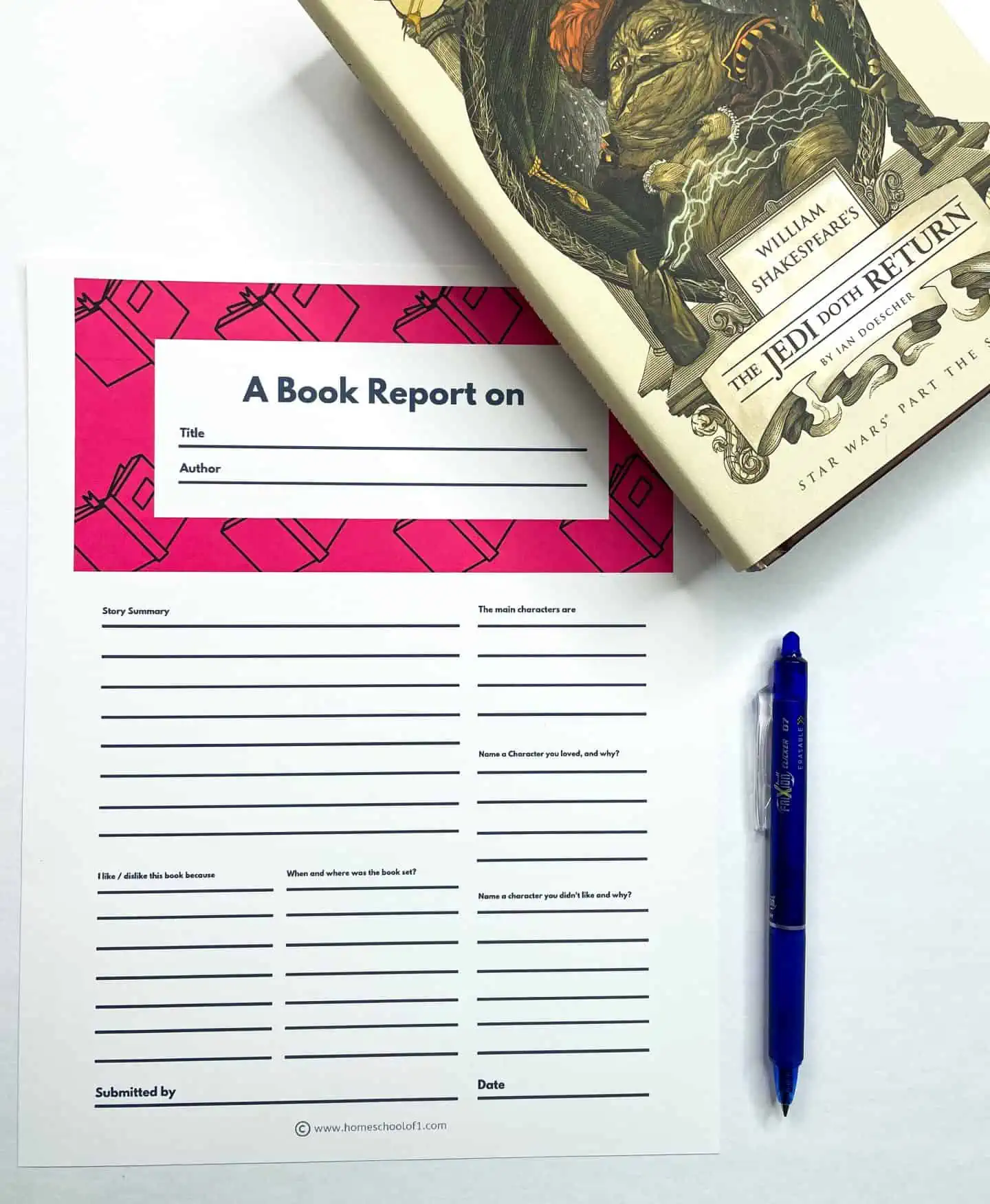 Nothing too complicated, which is just what we like!
Check out our favorite books for 13 year old boys.
Why Use a Book Report?
The reason we use book reports is mainly as it helps with reading comprehension, but it also sneaks in writing too!!
I need any excuse I can to encourage my son to write! When he completes the report, he has to use correct grammar and his best handwriting.
Now I only need him to try, he is a typical boy and his handwriting is well, hmm, not great! But as long as he tries that is perfect for me.
I know they use book reports in school, although I am sure that is just for them to know the child has actually read the book!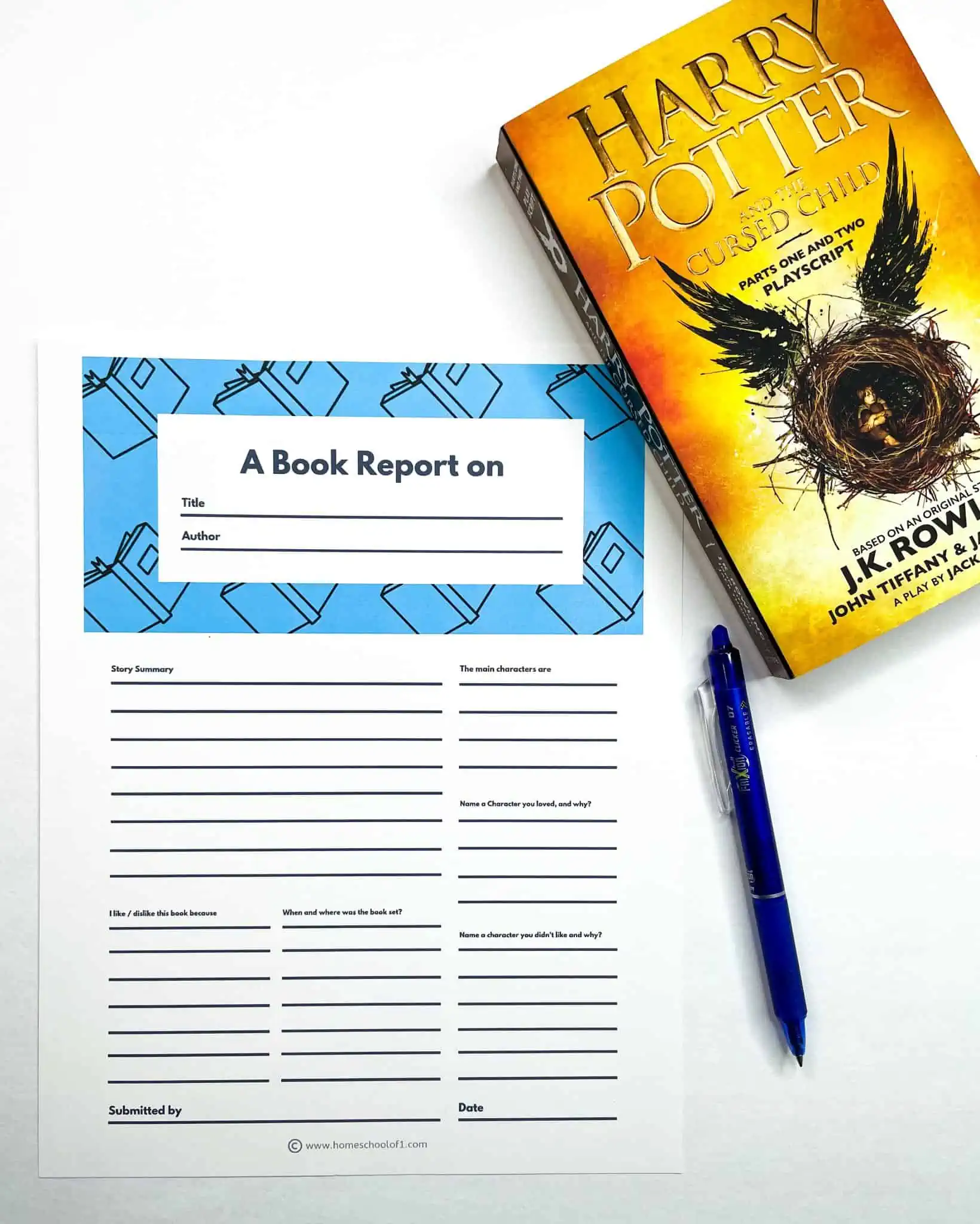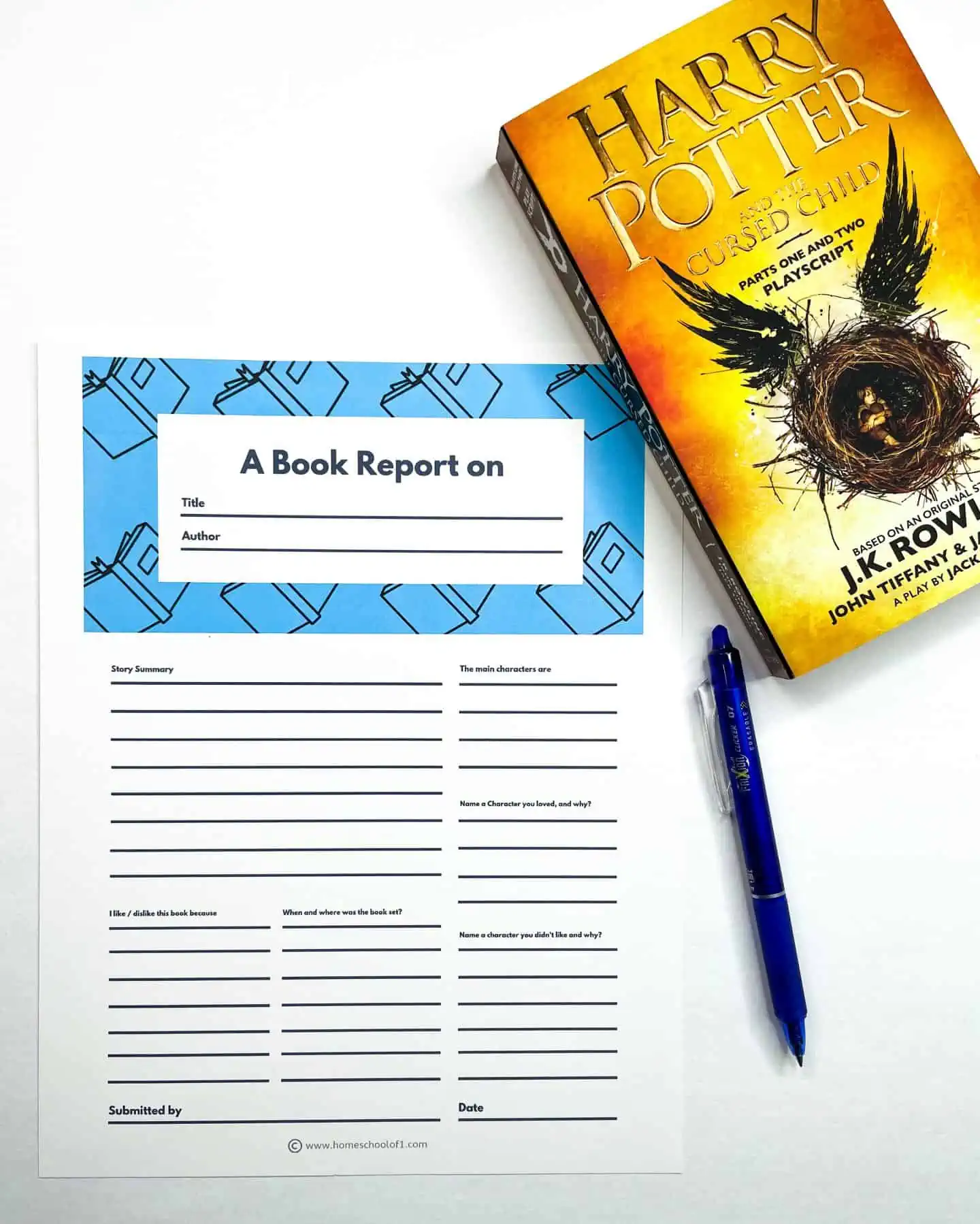 In homeschool though, we use these book reports more as a record of books he has read.
We add them to his portfolio (another good way to fill it up!!) We do a lot of online schoolwork, so this is great!
Another printable we have created is book bingo which is a great FUN way to encourage children to read. We always give a small prize when they get to BINGO.
Reading Journal: For the Love of Books, A
Workman Publishing Everything You Need to Ace English
Holes (Holes Series)
Success Skills for Middle Schoolers: How to Build
A number of our favorite books have been turned into movies, so after reading the book, it is a treat to watch the movie.
After watching the movie he will use a compare and contrast movie and book template and write about the differences.
Tips for downloading the free files
Below you will see a large sign-up box where you need to add your name and email address, and press I NEED THIS NOW!
Within minutes you will be sent the free PDF directly to your email address, so you can print it out and start using it immediately.
Sometimes emails get a little wonky, so if you can't see it, please check your spam folder where I am sure it is hiding.
Download the free printable book report templates
Make sure you choose the correct paper size and click on the shrink to fit button. All of our free printables for kids work better when printed on cardstock (this is the one we use and love.)
If you are looking for something slightly different I also liked this book report template from Etsy.
We hope you and the kids enjoy your free book report template. You can either print in color or in grayscale (we do this to save on ink – wow it's so expensive!!)
Last Updated on 22 October 2023 by homeschoolof1