Free Camping Scavenger Hunt Printable For Kids
Are you taking the kids camping and looking for fun ways to keep them occupied? Download our free printable camping scavenger hunt for the kids and have fun.
Scavenger hunts are so much fun, we loved them when the kids were really little, but even now our son is in middle school he and his friends have so much with them.
Now to be fair it is now a competition to see who wins first for bragging rights, but it's totally worth it.
This camping scavenger hunt printable is perfect really for elementary-aged kids, but let's be honest, we all love scavenging! Especially when camping!
**There may be affiliate links in this post. You can read my full disclosure at the bottom of the page.**
Scavenger Hunt While Camping
Your next camping trip is going to be so much fun with this free camping scavenger hunt.
Download the outdoor scavenger hunt below. There is 1 page with 15 images. Make sure to check the printer settings.
This fun camping scavenger hunt is free to print but is for personal use only. Scroll to the bottom of the page and add your email address to get the pdf file.
This camping scavenger hunt is such a fun game to play.
If you want to keep the hunt for next time a good idea would be to laminate the free printable scavenger hunt before you go. If you do just remember to take some dry erase markers so you can play over and over again.
Before you go camping why not print out a few extra so the kid's new friends can join in too?
What about playing our free printable road trip bingo en route with the whole family?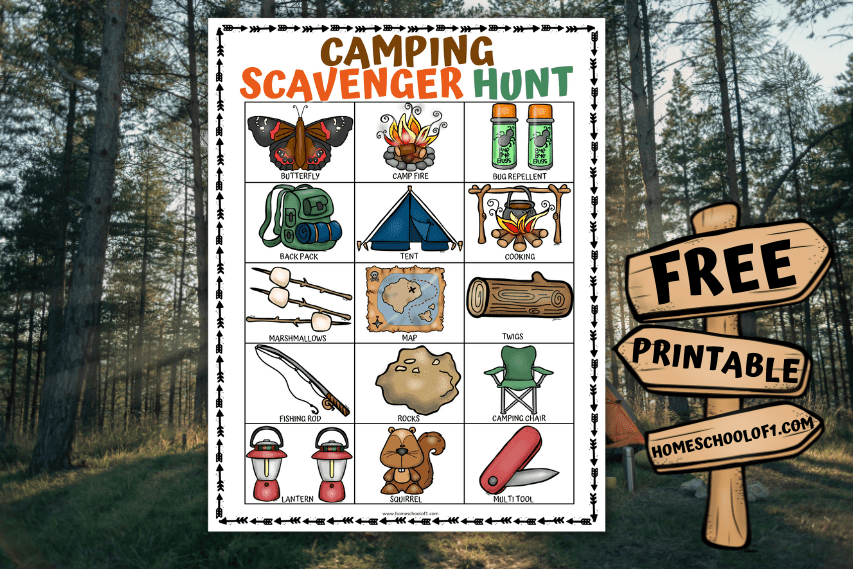 List of items to find around the campsite
There are 15 items to find on this camping scavenger hunt:
Butterfly (I think you will enjoy our life cycle of a butterfly worksheets when you get back)
Campfire
Bug repellent
Backpack
Tent
Cooking
Marshmallows
Map
Twigs
Fishing rod
Rocks
Camping chair
Lantern
Squirrel
Multi-Tool
I highly recommend taking a storage clipboard on the journey to add all of the kid's free camping game printables and pens.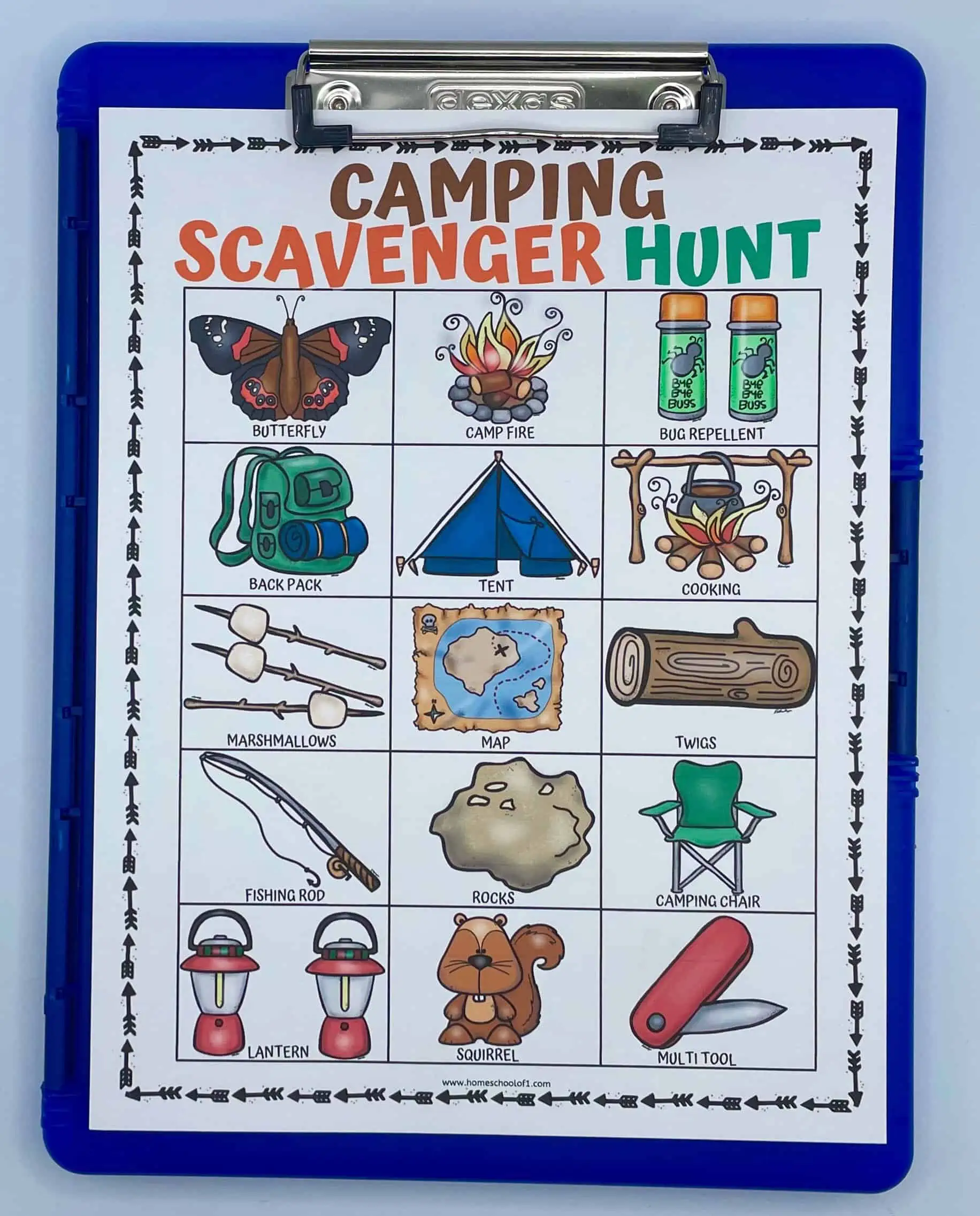 How to play the campground scavenger hunt
Get the older kids to work in teams with the younger kids and have fun in nature.
As there are pictures and words young children who are early readers can try and read the word as well.
Kids of all ages will have such a great time with this.
There are 2 ways they can play:
Work in small groups and mark off the camping items when they are spotted.
Older children can turn this into a photo scavenger hunt. When they spot an item they need to snap a photo of it, as proof!
You could have a little friendly competition, with whichever team gets back to camp first, or whoever takes the best photos.
Take some small prizes with you, I love to take:
These are the best camping utensils every child could want.
Other outdoor summer scavenger hunts you will enjoy:
On rainy days you will love book scavenger hunt as it is a fun indoor scavenger hunt to be played at home or the library.
Download the free printable camping scavenger hunt
Make sure you choose the correct paper size and click on the shrink to fit button. All of our free printables for kids work better when printed on cardstock (this is the one we use and love.)
Last Updated on 29 July 2023 by homeschoolof1