Tree Scavenger Hunt Perfect for Arbor Day (free printable)
As Arbor Day is coming up soon, the last Friday of April, I wanted to create a free tree scavenger hunt printable for you and the kids to enjoy.
So what is Arbor Day? It is simply a day when we are encouraged to plant new trees. It is similar to Earth Day in that it is another day that celebrates nature.
This tree scavenger hunt printable is a great activity to play year-round but is a great way to celebrate Arbor Day.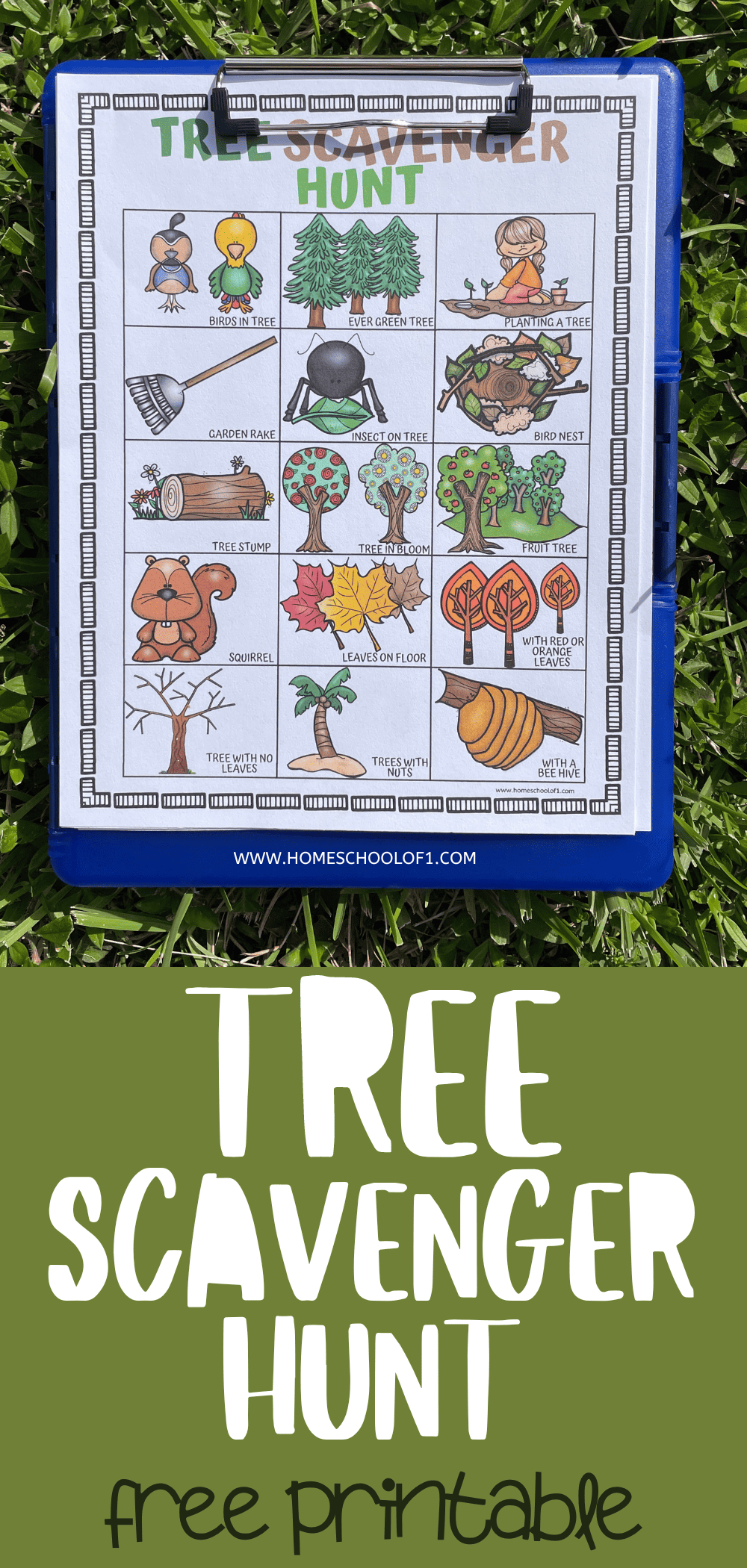 **There may be affiliate links in this post. You can read my full disclosure at the bottom of the page.**
Tree scavenger hunt worksheet
This tree scavenger hunt is such a fun game to play. Getting outside with the kids is so much fun, but sometimes they need a little activity to do just to keep them occupied!
Download the fun Arbor Day scavenger hunt below. There is 1 page included with 15 different images on and it will print out in portrait. Make sure to check the printer settings.
This free tree scavenger hunt printable is free to print but is for personal use only. Scroll to the bottom of this post to get the pdf file.
How to play this outdoor scavenger hunt?
The best thing about this fun activity is it is super easy.
All you need to do is grab the free printable, grab a pen, and go for a walk.
We always use a storage clipboard so we can keep everything together, and it makes marking off the items easier.
To change it up a little for older children, when the kids find an item rather than crossing it off, why not get them to take a photo of it?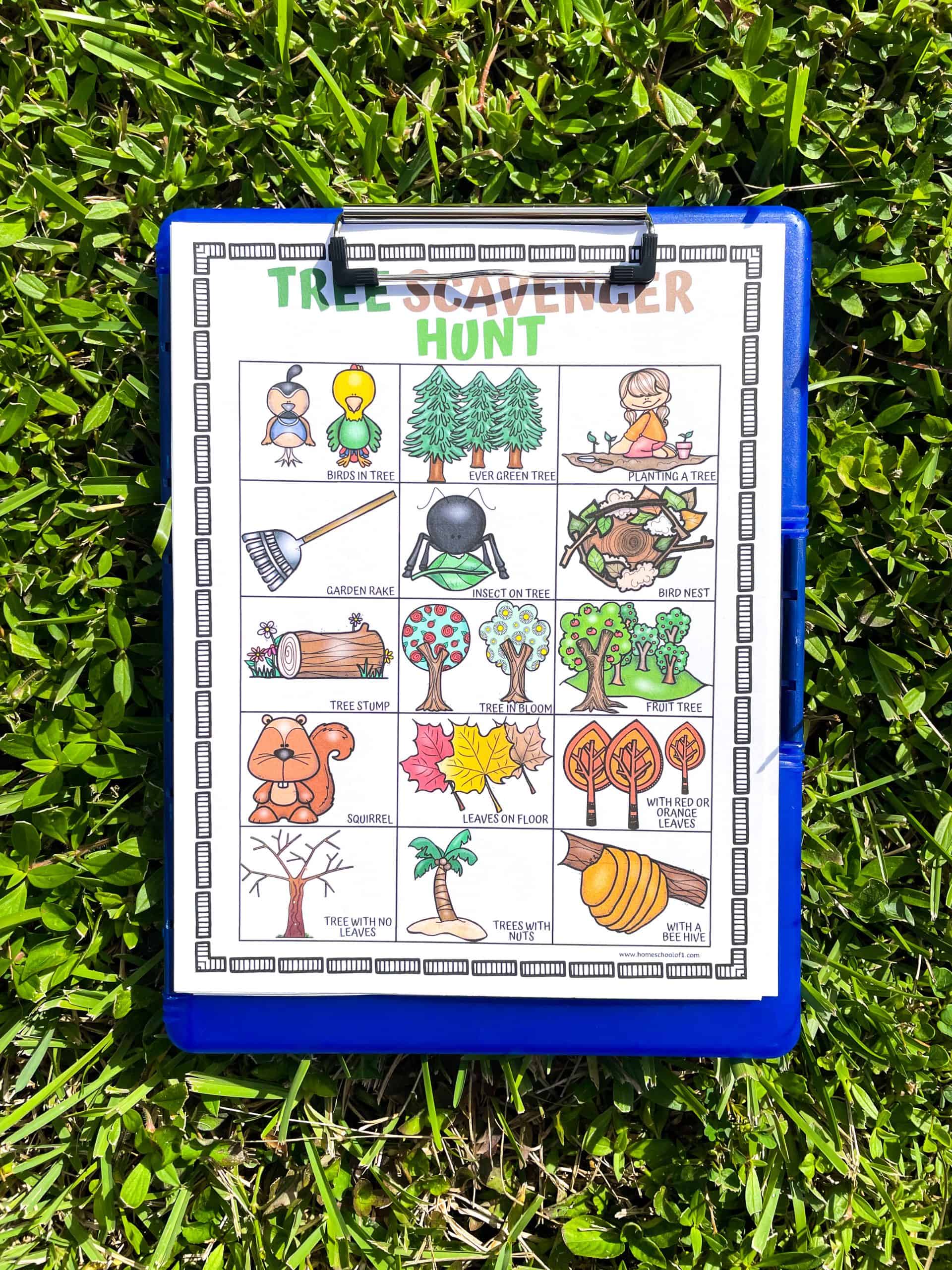 The list of items to find on your walk looking for trees
Included in this scavenger hunt is the following you need to find either on a tree or near a tree:
Birds in tree
Evergreen tree
Planting a tree
Garden rake
Insect on a tree
Bird nest
Tree stump
Trees in bloom
Fruit tree
Squirrel in tree
Leaves on the floor
A tree with red leaves
Tree with no leaves
Trees with nuts
Tree with a beehive
All of these should be easy to find no matter where you are in the world or what season.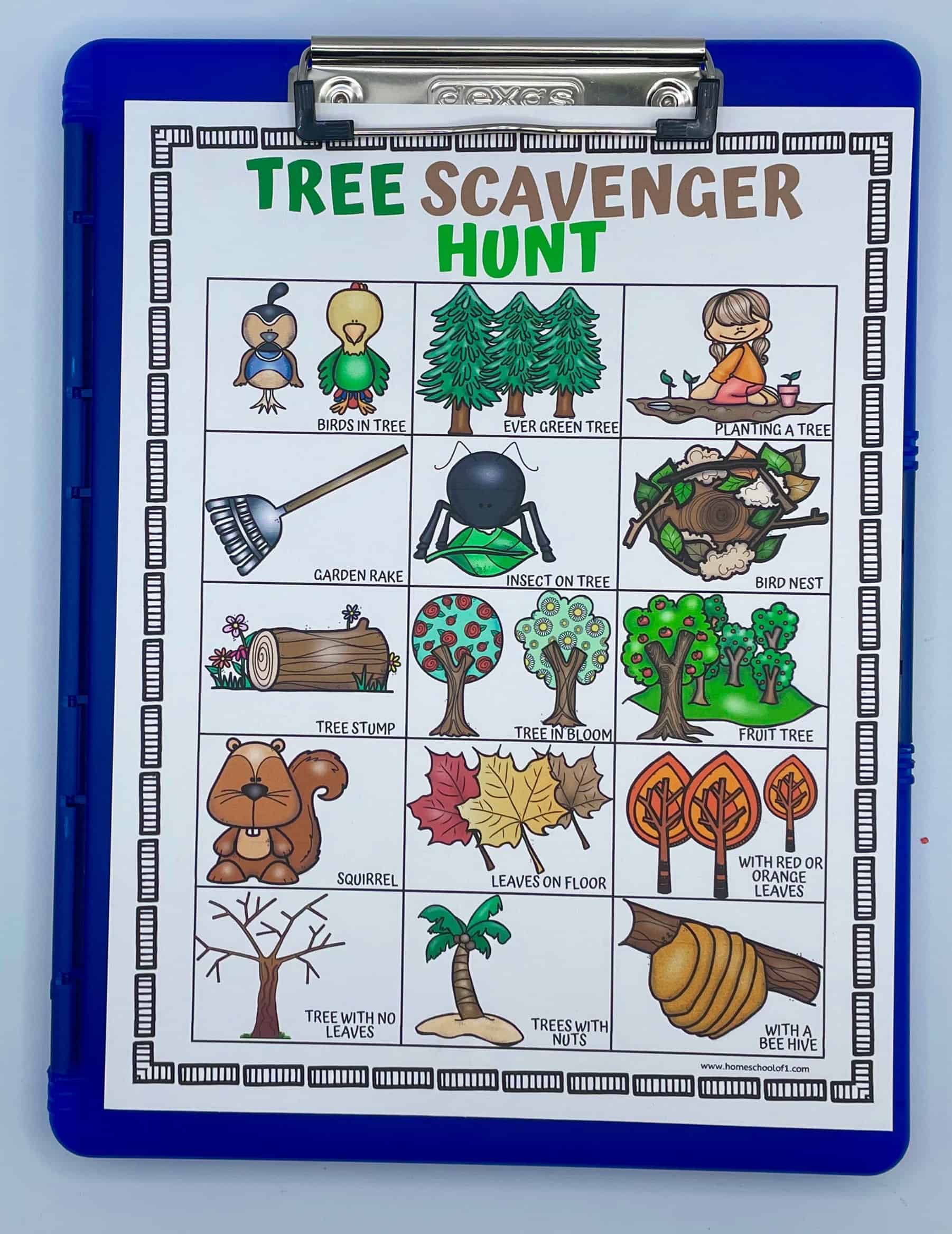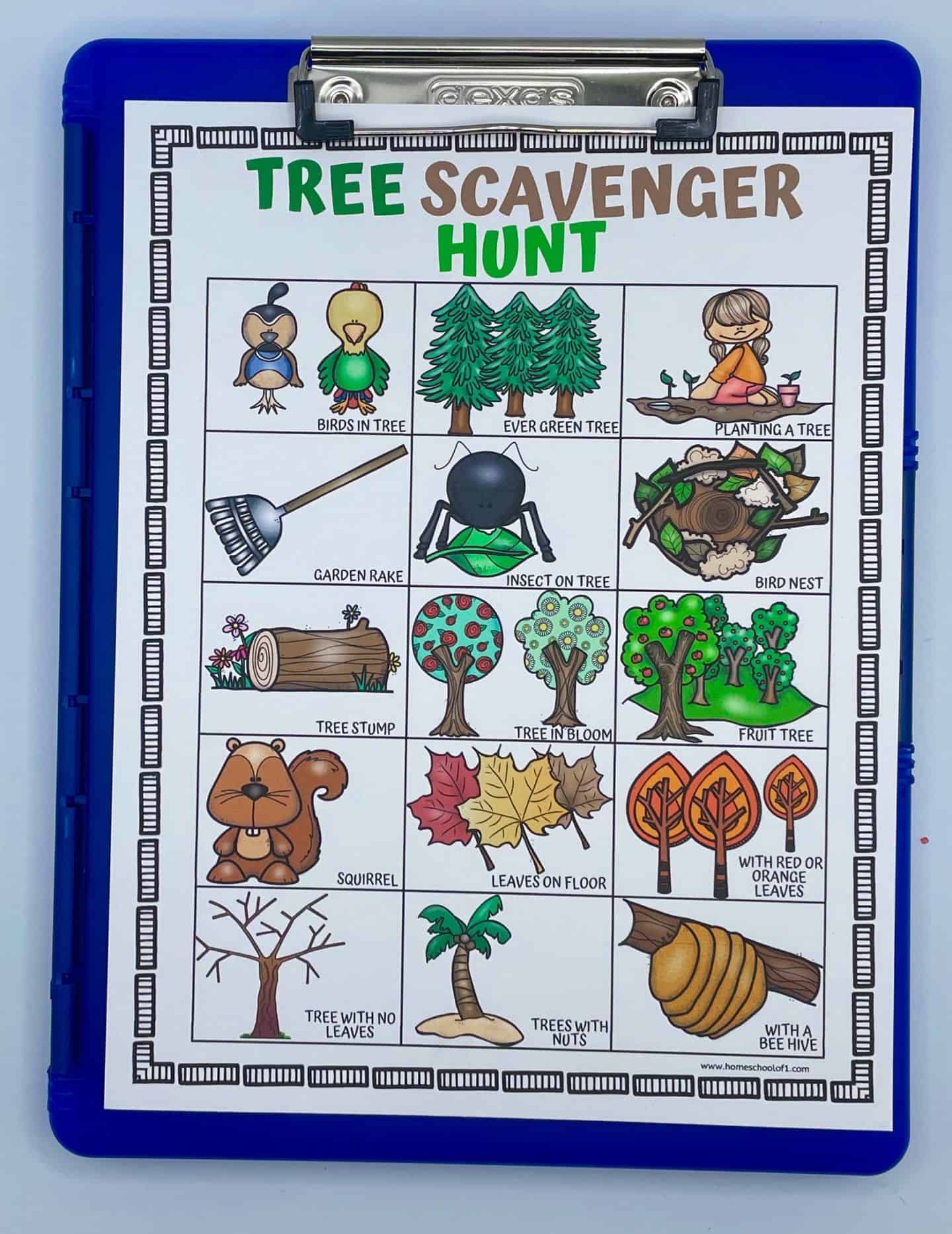 Best books about trees for kids
We should all be able to identify the trees that are around us, I have to admit though I probably couldn't.
These books are fantastic and we are starting to learn more about trees during our school day.
If you want to learn more about trees with the kids then I recommend these books:
The Tree Book for Kids and Their Grown-Ups is a delightful and informative book that invites children and adults to explore the enchanting world of trees together. Sharing fascinating facts and stories about these majestic wonders of nature.
The Magic and Mystery of Trees is a captivating journey into the mystical and intriguing realm of trees. Uncovering their age-old symbolism, ecological significance, and the secrets they hold within their branches.
Trees, Leaves, Flowers, and Seeds: A Visual Encyclopedia of the Plant Kingdom offers a comprehensive and visually stunning guide to the plant world. Including trees, leaves, flowers, and seeds. Making it a perfect resource for young learners interested in the diverse and vibrant aspects of the natural world.
Other fun Arbor Day activities
For even more Arbor Day or Earth Day activities for elementary students check out the free educational resources the Arbor Day Foundation has to offer. They offer a wide range of materials to foster environmental awareness and understanding.
For preschoolers, our free tree handprint template provides a creative and hands-on activity to introduce them to the world of trees.
Dive into the fascinating process of plant growth with our free life cycle of a plant worksheet, a valuable resource for teaching kids about the natural world.
To extend the outdoor fun, why not continue the exploration with another printable nature scavenger hunt? It's a perfect way to get children actively connected with the environment and appreciating the beauty of the great outdoors.
Tips for downloading the free files
Below you will see a large sign-up box where you need to add your name and email address, and press I NEED THIS NOW!
Within minutes you will be sent the free PDF directly to your email address, so you can print it out and start using it immediately.
Sometimes emails get a little wonky, so if you can't see it, please check your spam folder where I am sure it is hiding.
Download the free tree scavenger hunt worksheet
Make sure you choose the correct paper size and click on the shrink to fit button. All of our free printables for kids work better when printed on cardstock (this is the one we use and love.)
Other scavenger hunt printables you will enjoy
Last Updated on 28 October 2023 by homeschoolof1