Butterfly Scavenger Hunt Printable (free)
Get ready for an exciting outdoor adventure with our free butterfly scavenger hunt printable! As we approach the season of blooming flowers and fluttering butterflies, this activity will bring joy to the whole family.
Scavenger hunt printables are not just for little kids; even middle schoolers, like my son and his friends, absolutely love them! It has turned into a friendly competition for bragging rights, and it's an absolute blast.
The best part? This nature-themed scavenger hunt is not only entertaining but also educational as it introduces kids to the enchanting world of butterflies. So, let's get started on this thrilling quest to find ten captivating butterfly images, a caterpillar, and even an eaten leaf!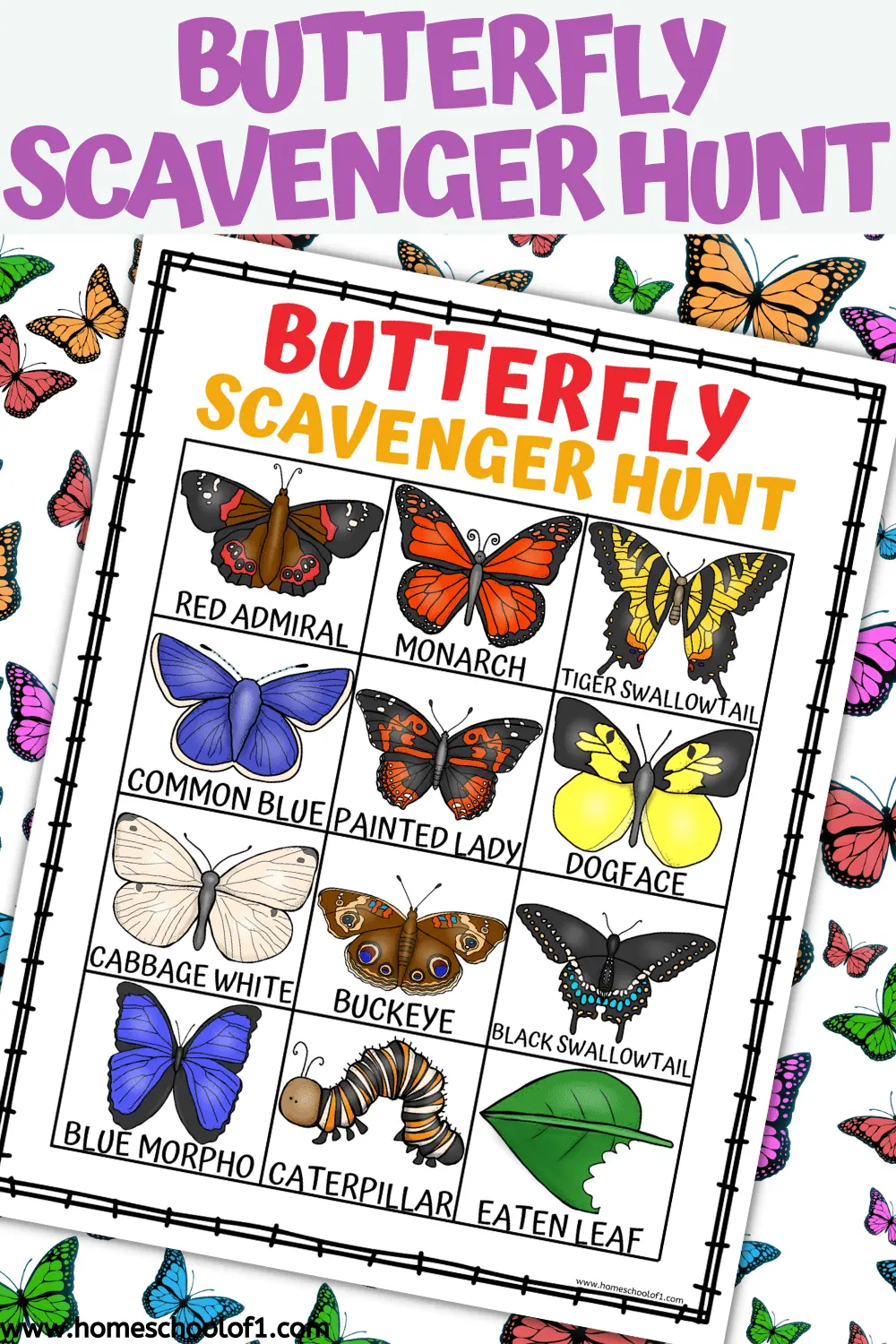 **There may be affiliate links in this post. You can read my full disclosure at the bottom of the page.**
How to Play the Butterfly Scavenger Hunt?
All you need for this adventure is a storage clipboard and a pencil. For added durability and reusability, I recommend laminating the hunt and using dry-erase markers.
Keep it handy in the car so you can enjoy this fun and free activity whenever you're out and about this season.
Butterflies to find include:
Red Admiral
Monarch
Tiger Swallowtail
Common Blue
Painted Lady
Dogface
Cabbage White
Buckeye
Black Swallowtail
Blue Morpho
Plus:
Caterpillar
Eaten Leaf
How to Win the Scavenger Hunt?
The goal is to spot and check off all twelve butterfly images, find the caterpillar, and spot an eaten leaf. Remember to enjoy the beauty of nature as you embark on this adventure!
Feel free to download and print the butterfly scavenger hunt printable for personal or classroom use. You can find the PDF file at the bottom of this page.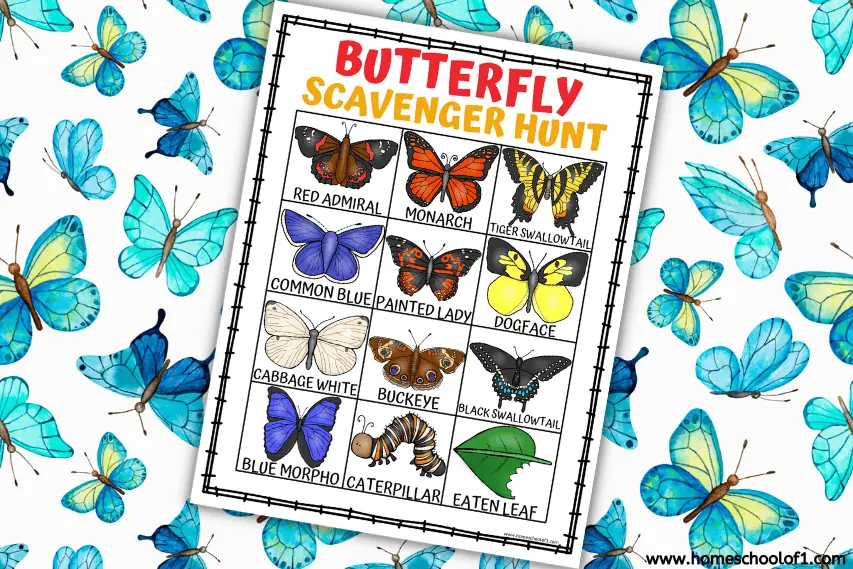 Where to find butterflies to play the scavenger hunt?
The butterfly scavenger hunt can be used in various settings and locations where butterflies can be found. Here are some places where you can organize and enjoy the butterfly scavenger hunt:
Local parks and nature reserves with butterfly-friendly habitats are excellent places to conduct the scavenger hunt. These locations often have diverse plant species that attract butterflies, providing an ideal environment for the activity.
Many botanical gardens have dedicated butterfly exhibits or butterfly gardens, where participants can explore and discover different butterfly species for the scavenger hunt.
Some areas have butterfly houses or conservatories that offer visitors the chance to see various butterflies up close. These venues are perfect for conducting the scavenger hunt while learning about these captivating insects.
If you have a butterfly-friendly garden at home, the scavenger hunt can be a fun activity for kids during playdates or family gatherings. It encourages children to appreciate the beauty of nature right in their backyard.
Nature walks in parks or trails offer opportunities for butterfly spotting and scavenger hunt fun.
Explore My World Butterflies
Ten Magic Butterflies (McKellar Math)
Butterflies for Kids: A Junior Scientist's Guide to the Butterfly Life Cycle and Beautiful Species to Discover
My, Oh My–A Butterfly!: All About Butterflies (Cat in the Hat's Learning Library)
National Geographic Readers: Caterpillar to Butterfly
How Does a Caterpillar Change?: Life Cycles with The Very Hungry Caterpillar (The World of Eric Carle)
When is the best time to find butterflies?
The best time of year to use the butterfly scavenger hunt is during the warmer months, typically in spring, summer, and early autumn. Butterflies are ectothermic insects, meaning their activity levels depend on temperature and weather conditions. Here are the ideal times to enjoy the butterfly scavenger hunt:
As temperatures rise in spring, butterflies become more active after overwintering or migrating back to their breeding grounds. Spring is a perfect time to spot emerging butterflies and caterpillars.
Summer is the peak season for butterfly activity. Warm temperatures and longer days create an abundance of nectar-rich flowers, which attract various butterfly species.
In early fall, many butterflies are still actively flying and searching for food before the colder weather sets in. Some species may also be seen migrating to warmer regions.
During colder months, many butterfly species go through different life stages, such as pupation or overwintering as caterpillars or chrysalides. They may be less visible during this time, making the warmer months the most suitable for butterfly scavenger hunts.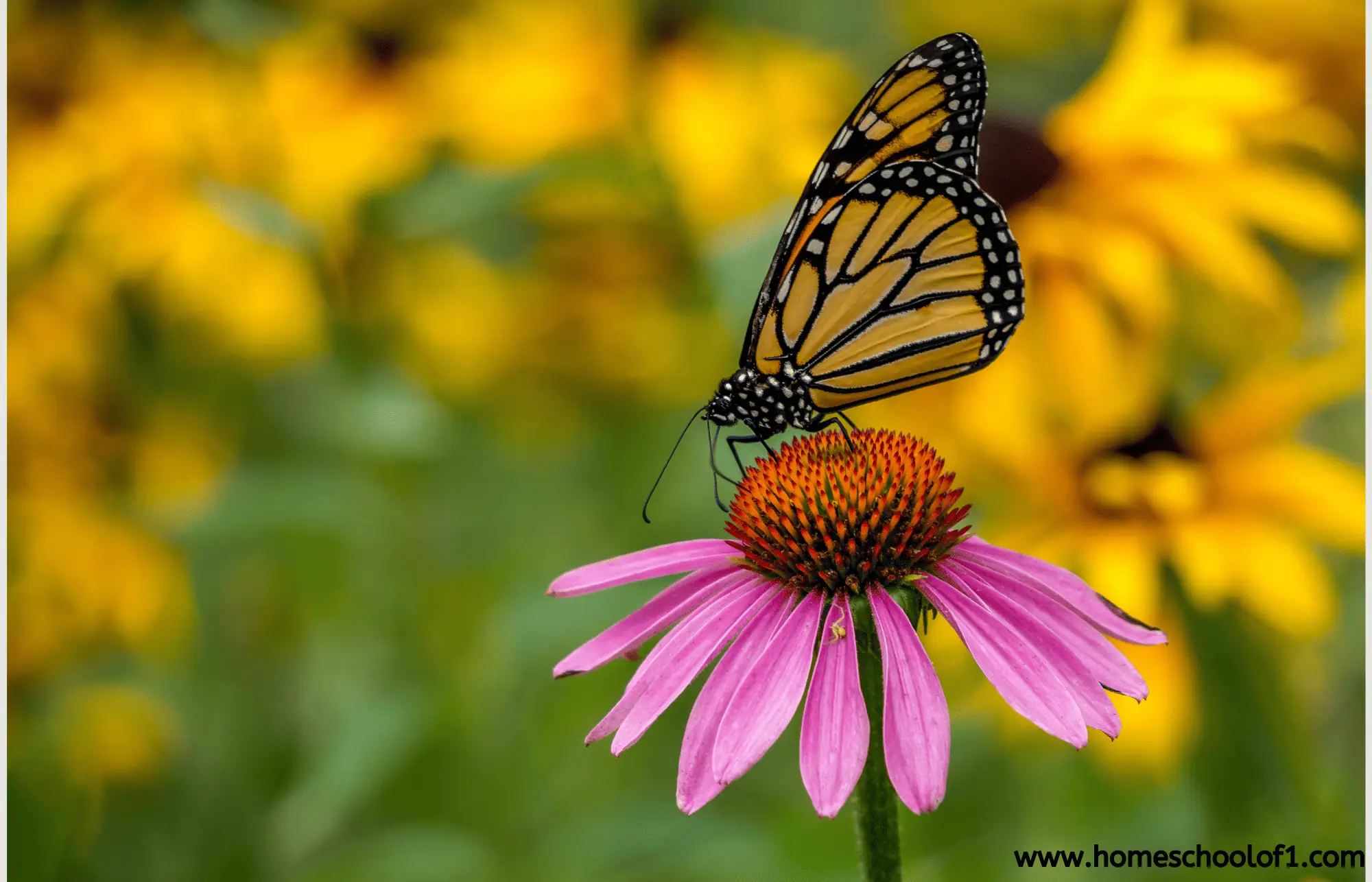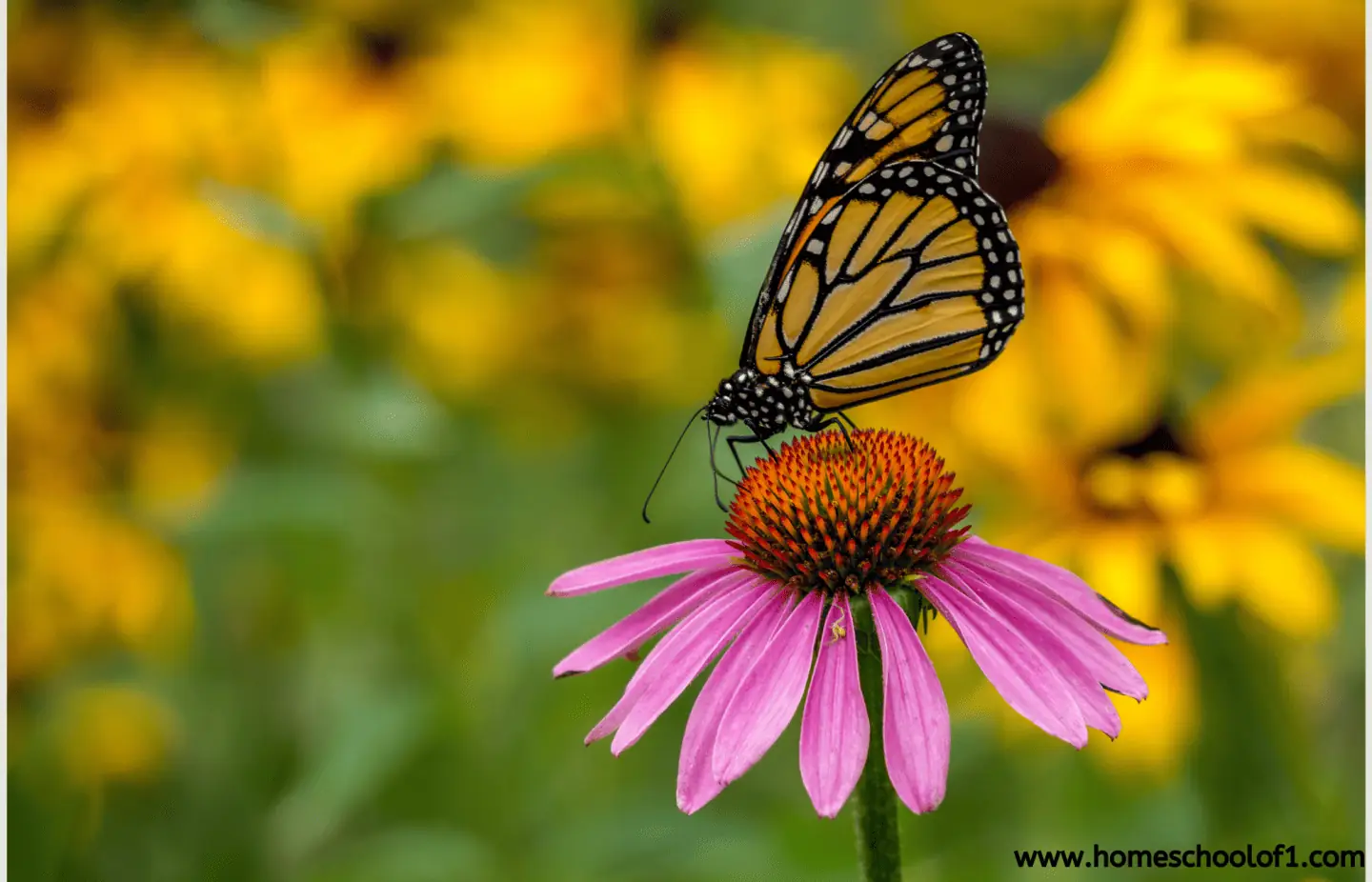 Learn about butterflies with books
Learn all about butterflies with these non fiction butterfly books for kids:
Butterflies for Kids. Offers young readers an engaging exploration of the butterfly life cycle and introduces them to a diverse array of beautiful butterfly species.
The Backyard Bug Book for Kids combines a cute storybook with insect facts and interactive activities. Encouraging children to discover the fascinating world of bugs and animals right in their own backyard.
National Geographic Readers: Caterpillar to Butterfly takes young minds on a journey of metamorphosis. Delving into the awe-inspiring transformation of caterpillars into butterflies through stunning visuals and informative content.
Free butterfly activities the kids will enjoy
If you are looking for even more fun with butterflies you are going to love these preschool butterfly activities:
Tips for downloading the free files
Below is a blue cloud with an arrow pointing downward. Underneath that is a large sign-up box where you need to add your name and email address, and press I NEED THIS NOW!
Within minutes you will be sent the free PDF directly to your email address, so you can print it out and start using it immediately.
Sometimes emails get a little wonky, so if you can't see it, please check your spam folder where I am sure it is hiding.
Download the free butterfly scavenger hunt printable
Make sure you choose the correct paper size and click on the shrink to fit button. All of our free printables for kids work better when printed on cardstock (this is the one we use and love.)
More nature scavenger hunt ideas you will love
We have lots of free scavenger hunts but you will really enjoy these other nature hunts:
Last Updated on 2 October 2023 by homeschoolof1