Board Game Carcassonne Review
This month in our homeschool we are playing Carcassonne the board game. Carry on reading for our Carcassonne review.
This is a great game that we often play while studying history in our homeschool. But we also enjoy it for family game night.
I am always looking at new educational board games to play, and this easy-to-play tile-laying game was one of our recent favorite family games.
This is another game board from Z-man games, the creators of Pandemic. Check out our Pandemic board game review.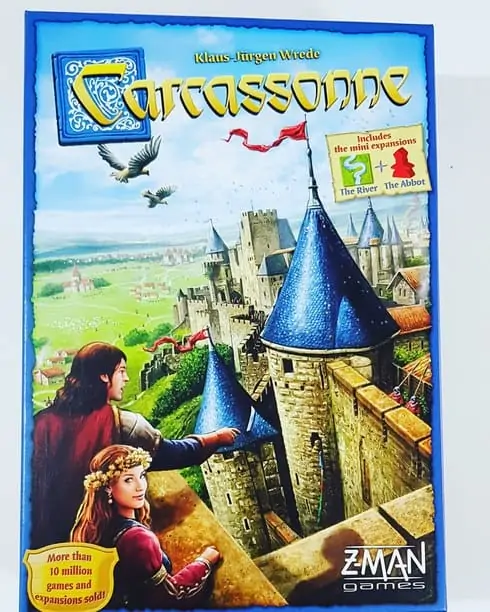 **There may be affiliate links in this post. You can read my full disclosure at the bottom of the page.**
Carcassonne Board Game
Carcassonne was first released back in 2000, but this is the first time I have come across it. This is really bad as apparently, it has sold over 10 million games!
My son is now 8 years old, so this is a perfect age bracket to play. It is aimed at 2-5 players for players over the age of 7.
I think young children would be able to play it, BUT you would have to make up your own simple rules.
The box is of high quality, and the inside of the box was, in my opinion, better than the outside! For me, I understood the game better from the inside picture on the box.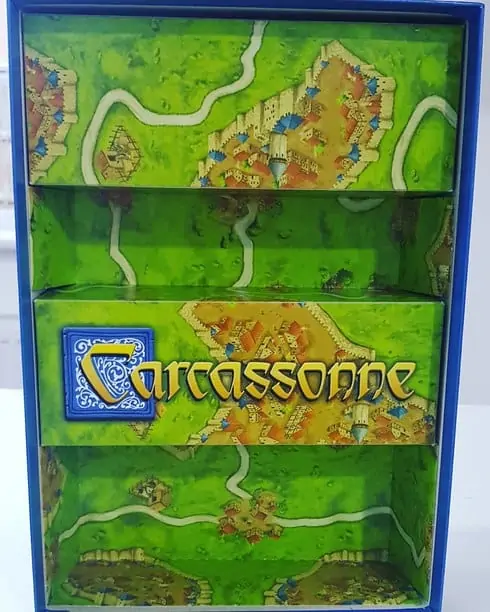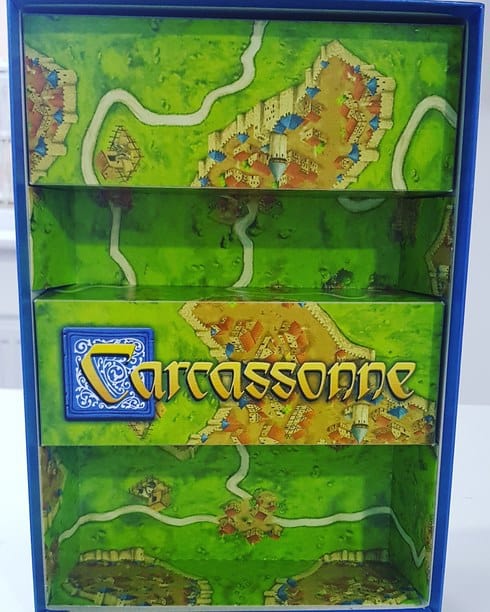 The rule book is very detailed and explains the scoring process for each different move. This is really helpful when you have had a hard homeschool day!!
There are 84 tiles all with different patterns, and there is a specific start tile. There are also 40 meeples in 5 different colors, plus 5 abbots. The quality of the tiles is excellent they are certainly not flimsy.
The aim of Carcassonne is to score as many points as you can.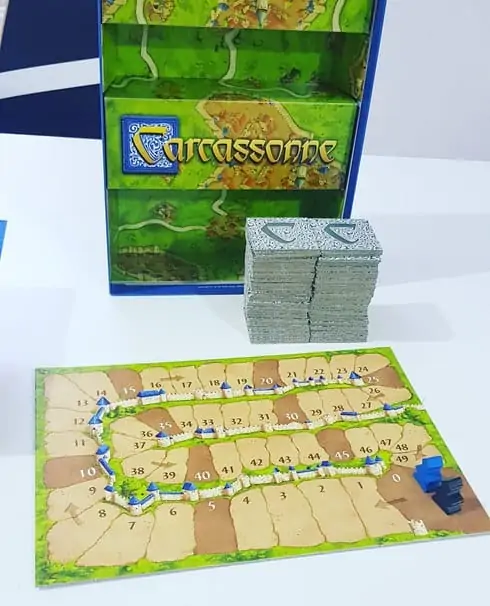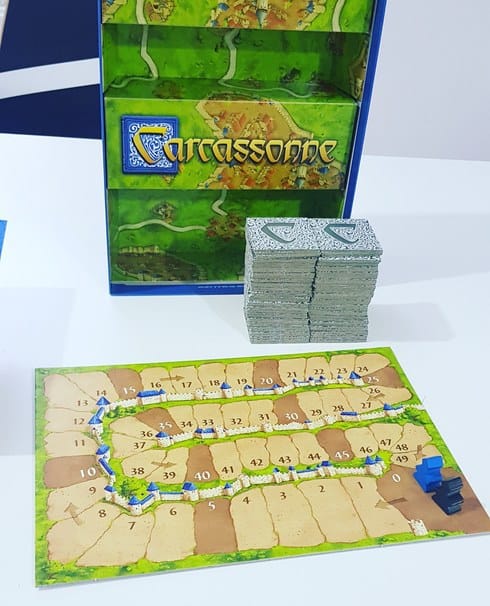 Carcassonne Traders & Builders Board Game EXPANSION 2
My First Carcassonne Board Game | Board Game
Carcassonne The Princess & The Dragon Board Game
Carcassonne Bridges, Castles & Bazaars Board Game EXPANSION
Game Play
Each player places one new tile onto the board to make an ever-expanding medieval city. There are land tiles, a starting tile, city pieces, and river tiles.
This is very similar to the basic concept of dominoes. But, you can put a number of meeples down on the board in order to score points.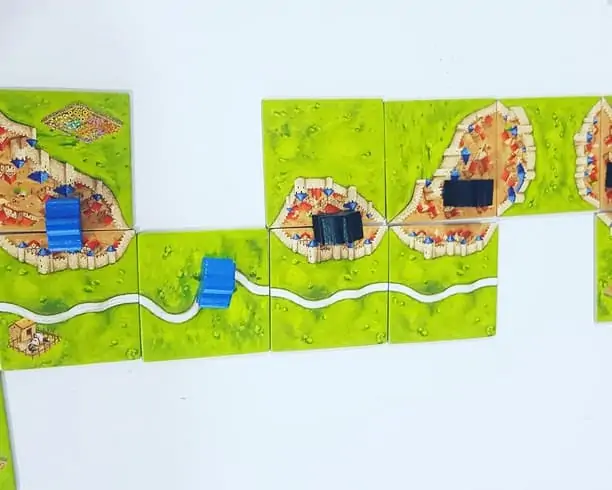 If you place a tile you can then add one of your meeples to the board. There are a number of ways you can do this:
Placing a Meeple on the Road in Carcassonne
If the road is not already occupied by another meeple you can add one of yours as a highwayman. As soon as this part of the road is closed, either by a roundabout or a dead-end etc you win 1 point for each tile of the road.
Placing a Meeple in a City
If there is a city, you can place a meeple as a Knight. As soon as the city wall is closed you then add all of the tiles that make up that city and give yourself 2 points for each tile. If there is a coat of arms in the city you get an extra 2 points for this. This is a completed city.
Placing a meeple in a monastery
All of the monastery tiles are surrounded by fields so you have to add the tile to a field tile. As soon as the monastery is surrounded by fields you get to score that point. Which is 1 point per each tile that completes it.
As soon as you have scored with your meeple it gets added back to your supply.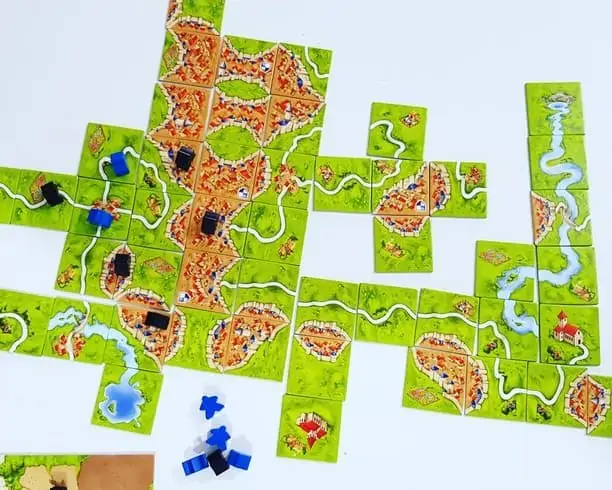 End of the Game
The game comes to an end when the last tile has been placed. The scores are all added up, plus the meeples that haven't already been scored that are still on the board.
Carcassonne Game Rules
What I really like about this game, is that when you have played it a few times there are some supplementary rules. So you can add in different tiles to make it more interesting, and play in different ways.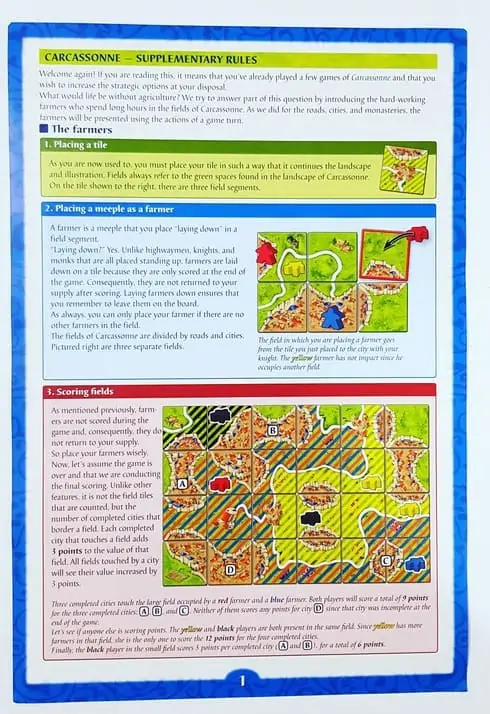 You can add meeples as farmers. You can add in the river (which is shown in the photo above) and you can use the abbots.
Carcassonne Game Review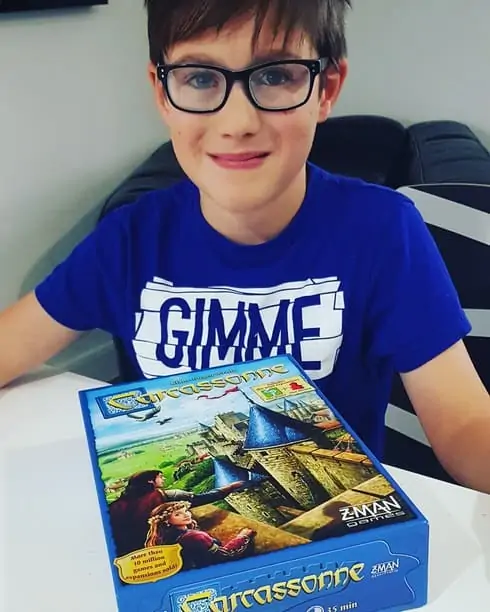 We really enjoyed playing this tile placement game.
After a really tough homeschool day, this absolutely lightened our moods. In fact, my son said at least three times how much he enjoyed playing it.
We both highly recommend Carcassonne.
If you love this game you will also love Ticket to Ride, check out our review. Plus see all of our favorite board games for kids.
---
Last Updated on 2 July 2023 by homeschoolof1