12 Best Card Games for Teens in 2023
We absolutely love family game night and it's definitely more fun now we have a teen! Check out the best card games for teens that you will all enjoy.
Most of these card games can be played with the whole family, although please check the age rating I have included. Some of the board games for kids are definitely more geared toward older teens and adults.
Carry on reading for our absolute favorite board games for teenagers that they are going to love.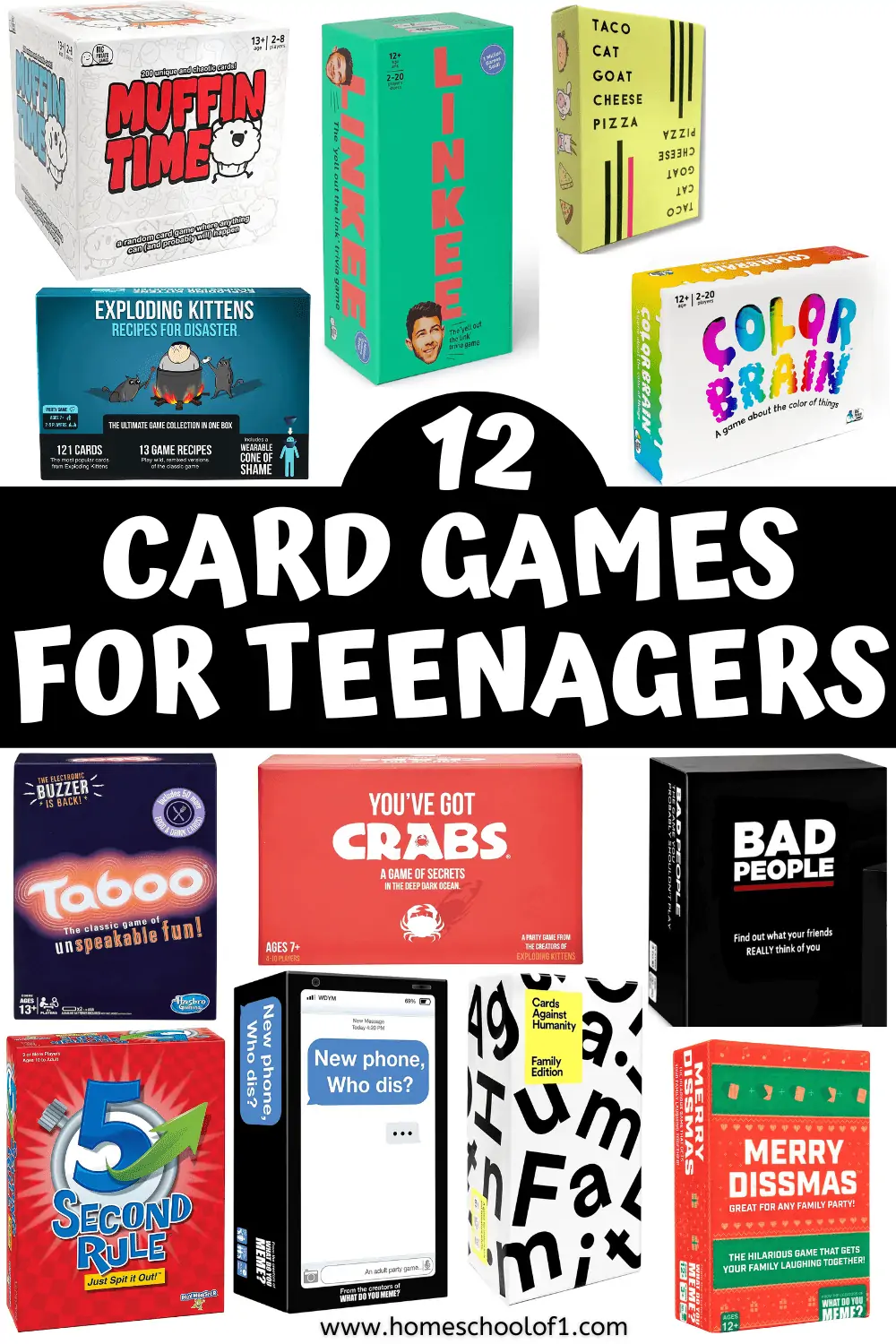 **There may be affiliate links in this post. You can read my full disclosure at the bottom of the page.**
Best Card Games for Teenagers
These are the best board games for teens and they can be enjoyed on family game nights or they can play them with their friends.
Age Rating: 13+
Number of Players: 2-8
This is our current favorite game of all time. My son received it for his 13th birthday and we haven't stopped playing it.
We played it with 3 players and up to 6 players and it is so much fun.
If you only get one game on this list, it should be Muffin Time.
Age Rating: 7+
Number of Players: 2-5
The original Exploding Kittens game was our favorite game of 2022, and this new variation of the game is equally as good if not better.
Our favorite addition is the wearable cone of shame!
Age Rating: 8+
Number of Players: 3-8
This is such a simple game, and yet so much fun.
Everyone can play, all you need to remember is Taco, Cat, Goat, Cheese, Pizza!
The only thing I would suggest is (if you are feeling generous!) you take off any large rings, I have a raised engagement ring and when people have to place their hand on top of it quickly it can hurt them! (I didn't take my rings off!!!)
Age Rating: 12+
Number of Players: 2-20
We love this game from Big Potato (like the Muffin Time game above) for teenagers. Like most of these card games, it is super easy to play. As long as you know your colors.
Do you know the color of Superman's underpants?
Think you can remember what color the five Olympic Rings are? 
Just place down the color or colors you think are correct.
Age Rating: 12+
Number of Players: 2-20
Linkee is another Big Potato Game card game that features on this list.
Can you get the connection between the 4 questions? For example:
What artist was Claude Monet? French
What are ossau-iraty, talaggio, and edam? Cheese
Stripping off your clothes and going swimming is called what-dipping? Skinny
Having a perm will make your hair go? Curly
CLUE: The ultimate way to cook a potato!
The connection between French, cheese, skinny, and curly is FRIES.
Shout it out as soon as you get it, but be careful, if you get it wrong you are out of this round.
Age Rating: 13+
Number of Players: 4+
Everyone knows how to play taboo and the buzzer makes it even more fun.
This can be played with the whole family, I don't understand why it has a 13 year old rating, as we have played this with much younger kids.
This will be a great game for teens to play at a party or even on family game night.
Age Rating: 8+
Number of Players: 4-20
This is exactly the same as the original cards against humanity but more appropriate for teens!
If you have older teenagers maybe 16 and above they can probably play the adult version, but personally I wouldn't let my 13 year old play it.
This family edition is exactly the same, but more toilet humor and kid related than the very offensive and inappropriate adult game. (Don't get me wrong as an adult I LOVE the original game and we play it a lot with friends.)
Age Rating: 7+
Number of Players: 4-10
From the makers of Exploding Kittens, this is yet another awesome card game for teenagers.
You play in teams and try to trick other teams with your secret signal.
This is best played with 6 or more players in my opinion.
Age Rating: 10+
Number of Players: 3+
Get 3 answers in 5 seconds! Nothing difficult about that!
Ok, go: Name 3 of the 7 dwarfs!
This is great for teenagers and adults and it will have you all laughing out loud.
Age Rating: 17+
Number of Players: 4-20
This game is great for older teens.
We played it last year with a group of 12 year old boys and although most of the cards were fine, there definitely were a few that were aimed at much older kids.
I hadn't read the age rating!
I think teenagers over 15 would absolutely love this game, and my son now at 13 plays it and loves it (we have removed about 20 inappropriate cards though.)
Age Rating: 12+
Number of Players: 3+
We played this at Christmas and it was so much fun. Personally, I think you need to play with more than 3 players, but this is more of a family game than a game with friends.
But it is so much fun, a great game for Thanksgiving when you have the family over.
Age Rating: 15+
Number of Players: 3-10
If your teens are easily offended this is NOT the game for them!
The aim of the game is to vote for who has:
the worst first name
the most likely to be a dirty cop
whose parents are the most disappointed in them
This is a fantastic card game for older teens and adults.
Even more board games for teenagers
Last Updated on 1 November 2023 by homeschoolof1