My Family Tree Coloring Page (free worksheet)
Learning about genealogy is so much fun and with this simple my family tree coloring page younger students can enjoy it too.
These free kids coloring pages are a great way to talk about heritage.
There are 3 versions of this worksheet to download, a simple one with just mom, dad, maternal grandma and granddad, and paternal grandma and granddad.
Another with 2 siblings, and the third worksheet featuring 4 free spaces for siblings or pets.
You can use this free family tree worksheet for kindergarten through 6th grade.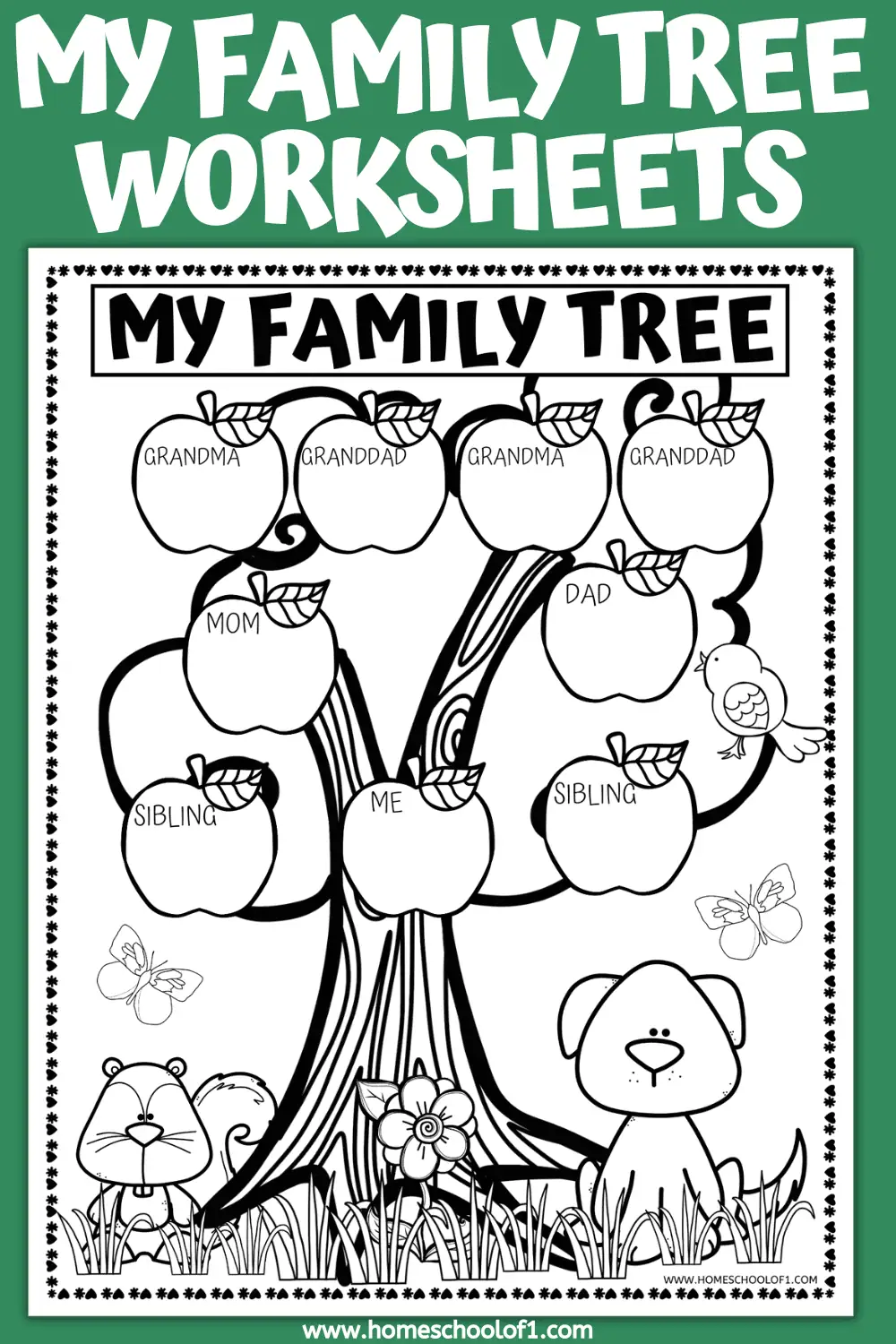 **There may be affiliate links in this post. You can read my full disclosure at the bottom of the page.**
Why use a simple family tree worksheet with elementary aged students?
Using a family tree worksheet with elementary aged students can have several benefits. Here are a few reasons why:
This type of family tree printable is age-appropriate for elementary aged students who may not have a lot of knowledge about their family history or extended family members. It is easy to understand and provides a clear and simple visual representation of the student's immediate family.
With only a few immediate family members included, the family tree worksheet is easy for young students to follow and complete. It helps them understand the relationships between family members and their roles in the family.
Including both maternal and paternal grandparents ensures that both sides of the family are represented and included in the activity. This can help promote a sense of connection and inclusivity. This will also make fantastic Grandparents Day activities.
By focusing on their own immediate family, students can create a personalized learning experience that is relevant and meaningful to them. This can help them feel more invested in the activity and encourage them to learn more about their family history.
Family Tree Coloring Page
These family tree worksheets are free to print but are for personal, library, or classroom use only. Scroll to the end of the post to get the pdf file.
This simple three generation family tree coloring page features a tree, with a dog, a squirrel, a bird, a flower, and butterflies that all need to be colored in.
There are then apples on the tree each with a name, either me, mom, dad, grandma, or granddad.
When the kids have colored in the picture they can then either draw a picture of the people on their family tree, or write their names.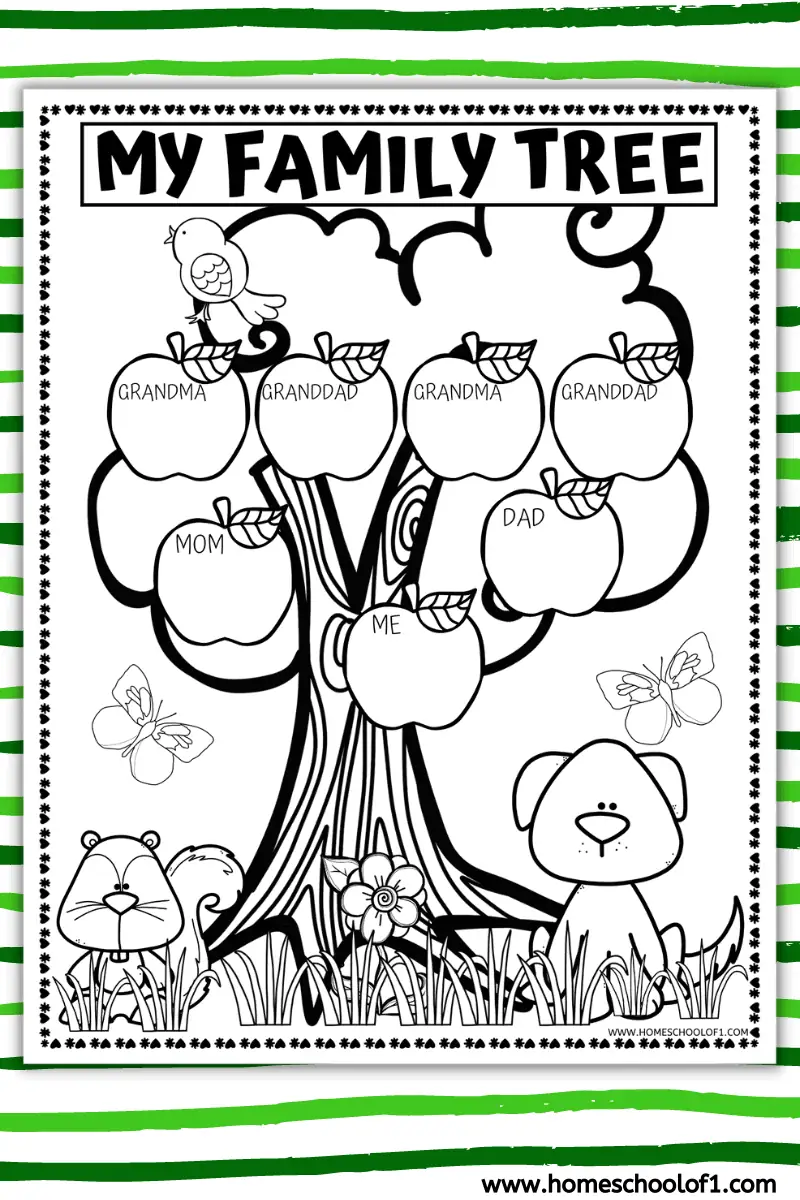 The other two worksheets are exactly the same, but one includes 2 siblings, and the other includes 4 empty apples that the children can add multiple siblings, or just color in.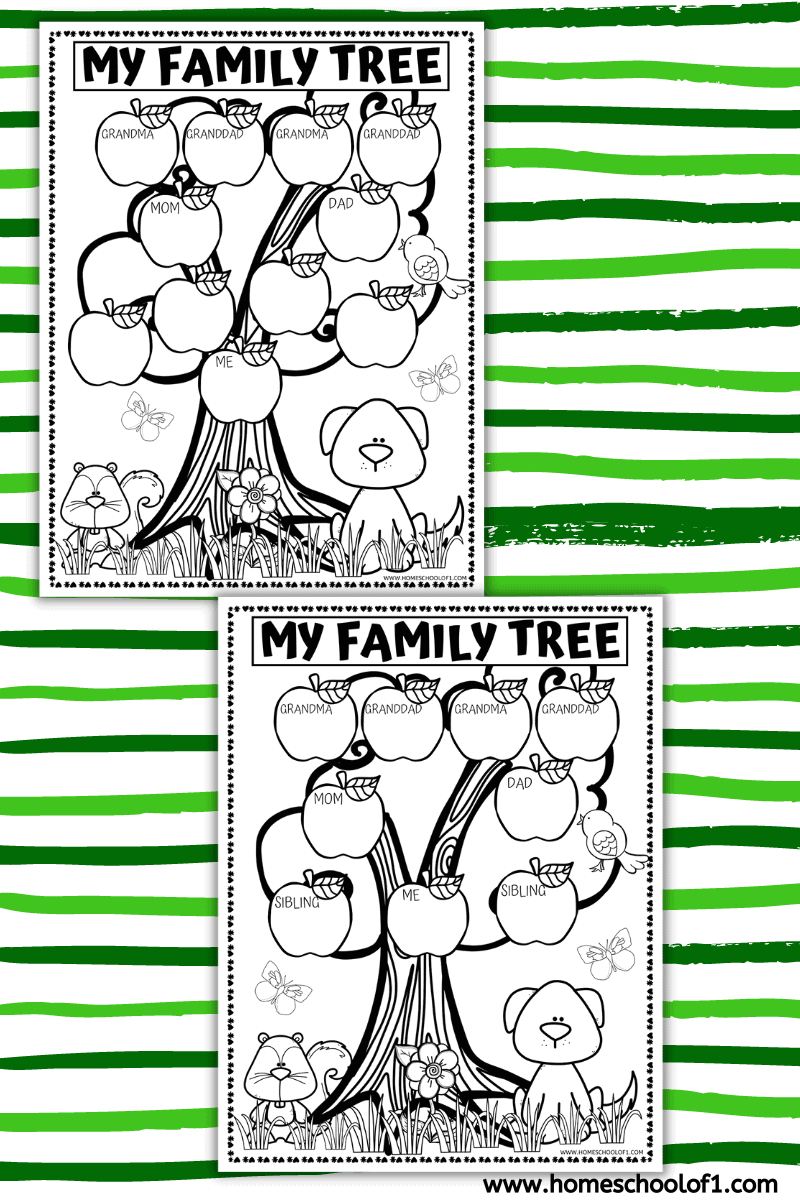 When you have completed the family tree coloring pages carry on the fun with the preschool family tree craft.
The best family tree books for kids
You know how important it is for kids to learn about their family history, right?
Well, we've got a fun and engaging way to do just that – with books! Yep, books can be super helpful in introducing kids to the concept of genealogy and family trees. And the best part?
They're informative and entertaining at the same time, making it easier for your students to understand and enjoy the material. These are our favorite genealogy books that will get the kids excited about exploring their own family history:
National Geographic Kids Guide to Genealogy. This is a fun and colorful book that helps students discover their family history. It includes tips for researching family trees, DNA testing, and interviewing relatives. This book is a great resource to get your students excited about exploring their own family history.
The Kids' Family Tree Book. Is a fun and interactive resource for teaching elementary students about family trees. It includes activities, quizzes, and stories to help students learn about their family history and relationships.
My Family and Me: An Inclusive Family Tree Activity Book. A great resource for teaching students about different types of families and promoting diversity and inclusion. It includes activities that explore various family structures and helps students create their own family tree.
My First Book About Genetics. A fun and engaging resource for introducing young learners to the concept of genetics. It explains DNA, genes, and heredity in simple terms with colorful illustrations, sparking students' interest in the science behind their traits.
Download the free family tree template
Make sure you choose the correct paper size and click on the shrink to fit button. All of our free printables for kids work better when printed on cardstock (this is the one we use and love.)
Last Updated on 10 September 2023 by homeschoolof1