Ultimate List of the Best Homeschool Music Curriculum
Finding a homeschool music curriculum is hard, especially a good one.
Not being able to play any musical instrument, or indeed having any musical ability. Finding a music homeschool curriculum was essential.
My son started playing the piano, less than a year ago, and I love listening to him practice. But apart from his piano lesson we weren't really "studying" music, which is why I created this list.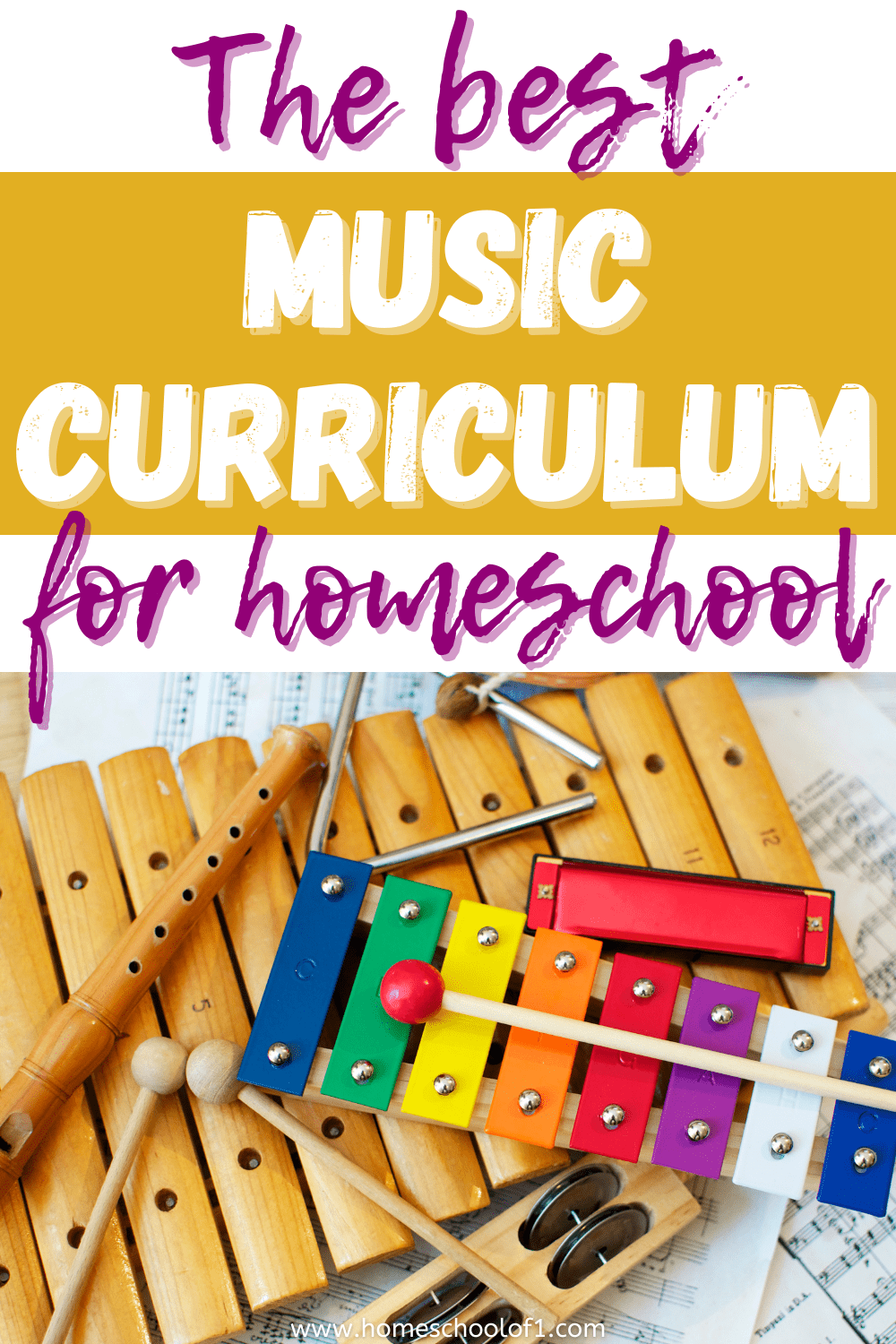 **There may be affiliate links in this post. You can read my full disclosure at the bottom of the page.**
Music Curriculum for Homeschool
These are the very best music curriculums for homeschooling that we have found. If you come across anything else please let me know.
Music in our Homeschool
Music In Our Homeschool has 48 online music courses, there are lessons for kids of all ages.
We have recently taken the 10 weeks of Shakespeare introductory course. This is the course we used for introducing Shakespeare. For grades 7-12 and I have to say we love it.
Welcome to Jazz: A Swing-Along Celebration of America's Music, Featuring "When the Saints Go Marching In"
Teaching Music to Children: A Curriculum Guide for Teachers Without Music Training
Meet the Great Composers, Bk 2: Short Sessions on the Lives, Times and Music of the Great Composers (Classroom Kit), Book, Classroom Kit & CD (Learning Link, Bk 2)
Music and How it Works: The Complete Guide for Kids
Turn It Up!: A pitch-perfect history of music that rocked the world
Music Appreciation for the Elementary Grades: Book 1
As we are from the UK and have visited Shakespeare's home in Stratford Upon Avon it was a trip down memory lane. (For living in the UK, of course, I am not as old as Shakespeare!!).
Mr. D Math Music Appreciation
Mr. D Math Music Theory and Appreciation is a self-paced curriculum for grades 6-12.
This course gives your student a well-rounded understanding of the musical theory applicable to many genres.
They will also cover the origins of some musical structures. Showing students the progression of compositions over the centuries. With 33 self-paced lessons.
SchoolhouseTeachers
SchoolhouseTeachers. Have lots of different music courses. With classes on advanced music theory, beginner drum lessons, composing with masters, guitar, violin, plus lots more.
Aimed at children of all ages, all you need to do is subscribe either monthly or annually.
One price covers the entire family, all grades, and all subjects, with hundreds of courses and lesson plans.
Maestro Classics
Maestro Classics are classic stories brought to life by classical music.
Designed to cultivate a love of classical music and to improve listening skills.
With each of these stories, they offer a free homeschool curriculum guide for parents. It is a truly wonderful curriculum.
Composers Unit Study
If you are wanting to teach your children all about the greatest composers you are going to love our new unit study.
Featuring 36 of the best composers from Bach and Beethoven, to a modern living legend that is John Williams.
Or learn more about 36 of the greatest composers with our music composers research project.
Or you can just download 6 of the most recent composers worksheets for free.
Great Bend Center for Music
Great Bend Center for Music offers free LIVE online music lessons. For kids aged 2-5 and very reasonably priced online music lessons for kids in grades 4-12.
Prodigies Music
Prodigies Music – over 600 video music lessons for kids aged 2-12 and offer a 30-day free trial.
Music Theory Books for Kids
Teaching Music to Children. A curriculum guide for teachers without music training. This was written for elementary teachers, but this would work well in a homeschool environment too. It even comes with a 60 minute music CD.
Music The Definitive Visual Guide. Is a comprehensive reference book with spectacular timelines of key events. Plus profiles of musicians from Amadeus Mozart to David Bowie.
Basic Music Theory 50 ready-to-use activities for grades 3-9. With downloadable worksheets to learn the basic elements. In music theory — pitch, intervals, dynamics duration, keys, scales, and music terminology.
Music and How it Works is a very colorful music book for kids. The book looks at music throughout history. Beginning with the first known melody from the Fertile Crescent and covering modern music phenomena, from K-Pop to hip-hop.
Music Appreciation for Elementary Grades will introduce children to seven different composers. Dating from 1685 to 1828 (Bach, Handel, Haydn, Mozart, Beethoven, Paganini, and Schubert). Each composer's childhood and adult life are described in individual biographies.
Online Music Lessons For Homeschoolers
Online music lessons for kids are the best way to learn an instrument as a beginner. There are so many options these days that the kids will be playing a tune in no time.
These are our favorite online piano lessons for kids.
Hoffman Academy offers both free and premium services for online piano lessons. With music theory worksheets, interactive song papers, and more. You can use our exclusive promo code LEARN for 10% off, or just enjoy the free lessons. Check out Hoffman Academy for yourselves and enjoy the 300 free step-by-step videos!
Outschool live online classes. Ukulele, guitar, piano, singing, music history, mandolin, banjo, great composers, recorder. Check out our Outschool review to see why we love their online classes.
Tremolo Guitar School offers online guitar lessons for kids. These are LIVE online lessons with qualified tutors.
Moosiko – Offer personalized guitar lessons with adaptive learning technology. Lessons in guitar and ukulele.
Homeschool Piano – piano lessons for all levels and they offer a 30 day full access trial. They get excellent reviews from other homeschool parents. The videos are short and fun, and very engaging.
Vocal Coach – singing lessons with complete vocal training for growing voices.
Yousician – learn guitar, piano, bass, ukulele, and singing. They offer a 7-day free trial to try before you buy.
Free Music Curriculum for Homeschool
Easy Peasy All in One – Music Appreciation, Music of the middle ages.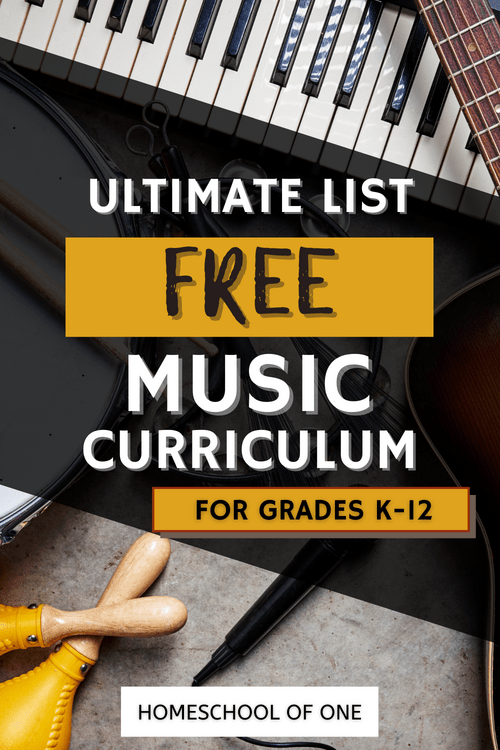 Kids Guitar Zone. Free guitar lessons for children. They have 10 difficulties from beginner to more advanced with about 5 lessons in each section.
Hoffman Academy (as mentioned above) has 300 FREE step by step online videos for learning the piano.
Fiddlerman learn to play the violin for free.
8 Notes. Free sheet music.
Classics for Kids. Free podcasts and lesson plans for children in grades K-6.
Guitar Lessons. Free online guitar lessons, are not aimed at children, but there are lots of beginner classes.
You can also enjoy our free musical instrument matching game.
What are the Key Components of a Music Curriculum?
For upper elementary and middle school grades, we will be following these key components as our music curriculum.
Music Theory
Key Composers
Playing Multiple Instruments
Reading Music
History of Music
Music Appreciation
Ability to identify aurally different instruments
Create and compose a musical piece of work.
Where to find Sheet Music online?
Easy Piano Sheet Music – Virtual Sheet Music what I love about Virtual Sheet music is it has sheet music for every level. You can also search by genre, by instrument, and even better they have freebies too!
Let me know in the comments below what homeschool music curriculum you use. Or if you have used any of my suggestions what did you like about them?
Last Updated on 10 September 2023 by homeschoolof1