Ultimate List of the Best Homeschool Music Curriculum
Finding the best homeschool music curriculum is hard, especially a good one.
As a homeschool mom who can't play any musical instruments, or indeed have any musical ability, finding the best homeschooling resources for music was essential.
We had added piano lessons to our homeschool week, but wanted to add a music curriculum that we could use. Carry on reading for the best music homeschool curriculum we have found for students of all ages.
**There may be affiliate links in this post. You can read my full disclosure at the bottom of the page.**
Best Music Curriculum for Homeschool
These are the very best music curriculums for homeschooling that we have found. They've been carefully chosen to make music education both enjoyable and comprehensive for kids of all ages, igniting their love for music along the way.
Music in our Homeschool
I've found Music In Our Homeschool to be a goldmine of musical resources for our homeschooling journey. With an impressive selection of 48 online courses, it's like having a music school at our fingertips.
What's even better is that these lessons are self-paced. This means the kids can learn at their own speed, perfect for most homeschooling families.
Mr. D Math Music Appreciation
When it comes to finding the best music appreciation curriculum Mr. D Math Music Theory and Appreciation has been a real game-changer.
This self-paced curriculum, tailored for 6th grade -12th grade, provides students with a comprehensive understanding of musical theory that extends across a wide array of genres.
What's particularly exciting is that this music appreciation course goes beyond the basics. It delves into the origins of various musical structures, allowing students to trace the fascinating evolution of compositions over the centuries.
With 33 self-paced lessons, kids have the opportunity to explore music's rich history at their own pace. Making it an engaging and immersive experience that enhances their musical knowledge in a unique way.
Discover the best secular homeschool curriculum for all subjects
SchoolhouseTeachers
SchoolhouseTeachers offer a wide range of music courses, from advanced music theory to beginner drum lessons. And even composing with masters, guitar, and violin, to name just a few.
What's incredibly convenient is that these courses are suitable for children of all ages. Whether you have a budding musician in elementary school or a high schooler looking to hone their musical skills, SchoolhouseTeachers has something for everyone.
Subscription options are flexible, with choices for monthly or annual plans, and the best part is that one price covers the whole family. This means that regardless of grade level or the subjects they're interested in, have access to hundreds of courses and lesson plans.
Maestro Classics
Maestro Classics are classic stories brought to life by classical music.
What's truly fantastic about Maestro Classics is their nurturing a deep love for classical music while sharpening listening skills. It's like experiencing the power of music and storytelling combined in a single package.
But the benefits don't stop there. With each of these captivating stories, Maestro Classics generously offers the best free homeschool curriculum guide for parents.
\
Composers Unit Study
Embarking on a musical journey to introduce your children to the world's greatest composers has never been more exciting.
Our newly crafted unit study showcases 36 of the most famous composers, from timeless geniuses like Bach and Beethoven to the modern legend, John Williams, ensuring an enriching musical exploration.
And if you're eager to delve even deeper, our comprehensive music composers research project provides an in-depth look at these musical giants.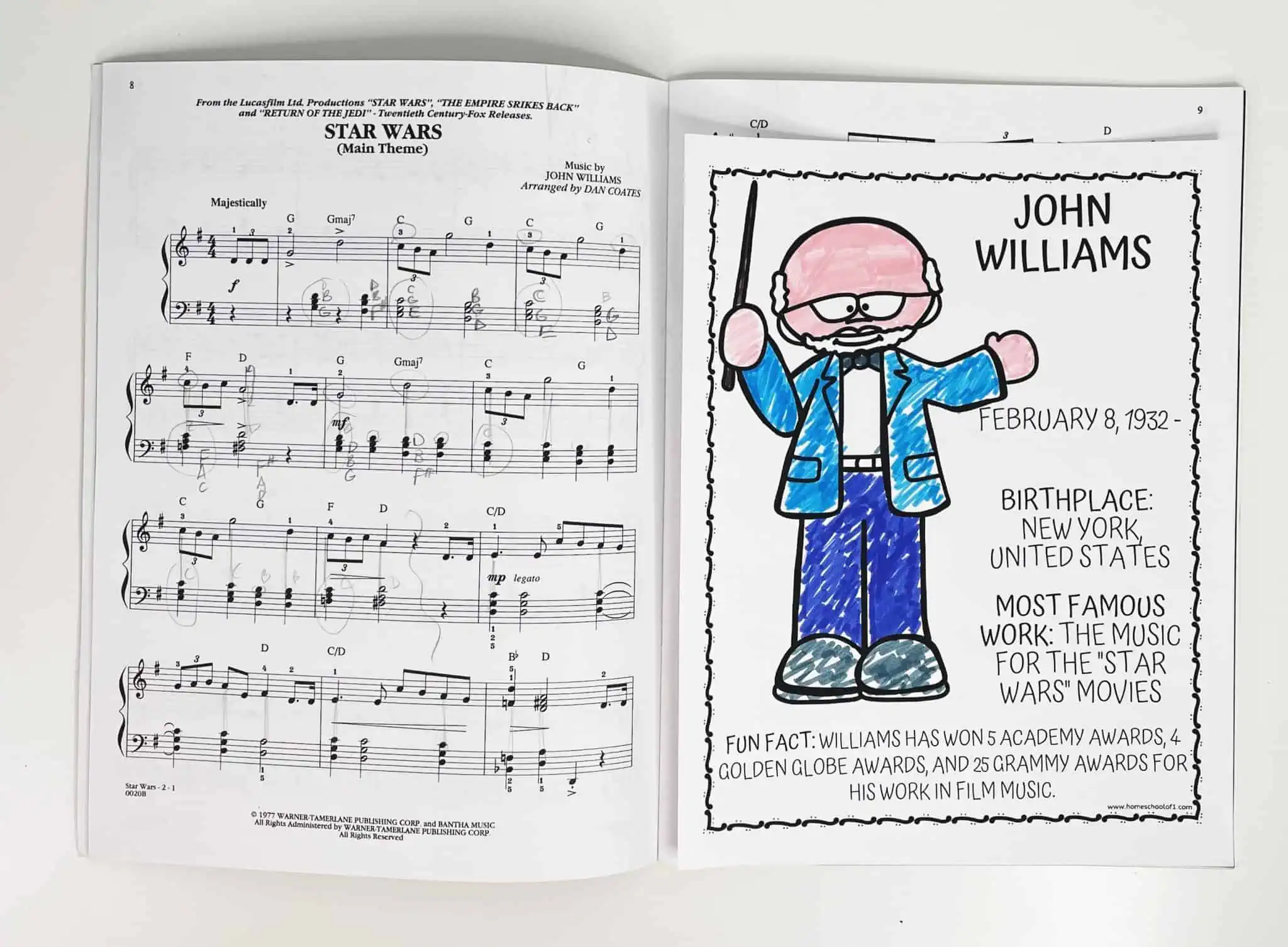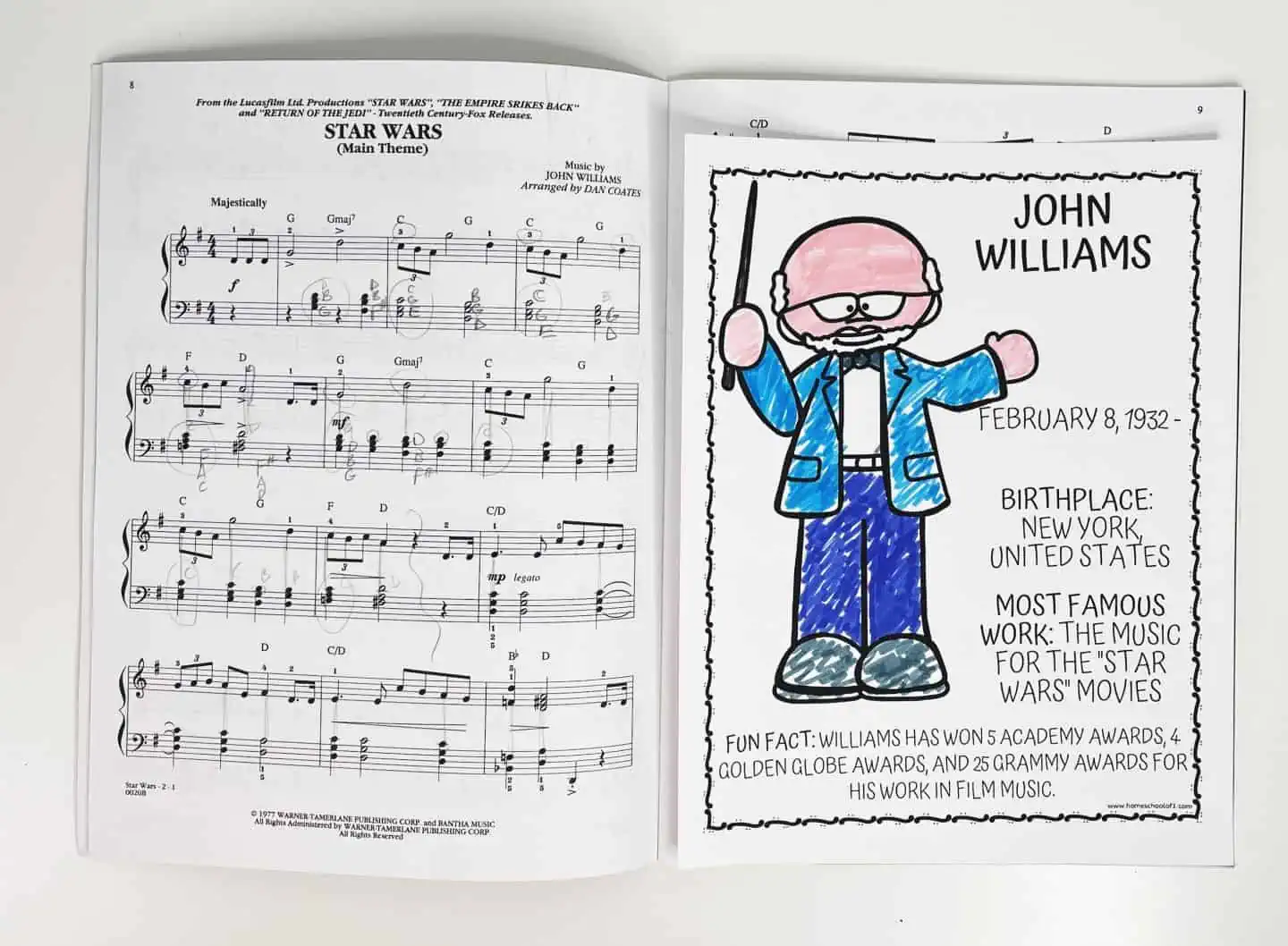 For a quick start, feel free to download six of the latest composers worksheets for free, making the learning experience both engaging and accessible.
Great Bend Center for Music
Great Bend Center for Music is a fantastic resource for music education. They provide free, live online music lessons, making it accessible for kids aged 2-5.
Additionally, they offer very reasonably priced online music lessons tailored for kids in grades 4-12. Ensuring a wide range of opportunities for young musicians to explore and develop their musical talents.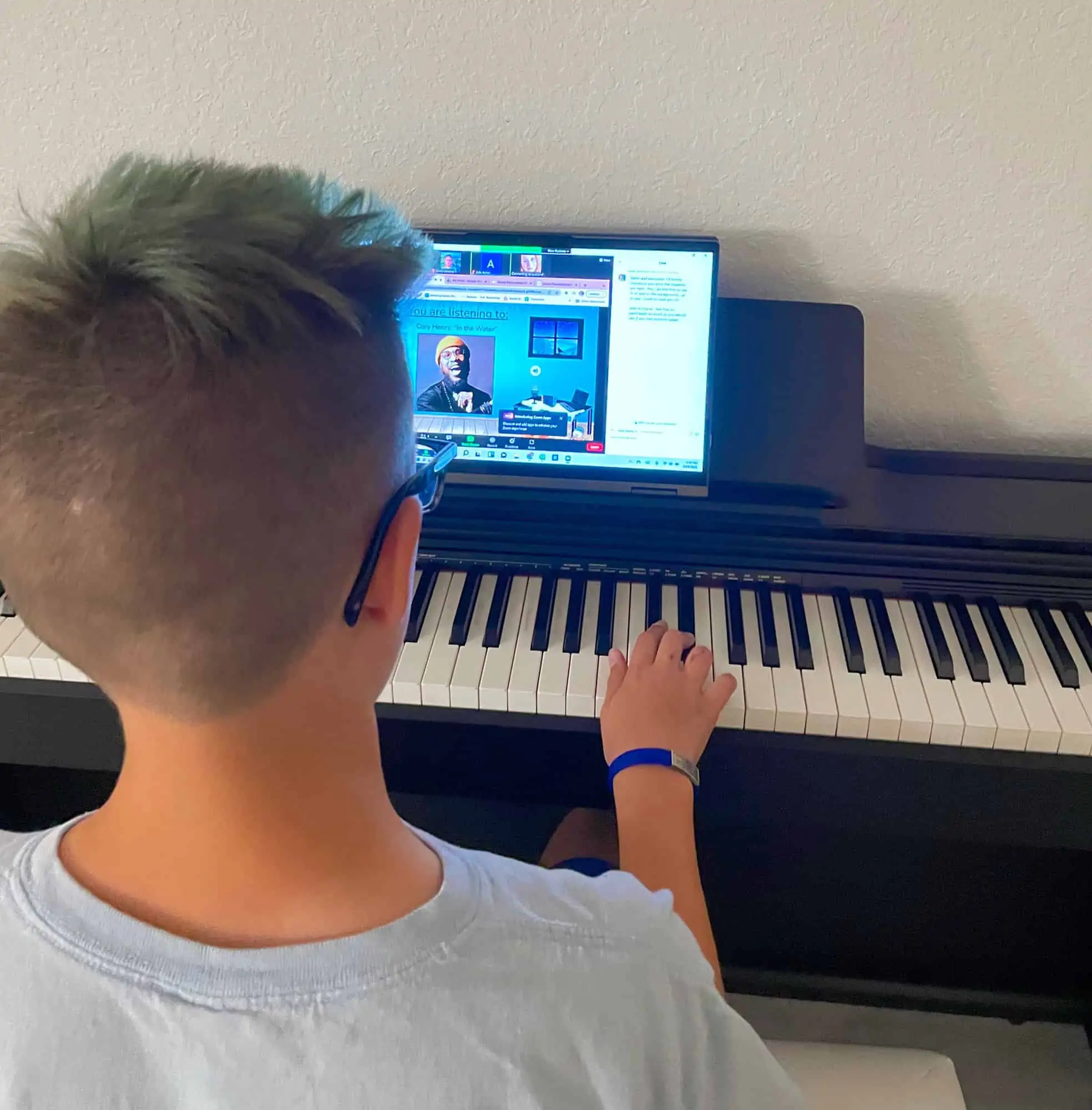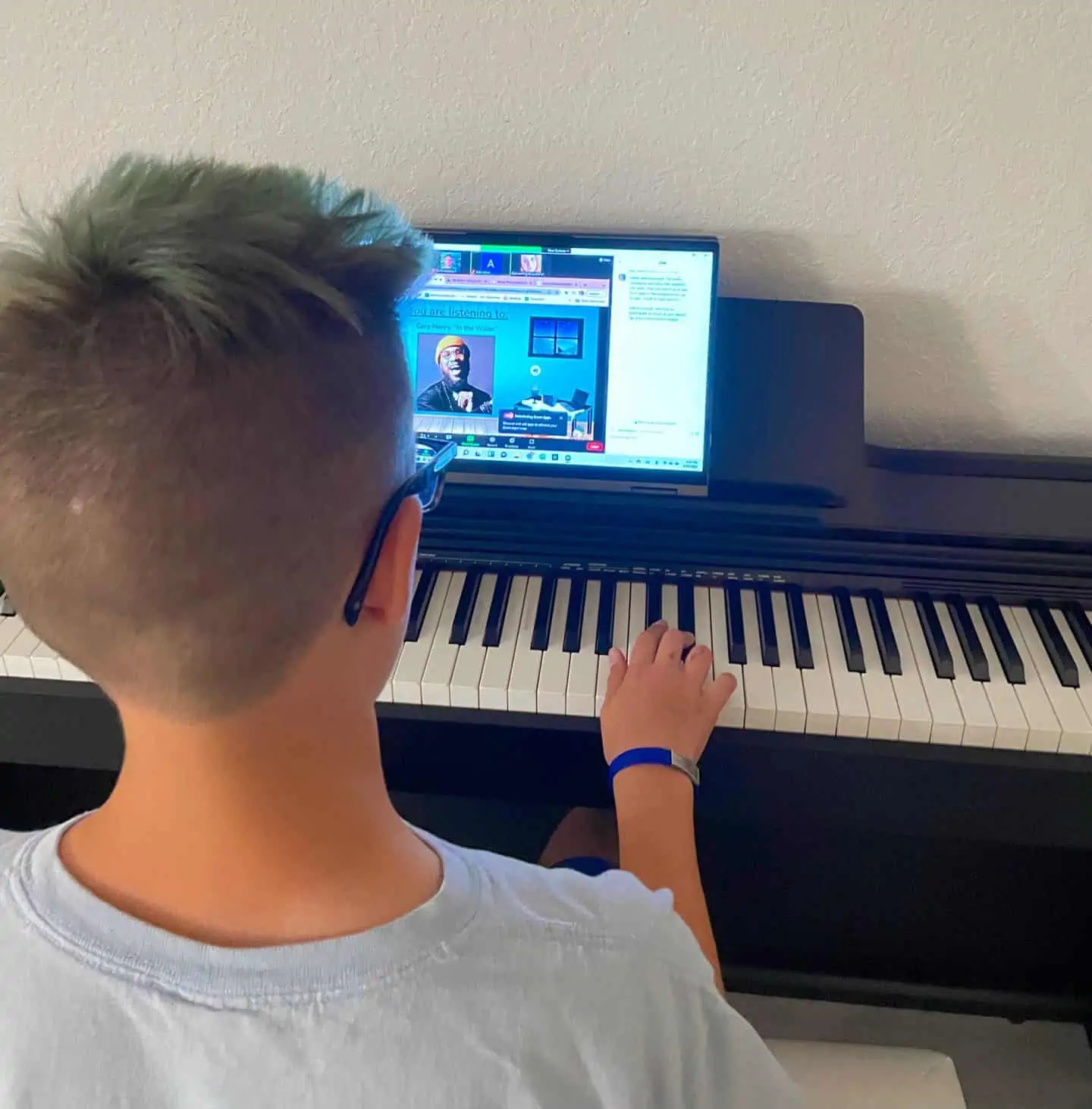 Prodigies Music
Prodigies Music is a treasure trove of over 600 video music lessons designed specifically for kids aged 2-12.
The best part is that they offer a 30-day free trial. Allowing families to explore this extensive collection of lessons and discover the joys of music education from the comfort of their own home.
Best Music Theory Books for Kids
Learning about music theory can be fun, especially when you have the right books.
We've picked out our favorite music books that are great for kids. From comprehensive visual guides to interactive worksheets. These books are perfect for a music teacher, homeschoolers, and any young music enthusiast looking to learn the language of music.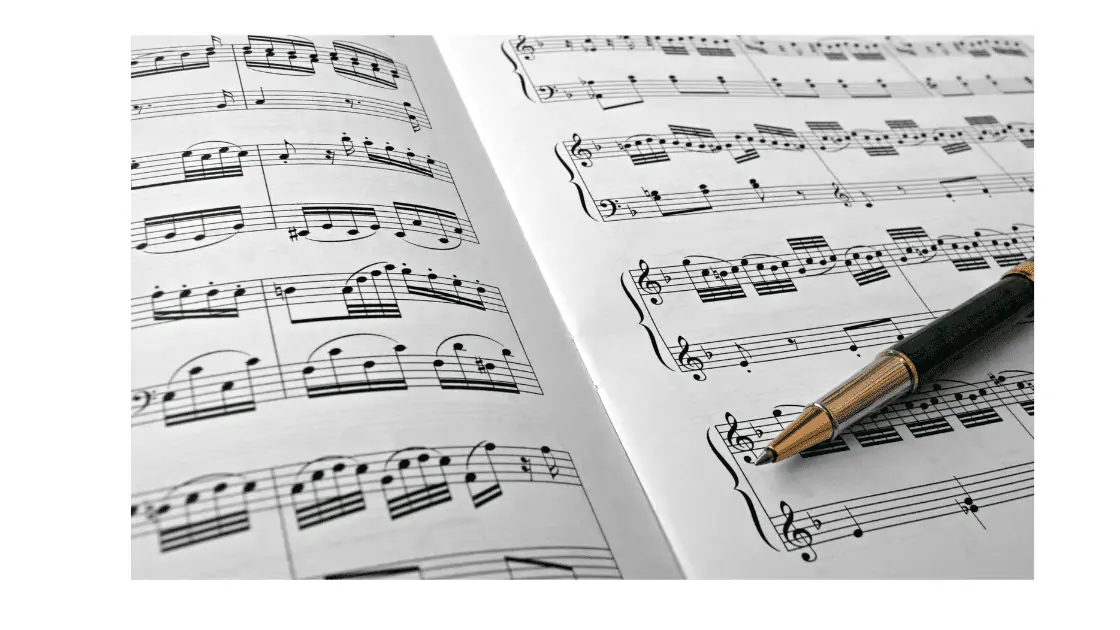 Teaching Music to Children. A curriculum guide for teachers without music training. This was written for elementary teachers, but this would work well in a homeschool environment too. It even comes with a 60 minute music CD.
Music The Definitive Visual Guide. A comprehensive reference book with spectacular timelines of key events. Plus profiles of musicians from Amadeus Mozart to David Bowie.
Help Your Kids with Music is a comprehensive visual guide and audio app. That assists children aged 10 to 16 in learning and understanding music.
Basic Music Theory 50 ready-to-use activities for grades 3-9. With downloadable worksheets to learn the basic elements. In music theory — pitch, intervals, dynamics duration, keys, scales, and music terminology.
Music and How it Works is a very colorful music book for kids. The book looks at music throughout history. Beginning with the first known melody from the Fertile Crescent and covering modern music phenomena, from K-Pop to hip-hop.
Music Appreciation for Elementary Grades will introduce children to seven different composers. Dating from 1685 to 1828 (Bach, Handel, Haydn, Mozart, Beethoven, Paganini, and Schubert). Each composer's childhood and adult life are described in individual composer biographies.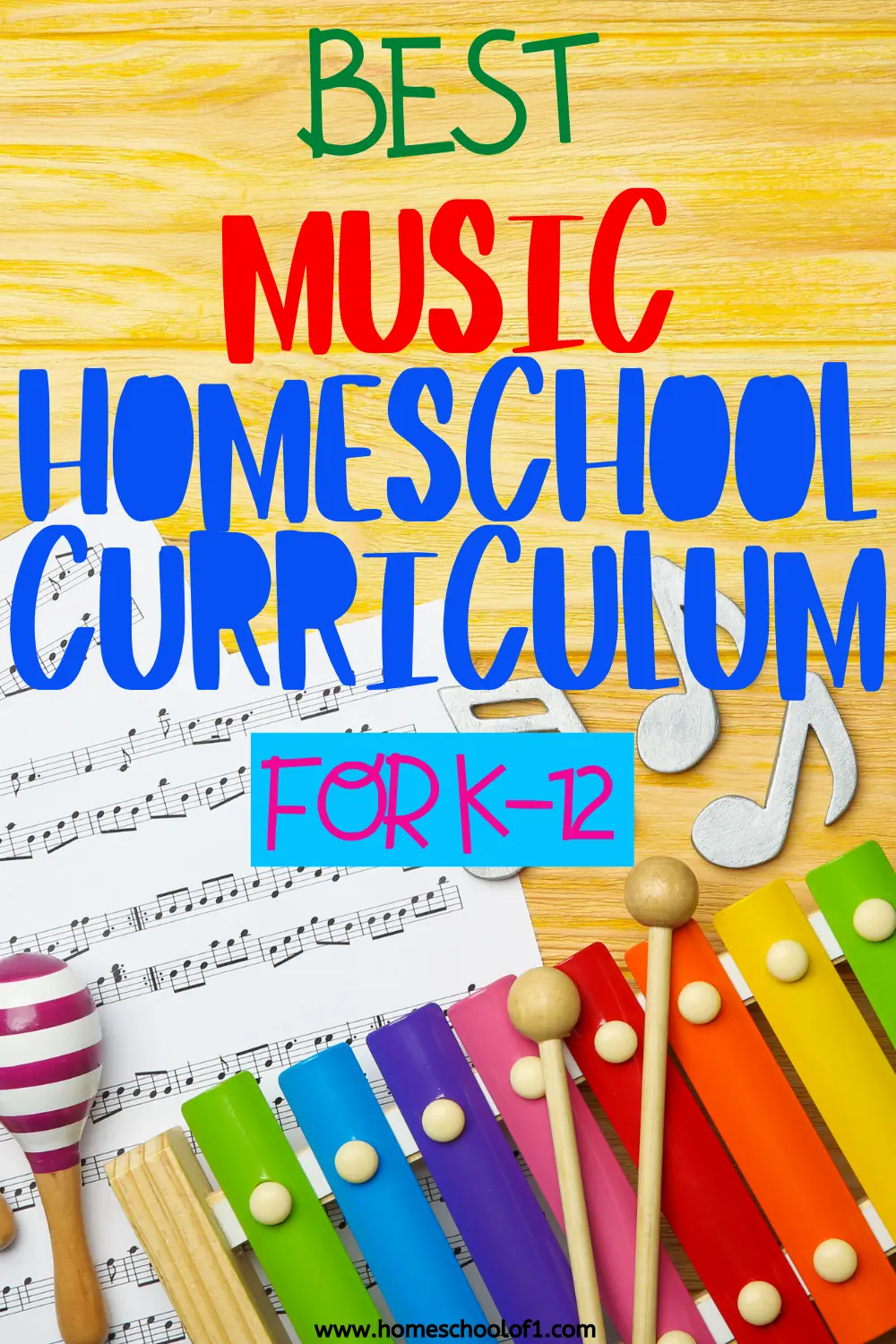 Best Online Music Lessons For Homeschoolers
Best online music lessons for kids are the best way to learn an instrument as a beginner.
There are so many different options these days that the kids will play a tune in no time.
Hoffman Academy
Hoffman Academy provides a delightful blend of free and premium best online piano lessons for kids, complete with music theory worksheets, interactive song papers, and more.
Take advantage of our exclusive promo code, "LEARN," for a 10% discount on premium services, or enjoy their free lessons.
Dive into the world of Hoffman Academy and discover their impressive collection of 300 step-by-step videos for budding pianists.
Outschool
Outschool opens the door to a diverse array of live online classes, spanning ukulele, guitar, piano, singing, music history, mandolin, banjo, great composers, and recorder.
To understand why we're so enamored with their online classes, check out our detailed Outschool review.
Tremolo Guitar School
Tremolo Guitar School offers live online guitar lessons for kids, conducted by experienced and qualified tutors who make learning the guitar a truly engaging experience.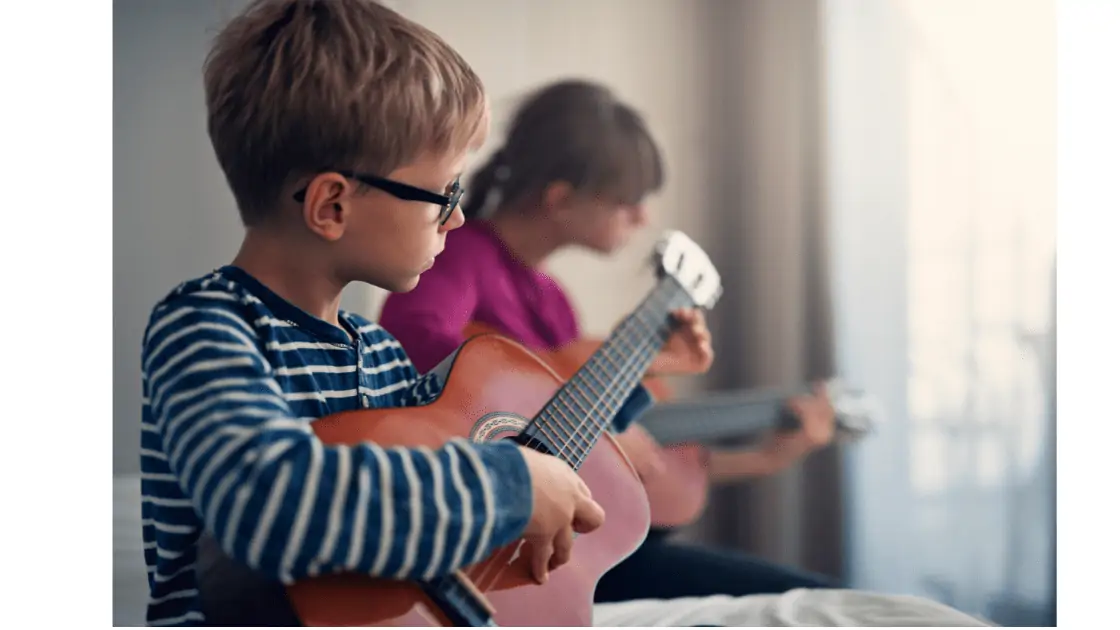 Moosiko
Moosiko takes a personalized approach to guitar and ukulele lessons. Harnessing the power of adaptive learning technology to tailor the lessons to your child's individual needs.
Homeschool Piano
Homeschool Piano caters to all skill levels, offering a 30-day full access trial.
The glowing reviews from fellow homeschool parents speak volumes about its effectiveness.
With short, engaging, and fun videos, your child will master the piano in no time, from an online piano teacher.
Vocal Coach
For budding singers, Vocal Coach provides singing lessons with comprehensive vocal training. Ensuring the healthy development of young voices.
Yousician
Yousician offers lessons in guitar, piano, bass, ukulele, and singing.
Dive in with confidence, thanks to their 7-day free trial, allowing your child to explore various instruments before making a commitment.
Free Music Curriculum for Homeschool
When it comes to music education, you don't need to break the bank. There are plenty of excellent free resources to enhance your homeschool curriculum. Here's a diverse selection of options:
Have fun with our free musical instrument matching game too!
What are the Key Components of a Music Curriculum?
When thinking about adding music into your homeschool, there are a number of key components you should look for:
Music Theory: Understanding the building blocks of music.
Key Composers: Exploring the works of notable musicians throughout history.
Playing Multiple Instruments: Encouraging versatility in musical expression.
Reading Music: Developing the skill to interpret musical notation.
History of Music: Tracing the captivating journey of music through time.
Music Appreciation: Cultivating a deep love for diverse musical genres.
Ability to Identify Instruments by Ear: Sharpening the skill of recognizing instruments by their sound.
Creating and Composing: Empowering students to craft their own musical masterpieces.
Where to find Sheet Music online?
When searching for sheet music online, Easy Piano Sheet Music – Virtual Sheet Music stands out as the best.
What I love about Virtual Sheet music is it has sheet music for every level. You can also search by genre, by instrument, and even better they have freebies too!
Last Updated on 3 November 2023 by homeschoolof1