20+ PE Ideas for Homeschool – Fun And FREE Ideas To Keep Fit at Home
I have to admit exercise is definitely my downfall, and incorporating it into our homeschool day has not really happened. Freddie does go to rugby twice a week and swimming but other than that this is something that has slipped. Of course, children run around all day, and with endless play dates, I don't need to worry. However, I really want to get into introducing a more formal homeschool PE section into our everyday life. Keep reading to discover our favorite PE ideas for homeschool.
The reason I wanted to look for PE ideas for homeschool is as much for him as it is for me. I just don't do exercise at all. In fact any opportunity to do exercise I will shy away from. I am overweight and I really want to get in shape, so I thought if we could do some exercise as a family it would work well. I mean, I can't give up if I won't let Freddie give up! What kind of message would that send!
As I am very self-conscious I thought as an initial step we would do some family exercise videos. In the comfort of our own home!!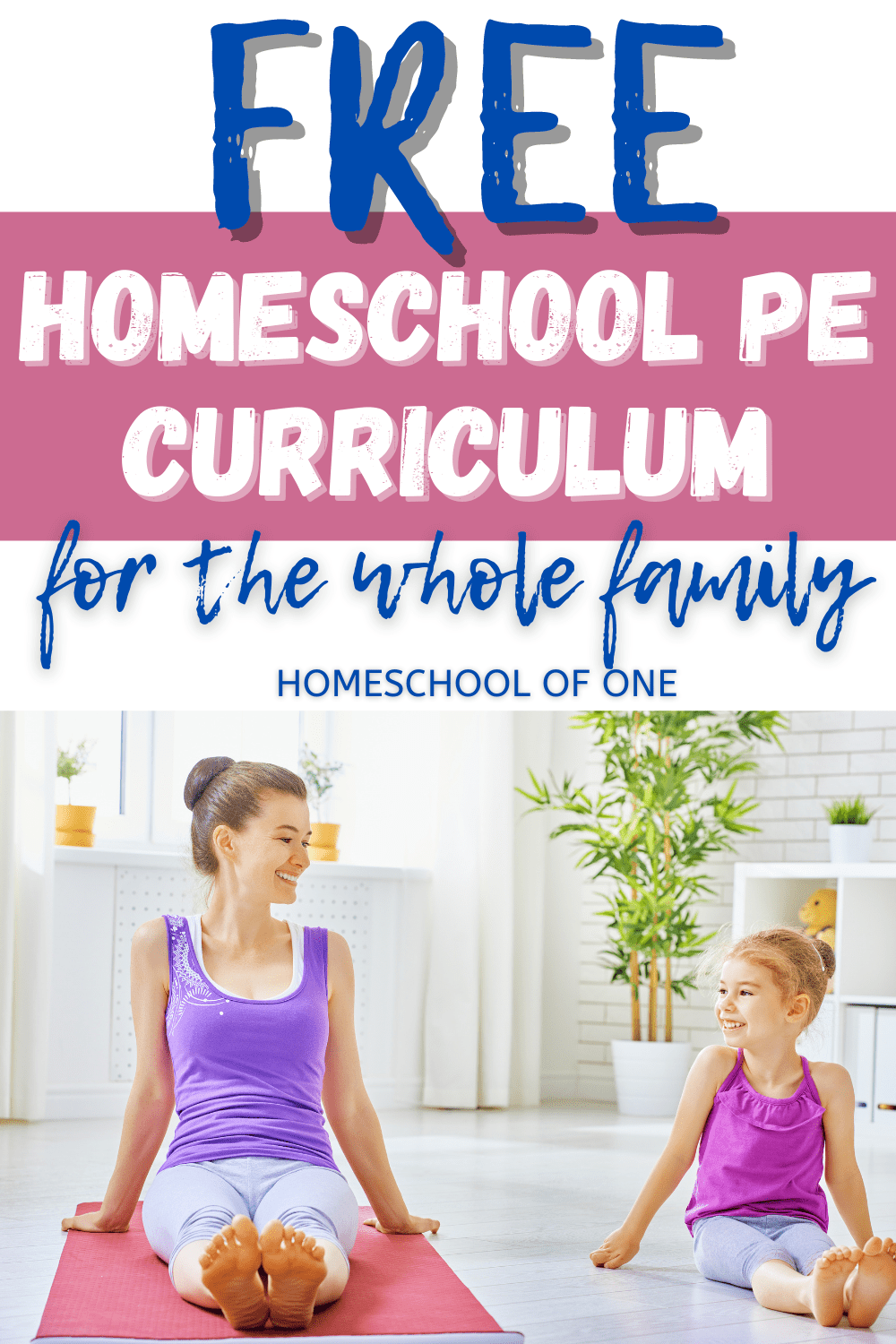 **There may be affiliate links in this post. If you make a purchase (after clicking one of my affiliate links) I'll earn some coffee money, which I promise to drink while supporting your journey. You do not pay a higher price. You can read my full disclosure at the bottom of the page.**
PE Ideas for Homeschool
We have started to allow one hour at the start of our day to do some sort of exercise.
Skipping
Couch to 5k
Bike ride (although I can't ride a bike!!)
Running
Walking to the park
Having daily walks
Trampolining (check out the health benefits of trampolining in a previous post.)
Playing basketball at the courts is not only fitness it encourages the kids to play together. Check out Dribble Up they make the best smart soccer and basketballs, it will feel like you are training at home!
Homeschool PE Curriculum
We have found only found two actual homeschool PE curriculums which we have listed below.
Training Like An Olympic Runner
Mr D Math has a Training Like an Olympic Runner self-paced course for grades 6-12. This course has been designed to increase physical activity as well as providing great insight into running technique and training theory.
This 32-week curriculum is sure to improve fitness greatly. Training Like an Olympic Runner provides the unique opportunity to learn from an array of Olympic sprinters and Coaches. Quizzes and assessments are integrated providing a great experience for students, as well as parents. Training Like an Olympic Runner is sure to educate, inspire, and challenge the athlete and intellect alike.
Curriculum for Health & Fitness
If you are looking for an actual homeschool PE curriculum I highly recommend looking at the Homeschool Teachers curriculum for health & fitness. Once you have subscribed to this curriculum you also get everything else they offer included.
Homeschool Exercise Videos
I have been looking at YouTube for inspiration and thought I would share the best YouTube Fitness Videos we could find.
Masterclass
Although Masterclass is aimed at adults, I had to include these few lessons which my 11 year old son has taken. They are absolutely excellent and are definitely an experience, especially the Stephen Curry class.
The Benefits of Keeping Fit As A Family
The reason I wanted to exercise as a family was for my own selfish reasons if I am honest. If I started exercising with Freddie I wouldn't be able to give up.
Also, we have such a giggle while doing the exercise videos, especially the yoga ones. I am 41 unfit, and incredibly inflexible. I often end up on the floor in floods of laughter. But it is something we can do together, for free. While getting fitter. It is an absolute win-win. Although when I can't move the next day it is not so fun for me!!
It is a great way to start our homeschool day, as we are both so much more motivated. Well in my case I am desperate to sit down and have a break!!
I am classed as clinically obese now, and this is absolutely not something I am proud of. Exercising as a family is my way of showing Freddie this isn't an acceptable life choice. (I know this is not always the case, but in my situation, I am overweight because I eat too much and don't do enough exercise.)
Recent research from the University of Cambridge found that if parents were active, their children were 10% more likely to work out. "As a society, we have become more aware of health and fitness, so we are proactive in finding ways to exercise," says performance and sports psychologist Michael Inglis. "Parents want to be positive role models to their children."
Last Updated on 11 April 2022 by homeschoolof1