Ticket to Ride Review: The Train Adventure Board Game
We absolutely love playing board games for kids, and Ticket to Ride is no exception. Carry on reading for our Ticket to Ride review and why we love to play it in our homeschool.
This was a new game for us and despite there being lots of different varieties of the game we had never come across this before. We played the Northern American game, but there is Europe, Asia, the United Kingdom, and many others to choose from.
We very quickly spotted the places we have been to such as New York, Miami, and Atlanta. I love it when a board game is educational without realizing it!
You are also going to love our review of the new history board game, Trekking through History.
**There may be affiliate links in this post. You can read my full disclosure at the bottom of the page.**
How to play Ticket to Ride?
I have to admit when I first opened the instructions for Ticket to Ride I was a little overwhelmed!
There are lots of different train cards and lots of train pieces and although the instructions are very clear it was a bit confusing to start with. Within 15 minutes though I was ready to play.
What is in the box?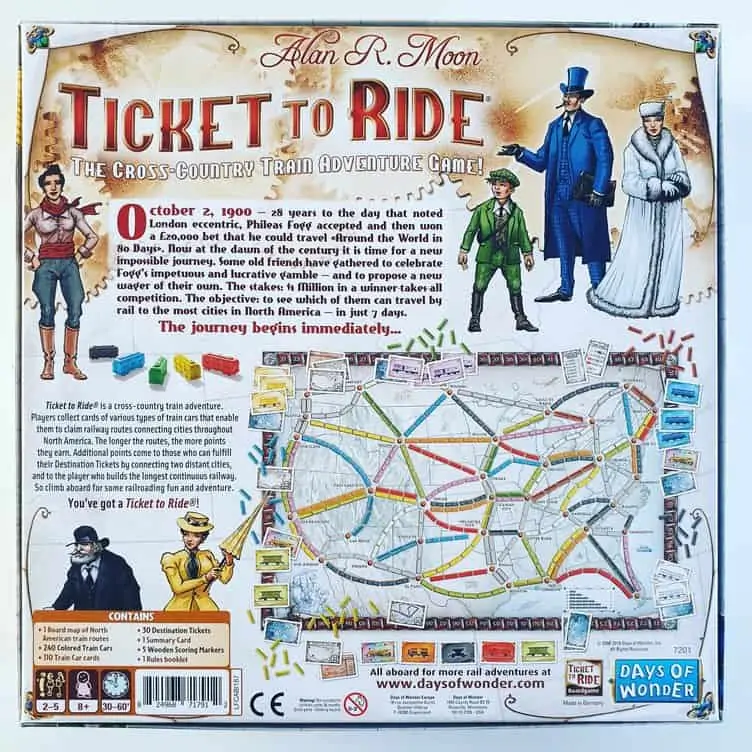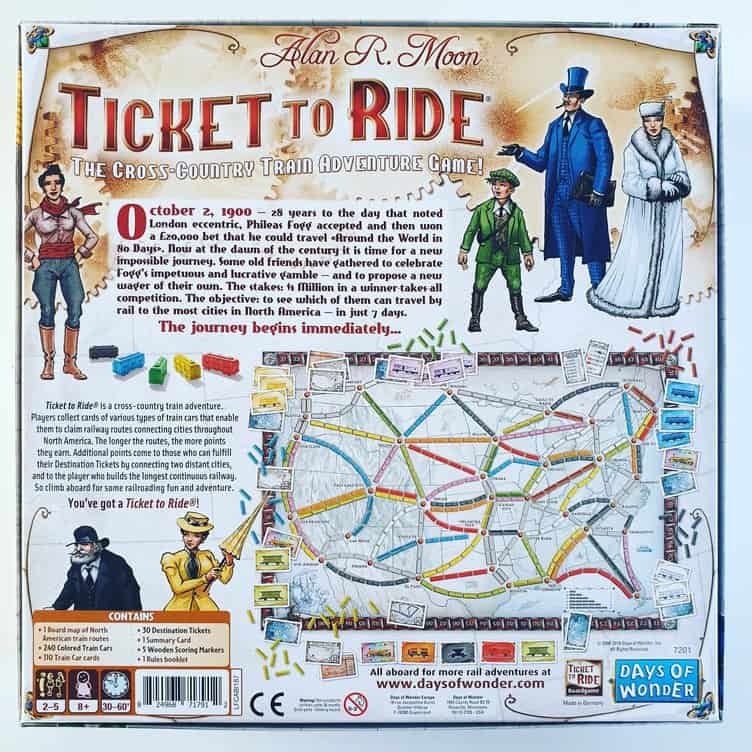 1 map of North America
240 Colored Train Cars (48 each in Blue, Red, Green, Yellow, & Black)
96 Train Cards (12 each in Red, Orange, Yellow, Green, Blue, Purple, Black & White)
14 Locomotive Wild Cards (Multicolored)
1 Scoring Summary Card
30 Destination Ticket Cards
1 Longest Route Bonus Card
5 Wooden Scoring Markers (1 each in Blue, Red, Green, Yellow & Black)
1 Rules Booklet
Playing the game
As we were playing this with our 9 year old son, we played "open book". We always do this when playing with younger players in the first round. After the first journey though he was hooked and knew how to play. The age rating for Ticket to Ride is everyone over the age of 8 years old.
The aim of Ticket to Ride is to claim railway routes connecting cities throughout North America.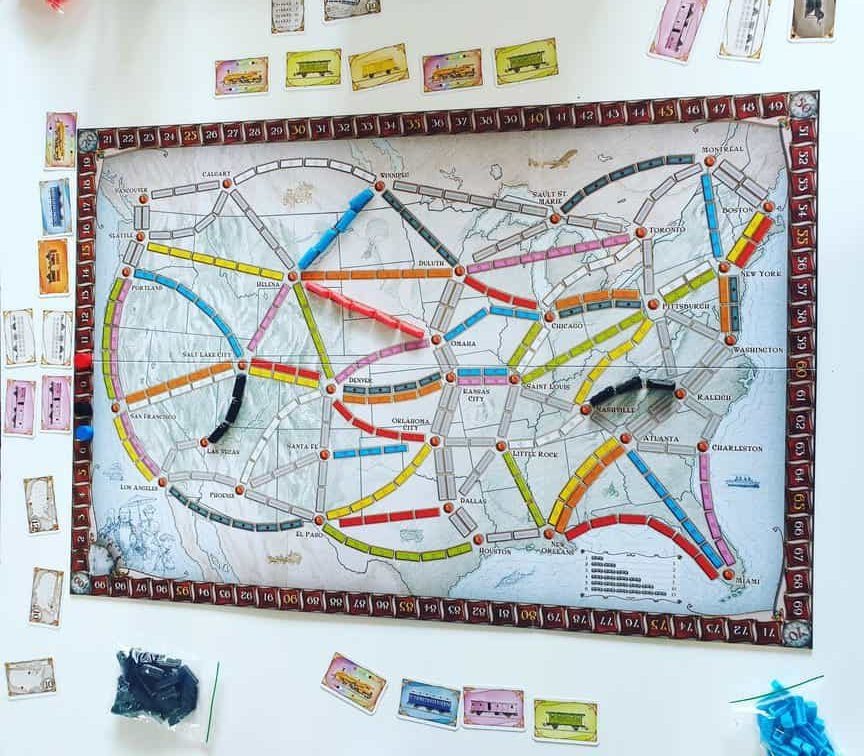 The longer the train routes the more points scored. Additional points are scored by connecting two distant cities and for those with the longest continuous route.
But be careful, if people know you are trying to claim a route, they can block you!
The end of the game is decided when one player has only two or fewer of their colored train pieces. When this occurs, every player then plays one additional turn, after which they each reveal their previously hidden destination tickets.
Ticket to Ride United Kingdom + Pennsylvania Board
Ticket to Ride First Journey Board Game |
Ticket to Ride Board Game | Family Board
Ticket to Ride Europe Board Game | Train
Ticket to Ride Nordic Countries Board Game |
Ticket to Ride Board Game Review
We often play board games on a Sunday, and Ticket to Ride is the perfect family game.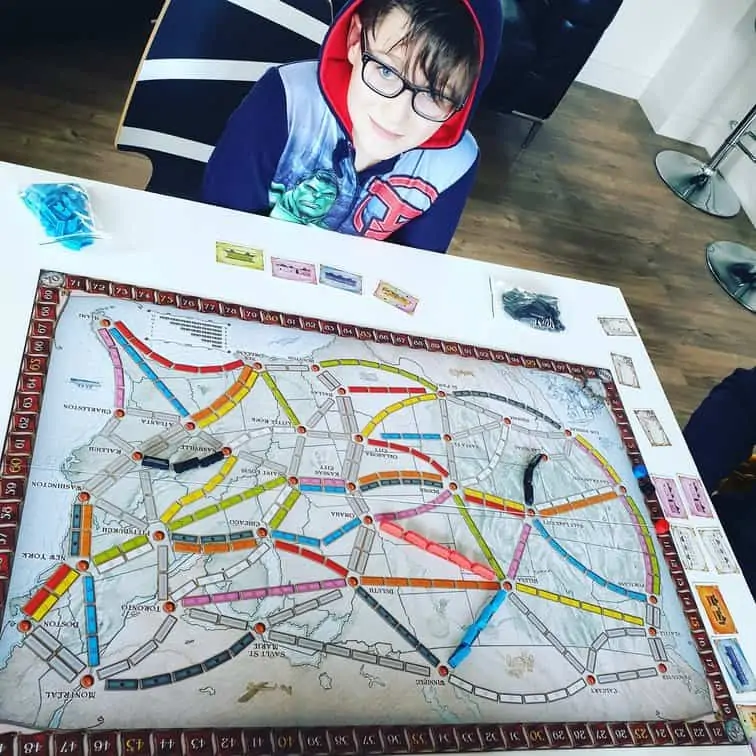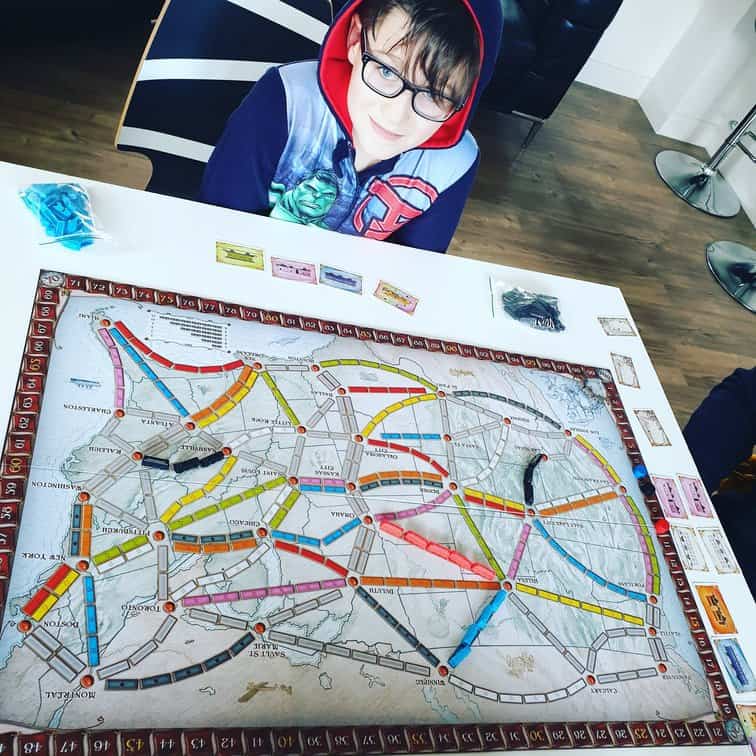 The first game we played took about 45 minutes, but the next couple of rounds were completed in 30 minutes.
It is a great game and is no surprise it has won the game of the year, and numerous subsequent awards.
Get your ticket to ride game here, it is a perfect game to play while studying geography in your homeschool!
If you love board games, check out our favorite educational board games here.
Other games by Days of Wonder and Alan R. Moon
Have you played Ticket to Ride yet? Do you love it as much as we did?
If you are looking for other fun board games we also love these:
Last Updated on 4 July 2023 by homeschoolof1