Free Printable Summer Reading Log For Kids
Have fun tracking your books with our free printable summer reading log.
Looking for a fun way to get your kids reading during the summer? Along with free printable summer reading logs, we've got you covered with fantastic book lists for kids that are sure to inspire their reading adventures!
Designed with kids in mind, but I am using it too! This handy log will help you track your reading adventures.
Simply note down the date, title, the number of pages read, and even rate each book out of 5 stars.
It's a great tool to inspire a love for reading and make this summer an unforgettable literary journey!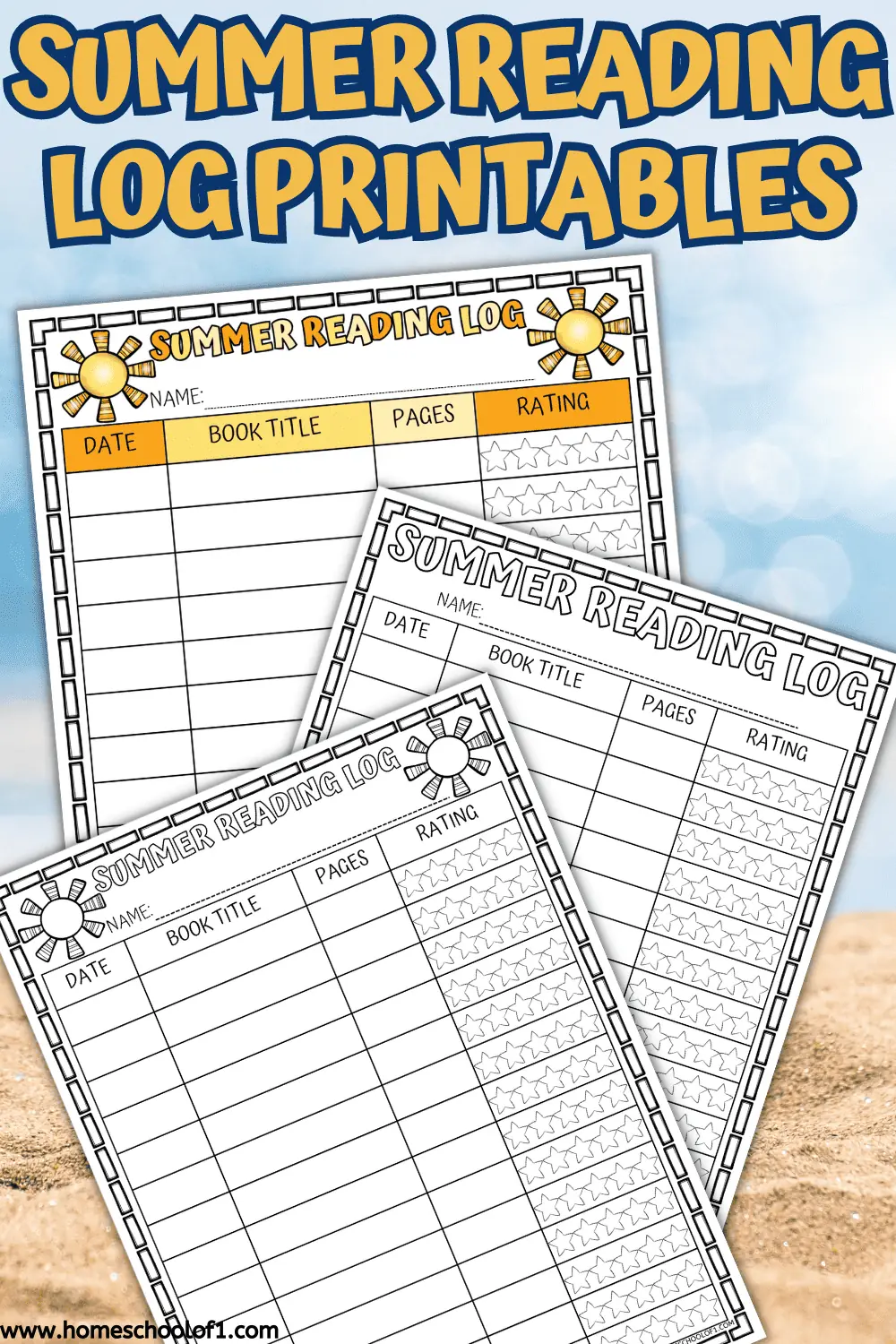 **There may be affiliate links in this post. You can read my full disclosure at the bottom of the page.**
There are 3 versions to choose from. Keep reading for some book suggestions and to get the free worksheet.
Why Summer Reading Matters for Kids
Summer reading matters for kids more than they might realize!
Not only is it a chance to dive into exciting stories and explore new worlds, but it also helps them sharpen their reading skills and expand their vocabulary.
Plus, it keeps their minds active and prevents the dreaded summer slide.
So have them grab a book, find a cozy spot under the shade, and let the summer reading adventures begin!
How to Make Summer Reading Fun
If you're wondering how to encourage reading habits and make summer reading more enjoyable, we've got you covered!
One way is to create a reading routine by setting aside a specific time each day dedicated to reading.
Make it a family affair by having designated "reading time" where everyone gathers together with their favorite books.
Another effective method is to lead by example and let your kids see you immersed in a book. Providing a variety of reading materials such as comics, magazines, and age-appropriate books will also pique their interest.
Lastly, don't forget to praise their efforts and celebrate milestones to reinforce the joy of reading. By implementing these strategies, you'll nurture a lifelong love for reading in no time!
Using the Summer Reading Logs
This summer log reading worksheet is free to print but is for personal and classroom use only. Scroll to the bottom of the post and add your email address to get the pdf file.
There are three different worksheets to download, one in color, and two are black and white (to save on your ink!)
If the kids choose either of the black and white reading logs encourage them to color them in before they start.
We keep our reading log on the refrigerator, but you could leave it where the children normally read.
We started using this a couple of weeks ago and we are already on the second page! But my son is a bookworm!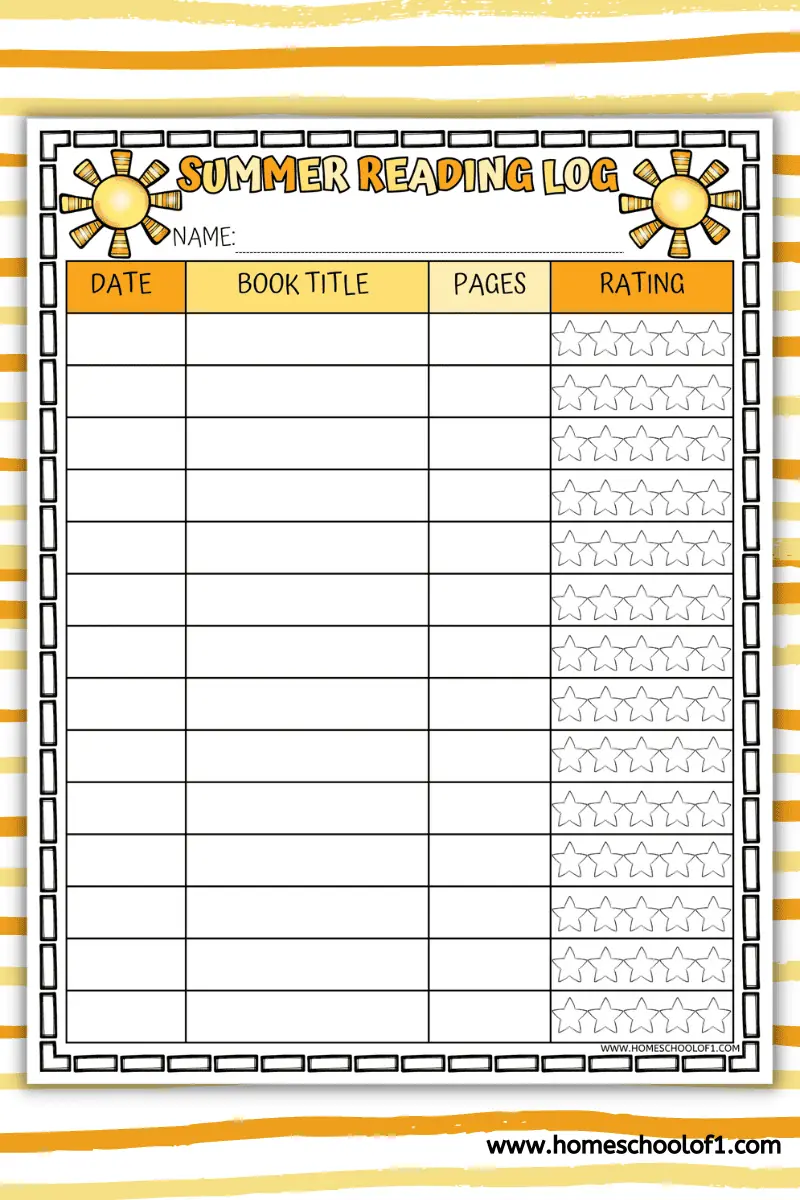 Summer Reading Log Worksheet
The printable summer reading log is super simple to complete and is perfect for kids of all ages. Even if they are not writing yet, you could fill it out for them.
When the kids start reading they need to add the date, the title of the book, the number of pages read, and color in how many stars they give those pages.
This can be used with our free summer book bingo reading challenge. So when the kids have read a certain number of books they get a small prize. I normally just give another book!
It could also be used with our free reading log printables.
This is the second page of ours so far, as you can see even printing in black and white and coloring in, it can look super colorful.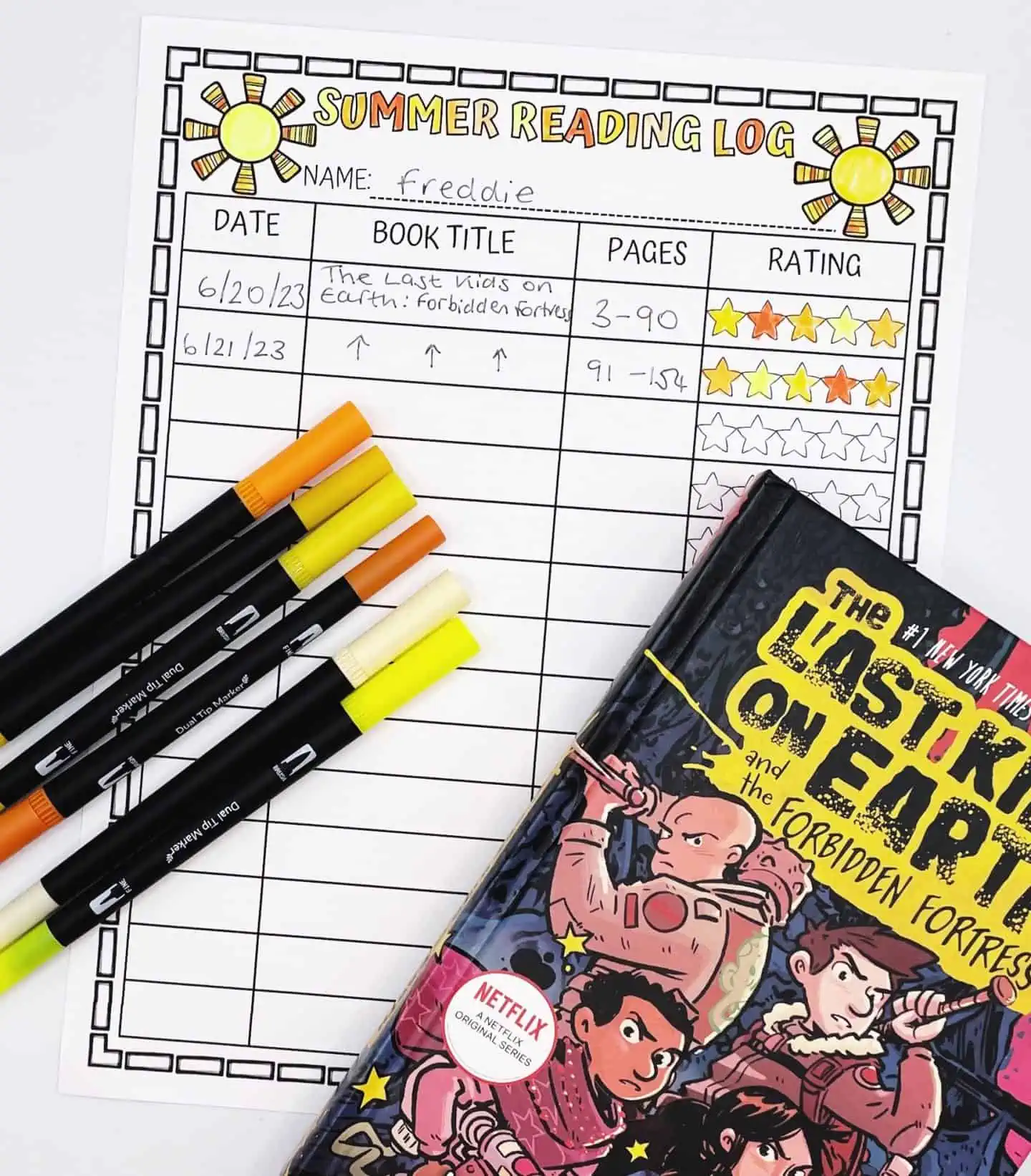 Summer Reading Lists for Kids
If you are looking for inspiration I wanted to share with you the top 10 children's books written last year:
These summer reading list ideas are a great way for the kids to fill out this summer reading log.
Tips for downloading the free files
Below is a blue cloud with an arrow pointing downward. Underneath that is a large sign-up box where you need to add your name and email address, and press I NEED THIS NOW!
Within minutes you will be sent the free PDF directly to your email address, so you can print it out and start using it immediately.
Sometimes emails get a little wonky, so if you can't see it, please check your spam folder where I am sure it is hiding.
Download the free reading list printable
Make sure you choose the correct paper size and click on the shrink to fit button. All of our free printables for kids work better when printed on cardstock (this is the one we use and love.)
Last Updated on 2 October 2023 by homeschoolof1