If I Were King for a Day (4 free writing prompts)
As the King's coronation is upon us I have created these free If I Were King for a Day worksheets for you to print out and have fun with.
King Charles III's coronation is being held on Saturday, May 6th, 2023.
These writing prompts for kids can be used with all age groups. It is a perfect way to have fun for the coronation, or when learning about British history.
Have fun with these writing activities and while the kids are hard at work thinking of all the things they would change if they were King or Queen for the day, why not create your own? Then compare your answers with theirs.
You will also enjoy our free coloring royal family worksheets.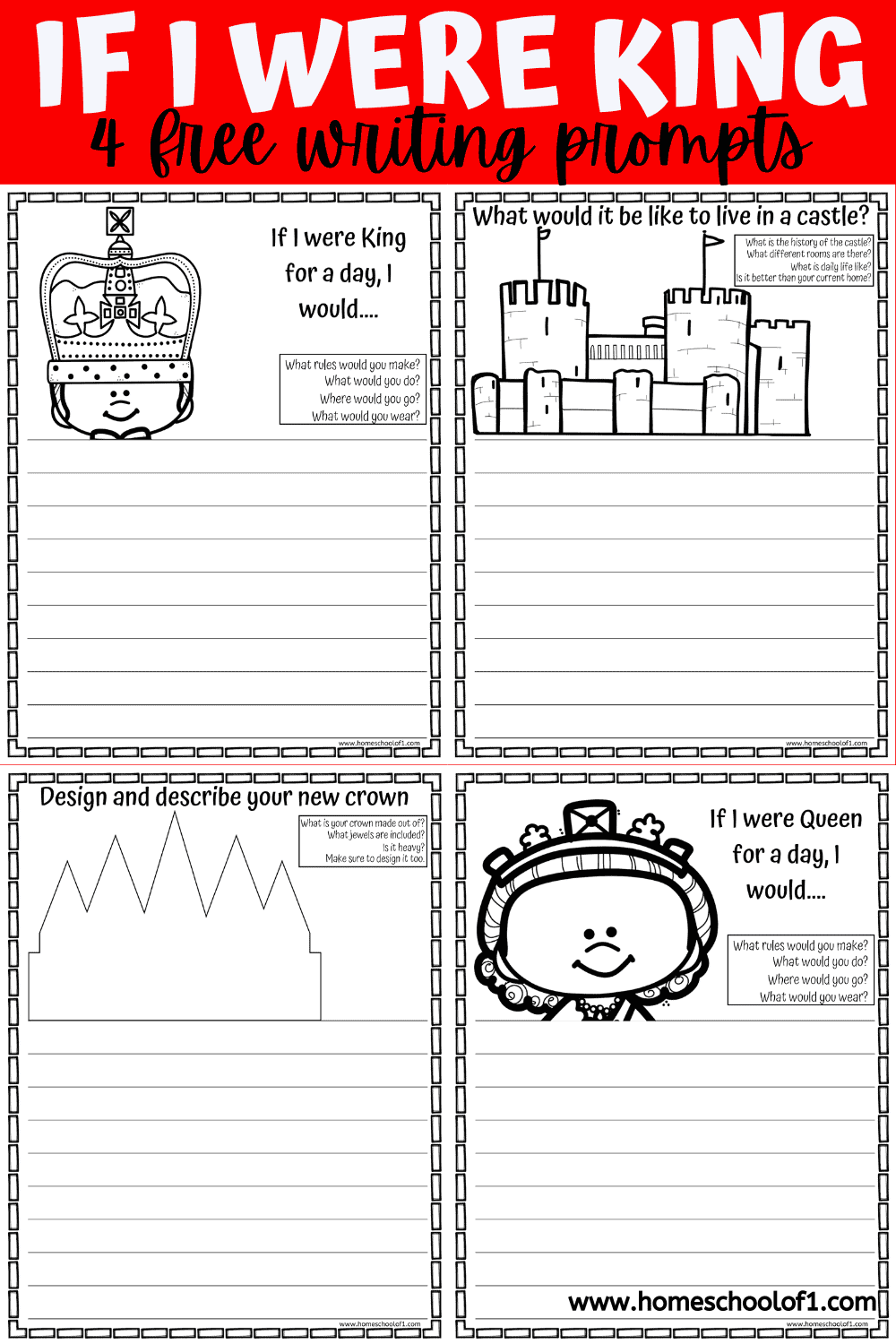 **There may be affiliate links in this post. You can read my full disclosure at the bottom of the page.**
How to use these free King and Queen writing worksheets?
The free King and Queen writing worksheets are excellent resources for elementary grade students to encourage their creative thinking and writing skills.
These worksheets can be used in various ways, such as during language arts class, as part of a social studies unit, or for independent writing assignments.
Here are some ideas on how to use these worksheets:
Before starting the worksheet, brainstorm ideas as a class or in small groups.
Ask students what they know about Kings and Queens. What they think it would be like to live in a castle. Or what they would do if they were a King or Queen for a day.
This will help them generate ideas and make the writing process easier.
The King and Queen writing worksheets are an excellent way for students to practice their writing skills.
Encourage them to write complete sentences, use descriptive words, and organize their thoughts.
Teachers can provide feedback on their writing, and students can revise and edit their work.
These worksheets encourage students to use their imaginations and be creative.
They can create their own stories or scenarios and bring their ideas to life.
This type of activity helps students to think outside the box and express themselves in unique ways.
What are the educational benefits of using these worksheets?
These free printables offer several educational benefits including:
Developing writing skills. By writing about various topics related to Kings and Queens, students can improve their writing skills, such as sentence structure, grammar, and punctuation.
Enhancing creativity. The open-ended nature of the worksheets allows students to be creative and express their ideas in unique ways.
Learning about history. Writing about Kings and Queens and what it would be like to live in a castle can provide an opportunity for students to learn about history and social studies.
King and Queen Writing Prompts
Download the free printables below, if the email doesn't come through within 5 minutes please check your junk folder.
These free printable royal writing prompts are free to print but are for personal use or classroom use only. Scroll to the bottom of the page to get the pdf file.
There are 4 pages to download:
If I were Queen for a day, and if I were King for a day. When the children have completed their essay they can color in the images too.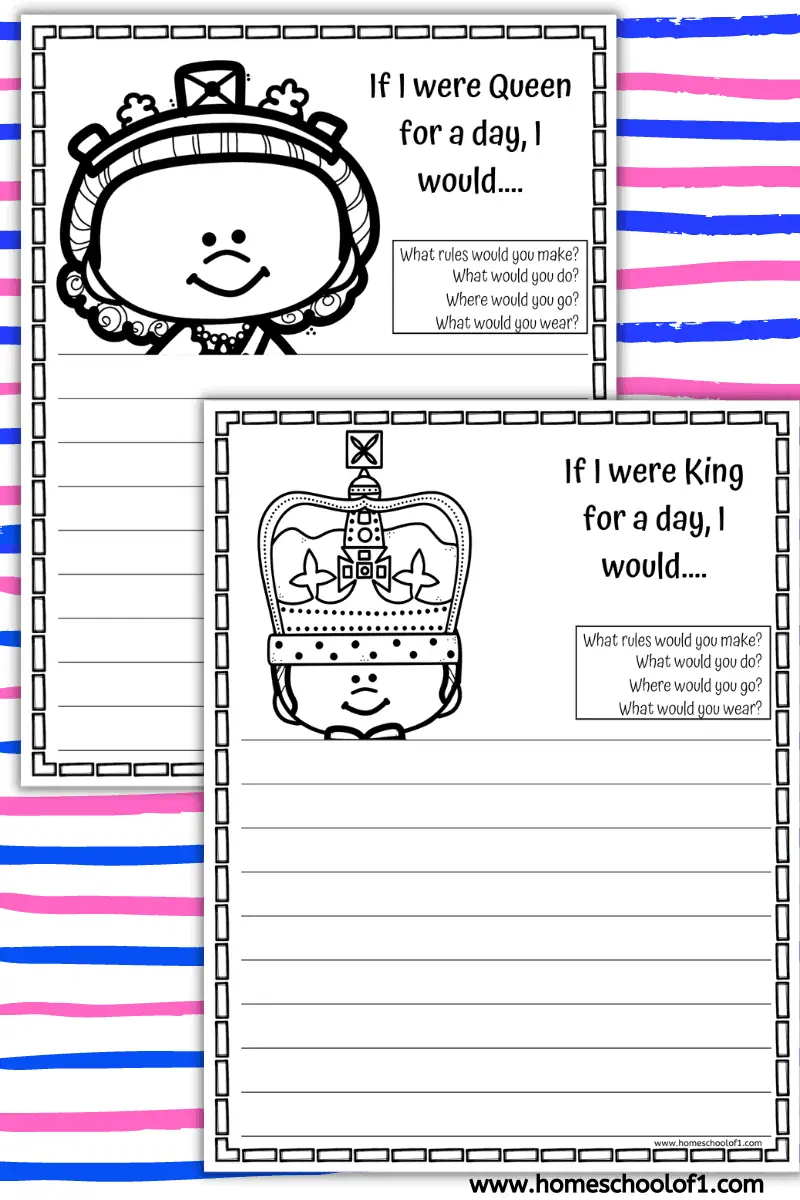 What would it be like to live in a castle?
I highly recommend this Everything Castles book that you can use with this writing assignment.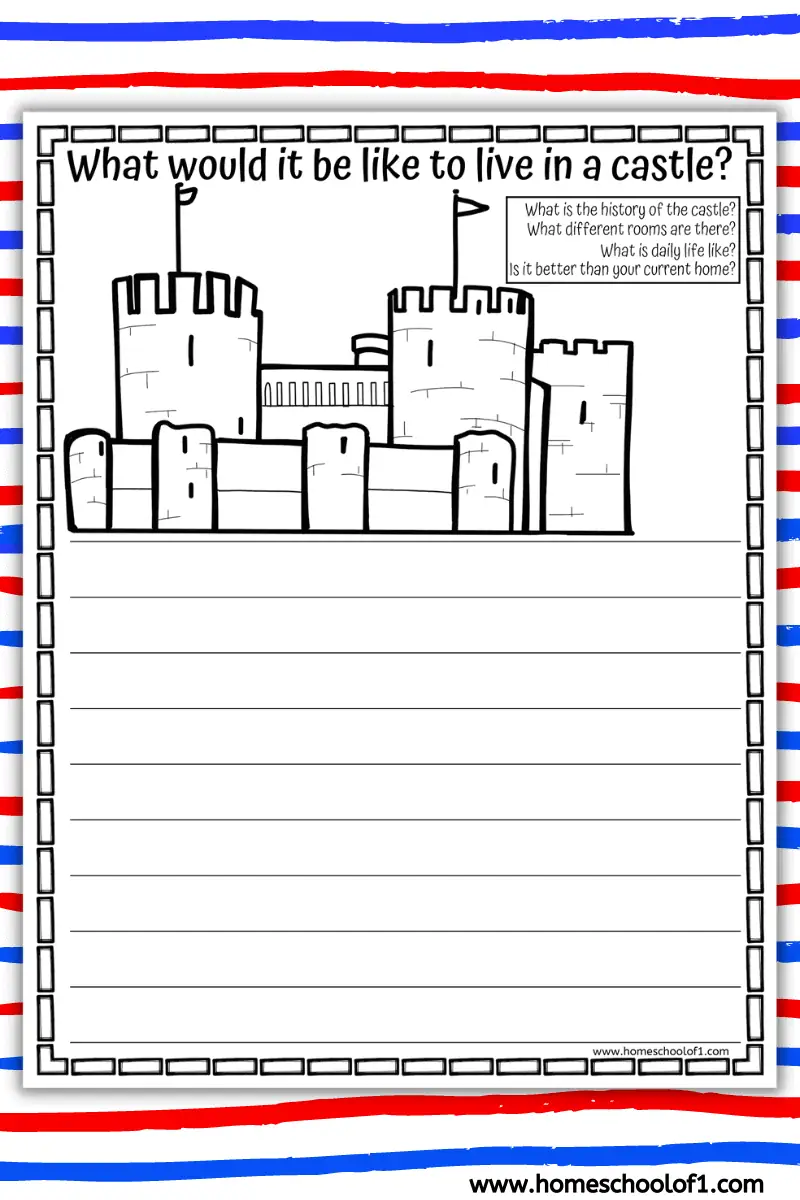 Design and describe your new crown.
For this writing lesson the kids need to not only describe their new crown, but they need to design it too!
You can also download our free paper crown template too.
Fun Books about Kings and Queens for Kids
The kids will also enjoy reading about some previous Kings and Queens, these are our favorite books:
Learn about past Kings and Queens of England
Continue your learning with the following worksheets:
Download the free King writing prompts
Make sure you choose the correct paper size and click on the shrink to fit button. All of our free printables for kids work better when printed on cardstock (this is the one we use and love.)
Last Updated on 19 May 2023 by homeschoolof1