Paper Crown Template for King Charles III Coronation (5 free)
With King Charles III's coronation coming up in May I have created 5 different paper crown templates that you can download and have fun with.
There are 2 different designs solely for the King's coronation, but the other 3 can be used whenever your child wants to be a King or Queen for the day!
These paper crowns are super easy to create thanks to our free templates that you can download below. All you need to do is get the kids to get creative and decorate them.
You will also enjoy these free royal family worksheets that you can color in.
**There may be affiliate links in this post. You can read my full disclosure at the bottom of the page.**
How to Make a Paper Crown?
Making a paper crown is a fun and easy craft project that you can do with just a few simple materials.
Here's how to make a paper crown:
Materials:
Construction paper or white cardstock
Scissors / paper cutter
Glue or tape
Coloring pens / crayons
Decorations such as stickers, markers, glitter, or gems (optional)
Instructions
Download the free crown template printables below, if the email doesn't come through within 5 minutes please check your junk folder.
These free printable crown templates are free to print but are for personal use or classroom use only. Scroll to the bottom of the page to get the pdf file.
There are 5 different crowns included in the download which are perfect for both the upcoming coronation or for a fun Kings and Queens party.
There are 8 pages to print out, 5 with the different crowns, and 3 for head expanders. Each of the downloads need to be colored in and decorated.
King Charles III Coronation Paper Crown
This crown features the Union Jack with King Charles III written in the middle.
The word coronation is written on the headband, and to each side has the date 6th May 2023.
This crown is the easiest to cut out as there are no intricate shapes, so kids can probably do this on their own.
When the crown has been colored in there are headband expanders to attach to either side of the headband and cut to the child's head size. You can use either glue or tape, but tape will hold better.
After you have created this why not encourage the kids to write about what if I were King for a day with our free writing prompts?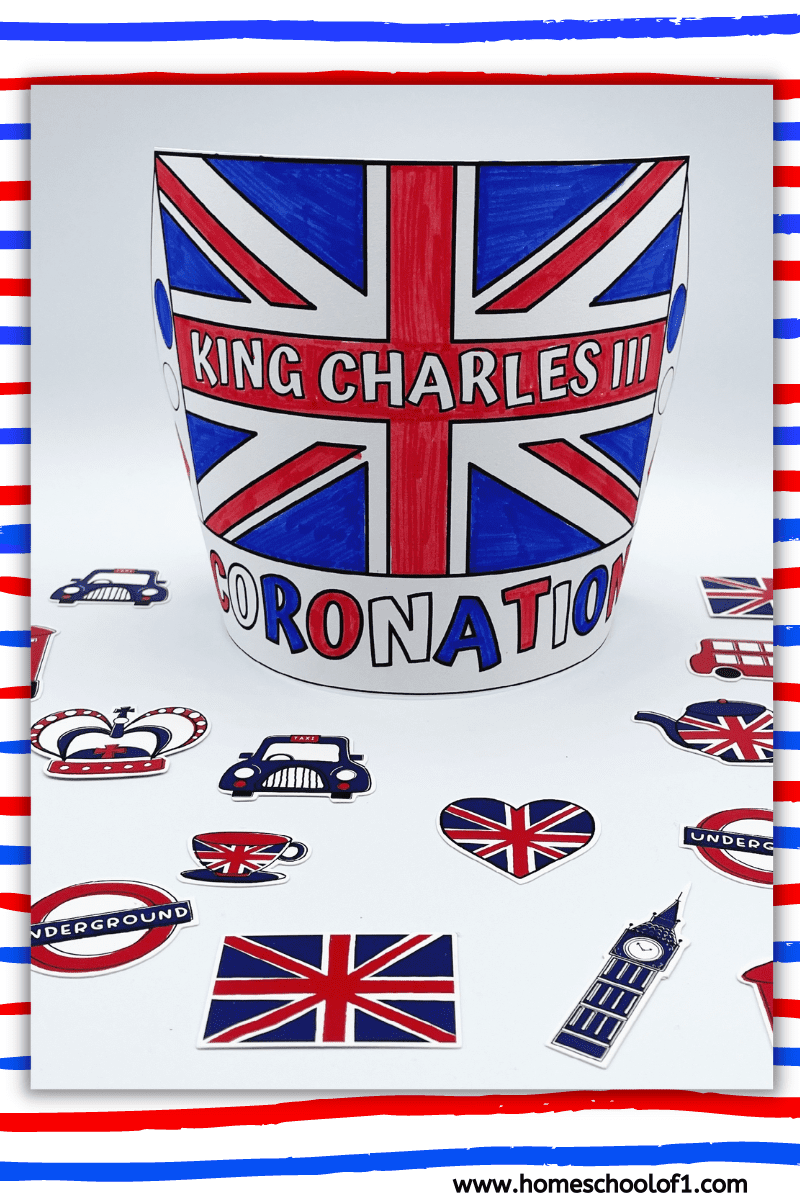 Coronation Crown for King Charles III
This crown features the date 06.05.2023 as that is how it is written in the UK. If you are in America though just remember it is May 6th, 2023, and not June 5th!
It has the Union Jack and the words King Charles III Coronation under the flag.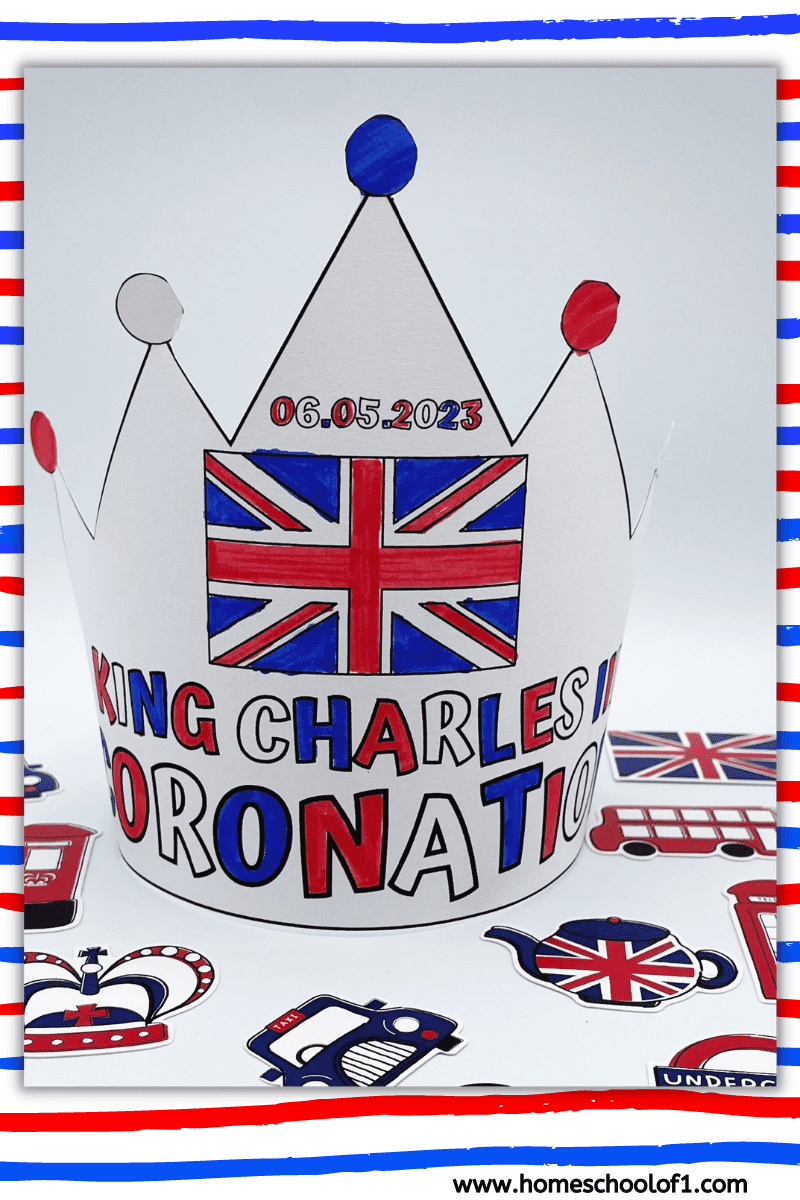 St. Edward's Crown Paper Template
This crown is the most similar to the actual crown King Charles will wear.
The St Edward's Crown is the crown Her Majesty Queen Elizabeth II wore on her coronation back in 1953.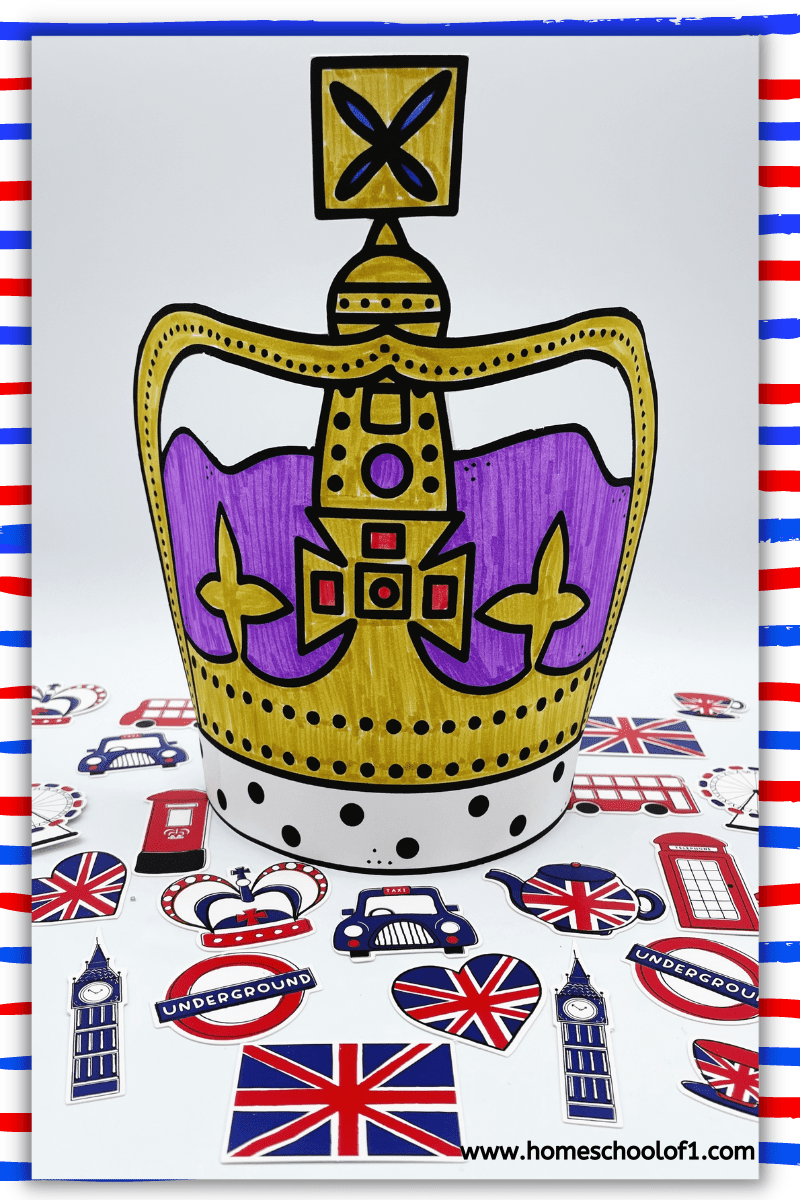 Fun Crown Printable
This crown can of course be used for the royal celebrations in May, but it can be decorated of course in any color the kids choose.
As you can see we have used coloring pens and glitter to decorate this one, but let your children decide.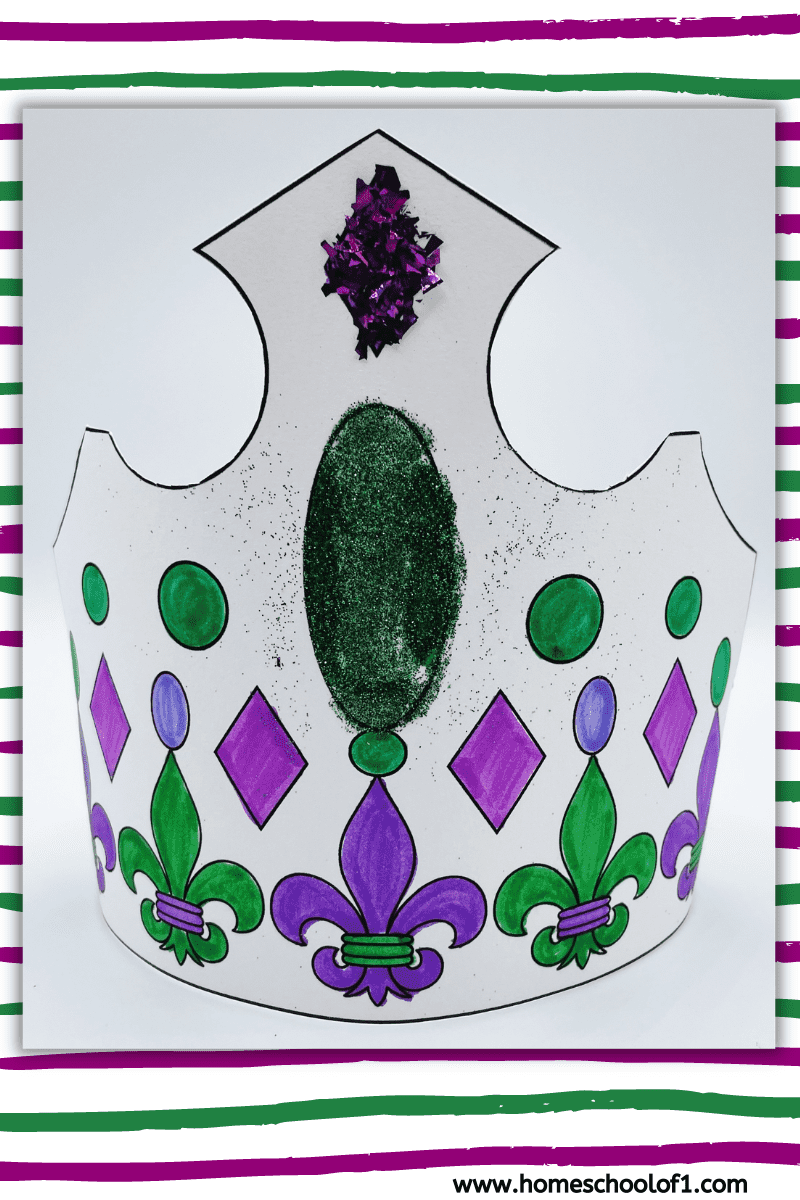 Party Crown
Again the crown printable can be decorated with whatever embellishments, color, or glitter you have to hand.
We have used a mix of coloring pens, glitter, torn tissue paper, and pom-poms to decorate ours.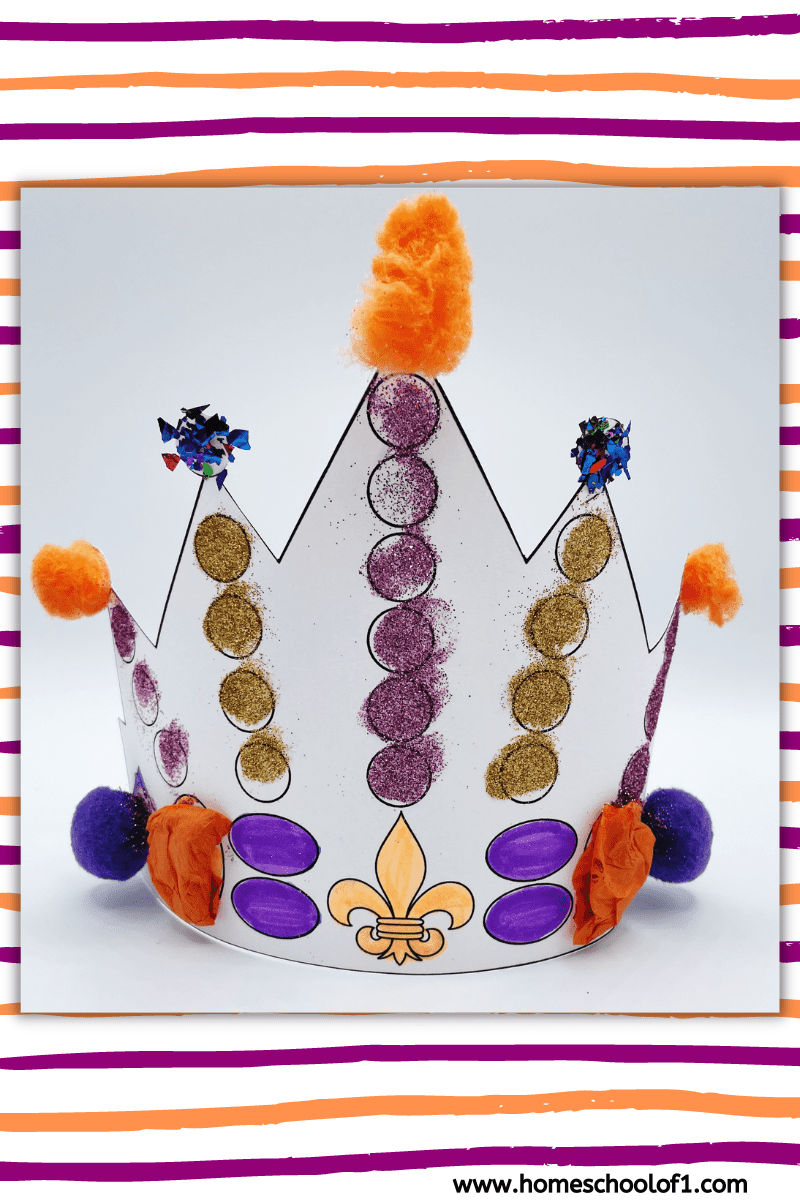 Fun Facts about the St Edward's Crown for Kids
Here are some fun facts about the St. Edward's Crown that kids might enjoy:
St. Edward's Crown is the crown that is used in the coronation of British monarchs. This means that when a new king or queen is crowned, they wear this crown as a symbol of their royal power.
The crown is made of solid gold and weighs almost 5 pounds! That's about the same weight as a small bag of sugar.
The crown has 444 precious stones on it, including diamonds, rubies, sapphires, and emeralds. The largest of these stones is a diamond called the "Second Star of Africa," which is the second-largest cut diamond in the world!
St. Edward's Crown has been used in the coronation of British monarchs for over 350 years. The first king to be crowned with this crown was Charles II in 1661.
The crown is named after King Edward the Confessor, who was a very important king of England in the 11th century. He is considered a saint by the Catholic Church and is also the patron saint of kings.
St. Edward's Crown is kept in the Tower of London with the other Crown Jewels. It is only taken out for special occasions, like coronations, or when it is put on display for visitors.
St. Edward's Crown is so special and valuable that it is kept under 24-hour armed guard!
The design of the crown has changed over the years, but the basic shape and the use of gold and precious stones have remained the same. This is part of what makes it such an important symbol of the British monarchy and history.
You will also enjoy our free first day of school crowns printable
Tips for downloading the free files
Below you will see a large sign-up box where you need to add your name and email address, and press I NEED THIS NOW!
Within minutes you will be sent the free PDF directly to your email address, so you can print it out and start using it immediately.
Sometimes emails get a little wonky, so if you can't see it, please check your spam folder where I am sure it is hiding.
Download the free printable paper crown templates here
Make sure you choose the correct paper size and click on the shrink to fit button. All of our free printables for kids work better when printed on cardstock (this is the one we use and love.)
Last Updated on 21 October 2023 by homeschoolof1