Garden Easter Egg Hunt Clues (free printable)
Have some outdoor fun this year with our free garden Easter egg hunt printable clues.
The kids will have so much fun outside in the garden searching for their Easter baskets with these 12 rhyming clues.
Don't worry if it is raining though download our free Easter scavenger hunt clues that are all inside.
These garden clues are really generic and will work well in any garden. Perfect for kids old and young you will all have a blast with this.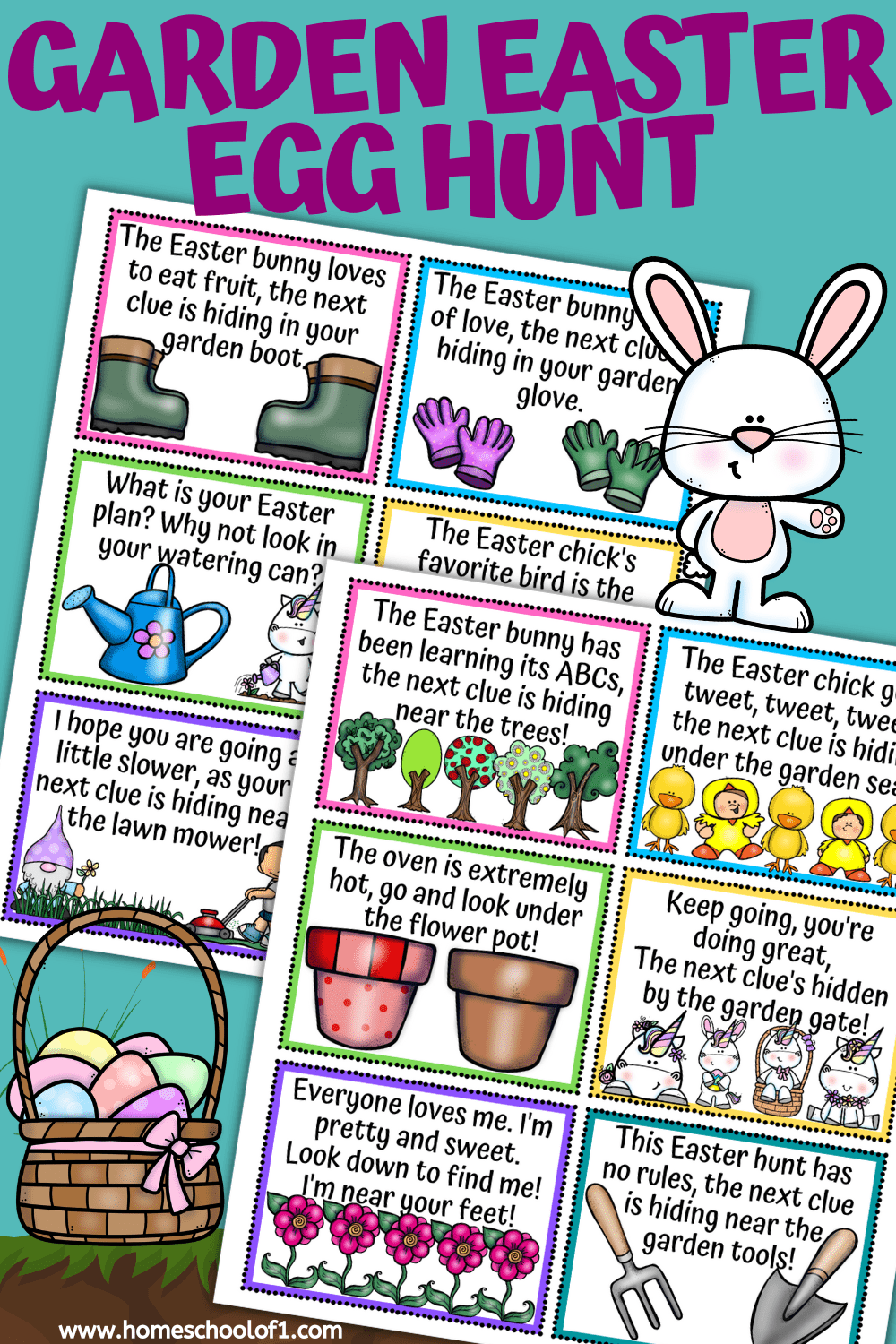 **There may be affiliate links in this post. You can read my full disclosure at the bottom of the page.**
Easter egg hunt clues for outside
There are 12 clues to print out, but you can pick and choose which ones to use if you want a smaller hunt.
The Easter bunny has been learning its ABCs, the next clue is hiding near the trees!
The Easter chick goes tweet, tweet, tweet, the next clue is hiding under the garden seat!
The oven is extremely hot, go and look under the flower pot!
Keep going, you're doing great, The next clue's hidden by the garden gate!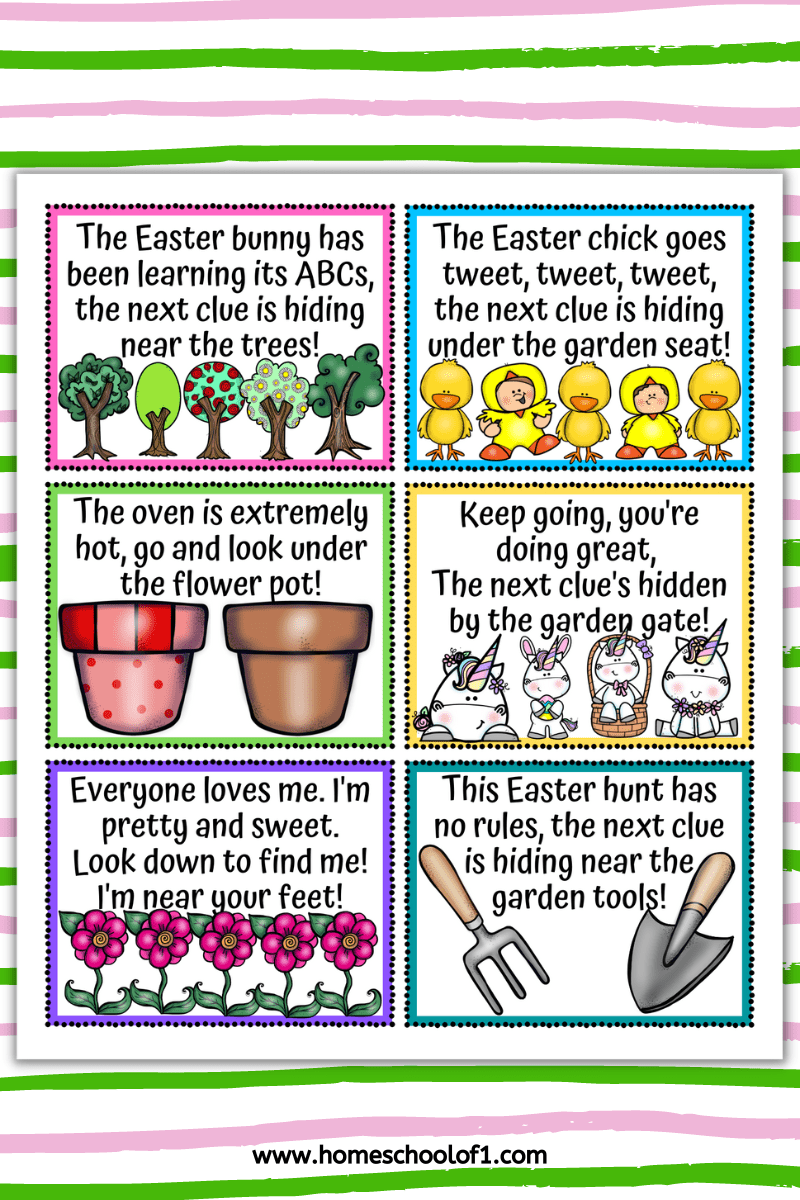 Everyone loves me. I'm pretty and sweet. Look down to find me! I'm near your feet!
This Easter hunt has no rules, the next clue is hiding near the garden tools!
The Easter bunny loves to eat fruit, the next clue is hiding in your garden boot.
The Easter bunny is full of love, the next clue is hiding in your garden glove.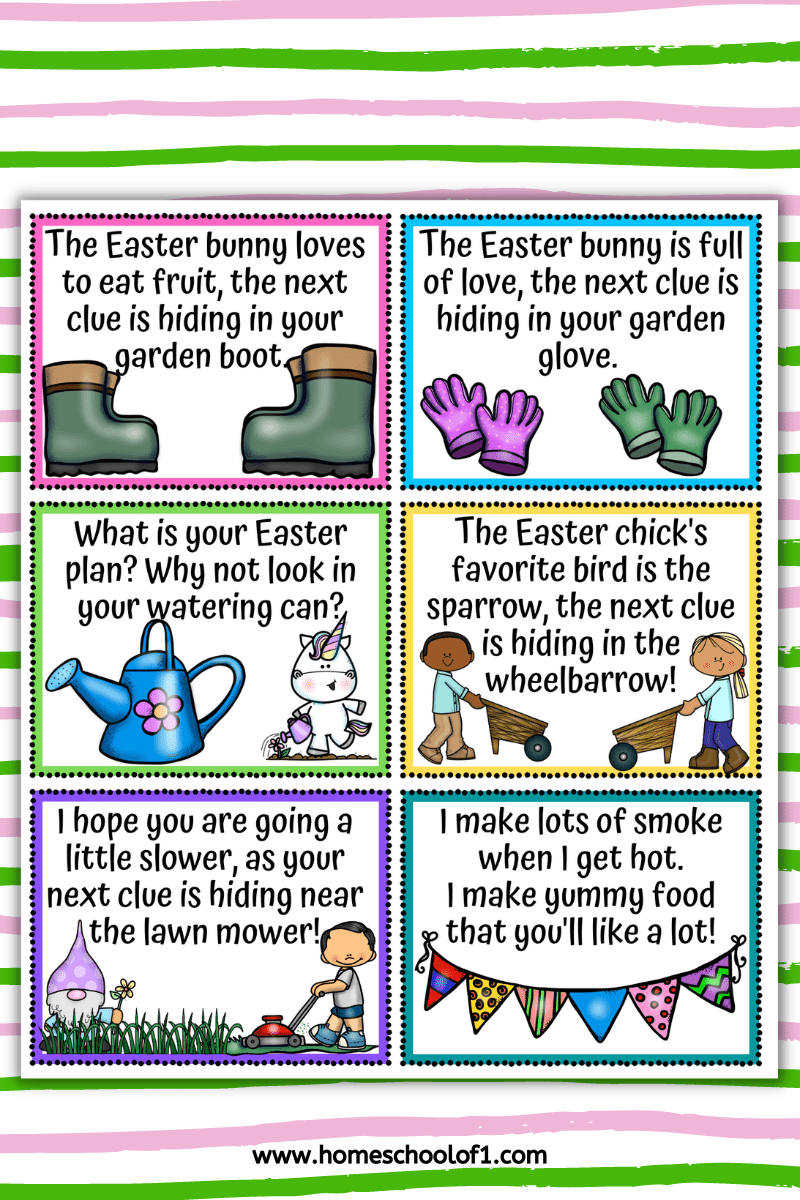 What is your Easter plan? Why not look in your watering can?
I hope you are going a little slower, as your next clue is hiding near the lawn mower!
The Easter chick's favorite bird is the sparrow, the next clue is hiding in the wheelbarrow!
I make lots of smoke when I get hot. I make yummy food that you'll like a lot!
How to use the treasure hunt clues for the garden
Download the printable garden Easter egg scavenger hunt clues below. There are 2 pages with 6 clues on each page.
This free printable Easter egg hunt is free to print but is for personal use and classroom use only. Scroll to the bottom of the post and add your email address to get the pdf file.
These 12 rhyming clues are perfect for younger children but kids of all ages will have fun. Especially if you don't hide them in the obvious places!
I have purposely not numbered the clues so you can start and finish wherever works best for your family.
There isn't really much else required to start with these FREE printables, well apart from a printer.
Grab the free printable below
Print out the clues they are 8.5 x 11, if you are using A4 paper make sure you shrink to fit.
The clues will work better on cardstock (this is the one we use), but, normal printer paper will work perfectly.
Paper cutter to cut the clues. I have purposely kept the clues big, but of course, you can fold them if you want to add them to plastic easter eggs.
Optional – Add the clues to these easter eggs and hide them in the garden. This will certainly be the best option if you are only printing on paper as they may get a little damp.
Get a pen (to remind you where you have put the clues and in what order)
Hide the clues.
Most importantly the Easter basket, leave it after the last clue!
You will also enjoy our Easter bunny letter free printable to make this Easter even more magical.
Fun prizes for the end of the outside Easter hunt
If you are looking for inspiration for gift ideas these are our most popular Easter gift lists
Other outdoor scavenger hunts you can enjoy this Easter
Download the free garden Easter scavenger hunt printable
Make sure you choose the correct paper size and click on the shrink to fit button. All of our free printables work better when printed on cardstock (this is the one we use and love.)
Last Updated on 11 March 2023 by homeschoolof1