My Favorite Color Worksheet (free printable)
Whether you are learning about colors, or looking for a fun first day of school activity this my favorite color worksheet is just for you.
This is perfect for a first day of school worksheet and is a great first day of homeschool printable.
Let's dive into a world of colors and self-expression. This engaging activity is perfect for students to explore their favorite colors, unleash their creativity, and discover the unique ways colors impact our lives.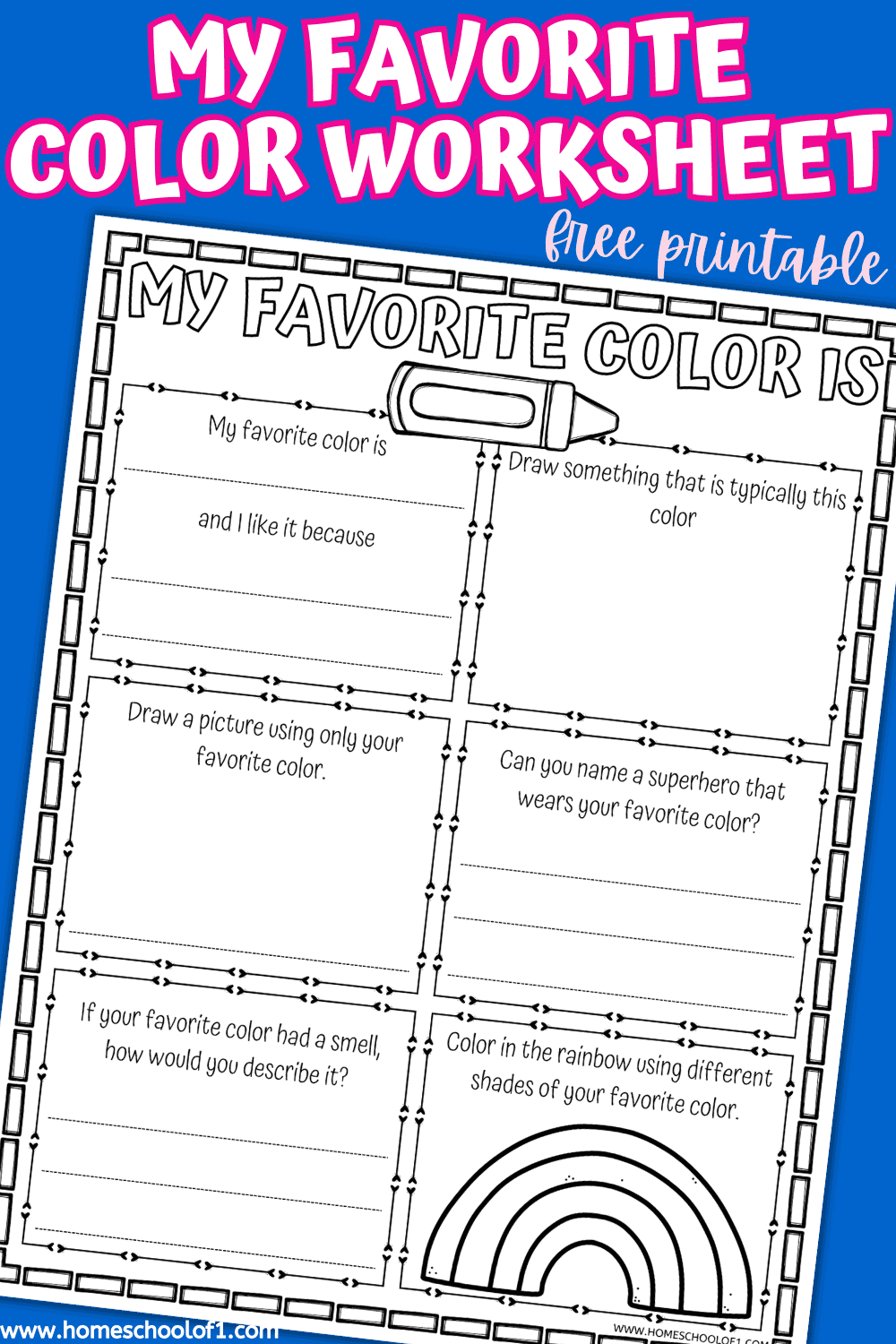 **There may be affiliate links in this post. You can read my full disclosure at the bottom of the page.**
How to use the my favorite color is worksheet
This my favorite color worksheet is free to print but is for personal and classroom use only. Scroll to the bottom of the post and add your email address to get the pdf file.
This fun worksheet can be used at numerous times of the year:
Beginning of the School Year: As an icebreaker activity, teachers can introduce the worksheet to help students share something about themselves. It can be a fun way to get to know each other and create a positive classroom environment.
Art or Creative Writing Lessons: The worksheet can be incorporated into art or creative writing lessons that focus on colors, self-expression, or descriptive language. It provides an opportunity for students to practice drawing, coloring, and writing while exploring their favorite color.
Language Arts or Literacy Activities: Teachers can use the worksheet as a writing prompt or as part of a language arts lesson. Students can write a paragraph or a short essay about their favorite color, using descriptive language and supporting their opinions with reasons.
Theme-based Lessons: If a lesson or unit revolves around colors, self-identity, or personal preferences, the worksheet can complement the theme. Teachers can integrate it into lessons about rainbows, color theory, or cultural celebrations where colors play a significant role.
Crayola Back To School Supplies Set (80ct), Crayons, Markers & Colored Pencils, Teacher Supplies, Kindergarten & Elementary School [Amazon Exclusive]
100 Pack Colored Sentence Strips for Teacher Supplies, Classroom, Lined Paper Borders for Writing Words (5 Colors, 3 x 24 in)
Scotch Thermal Laminating Pouches Premium Quality, 5 Mil Thick for Extra Protection, 100 Pack Letter Size Laminating Sheets, Our Most Durable Lamination Pouch, 8.9 x 11.4 inches, Clear (TP5854-100)
Officemate PVC Free Color Coated Paper Clips, 450 Per Tub Office Paper Clamp (97229)
Crayola Construction Paper – 480ct (2 Pack), Bulk School Supplies For Kids, Classroom Supplies for Preschool, Elementary, Great for Arts & Crafts
14 Pack Lined Sticky Notes Bright Ruled Post Stickies, Post Sticky Notes 4×6 and Sticky Notes 3×3, Strong Adhesive Self-Stick Notes for Office, Home, School, Meeting (LJ004)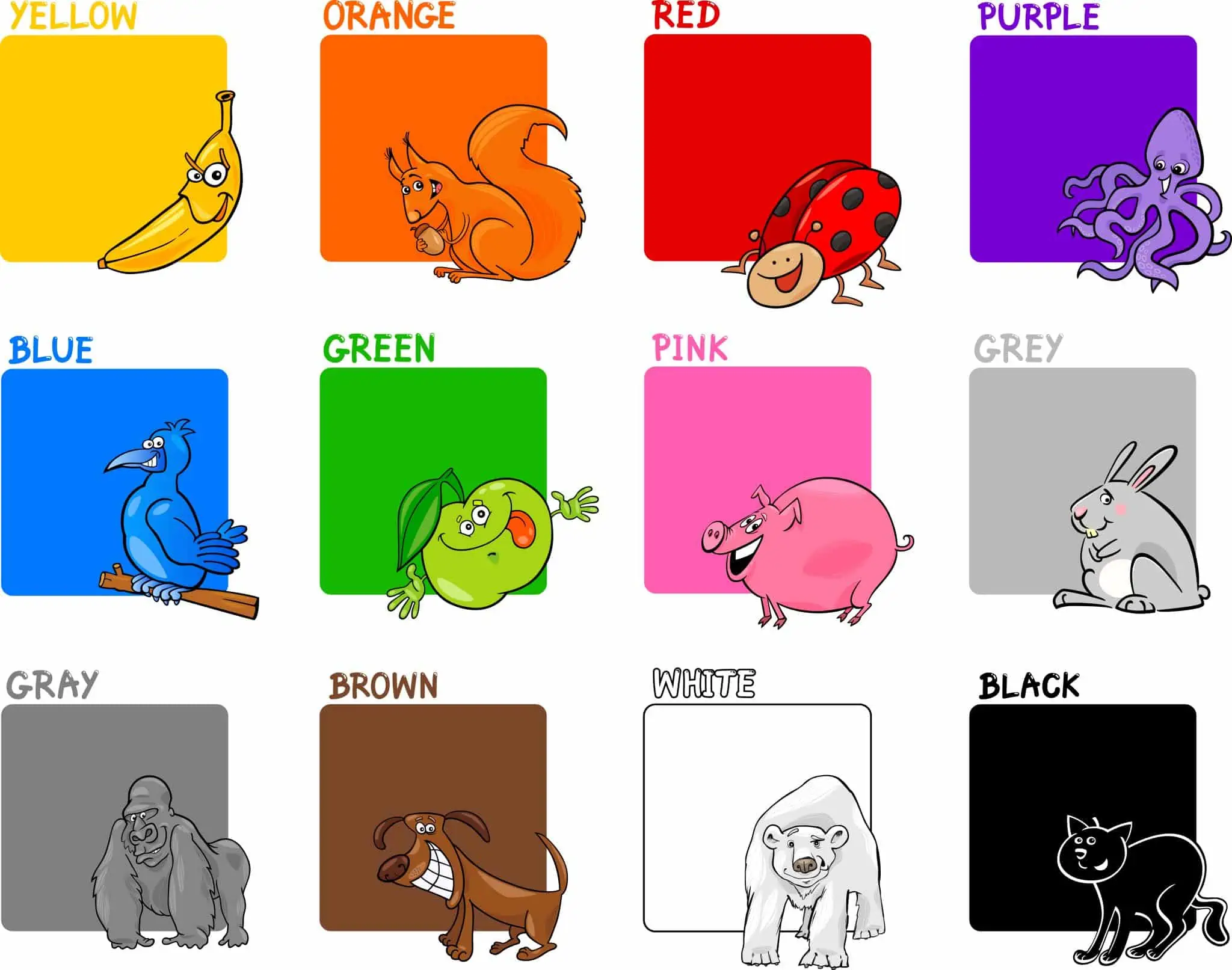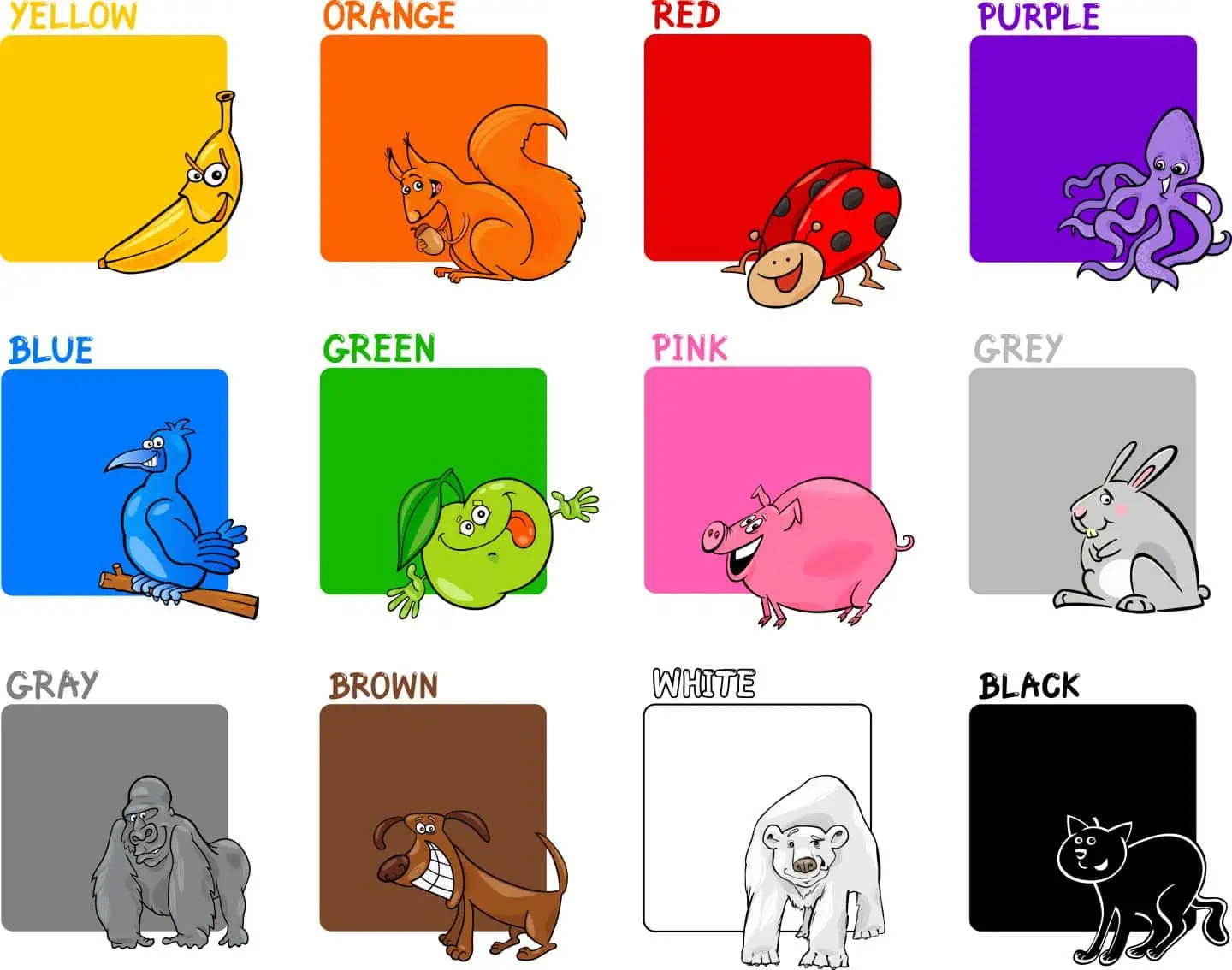 What's your favorite color worksheet
There are six sections included in this favorite color worksheet, 3 of which involve writing the answer down, and the other 3 are fun coloring activities:
My favorite color is: Start by filling in the blank with your favorite color. Write down the name of your favorite color in the provided space.
I like it because: In this section, write down the reasons why you like your favorite color. It could be anything from the way it makes you feel to the associations you have with that color.
Draw something that is typically this color: Think of something that is commonly associated with your favorite color and draw it in the space provided. For example, if your favorite color is blue, you could draw a blue sky or a blue ocean.
Draw a picture using only your favorite color: Let your creativity flow and create a picture using only your favorite color. Use different shades and variations of your favorite color to add depth and interest to your drawing.
Can you name a superhero that wears your favorite color? Think of a superhero who wears a costume predominantly in your favorite color. Write down the name of that superhero in the space provided. For instance, if your favorite color is green, you could write down "The Hulk" or "Green Lantern."
If your favorite color had a smell, how would you describe it? Imagine how your favorite color would smell if it had a scent. Use your imagination to describe the smell in words. It could be something like "fresh like a field of flowers" or "crisp like the sea breeze."
Color in the rainbow using different shades of your favorite color: On the worksheet, you will find a rainbow shape that needs four different shades of your favorite color. Start with the lightest shade and gradually transition to darker shades, creating a gradient effect.
This is an example worksheet: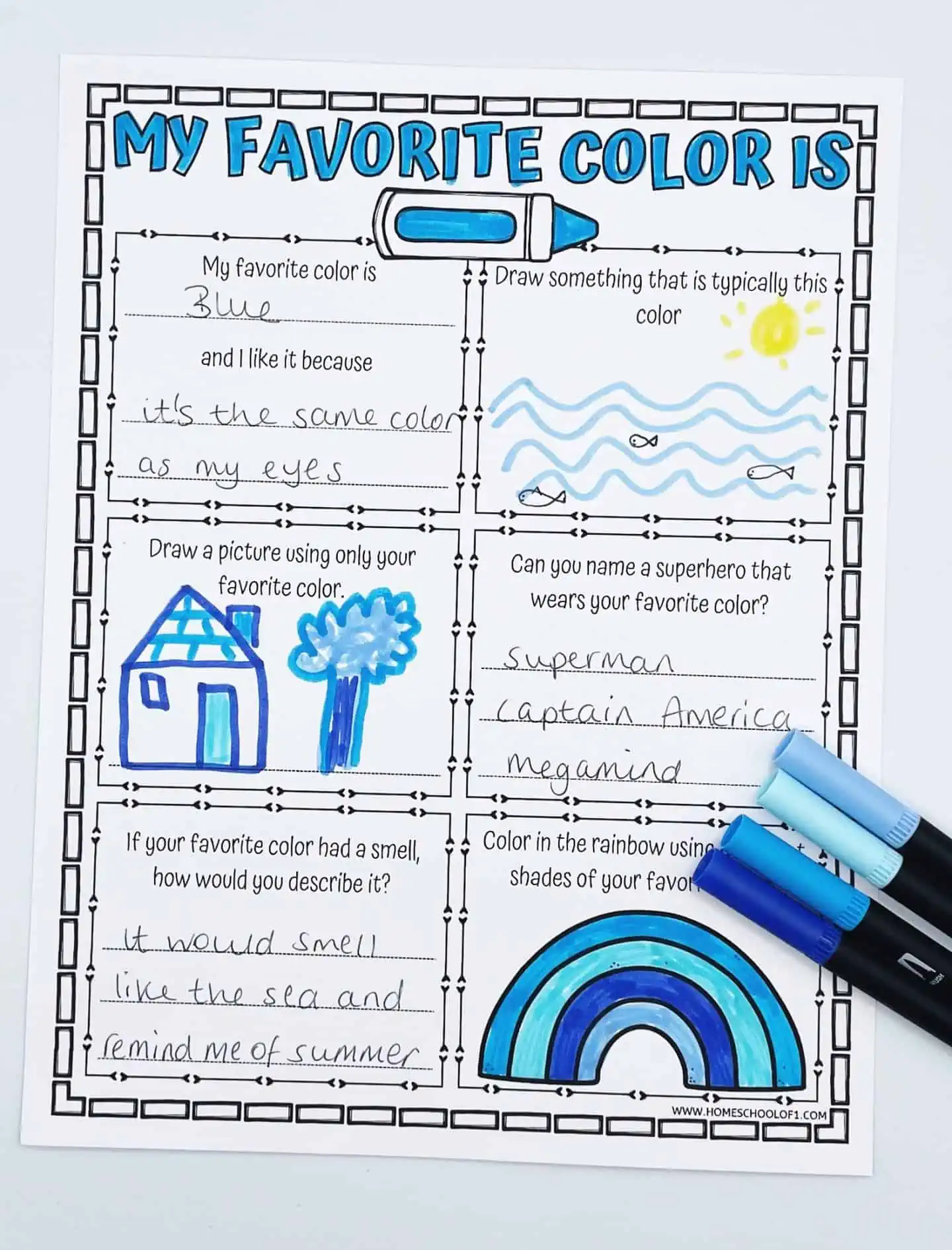 Best books about colors for kids
We always add books to all of our lessons and these are our favorite books about colors:
Dr. Seuss's Book of Colors takes kids on a vibrant journey through the world of colors, introducing them to a host of whimsical characters and imaginative settings. With Dr. Seuss's signature rhymes and illustrations, this book brings colors to life in a playful and engaging way.
Colors in Art invites children to discover the fascinating world of art through the lens of color. From the vibrant hues of Van Gogh to the bold strokes of Picasso, this book explores how artists throughout history have used colors to express emotions, tell stories, and create masterpieces.
Mix it Up is an interactive book that invites children to explore the magic of mixing colors. Through simple instructions and engaging illustrations, young readers can tap, smear, and shake the pages to blend colors together, discovering the endless possibilities of color mixing.
What's your Favorite Color? by Eric Carle is a delightful collection of artwork and anecdotes from over fifteen renowned children's book illustrators. Each artist shares their favorite color and explains why they love it, inspiring young readers to celebrate their own favorite colors and appreciate the beauty of diversity in artistic expression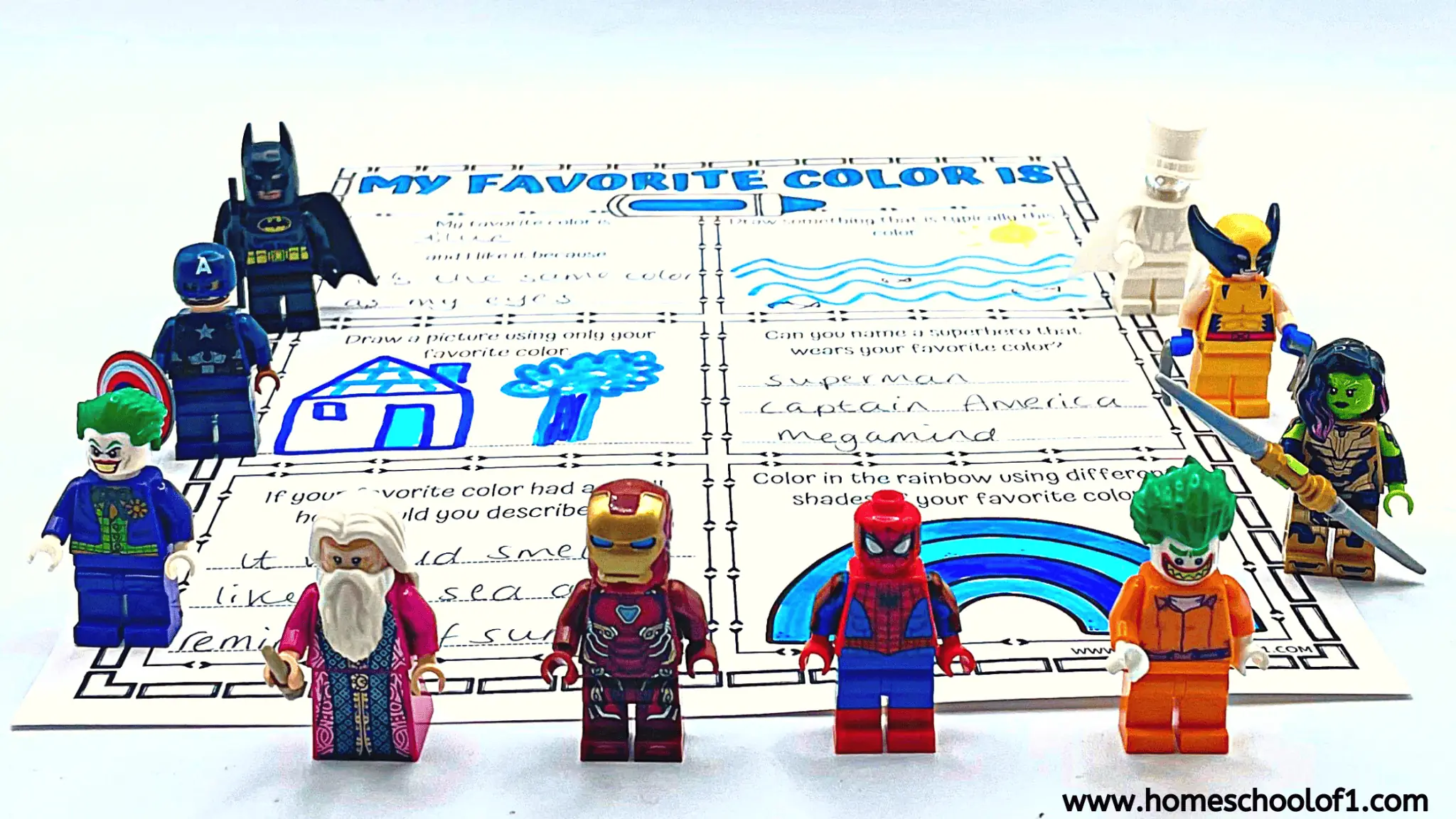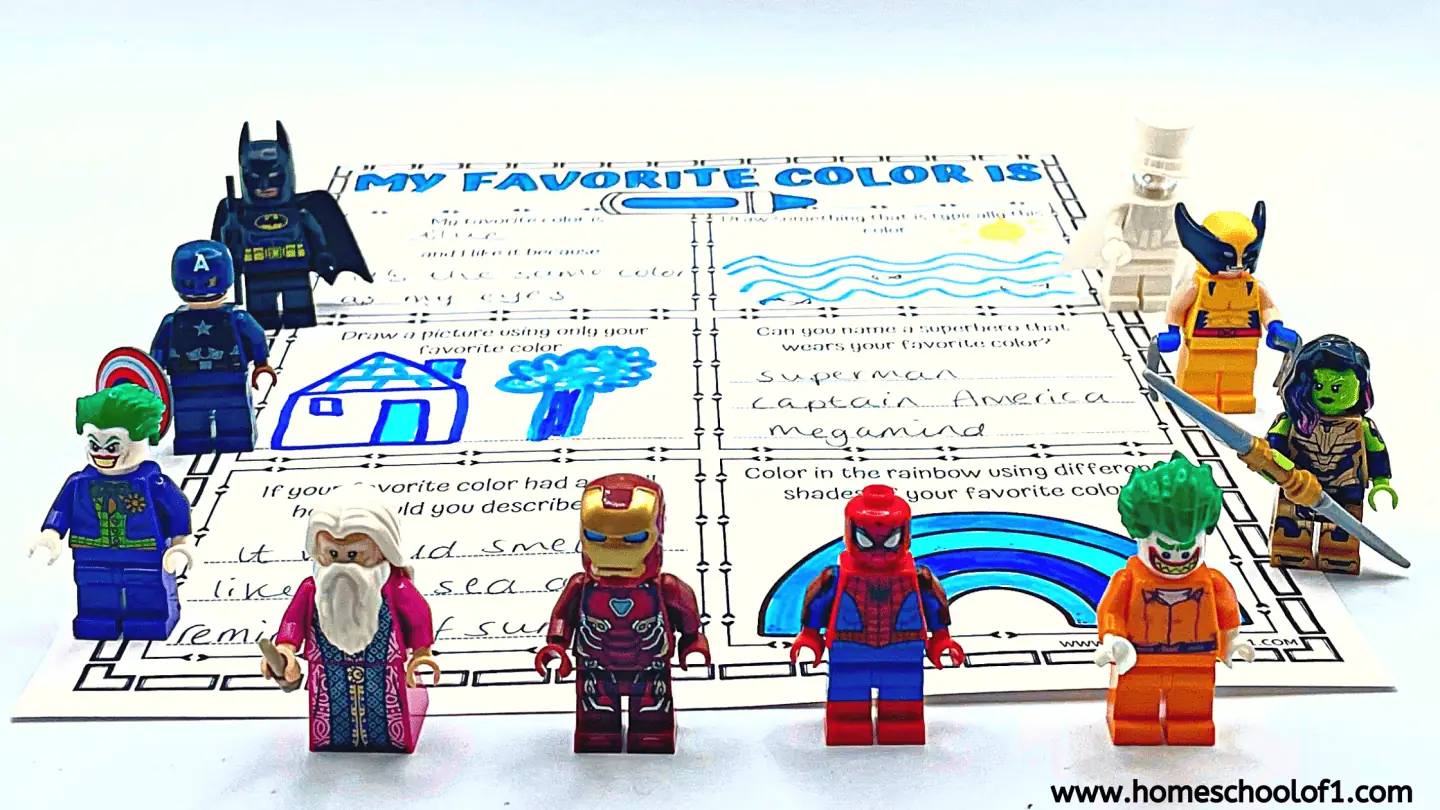 What are the educational benefits of this worksheet?
First off, this worksheet is great for language development. It gets kids writing and expressing themselves by talking about their favorite color and why they love it. It's a chance for them to practice their writing skills and learn new words along the way.
But that's not all! This worksheet also encourages creativity. When your students draw something that's usually their favorite color, they get to let their imagination run wild. They can experiment with different shades and tones, making their drawings super cool and unique.
It's not just about drawing, though. This worksheet also helps with critical thinking. When your students try to figure out a superhero who wears their favorite color and why, they're using their detective skills. They're making connections and analyzing information. How awesome is that?
And get this: the worksheet even sparks their imagination by asking them to describe what their favorite color would smell like. They can come up with all sorts of fun and creative descriptions.
Last but not least, your students get to explore different shades of their favorite color by coloring in the rainbow. They can mix it up and create their own beautiful spectrum using their favorite color. It's a hands-on way for them to learn about color variations.
Other favorites
You will also love our free:
Tips for downloading the free files
Below is a blue cloud with an arrow pointing downward. Underneath that is a large sign-up box where you need to add your name and email address, and press I NEED THIS NOW!
Within minutes you will be sent the free PDF directly to your email address, so you can print it out and start using it immediately.
Sometimes emails get a little wonky, so if you can't see it, please check your spam folder where I am sure it is hiding.
Download the free my favorite color printable
Make sure you choose the correct paper size and click on the shrink to fit button. All of our free printables for kids work better when printed on cardstock (this is the one we use and love.)
Last Updated on 2 October 2023 by homeschoolof1