Free My Favorite Book Worksheet for Kids
Have fun learning all about your new students with the my favorite book worksheet.
This is a perfect first day of school worksheet and as a first day of homeschool printable.
Discovering and celebrating the love for reading has never been more exciting than with our free favorite book worksheet.
This engaging activity prompts students to explore their favorite books. Create a book cover, draw scenes, describe beloved characters, and even introduce new ones. Fostering creativity, critical thinking, and a deeper connection with literature.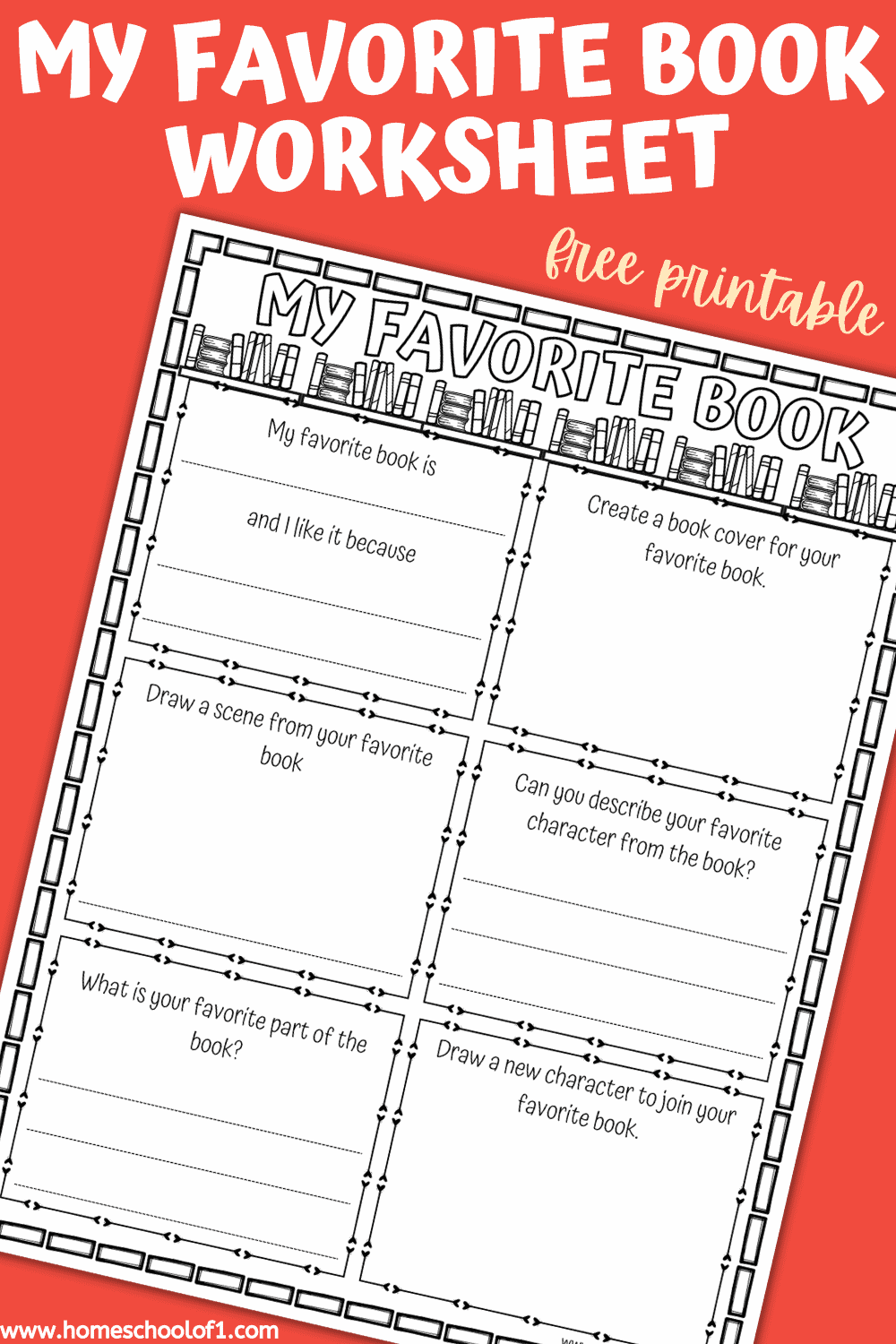 **There may be affiliate links in this post. You can read my full disclosure at the bottom of the page.**
How to use the my favorite book worksheet
This my favorite book worksheet is free to print but is for personal and classroom use only. Scroll to the bottom of the post and add your email address to get the pdf file.
Using the my favorite book worksheet in a classroom or homeschool setting can be a fun and engaging activity for students to explore their reading preferences and develop their creativity. Here's a suggested approach for incorporating this worksheet into your teaching:
Introduction:

Begin by introducing the concept of favorite books and discussing why people have different preferences when it comes to reading.
Engage the students in a brief discussion about their favorite books, allowing them to share their thoughts and opinions.

Distributing the worksheet:

Provide each student with a copy of the my favorite book worksheet, ensuring that they have access to coloring materials such as colored pencils or markers.

Exploring the sections:

Explain the different sections of the worksheet to the students. There are six sections, each containing three questions and three places to draw.
Encourage the students to read the questions carefully and think about their answers before responding.

Completing the worksheet:

Give students sufficient time to complete the worksheet. Remind them to use their imagination and creativity when drawing and answering the questions.
Encourage them to think about the characters, setting, plot, and overall message of their favorite book.

Sharing and discussion:

Once everyone has finished, create an opportunity for students to share their completed worksheets with the class or in small groups.
Allow each student to briefly explain their favorite book, their answers, and the drawings they created.
Encourage other students to ask questions or share their thoughts on the books presented.

Extension activities:

To further extend the activity, consider incorporating additional tasks, such as creating book recommendations based on their favorite book or writing a short book review. You could use our free book report for 3rd grade students.
You can also have students create a mini-poster or display featuring their favorite books, including the cover, a brief summary, and their reasons for liking it.
Crayola Back To School Supplies Set (80ct), Crayons, Markers & Colored Pencils, Teacher Supplies, Kindergarten & Elementary School [Amazon Exclusive]
100 Pack Colored Sentence Strips for Teacher Supplies, Classroom, Lined Paper Borders for Writing Words (5 Colors, 3 x 24 in)
Scotch Thermal Laminating Pouches Premium Quality, 5 Mil Thick for Extra Protection, 100 Pack Letter Size Laminating Sheets, Our Most Durable Lamination Pouch, 8.9 x 11.4 inches, Clear (TP5854-100)
Officemate PVC Free Color Coated Paper Clips, 450 Per Tub Office Paper Clamp (97229)
Crayola Construction Paper – 480ct (2 Pack), Bulk School Supplies For Kids, Classroom Supplies for Preschool, Elementary, Great for Arts & Crafts
14 Pack Lined Sticky Notes Bright Ruled Post Stickies, Post Sticky Notes 4×6 and Sticky Notes 3×3, Strong Adhesive Self-Stick Notes for Office, Home, School, Meeting (LJ004)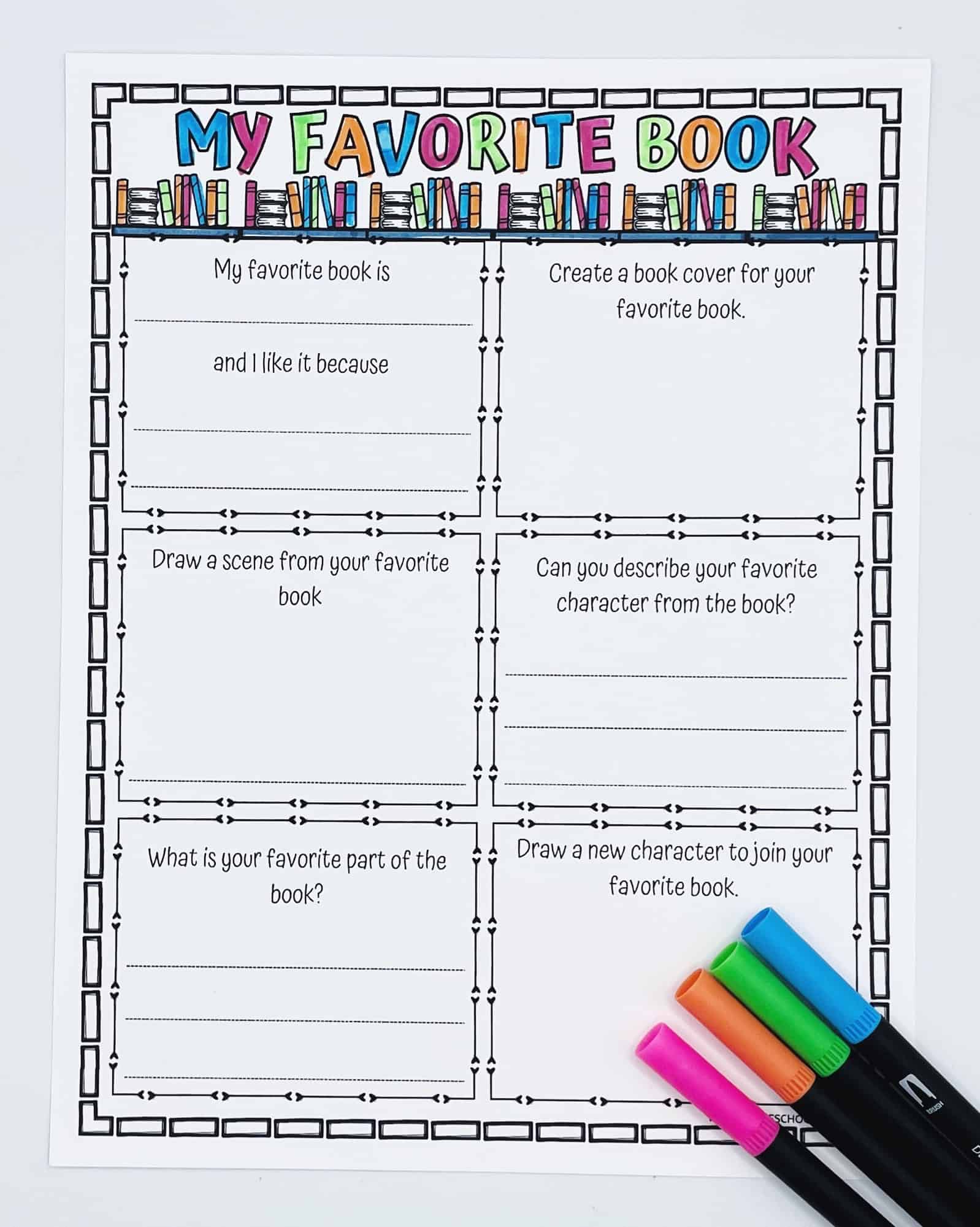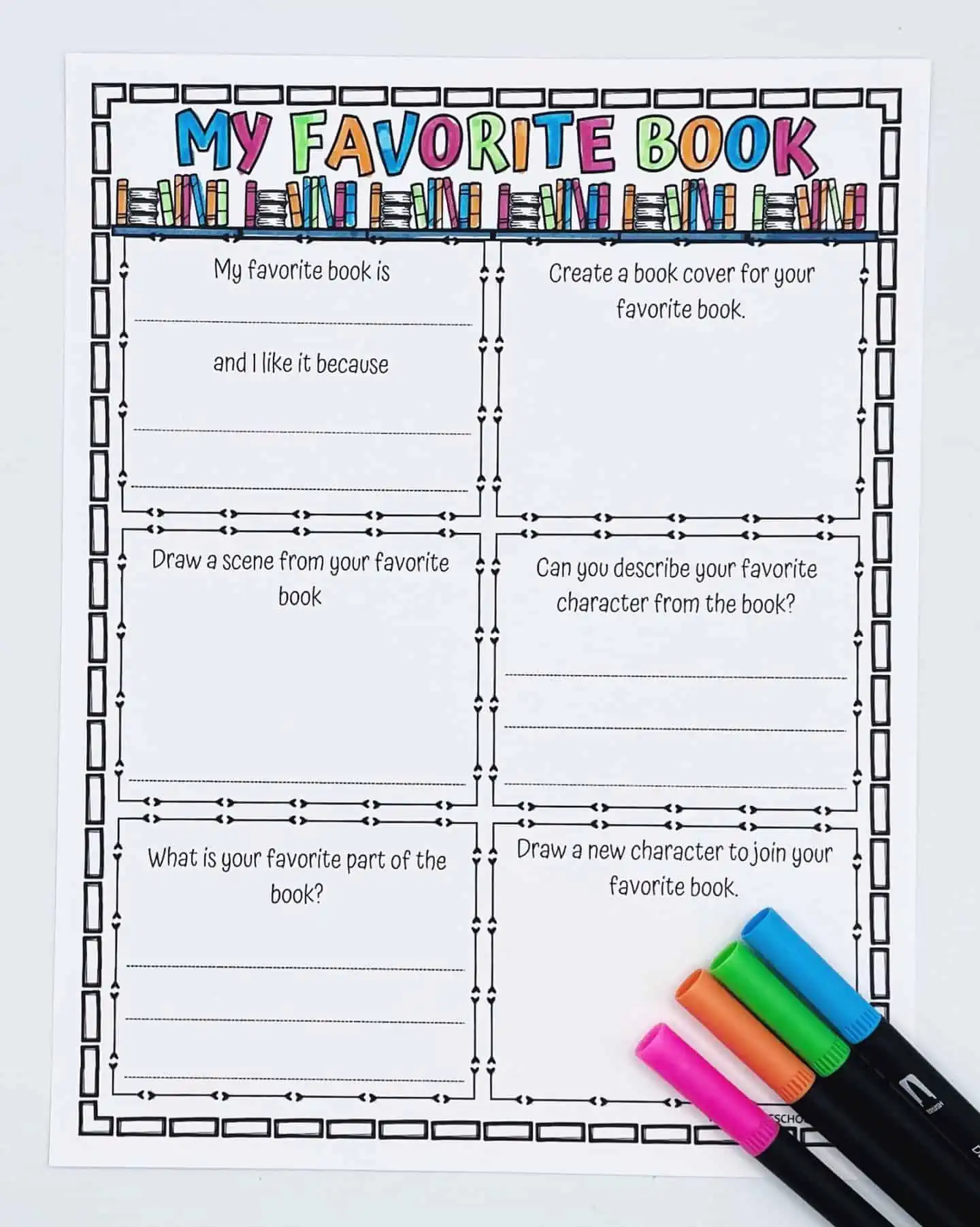 My Favorite book questions
There are 3 questions to write an answer for, and 3 questions the children will have to use their imagination and draw the answers:
My favorite book is
and I like it because
Create a book cover for your favorite book.
Draw a scene from your favorite book
Can you describe your favorite character from the book?
What is your favorite part of the book?
Draw a new character to join your favorite book.
The kids can also color in the heading, and the books at the top of the page before completing the questions.
Top 5 most popular kid's books
These are the top 5 most popular children's books of the 21st century, I wonder how many kids choose these:
My son would choose a different book each year, but the Diary of a Wimpy Kid series has been in the number 1 spot for many years. Check out all of our favorite book lists for kids for more inspiration.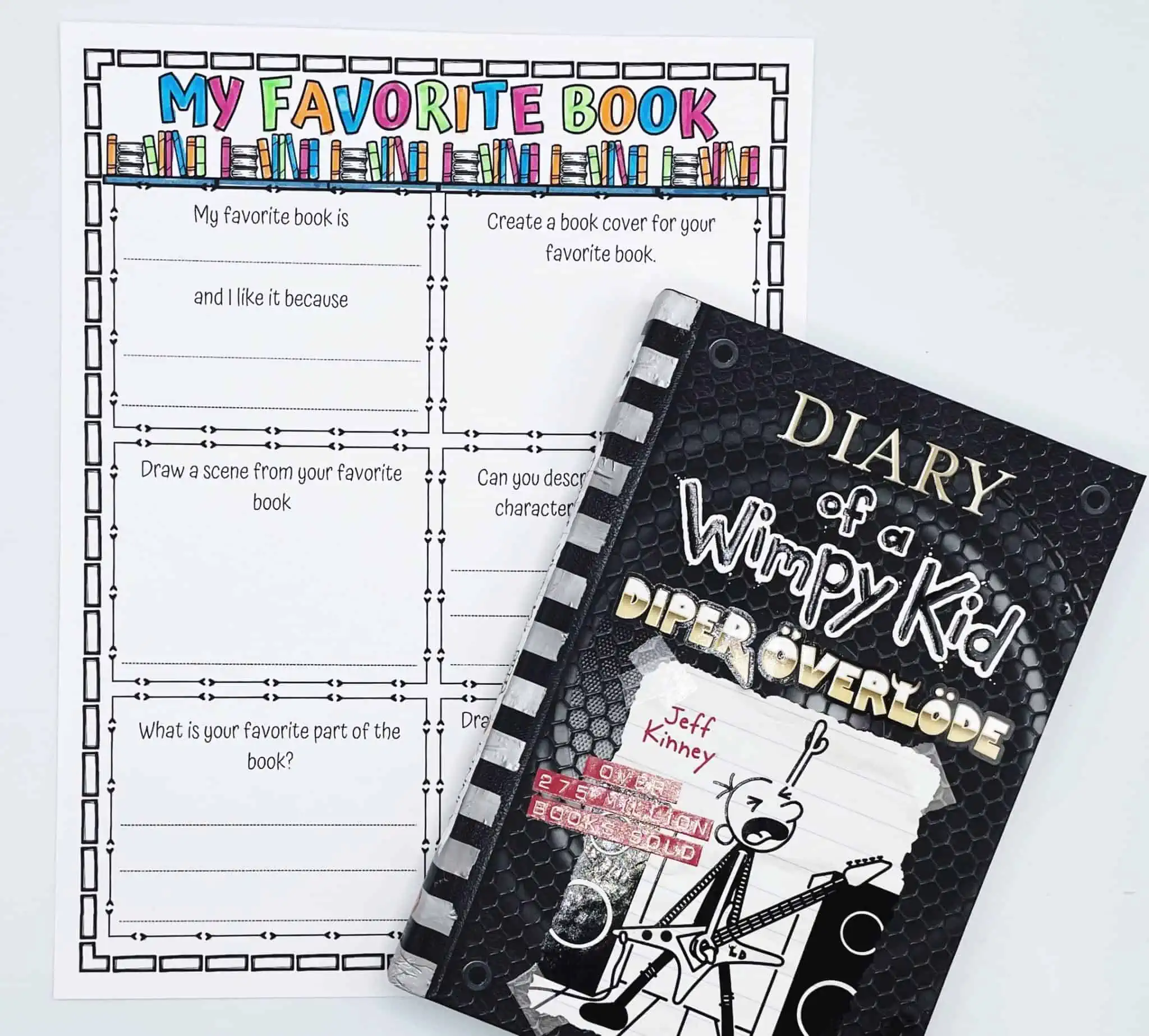 Other book worksheets
For even more book related worksheets you are going to love these:
Learn all about 21 of the most famous children's authors with these authors coloring pages.
Tips for downloading the free files
Below is a blue cloud with an arrow pointing downward. Underneath that is a large sign-up box where you need to add your name and email address, and press I NEED THIS NOW!
Within minutes you will be sent the free PDF directly to your email address, so you can print it out and start using it immediately.
Sometimes emails get a little wonky, so if you can't see it, please check your spam folder where I am sure it is hiding.
Download the free my favorite book printable
Make sure you choose the correct paper size and click on the shrink to fit button. All of our free printables for kids work better when printed on cardstock (this is the one we use and love.)
Last Updated on 2 October 2023 by homeschoolof1