15 Best Online Music Lessons For Kids That Are Awesome
Finding the best online music lessons for kids is easy if you know where to look. Today I am going to share with you our favorites.
Gone are the days when you have to spend a fortune on in person music tutors, and have to travel halfway around the State to take them.
Great music lessons can now be found from the comfort of your home (with no cleaning necessary!) either for free or for much less than in person.
Finding the best homeschool music curriculum to add to our school journey has made such an impact. Not just in my son's musical abilities but he has improved all of his subjects. I put this largely down to the music.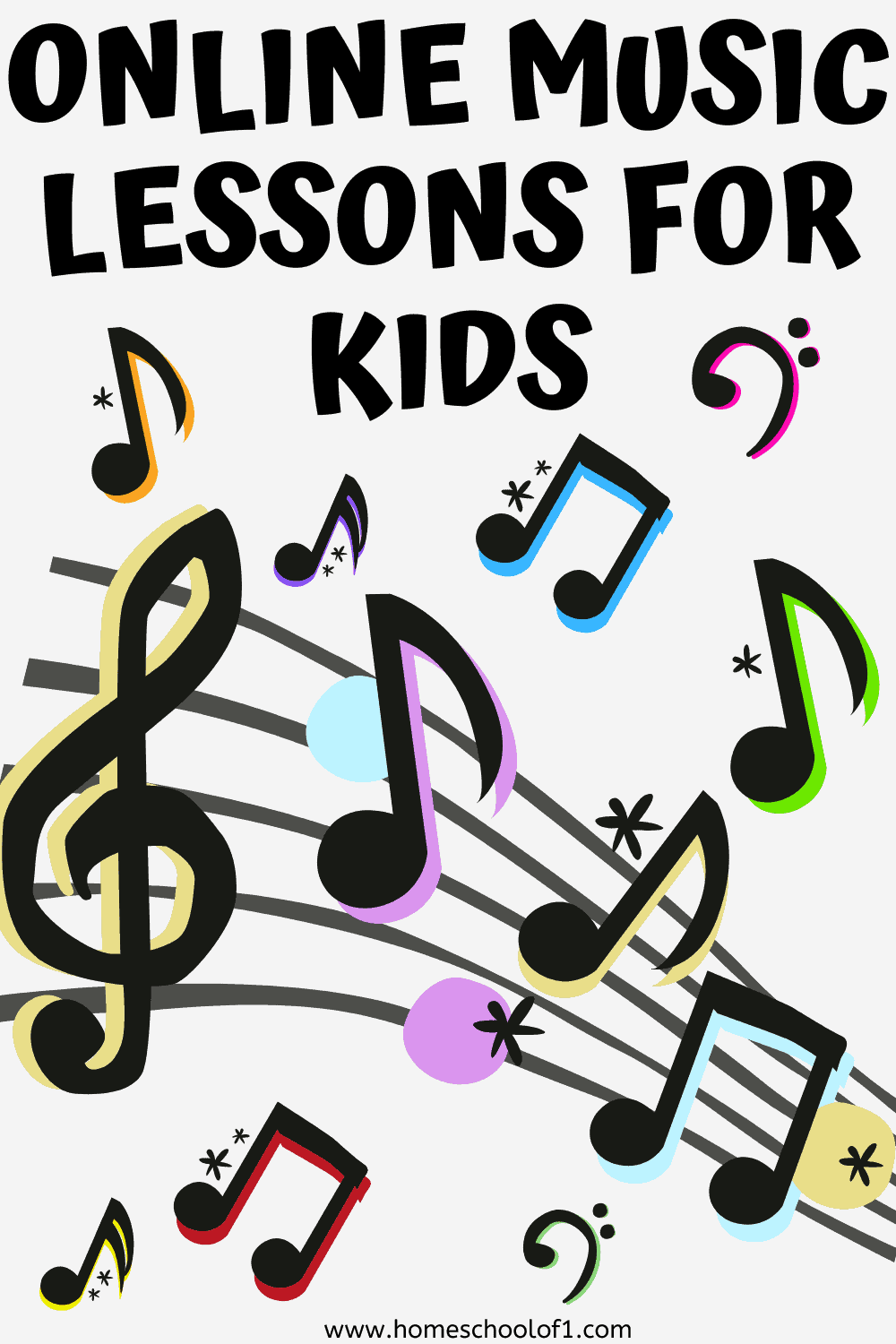 **There may be affiliate links in this post. You can read my full disclosure at the bottom of the page.**
Can you learn an instrument online?
Absolutely you can. Especially with so many teachers going online during the pandemic, there are more and more online music lessons for kids.
Of course, if the child wants to take music to get into college, or to get into a band. Then they will need more formal, in-person classes. But for most children learning an instrument online is absolutely achievable.
There are both self-paced music classes, where your child will need the discipline to practice, and live classes with a music teacher.
What is a good age for a child to start music lessons?
Children should be introduced to music from a young age and can start music lessons between the ages of 4 and 9 years old.
The best starting instrument is hand percussion and babies as young as 1 year old can enjoy rattling them.
The piano, ukulele, and recorder are perfect instruments for elementary aged students.
The violin, drums, and guitar are best for upper elementary and middle school aged students.
Best music classes for children online
I am going to break this list of music classes into instruments to make it easier to read. We are covering the piano, guitar, drums, and violin.
There will be a mix of free and paid lessons and I will let you know about each.
If you are looking for online music lessons then I highly recommend Music In Our Homeschool.
Piano
As there are so many best online piano lessons for kids I have created an entire post about it.
Hoffman Academy is our favorite. They have over 300 completely free video lessons with a step-by-step approach. Or you can go premium which gives you so much more. Including interactive song pages and music theory worksheets. You can use promo code LEARN for an exclusive 10% off!
Guitar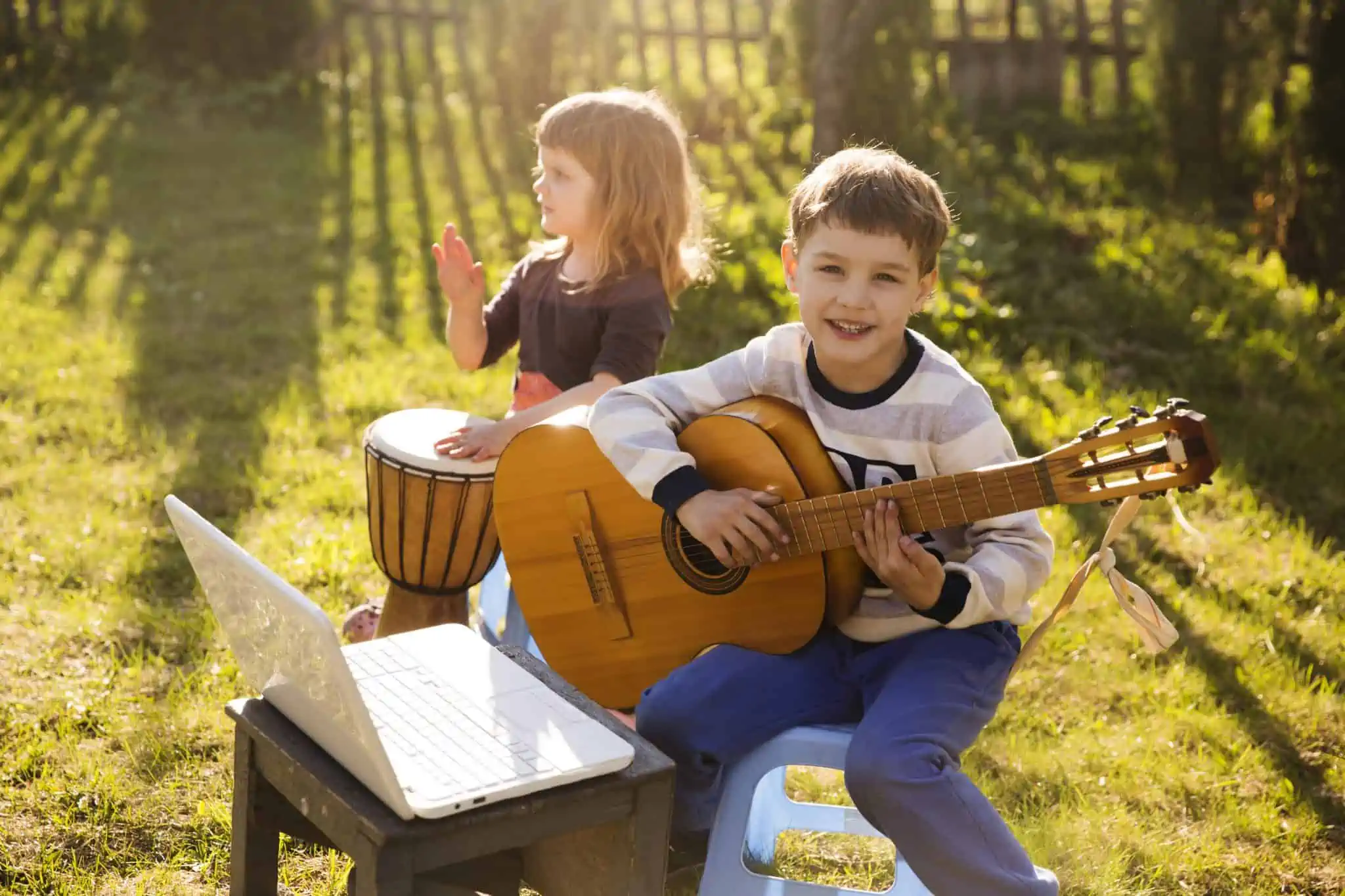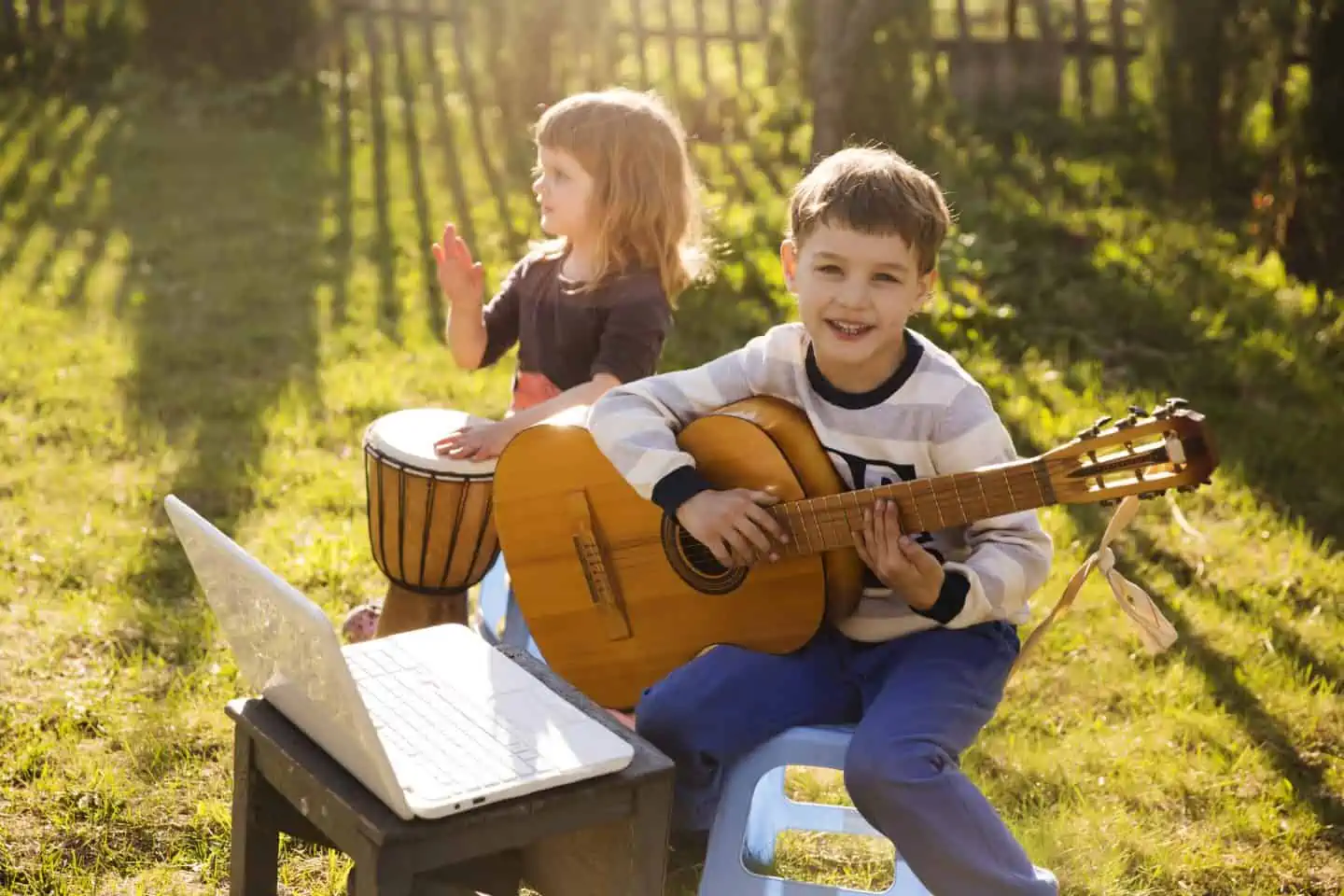 Kids Guitar Zone. This free online guitar lessons website will slash the time it takes for kids to learn and master the basics of the guitar and best of all it's FREE!!
Outschool guitar tutors with hundreds of different options, from private tuition to one off classes, and everything in between, you will find an excellent guitar tutor for your child.
Kids Guitar Dojo. This learn from home activity-based curriculum makes online guitar lessons for kids easy and enjoyable
Gentle Guitar. Kids learn live, one-on-one, with a specialist teacher.
Kasey's music method on YouTube offers both guitar and ukulele classes for kids. (free)
Online guitar lessons for kids from Tremolo Guitar School, UK based.
Drums
My Music Workshop currently offers 6 YouTube videos for kids to learn the drums. (free)
Drumeo. Introduce your kids to drumming through entertaining shows on the app (1st lesson free)
Outschool drum tutors you will definitely find the best drum tutor for one off classes or weekly jamming sessions.
Sage music. Learn the music you want in a way that works for you. At Sage Music, you'll get custom online drum lessons in a community that cares about you and your success.
Violin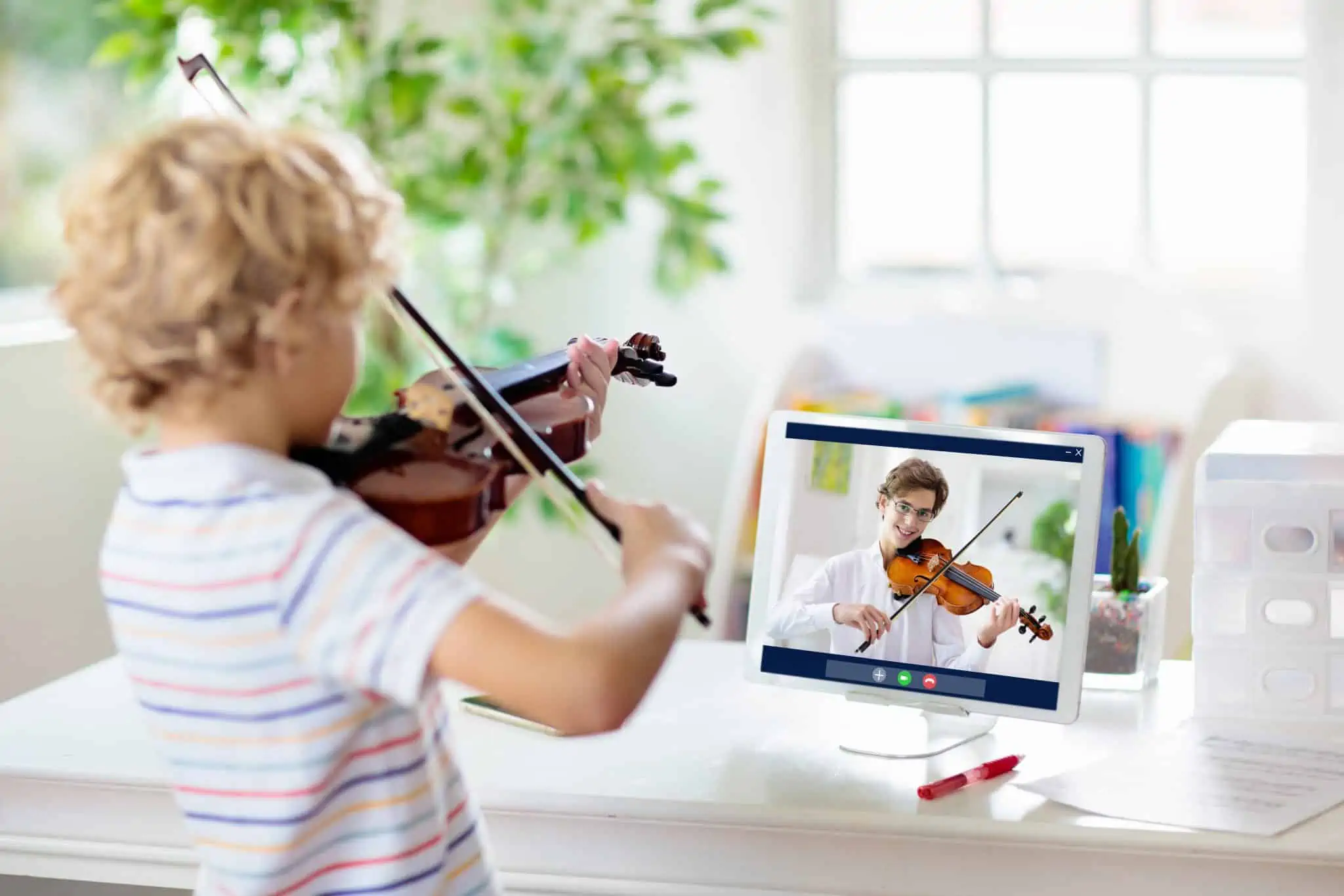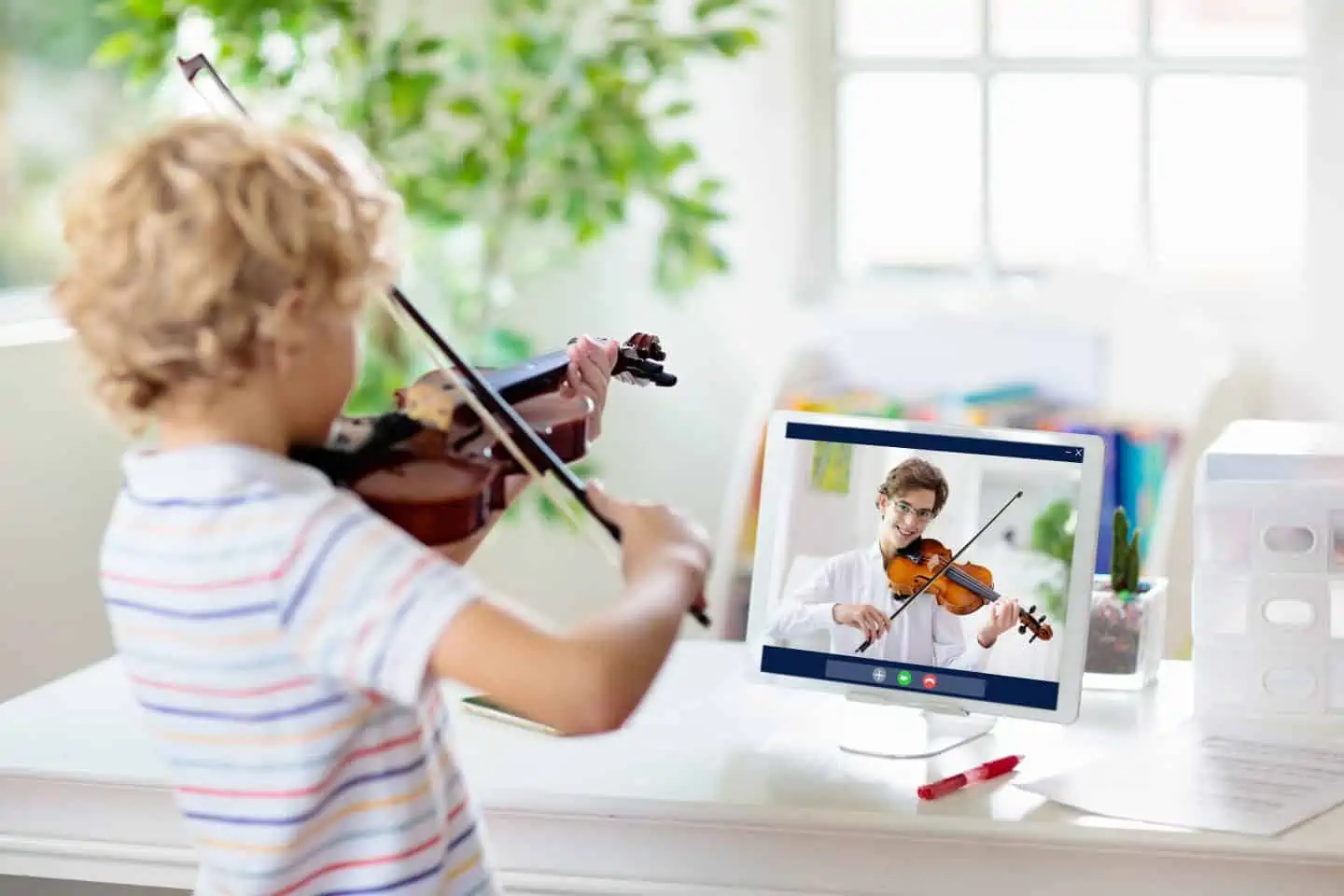 Learn music with Meg on YouTube (free)
Outschool violin classes offer hundreds of live online violin tutors for kids. From one off classes, weekly lessons, private tutoring, and more you are sure to find something suitable.
Fiddlerman offers free beginner violin lessons for adults, however, older children will definitely find these very useful.
When you have finished your online music lesson why not download our free musical instrument matching game?
Last Updated on 2 November 2023 by homeschoolof1