18 of the Best Online Piano Lessons For Kids They Will Love
Freddie has been playing the piano now for just under a year. He has in-person lessons for 30 minutes weekly, but to supplement this I wanted him to have online piano lessons too.
Here I have listed all of the best online piano lessons for kids I could find. Some of these are completely FREE, but others are paid for. I have also included online 1 to 1 piano lessons that are available.
**Disclosure – there may be affiliate links included in this post.**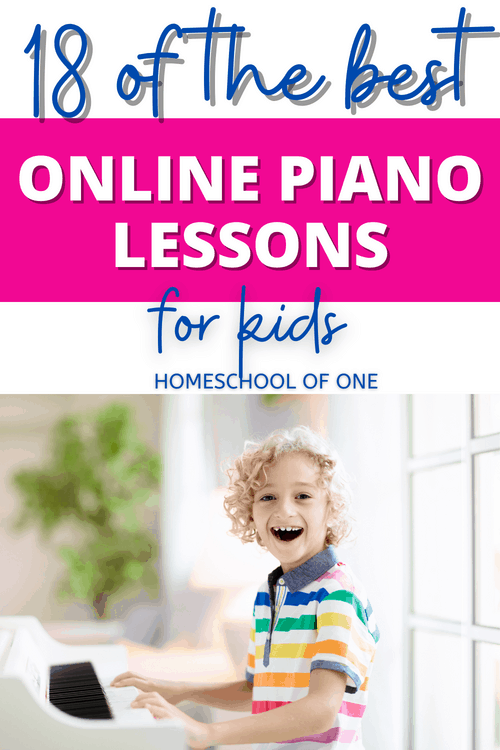 Best Online Piano Lessons
Outschool
We have been using Outschool at least once a week, for a variety of both social and educational reasons. These are the online lessons for learning the piano they have currently: (but keep checking, they add more every day)
Private Music Lessons – For piano, guitar, and ukulele, this is a 25 minute class.
Beginners piano class for ages 6-11 a 20-minute weekly class.
Piano Lessons – Private tuition for ages 10-14 a 25 minute class
In addition to the above, there are at least another 30 classes that teach piano online in a private or group class.
Get a lesson here, where you will receive $20 off your first class.
Hoffman Academy
Hoffman does offer some FREE lessons and has been included below, but they also have a premium plan. With premium, you can download sheet music and printables for free. There are also interactive games to play while having the piano lesson. Currently, this costs $179 per annum.
Making Music Fun
You can start with these piano lessons for kids for free, however, to get unlimited access you need to subscribe. It is aimed at children in grades K-6. It costs $15 per month for the whole family which is $180 per year. Check it out here.
Strum Club
Live online classes with one free class. After this, the piano classes are $119 per month for a weekly half-hour lesson or $199 per month for a weekly hour-long lesson. There are no registration fees and students can cancel at any time with no penalty.
Merriam Music
Live online music lessons in piano, guitar, voice and drums. They offer a no-obligation, risk-free trial lesson. If, after the first lesson, you choose to cancel, the FIRST LESSON IS FREE.
Playground Sessions
Learn piano with Harry Connick Jr, the best piano learning app, co-created by music legend Quincy Jones. The annual price is $119.88 check it out here.
Pianu
Pianu is the first interactive piano course online, to let you learn with your favorite songs. You can start learning on any device connected to the internet, with or without a musical keyboard. Pianu is also the first online piano course designed to reward your progress as you learn! They offer a free course also, but their subscription is $100 per year.
Piano for All
Piano for all is one of the most popular online piano courses online and has helped over 300,000 students around the world achieve their dream of playing beautiful piano for over a decade. This course is a lifetime price of only $39
Musiah
Musiah is a new kind of online piano lesson in which you learn to play piano with our unique A.I. piano teacher. Responding to your playing just like a live teacher, Musiah speaks to you, points to the sheet music, and guides you step by step. So your learning is fast, effective, and fun. There is a 14 day free trial after this it is $199.99 per year.
Free Piano Lessons
Hoffman Academy
Offer online piano lessons for free. They are all pre-recorded lessons, but they are very good. You can subscribe to their premium account to be able to play games and download sheet music. Check them out here.
Piano Marvel
A Piano Marvel account is free! You get over 25,000 songs and exercises, sight-reading tests, reports, progress tracking, and more with a free account.
Piano Patch Kids
Aimed at children aged 4-7 years old. Aims to teach younger children how to read music. This is best used with Check it out here.
Flowkey
Learning with Flowkey is easy and fun. Practice notes and chords interactively and receive instant feedback. All you need is the app and your piano or keyboard. Try it now for free, with no obligations. Get set up in just two minutes and start playing your first songs straight away. Check it out here.
Piano Nanny
Offering free piano lessons online for all levels from beginner to advanced. It shows you what keys to play. I think this is more educational than the other free piano lessons, and certainly, for younger children, parents will need to help. However, these are my favorite free piano lessons for kids. But if you are looking for piano games or fun this is not the right lesson for you. Check it out here.
Piano Lessons 4 Children
These lessons are designed for beginner and elementary levels and use music from the public, mostly well-known children's songs. If you are a parent, you can use these lessons to both teach your child and to learn along with your child, without any prior knowledge of piano. Check it out here.
Zebra Keys
The site provides over 50 free piano lessons for various levels of difficulty. Each piano lesson is accompanied by visual flash animations that allow learners to view and hear songs as well as play along with the animations on their own piano keyboard. Learning piano with Zebra Keys is fun and easy! Check it out here.
Piano Apps
Simply Piano by Joy Tunes
Download on your phone or tablet, this is a great course, and Freddie had it for a year before getting actual lessons. The piano teacher was amazed at how good he was despite only using this app. Offers a free 7 day trial and then it is $119.99 per year. It gets 4.7 /5 reviews on Apple.
Yousican
This is another one we have used and you can have a free trial for 7 days. After the trial has finished it is $139.99 per year. I strongly advise you to take both Yousician and Simply Piano and see which you prefer. It gets 4.6/5 reviews on Apple.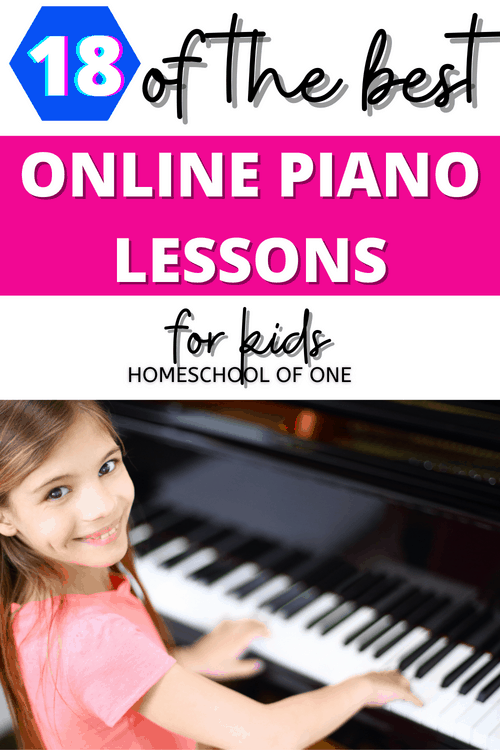 Best Online Piano Lessons
Our favorite online piano lessons have to be from Outschool, there is nothing better than an actual teacher, even if it is over Zoom.
Best Free Piano Lessons Online
Our favorite free piano lesson is from Hoffman Academy
Best Piano App
This is a difficult one as they are very similar, one minute we would prefer Simply Piano the next day Yousician. You don't need both (like we did) so make the most of the free 7-day trial they both offer, and see which is a better fit for your family.
If you are looking for a music curriculum check out our recent blog.
Let me know if your child is taking piano lessons and how they are getting on.
Last Updated on 17 September 2021 by homeschoolof1