8 Free Preschool Weather Worksheets
If you are learning about the weather with your younger children you are going to love our 8 free preschool weather worksheets.
Children will love having fun while learning about lightning, rainbows, tornadoes, storms, and wind. There are free kids coloring pages, a fun memory game, hand writing practice, recognition, and more. Perfect for preschool, but can also be used for kindergarten and 1st grade students.
This is a no preparation download, so if you have left it until the last minute (like I normally do!) this will be perfect for the kids at home or in school.
We love creating free homeschool printables and have well over 200, but this weather worksheet is one of my favorites.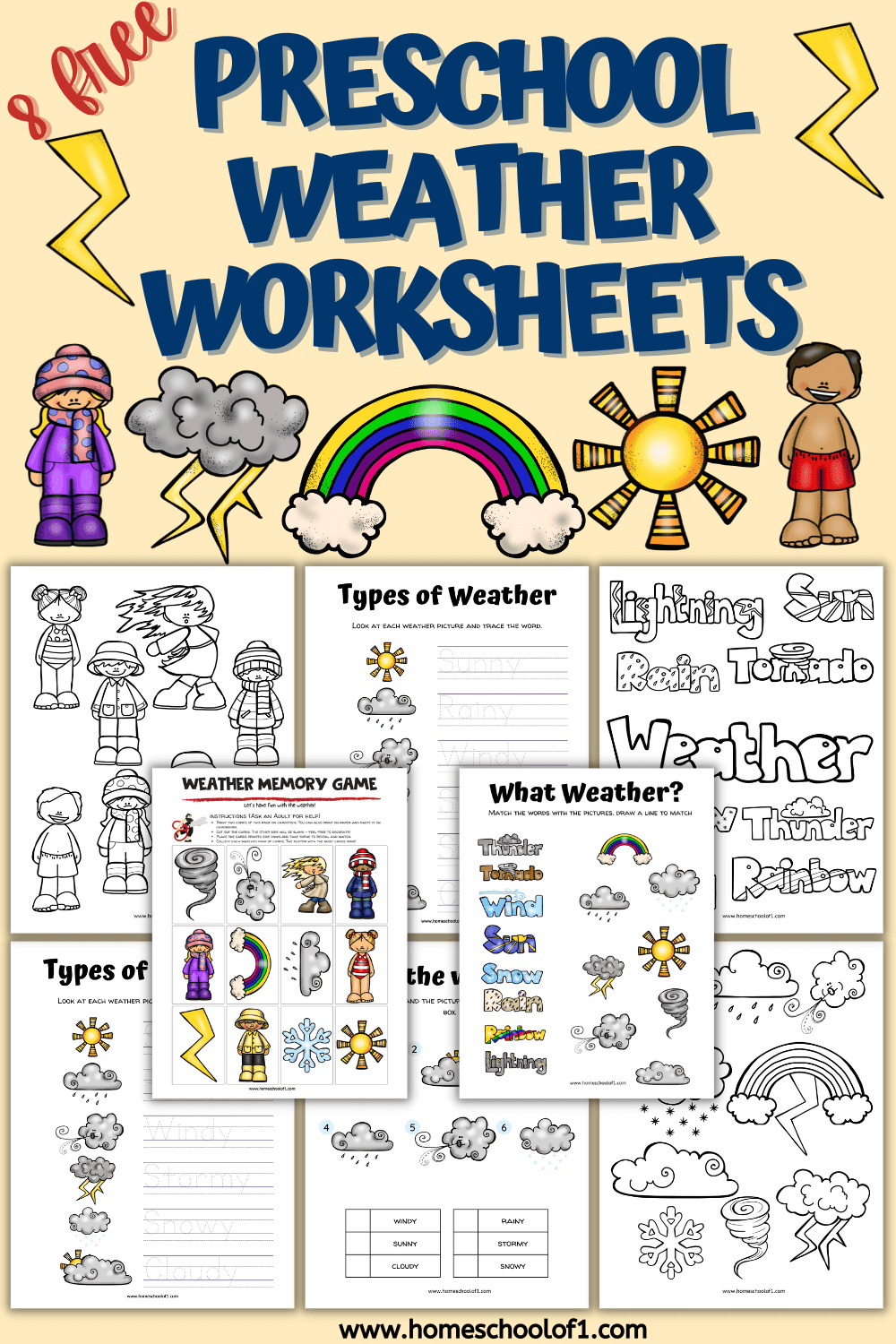 **There may be affiliate links in this post. You can read my full disclosure at the bottom of the page.**
Free Weather Worksheets for Preschool & Kindergarten
The kids are going to love our free weather worksheets.
Supplies Needed:
Instructions:
Print out the weather worksheets below, it will print out on 8 full pages. Make sure to check the printer settings.
You can of course print this on normal printer paper, but with all of our crafts, they always look better on cardstock.
This free weather set includes 8 pages:
Two weather coloring pages, one with the images and one with the weather words to color in.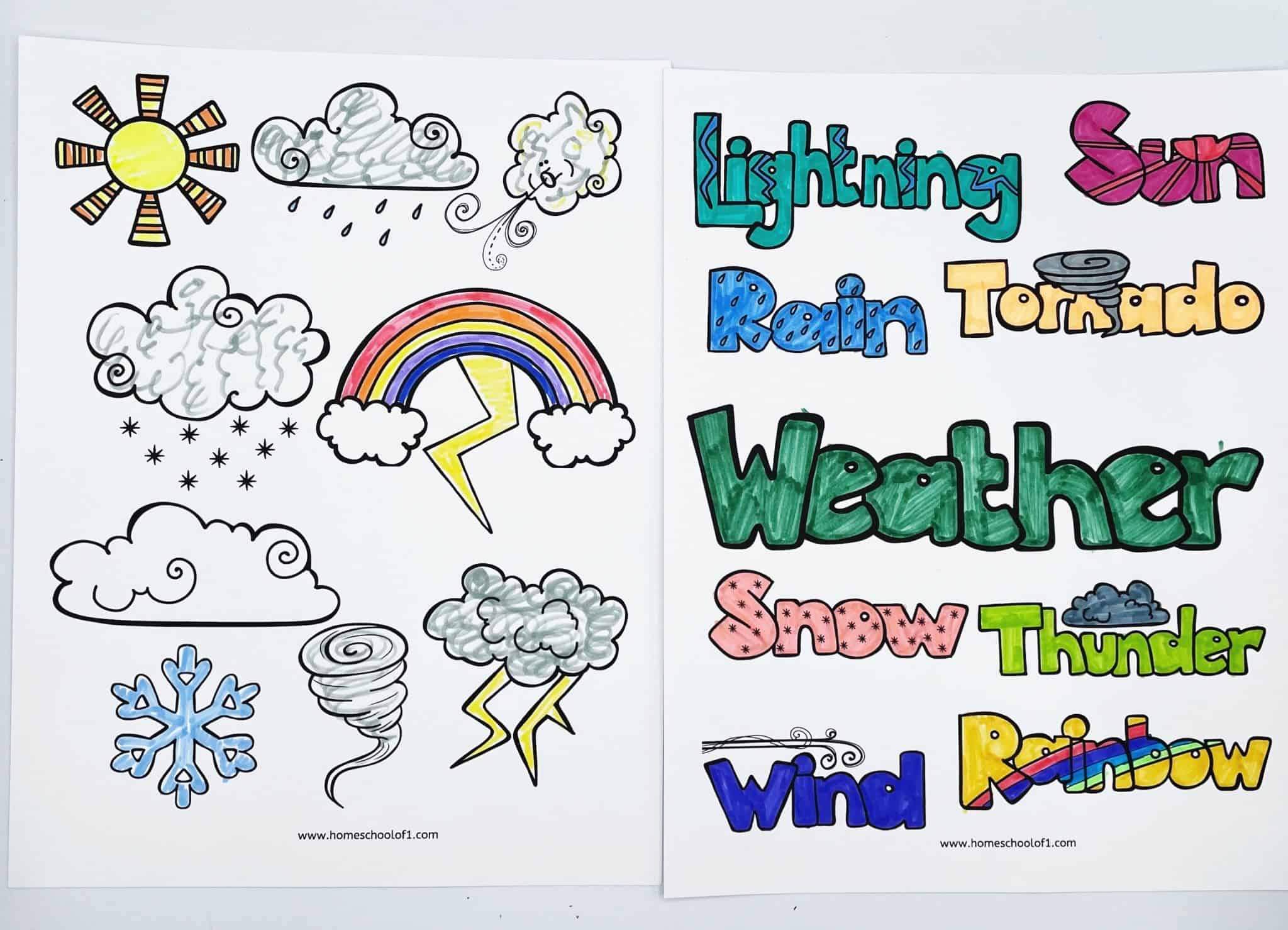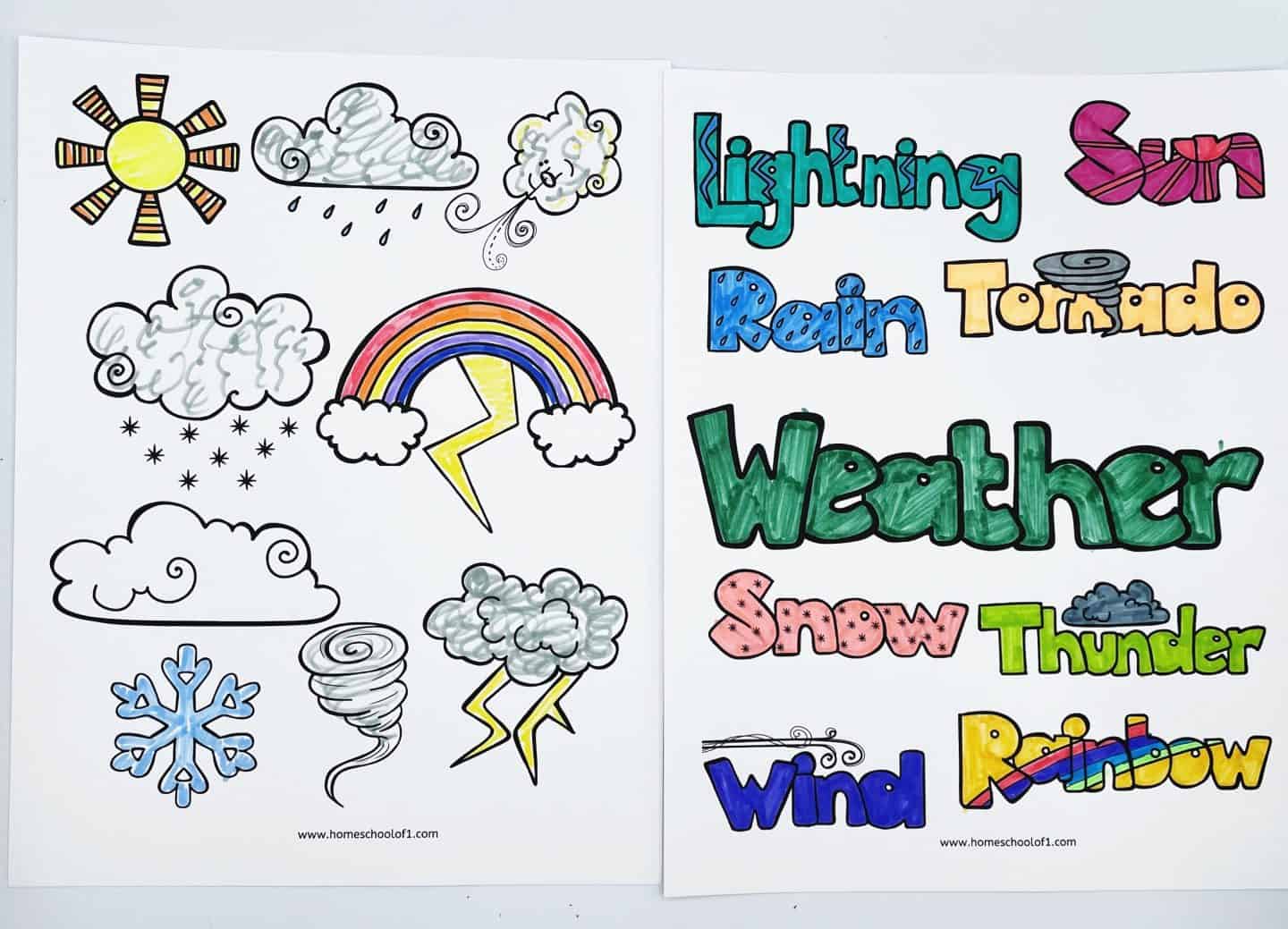 A third weather coloring page this time with children wearing different clothing depending on the weather they would be in.
The fourth page is how's the weather? The children have to look at the 6 images and decide which words relate to each picture.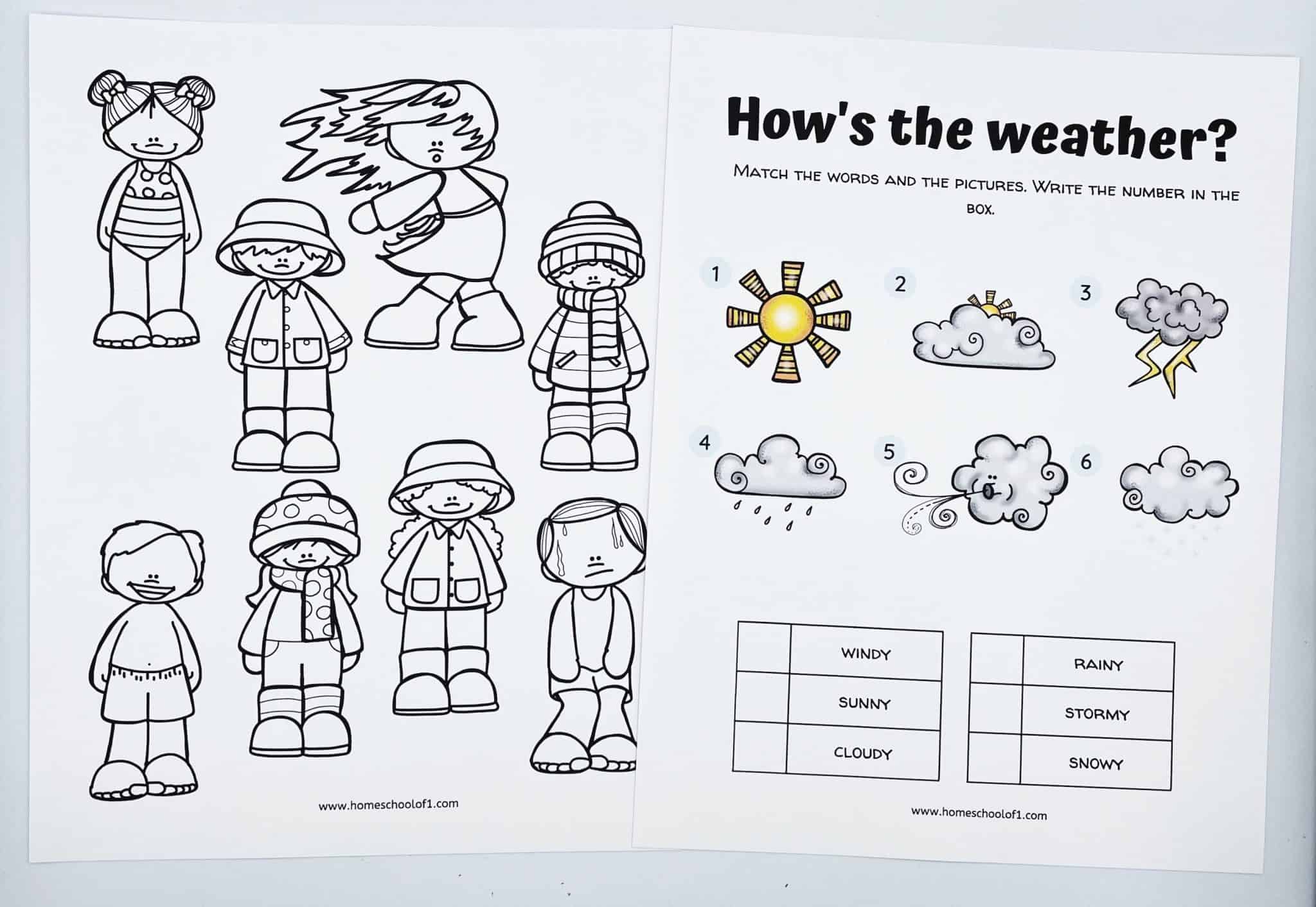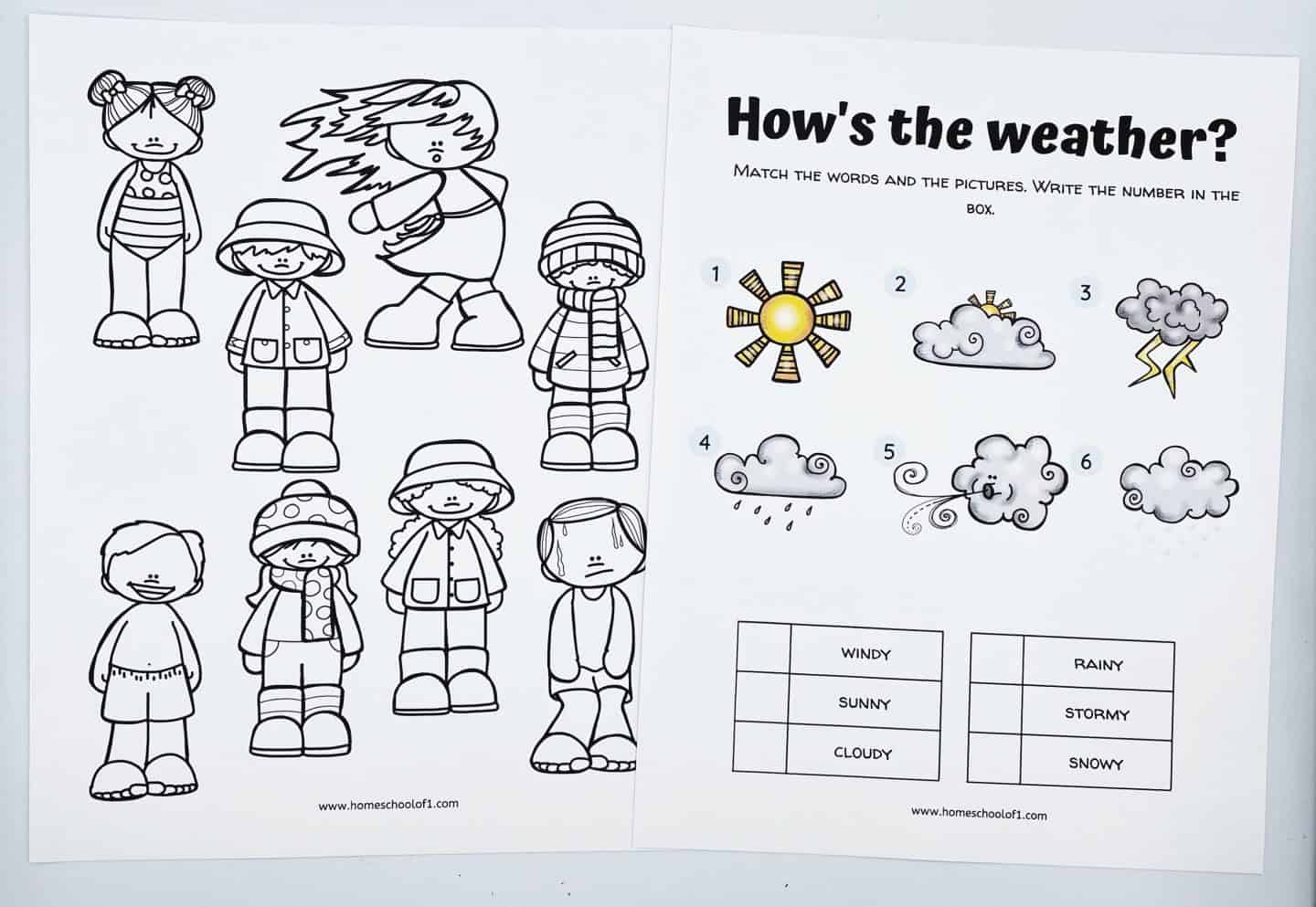 The next page is writing practice, trace over each word for the weather.
What weather? Is another matching game, this time draw a line between the correct word and the picture of the weather.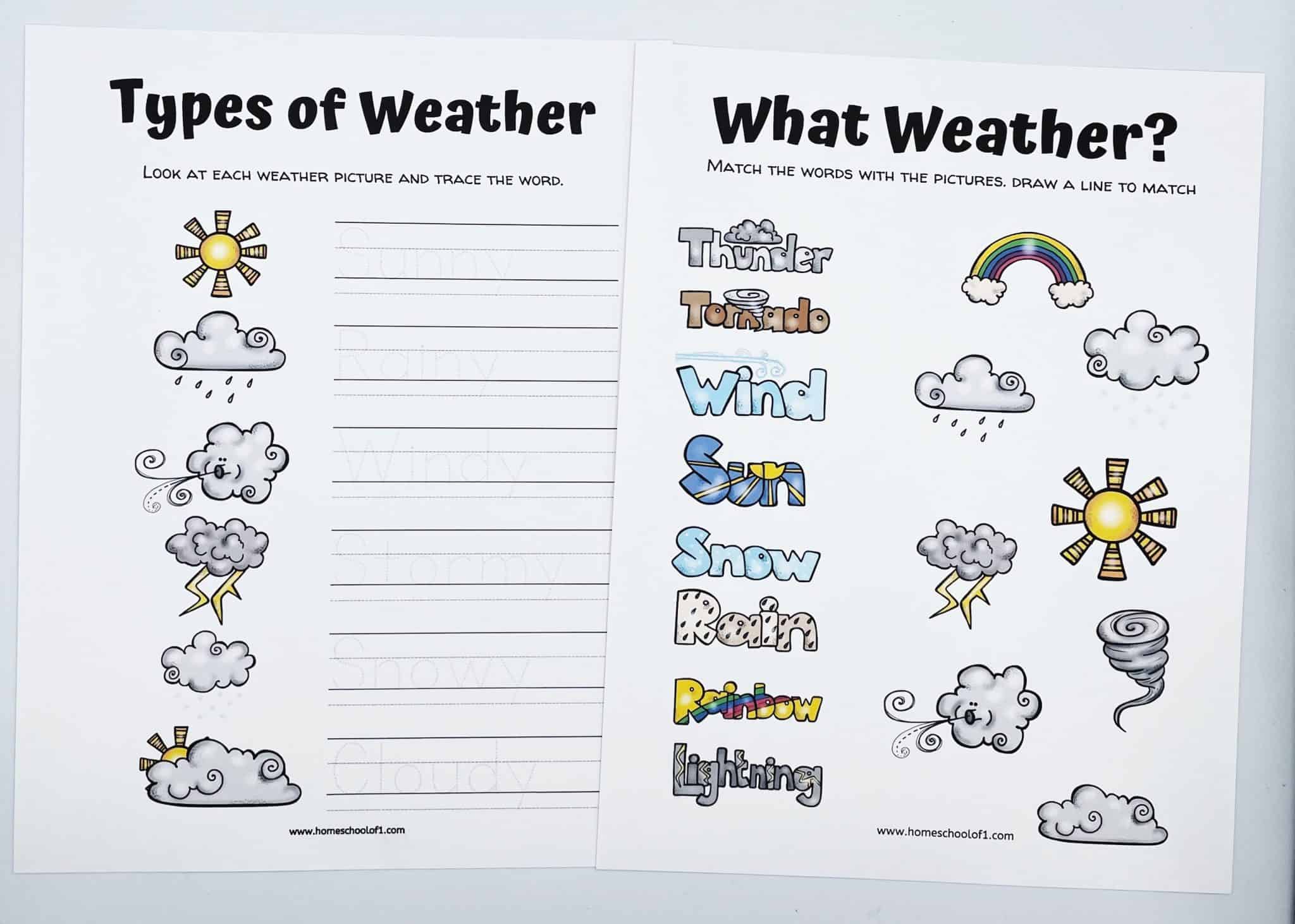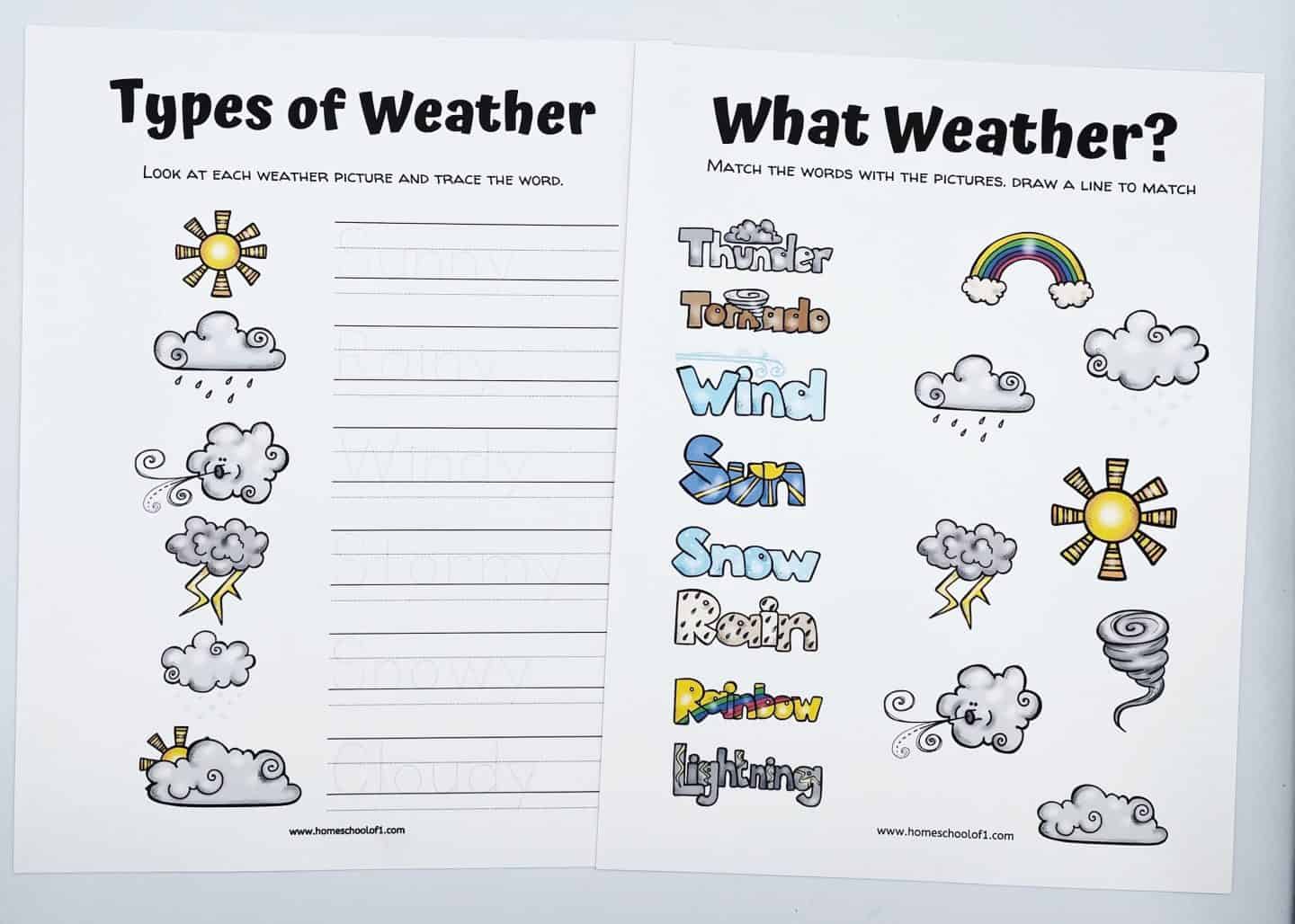 This next weather printable also incorporates scissor practice. Cut out the words at the bottom of the sheet and glue them into the correct border above.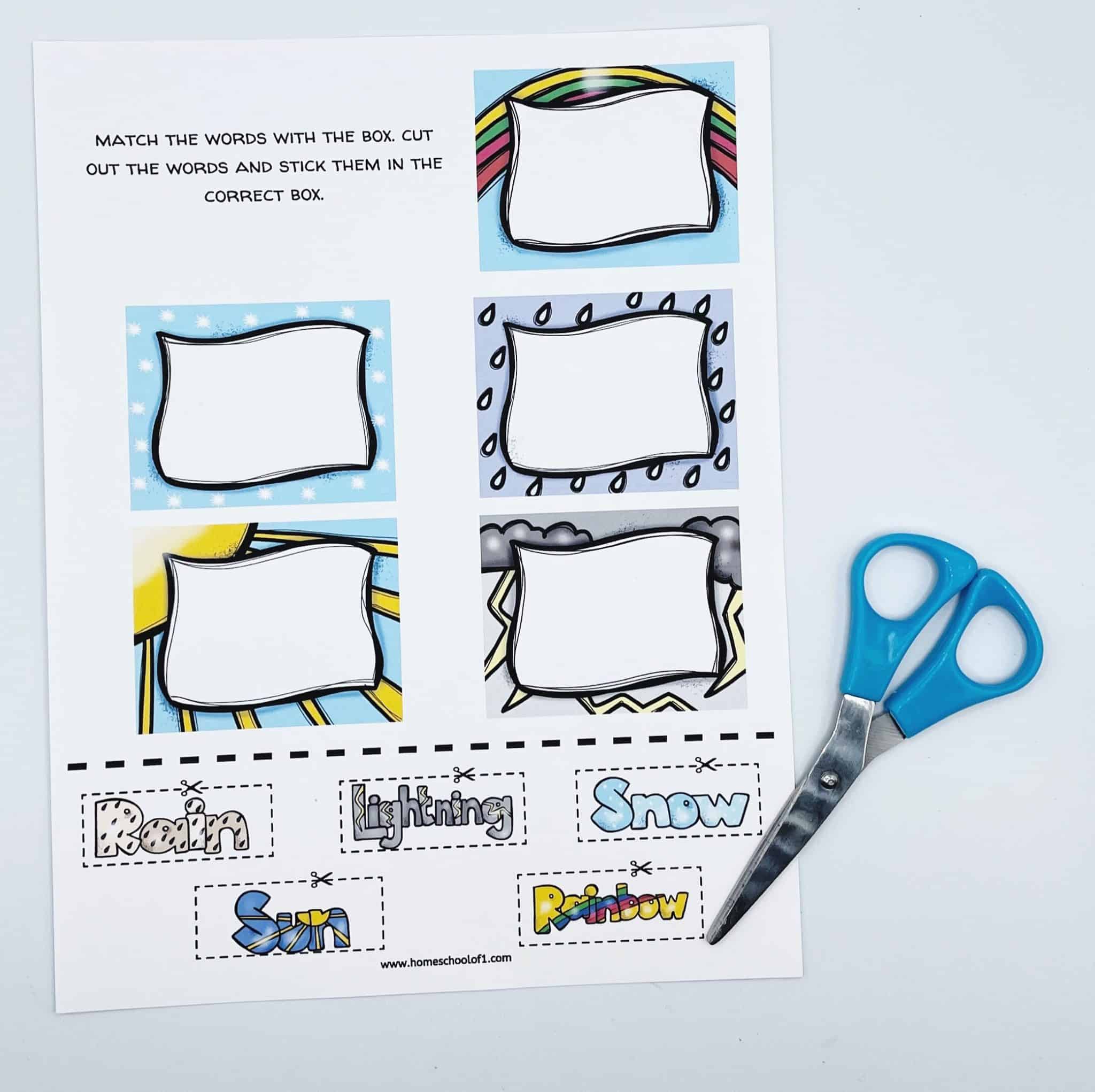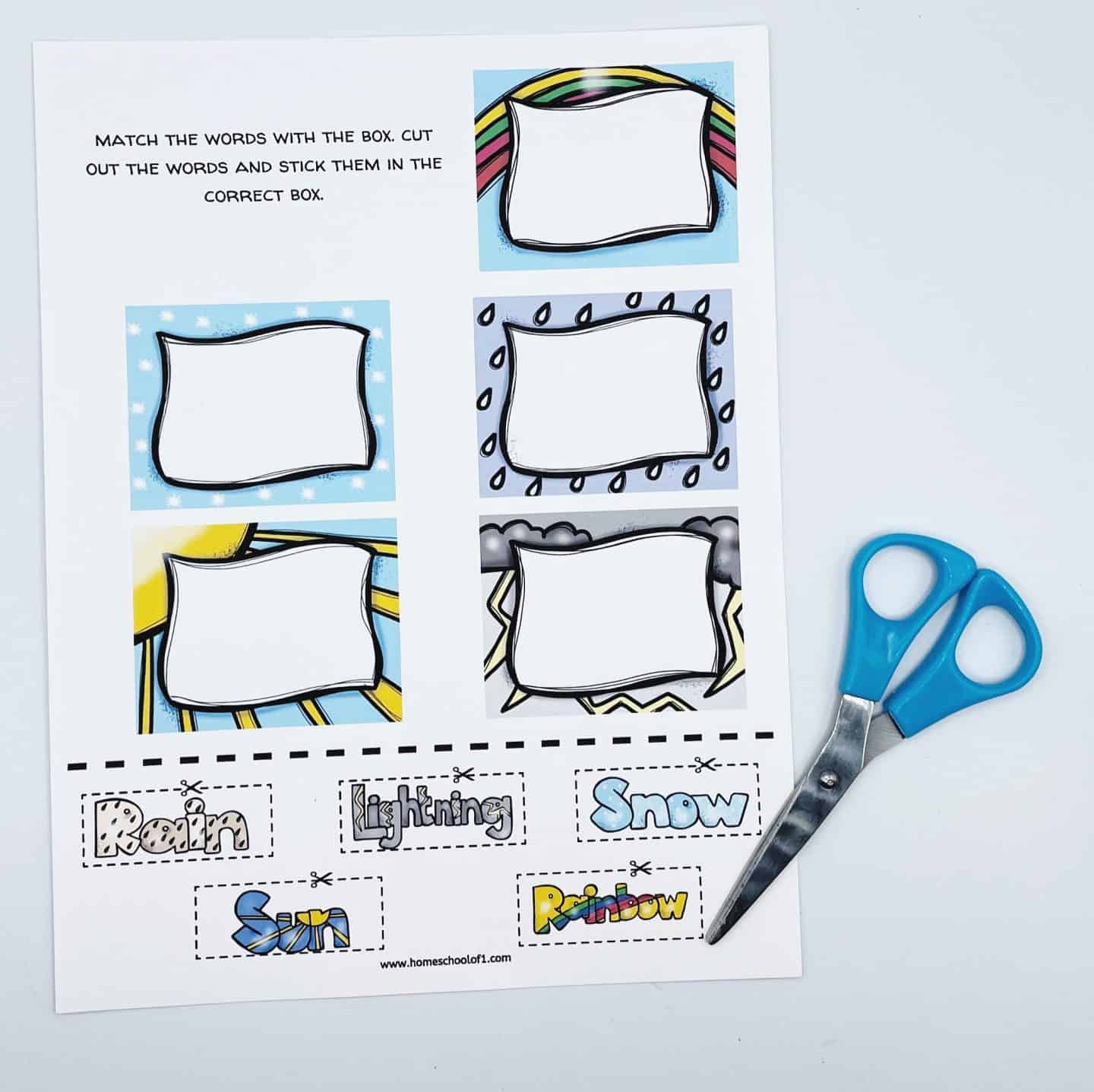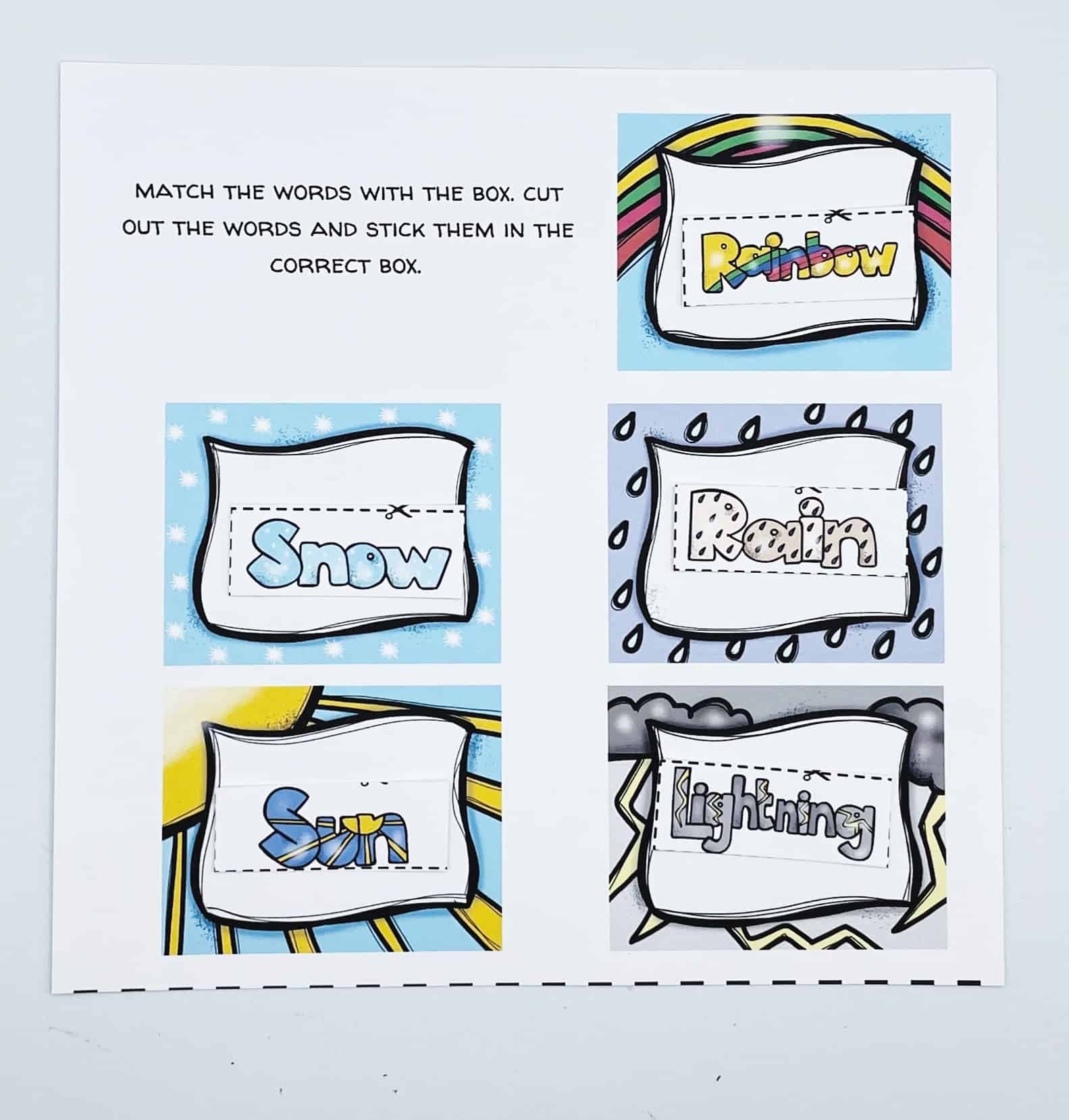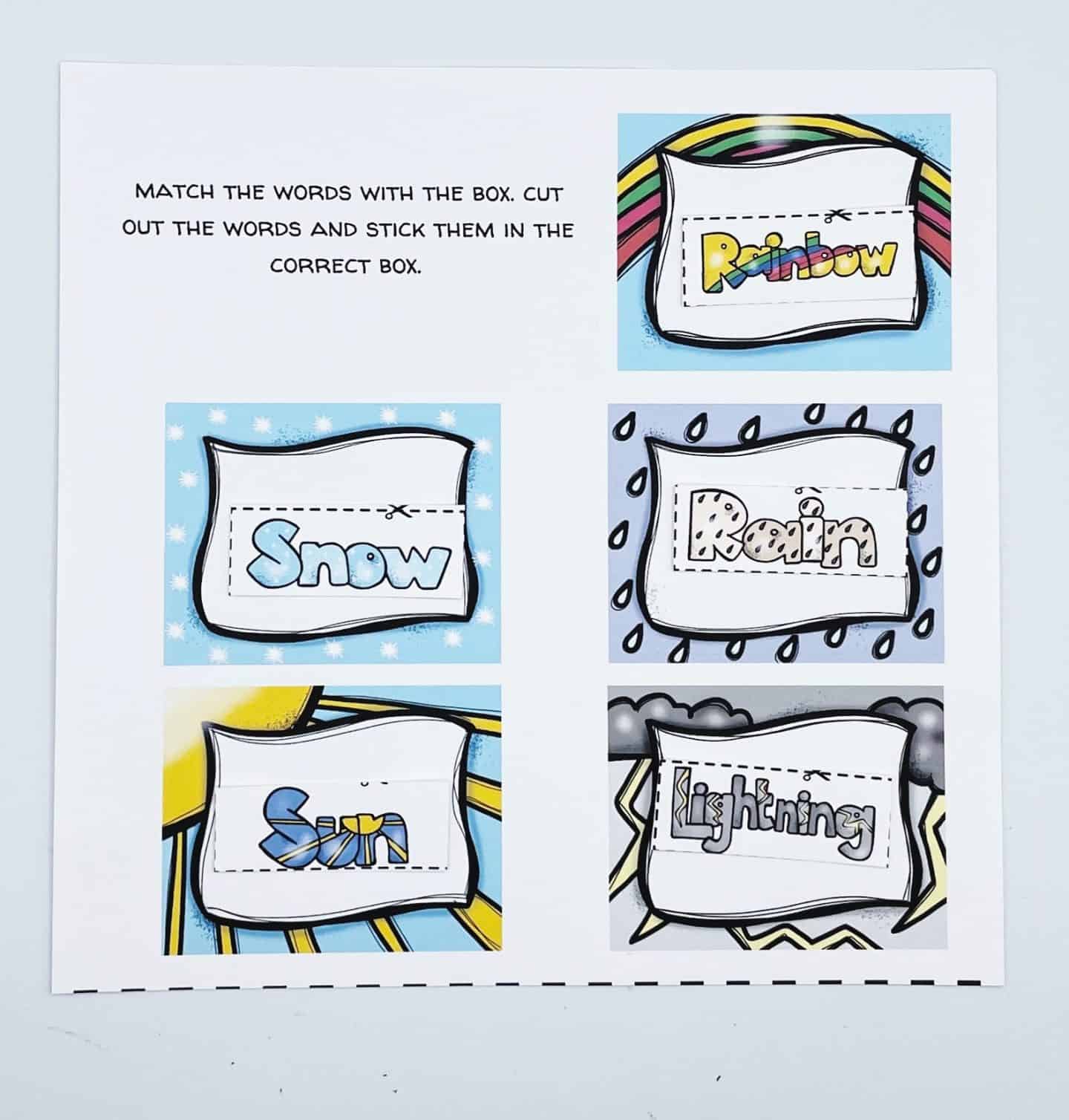 Weather Memory Game
This weather memory game is my favorite. You will need to print this page out twice.
When you have printed the 2 pages you will need to cut out all of the different images. I prefer to use a paper cutter as it's easier, quicker, and more accurate, but scissors will work too.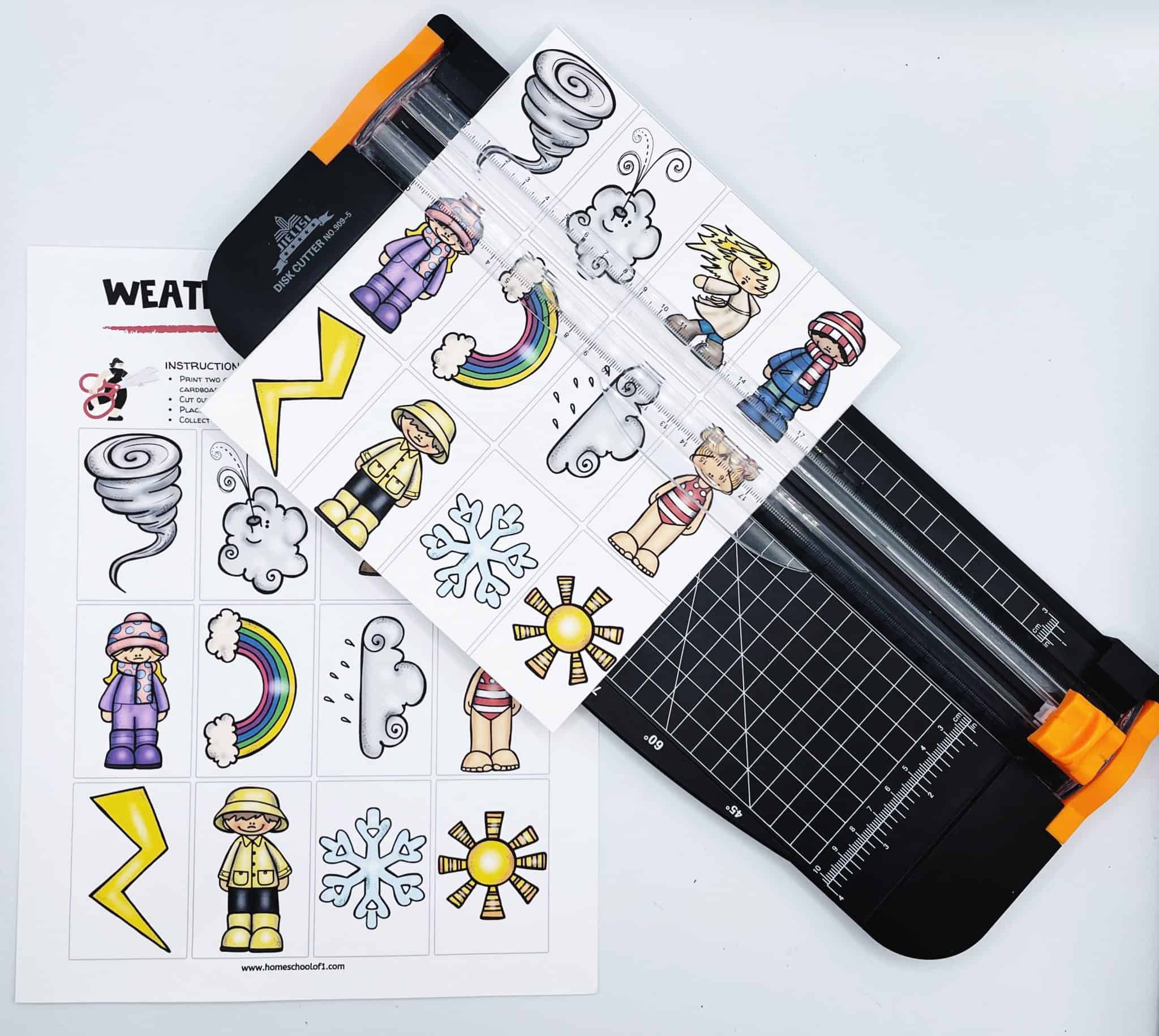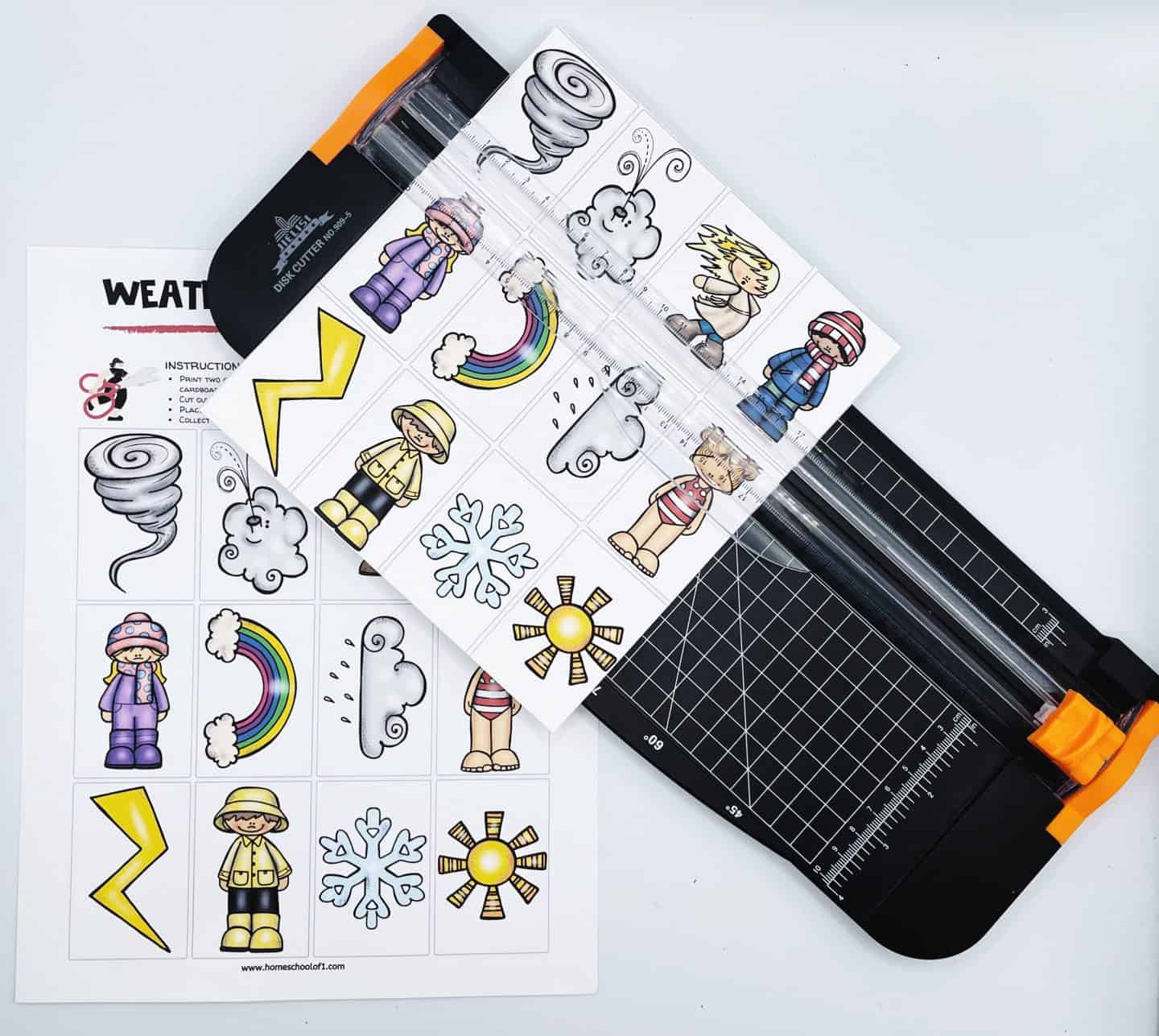 Shuffle them up and lay them on the table face down in rows to make it easier, or just randomly on the table for older kids.
If you are placing them in rows I find 4 rows with 6 images each works best.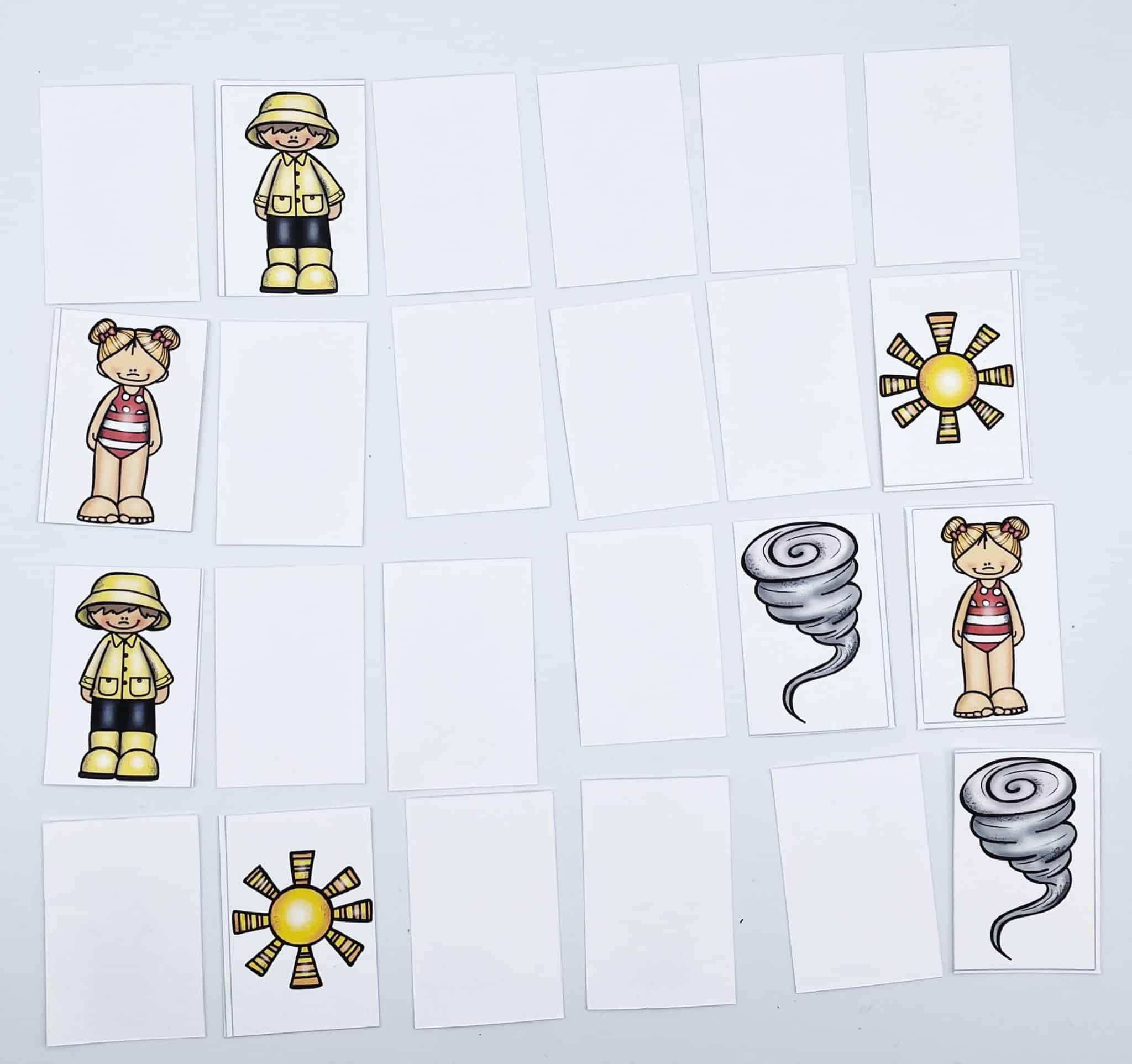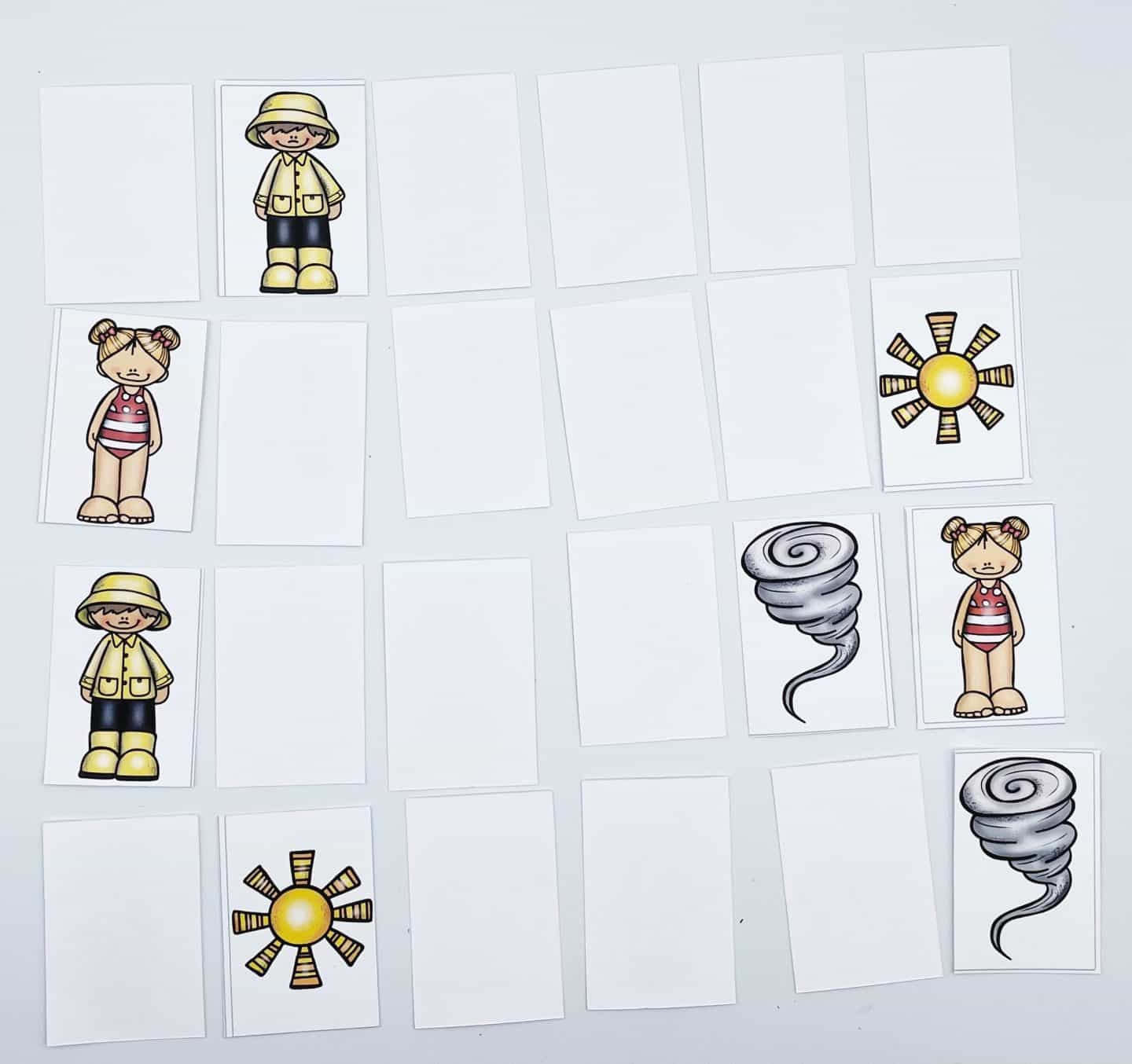 Playing the game is simple. Take it in turns to turn over only 2 images. If it is a match you can either remove them from the game and place them in front of you or leave them turned over face up.
The winner is the person who creates the most matches. I think you will also enjoy our free planet memory game.
Scroll to the bottom of the page to grab all 8 free preschool weather worksheets.
If you are looking for even more ideas though carry on reading.
Weather Activities for Preschoolers
For other fun weather and seasonal activities your preschoolers are going to love check these out. There is a mix of other free printables and paid resources. But keep scrolling to the end of this page for our free preschool weather worksheets.
Celebrate the seasons with the start of Fall and our free fall coloring pages.
Let's learn the alphabet this season with our free fall alphabet activities.
Photo Credit: www.etsy.com
Dress the weather frog is laminated so you will be able to use it over and over again to help little learners learn and explore through play!
These games help with fine motor skills and essential learning skills needed for school.
Photo Credit: www.etsy.com
Included are Weather Themed Flash Cards, Weather Forcasting Pretend Play, Rainbow & Sunshine Play Dough Mat, Rain Drop Roll & Cover Game, Weather Graphing Worksheet, Weather Bingo, and a Water Cycle Poster & Water Cycle Matching Activity.
Photo Credit: www.etsy.com
Spruce up your morning routine with this educational Weather Wheel! This wheel is a fun tool to use to teach children to identify the daily weather.
Photo Credit: www.etsy.com
These weather playdough mats are an engaging fine motor activity for your preschool or kindergarten weather unit study.
Photo Credit: www.etsy.com
Create a wonderful felt story board with this pdf pattern so you can create your own.
All about the weather book is a fantastic picture book and a great first book on the weather. For a more educational book we love this National Geographic Weather one.
Download Free Preschool Weather Printables
Make sure you choose the correct paper size and click on the shrink to fit button. All of our free printables work better when printed on cardstock (this is the one we use and love.)
Last Updated on 12 November 2022 by homeschoolof1