10 Shakespeare Books for Kids That They'll Love
We have been reading Shakespeare in our home since my son was 8. So I wanted to share with you his favorite Shakespeare books for kids so you can also encourage your kids to read the great works of the Bard.
He loves reading both the original plays and the adaptations, but his favorites are the adaptations. But he absolutely loves Shakespeare, we have seen over 5 theater productions too.
On a recent trip to Atlanta, he found a Shakespeare tavern and we went to see the Merchant of Venice (if you are ever there, I highly recommend it.) On another visit, this time to the UK, we went to Stratford Upon Avon to see Henry VI: Rebellion and the list goes on.
All of these Shakespeare books he has read and is begging for more. In fact, we have just purchased the No Fear Merchant of Venice book after he enjoyed the play so much at the weekend.
If you are looking for gifts for Shakespeare lovers that teenagers will love, check out our top 30 gifts any fan of the Bard will appreciate.
Carry on reading for his top 10 Shakespeare books for kids.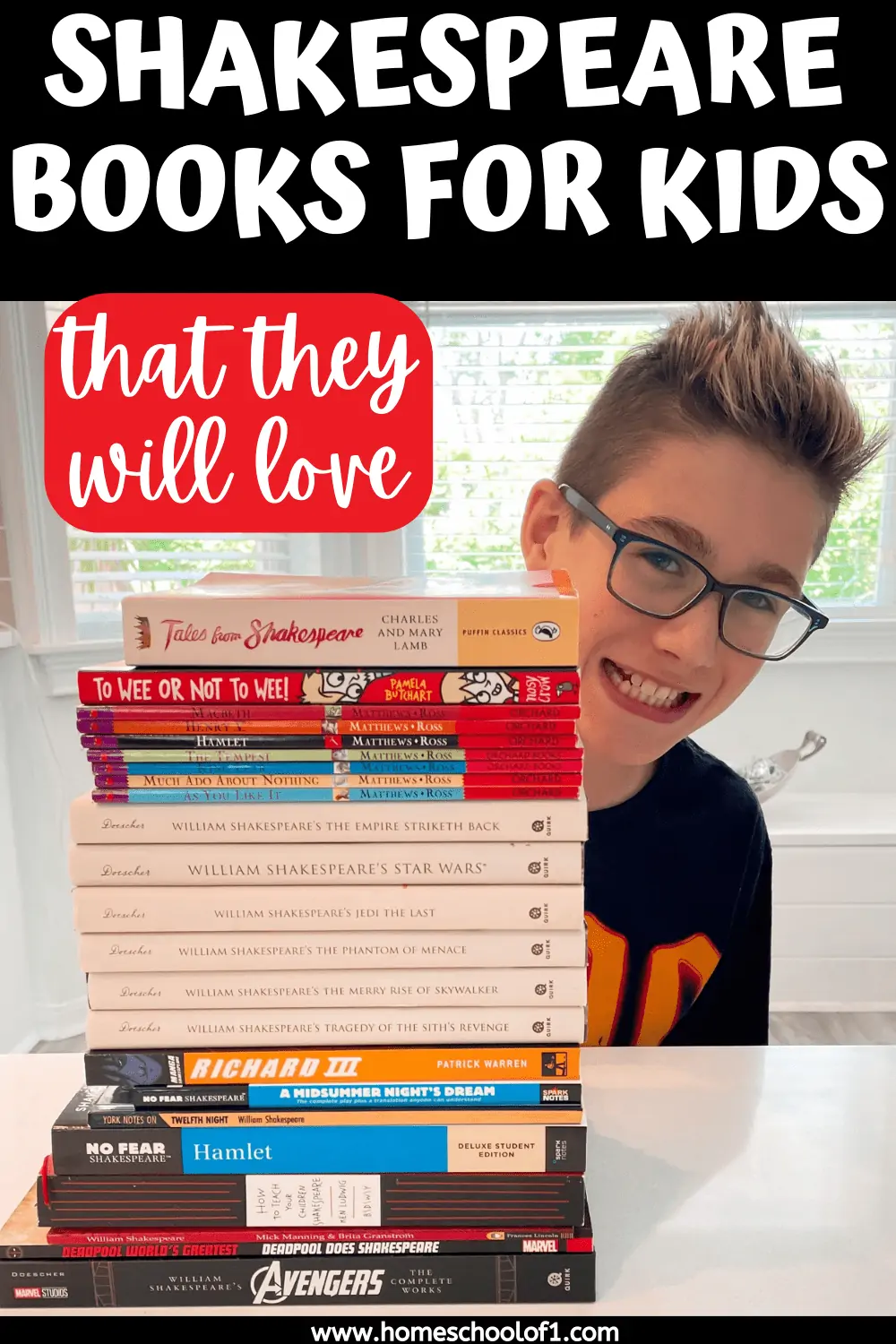 **There may be affiliate links in this post. You can read my full disclosure at the bottom of the page.**
The Best Books to Encourage a Love of Shakespeare in Children
There are 10 books included in my son's favorite Shakespeare books for kids, and are in reverse order! So the very last one is his absolute favorite.
In fact, he currently has 6 of them in the series! I promise it will be worth scrolling through just to get to the last one.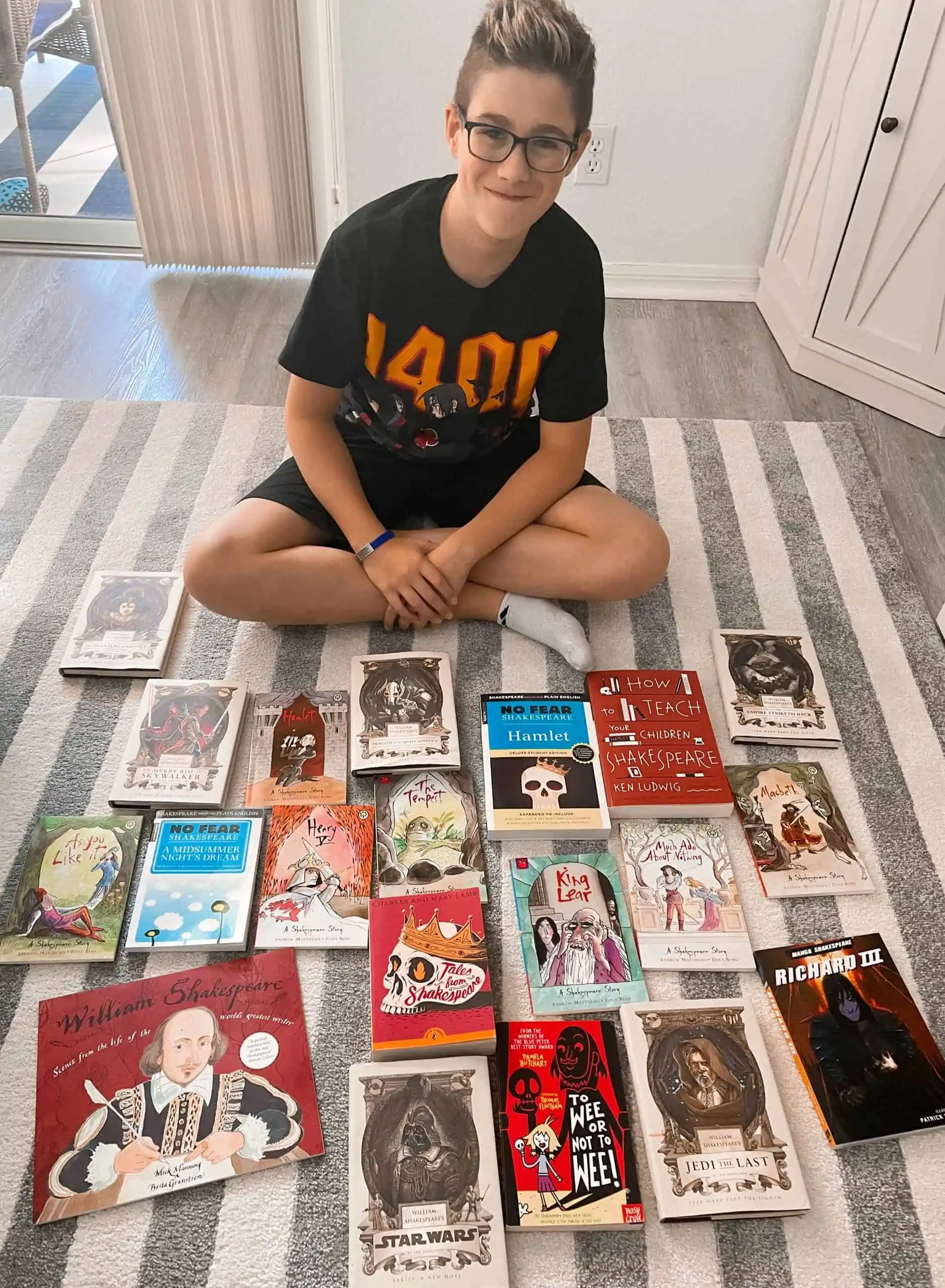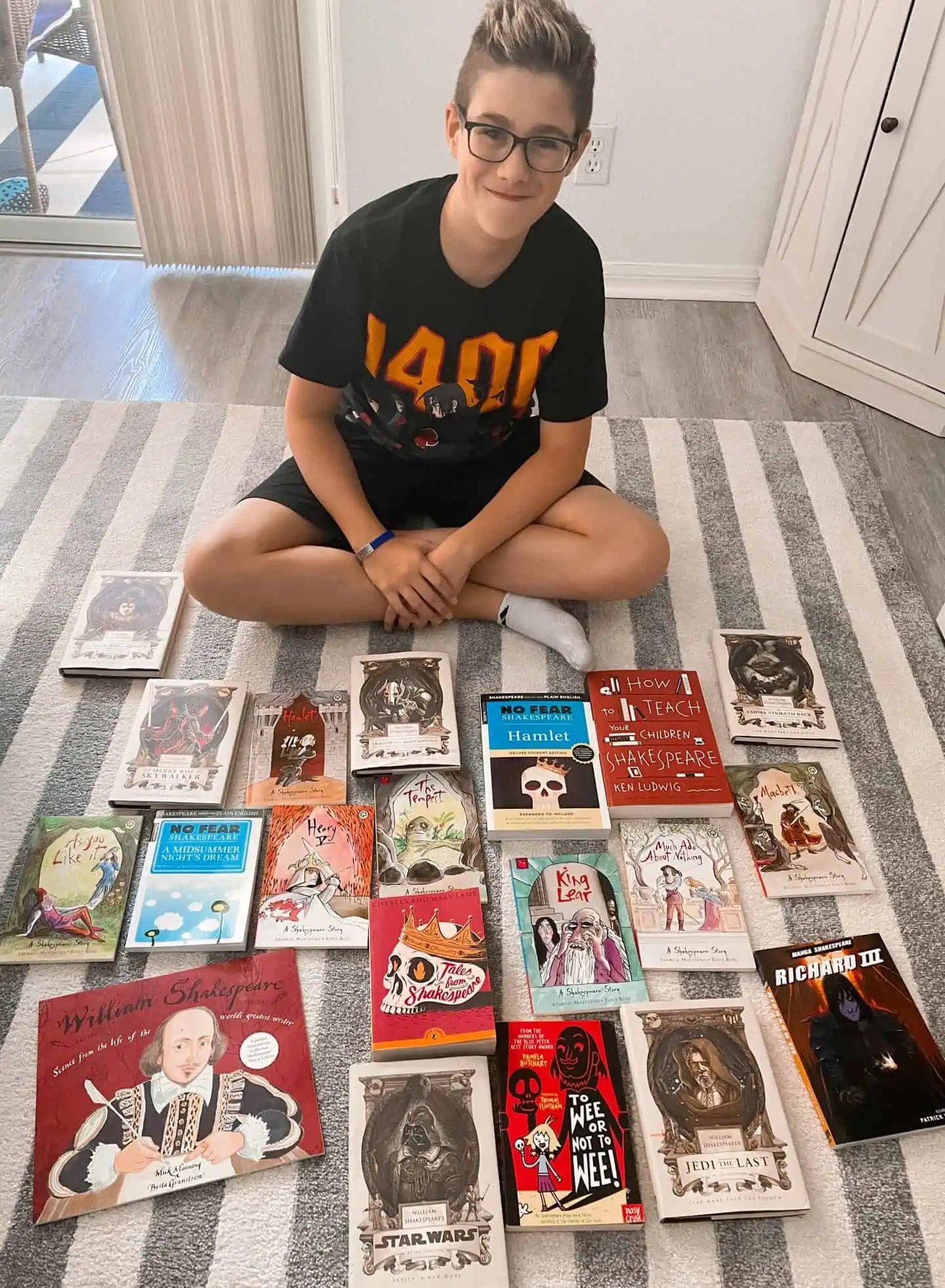 This box set is perfect for kids aged about 8-9 years old, they are short stories with pictures. These are great for younger students but too basic for children over the age of 10 in our opinion. But a great way to introduce Shakespeare early on.
This set includes: The Winters Tale, Alls Well That Ends Well, Antony and Cleopatra, As You Like It, The Comedy of Errors, Cymbeline King of Britain, Julius Caesar, King Lear, A Midsummer Nights Dream, Much Ado About Nothing, Othello The Moor of Venice, Romeo and Juliet, The Merchant of Venice, The Tragedy of Macbeth, The Two Gentlemen of Verona, Timon of Athens, Twelfth Night, Hamlet Prince of Denmark, The Tempest, The Taming of the Shrew
To Wee or Not to Wee was the first Shakespeare book my son received. He got it as a Christmas gift from his grandmother when he was 8.
It covers the stories of Hamlet, Macbeth, A Midsummer Night's Dream, and Romeo and Juliet. It is definitely aimed at younger children and is actually very funny.
This book contains 20 of William Shakespeare's best know plays and has adapted them into stories for children.
Written over 215 years ago this book by Charles and Mary Lamb is a classic in its own right.
For younger children, this book will make a great book for read-alouds, and for older children, it is a great introduction to some of his most famous works.
When we started taking Shakespeare more seriously in 6th grade we used this book along with an excellent unit study.
Check out how to teach your child Shakespeare. We used this as a parent-led book as opposed to a book he would read on his own, but he thoroughly enjoyed it and is definitely part of the reason why he continues to love Shakespeare.
We have 5 of these No Fear Shakespeare books and they are all EXCELLENT. It breaks down the Shakespeare play on one page and translates it into modern English on the next page.
So it is side to side and really easy to understand. The only play we have not been able to find is typically Henry VI which we went to see earlier in the year.
This book is in his top 10 as we purchased it from the Royal Shakespeare Company in England! But it is an excellent book about his life rather than his plays, although it does of course talk about some of his most famous works.
There are lots of pictures to look at too, so age-wise I would have it somewhere between 7 and 12.
If your child enjoys manga they will love this book. There are 14 Shakespeare books in the series and they are written in comic form.
We are nearly at his favorite Shakespeare books, but coming in at 3rd place is this Deadpool does Shakespeare comic book.
In second place is this William Shakespeare's Avengers the complete works book. Ian Doescher, who also wrote the comic above, and my son's favorite book listed below is the author of this book too.
This book is written in the style of a play (in scenes) and is perfect for any Avengers fan! There are plenty of pictures of the Avengers in Shakespeare clothing too!
Drum roll, please.....
My son's all-time favorite Shakespeare book for kids is this William Shakespeares Star Wars book. There are 9 books in the series of which he has 6, and the next 3 he will be asking to have for Christmas. He absolutely loves them and like the Avengers book above it is written in scenes.
This one listed is the trilogy - The Royal Imperial Boxed Set: Includes Verily, A New Hope; The Empire Striketh Back; The Jedi Doth Return; and an 8-by-34-inch full-color poster
You will also enjoy: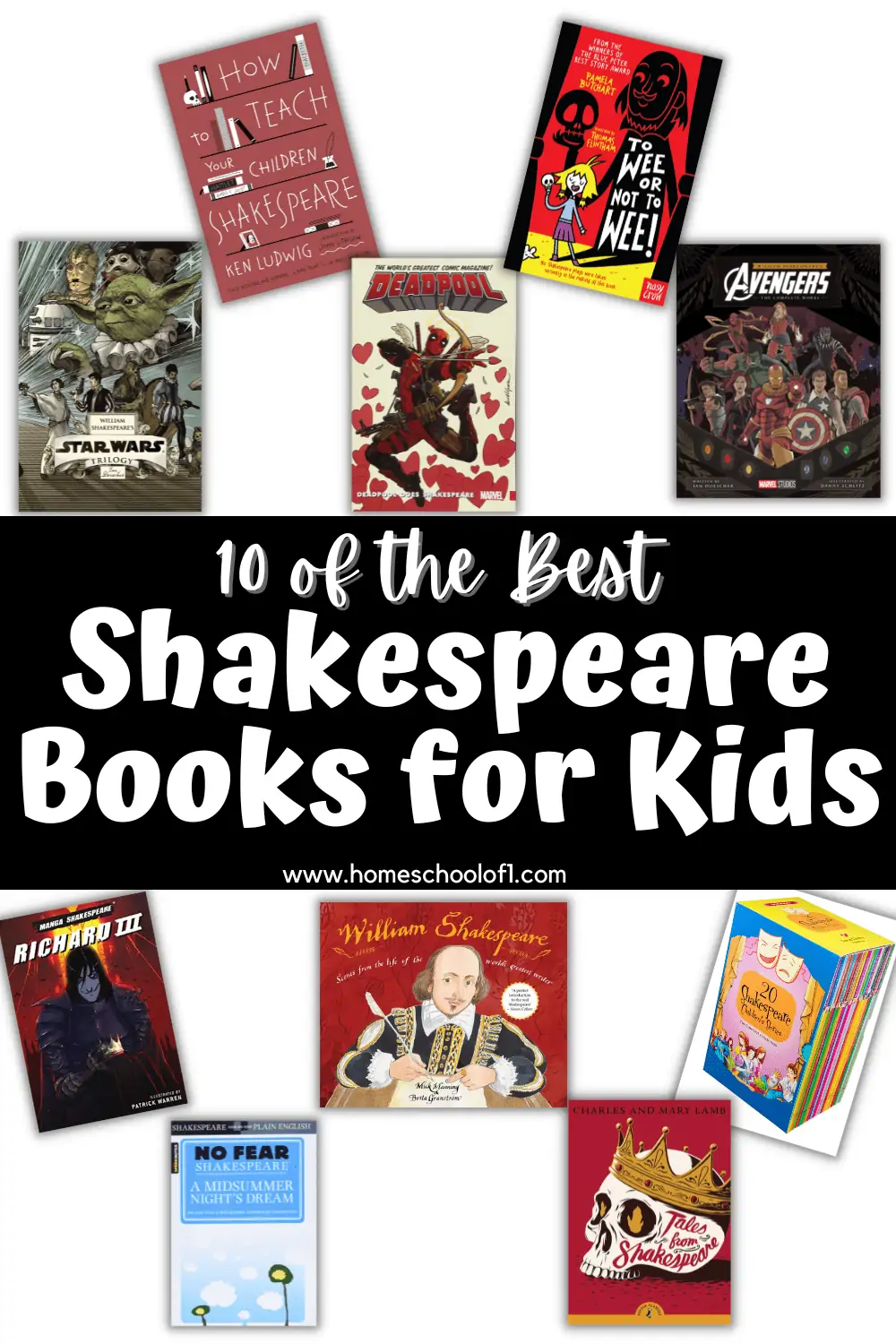 Last Updated on 17 September 2023 by homeschoolof1