Introducing Shakespeare to Kids the Fun Way
Introducing Shakespeare to the kids, but want to make it fun?
Look no further! Discover creative and exciting ways to bring the world of Shakespeare to life for young minds while keeping the learning enjoyable and memorable.
Prepare to ignite curiosity and imagination as you embark on a captivating exploration of Shakespeare with a delightful twist! Discover our favorite Shakespeare games, engaging activities, and creative methods to introduce the Bard to your children in a fun and enjoyable way.
I am also going to share the best Shakespeare book lists for kids that will have them wanting more.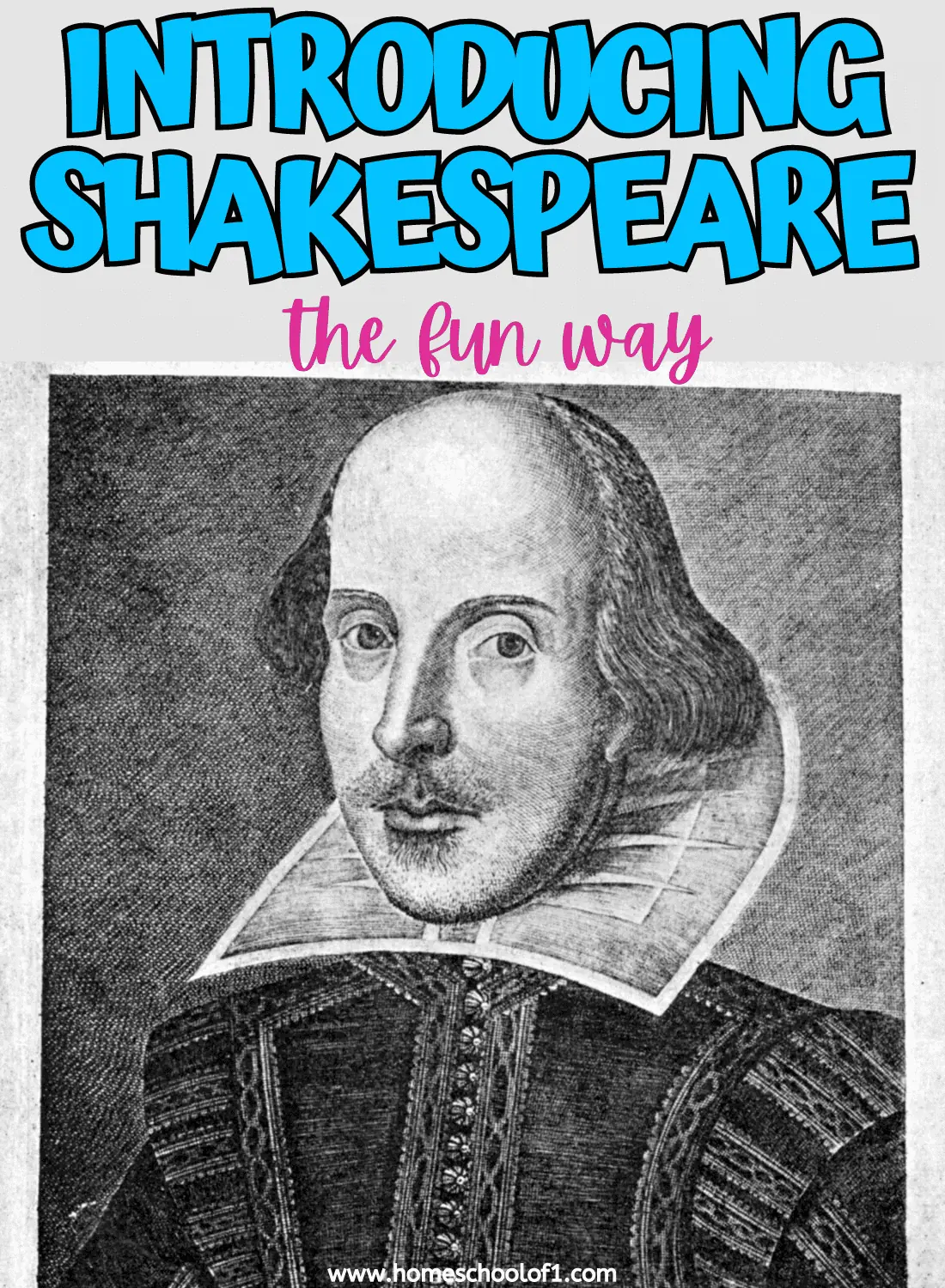 **There may be affiliate links in this post. You can read my full disclosure at the bottom of the page.**
How to introduce Shakespeare to students
Detailed below are our favorite ways of teaching Shakespeare to older elementary grades and middle school.
Online Shakespeare Course
Shakespeare doesn't have to just be for high school, although we are taking a high school course, we have easily adapted it for grade 6 (year 7 in the UK).
We have found the most amazing Introduction to Shakespeare course from Music in our Homeschool. It is a paid course ($37 / £25), but wow it is certainly worth it. It is a 10-week course with lots of videos included (this always works best for us.)
The 10-week course covers the following:
Iambic pentameter and how to scan a speech
Poetry versus prose
How to pronounce Shakespeare
Shakespeare's life
The Globe Theater and Elizabethan theater in general
Shakespeare insults
Monologues and Soliloquies
Practice techniques for memorizing and performing Shakespeare
Watch one of his plays, A Midsummer Night's Dream
Perform an act based on Star Wars but written in Shakespearian language and technique!
I highly recommend this course, and my son is having a blast completing it. Download the Shakespeare introductory course now you won't regret it. We are having so much fun, and I'm learning so much too.
While taking this course we are also using Curiosity Stream to watch Curious Minds: Shakespeare, at $20 for a full year, we highly recommend it. Check out our Curiosity Stream review to see what else we watch.
Shakespeare's The Tempest for Kids (Playing With Plays
How to Read Literature Like a Professor: For
How to Teach Your Children Shakespeare
The Shakespeare Book: Big Ideas Simply Explained (DK
Shakespeare Books For Kids
Whether you follow the above course or make your own unit study you need to at the very least purchase these best Shakespeare books for kids: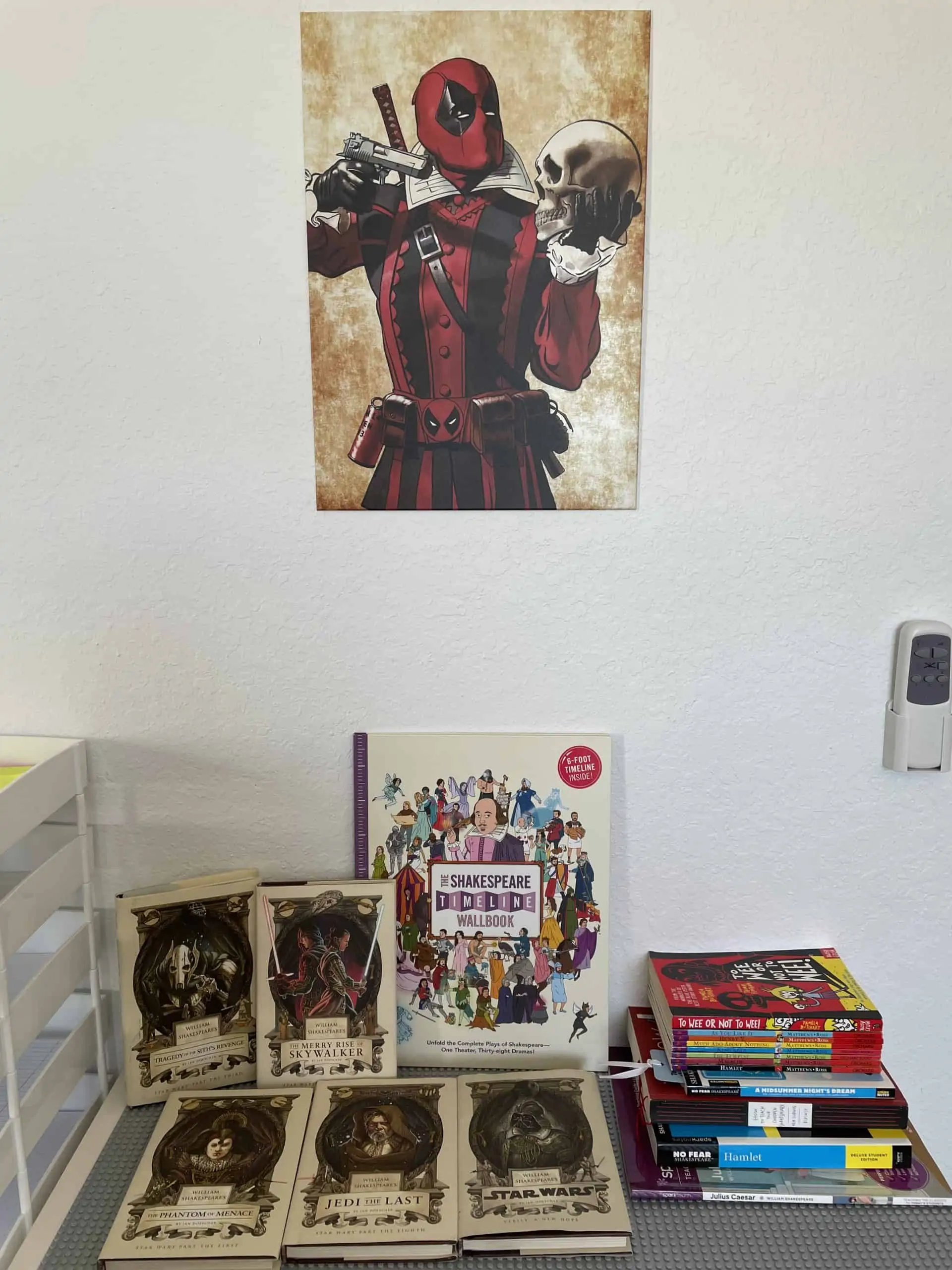 How to Teach Your Children Shakespeare. Ken Ludwig provides a wonderful book to read together with your children. It is not a dry boring book, but really engaging and helps you and your child memorize passages and understand Shakespeare in a really easy and fun way.
William Shakespeare's Star Wars. My son was so pleased when he saw the Star Wars book, he is totally obsessed with all things Star Wars at the minute. So to introduce Shakespeare in a subject that he already loves is just fantastic. Below are all the Shakespeare books we have, but I imagine this will continue to grow. The Displate on the wall was a gift he purchased himself with Christmas money.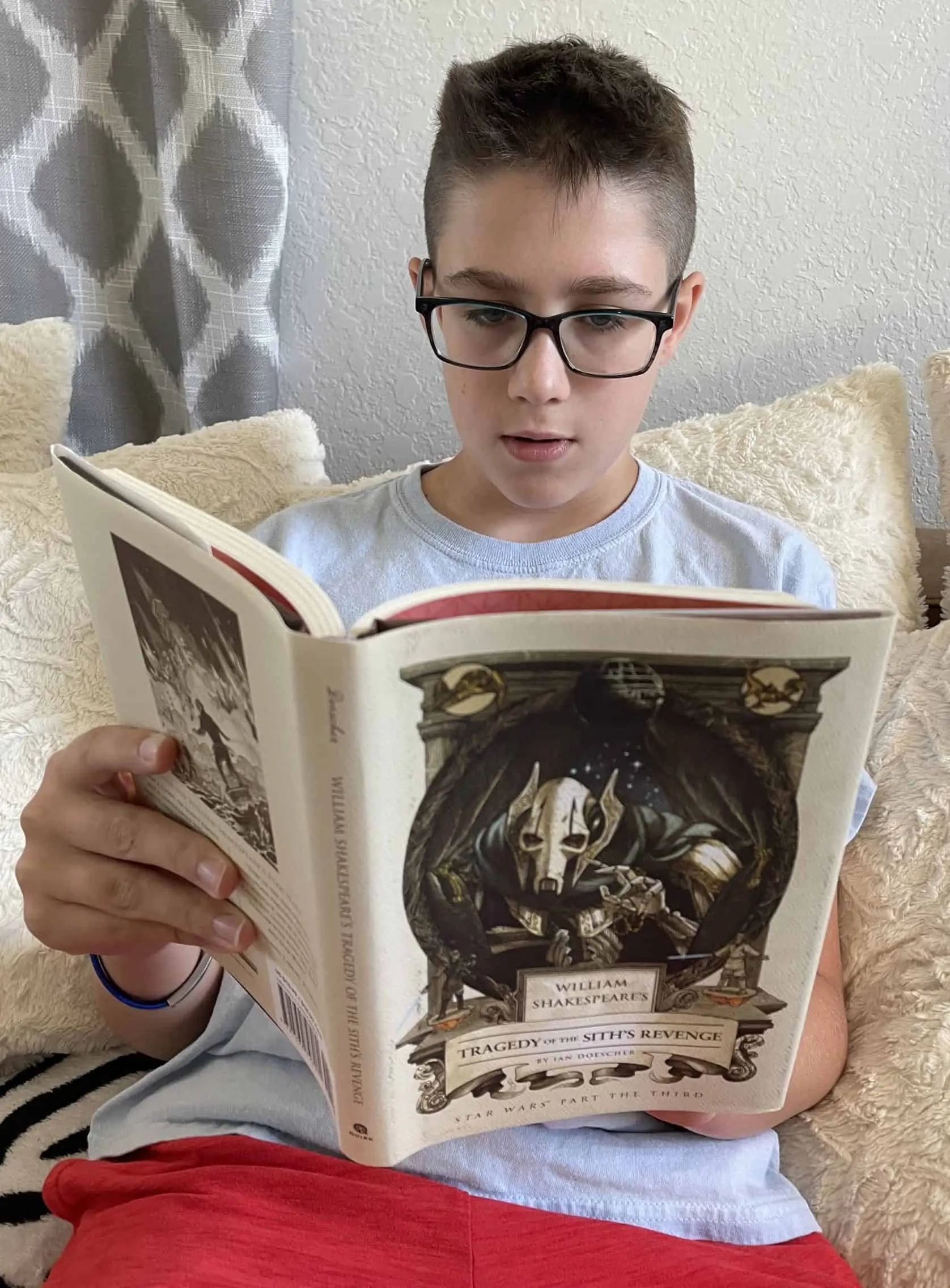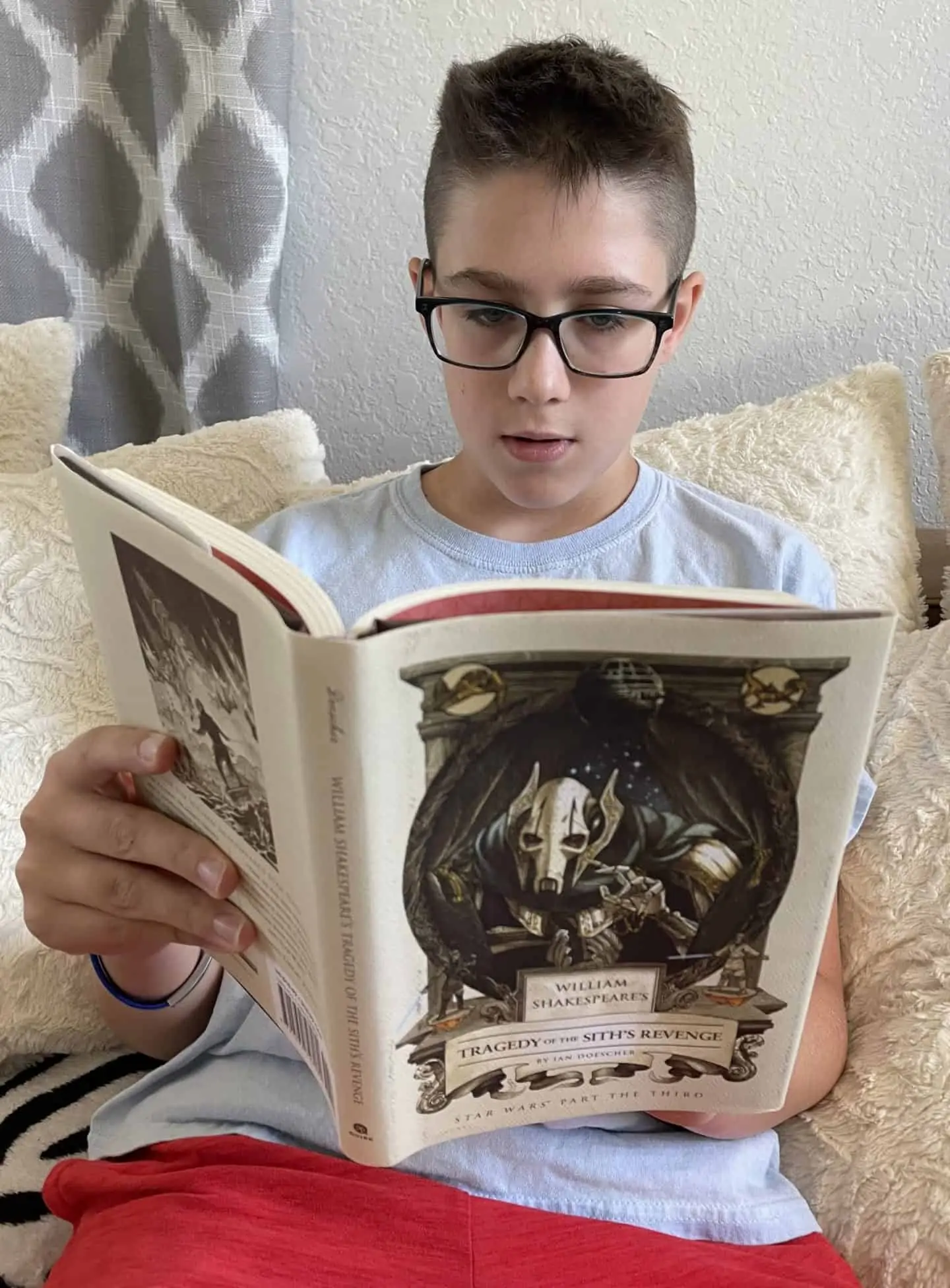 But there are loads of other Shakespeare books for kids that we recommend;
To Wee Or Not To Wee is another favorite. My son got this for Christmas when he was about 8 or 9, and he devoured it. Of course, any type of potty humor is right down his street!
Manga Shakespeare. We purchased a few of these manga books while visiting the UK recently, and is another great way to read Shakespeare in a way that the kids will thoroughly enjoy.
The Shakespeare Stories by Tony Ross is another favorite. There are 16 small books that are great for younger readers. They are beautifully illustrated as you would expect from Tony Ross (as he illustrated the Horrid Henry series and a number of the David Walliams books)
Usborne Complete Book of Shakespeare is another classic kid Shakespeare book. We just love all of the Usborne books, and this doesn't disappoint. It covers all of the Shakespeare plays and includes short details about the main characters and famous and memorable quotations from the play.
Who Was William Shakespeare? is a great way to learn about Shakespeare.
Shakespeare Insult Generator mix and match over 150,000 insults in Bard's own words.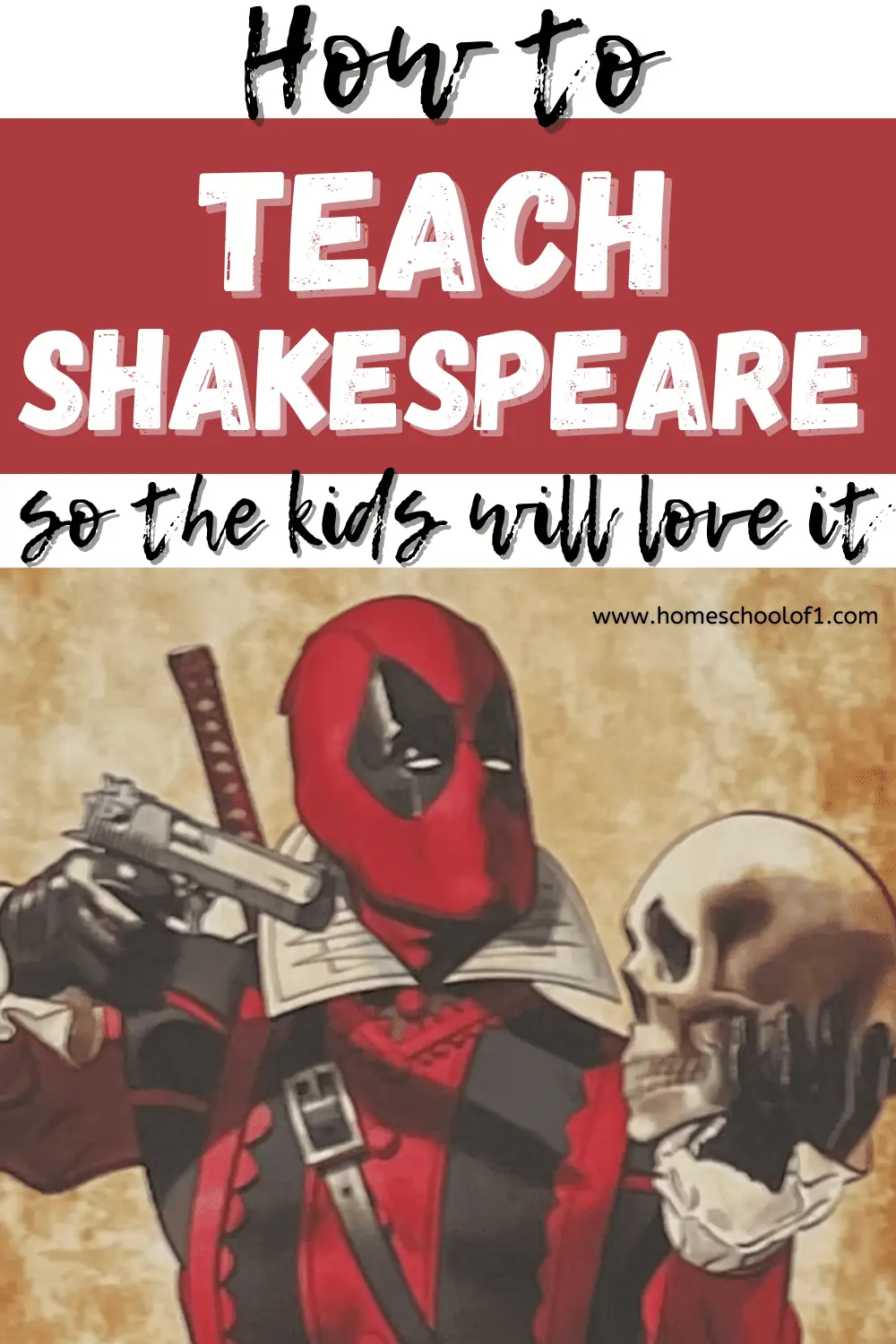 Shakespeare Unit Studies
Many parents choose to homeschool Shakespeare as part of their English literature curriculum to provide a more in-depth exploration of his timeless works. These are our favorite resources:
Streamline your literature or movie study with this concise 14-page Macbeth literature reading guide designed to enhance comprehension of Shakespeare's Macbeth. Perfect for time constraints, ESL, special education, or absent students, this resource prioritizes meaningful engagement. It features character analysis, conflict exploration, quotes, discussions, and more, along with visual aids.
My Teaching Library has a number of courses on Shakespeare plays including Twelfth Night and Hamlet.
Charlotte Mason Music and Shakespeare Bundle includes the 10-week course we are taking and discussed above.
Simply Shakespeare is a 32-week course for grades 3-9 with over 12 units. The course looks at all of the most recognizable Shakespeare plays, such as a Midsummers Night's Dream, Hamlet, and Twelfth Night.
Outschool has a number of live online classes talking about Shakespeare, including over 30 different classes you can join. Not a full course but certainly great classes that can supplement the curriculum.
Shakespeare Plays
We recently visited family in England and managed to go to Shakespeares' birthplace and saw Henry VI at the Royal Shakespeare Company in Stratford Upon Avon.
Now I know if you are in the USA like us it is not that easy to achieve, however, there are lots of traveling theatres. I am sure you can find a Shakespeare play near you. We saw a Midsummers Night's Dream at the park for free two years ago, which was amazing.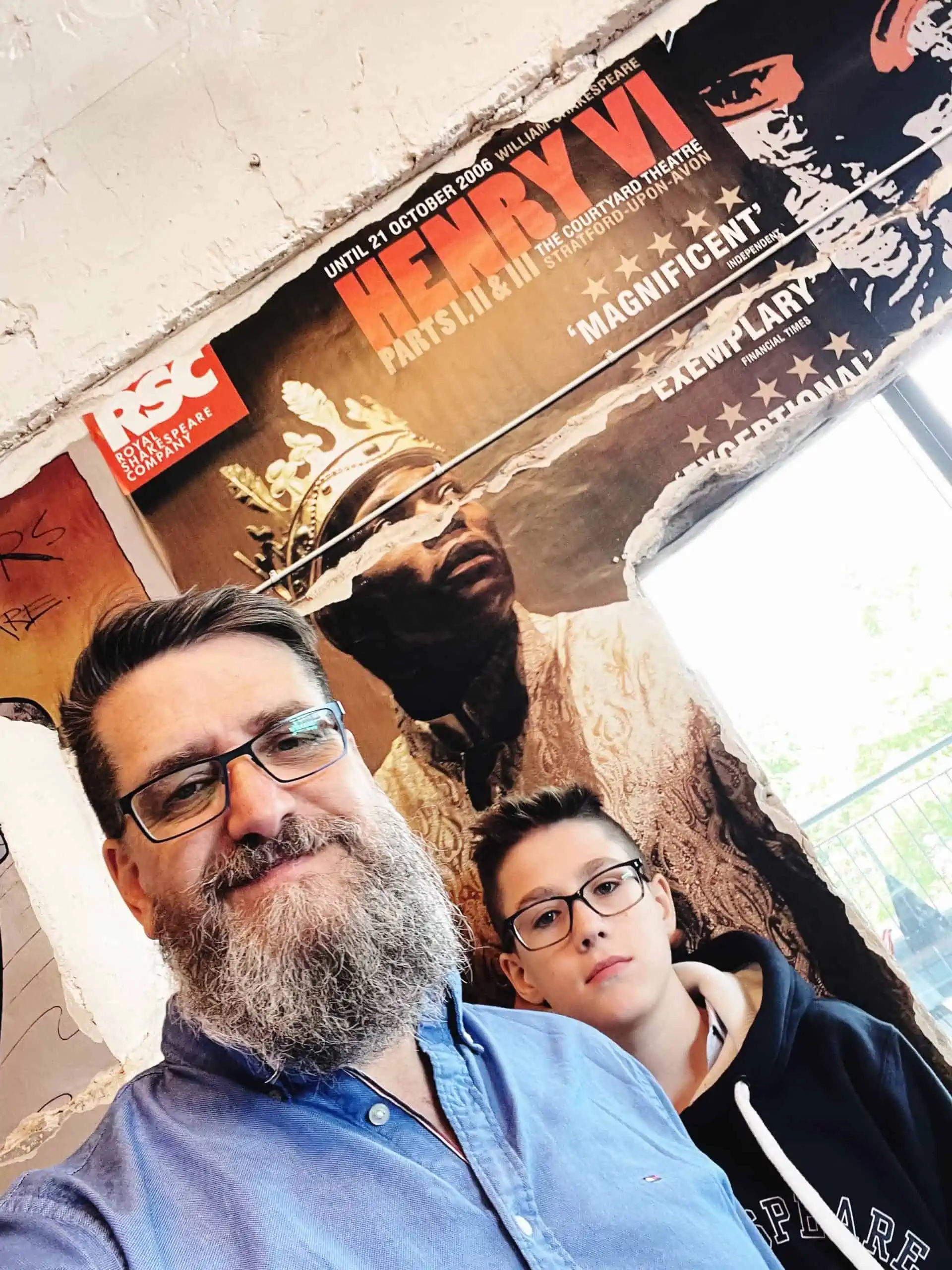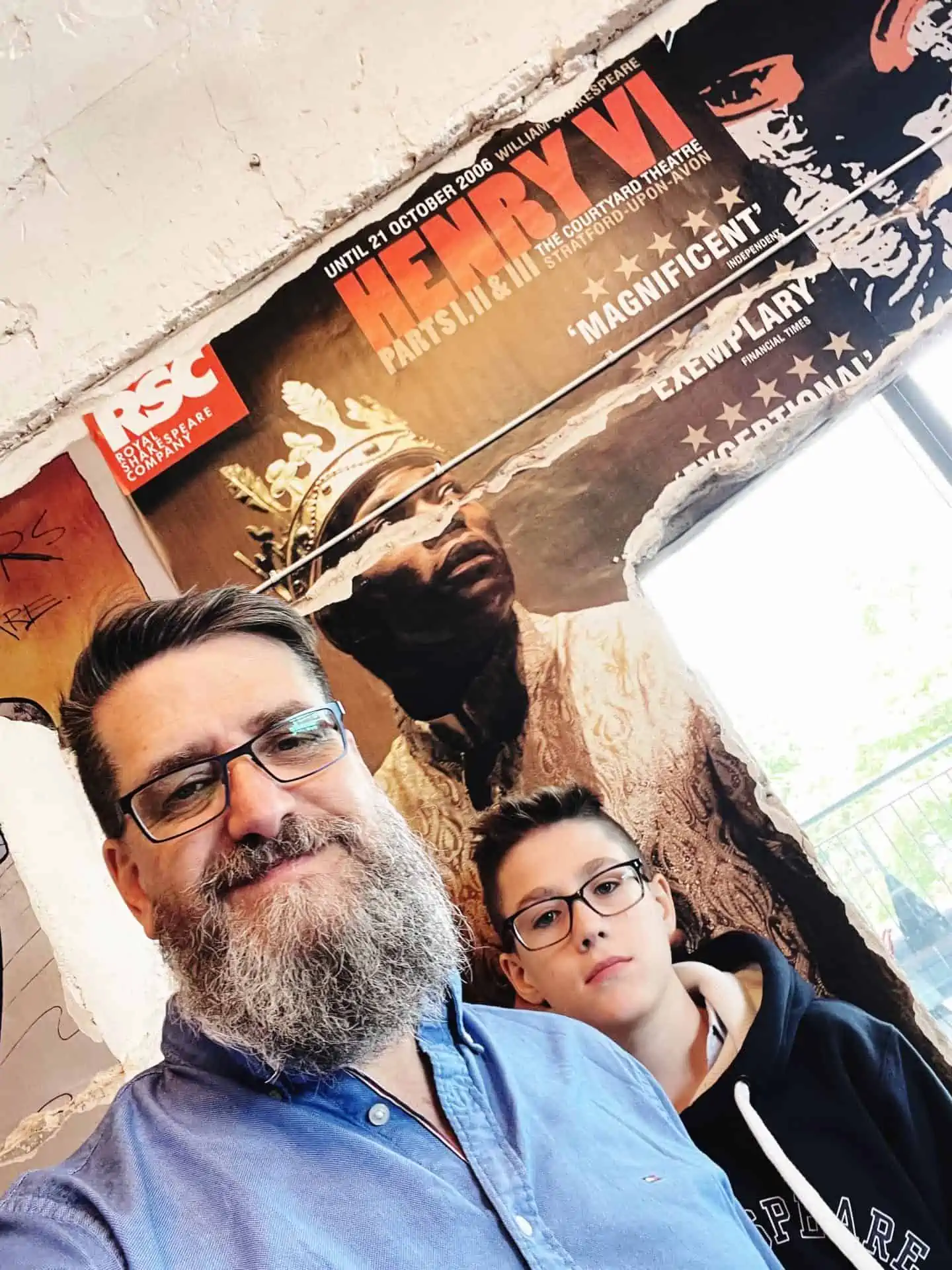 Free Shakespeare resources
Explore the world of Shakespeare with a wealth of free resources available from the Shakespeare Globe. Delve into their extensive collection of educational materials, offering insights into the Bard's life, works, and era. From interactive lesson plans to informative articles, students and enthusiasts alike can enhance their understanding of Shakespeare's legacy.
For a dynamic and engaging journey, check out Crash Course on YouTube, where you'll find an episode dedicated to Shakespeare's early days. Uncover the fascinating context in which he lived and created, gaining valuable context for his renowned works.
Additionally, Crash Course offers a captivating exploration of Shakespeare's Sonnets on YouTube. Dive into the realm of poetic mastery as you dissect and appreciate the intricate emotions and themes woven within these timeless verses. Whether you're a student studying Shakespeare or a curious mind eager to learn, these resources provide enriching opportunities to connect with one of history's greatest literary figures.
See where Shakespeare sits in the periods in English literature, a free literary timeline printable.
Shakespeare
William Shakespeare the Parlor Game: A Literature-Inspired Party in a Box (Lovelit)
Zounds!: A Shakespearean Card Game for Rhymesters, Rulers, and Star-Crossed Language Lovers
Laurence King The Shakespeare Game: Make Your Fortune in Shakespeare's London: an Immersive Board Game
Munchkin Shakespeare Deluxe
Twenty Shakespeare Children's Stories – The Complete 20 Books Boxed Collection: The Winters Take, Macbeth, The Tempest, Much Ado About Nothing, Romeo … and More (A Shakespeare Children's Story)
Fun Shakespeare Games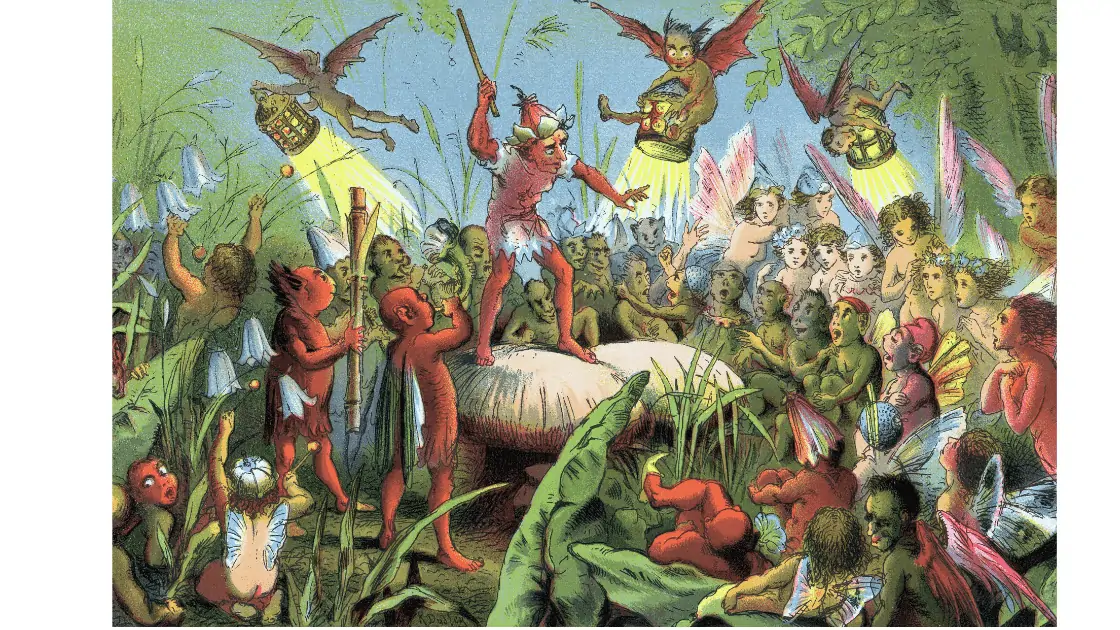 We're big fans of incorporating fun into our homeschool journey, and that includes discovering the best educational board games centered around Shakespeare.
These will all make the best gifts for Shakespeare lovers young and old:
For our card game enthusiasts, Shakespeare's "Insults" Playing Cards have been a delightful addition. Infusing some Bard-worthy banter into our gameplay.
Discover Shakespeare in a whole new light with this uproariously clever mash-up party game, Parlor Game Shakespeare. Whether you're a Shakespeare enthusiast or not, the game offers laugh-out-loud fun. Using modern prompts and Shakespearean phrases, players creatively blend humor and wit in a game that proves the Bard's timeless charm in the twenty-first century. Designed for 4 players or more, ages 12 and up.
Munchkin Shakespeare Deluxe brings the magic of Shakespeare to the table, suitable for children aged 10 and older. With its creative adaptation, it's an exciting opportunity to combine gaming with literary exploration.
For older kids aged 12 and above, the Great Shakespearean Deaths Card Game offers a unique twist on learning about Shakespeare's characters and their fates. It's an engaging way to immerse in the world of the Bard while having a blast with friends and family.
Brainbox Shakespeare (UK only) As we can't get this one I can't vouch for it, however, we used to have a number of the Brainbox games and they were great.
Let me know if you have any further ideas on how to teach your child Shakespeare in the comments below.
Last Updated on 2 November 2023 by homeschoolof1