July 4th Word Search – Free Printable For Older Kids
These July 4th word searches are so much fun, perfect to be done in your homeschool and with your family.
As we are from the UK, I had no idea how BIG the 4th of July is! Our first year, we attended a village party, and wow, I have never seen FIREWORKS like it! Unfortunately last year, with Covid we could only enjoy them from the house. But, WOW! It is spectacular.
I had been able to find lots of July 4th word searches on Etsy, however, I struggled to find harder ones for my middle schooler. So, I thought I would create one and share it with you guys.
If you are looking for something fun to do this year before the fireworks start, or to give your "bored" kids something fun to do over the weekend. This will keep them busy for hours, certainly the really hard one!!!
** Disclosure – this post may contain affiliate links **
July 4th Word Search FREE Printable
There are 16 words all related to the 4th of July in both word searches, however, one is significantly harder than the other. But the words are the same. Perfect if you are wanting this for different-aged kids. Just scroll down to download your FREE copies.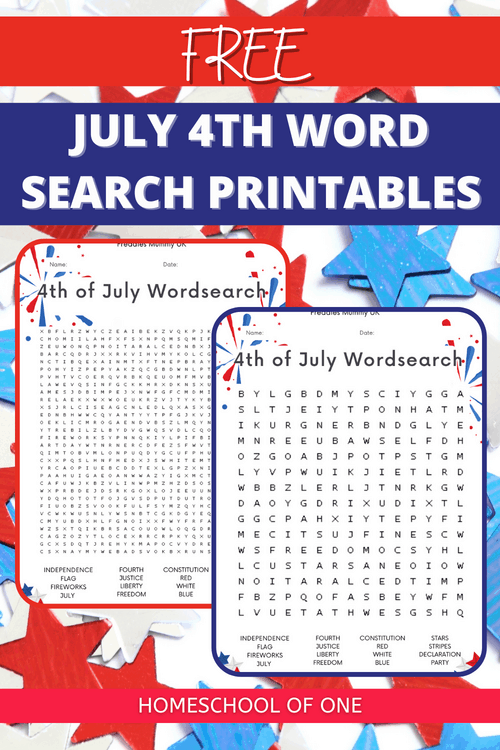 We absolutely love word searches in this house, and often, when bored, we will grab a word search, coloring book, or puzzle rather than the easy option of gaming! As a homeschool mom, I'm always on the lookout for as many educational resources as I can find, that are fun!! So these word searches help with spelling, vocabulary, and history!
Maybe you could create a game with this too, give the easier word search to a younger child, and either you do the harder one, or if you had an older child they could race to see who gets them all first.
Other 4th of July Activities
If you are looking for even more 4th of July activities, I highly recommend these:
My Teaching Library has lots of fun and educational printouts to teach about the 4th of July.
4th of July Scavenger Hunt from Homeschool Mastery Academy, a great free printable
4th of July Coloring Pages from Rock Your Homeschool, perfect for your little ones.
Free Independence Day Writing Prompts from Hess Un-Academy
All About 4th July from Hope in the Chaos, a Charlotte Mason inspired bundle.
4th of July Online Unit Study from Techie Homeschool Mom – this unit goes over the Declaration of Independence and the history of fireworks.
Free 4th of July Scatttegories Printable from Hess Un-Academy a great word game.
4th of July Books for Kids from Heart and Soul Homeschooling – it includes a huge list of kids' books and free printables.
To get full access to all of our FREE printables, including this one, subscribe below.
Last Updated on 24 October 2021 by homeschoolof1