Spooky Halloween Word Search Printable for Older Kids (Free)
Get ready to unravel some spooky word mysteries with our thrilling Halloween word search printable!
This mind-boggling game will have the kids hunting for 13 spooky hidden words! And while you're at it, expand their knowledge with some fascinating facts about familiars, Reformation Day, Allhallowtide, divination, druids, and Samhain.
It's more than just a word search it's a spooktacular history lesson!
Download our Halloween word search printable now and enjoy hours of educational fun. Don't forget to check out our other exciting Halloween activities for kids too!
**There may be affiliate links in this post. You can read my full disclosure at the bottom of the page.**
Spooky Word Search Puzzle
Word search printables are hands down some of the best games for kids, they are both fun and educational.
The words can be found, horizontally, vertically, diagonally, and frontwards or backward! Just to make it that much harder!
Tip: I recommend either using a highlighter pen or circling around the letters. Do not cross the letters out if you have found a word, as it may be used in another word!
There are 13 hidden words to find:
Poltergeist
Reformation
Allhallowtide
Paranormal
Paganism
Familiars
Witchcraft
Salem
Bonfires
Divination
Druids
Gaelic
Samhain
We absolutely love word games for kids, see what other free printable word games we have.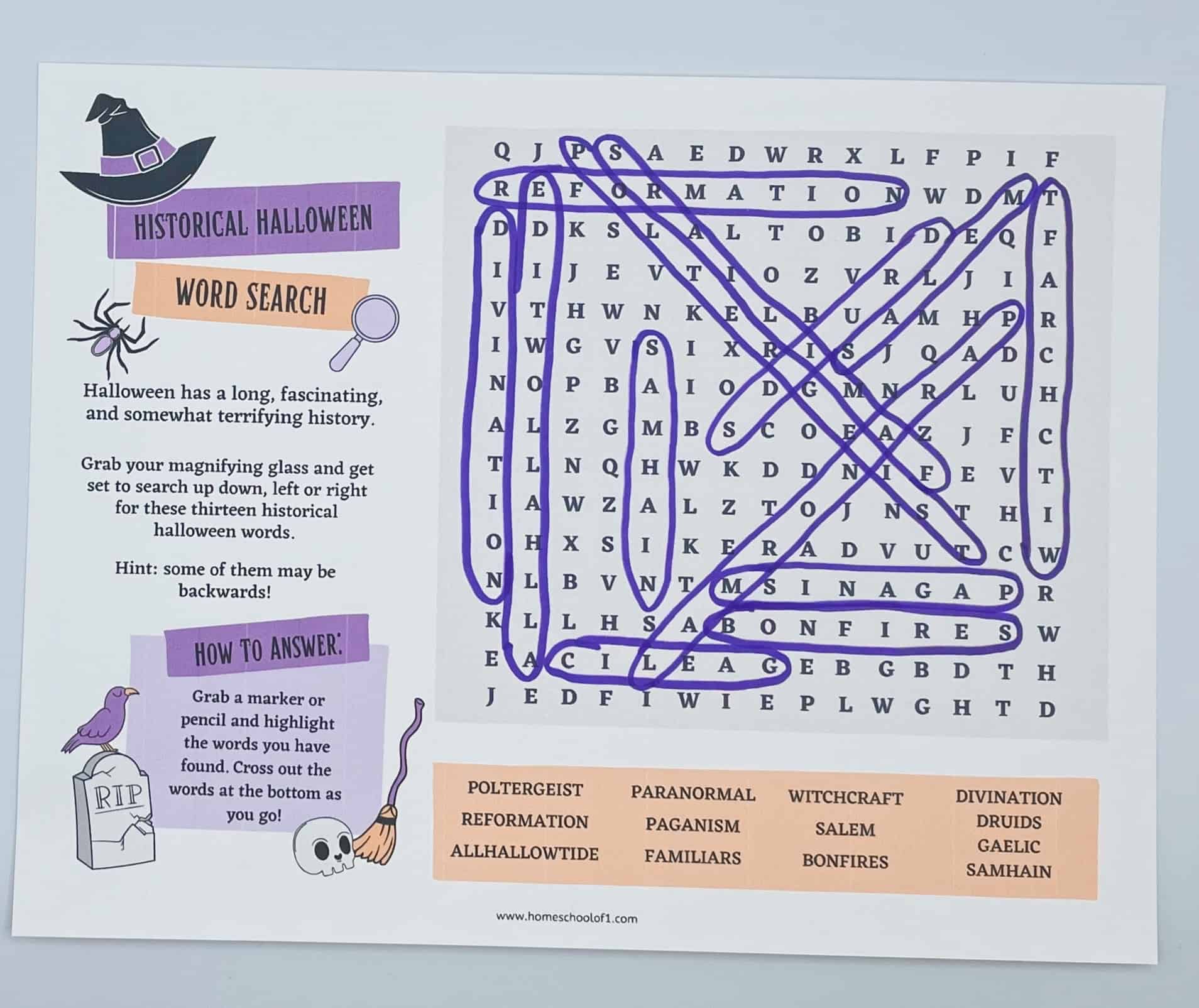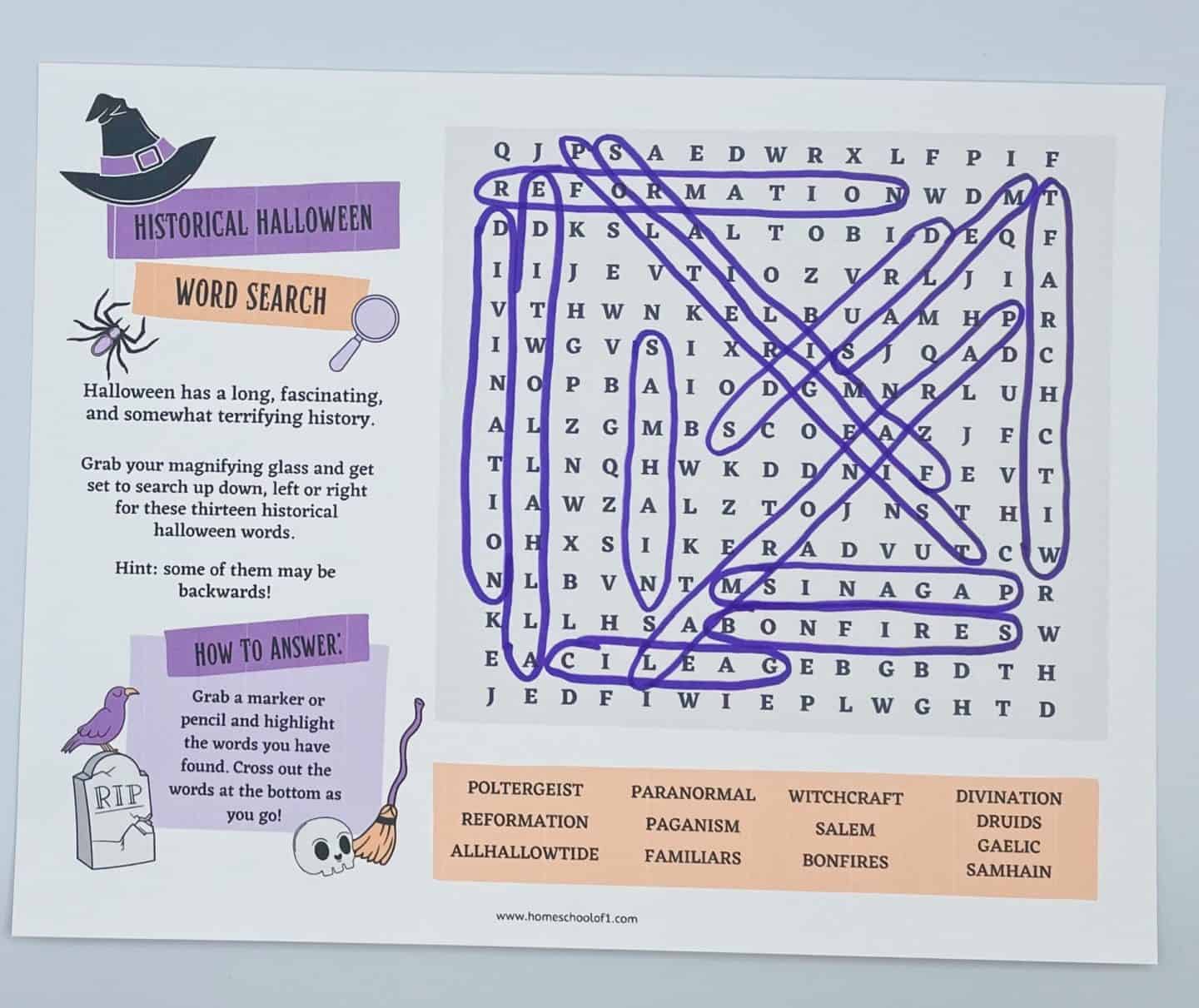 Halloween Mad Libs Junior: World's Greatest Word Game
Dolphin Hat Games Taco Cat Goat Cheese Pizza
Hasbro Gaming Sorry! Board Game: Disney Villains Edition
Night of the Living Mad Libs: World's Greatest
Feel free to print these out and hand them out to the kids in the neighborhood in their treat bags. We just love it when the kids come back with more than candy.
Trust me the parents will thank you!
When you have completed our Halloween word search puzzles why not download even more. There are hundreds to choose from!
Check out all of our free printable Halloween word games!
Halloween words for kids to learn
Some of these Halloween words won't be familiar to the children, so this is a perfect way to bring in a history lesson.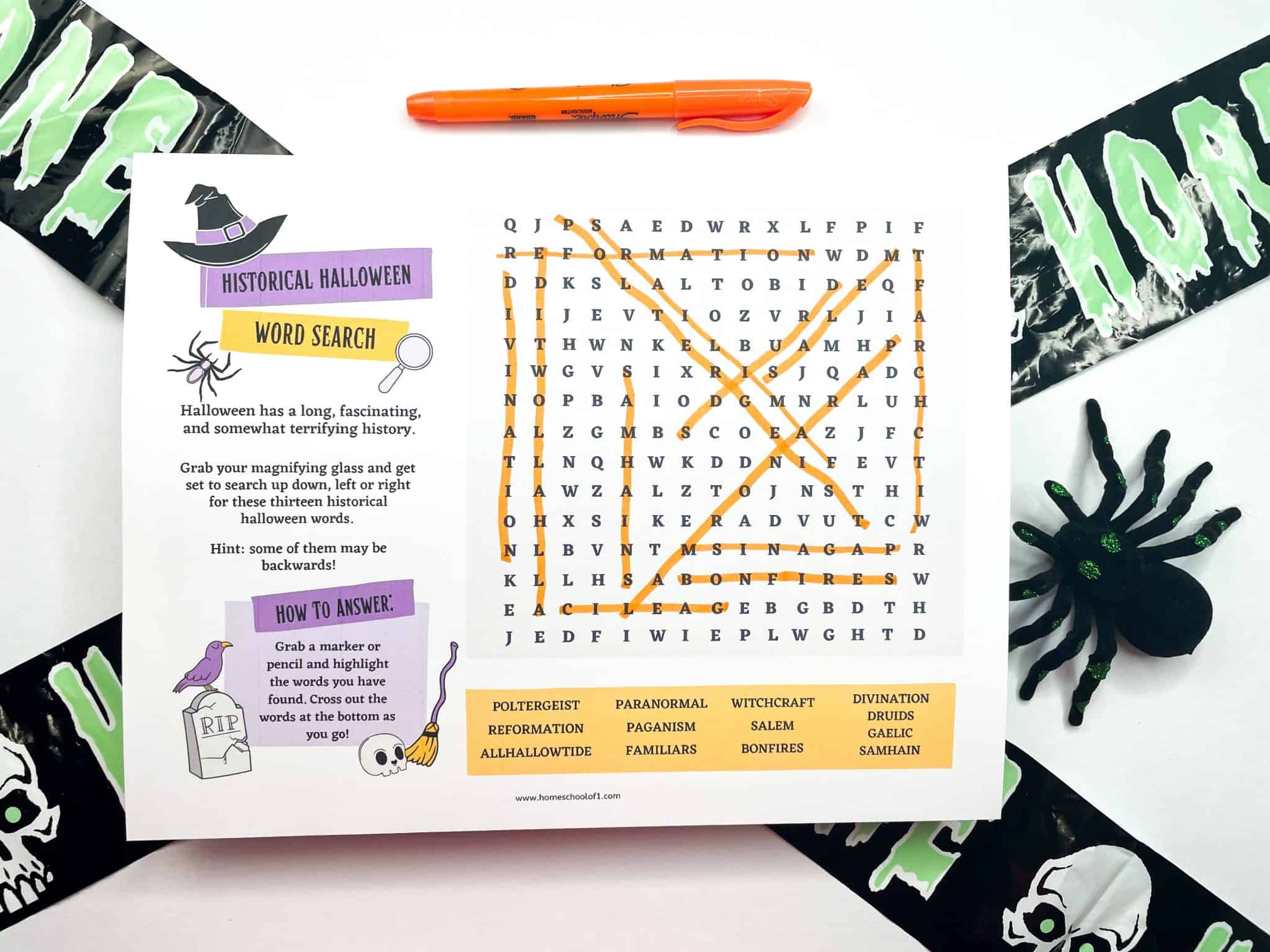 Familiars
Existed in British folklore for many hundreds of years.
Familiars are animals that serve a witch in various ways, whether as servants, messengers, or spies. The book The Familiars is a great magical reading book all about a cat.
Reformation
Reformation Day (October 31) commemorates Luther's posting of his 95 Theses on the door of the Castle Church in Wittenberg, Germany on October 31, 1517.
This act triggered the Reformation, as they were immediately translated and distributed across Germany in a matter of weeks.
Allhallowtide
Allhallowtide is a special time for kids, encompassing the three consecutive days of All Hallows' Eve (Halloween), All Saints' Day, and All Souls' Day. Where people celebrate the memories of departed loved ones, indulge in sweet treats, and enjoy the playful traditions of dressing up in costumes.
Divination
They may know this word from Harry Potter, but it is the practice of seeking knowledge of the future or the unknown by supernatural means.
Druids
Druids were members of the high-ranking class in ancient Celtic cultures and were religious leaders.
Samhain
Learn more about that at History.com, but in short, Samhain is a Gaelic festival marking the end of the harvest season and the beginning of winter.
Poltergeist
A poltergeist is a playful but mischievous spirit, often causing objects to move mysteriously, adding an eerie element to ghost stories. However, please note that it's not directly related to Halloween.
National Geographic Readers: Halloween
The Book of Halloween
The Book of Hallowe'en: The Origin and History of Halloween
Halloween!: Customs, Recipes and Spells (Holiday Series Book 1)
Trick or Treat: A History of Halloween
The Book of Hallowe'en: The Origin and History of Halloween (Annotated)
Paranormal
The term "paranormal" encompasses mysterious and unexplained phenomena, such as ghosts and UFOs, which can make spooky stories even more fascinating.
Paganism
Paganism represents an ancient belief system that honored nature and multiple gods, contributing to various Halloween customs and traditions.
Witchcraft
Witchcraft involves the use of spells, rituals, and magic, adding an enchanting and mysterious dimension to Halloween folklore.
Salem
Salem is famous for its historical witch trials, making it a spooky location often associated with Halloween.
Bonfires
Bonfires are large, roaring fires that were once lit during Halloween to ward off evil spirits, a significant part of Halloween history and tradition.
Gaelic
Gaelic refers to a group of Celtic languages and cultures, including Irish Gaelic, Scottish Gaelic, and Manx. It is associated with some of the ancient traditions that influenced modern Halloween.
Other free Halloween printables
If you are looking for more free word printables for upper elementary and middle school-aged kids you are going to love our Halloween word scramble too and our Halloween acrostic poem templates.
The older kids can have fun with a Halloween photo scavenger hunt.
If you want to be creative what about our free printable Halloween coloring pages for some more spooky fun.
Tips for downloading the free files
Below you will see a large sign-up box where you need to add your name and email address, and press I NEED THIS NOW!
Within minutes you will be sent the free PDF directly to your email address, so you can print it out and start using it immediately.
Sometimes emails get a little wonky, so if you can't see it, please check your spam folder where I am sure it is hiding.
Download the free printable Halloween word search
Make sure you choose the correct paper size and click on the shrink to fit button. All of our free printables for kids work better when printed on cardstock (this is the one we use and love.)
Other FREE word printables you will enjoy:
Last Updated on 26 October 2023 by homeschoolof1