Spooky Halloween Word Search Printable for Older Kids (Free)
Have fun this Halloween with our free Halloween word search printable with 13 spooky vocabulary words.
Word search puzzles are hands down some of the absolute best educational games you can get your hands on! Seriously, they're like wizards when it comes to leveling up your vocabulary, giving your brain a power boost, and igniting a genuine passion for learning, no matter what age you are.
We wanted to create "harder" word search printables for older kids, as all of the other word searches we have found are for lower elementary grades. So we created this!
We have made this a competition in our house, with all word searches. All of the family gets the word search that is for their level, and the person that completed the word search the quickest wins a prize!
**There may be affiliate links in this post. You can read my full disclosure at the bottom of the page.**
Spooky Word Search Puzzle
The words can be found, horizontally, vertically, diagonally, and frontwards or backwards! Just to make it that much harder!
Tip: I recommend either using a highlighter pen or circling around the letters. Do not cross the letters out if you have found a word, as it may be used in another word!
There are 13 hidden words to find:
Poltergeist
Reformation
Allhallowtide
Paranormal
Paganism
Familiars
Witchcraft
Salem
Bonfires
Divination
Druids
Gaelic
Samhain
We absolutely love word games for kids, see what other free printable word games we have.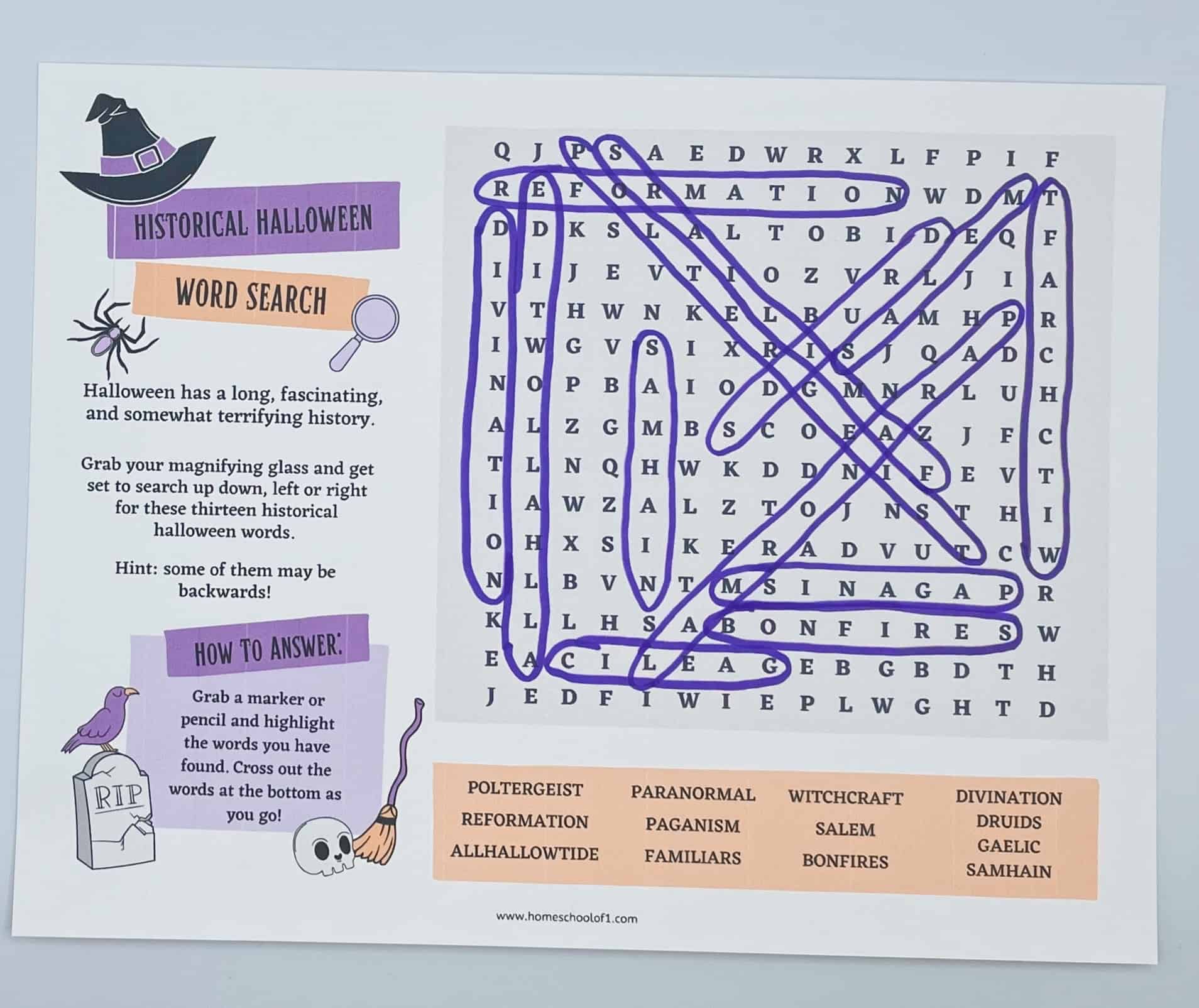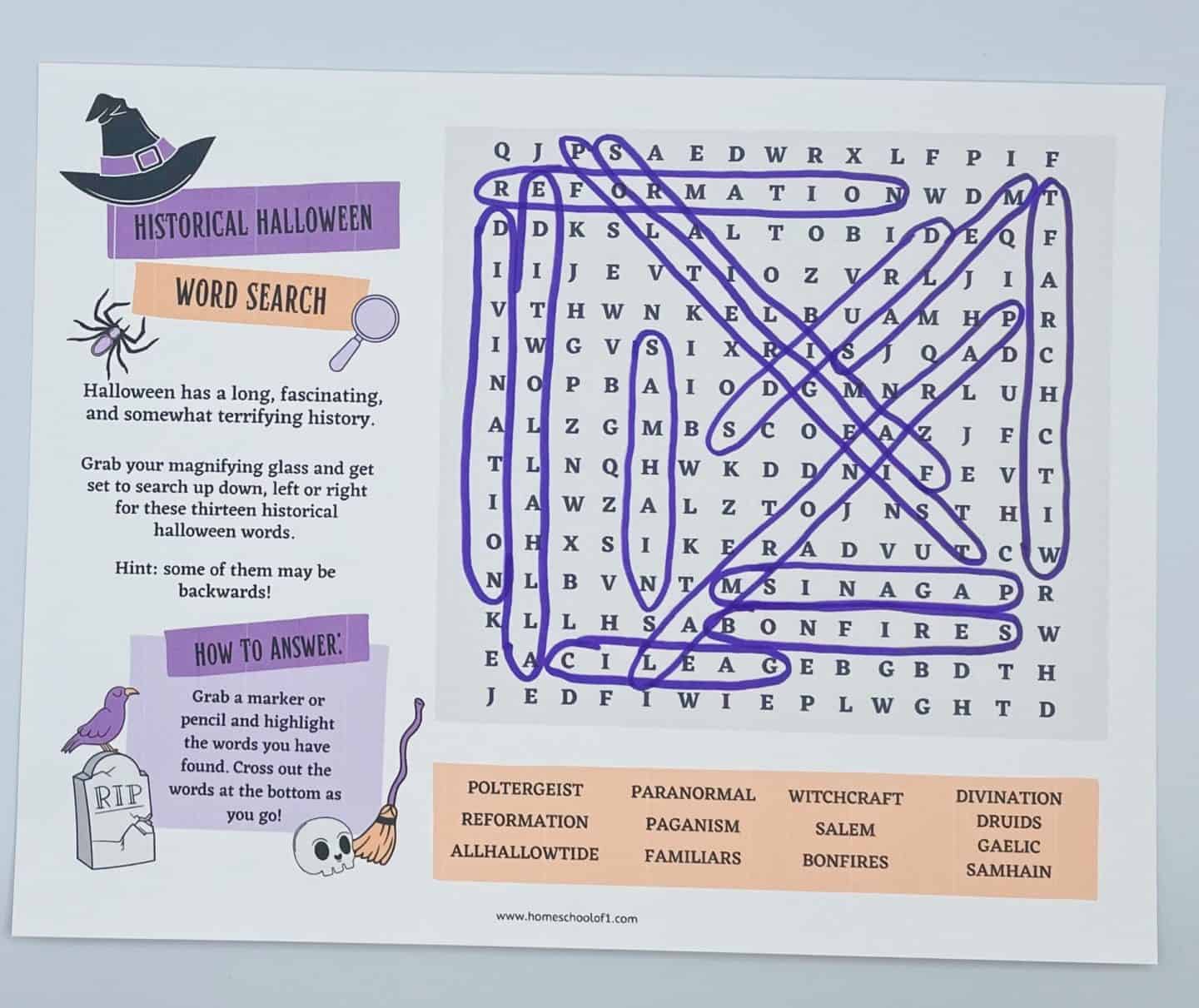 Feel free to print these out and hand them out to the kids in the neighborhood in their treat bags. We just love it when the kids come back with more than candy.
Trust me the parents will thank you!
When you have completed our Halloween word search puzzles why not download even more. There are hundreds to choose from!
Halloween Words For Kids
Some of these Halloween words won't be familiar to the children, so this is a perfect way to bring in a history lesson.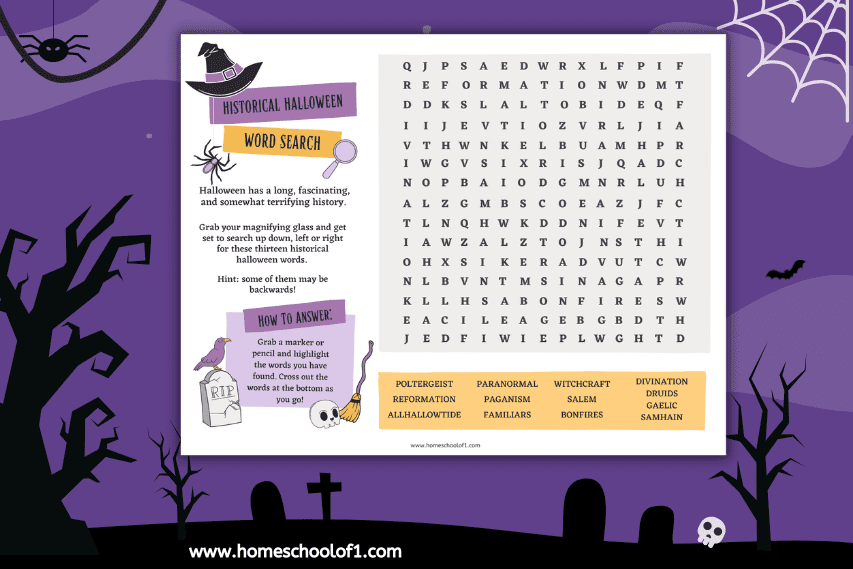 Familiars
Existed in British folklore for many hundreds of years.
Familiars are animals that serve a witch in various ways, whether as servants, messengers, or spies. The book The Familiars is a great magical reading book all about a cat.
Reformation
Reformation Day (October 31) commemorates Luther's posting of his 95 Theses on the door of the Castle Church in Wittenberg, Germany on October 31, 1517.
This act triggered the Reformation, as they were immediately translated and distributed across Germany in a matter of weeks.
Allhallowtide
The time at or near All Saints' Day (1st November)
Divination
They may know this word from Harry Potter, but it is the practice of seeking knowledge of the future or the unknown by supernatural means.
Druids
Were members of the high-ranking class in ancient Celtic cultures and were religious leaders.
Samhain
Learn more about that at History.com, but in short, Samhain is a Gaelic festival marking the end of the harvest season and the beginning of winter.
Other free Halloween printables
If you are looking for more free word printables for upper elementary and middle school-aged kids you are going to love our Halloween word scramble too and our Halloween acrostic poem templates.
If you love Halloween as much as we do, why not have a Halloween photo scavenger hunt too?
If you are wanting to be creative what about our Halloween coloring pages for some more spooky fun.
Download the Free Printable Halloween Word Search Printable
Make sure you choose the correct paper size and click on the shrink to fit button. All of our free printables work better when printed on cardstock (this is the one we use and love.)
Other FREE word printables you will enjoy:
Last Updated on 29 May 2023 by homeschoolof1