Free 4th of July Word Scramble Printable The Whole Family Will Love
This 4th of July word scramble is a great way to celebrate Independence Day.
Add a twist of brain-teasing fun to your holiday activities for kids with our 4th of July word scramble.
There are 13 4th of July-themed words to unscramble and to help out I have included the answers in the download.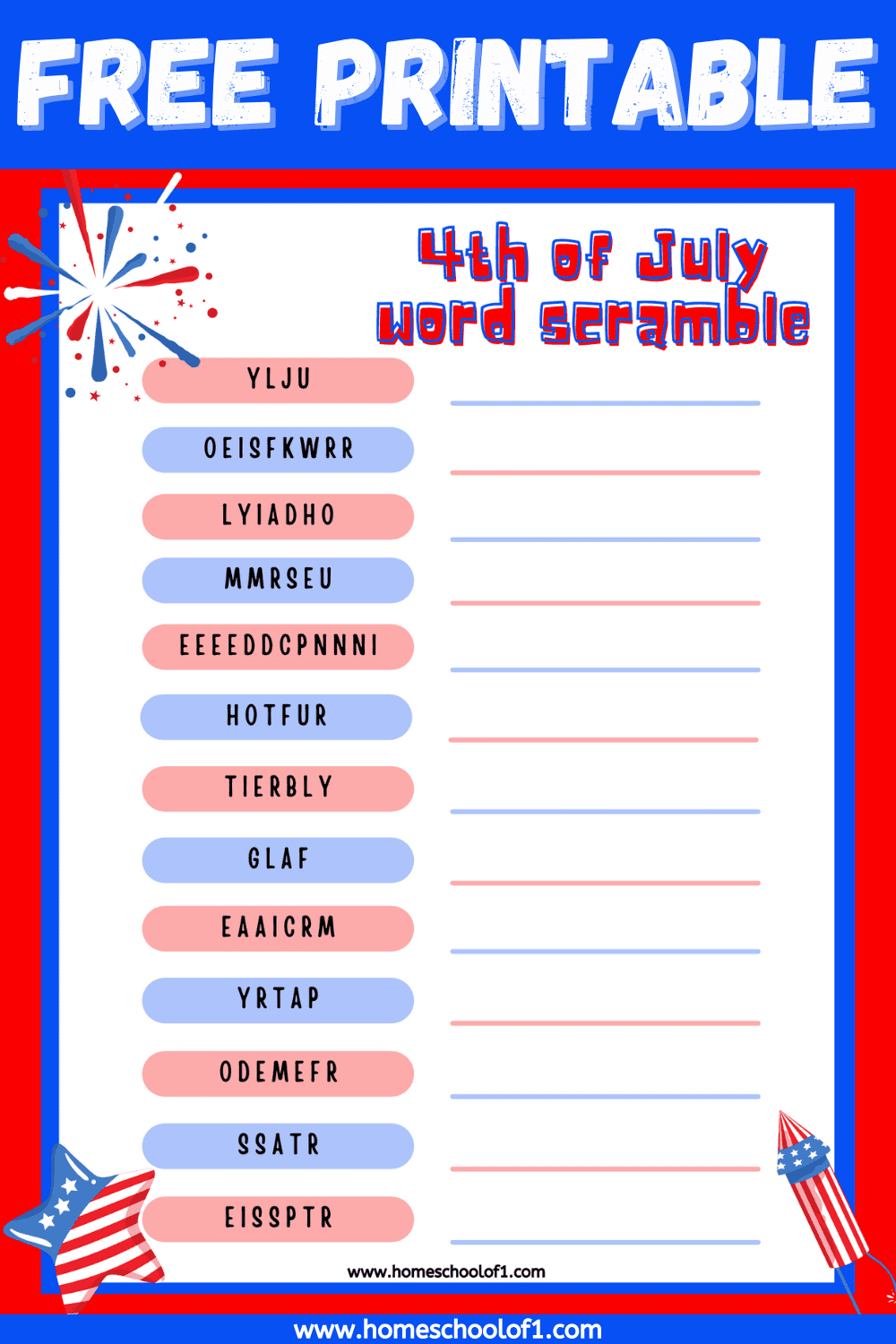 **There may be affiliate links in this post. You can read my full disclosure at the bottom of the page.**
Check out all of our patriotic printables that the kids are going to enjoy this July.
Fun facts about Independence Day
Here are 5 fun facts about Independence Day:
July 4th was not actually the day that the Continental Congress declared independence from Great Britain. The resolution for independence was actually approved on July 2nd, and it wasn't until two days later that the formal Declaration of Independence was adopted and signed by Congress.
The original draft of the Declaration of Independence was written by Thomas Jefferson, but it was edited and revised by other members of Congress before it was approved. In fact, more than 80 changes were made to the document before it was finalized.
The American flag that we know today has gone through many changes over the years. The first version of the flag had 13 stars and stripes to represent the 13 colonies, but as more states were added to the Union, the design was modified. The current version has 50 stars and 13 stripes.
The first Independence Day celebration was held on July 4, 1777, in Philadelphia. It featured a parade, a thirteen-gun salute, and fireworks. Today, fireworks remain one of the most popular ways to celebrate the holiday, with more than 16,000 fireworks displays held across the country each year.
The tune "Yankee Doodle" was originally a British song that was sung to mock American colonists. However, after the colonists won the Revolutionary War, they turned the song into a patriotic anthem and it became a symbol of American pride and resilience. Today, "Yankee Doodle" is often played at parades and other Independence Day celebrations.
You can test your children's knowledge of this important day with our free 4th of July trivia printable.
The United States Activity and Fact Book
Fourth of July (Holidays in Rhythm and Rhyme)
The Fourth Of July Celebration: Rhyming Book for Children on Independence Day
The Fourth of July Story
The 4th of July Parade: A Celebration of Unity, Teamwork, and Freedom (Dream Weaver Tales: Kids Picture Books Ages 1-8)
Duck and Frog: The Fourth of July Picnic: A Fourth of July Book for Kids
F Is for Flag (Reading Railroad Books)
Independence Day Word Scramble
This 4th of July word scramble puzzle is free to print but for personal or classroom use only. Scroll to the bottom of the page to get the pdf file.
The 13 words to find are (these are purposely not in order so you can have fun playing too!) But the answers will print off on the second page of the pdf when you download it.
Fourth
Party
Fireworks
Stars
America
Liberty
Stripes
Independence
July
Flag
Freedom
Holiday
Summer
Learn all about the history of the 4th of July with our free Declaration of Independence worksheet.
These free word scramble printables are perfect for either the classroom, or homeschool, and great to have ready when you have your friends and family over.
This 4th of July word scramble is a great game for upper elementary and middle school-aged kids. I have made it slightly harder by not adding a word list at the bottom so there are no clues. Other than they are all Independence Day-themed words.
Print off as many copies as you need and just have fun. Let me know in the comments what your hardest word was.
If you are looking for even more 4th of July fun printables we are loving these trivia questions (luckily they come with answers too!!)
Other free 4th of July activities:
Why not add a new 4th of July books preschool kids will love to continue learning about this patriotic holiday?
Tips for downloading the free files
Below you will see a large sign-up box where you need to add your name and email address, and press I NEED THIS NOW!
Within minutes you will be sent the free PDF directly to your email address, so you can print it out and start using it immediately.
Sometimes emails get a little wonky, so if you can't see it, please check your spam folder where I am sure it is hiding.
Download the free July Fourth word scramble
Make sure you choose the correct paper size and click on the shrink to fit button. All of our free printables for kids work better when printed on cardstock (this is the one we use and love.)
If you are having a party for Independence Day check out our favorite 4th of July games the whole family will love.
Last Updated on 2 October 2023 by homeschoolof1