Free Back to School Alphabet Coloring Worksheets
Have fun on the first week back with these free back to school alphabet worksheets
Color your way through the alphabet with these fun coloring back to school themed worksheets.
This first week of school coloring book packet is for preschool, kindergarten, and 1st grade. But of course, it can be used with older children if needed.
These free first day of school worksheets are a great way to start the new year with a recap of the letters.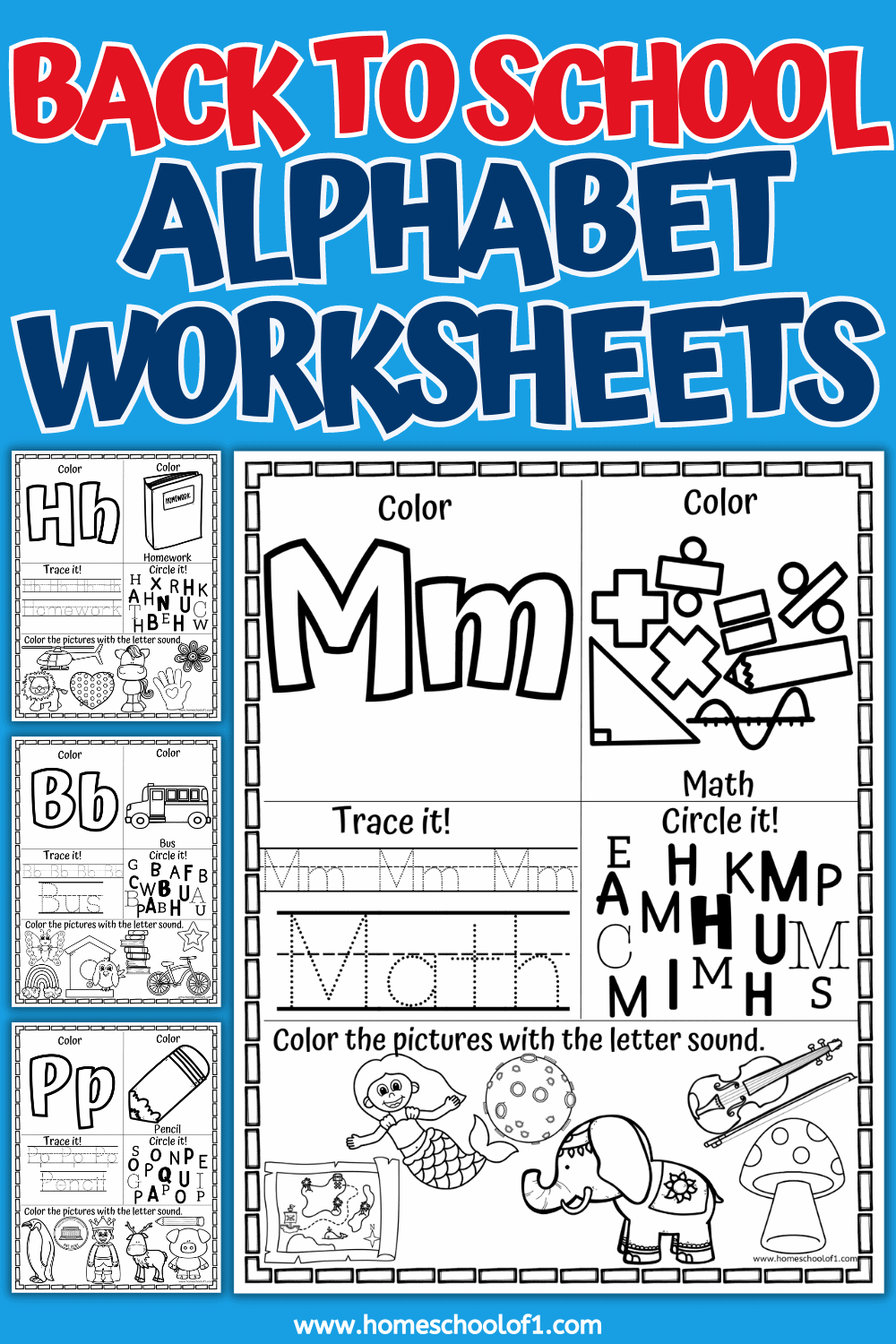 **There may be affiliate links in this post. You can read my full disclosure at the bottom of the page.**
Who Can Benefit from These Alphabet Worksheets?
These back to school alphabet preschool worksheets are designed to benefit a wide range of learners, making them suitable for various age groups and educational settings. Here's who can benefit from these engaging worksheets:
These worksheets are an excellent introduction to the alphabet for preschoolers who are just starting to explore letters and their sounds. The colorful images and interactive activities make learning the ABCs fun and enjoyable.
For kindergartners, these worksheets reinforce letter recognition and provide practice with tracing, which is crucial for developing early writing skills.
First grade students can use these worksheets to reinforce their knowledge of the alphabet and further develop their fine motor skills through coloring and tracing activities.
Even older children who need a refresher on letter recognition or struggle with certain letters can benefit from these worksheets as a fun and engaging review.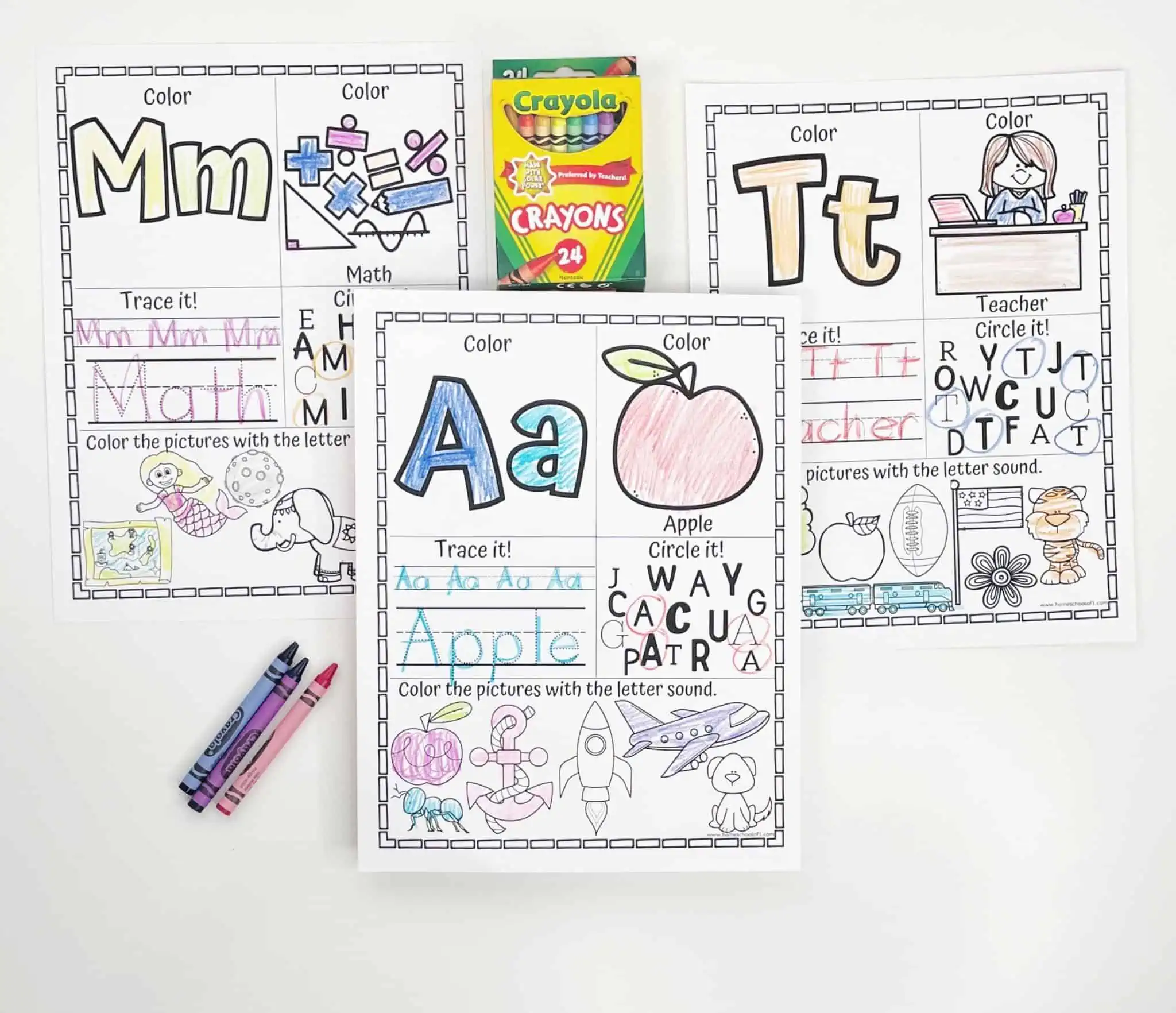 Back to school activities for learning the alphabet
Print out the 26 full pages of the school alphabet letters, each featuring an image corresponding to a letter of the alphabet. These adorable images will capture your child's imagination as they color their way through the ABCs.
Here's a sneak peek at the letters and images to color:
A is for apple,
B is for bus,
C is for crayon,
D is for desk,
E is for eraser,
F is for first aid box,
G is for gluestick,
H is for homework,
I is for ink,
J is for janitor
K is for kids
L is for lunchbox
M is for math
N is for numbers
O is for on time
P is for pencil
Q is for question
R is for reading
S is for school
T is for teacher
U is for unifix
V is for voices
W is for writing
X is for textbook
Y is for yearbook
Z is for zip pouch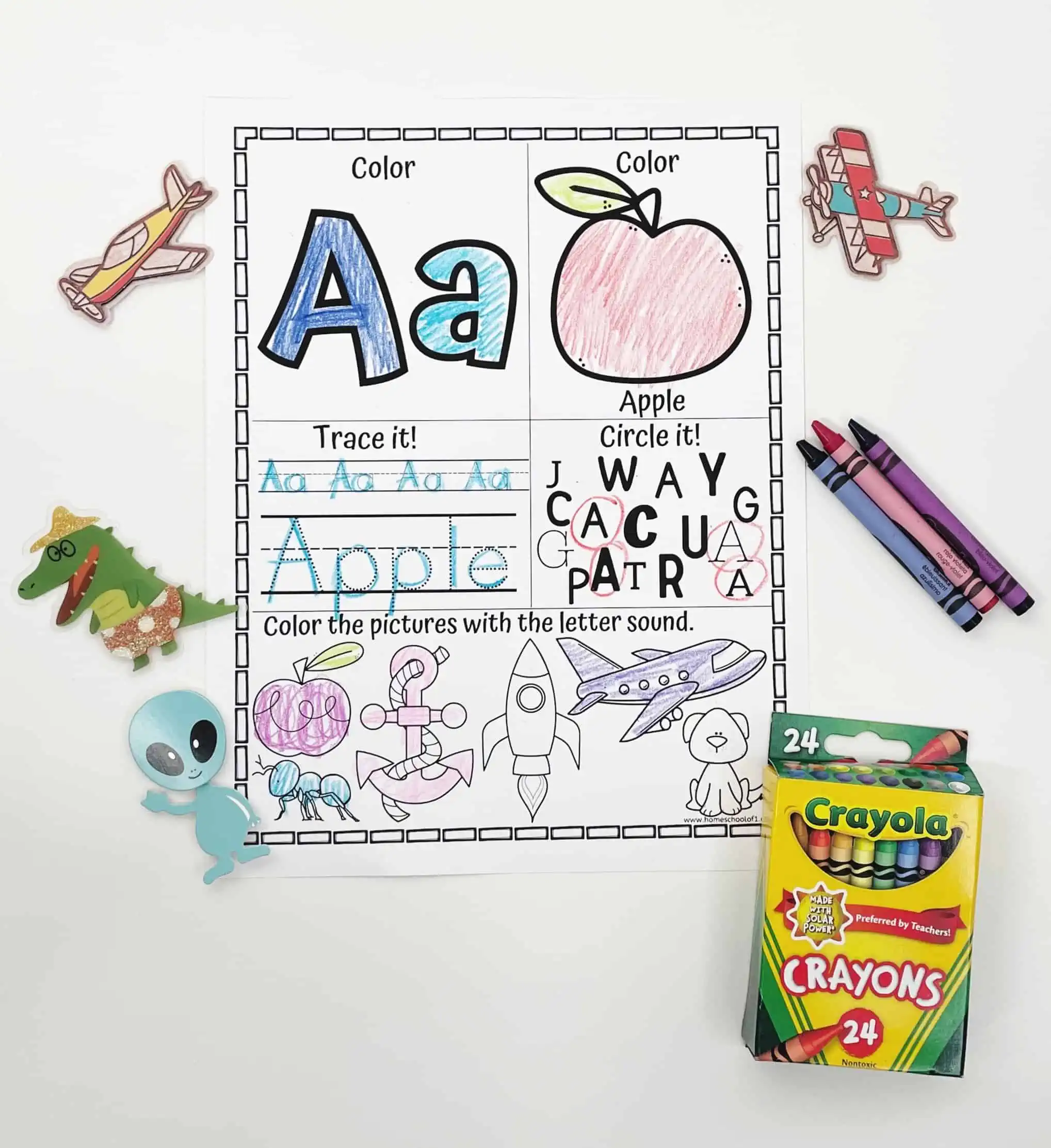 What is on each letter of the alphabet worksheet?
Each printable school alphabet letter provides various activities to reinforce letter recognition and early reading skills:
Coloring Fun: Let your child's creativity shine as they color both the upper case and lower case letters on each worksheet.
School Theme Picture: Each letter is paired with a charming school-related picture, allowing your child to associate the letter with real-world objects.
Tracing Practice: For additional learning, your child can practice tracing both the upper case and lower case letters, as well as trace a school-related word associated with each letter.
Letter Recognition: Engage your child's letter recognition skills with a fun activity where they can circle the correct letter.
Phonics Play: Strengthen phonics skills by coloring pictures that begin with the sound of each letter.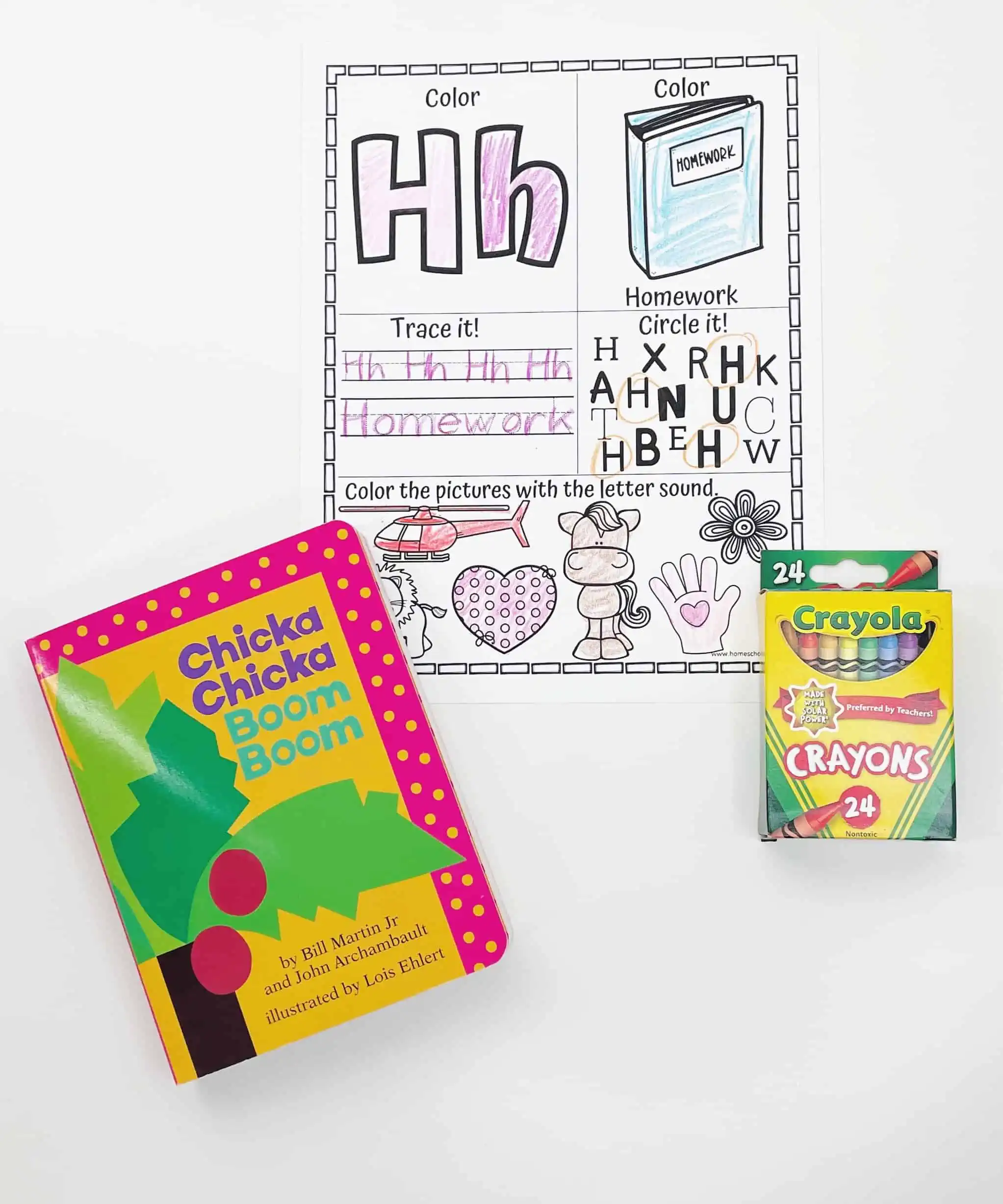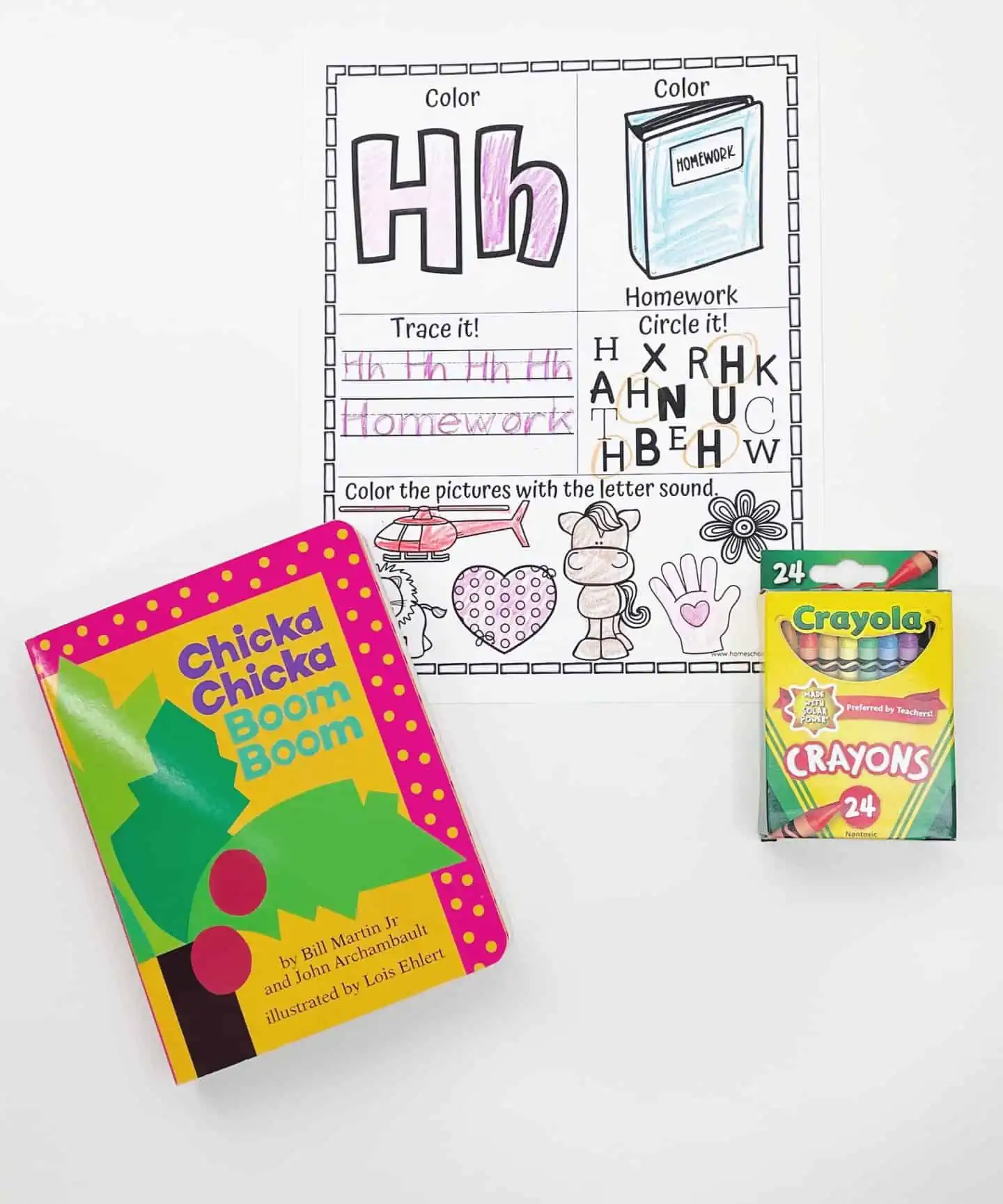 Chicka Chicka ABC
AlphaOops!: The Day Z Went First
I Spy Letters
Eating the Alphabet
School Zone – Get Ready Flash Cards Alphabet & Numbers 2 Pack – Ages 4 to 6, Preschool to Kindergarten, ABCs, Uppercase and Lowercase Letters, Numbers 1-100, Counting, and More
Briarpatch |The World of Eric Carle ABC/123 2-Sided Floor Puzzle, Multi
Fun alphabet learning activities beyond the worksheets
Here are the five best fun alphabet learning activities beyond the worksheets:
Hide small objects around the house or classroom that represent each letter of the alphabet. Provide clues or letter hints, and let yourself go on a treasure hunt to find the items corresponding to each letter.
Go on a scavenger hunt outdoors or indoors and challenge yourself to find objects that start with each letter of the alphabet. Take photos or draw pictures of the objects found for a creative alphabet scrapbook.
Incorporate movement and mindfulness into alphabet learning. Assign each letter a yoga pose that begins with that letter's sound. For example, "S" can be "Snake Pose," and "D" can be "Dog Pose."
Choose a letter of the alphabet and involve yourself in preparing a snack or meal that starts with that letter. For example, make "A" is for "Apple Slices" or "P" is for "Pizza."
Let yourself create art projects using cut-out letters from magazines, newspapers, or colored paper. You can make collages of words that start with each letter or create letter-themed art.
Other free back to school printables
Tips for downloading the free files
Below is a blue cloud with an arrow pointing downward. Underneath that is a large sign-up box where you need to add your name and email address, and press I NEED THIS NOW!
Within minutes you will be sent the free PDF directly to your email address, so you can print it out and start using it immediately.
Sometimes emails get a little wonky, so if you can't see it, please check your spam folder where I am sure it is hiding.
Download the free printable alphabet worksheets for first day of school fun
These worksheets are free to print but are for personal or classroom use only.
Make sure you choose the correct paper size and click on the shrink to fit button. All of our free printables for kids work better when printed on cardstock (this is the one we use and love.)
Last Updated on 2 October 2023 by homeschoolof1