Free Back to School Word Search Printable
Looking for some cool activities to kick off the new school year? Check out these awesome back to school word search printables! They're not just fun, they also help your students improve their vocabulary, spelling, and word recognition skills. Super cool, right?
These free first day of school worksheets are a great way to start the year in a fun and engaging manner!
With word search puzzles and other cool activities, students can have a blast while improving their vocabulary, critical thinking, and concentration skills.
So, get ready to kick off the new school year with excitement and learning all rolled into one!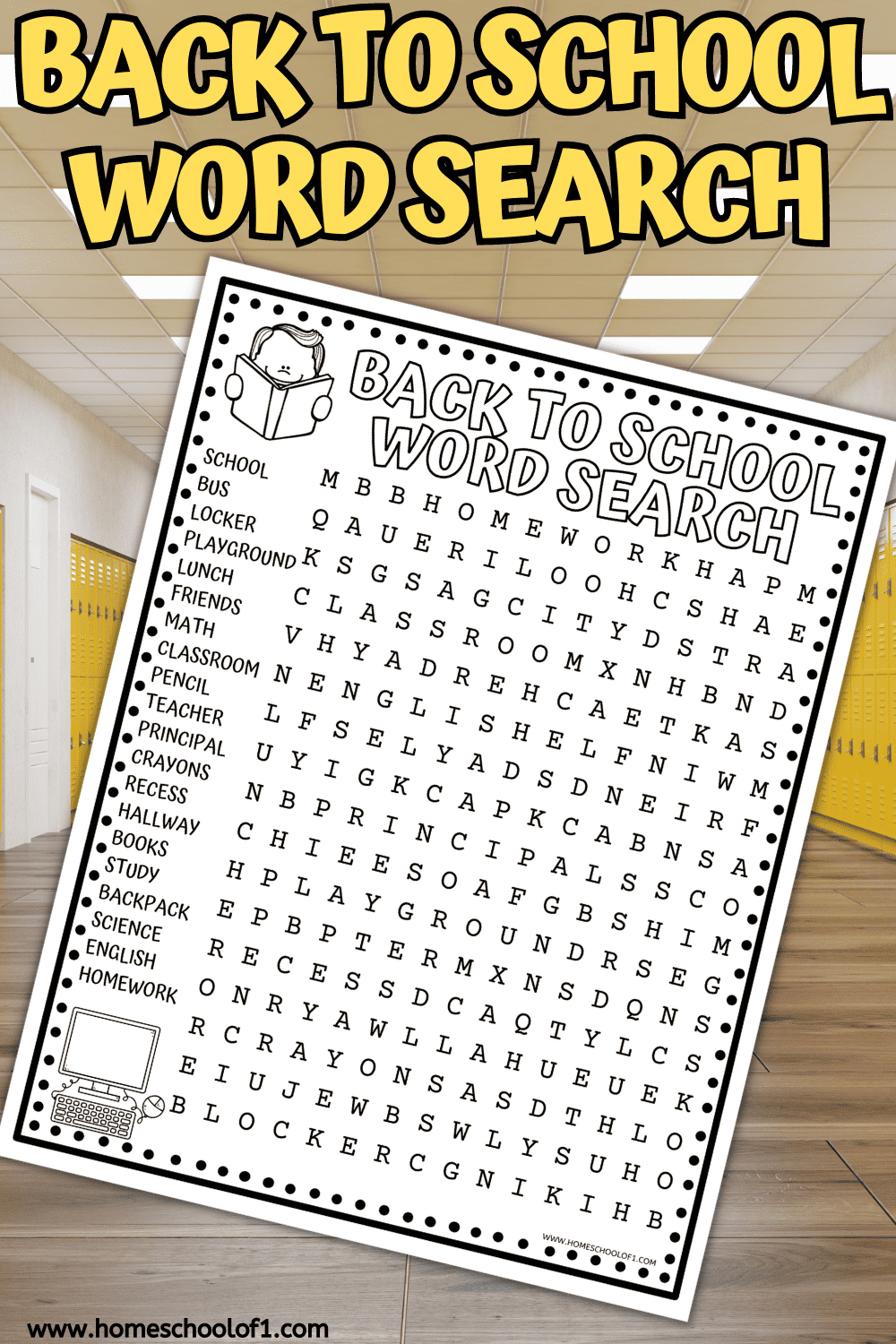 **There may be affiliate links in this post. You can read my full disclosure at the bottom of the page.**
How to use word searches in the classroom?
Using word search printables in the classroom can be a fun and effective way to engage students while reinforcing essential language skills. Here's how you can make the most of it:
Begin by introducing the word search activity to the class. Explain the purpose of the puzzle and how it can help improve their vocabulary and word recognition skills.
Provide each student with a copy of the word search puzzle. Make sure they have access to writing utensils, such as pencils or highlighters, to mark the words they find.
Before starting the word search, take some time to discuss the words included in the puzzle. Talk about their meanings, usage, and relevance to the back-to-school theme. This step helps familiarize students with the vocabulary and sets the context for the activity.
Decide whether students will work on the word search individually or in small groups. Both approaches have benefits – individual work encourages concentration, while group work promotes collaboration and teamwork.
Depending on the age and ability level of the students, you may consider setting a time limit for completing the word search. This can add an element of excitement and challenge to the activity.
Remind students to be attentive and focused while searching for words. Encourage them to read the letters carefully in all directions (horizontally, vertically, diagonally, forwards, and backward) to find all the hidden words.
Provide assistance to students who may need help finding words or understanding the vocabulary. Offer encouragement and support throughout the activity to keep students engaged and motivated.
Consider implementing a reward system to further motivate students. For example, you can offer small incentives or recognition to those who complete the word search accurately and within the set time frame.
Teacher Stamps for Grading Motivational Teacher Self-Inking Stamp Set Encouraging Signature Stamp for Classroom Supplies 8Pcs
300 Pcs Paper Clips, Binder Clips and Rubber Bands, Office Supply Set, Paper Clips and Paper Clamps, School Supplies Office Supplies Teacher Supplies for Office Desk Essentials (Assorted Sizes)
Desk Pencil Pen Holder, 5 Slots 360°Degree Rotating Pencil Pen Organizers for Desk, Desktop Storage Stationery Supplies Organizer, Cute Pencil Cup Pot for Office, School, Home, Art Supply, Blue
EOOUT 36 Pockets Expanding File Folder, Letter Size Accordion File Organizer with Cloth Edge Wrap Super Large Capacity for Storage Teachers Office and School Supplies
BIC Wite-Out Brand EZ Correct Correction Tape, 19.8 Feet, 4-Count Pack of white Correction Tape, Fast, Clean and Easy to Use Tear-Resistant Tape Office or School Supplies
X-ACTO Pencil Sharpener, School Pro Electric Pencil Sharpener, With Six Size Dial, XL Shavings Bin, Black, 1 Count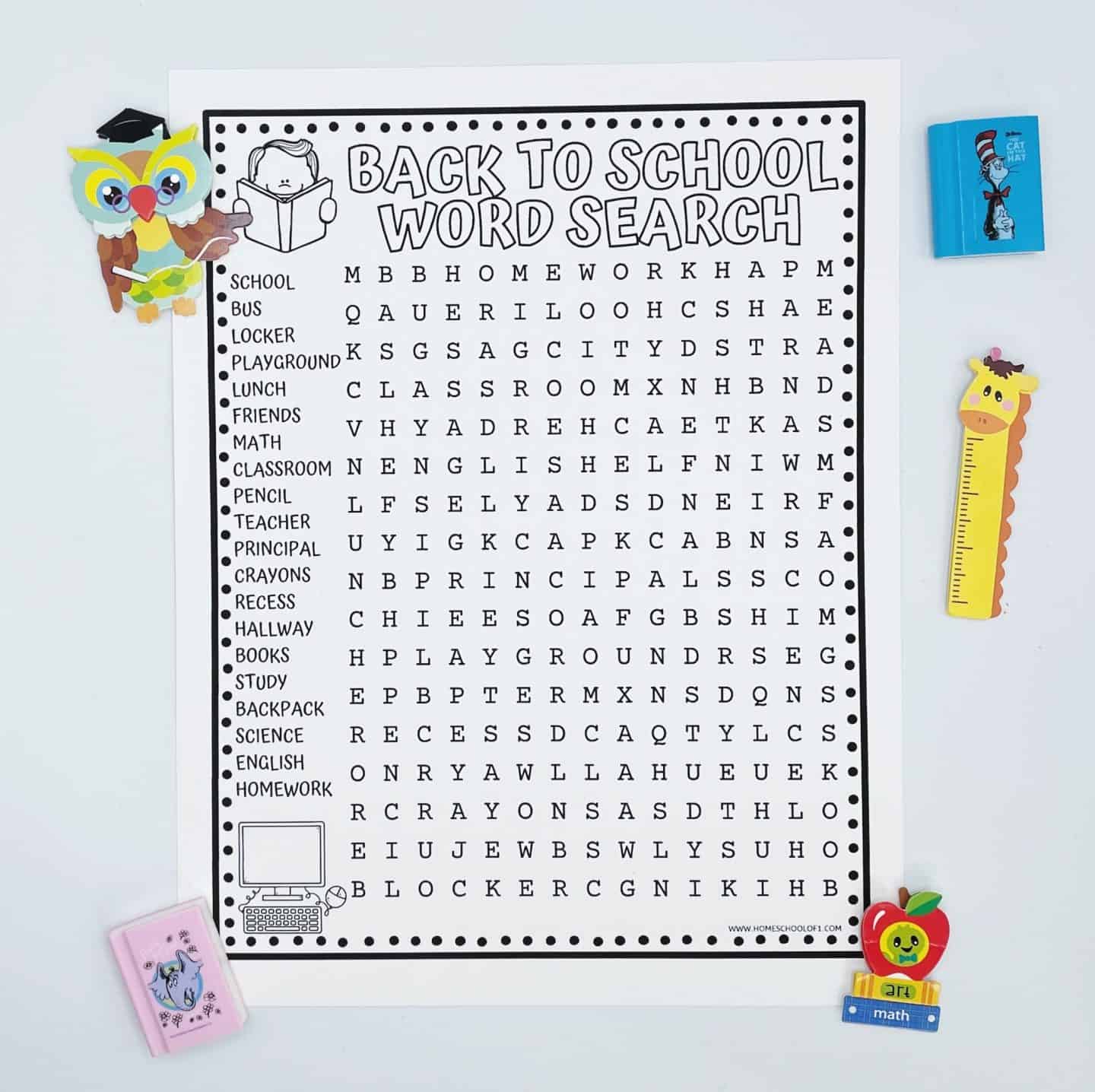 Back to School Words to Find
Download the fun first day of school word search below. There are 2 pages included, the puzzle and the answer key.
The words can be found, horizontally, vertically, diagonally, frontwards, or backward! Just to make it that much harder!
Tip: I recommend either using a highlighter pen or circling around the letters. Do not cross the letters out if you have found a word, as it may be used in another word!
There are 20 school related words to find:
School
Bus
Locker
Playground
Lunch
Friends
Math
Classroom
Pencil
Teacher
Principal
Crayons
Recess
Hallway
Books
Study
Backpack
Science
English
Homework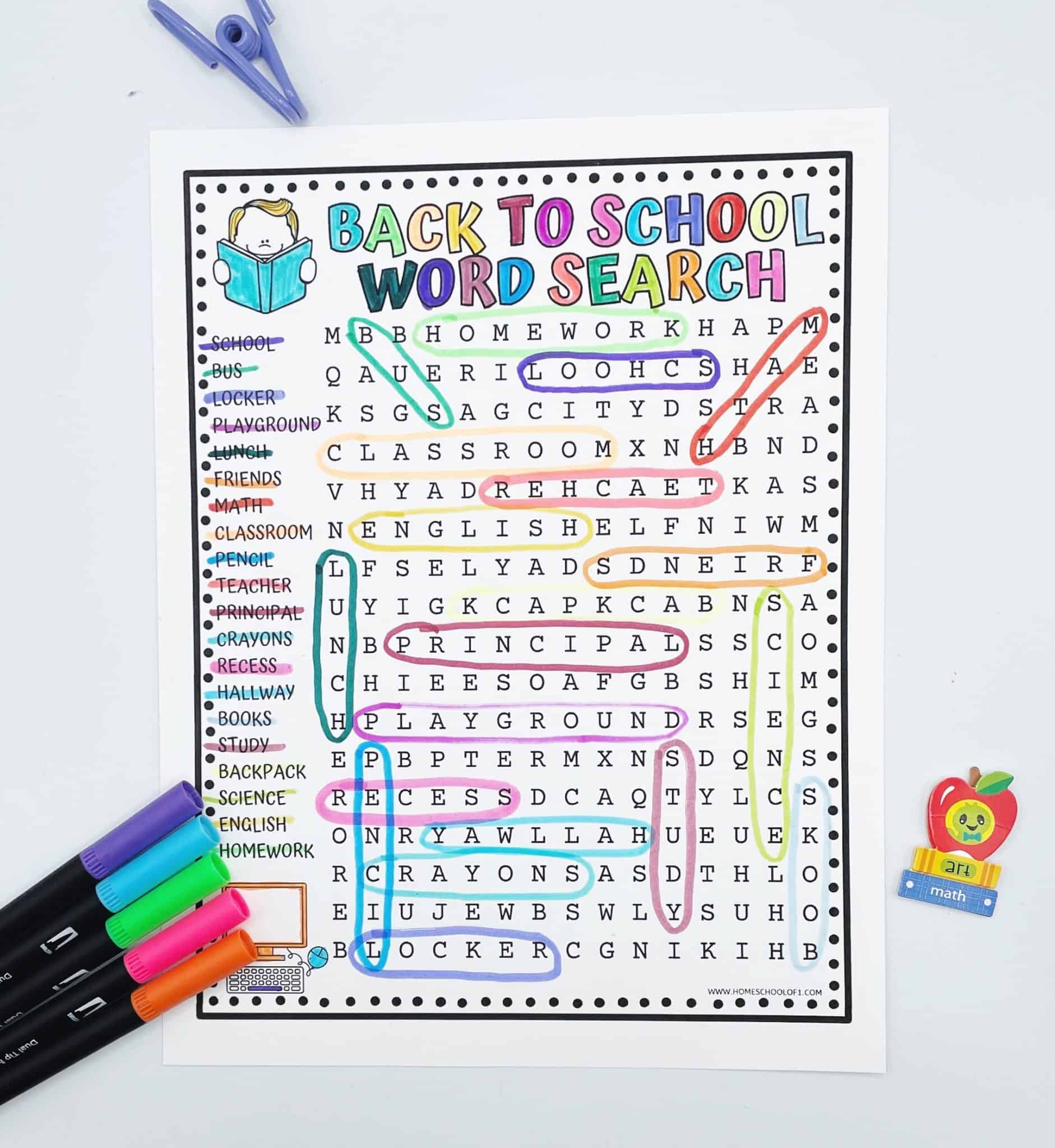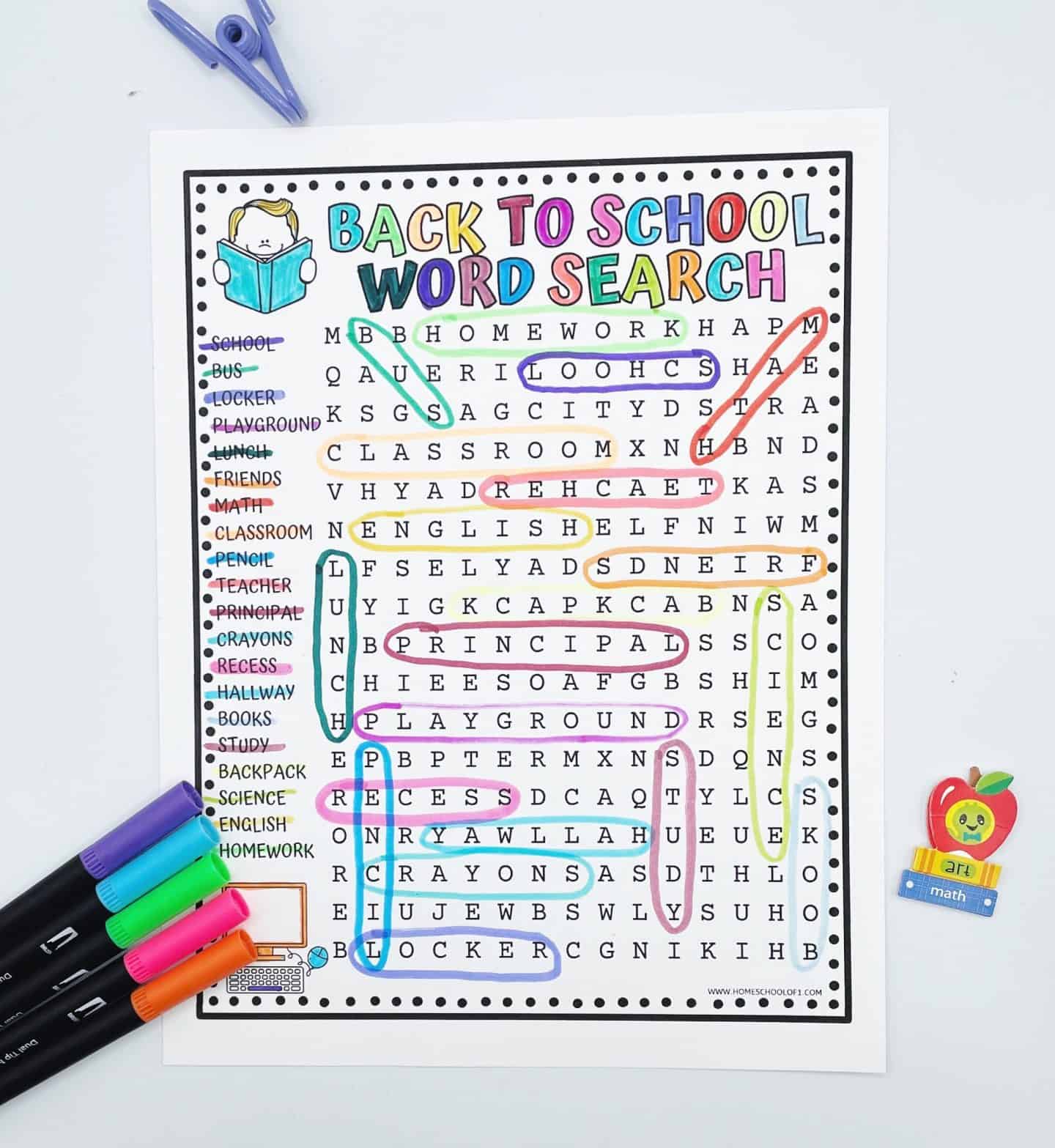 Have fun on the first week of school with this word search puzzle.
Additional Back to School Worksheets
Have even more fun the first week of school with these fun activities:
What skills are covered with word search games?
Word search games are an effective and enjoyable tool in the classroom, addressing multiple skills crucial for students' growth.
Through these puzzles, students encounter new words, expanding their vocabulary while becoming familiar with various subject-related terms. Additionally, they practice word recognition, honing their reading fluency and comprehension.
By searching for words in different directions, students develop pattern recognition abilities applicable in various learning areas. The challenges of completing a puzzle enhance concentration, critical thinking, and problem-solving skills.
Plus, repeated exposure to words reinforces memory retention, fostering long-term learning. Overall, word search games offer a flexible and engaging way to support learning in diverse subjects and cater to the needs of students of all ages and proficiency levels.
Back to school read alouds
Don't let the beginning of school fun stop with this free word search, check out some of our favorite first week of school read alouds:
How to Get Your Teacher Ready
The Crayons Go Back to School
How Not to Start Third Grade (Step into Reading 4)
A Letter From Your Teacher: On the First Day of School
Dear Teacher: A Funny Back To School Book For Kids About First Day Jitters
Crayons Go Back to School. In this delightful read-aloud, crayons embark on a colorful adventure as they prepare to go back to school. Each crayon shares its unique perspective and emotions, making it a heartwarming tale of friendship, creativity, and the joy of learning.
How Not To Start 3rd Grade. Join Will as he hilariously navigates his way through a series of humorous mishaps on his first day of third grade. This charming read-aloud captures the essence of starting a new school year, filled with relatable moments, life lessons, and the power of resilience.
Dear Teacher. In this touching and heartfelt story, a group of diverse students expresses their hopes, dreams, and fears in letters to their teacher. Through their letters, they share their personal stories, making it a touching tribute to the impact of a caring educator and the magic of a classroom community.
A Letter From Your Teacher. This heartwarming read-aloud follows a teacher's journey as she composes a heartfelt letter to her new students, filled with encouragement, kindness, and a promise of a wonderful year ahead. Through the teacher's words, the book celebrates the power of education and the meaningful connections between teachers and their students.
Tips for downloading the free files
Below is a blue cloud with an arrow pointing downward. Underneath that is a large sign-up box where you need to add your name and email address, and press I NEED THIS NOW!
Within minutes you will be sent the free PDF directly to your email address, so you can print it out and start using it immediately.
Sometimes emails get a little wonky, so if you can't see it, please check your spam folder where I am sure it is hiding.
Download the free back to school word search puzzle
These worksheets are free to print but are for personal or classroom use only.
Make sure you choose the correct paper size and click on the shrink to fit button. All of our free printables for kids work better when printed on cardstock (this is the one we use and love.)
Last Updated on 2 October 2023 by homeschoolof1