Free Back to School Maze Printable | Let's Make Friends!
Have fun on the first day of school with this fun back to school maze printable.
Not only are these first day of school worksheets a great icebreaker, but it also serves as an engaging activity for holiday parties.
This free printable consists of two pages. The first page features a maze with 15 doors blocking the way. The challenge lies in opening these doors to progress through the puzzle.
But fear not, for the second page provides the solutions to unlock each door.
To open a door, students must find a classmate who fits a specific description.
The first day of school maze is specifically designed for 1st and 2nd graders.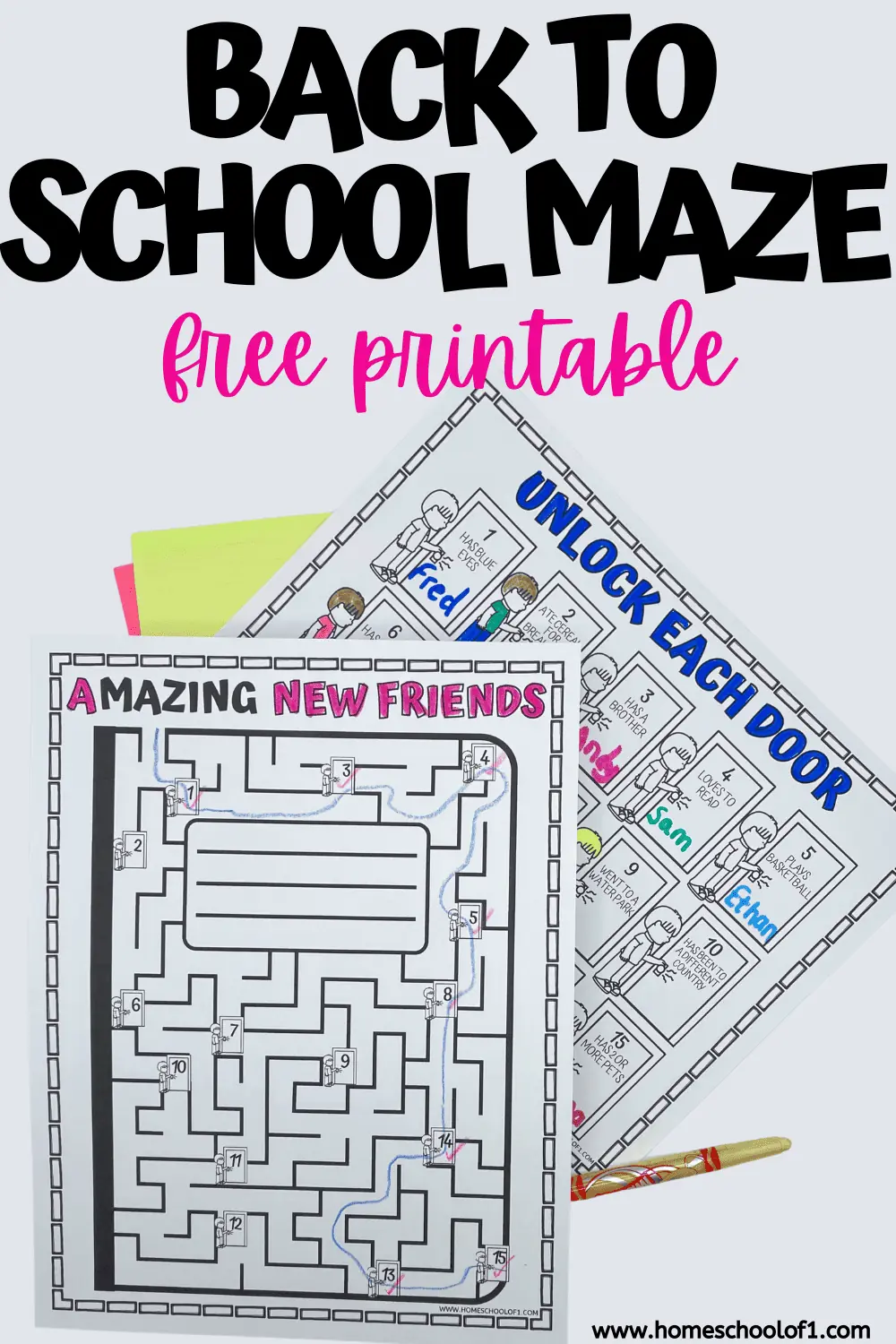 **There may be affiliate links in this post. You can read my full disclosure at the bottom of the page.**
Let the back to school printable kickstart an exciting journey for your students.
Witness their confidence and relationships flourish as they overcome challenges together. This activity sets the stage for a memorable and successful school year.
Unlock doors and find friends with these maze worksheets
There are 15 doors that need to be opened (to complete the maze in the quickest way the children only actually need to open 8.) Behind each door are the following classmates they need to find:
Has blue eyes
Ate cereal for breakfast
Has a brother
Plays basketball
Has brown eyes
Went on vacation
Has a cat
Went to a water park
Has been to a different country
Can speak a different language
Lives with 5 or more people
Has won a trophy
Has a sister
Has 2 or more pets.
By finding a different classmate that has one of these things the students can move forward in the maze.
How to use the first day of school printable?
This maze worksheet is free to print but is for personal and classroom use only. Scroll to the bottom of the post and add your email address to get the pdf file.
Using the maze is super easy and perfect for the first day of school. Here's a step-by-step guide on how to make the most of it:
Start by downloading the printable (scroll to the bottom of the page) and print out enough copies for each student in your class.
Explain that it's a fun activity designed to help them get to know each other better and create a positive classroom environment.
Provide clear instructions on how to complete the maze puzzle. Explain that they need to go around the classroom and find classmates who match the descriptions or have had certain experiences listed on the door worksheet. Emphasize the importance of being respectful, kind, and inclusive throughout the activity.
Give students time to move around the classroom, interact with their peers, and gather the required information. Encourage them to ask open-ended questions, actively listen, and engage in conversations with their classmates.
Once students have collected all the necessary information, have them return to their seats and review their findings. This is a great opportunity for students to reflect on the similarities and differences they've discovered among their classmates.
Foster a whole-class discussion by inviting students to share interesting facts or connections they made during the activity. Encourage them to celebrate their classmates' diverse experiences and perspectives.
Wrap up the activity by facilitating a brief reflection session. Ask students how they felt during the activity and if they learned anything new about their classmates.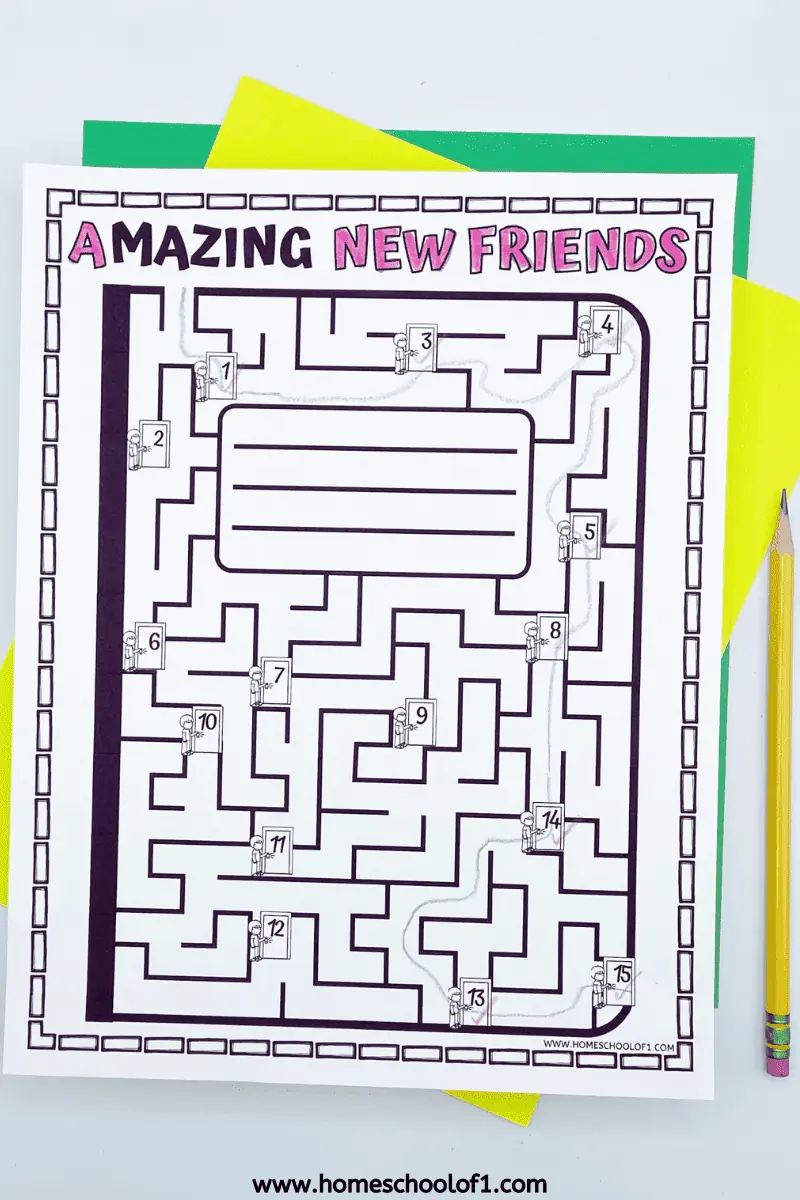 Benefits of Using the Back to School Maze Printable
Using the maze worksheet offers several benefits for students and teachers alike. Here are some key advantages:
The interactive nature of the maze activity captures students' attention and makes the first day of school exciting and enjoyable.
Solving the maze requires students to think strategically and use problem solving as they navigate through the doors.
The maze activity encourages students to interact with their classmates, promoting communication and socialization. This helps break the ice and facilitates the formation of new friendships.
The maze activity creates opportunities for students to connect and get to know one another. By discovering similarities and differences among their classmates, students develop a sense of belonging and build a supportive classroom community from the very beginning of the school year.
Students learn to appreciate and respect the diverse backgrounds, experiences, and perspectives of their classmates.
As students collaborate to find classmates who match the descriptions, they bond with one another and foster positive relationships. Overcoming challenges together in a fun and engaging activity helps students establish connections.
The maze worksheet prompts students to reflect on their own experiences and identities as they search for classmates who share certain characteristics.
The maze activity combines learning and enjoyment, making it an effective educational tool.
The maze activity requires students to work together to find solutions. They must collaborate, communicate, and support one another to unlock the doors. This fosters a cooperative classroom environment and helps students develop essential teamwork skills.
By engaging students in a fun and interactive activity on the first day of school, the maze printable sets a positive tone for the entire year. It creates a memorable experience that students can look back on and serves as a foundation for a successful and inclusive school year.
Other back to school activities
For even more fun on your first day back to school you are going to love these:
Tips for downloading the free files
Below is a blue cloud with an arrow pointing downward. Underneath that is a large sign-up box where you need to add your name and email address, and press I NEED THIS NOW!
Within minutes you will be sent the free PDF directly to your email address, so you can print it out and start using it immediately.
Sometimes emails get a little wonky, so if you can't see it, please check your spam folder where I am sure it is hiding.
Download the free printable mazes
Make sure you choose the correct paper size and click on the shrink to fit button. All of our free printables for kids work better when printed on cardstock (this is the one we use and love.)
Last Updated on 2 October 2023 by homeschoolof1