Why Dribble Up Basketball Is The Best Basketball Gift
In the quest for finding the perfect birthday present for our nearly 10-year-old, we have come across Dribble Up Basketball.
They have created the BEST BASKETBALL GIFTS FOR BOYS old and young. We will share with you our review of the smart Dribble Up Basketball but also add in our top 10 basketball gifts.
It looks just like a basketball with a stand. Well, it is, BUT with the free app, it turns into an amazing dribble up smart basketball trainer.
If you are looking for sports gifts for boys you are going to need my recent blog post. I have included 25 of the absolute best sports gifts for lovers of basketball, golf, hockey, football, and more.
**There may be affiliate links in this post. You can read my full disclosure at the bottom of the page.**
The best basketball gifts for kids in 2022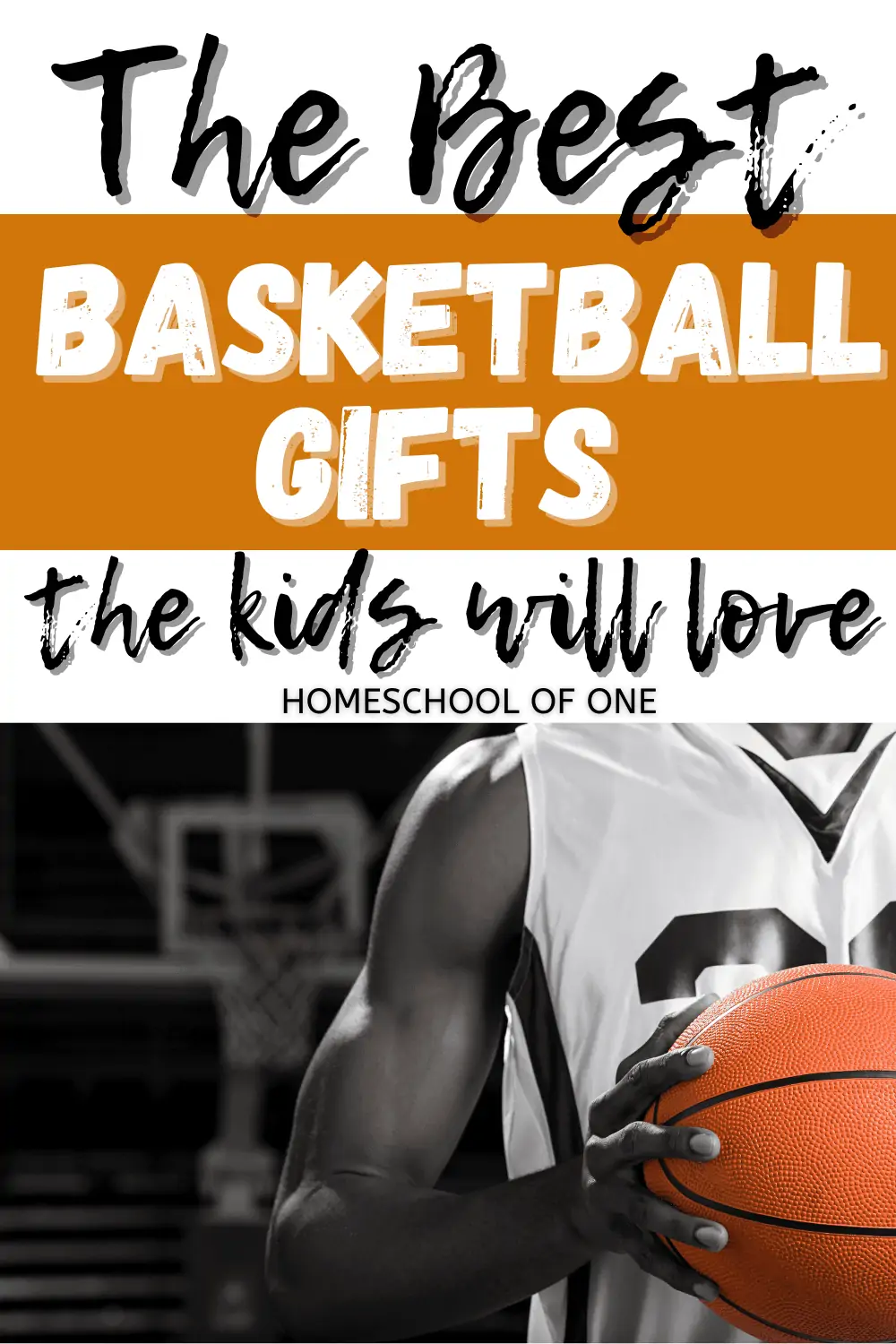 Dribble Up Smart Basketball (keep reading for our review.)
Original poster design of their favorite team. Our favorite is Miami Heat and this is the one we have, but they have all of the NBA teams.
Personalized basketball is another awesome gift.
Personalized basketball water bottle.
Air Jordan canvas art will look cool on their bedroom wall.
Indoor mini basketball hoop to fit over the door will keep them quiet for hours (although be prepared for the noise of the banging door!!).
Rastaclat NBA Home Teams Bracelet I love this unisex bracelet.
Neon Sign Basketball perfect for their bedrooms.
Miami Heat Mini Pillow Pet-Officially Licensed NBA Mini Pillow Pet Plush.
Sneaker Balls will make a funny stocking stuffer! (Check out our 30 top stocking stuffers for boys for even more inspiration)
If you are looking for other gift guides for boys check out over 40 of the other ones we have written.
DribbleUp Basketball
The basketball is a bright yellow color and is really good quality. I especially love it as you can play with it either inside or outside. Of course, my preference is outside, as I absolutely hate ball playing in the house.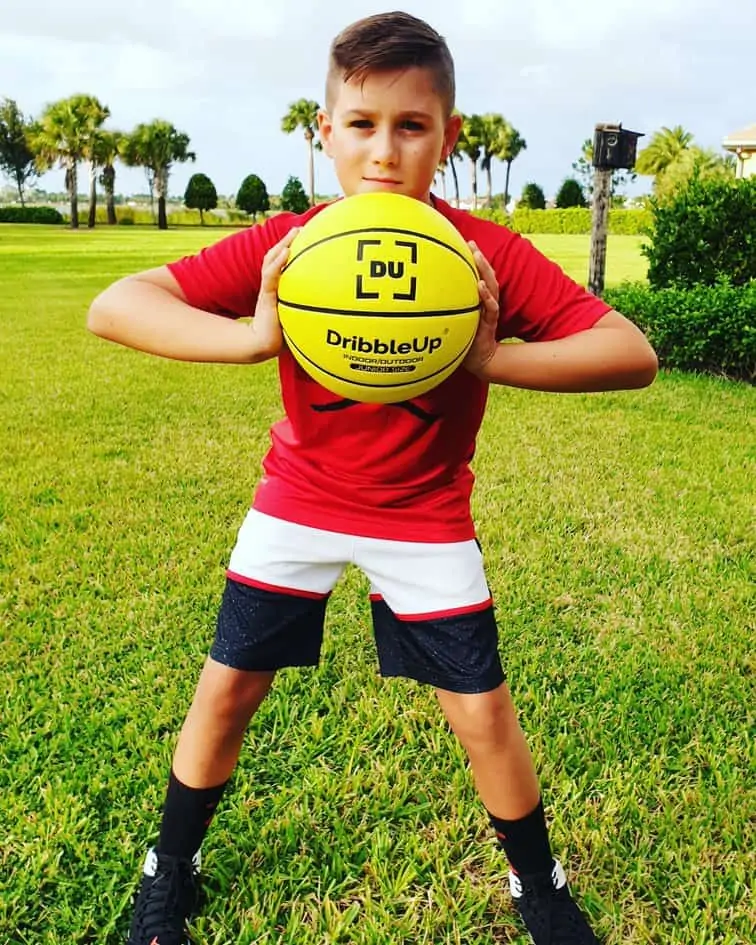 They also have created a similar ball for football, but as Freddie is all about basketball, this is the one we have reviewed. If the Dribble Up Football is as good as this Basketball gift I would also highly recommend this too.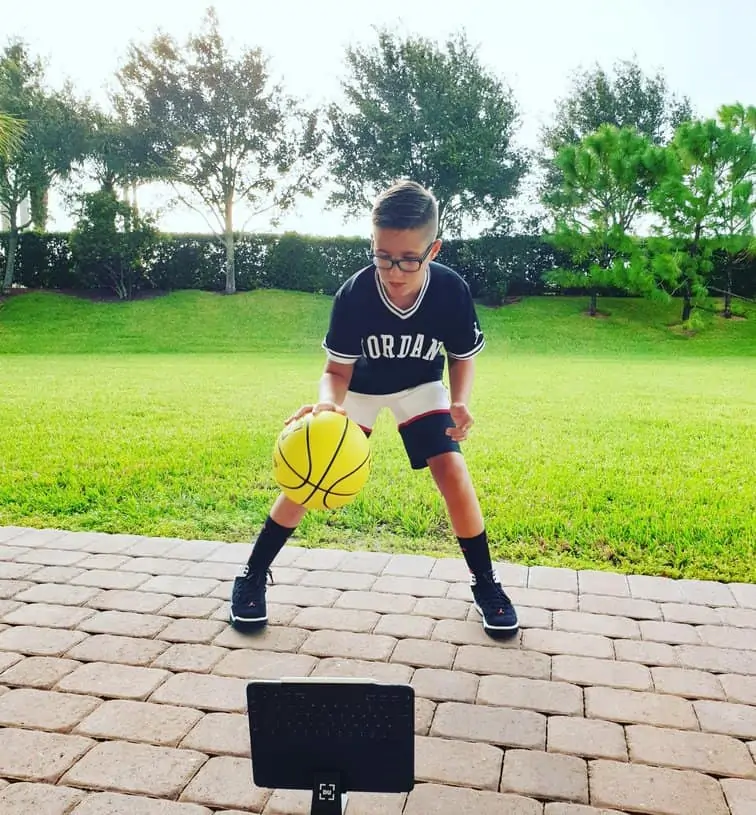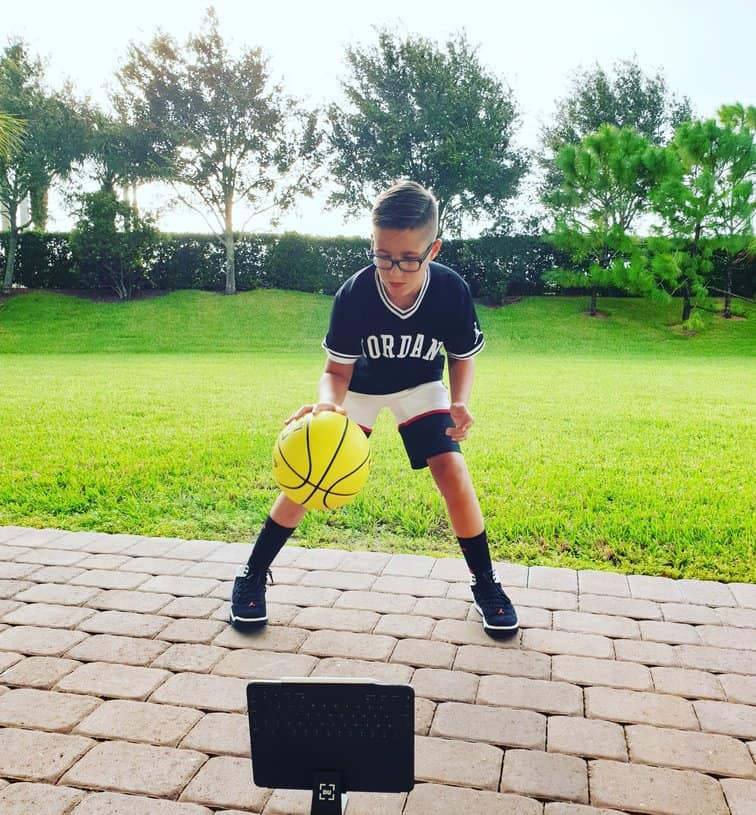 If you are looking for more PE ideas for homeschool check out our latest post.
What do we think of the Dribble Up App?
In my opinion, the app is very basic. However, I am not sure it needs to be anything else. It can be downloaded on both Android and Apple which is great. So for us, we can either use it on our Ipad or if we are out and about we can just use my phone.
There are six different programs:
Foundations – which is a beginner course where you can build up your dribbling skills in a 7-day program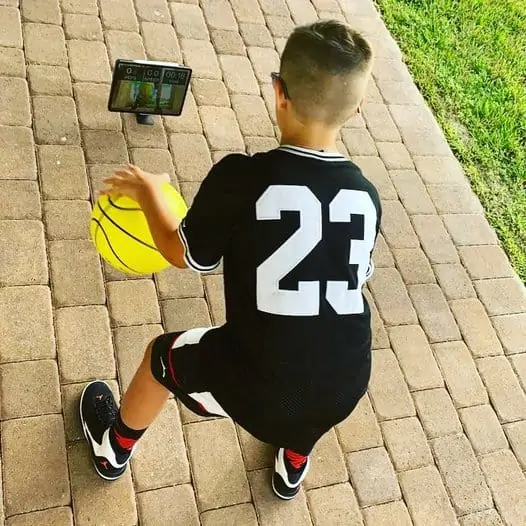 Beginner Basics – This is a course for absolute beginners, and again is a 7-day program
Right Hand Focus – Great for power and precision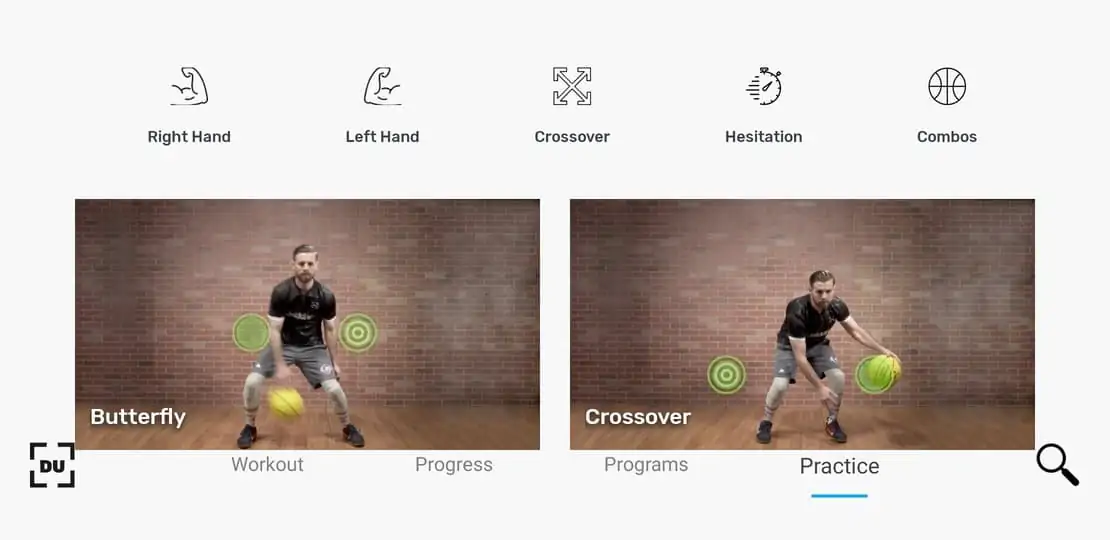 Left Hand Focus – a 7-day program focussing on left-hand dribbling
30 Day Program – This is an intermediate course, that includes dribbling practice, and helps improve your Basketball game.
Quick Hands – this is for Basketball experts where it teaches you to increase your ball speed. It is a 14-day program.
You don't need to take the 7, 14 or 30 days to complete the programs though as you can just move on to the next day when you are ready.
Check out Dribble Up for yourself, you will not be disappointed.
DribbleUp Basketball Reviews
This is super simple to work.
What worries me with things like this (technology generally freaks me out – I am over 40 so it's allowed to!) is that it is hard to get started. But this really is easy.
You download the Dribble Up app and it tells you what to do. Trust me if I could work it out the first time you will too.
You put the stand on the floor, and rest your iPad or phone on the stand. Hold your ball about 3-4 feet away from the device so it can scan it. And you are good to go.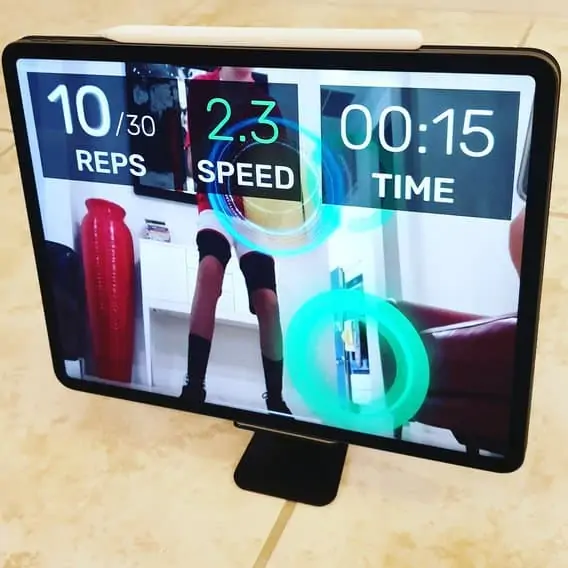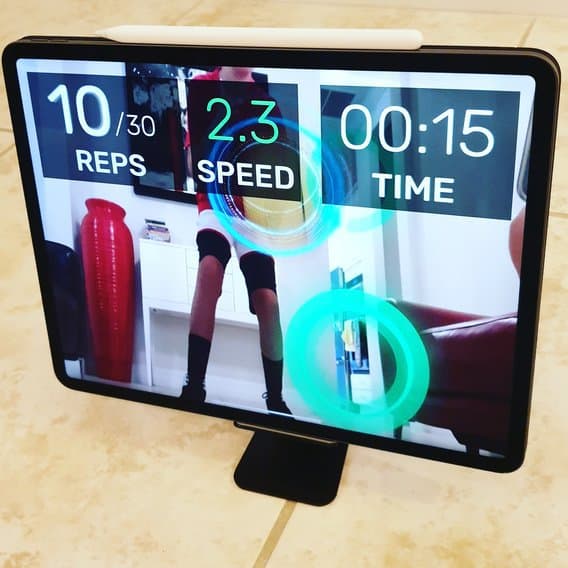 The virtual trainer on the screen shows you what to do and then the timer starts and it's your go. As you can see above you have to hit the ball in the green circles on the screen.
It shows you how many reps you got, and at what speed.
Freddie has only been playing basketball for a couple of weeks, so this is fantastic.
He did try the intermediate and expert programs but of course, these were way too difficult for now. However, I can see him using this smart basketball trainer for years to come.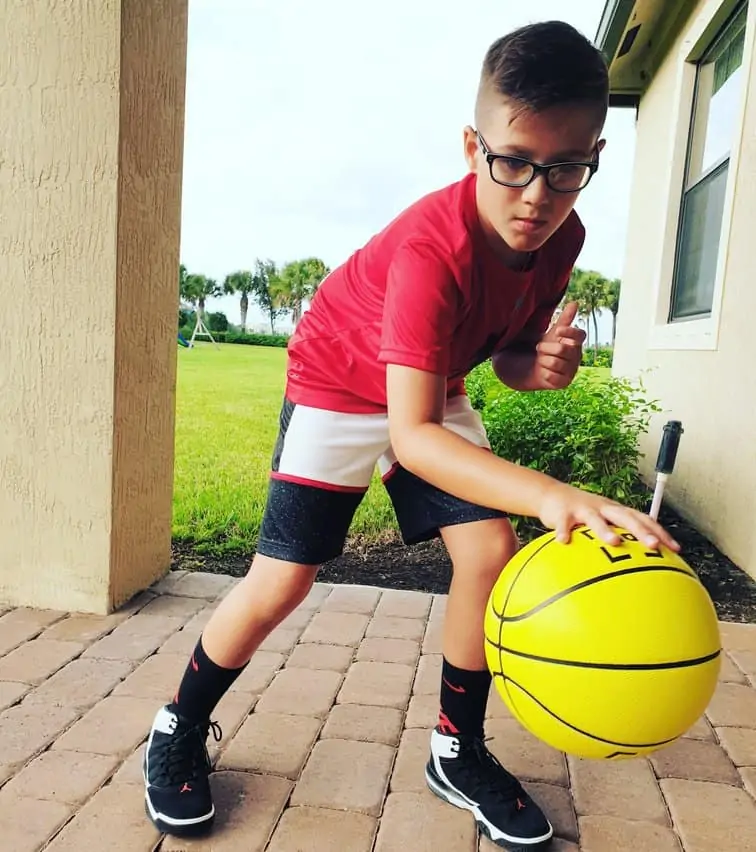 Where to buy Dribble Up Basketball?
Currently, Dribble Up only ships the basketball to the USA at a cost of $99.99. You can get your very own smart basketball here from Dribble Up. We highly recommend it, it is great for basketball drills.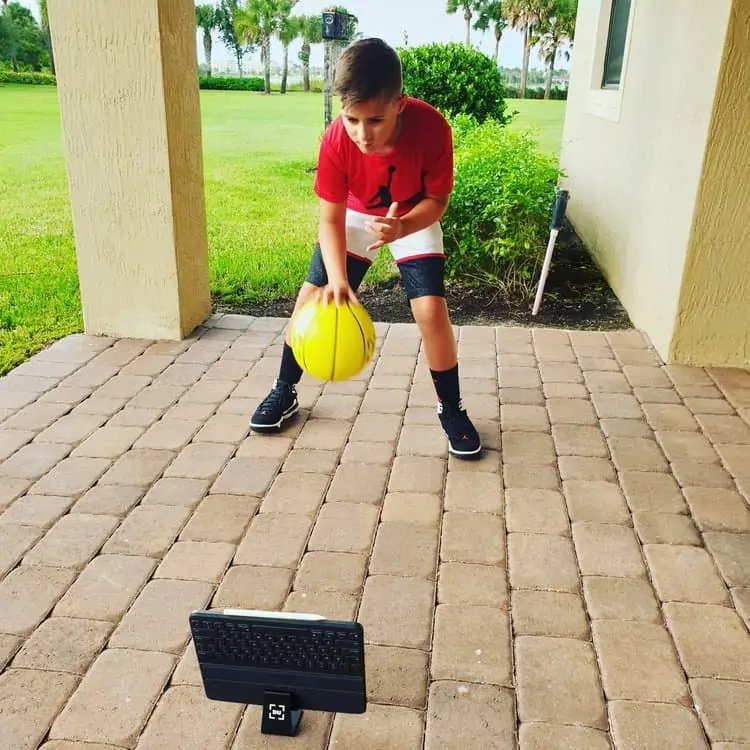 Last Updated on 24 January 2023 by homeschoolof1