Basketball Scavenger Hunt Clues (free printable)
Do you have a basketball fan and want to have a really fun activity? If so you are going to love our free basketball scavenger hunt clues.
This is a great way to get the kids to search high and low for some basketball treats.
All 18 rhyming clues can be hidden inside the home, and are great for kids young and old. And adults too! The clues are all generic so they could be used in any home, not just mine!
You are going to love our free scavenger hunt printables, and the kids will love them too! They are such a fun way to get the kids exploring.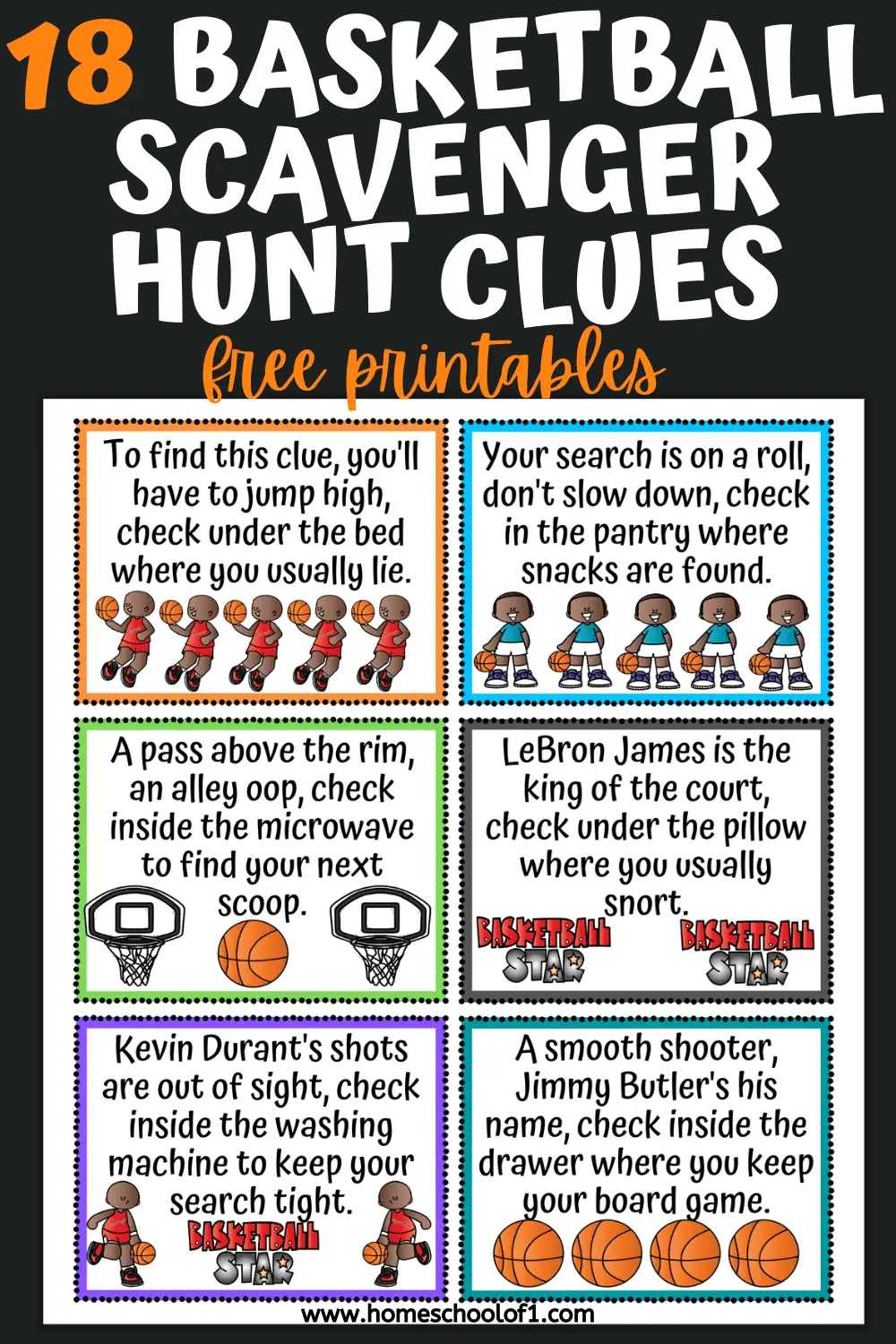 **There may be affiliate links in this post. You can read my full disclosure at the bottom of the page.**
Basketball Treasure Hunt Clues
We absolutely love having treasure hunts, especially for birthdays, Christmas, or a basketball party.
These FREE basketball scavenger hunt clues for kids are super easy to have fun with.
You can either leave a basketball gift with every clue, or you can leave the treats with the last clue. It is totally up to you.
We have done it both ways and the only thing we have done the same, is all of the gifts are opened at the end of the scavenger hunt.
How to set up the basketball scavenger hunt
Download the basketball scavenger hunt clues below. There are 3 pages included with 6 clues per page.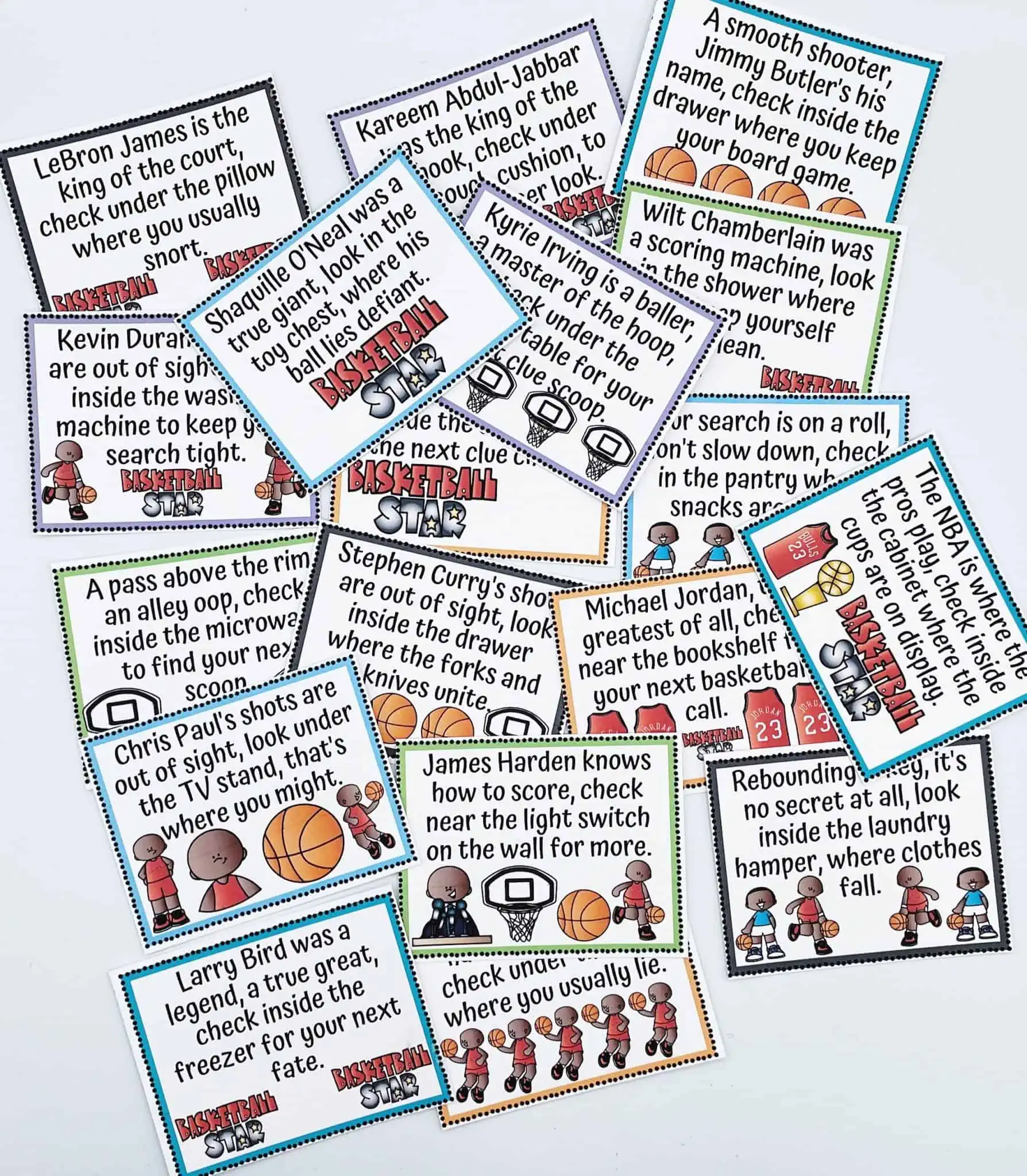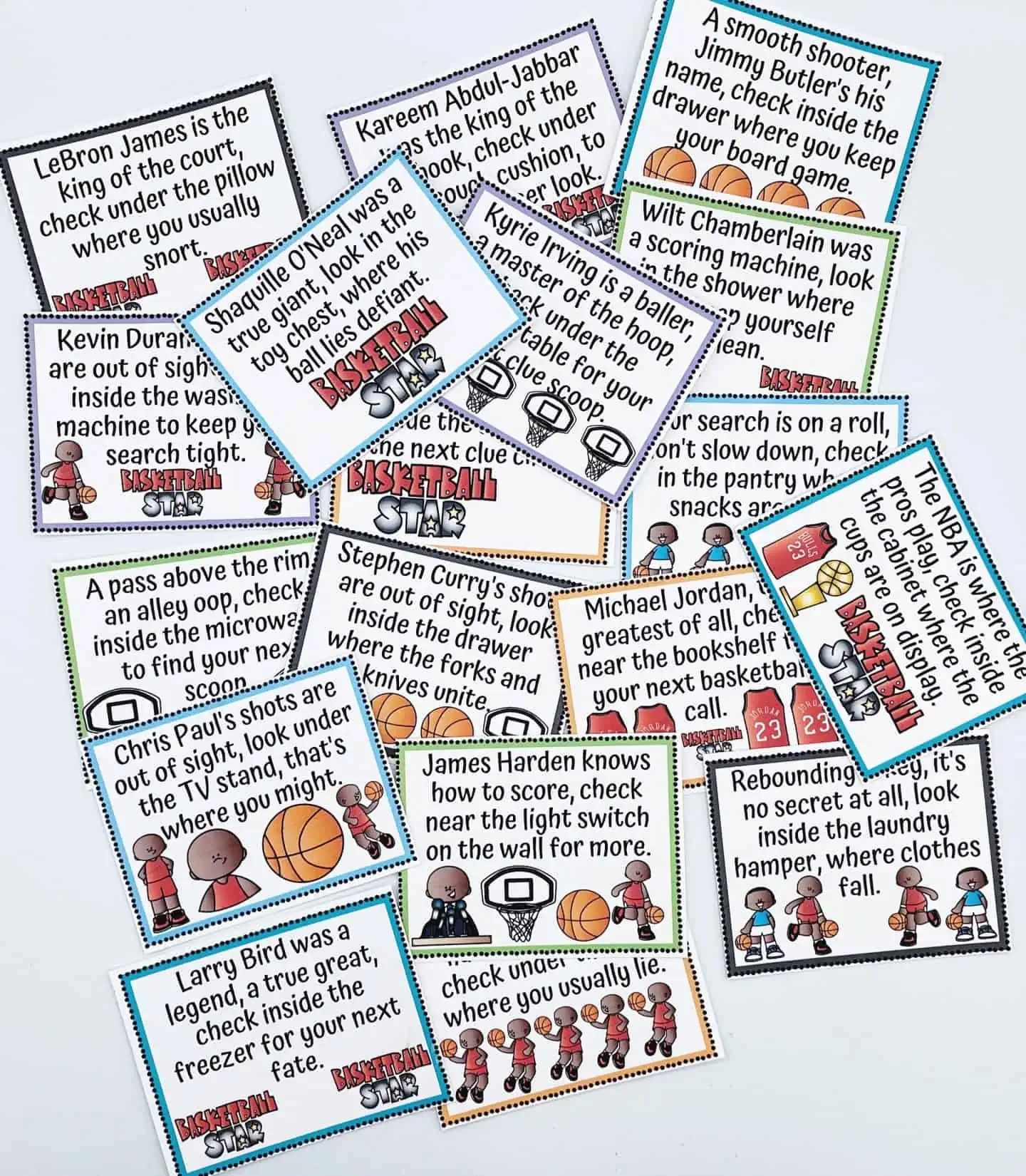 This free printable basketball scavenger hunt is free to print but is for personal only. Scroll to the bottom of the post to get the pdf file.
Print out the clues. They look better if you print in color, but black and white will still look great.
The clues will look better printed on cardstock (this is the one we use), but, normal copy paper will work perfectly.
Cut out the 18 clues.
I have purposely kept the clues big, but of course, you can fold them if they need to fit in somewhere small. (I actually prefer a paper cutter as I don't have a very steady hand.)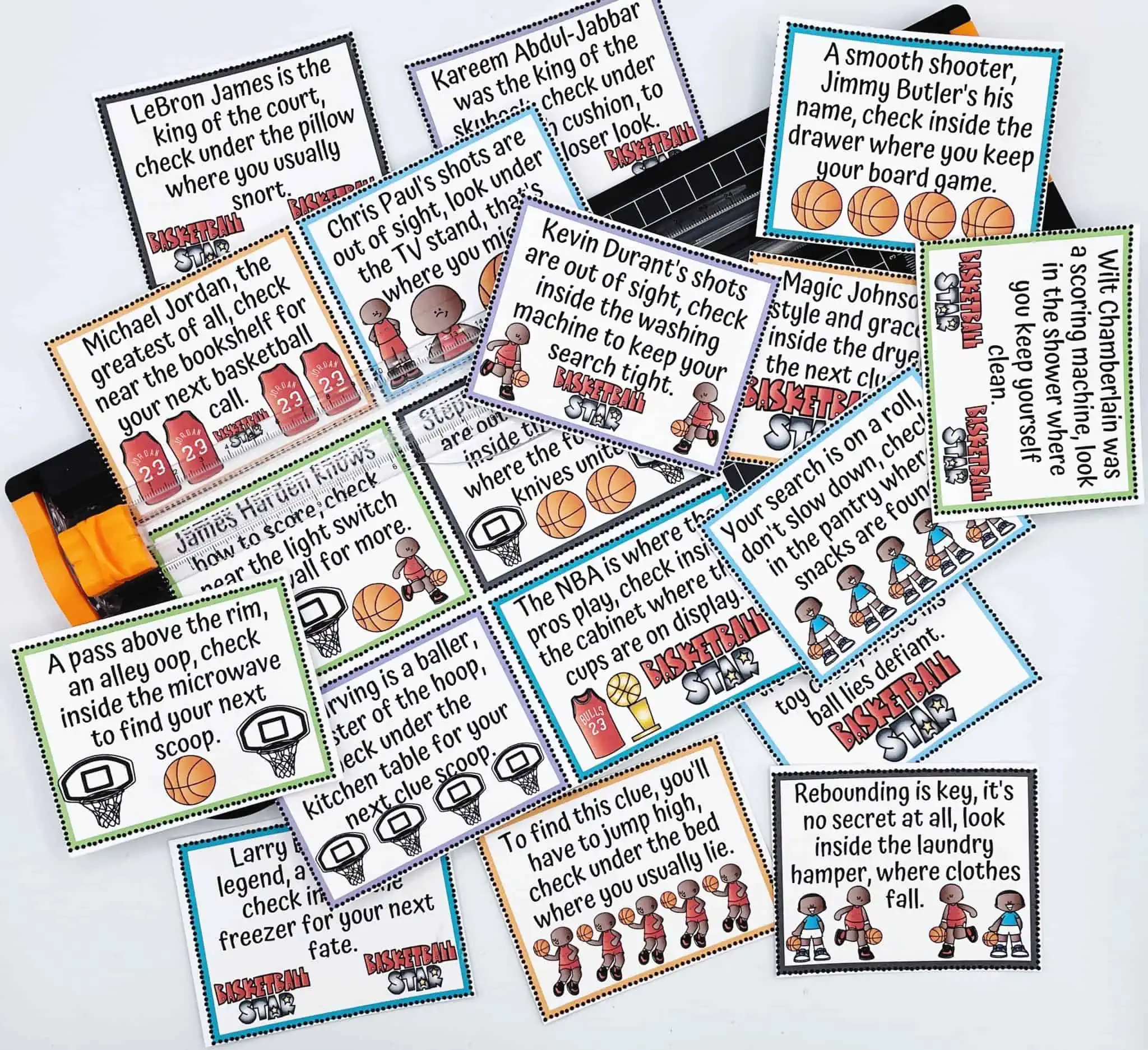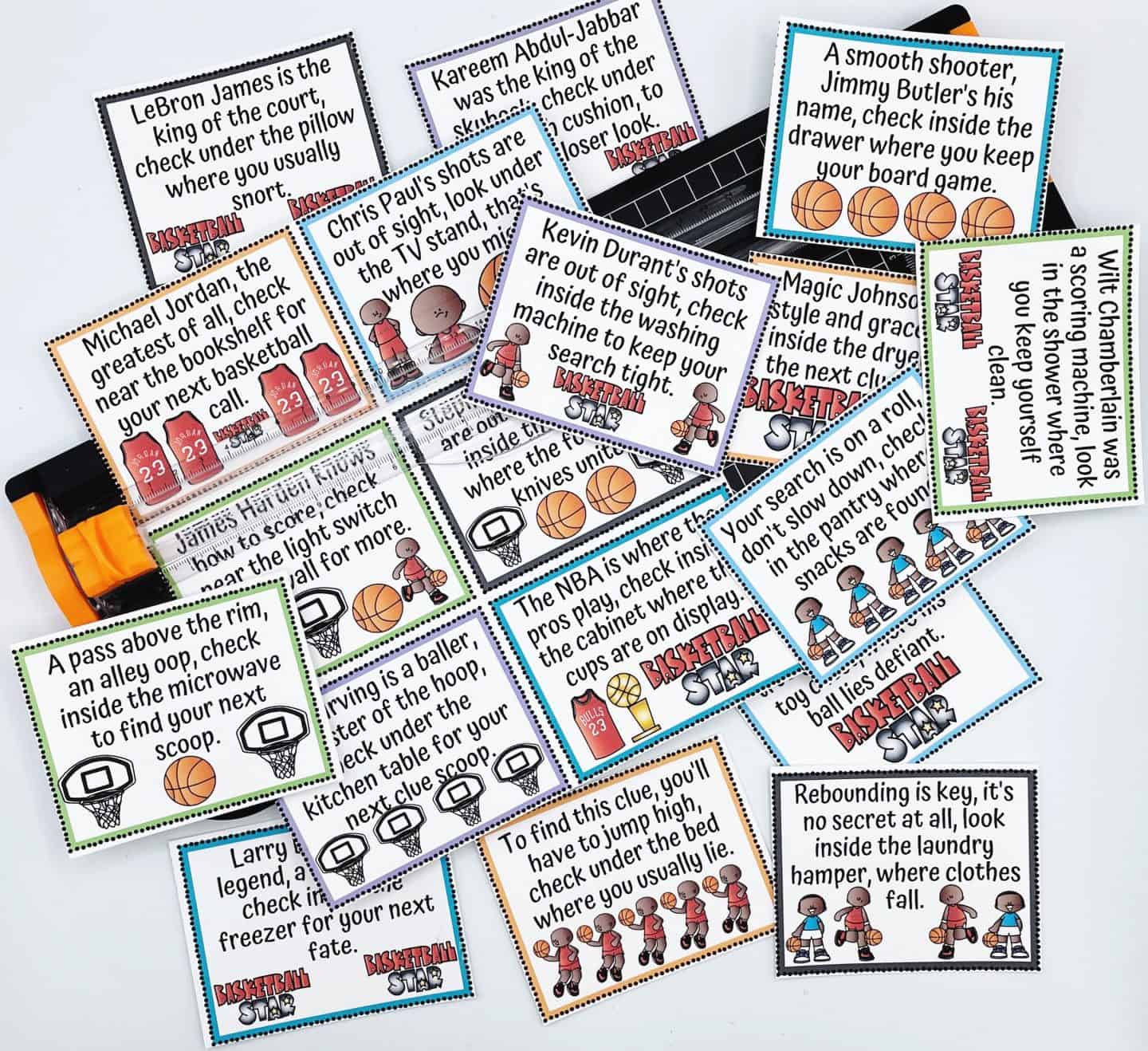 Grab a pen so you can mark off where you have left the clues and in what order! Trust me from experience, you should do this!
I have purposely not numbered these basketball themed scavenger hunt clues, as I don't know the layout of your house! But all clues can be hidden inside every home.
This scavenger hunt will be great to play at a birthday party too, just get the kids to work in teams.
Carry on reading for our favorite basketball gift ideas.
What are the basketball riddles for scavenger hunt?
These 18 rhyming clues are perfect for younger or even older children. Especially if you don't hide them in the obvious spots!
To find this clue, you'll have to jump high, check under the bed where you usually lie. (under bed)
Your search is on a roll, don't slow down, check in the pantry where snacks are found. (pantry)
A pass above the rim, an alley oop, check inside the microwave to find your next scoop. (microwave)
LeBron James is the king of the court, check under the pillow where you usually snort. (bed)
Kevin Durant's shots are out of sight, check inside the washing machine to keep your search tight. (washing machine)
A smooth shooter, Jimmy Butler's his name, check inside the drawer where you keep your board game. (game cupboard)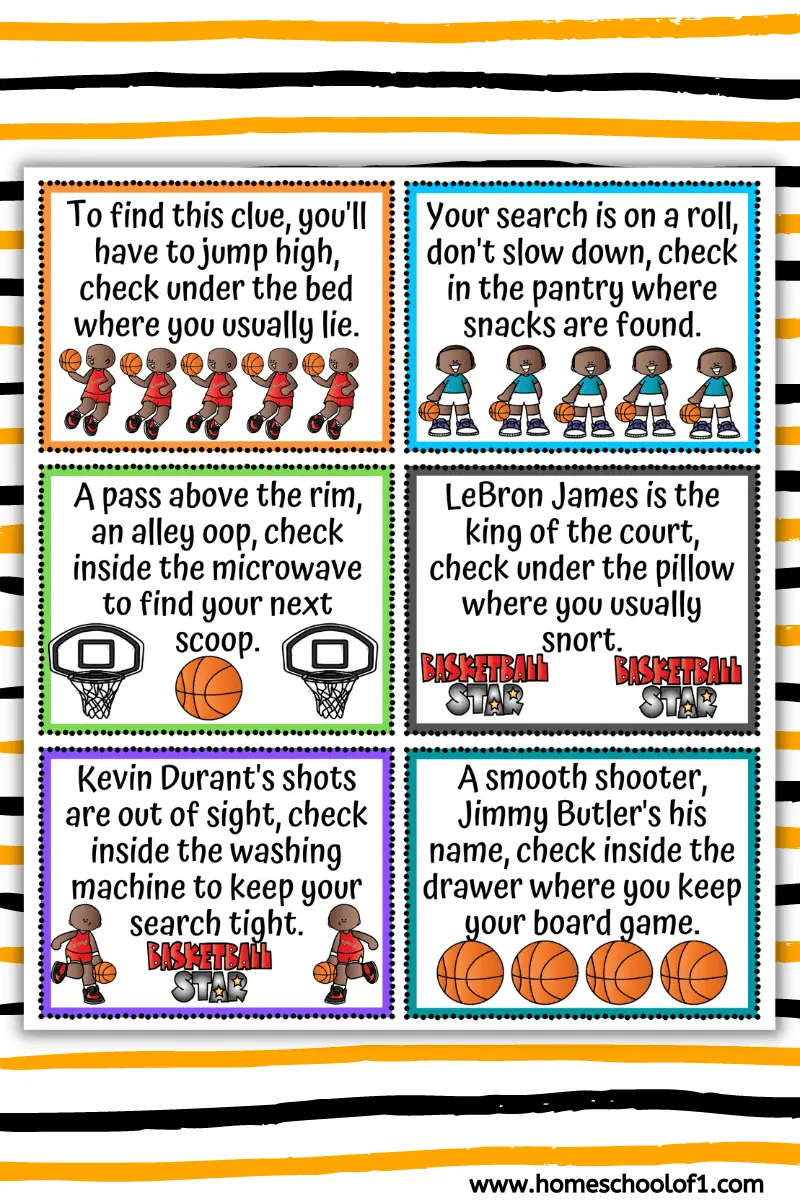 Michael Jordan, the greatest of all, check near the bookshelf for your next basketball call. (bookshelf)
Chris Paul's shots are out of sight, look under the TV stand, that's where you might. (TV)
James Harden knows how to score, check near the light switch on the wall for more. (lightswitch)
Stephen Curry's shots are out of sight, look inside the drawer where the forks and knives unite. (cutlery)
Kyrie Irving is a baller, a master of the hoop, check under the kitchen table for your next clue scoop. (under the kitchen table)
The NBA is where the pros play, check inside the cabinet where the cups are on display. (cups)
Magic Johnson had style and grace, look inside the dryer, for the next clue chase. (dryer)
Shaquille O'Neal was a true giant, look in the toy chest, where his ball lies defiant. (toys)
Wilt Chamberlain was a scoring machine, look in the shower where you keep yourself clean. (shower)
Rebounding is key, it's no secret at all, look inside the laundry hamper, where clothes fall. (hamper)
Kareem Abdul-Jabbar was the king of the skyhook, check under the couch cushion, to take a closer look. (couch)
Larry Bird was a legend, a true great, check inside the freezer for your next fate. (freezer)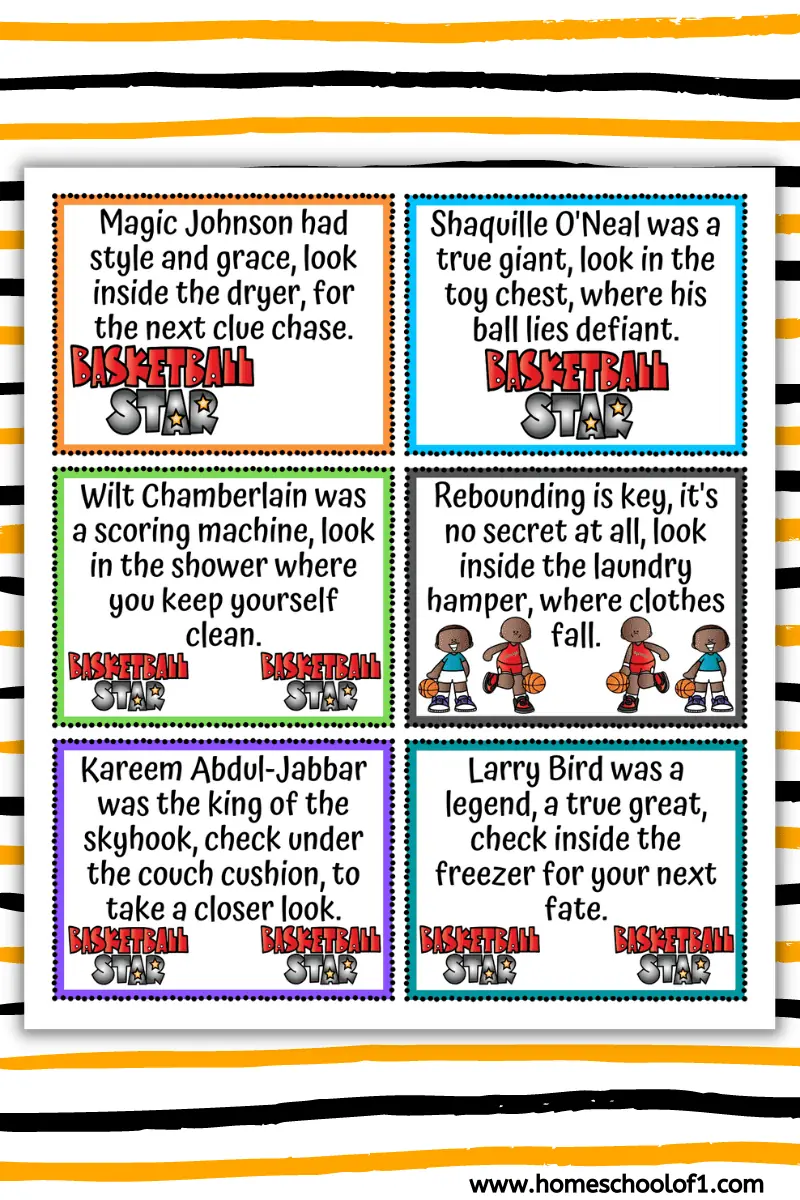 Basketball gift ideas for kids
If you are using this for a birthday party and want to buy some basketball gifts for boys these are our favorites:
Other scavenger hunt ideas
If you are looking for even more scavenger hunt ideas you are going to love these free printables:
Download the free basketball treasure hunt clues
Make sure you choose the correct paper size and click on the shrink to fit button. All of our free printables for kids work better when printed on cardstock (this is the one we use and love.)
Last Updated on 2 June 2023 by homeschoolof1