Free Bad Behavior Elf on Strike Printable
The bad behavior Elf on strike printable introduces a creative and playful way to encourage good behavior in children during the holiday season.
This concept involves the mischievous scout elf taking a break from their usual antics and presenting signs to convey their reasons for not moving.
These printable signs serve as a visual reminder to kids about the importance of positive behavior during this festive time. Instilling valuable life lessons while adding an extra touch of magic to the Christmas season.
Have fun with Elf on the Shelf activities this December, and encourage good behavior.
**There may be affiliate links in this post. You can read my full disclosure at the bottom of the page.**
How to use the Elf signs
Within this set, you'll discover six different Elf notes designed to assist children in earning a coveted spot on Santa's Nice List. They're not just charming; they also serve as a playful reminder of the holiday spirit and act as an official warning from Santa.
These elf printable signs are free for personal use only. Scroll to the bottom of the post to access the PDF file.
Here's how to put these signs to good use:
Begin by printing the Elf signs on sturdy cardstock paper. This will ensure they look their best and last throughout the holiday season. Once printed, carefully cut them out.
You have two delightful options for using these signs. You can either place the sign next to your mischievous Elf friend. Or you can take it up a notch by attaching a toothpick to the back. This will make it appear as if the elf is holding the sign, adding an extra touch of elf's magic to your holiday decor.
These Elf signs not only add a playful touch to the Elf on the Shelf tradition but also serve as a means of positive reinforcement for the enchanting spirit of the North Pole.
They provide children with a visual reminder of Santa Claus's watchful eye, helping them strive to be on their best behavior during this magical time of year.
Elf on Strike printable signs
The first printable sign, "Elf on Strike!" serves as a clear and attention-grabbing message from Santa's little helper.
The general concept of the elf going on strike revolves around the idea that the little elf has decided to take a break from their usual interactive activities due to certain behaviors or circumstances in the household.
This sign sets the initial tone for the elf's protest by making it apparent that the elf is not happy with the situation and will only resume their magical antics once positive behavior is restored within the household.
It's a playful but effective way to encourage children to reflect on their actions and promote their best behavior during the holiday season.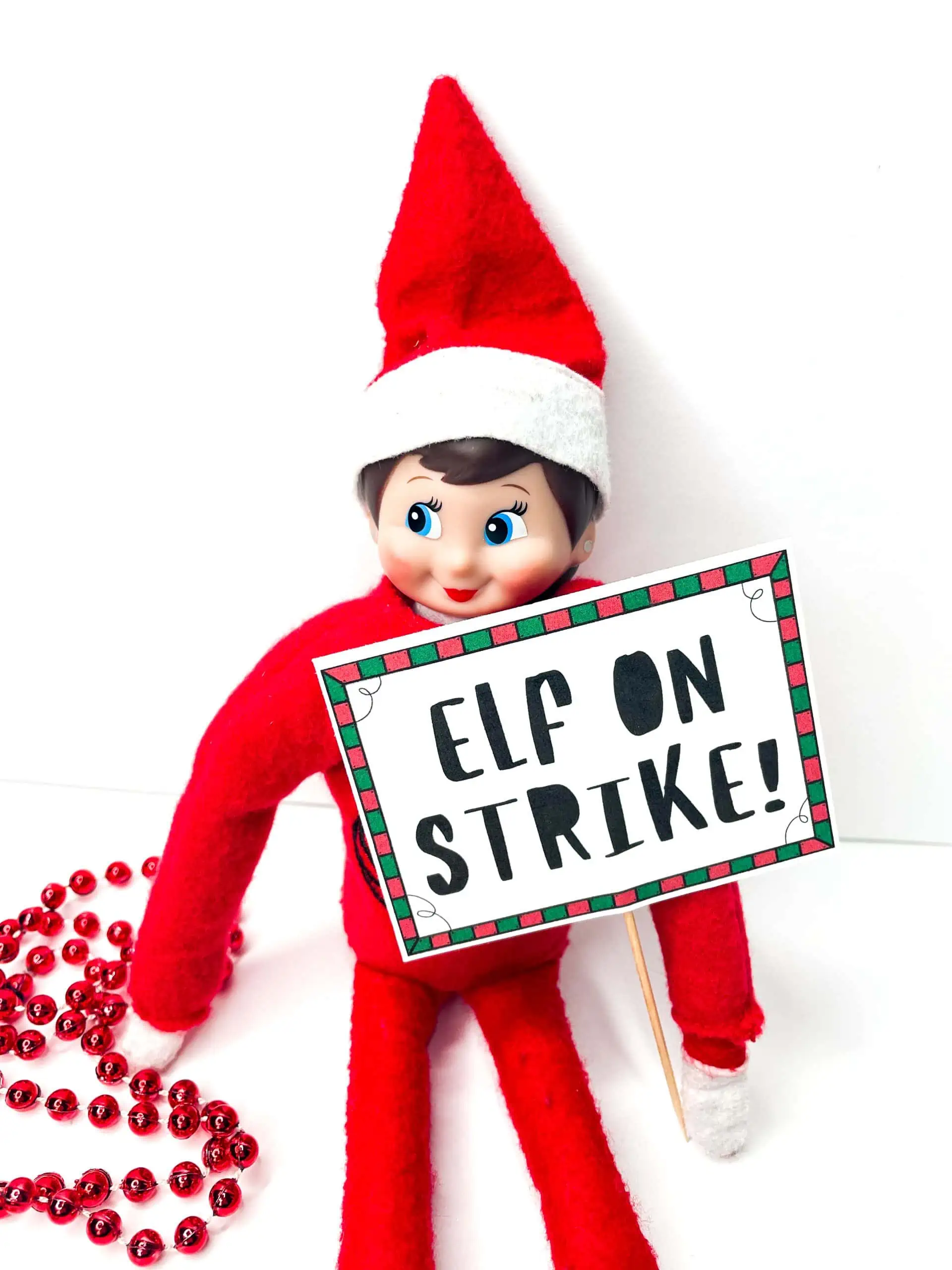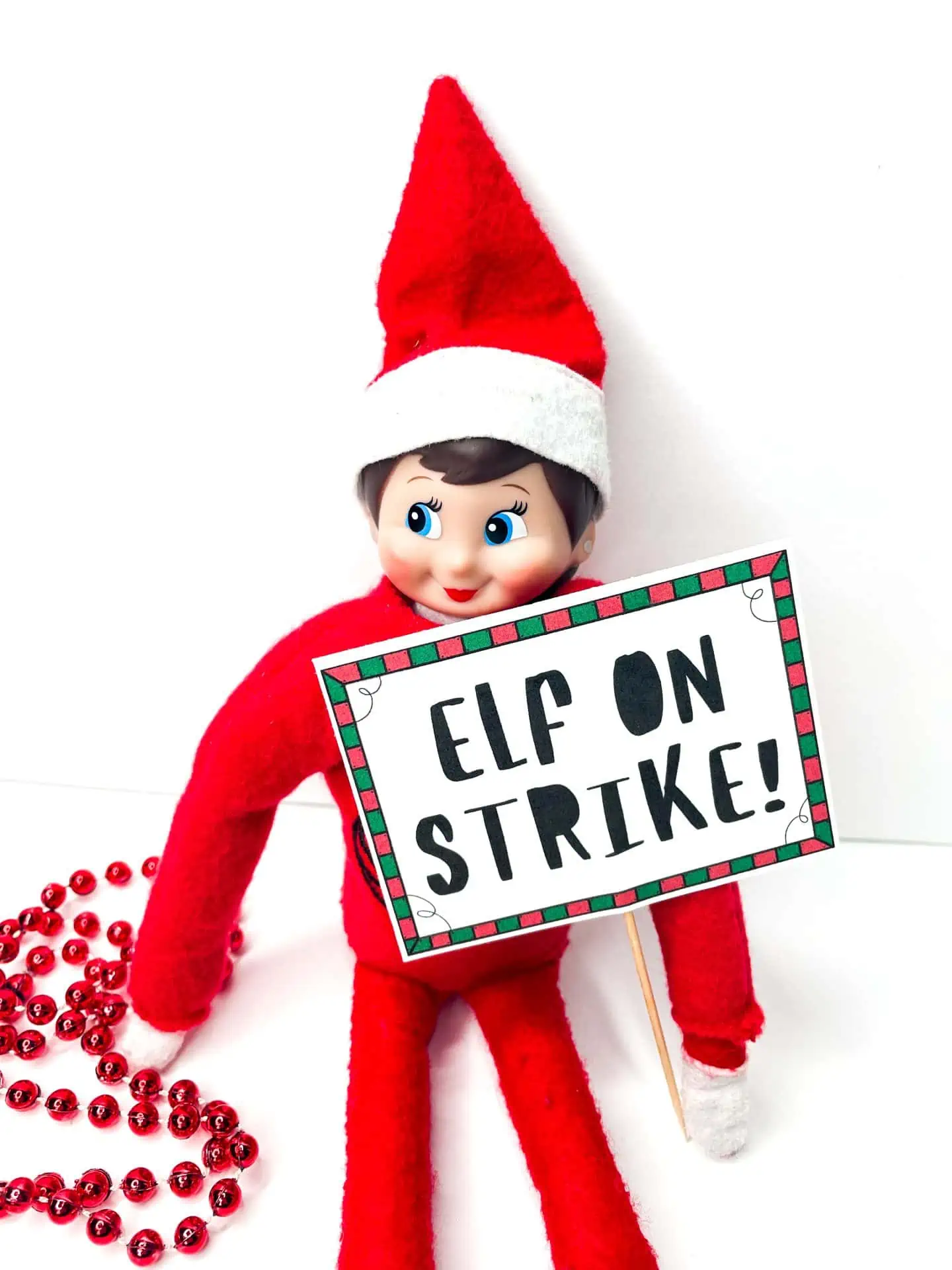 Be nice to your sibling sign!
The second printable sign reads, "I need a break from all the fighting and arguing. Be kind and share with your siblings."
This sign conveys the elf's frustration with the conflicts and disputes among siblings in the household.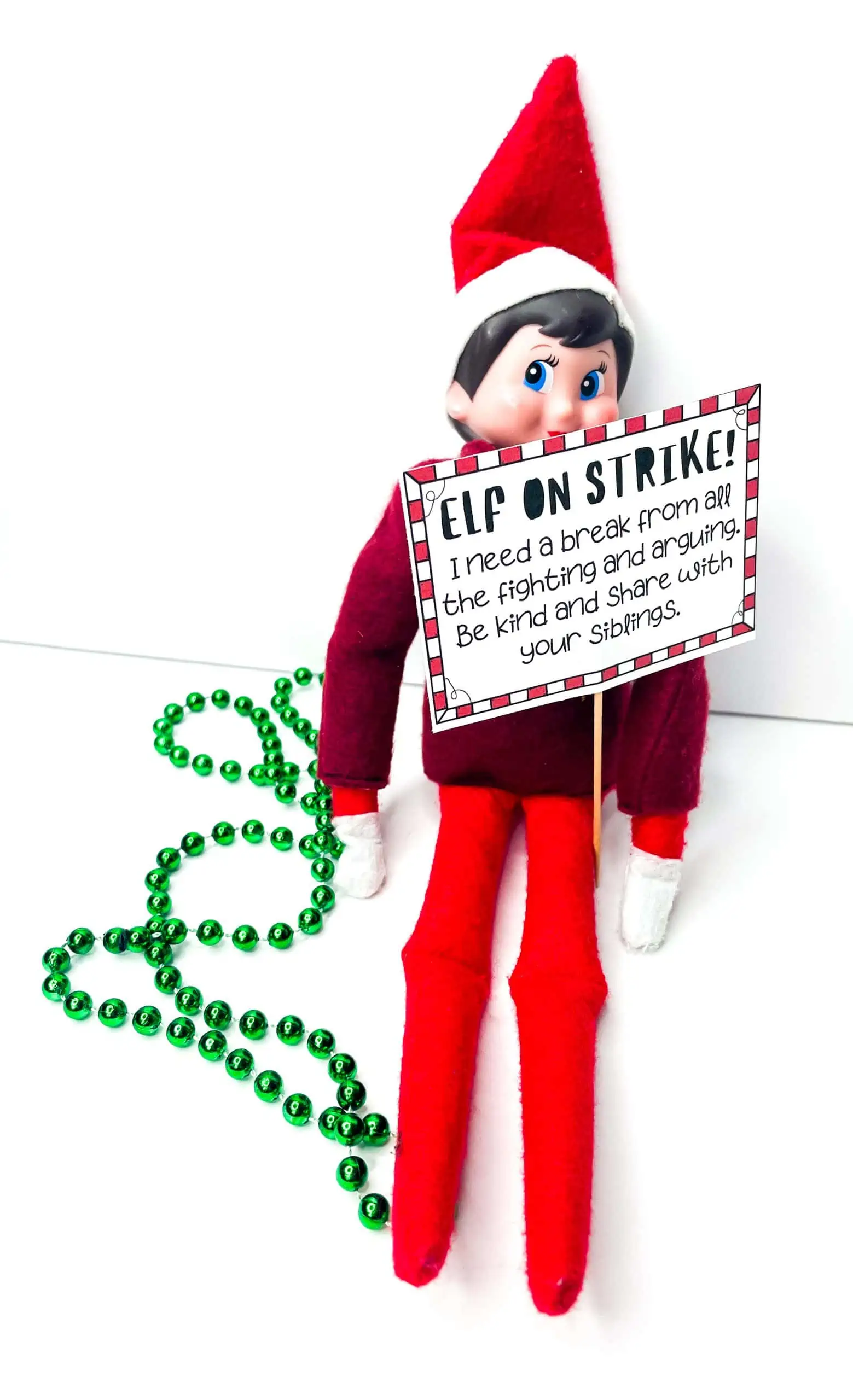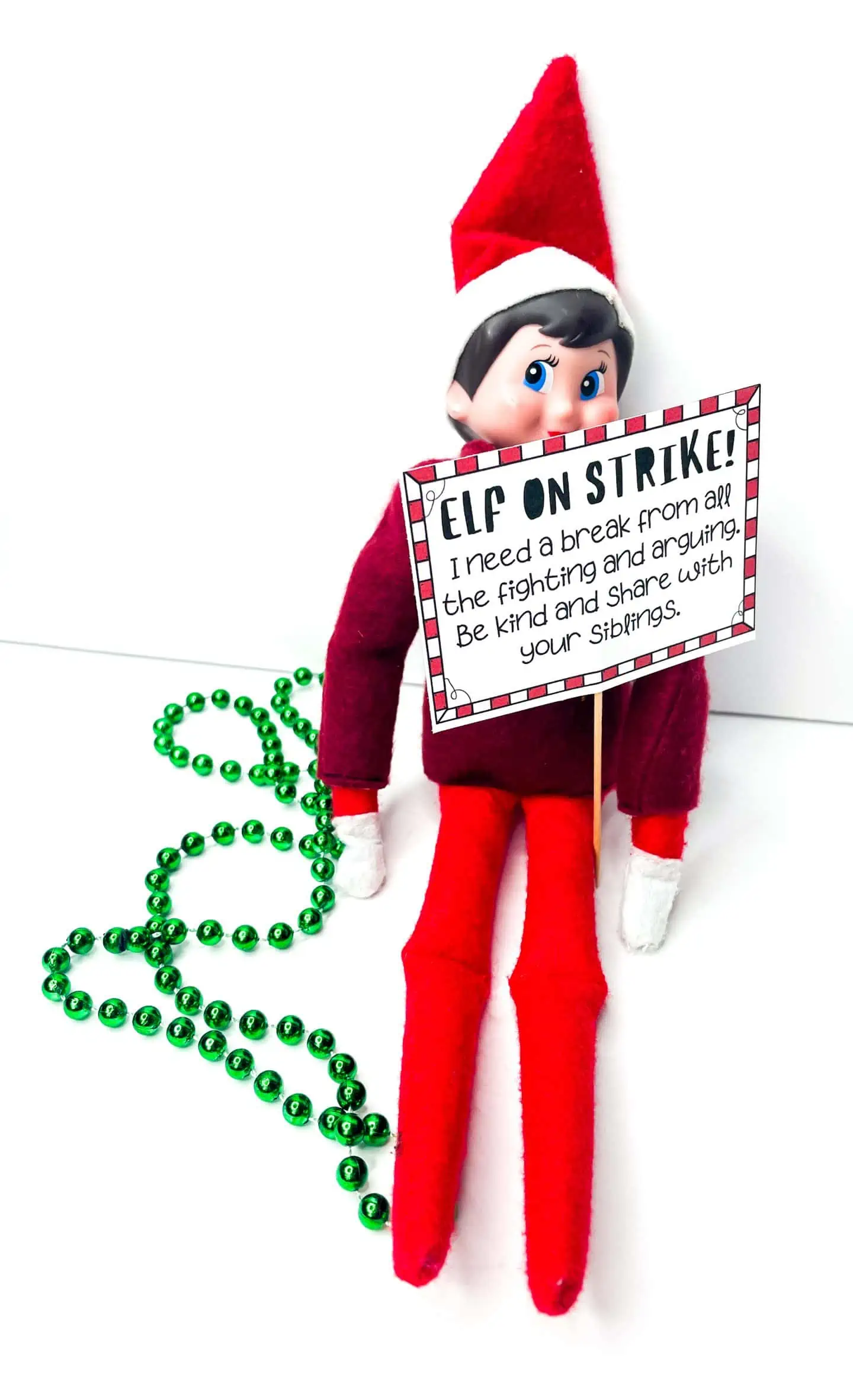 Importance of sibling cooperation and sharing
Sibling cooperation and sharing are crucial for maintaining a peaceful and harmonious household during the holidays. It promotes strong family bonds, teaches valuable life skills, and creates a more positive atmosphere.
Tips on promoting harmony among siblings
Clearly communicate expectations about sharing, cooperation, and treating each other with kindness.
Recognize and reward instances of sibling cooperation and sharing to reinforce the desired behavior.
Teach your children effective communication and conflict resolution skills to reduce misunderstandings and arguments.
Spend quality time together as a family to strengthen sibling relationships.
Teach them how to resolve conflicts constructively, finding compromises and solutions that work for everyone.
Demonstrate respectful behavior and cooperation in your own interactions with your children and others.
By using this sign, parents can initiate discussions about the importance of sibling cooperation and sharing. Encouraging children to work together and make the elves strike a temporary and memorable lesson in teamwork and kindness.
Do your chores sign
The third printable sign states, "I'm striking because nobody is doing their chores. Help out around the house!" This sign conveys the elf's frustration with the lack of responsibility when it comes to household chores.
Chores and responsibilities play a significant role in maintaining a well-functioning household. They teach children essential life skills, instill a sense of accountability, and promote a sense of ownership within the family unit.
When everyone contributes to household tasks, it lightens the load for parents and creates a more harmonious living environment.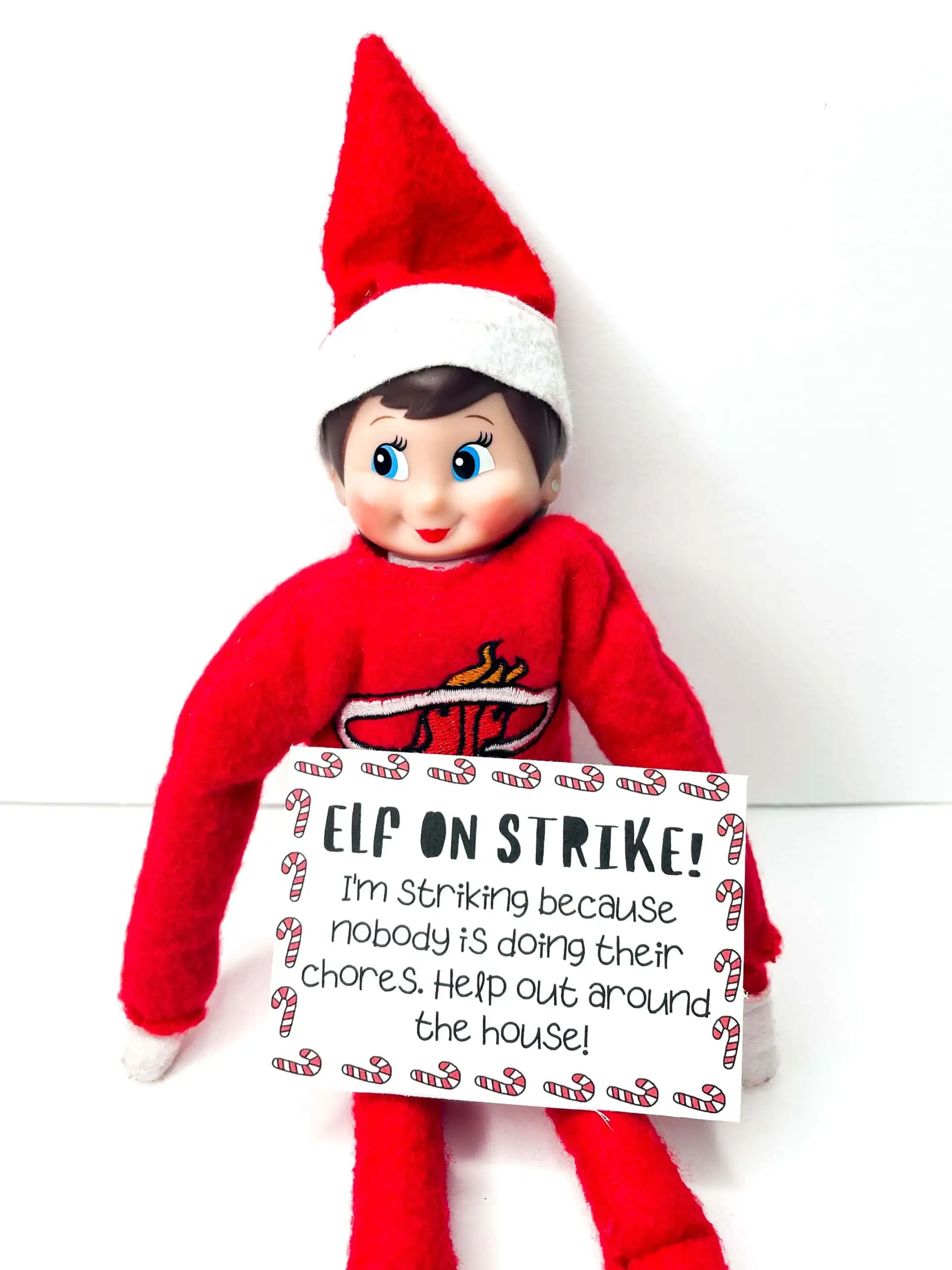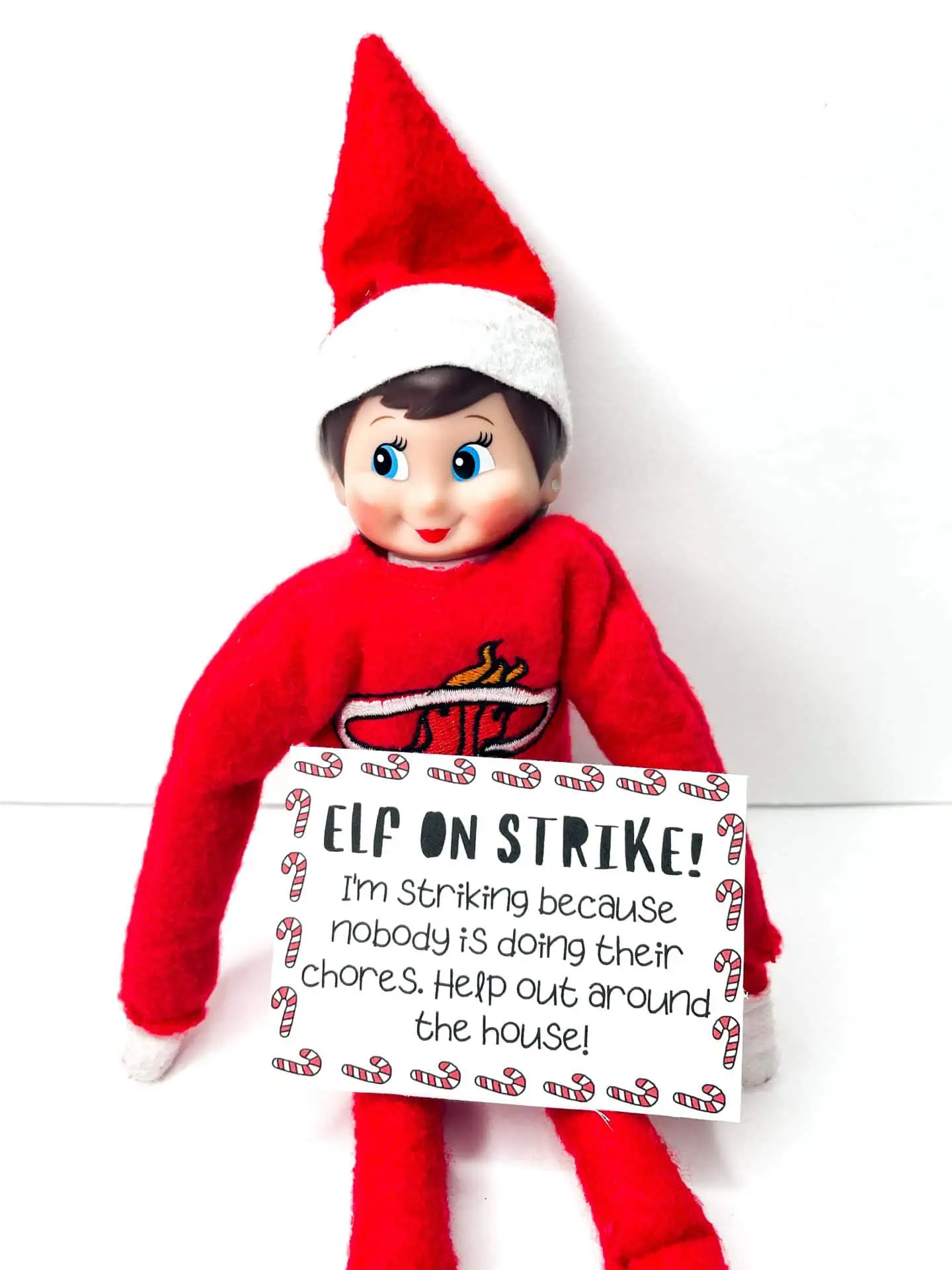 Ideas for encouraging children to contribute to household tasks:
Establish a chore chart with age-appropriate tasks for each child. Make it visually appealing and provide rewards or incentives for completing chores. You can use our free printable chore cards which will help.
Clearly communicate the importance of chores and the expectations regarding their completion.
Encourage the whole family to participate in chores together, turning it into a fun bonding activity.
Rotate chores to prevent monotony and to ensure each child learns a variety of tasks.
Acknowledge and praise your children's efforts when they complete their chores to boost their sense of accomplishment.
Consider offering small rewards or privileges for consistently completed chores.
Show your children that everyone in the household, including parents, plays a role in maintaining the home.
The chore challenge sign serves as a fun way to remind children of their responsibilities and the importance of contributing to the household. Emphasizing that when everyone pitches in. The household runs more smoothly and everyone can enjoy a more magical holiday season.
The Manners Matters Sign
The fourth sign states, "I'm taking a break until I hear 'please' and 'thank you' more often." This sign conveys the elf's desire for children to use polite language and exhibit good manners in their interactions.
Polite language and good manners are essential social skills that contribute to positive interactions, effective communication, and building respectful relationships.
Encouraging children to use phrases like "please" and "thank you" helps them understand the importance of showing gratitude, respect, and consideration for others.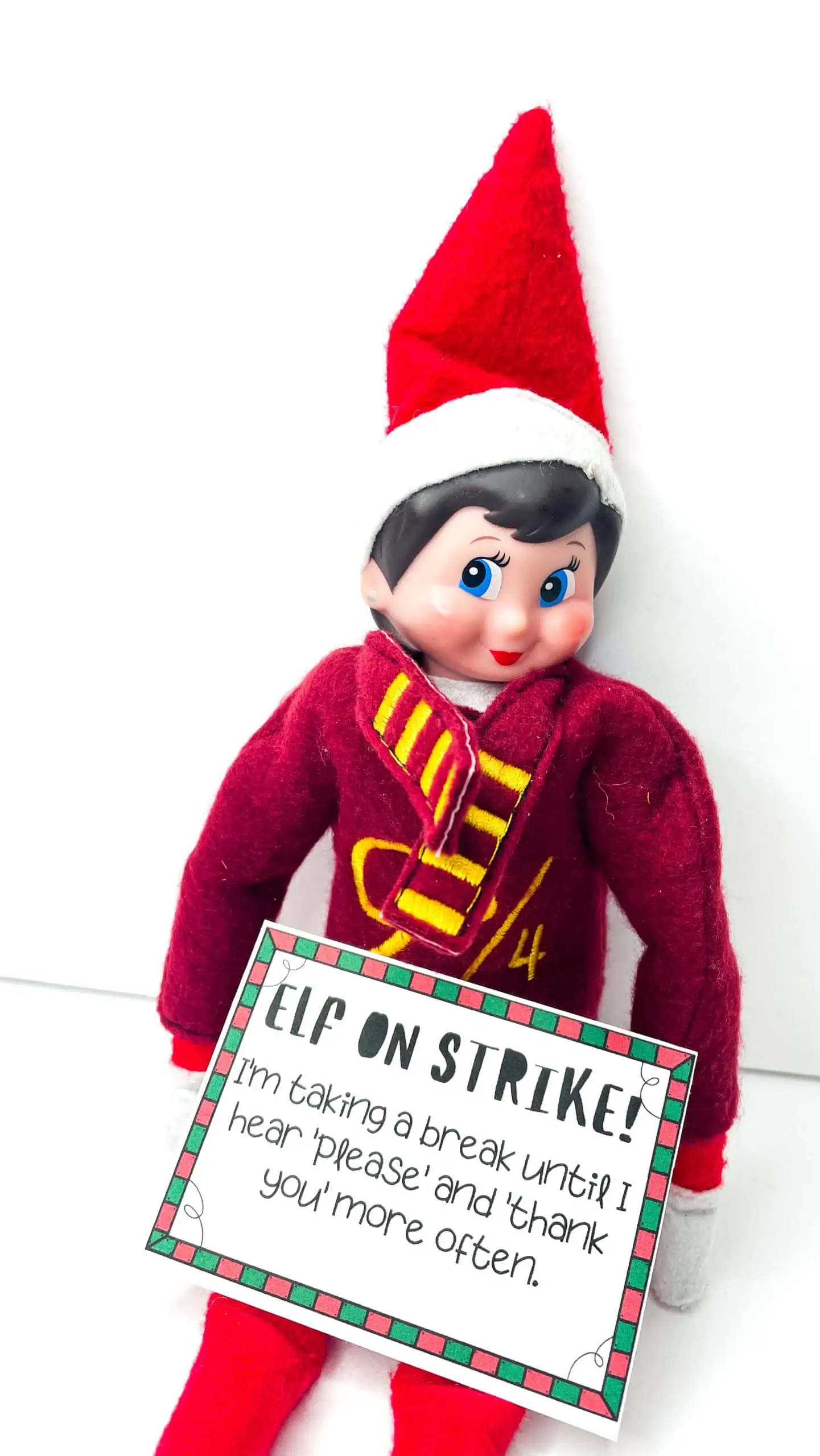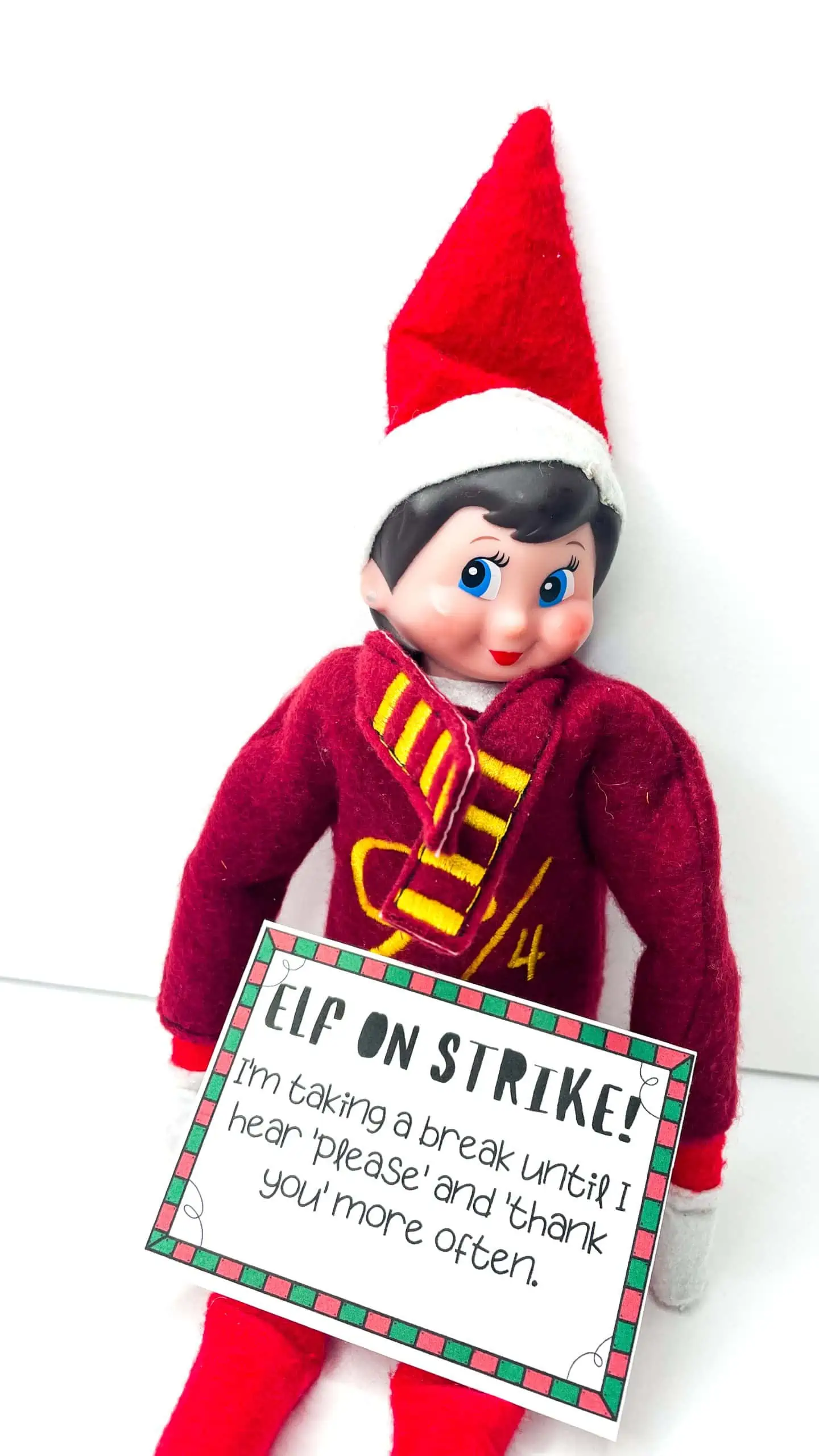 Strategies for reinforcing good manners in children
Be a role model by consistently using polite language and manners in your interactions with your children and others.
Explain to your children why using "please" and "thank you" is important and how it makes others feel appreciated.
Encourage children to express gratitude for gifts, help, and acts of kindness.
Praise and reward your children when they use polite language and good manners.
When children forget their manners, gently remind them to use "please" and "thank you" rather than scolding them.
Engage in role-playing activities to help children practice using polite language in various situations.
Encourage writing thank-you notes for gifts or acts of kindness to reinforce gratitude.
The manners matters sign serves as a little reminder to children that using polite language and good manners is not only appreciated by the elf but is a valuable skill to practice year-round.
It can be a fun and educational way to emphasize the importance of courtesy and respect during the holiday season.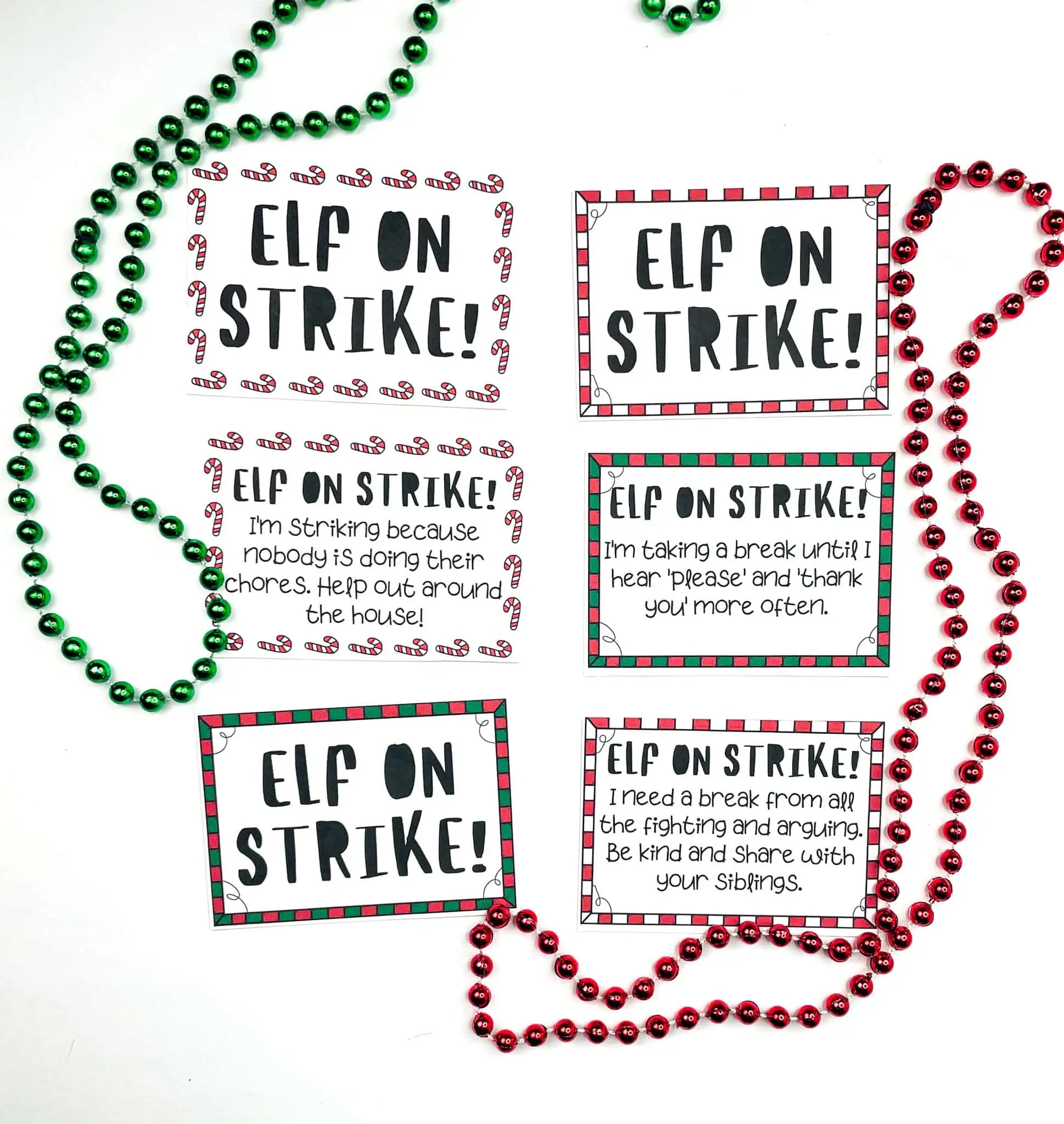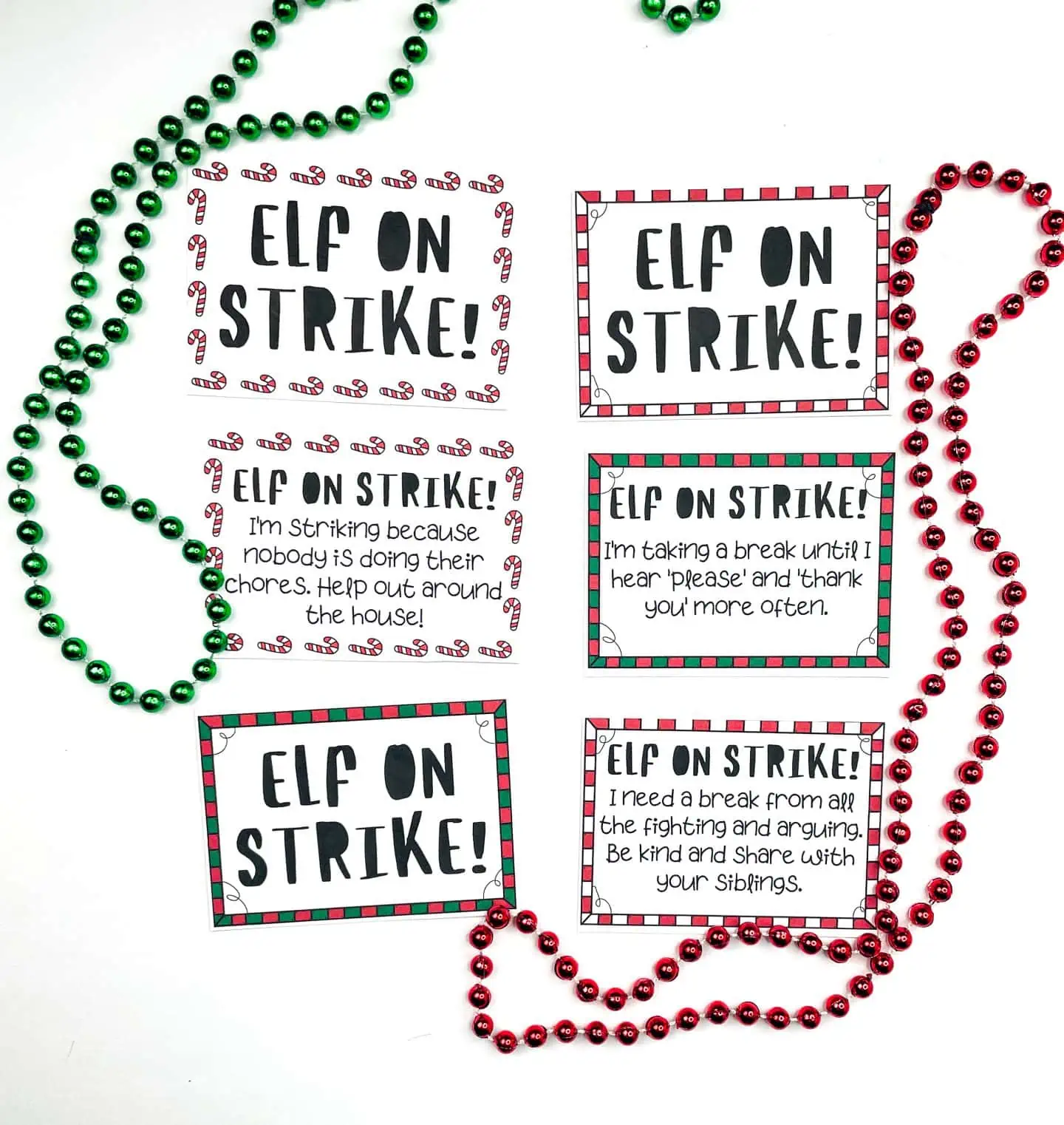 Best Elf props
When the children's behavior has improved why not treat them to an Elf on the Shelf gift? These are our top 5 favorites:
These adorable Elf on the Shelf mates are the perfect companions for your mischievous scout elf, providing additional fun and festive interactions to keep the holiday magic alive.
The Elf on the Shelf Sweet Spinners Advent Calendar adds a sweet twist to the holiday season, offering a delightful daily countdown filled with tasty treats, surprises, and, of course, the mischievous antics of your favorite Elf on the Shelf.
The Elf Cheer Check Up is a whimsical way to keep children engaged and on their best behavior, as they eagerly anticipate the scout elf's nightly reports to Santa Claus about their daily deeds.
Elf Pets Arctic Fox is an enchanting addition to the Elf on the Shelf tradition. Allowing children to nurture and care for their own magical Arctic fox pet. Which hails from the North Pole and comes with heartwarming tales of kindness.
These charming Elf pet figures are miniature companions to your Elf on the Shelf and Elf Pets. Enhancing the imaginative play and holiday adventures while bringing more enchantment to the North Pole tales.
Additional Elf on the Shelf printables
These Elf on the Shelf ideas are a great way to have even more holiday fun:
Best Elf on the Shelf books for kids
Discover the enchanting world of the Elf on the Shelf with these delightful books crafted for kids. From magical adventures to heartwarming tales, these stories bring the mischievous elf to life, sparking joy and imagination in young readers.
Bestseller No. 1
Bestseller No. 2
Bestseller No. 3
Sale
Bestseller No. 4
Sale
Bestseller No. 5
Tips for downloading the free files
Below you will see a large sign-up box where you need to add your name and email address, and press I NEED THIS NOW!
Within minutes you will be sent the free PDF directly to your email address, so you can print it out and start using it immediately.
Sometimes emails get a little wonky, so if you can't see it, please check your spam folder where I am sure it is hiding.
Download the free Elf on the Shelf on strike notes
Make sure you choose the correct paper size and click on the shrink to fit button. All of our free printables for kids work better when printed on cardstock (this is the one we use and love.)
Last Updated on 25 November 2023 by homeschoolof1