7 Europe Worksheets for Kids (free printable)
If you are learning about the continent of Europe with the kids you are going to love our free Europe worksheets.
These free homeschool printables are a great way to explore the continent of Europe.
Included in the Europe worksheets are the following:
2 x map labeling,
a Europe fact sheet,
matching the flag,
learning to say hello in 10 European languages,
Europe word search,
Europe country word scramble.
I have also included answer sheets for all of the worksheets. These are aimed at kids in upper elementary and middle school but can be used with any age group.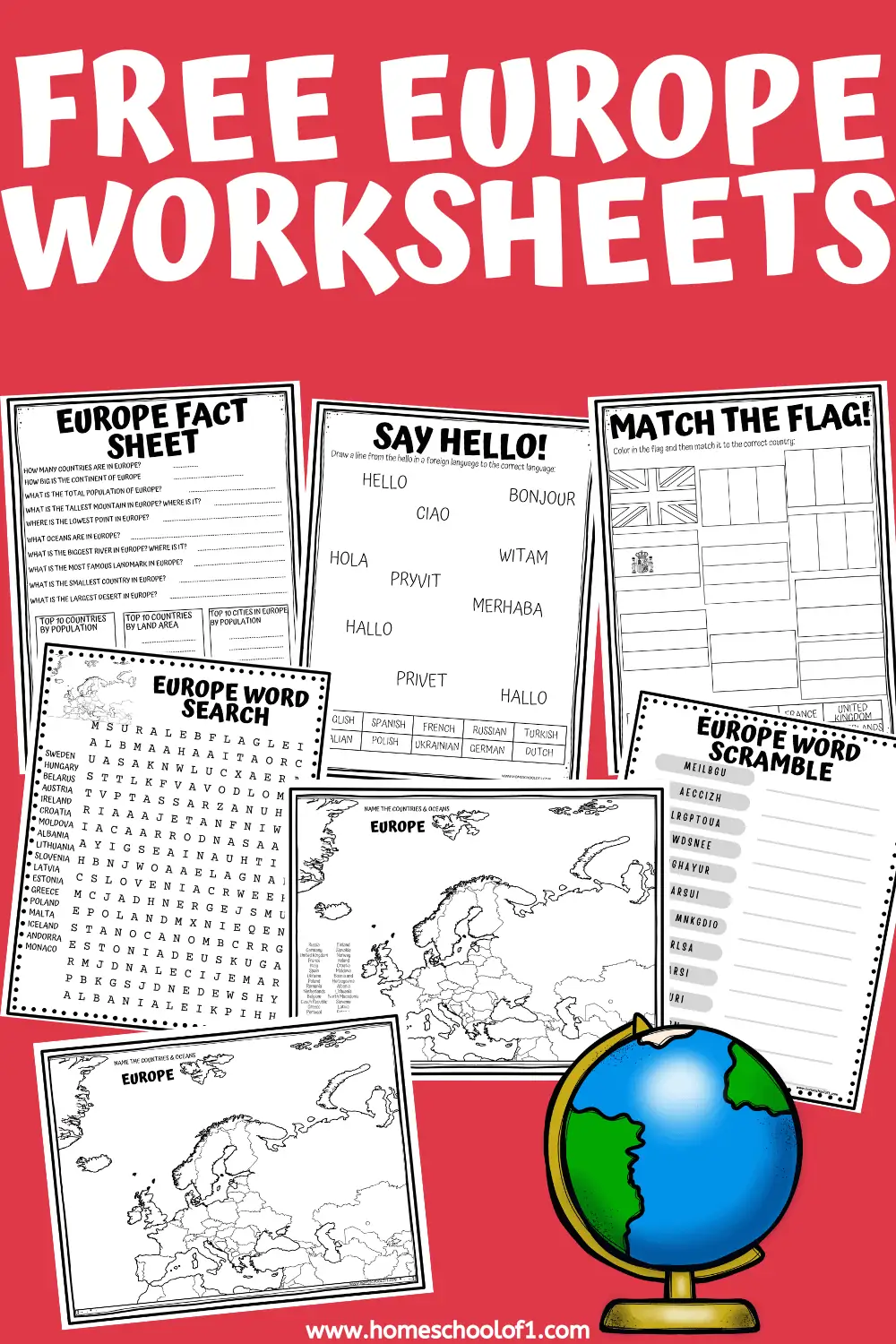 **There may be affiliate links in this post. You can read my full disclosure at the bottom of the page.**
Fun Facts about Europe
Fun and interesting facts about Europe that kids might enjoy:
The world's tallest and fastest roller coaster, called "Red Force," is located in Europe at Ferrari Land in Spain.
Europe is home to the world's largest chocolate museum, the Chocolate Museum in Cologne, Germany.
The country of Denmark has the oldest continuously operating amusement park in the world, called Tivoli Gardens, which opened in 1843.
Europe is famous for its castles and palaces, with over 10,000 castles in Germany alone!
The smallest country in the world, Vatican City, is located in Europe and is the headquarters of the Catholic Church.
Many famous artists and composers, such as Leonardo da Vinci, Michelangelo, and Mozart, lived and worked in Europe.
Europe is home to the largest waterfall by volume in the world, the Dettifoss waterfall in Iceland.
The world's largest Christmas tree, standing at 75 meters tall, is located in Italy's Gubbio town, and it is made up of thousands of lights.
Europe has many unusual and interesting festivals. Such as the Running of the Bulls in Spain. The Tomato Fight in Buñol, Spain. And the Cheese Rolling Festival in Gloucestershire, England.
The longest railway tunnel in the world, the Gotthard Base Tunnel, is located in Switzerland. It is 57 kilometers (35 miles) long. It takes just 20 minutes to travel through the tunnel at a speed of 250 kilometers per hour (155 miles per hour)!
Map of Europe worksheet
There are 44 different countries in Europe.
There are 2 different maps of the continent of Europe. One with the countries on the side to make it a little easier, and one with no country names.
The students can either color in the different countries or add the names to the correct country.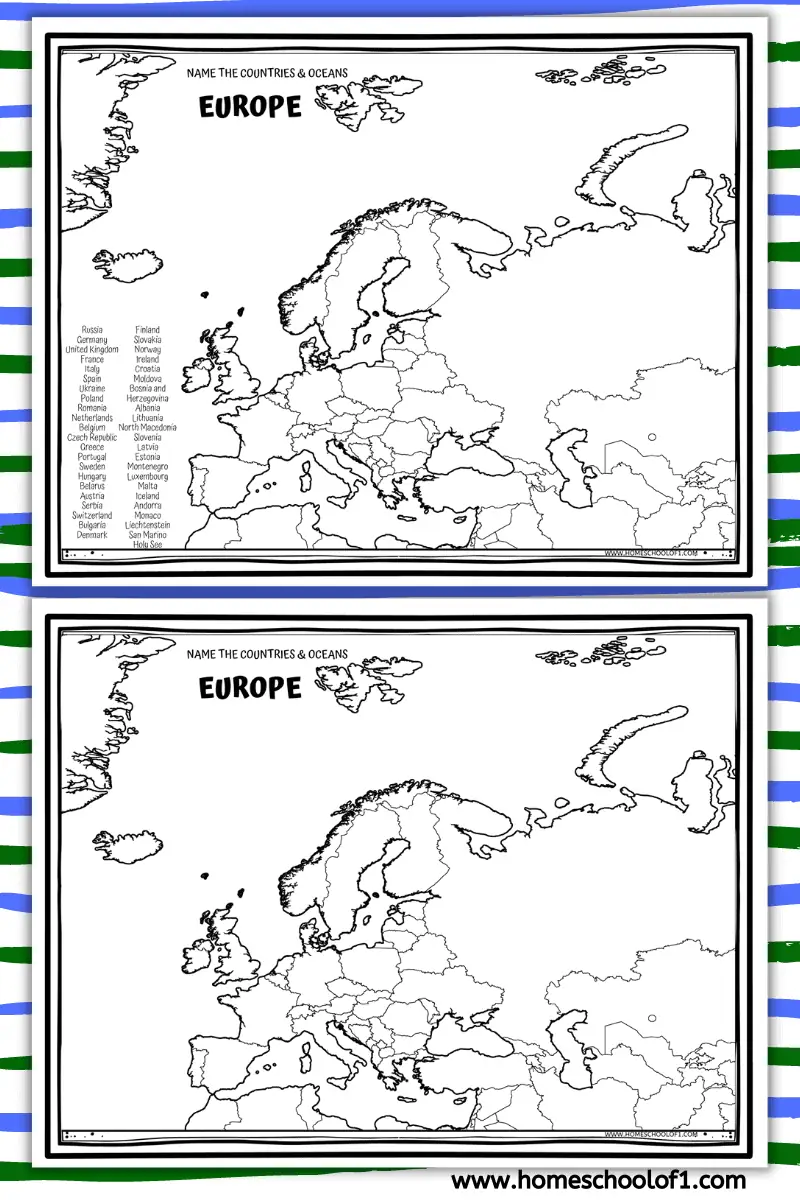 I highly recommend you play the mapology world map game to add to this unit study. This is also included in our favorite geography board games.
Europe Fact Sheet
There are 10 questions about the continent of Europe. Plus the top 10 countries by population, by land area, and the top 10 cities by population in Europe.
How many countries are in Europe? 44
How big is the continent of Europe? 4.066 million mi²
What is the total population of Europe? 746.4 million
What is the tallest mountain in Europe? Where is it? Mount Elbrus, Russia
What is the lowest point in Europe? Where is it? Caspian Sea, bordering Azerbaijan, Russia, Kazakhstan, & Iran.
What oceans are in Europe? Atlantic and Arctic Oceans.
What is the biggest river in Europe? Where is it? Volga River, Russia
What is the main currency in Europe? Euro
What is the smallest country in Europe? Vatican City/ Holy See.
What is the largest desert in Europe? The Oltenian Sahara, Romania.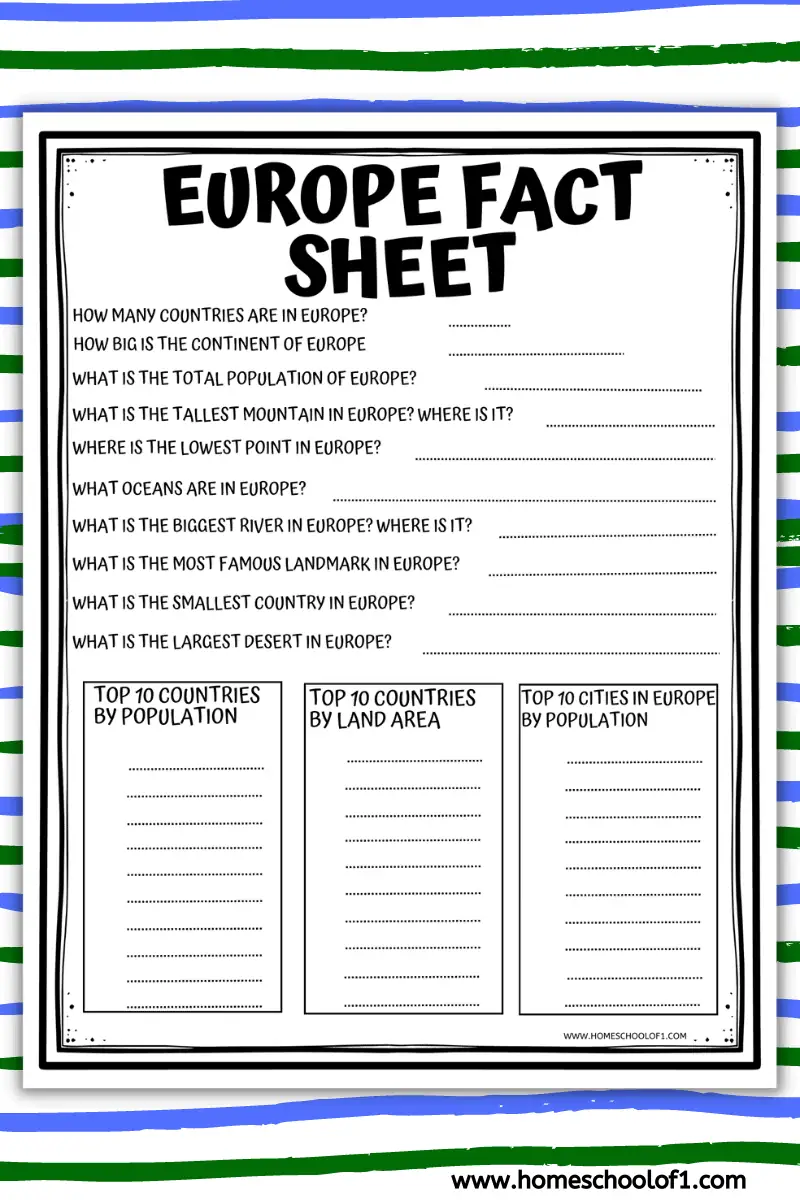 Top 10 Countries by Population in Europe
Russia
Germany
United Kingdom
France
Italy
Spain
Ukraine
Poland
Romania
Netherlands
Top 10 countries in Europe by land area
Russia
Ukraine
France
Spain
Sweden
Germany
Finland
Norway
Poland
Italy
Top 10 cities in Europe by population
Moscow, Russia
London, United Kingdom
Saint Petersburg, Russia
Berlin, Germany
Madrid, Spain
Kyiv, Ukraine
Rome, Italy
Paris, France
Bucharest, Romania
Minsk, Belarus
For even more fun learning about the world I highly recommend the World card game.
Learn to say hello in 10 European languages
There are 10 ways to say hello in 10 different languages, and the children need to label the correct greeting with the correct language.
Hello in European languages:
Hello – English
Merhaba – Turkish (Turkey)
Ciao – Italian
Bonjour – French
Hallo – German
Pryvit – Russian
Hola – Spanish
Hallo – Dutch
Witam – Polish
Privet – Ukrainian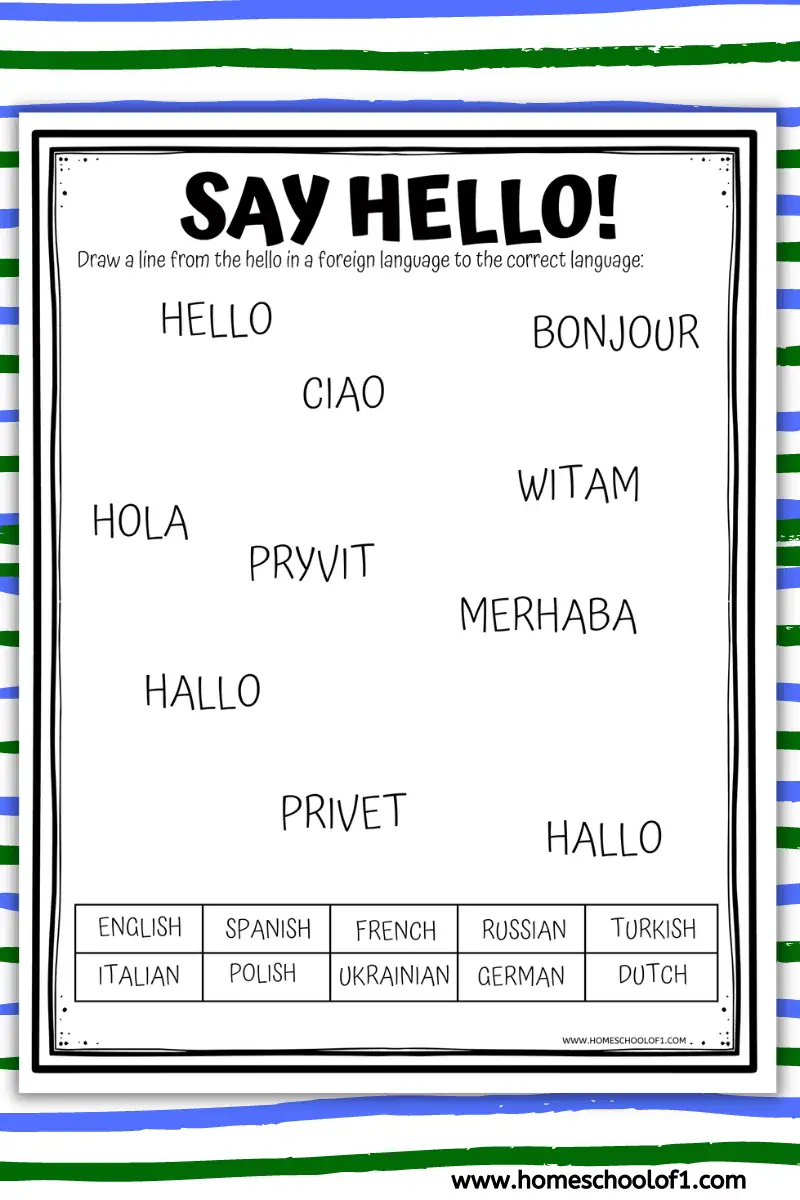 Match the Flag Worksheet
This fun match the flag worksheet is a lot of fun. The children need to research what colors to color in the maps of 10 European countries.
When they have colored them in correctly, they need to add a line to the correct country.
The country flags included are:
Russia
Germany
France
Italy
United Kingdom
Ukraine
Netherlands
Poland
Spain
Romania
You will also enjoy the 100 pics card game. Can you identify the countries from the flag?
Europe Word Search
The European countries can be found, horizontally, vertically, diagonally, frontwards, or backward! Just to make it that much more difficult.
I have also added the word search answers, as some of the words are a little tricky to find!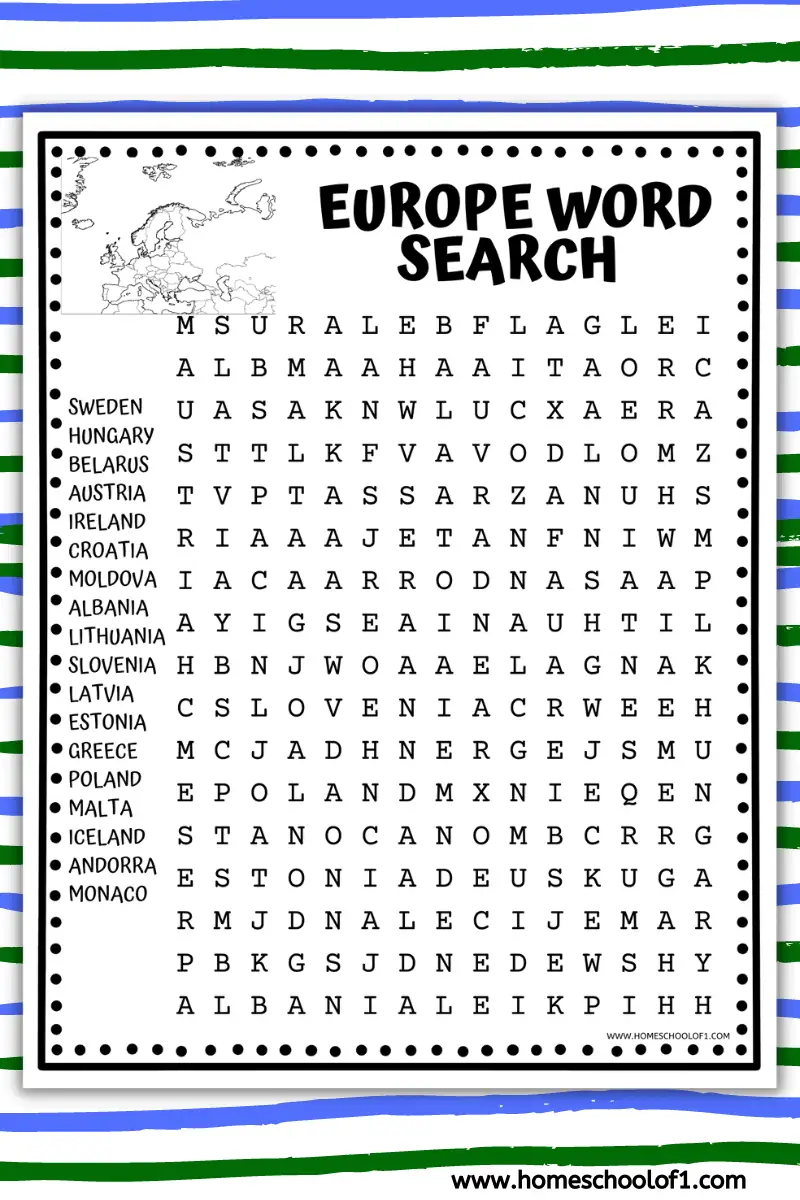 Tip: I recommend either using a highlighter pen or circling around the letters. Do not cross the letters out if you have found a word, as it may be used in another word!
The 18 European countries to find are:
Sweden
Hungary
Belarus
Austria
Ireland
Croatia
Moldova
Albania
Lithuania
Slovenia
Latvia
Estonia
Greece
Poland
Malta
Iceland
Andorra
Monaco
Word search printables are an excellent school activity for when the kids just need a break. They are educational, but more importantly, they are fun.
Europe Word Scramble
There are no clues in our free word scramble, other than the 12 countries are all in the continent of Europe.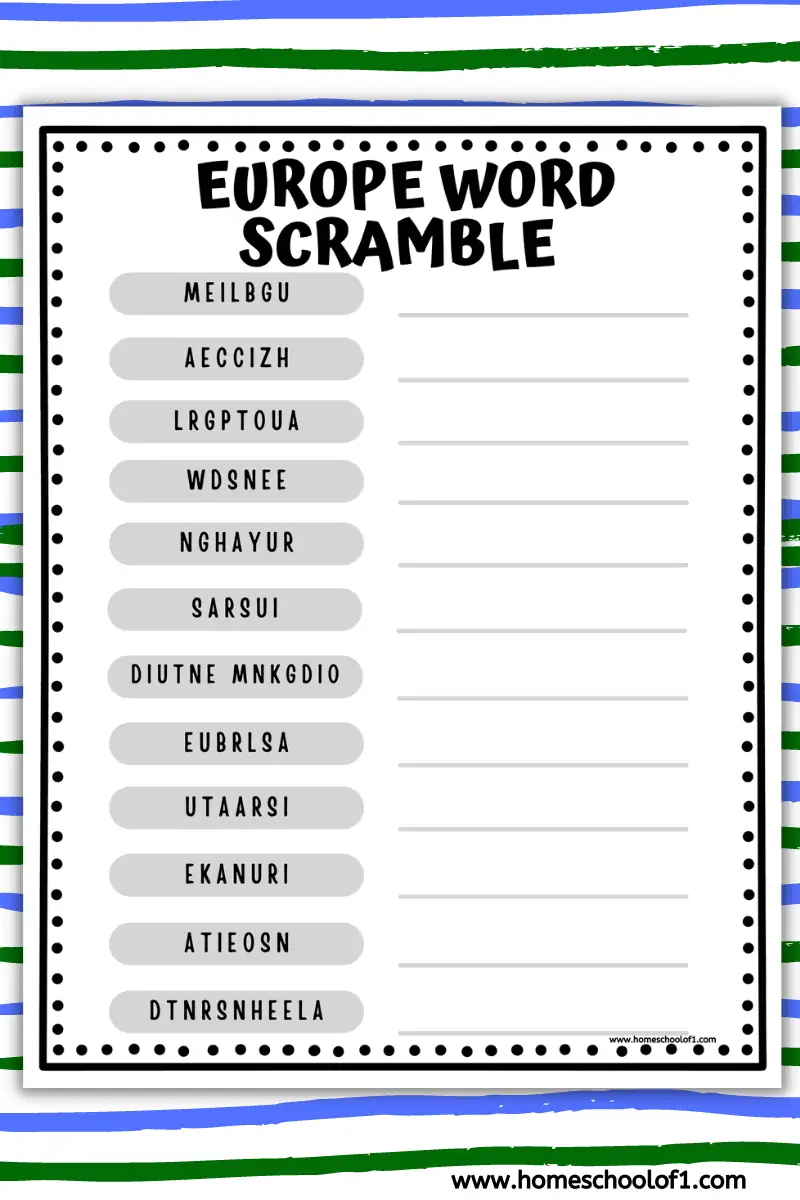 The 12 Europe countries to find are: (I have included an answer sheet with the download.)
Belgium
Czechia
Portugal
Sweden
Hungary
Russia
United Kingdom
Belarus
Austria
Ukraine
Estonia
Netherlands
This free word scramble printable is great either for the classroom, the library, or homeschooling.
Books about Europe for kids
These are our favorite geography books for kids:
Other free geography printables
Continent Worksheets
For a small fee, you can download all of our continent worksheets.
There are 99 pages, and over 53 different worksheets included in this download including:
Continent Worksheets (6 worksheets + 6 answer sheets)
North America (7 worksheets + 6 answer sheets)
Asia (7 worksheets + 6 answer sheets)
Africa (7 worksheets + 6 answer sheets)
South America (7 worksheets + 6 answer sheets)
Antarctica (5 worksheets + 4 answer sheets
Europe (7 worksheets + 6 answer sheets)
Australia (7 worksheets + 5 answer sheets)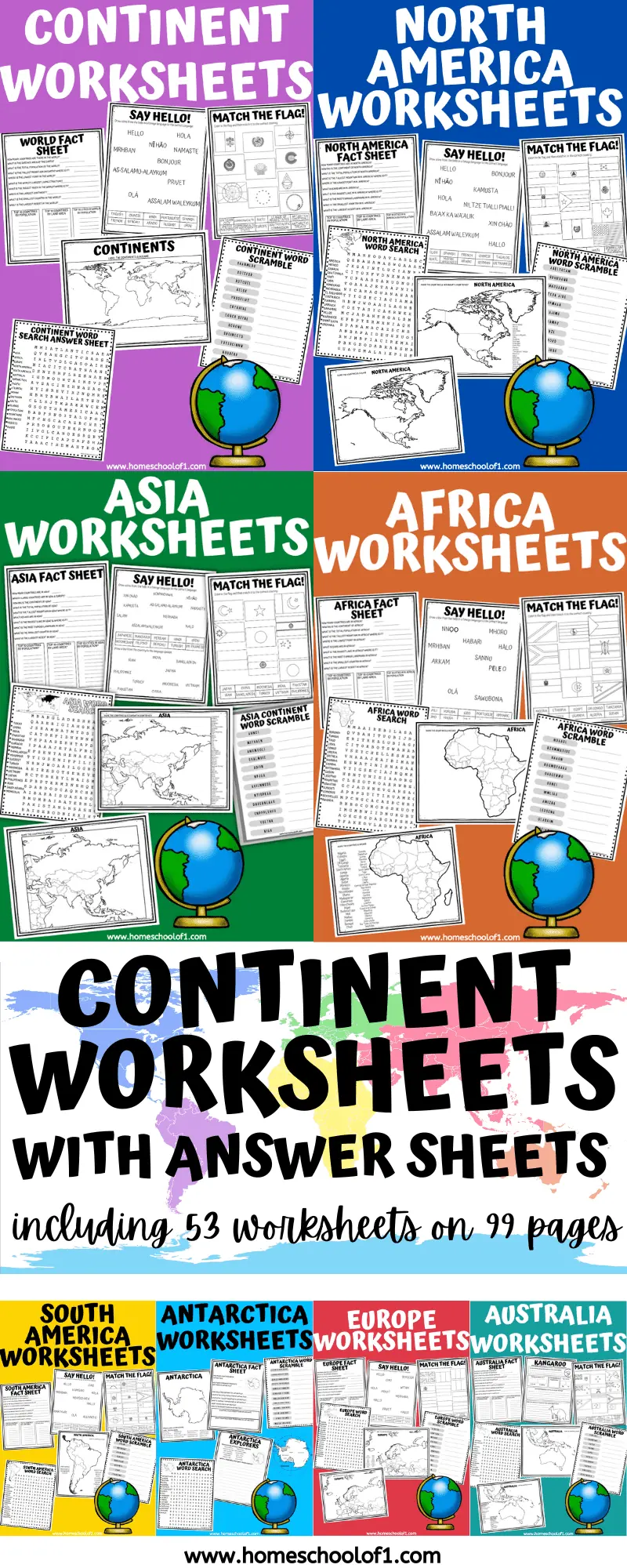 Download the free printable Europe worksheets
This printable Europe worksheet is free to print but is for personal or classroom use only. Scroll to the bottom of the page to get the pdf file.
Make sure you choose the correct paper size and click on the shrink to fit button. All of our free printables for kids work better when printed on cardstock (this is the one we use and love.)
Last Updated on 2 June 2023 by homeschoolof1