Free Christmas In The Netherlands Worksheets
Explore the enchanting world of Christmas in the Netherlands with our engaging Christmas in the Netherlands worksheets for kids!
These Christmas activities for kids are the perfect way to delve into the Netherlands' festive traditions and culture during the holiday season.
With 6 festive pages, including learning to say "Merry Christmas" in Dutch. Discovering delightful Dutch Christmas foods, and meeting the beloved Sinterklaas and his helper Zwarte Piet. Your children will embark on an exciting journey through the unique Christmas celebrations in the Netherlands.
**There may be affiliate links in this post. You can read my full disclosure at the bottom of the page.**
Christmas in the Netherlands coloring pages
There are 6 pages included in these holiday worksheets. All about the Christmas traditions in the Netherlands.
Sinterklaas coloring page
Sinterklaas is a beloved Dutch Christmas tradition that centers around the arrival of St. Nicholas. Better known as Sinterklaas, in the Netherlands on December 5th.
He is depicted as a kindly bishop who brings gifts and joy to children.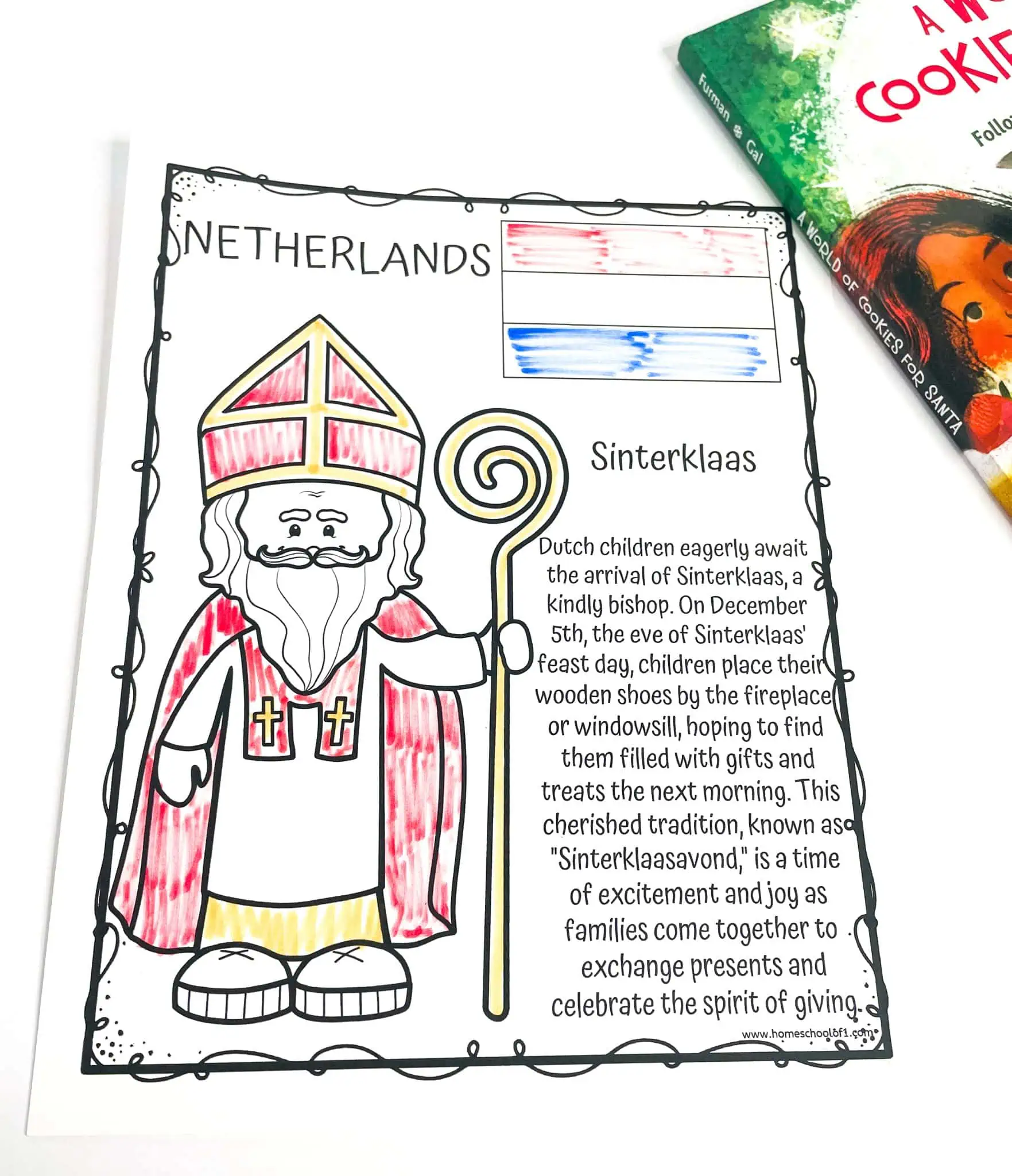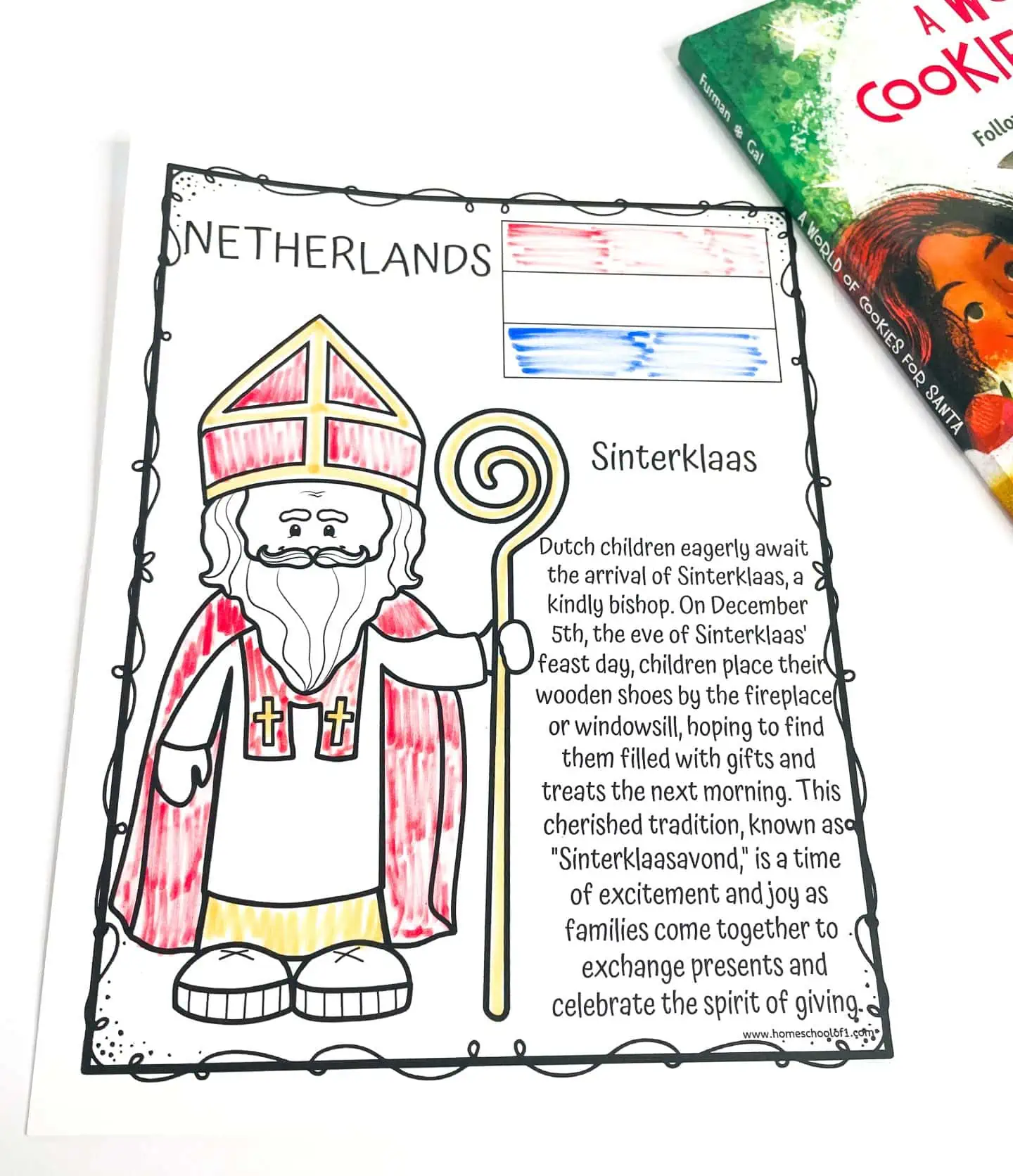 Christmas Around the World: A Christmas Holiday Book for Kids
Christmas Crafts from around the World (Kids Can Do It)
Cooking Around the Calendar with Kids: Holiday and Seasonal Food and Fun (Cooking with Kids)
Joy to the World!: Christmas Around the Globe (World of Celebrations)
A World of Cookies for Santa: Follow Santa's Tasty Trip Around the World: A Christmas Holiday Book for Kids
How Kids Celebrate Christmas Around the World (Kids Around the World)
Dutch Christmas traditions
Learn about the 4 popular Christmas traditions:
Peppernoot is a popular Dutch Christmas treat. These small, spiced cookies are typically enjoyed during the Sinterklaas celebration. Children often leave them out for Sinterklaas and Zwarte Piet. And they're a delightful and aromatic part of the holiday season in the Netherlands.
Chocolate letters, or "chocoladeletters," are another cherished Dutch tradition during Sinterklaas. These are large, molded chocolate letters, often made with the initial letter of a person's name. They are exchanged as gifts and are a sweet and personalized way to celebrate the holiday.
Kerststol, also known as Christmas stollen, is a traditional Dutch Christmas bread. It is a sweet, fruit-filled loaf that may contain ingredients like marzipan, almonds, and candied fruits. Kerststol is typically enjoyed as a festive treat during the Christmas season, often sliced and served with butter.
The Midwinterhoorn is a traditional musical instrument in the Netherlands, particularly in the eastern regions. It's a long, wooden horn made from a single piece of wood and is played during the Advent and Christmas seasons. The haunting, echoing tones of the Midwinterhoorn are meant to announce the arrival of Christmas. And are part of the Dutch rural folklore and celebrations.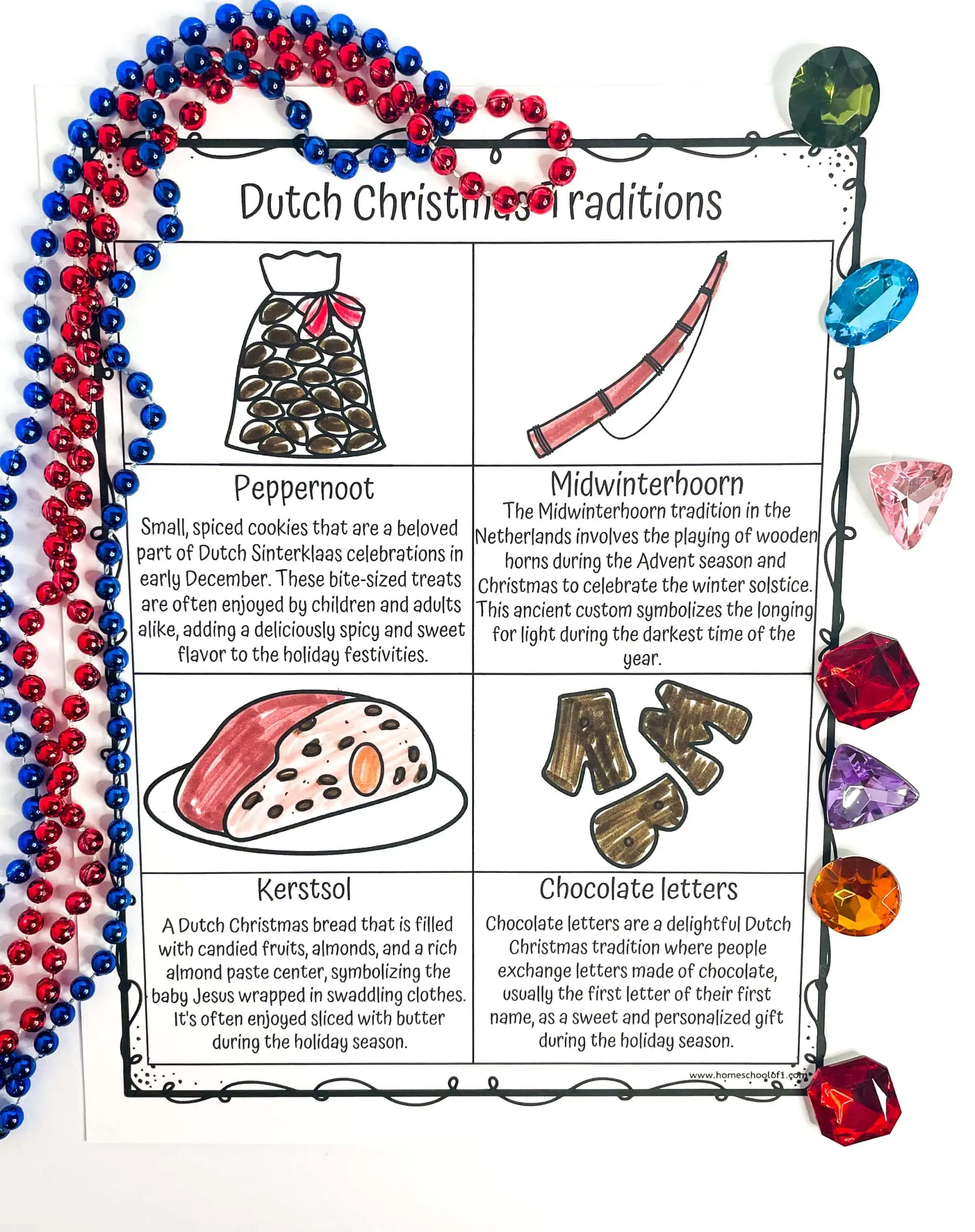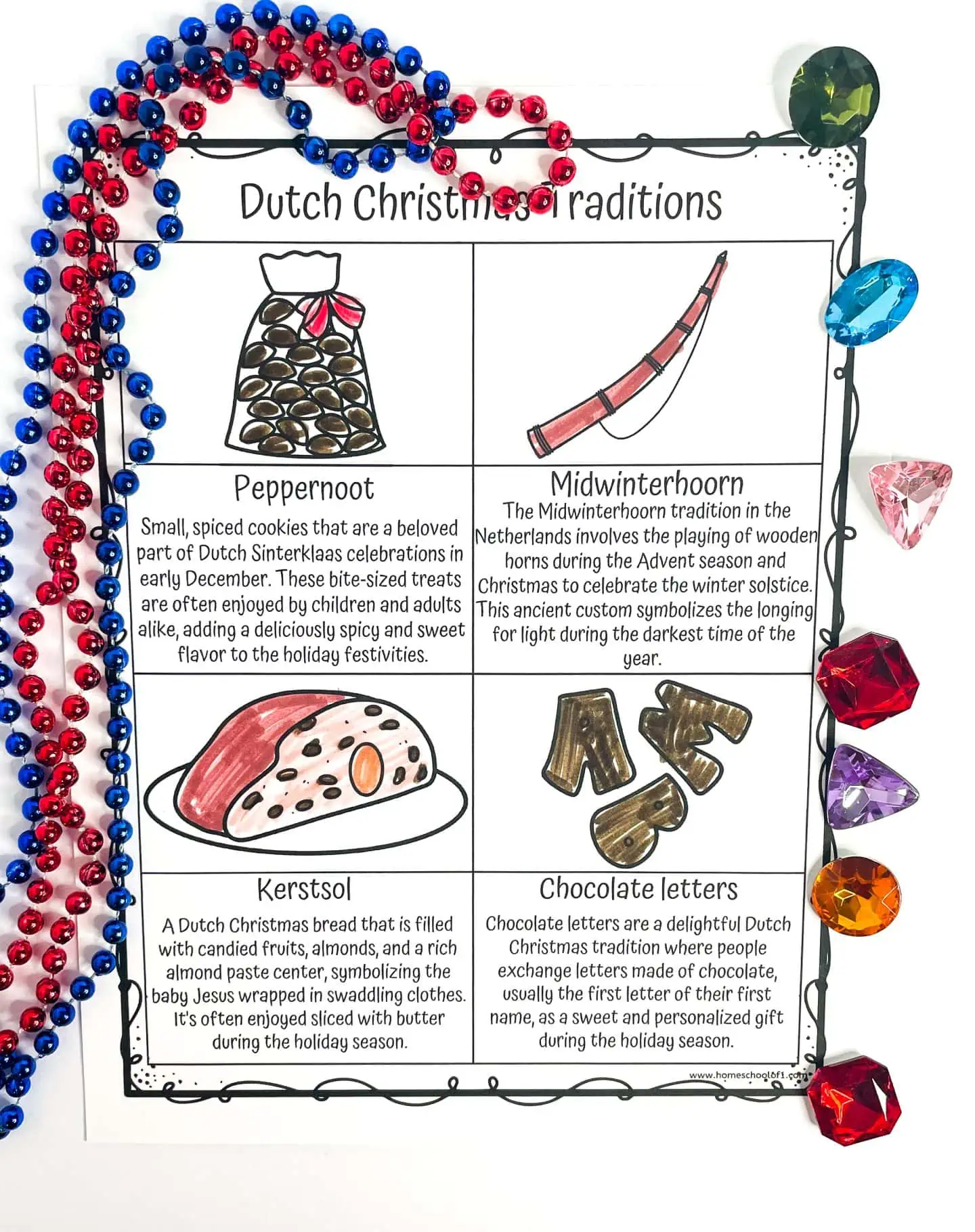 Steamboat and Sinterklaas arrival
Sinterklaas's arrival in the Netherlands is an eagerly anticipated event that typically takes place in mid-November. He arrives in the country on a grand steamboat from Spain, where he is said to reside.
Crowds of excited children and families gather at the docks to welcome him. And the arrival is often broadcast on television.
Sinterklaas is seen as a symbol of generosity and holiday cheer. And his steamboat arrival marks the official start of the Dutch Christmas season.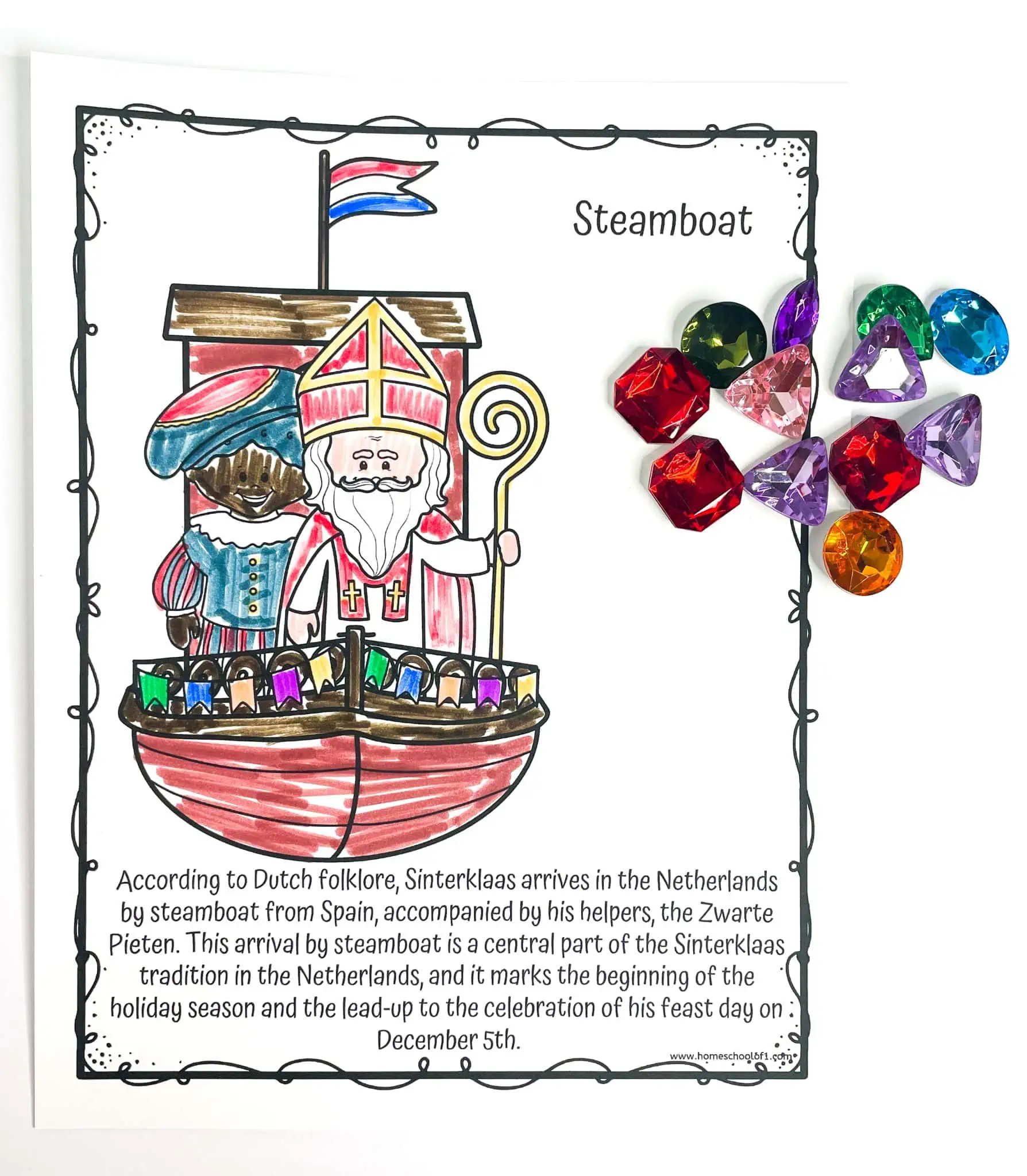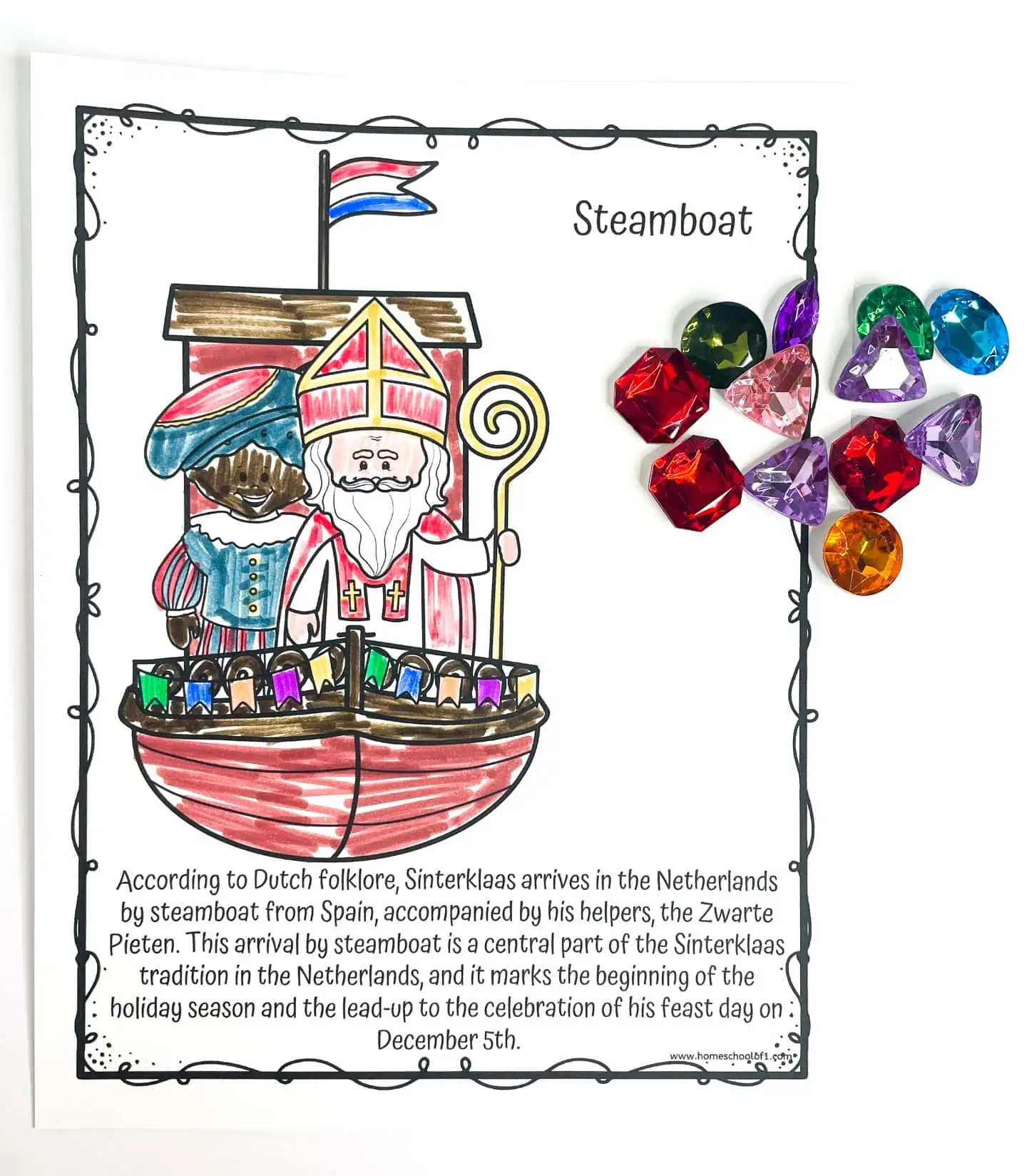 Sinterklaasavond coloring page
Sinterklaasavond, also known as St. Nicholas' Eve, is a cherished Dutch holiday celebrated on December 5th.
On this special evening, families and friends come together to exchange gifts, enjoy festive feasts, and partake in various traditions.
The highlight of Sinterklaasavond is the arrival of Sinterklaas himself. Who leaves gifts in children's shoes and fills the evening with joy and excitement. Making it a magical and heartwarming occasion for all.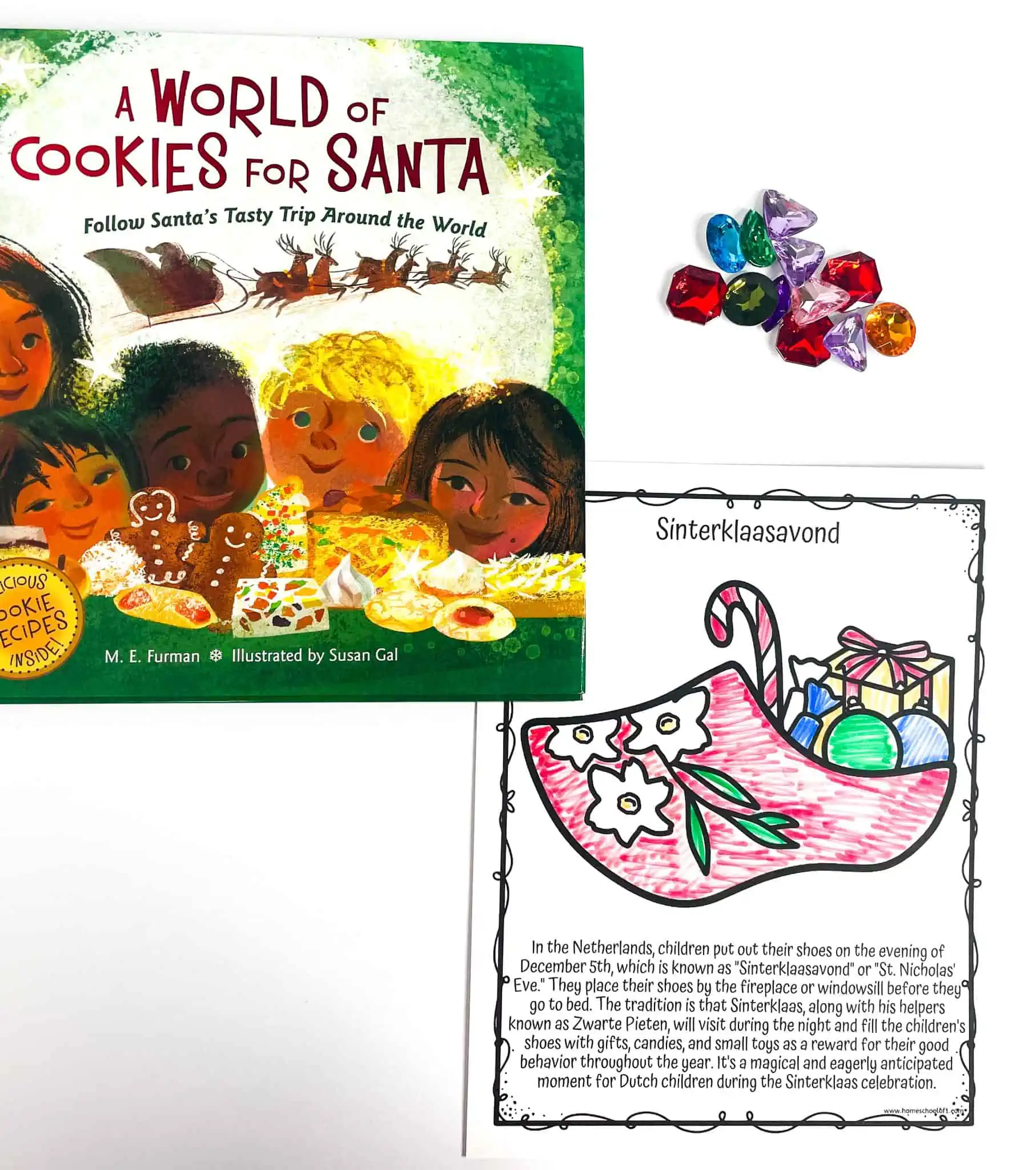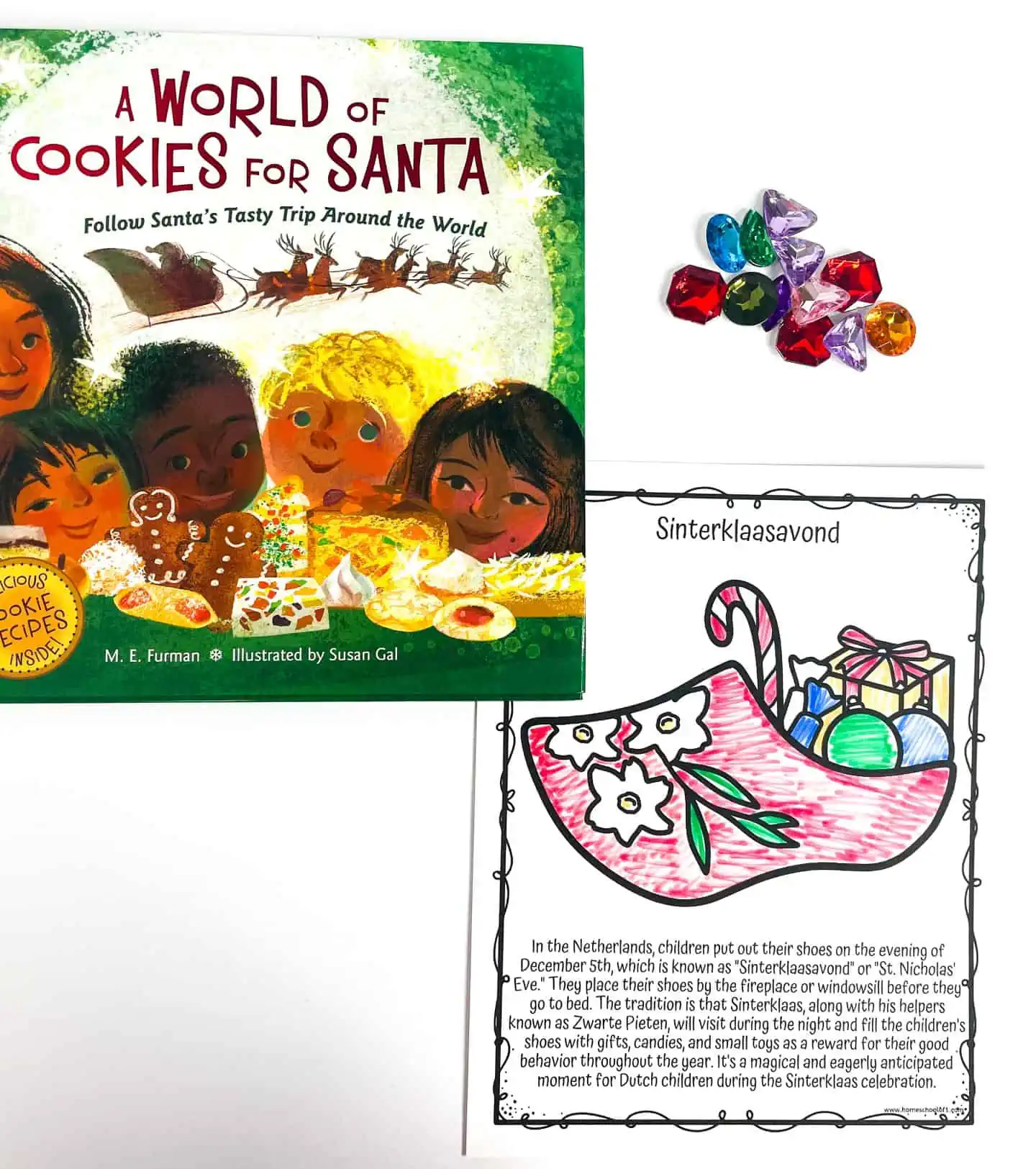 Amerigo coloring page
Amerigo is the name of Sinterklaas's loyal white horse, and he is a beloved character in Dutch Christmas folklore.
The horse is said to accompany Sinterklaas on his annual journey from Spain to the Netherlands. Helping him deliver gifts to children's homes.
Children often leave carrots or hay in their shoes for Amerigo. Along with a wish for Sinterklaas, as a way to show their appreciation for this noble steed.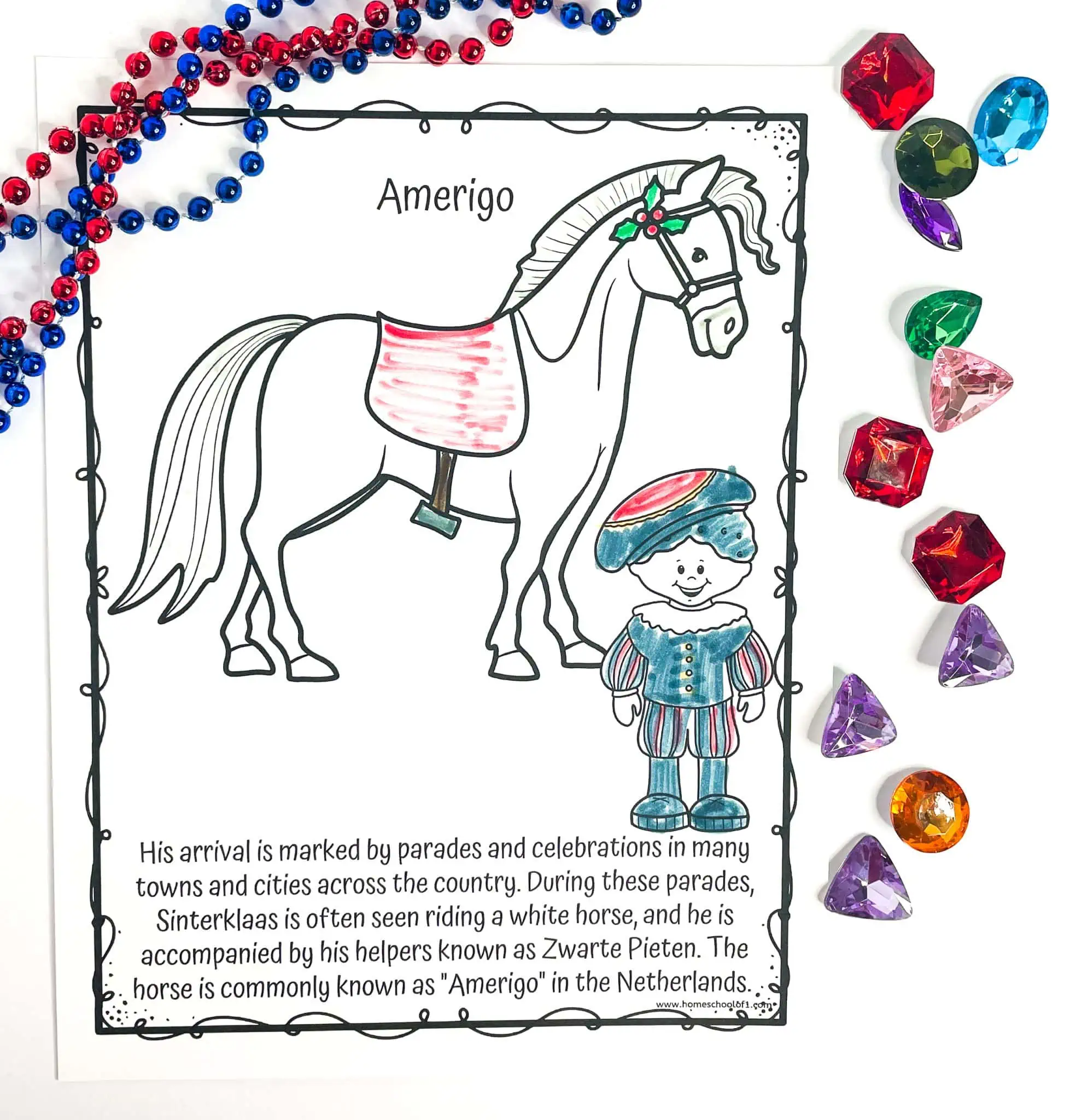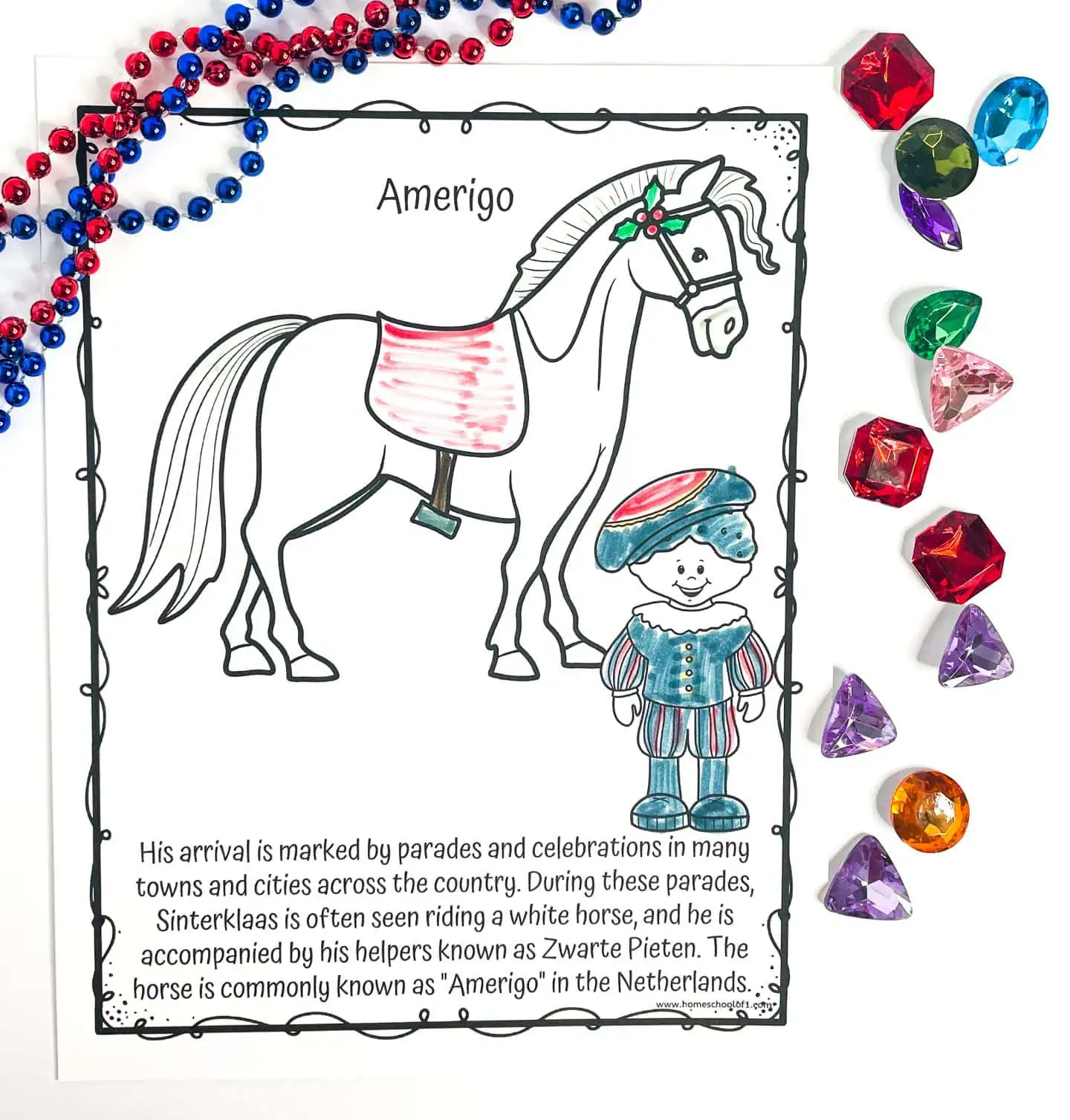 Learn to say Merry Christmas in Dutch
Finish up learning about Christmas in the Netherlands and learn how to say Merry Christmas in the language spoken, Dutch.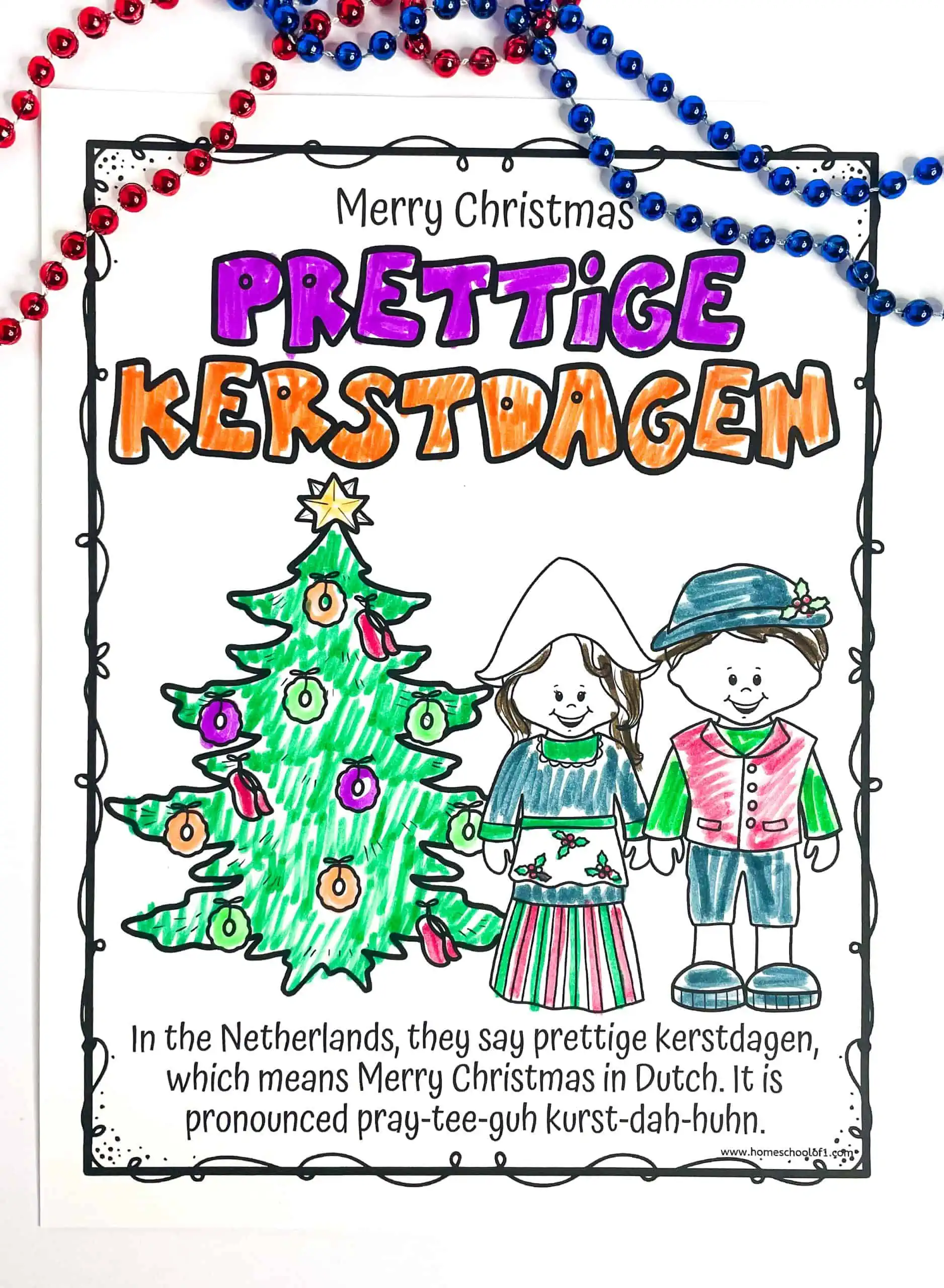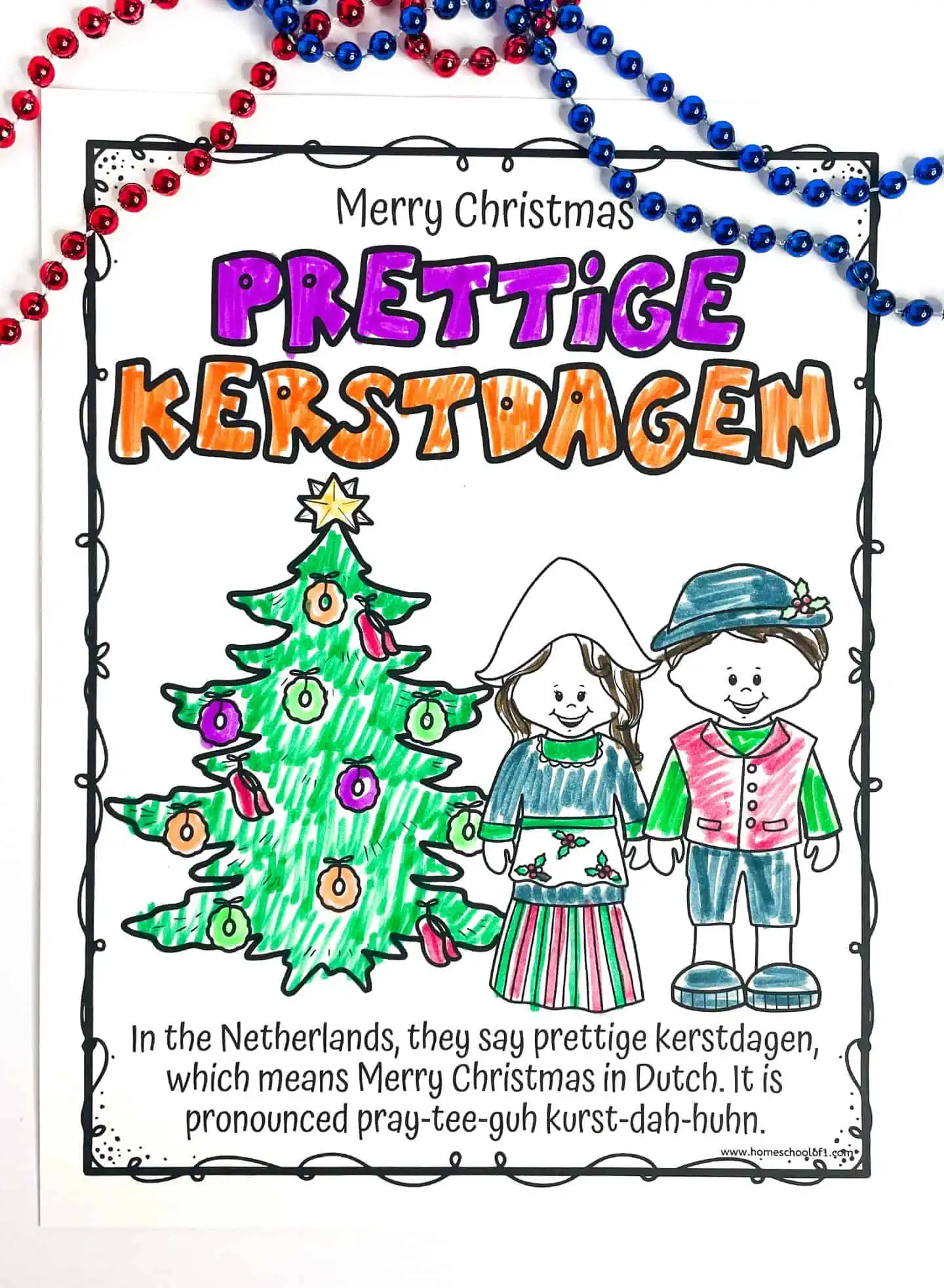 Christmas books with a Dutch theme
For elementary-grade kids interested in Christmas books with a Dutch theme or setting, you might want to consider these options:
Here are some Christmas books with a Dutch theme or setting that elementary-grade kids might enjoy:
The Legend of St. Nicholas: A Story of Christmas Giving by Dandi Daley Mackall

This book tells the story of St. Nicholas. The historical figure who inspired Santa Claus, and how he helped those in need during the holiday season.

Sinterklaas by Kathy Dobson

A doll lost at sea befriends wild but generous creatures. With a little magic and a lot of spirit, the doll and his friends journey to find a home.
Tips for downloading the free files
Below is a blue cloud with an arrow pointing downward. Underneath that is a large sign-up box where you need to add your name and email address, and press I NEED THIS NOW!
Within minutes you will be sent the free PDF directly to your email address, so you can print it out and start using it immediately.
Sometimes emails get a little wonky, so if you can't see it, please check your spam folder where I am sure it is hiding.
Download the free Dutch Christmas worksheets
These worksheets are free to print but are for personal or classroom use only.
Make sure you choose the correct paper size and click on the shrink to fit button. All of our free printables for kids work better when printed on cardstock (this is the one we use and love.)
Other Christmas Around the World Traditions
Last Updated on 2 October 2023 by homeschoolof1