Spooky Mad Libs for Halloween (free printable)
Welcome to the eerie world of spooky Mad Libs, where Halloween meets hilarity! Get ready to embark on a haunting adventure, where the kids imaginations takes center stage.
In this spine tingling mad libs printable, young writers will get to flex their creative muscles by adding adjectives, nouns, and verbs to craft a hair-raising tale set in a mysterious haunted house.
Add this to your Halloween activities for kids, and watch as their laughter and creativity take over this spooky season! It's a ghoulishly good time for all.
**There may be affiliate links in this post. You can read my full disclosure at the bottom of the page.**
Spooky story mad libs
Unleash your child's inner storyteller with our spooky Halloween mad libs printable.
The children will need to add adjectives, nouns, and verbs to the haunted house adventure.
Once they've filled in the missing words and created their own spooky Halloween story. They can dive into coloring a picture of a haunted house and a friendly tree. Adding their personal touch to this chillingly delightful adventure.
With spooky printable mad libs, your child will have loads of fun while learning about words and using their imagination.
It's a perfect Halloween activity for some spooky, silly, and creative fun!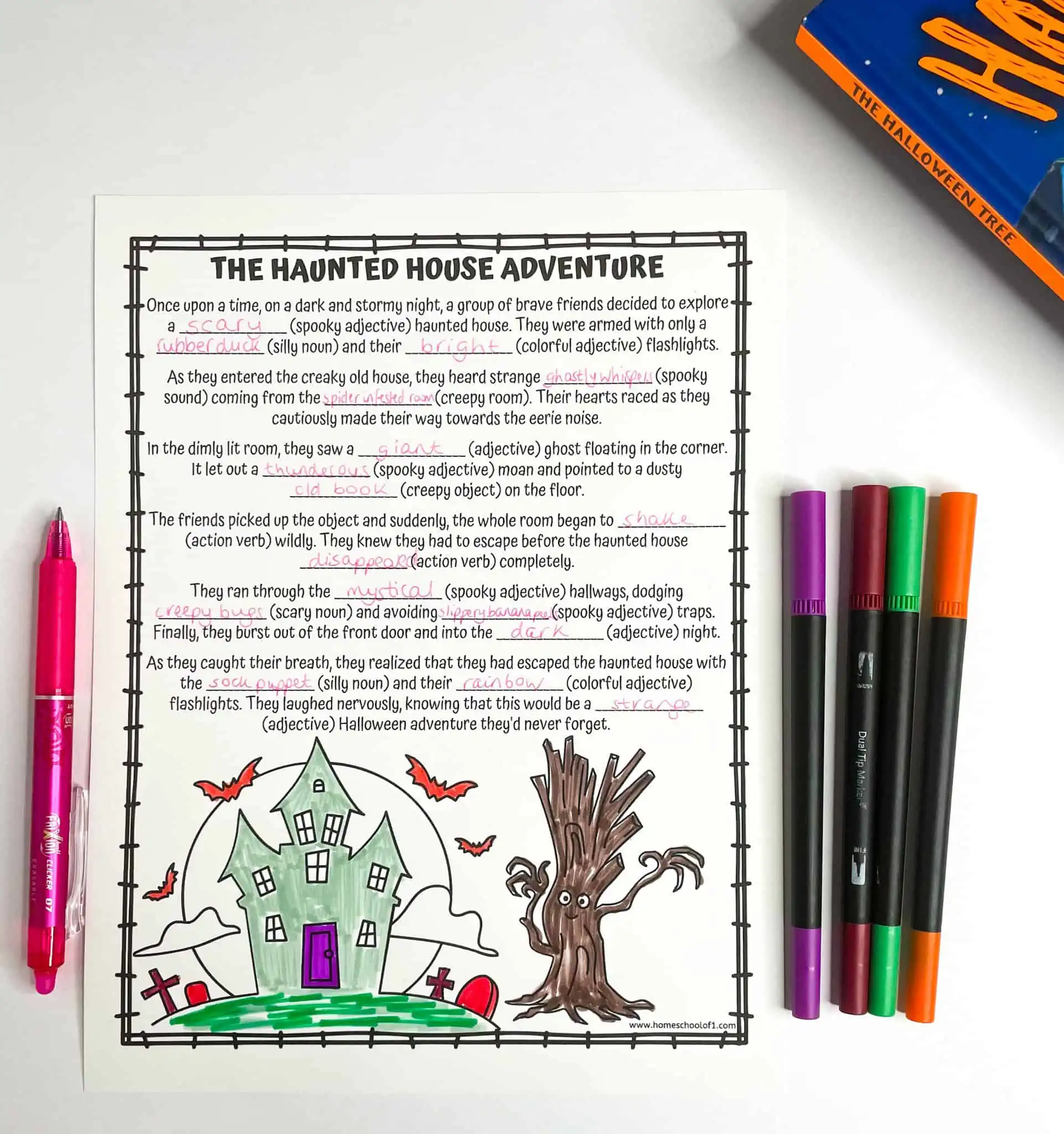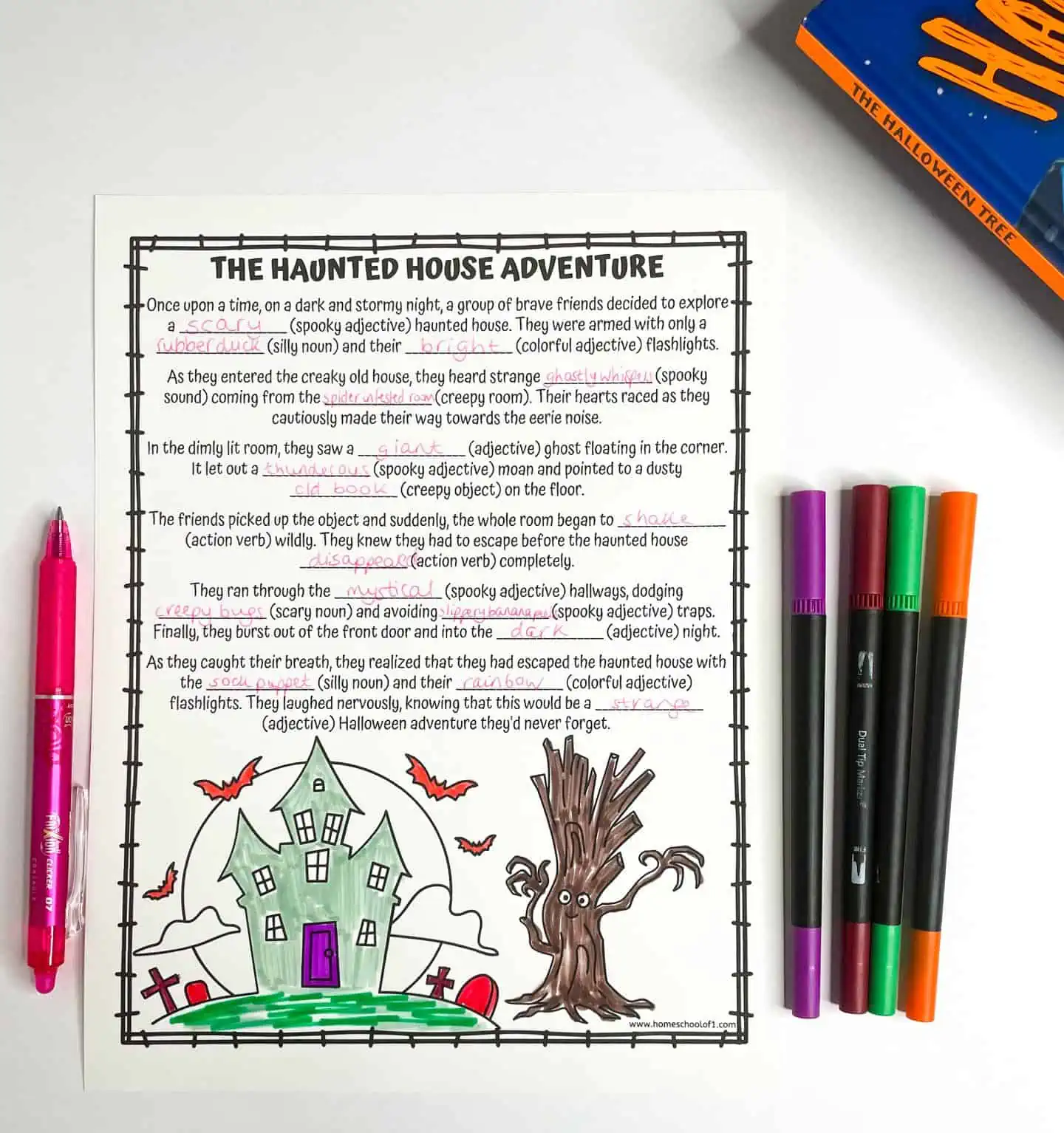 Halloween Mad Libs books
You can also treat the kids to a new Mad Libs activity book. These are our favorite spooky Mad Libs books:
Haunted Mad Libs
Night of the Living Mad Libs: World's Greatest Word Game
Undead Mad Libs: World's Greatest Word Game
Halloween Mad Libs Junior: World's Greatest Word Game
Monster Mash Mad Libs: World's Greatest Word Game
Trick or Treat Mad Libs: World's Greatest Word Game
Additional Halloween activities for the classroom
Have fun in the classroom this Halloween with these additional Halloween worksheets and activities:
Check out the free pumpkin mad libs
What skill is being covered with mad libs?
Mad Libs cover several language related skills and concepts. Making them a valuable and entertaining tool for language development and reinforcement. Especially for elementary and middle school students. Some of the skills and concepts that Mad Libs can help reinforce or teach include:
Mad Libs introduce and reinforce understanding of nouns, verbs, adjectives, adverbs, pronouns, and other parts of speech.
Children are exposed to a variety of words and are encouraged to use their vocabulary to select words that fit the context.
Mad Libs can teach and reinforce correct sentence structure and grammatical rules. As students select words that make sense within the sentence.
Kids must think creatively and use their imagination to select words that may not fit the context. Leading to humorous or unexpected results.
Mad Libs requires students to consider the context of the story to choose appropriate words that make the story coherent or funny.
Mad Libs involve filling in the blanks of pre-written stories or paragraphs. This helps kids understand the structure of a narrative and how words contribute to storytelling.
Have fun with Thanksgiving mad libs too!
Tips for downloading the free files
Below is a blue cloud with an arrow pointing downward. Underneath that is a large sign-up box where you need to add your name and email address, and press I NEED THIS NOW!
Within minutes you will be sent the free PDF directly to your email address, so you can print it out and start using it immediately.
Sometimes emails get a little wonky, so if you can't see it, please check your spam folder where I am sure it is hiding.
Download the free spooky mad libs printable
These worksheets are free to print but are for personal or classroom use only.
Make sure you choose the correct paper size and click on the shrink to fit button. All of our free printables for kids work better when printed on cardstock (this is the one we use and love.)
Last Updated on 3 October 2023 by homeschoolof1