Christmas Photo Scavenger Hunt The Older Kids Will Love
Christmas is such a magical time of year, but when the kids get a little older it is harder to keep the magic alive. This Christmas photo scavenger hunt is a great way for older kids to have fun without feeling like little kids.
Elevate the holiday fun with a festive photo scavenger hunt, an exciting addition to your lineup of Christmas activities for kids. Watch their enthusiasm soar as they search for specific holiday-themed items, capturing the joy and spirit of the season through fun and memorable photographs.
We are using an actual camera (shock horror!) but any smartphone will do, nearly all teenagers will have one. It's also a great way to keep track of them when they need to leave the house to take some of the photos.
Carry on reading to download our free Christmas photo scavenger hunt printable, and find out how to host the coolest Christmas party the kids will cherish for years.
**There may be affiliate links in this post. You can read my full disclosure at the bottom of the page.**
Christmas Scavenger Hunt for Teens
Every year prior to this one we got the younger kids together and had fun with our Christmas treasure hunt clues, but unfortunately, as the kids are now getting a little older it is just not cool.
But that's ok, I can make anything cool! This modern twist on an old family favorite is a great way that kids will feel more independent, but creative at the same time.
You can play this just with the kids, or with the entire family, but it is best if played in teams of at least 2 per team.
This Christmas-themed photo scavenger hunt is free to print but is for personal and classroom use only. Scroll to the bottom of the post and add your email address to get the pdf file.
Make sure each team has at least one cell phone, I'm sure that won't be a problem! I prefer them to use a cell phone so you can track where they are, especially with younger players.
But of course, if they have an actual camera or even a polaroid camera that would work great too.
Go over the game rules, which are super simple:
Create groups of at least 2 per team
Take a photo of all of the items
Agree on a time, we like to use an hour but it's up to you (get them to set a timer on their cell phone)
Have FUN!
If you have a mix of ages it might be sensible to add an older one to each of the groups. Also depending on the age of the groups, you might want to set boundaries in your neighborhood for when they need to go outside to take photos.
You can adapt this for younger children and either go with the kids or just stay in the house and take photos when the items pop up on the TV.
I recommend using a clipboard with storage that can hold the pens, and the cellphones if they don't have pockets.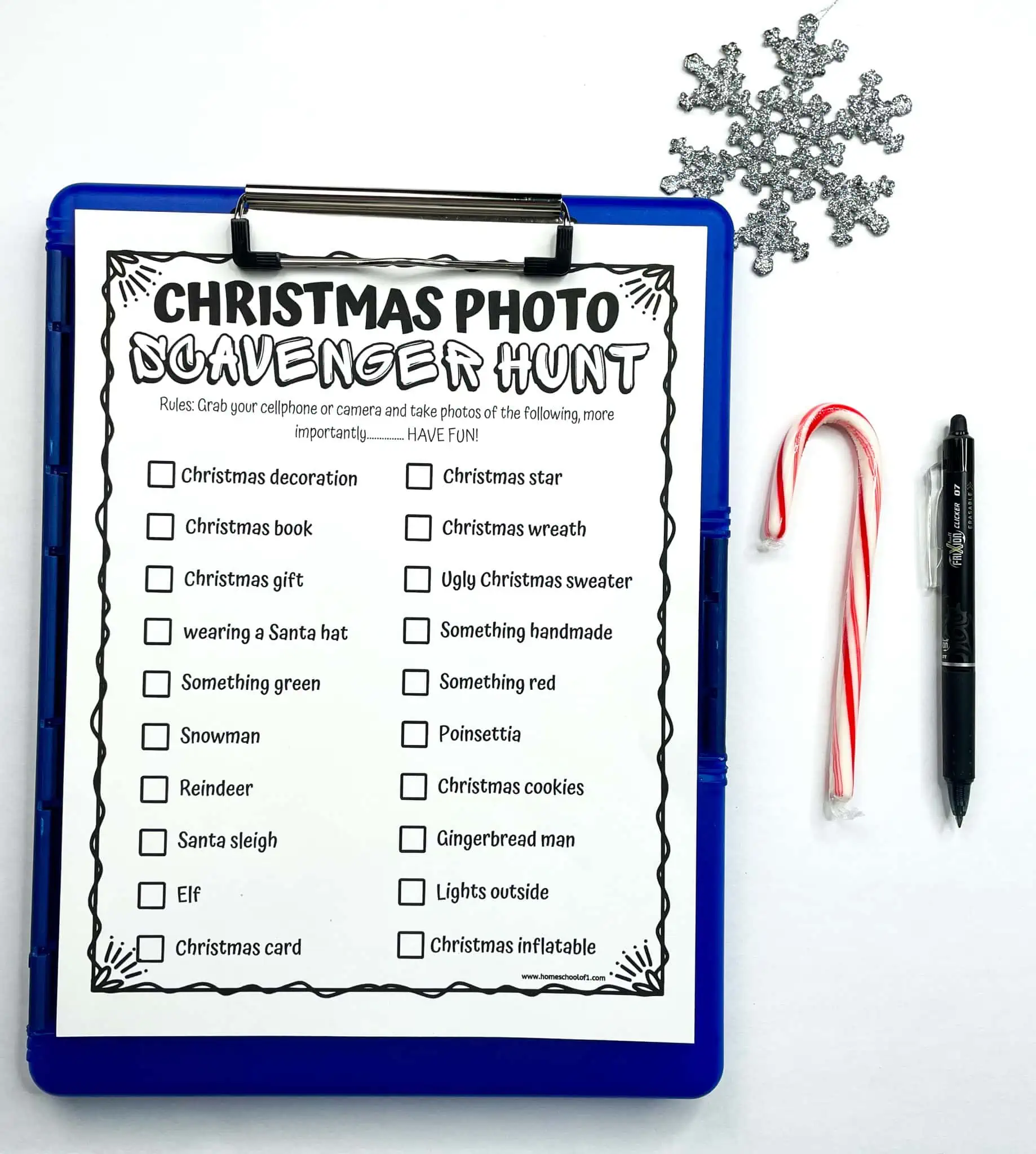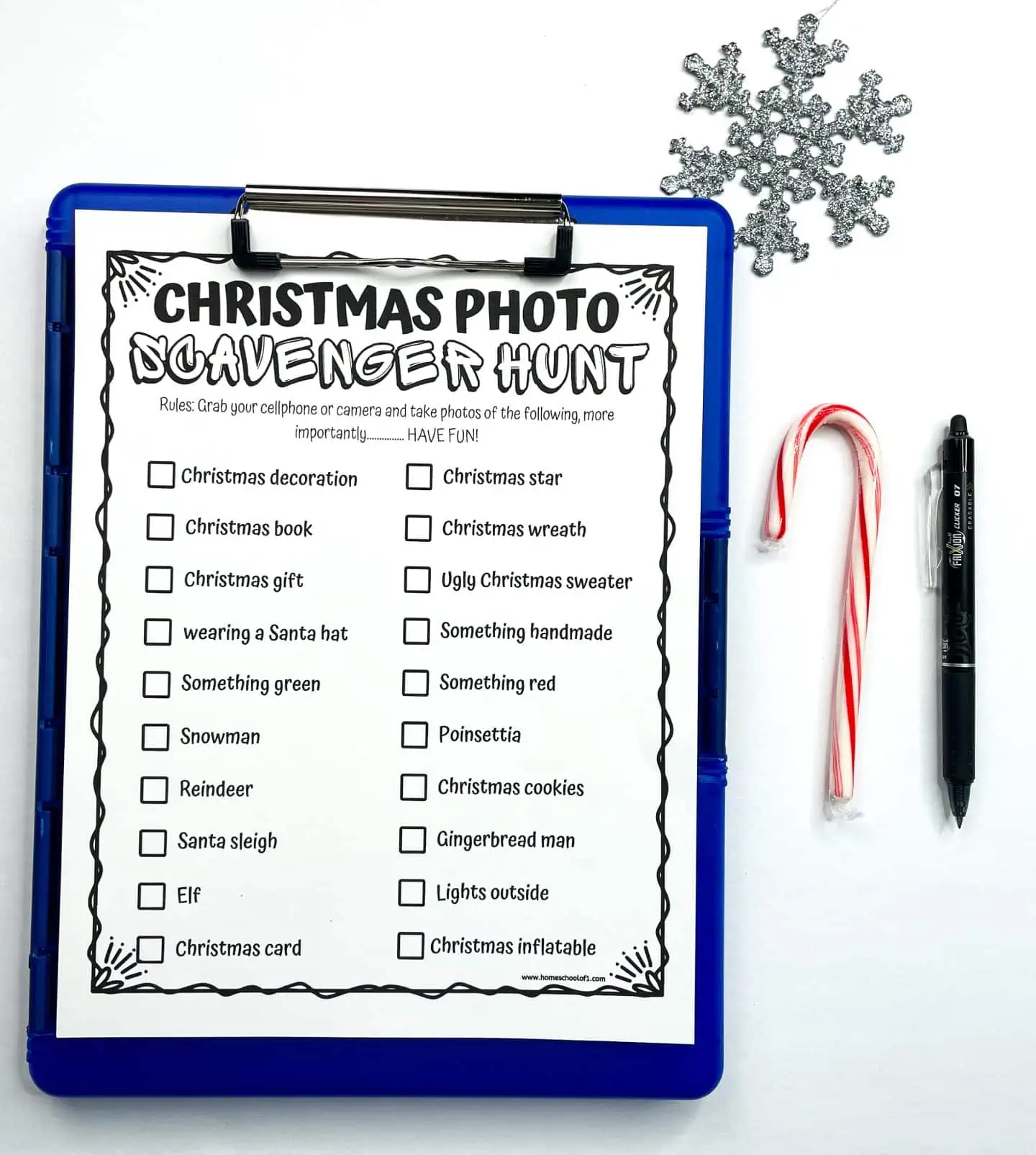 Photos to Take on the Christmas Scavenger Hunt
There are 20 Christmas-themed photos that need to be taken. Hopefully, they will have most, if not all, taken within the time limit.
This is the list of items the team members will have to take:
Favorite Christmas decoration
Christmas book
Christmas gift
Someone wearing a Santa hat
Something green
Snowman
Reindeer
Santa sleigh
Elf
Christmas card
Christmas star
Christmas wreath
Ugly Christmas sweater
Something handmade
Something red
Poinsettia
Christmas cookies
Gingerbread man
Lights outside
Favorite Christmas inflatable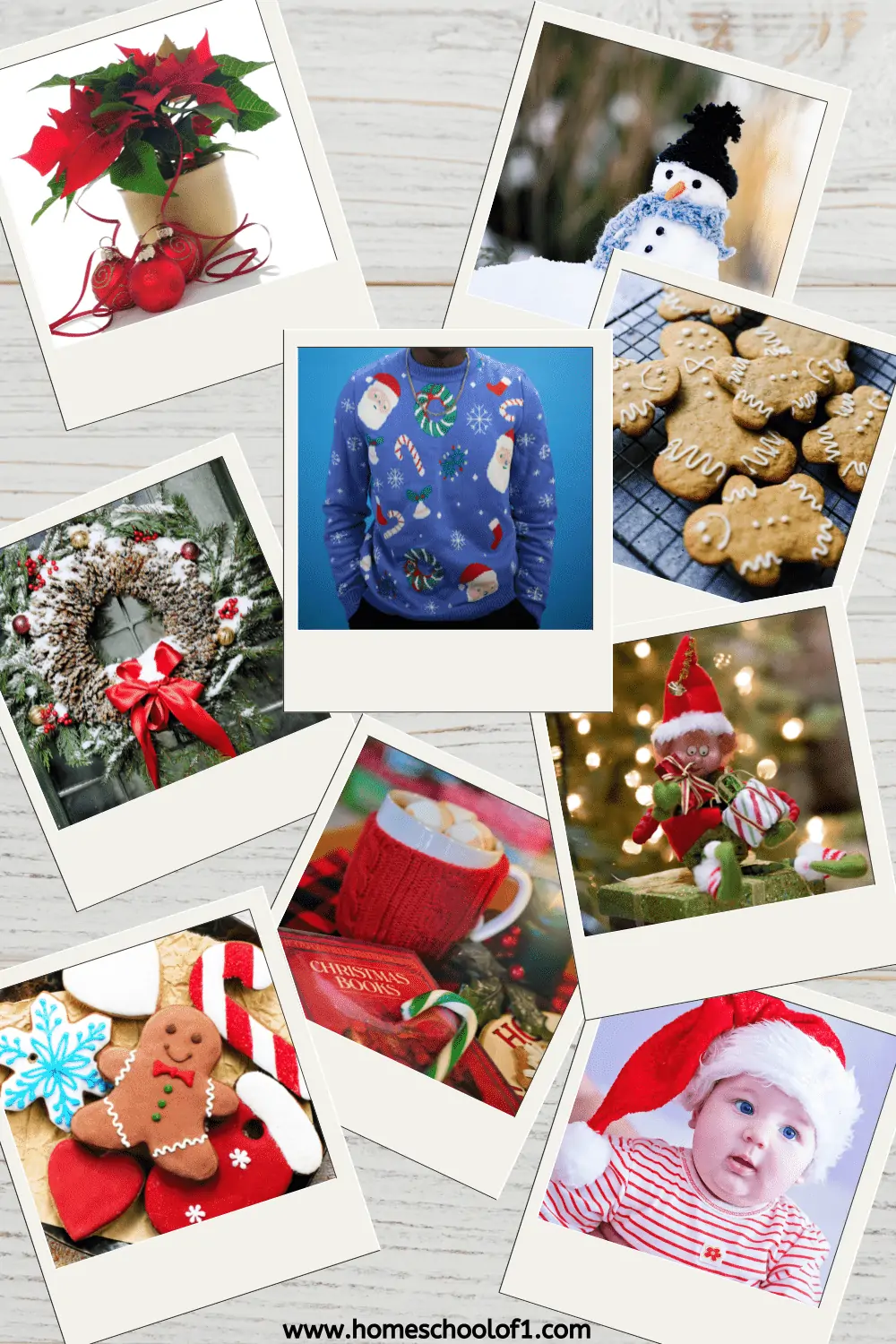 Before you start you need to agree on who the winner will be.
Will it be the quickest to return? Or
The most imaginative photos? Or
Who has taken the best picture?
You can give the teenagers prizes when they return, I mean who doesn't like a small gift!
Gift vouchers (iTunes, Amazon, or Target are pretty generic and will work for most kids)
A holiday book (we love A Christmas Carol by Charles Dickens)
Why not treat the kids to a Christmas escape room when they finish too?
Gift ideas for teenage boys
Tips for downloading the free files
Below you will see a large sign-up box where you need to add your name and email address, and press I NEED THIS NOW!
Within minutes you will be sent the free PDF directly to your email address, so you can print it out and start using it immediately.
Sometimes emails get a little wonky, so if you can't see it, please check your spam folder where I am sure it is hiding.
Download the free Christmas photo scavenger hunt printable
Make sure you choose the correct paper size and click on the shrink to fit button. All of our free printables for kids work better when printed on cardstock (this is the one we use and love.)
Other free scavenger hunt ideas for teens
Last Updated on 25 November 2023 by homeschoolof1