Halloween Photo Scavenger Hunt For Teens & Tweens (free)
The day has come in our home when my 12 year old son has decided he doesn't want to go trick or treating. He doesn't want to dress up either. As I still want to make it fun for him I have created this free Halloween photo scavenger hunt that he can play with his friends.
It's so sad, Halloween was the one holiday I thought we would be able to keep fun until he was much older. But no, sadly not.
Don't let the lack of trick-or-treating dampen your Halloween spirit; there are plenty of exciting Halloween activities for kids to enjoy, such as pumpkin carving, costume contests, spooky movie marathons, and haunted house tours.
We are using an actual camera (shock horror!) but any smartphone will do, nearly all teenagers will have one. It's also a great way to keep track of them!
**There may be affiliate links in this post. You can read my full disclosure at the bottom of the page.**
Every year prior to this one we have had fun with Halloween treasure hunt clues, but alas, apparently 12 is the new 18 and everything is just not cool.
But that's ok, I can make anything cool! This modern twist on an old family favorite is a great way that kids will feel more independent, but creative at the same time.
Halloween Scavenger Hunt for Teens
Get all the kids together, the more the merrier, and create teams of at least 2 kids in each.
Make sure each team has at least one cell phone, I'm sure that won't be a problem!
I prefer them to use a cell phone so you can track where they are, especially with younger kids.
But of course, if they have an actual camera or even a polaroid camera that would work great too.
Go over the rules, which are super simple: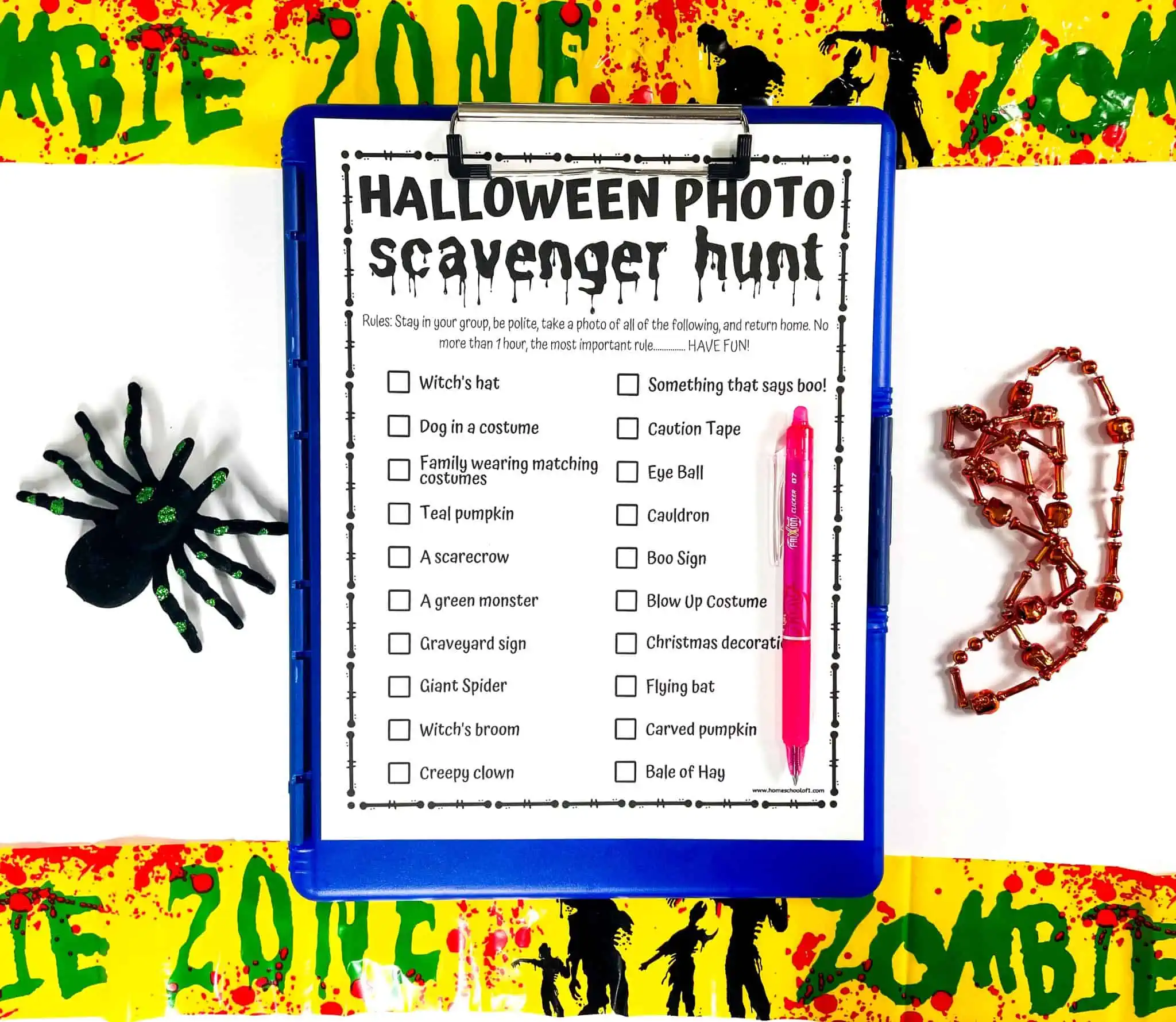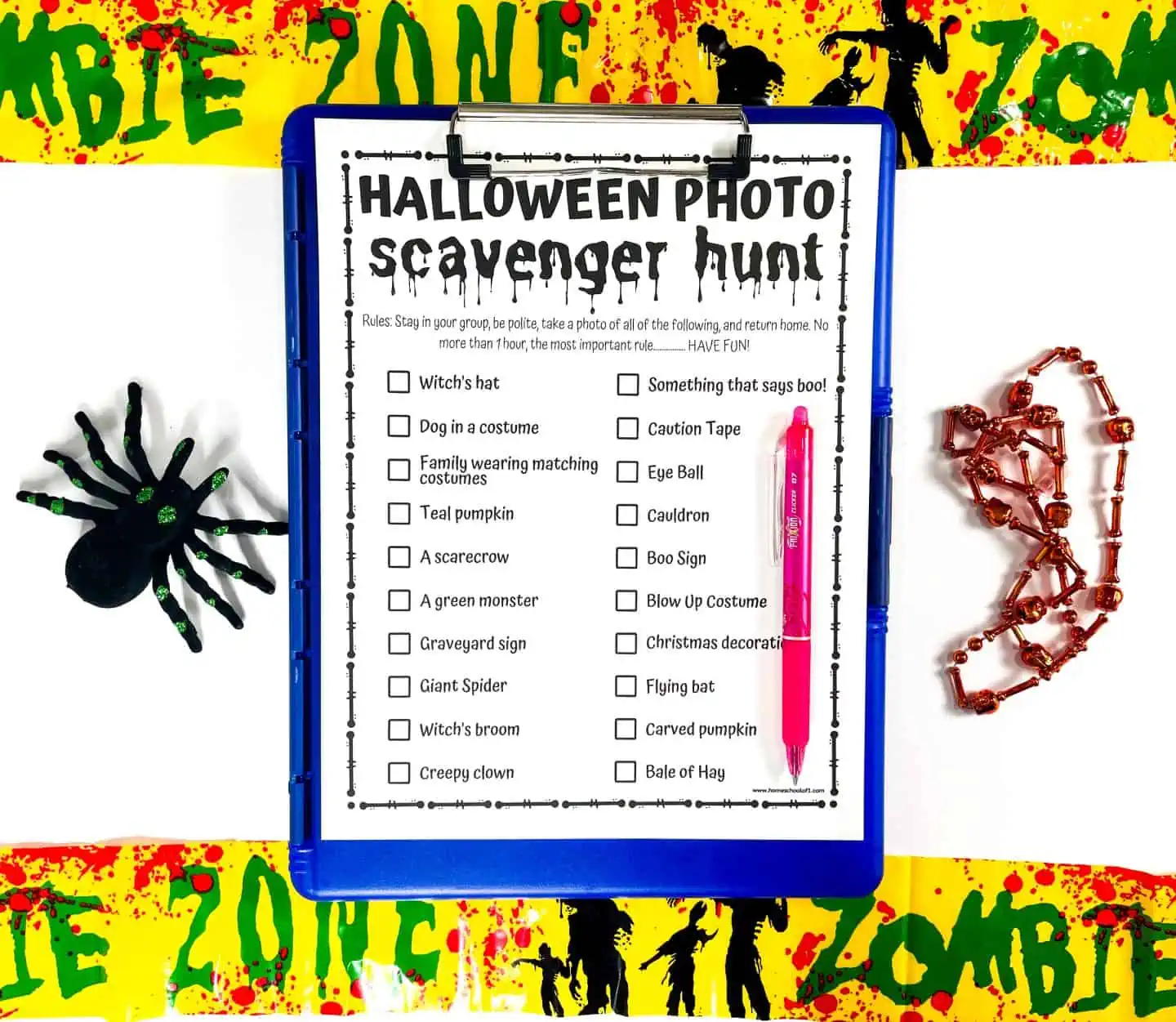 Stay in your group
Be polite
Take a photo of all of the items
Return home
No more than 1 hour (get them to set a timer on their cell phone)
Have FUN!
If you have a mix of ages it might be sensible to add an older one to each of the groups.
Also depending on the age of the groups, you might want to set boundaries in your neighborhood where they can go.
You can adapt this for younger children and either go with the kids. Or if it is raining why not hop in your car and get the kids to search for each of the items on the list.
I recommend using a clipboard with storage that can hold the pens, and the cellphones if they don't have pockets.
Check out more Halloween activities for middle school students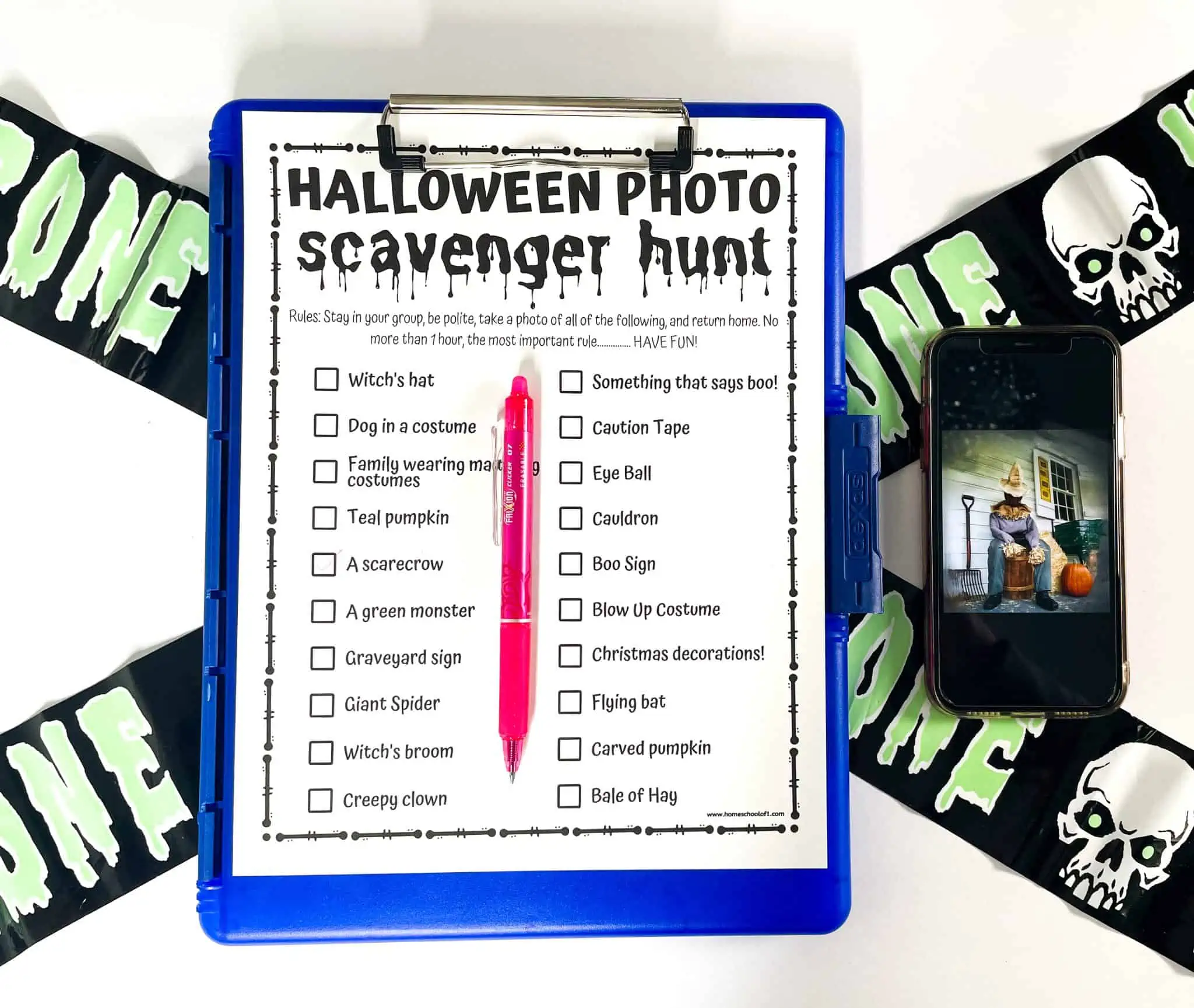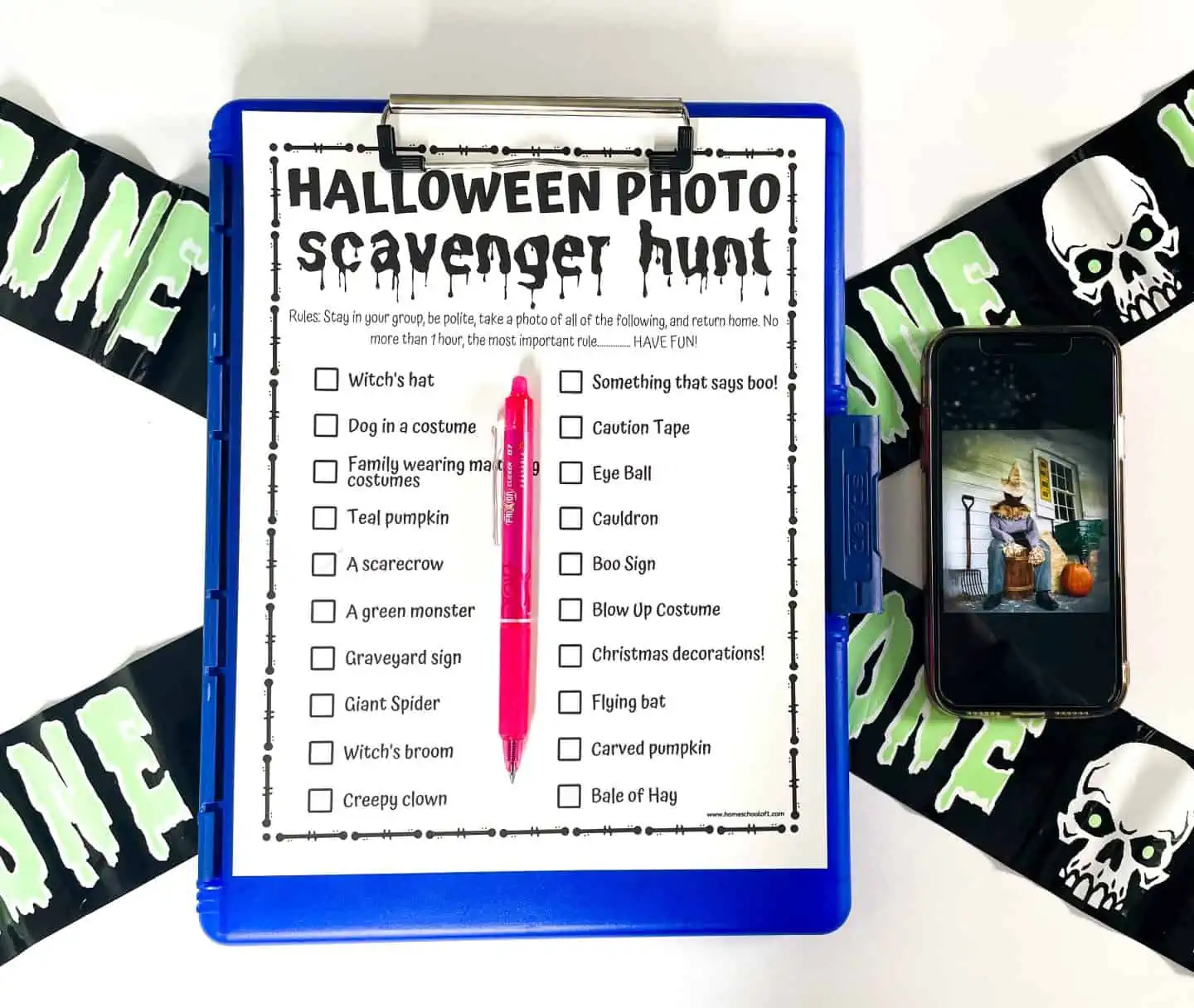 Sooez Clip Boards 8.5×11 with Storage, High Capacity
Fujifilm Instax Mini 11 Instant Camera – Sky
Neenah White Index Cardstock, 300 Sheets, 110 lb/199
Weird But True Halloween: 300 Spooky Facts to
Photos to Take on the Scavenger Hunt
There are 20 spooky photos that need to be taken before the kid's race home for their prize.
Witch's hat
Dog in a costume
Family wearing matching costumes
Teal pumpkin
A scarecrow
A green monster
Graveyard sign
Giant Spider
Witch's broom
Creepy clown
Something that says boo
Caution Tape
Eye Ball
Cauldron
Boo Sign
Blow Up Costume
Christmas decorations!
Flying bat
Carved pumpkin
Bale of Hay
Have fun with a Halloween candy scavenger hunt too!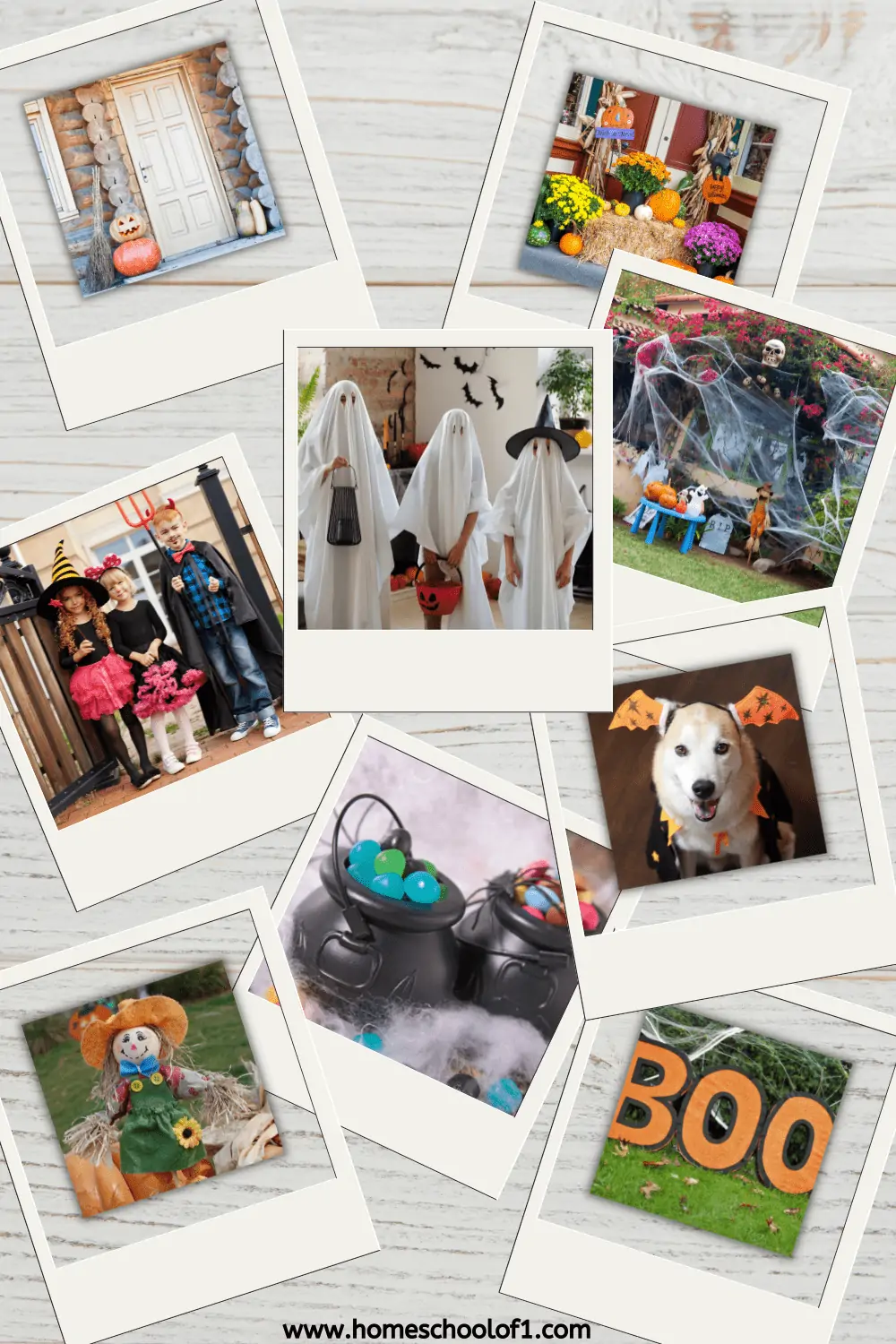 Gift ideas for the winner
Before you start you need to agree on who the winner will be.
Will it be the quickest to return? Or
The most imaginative photos?
You can give the teenagers candy when they return, I mean who doesn't love candy on Halloween? Or you could give them:
Why not treat the kids to a Halloween escape room when they get back home too?
Other free Photo Scavenger Hunts for Teenagers
Have even more fun with your teens with our favorite scavenger hunt printables:
Tips for downloading the free files
Below you will see a large sign-up box where you need to add your name and email address, and press I NEED THIS NOW!
Within minutes you will be sent the free PDF directly to your email address, so you can print it out and start using it immediately.
Sometimes emails get a little wonky, so if you can't see it, please check your spam folder where I am sure it is hiding.
Download the free Halloween photo scavenger hunt printable
Make sure you choose the correct paper size and click on the shrink to fit button. All of our free printables for kids work better when printed on cardstock (this is the one we use and love.)
Last Updated on 8 November 2023 by homeschoolof1