7 Free Cinco de Mayo Coloring Pages to Learn About Mexico
Have fun with these 7 free Cinco de Mayo coloring pages and learn all about Mexican culture.
Learn more about the Mexican holiday with these Cinco de Mayo printables. Including the reason behind Cinco de Mayo and Mexican culture.
We draw a lot at home as it definitely helps reduce anxiety and increases focus.
If we are having a bad day, we often grab our coloring pens and paper and take time to calm down and regroup.
Print off as many copies of these Cinco de Mayo coloring sheets as you want and have lots of fun creating. We love to use coloring pens to color ours, but crayons work great too.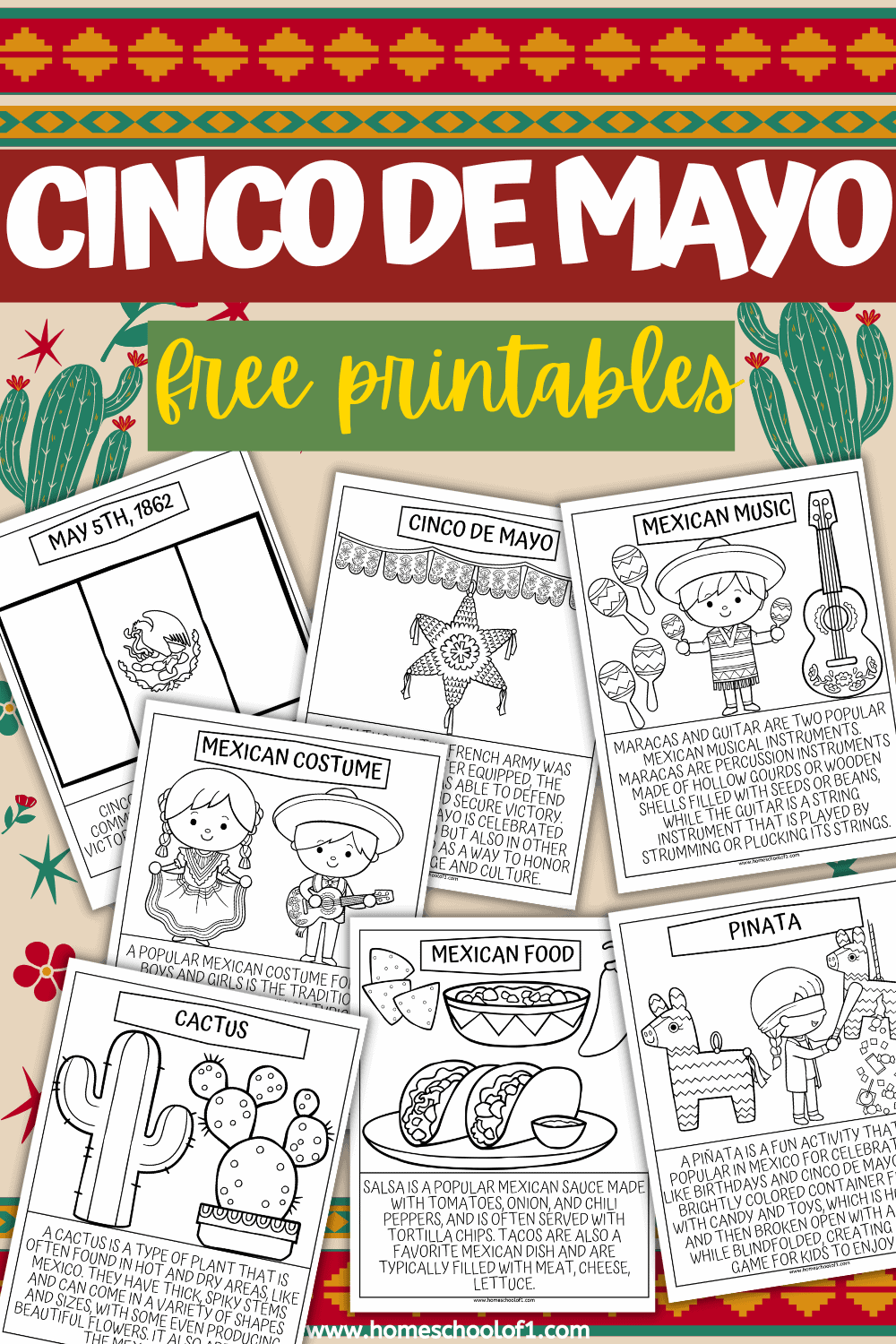 **There may be affiliate links in this post. You can read my full disclosure at the bottom of the page.**
What is Cinco De Mayo the celebration of?
For those of you who don't know Cinco de Mayo, or the fifth of May, is a holiday that celebrates the date of the Mexican army's victory over France at the Battle of Puebla during the Franco-Mexican War.
The war ended on May 5, 1862.
It is a relatively minor holiday in Mexico. But in the United States, Cinco de Mayo has evolved into a commemoration of Mexican culture and heritage.
Cinco De Mouse-O! (Adventures of Mouse)
What is Cinco de Mayo – Social Studies
Cinco De Mayo (Rookie Read-About Holidays)
Cinco de Mayo (Holidays in Rhythm and Rhyme)
Cinco de Mayo Worksheets
Download the coloring pages for Cinco de Mayo below. There are 7 pages included and they will print out in portrait. Make sure to check the printer settings.
These printable Cinco de Mayo coloring sheets are free to print but are for personal or classroom use only. Scroll to the bottom of the page to get the pdf file.
I often get asked what coloring pens we use. We have been using these for over a year now, and they are dual-tipped.
May 5th, 1862
Cinco de Mayo is a holiday that commemorates the Mexican army's victory over the French in the Battle of Puebla on May 5, 1862.
Cinco de Mayo
Even though the French army was larger and better equipped, the Mexican army was able to defend their country and secure victory.
Today, Cinco de Mayo is celebrated not only in Mexico but also in other parts of the world as a way to honor Mexican heritage and culture.
Mexican food
Salsa is a popular Mexican sauce made with tomatoes, onion, and chili peppers, and is often served with tortilla chips.
Tacos are also a favorite Mexican dish and are typically filled with meat, cheese, and lettuce.
Mexican music
Maracas and guitar are two popular Mexican musical instruments.
Maracas are percussion instruments made of hollow gourds or wooden shells filled with seeds or beans.
While the guitar is a string instrument that is played by strumming or plucking its strings.
Mexican costume
A popular Mexican costume for both boys and girls is the traditional mariachi costume.
Which typically consists of a fitted jacket, pants, and a wide-brimmed hat, called a sombrero.
The jacket and pants are brightly colored and decorated with embroidery or beadwork.
Pinata
A piñata is a fun activity that is popular in Mexico for celebrations like birthdays and Cinco de Mayo.
It's a brightly colored container filled with candy and toys.
It is hung up and then broken open with a stick while blindfolded, creating a fun game for kids to enjoy.
Cactus
A cactus is a type of plant that is often found in hot and dry areas, like Mexico.
They have thick, spiky stems and can come in a variety of shapes and sizes, with some even producing beautiful flowers.
The cactus also appears on the Mexican flag.
Cinco de Mayo Activities the kids will love
For more Cinco de Mayo fun check out these awesome activities:
Cinco de Mayo games printable with 6 fun games
Have fun with a Cinco de Mayo scavenger hunt
Cinco de Mayo History Trivia
Free printable Cinco de Mayo word search and Cinco de Mayo word scramble.
Check out our favorite Cinco de Mayo books and download our free Cinco de Mayo bookmarks.
Tips for downloading the free files
Below you will see a large sign-up box where you need to add your name and email address, and press I NEED THIS NOW!
Within minutes you will be sent the free PDF directly to your email address, so you can print it out and start using it immediately.
Sometimes emails get a little wonky, so if you can't see it, please check your spam folder where I am sure it is hiding.
Download the free printable Cinco de Mayo worksheets
Make sure you choose the correct paper size and click on the shrink to fit button. All of our free printables for kids work better when printed on cardstock (this is the one we use and love.)
Last Updated on 2 October 2023 by homeschoolof1