Free 50 States Coloring Pages Printable for US Geography
Have fun while learning all about America with these 50 States coloring pages printable.
Add these free geography worksheets to your geography lessons for some interactive fun.
Incorporate these printable geography worksheets into your lessons to make learning about America interactive and enjoyable.
Beyond just the state flags and capitals, these pages also showcase the major cities on each map. Providing a comprehensive view of the nation's geography.
Whether you're a teacher looking to enhance your geography lessons or a homeschooling parent seeking engaging resources. These 50 free coloring pages are perfect for you.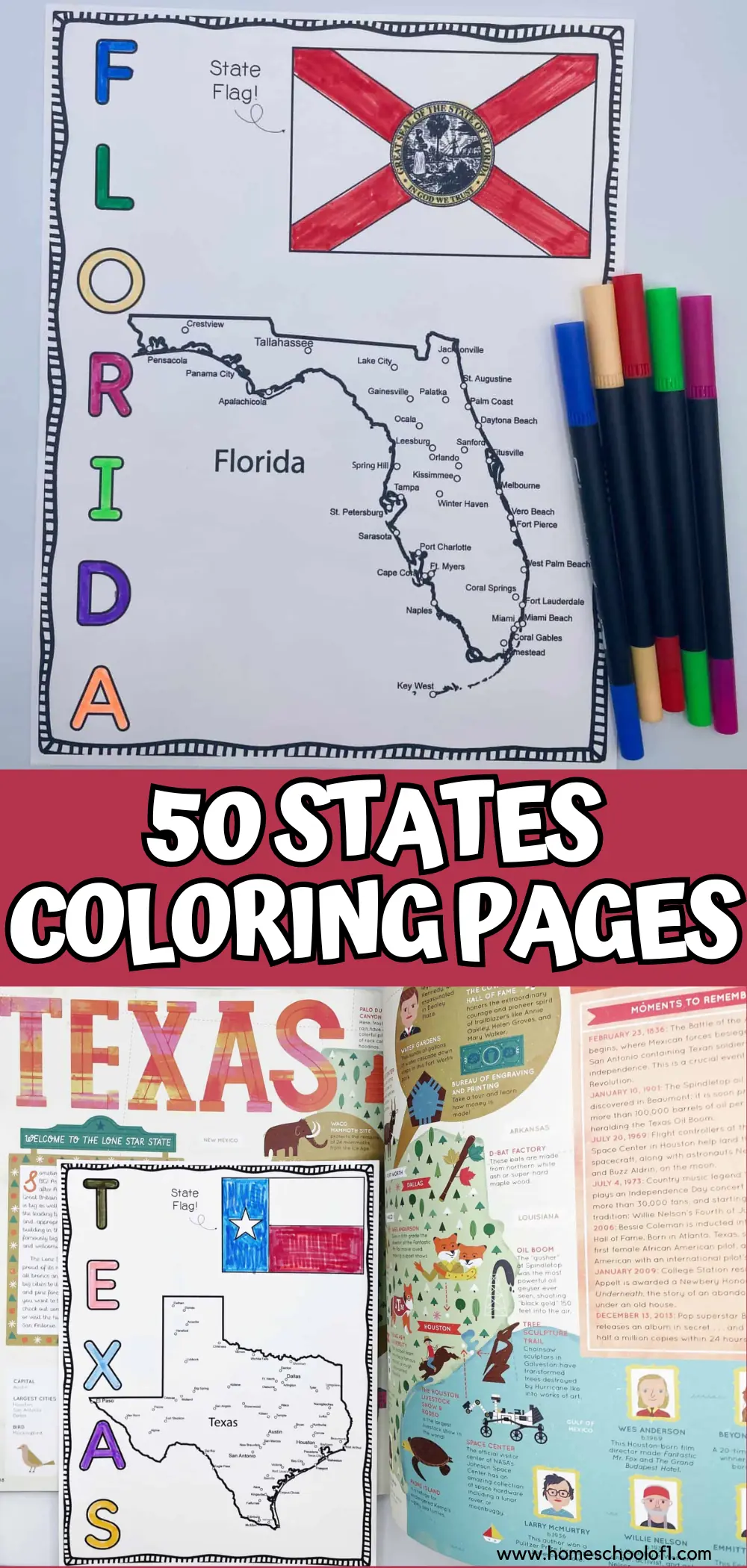 **There may be affiliate links in this post. You can read my full disclosure at the bottom of the page.**
How to use the State coloring pages
There are a number of ways you can use these free homeschool printables.
You can focus on your home state and create a mini-unit study. Use it along with our free State facts worksheet and learn all about where you live.
Study one state each week, and learn all about the United States of America.
Take it a step further and cut out the state shapes to create an impressive map of the entire United States. Giving a tangible representation of the country's layout.
Included on each state page is the following information:
The name of the State (that can be colored in)
A black and white image of the State flag that the students can color in with the correct colors.
A map of the State in the correct shape.
The name of the State is also included inside the map (perfect if you are going to create an entire bulletin board of the United States)
The capital city is shown on the map
Plus the main cities of each state.
Add state games for kids to learn the states in a fun way.
National Geographic Kids U.S. Atlas 2020, 6th Edition
The 50 States: Explore the U.S.A. with 50
Skillmatics Board Game – Scout It Out The
Gamewright The Scrambled States of America Game
United States coloring pages printable
Warning – this is a huge printable!
There is one page for all States, so a total of 50 pages. You can either print them off all at once. Or save the download on your computer, and print out each state map as you are learning about it.
These free kids coloring pages are free to print but are for personal and classroom use only. Scroll to the bottom of the post and add your email address to get the pdf file.
For additional learning resources, consider pairing the United States coloring sheets with the 50 States book.
This book is a treasure trove of information, providing details about statehood dates, capitals, birds, and much more.
Add this to the best homeschool geography curriculum now!
It enriches the learning experience and provides memorable facts.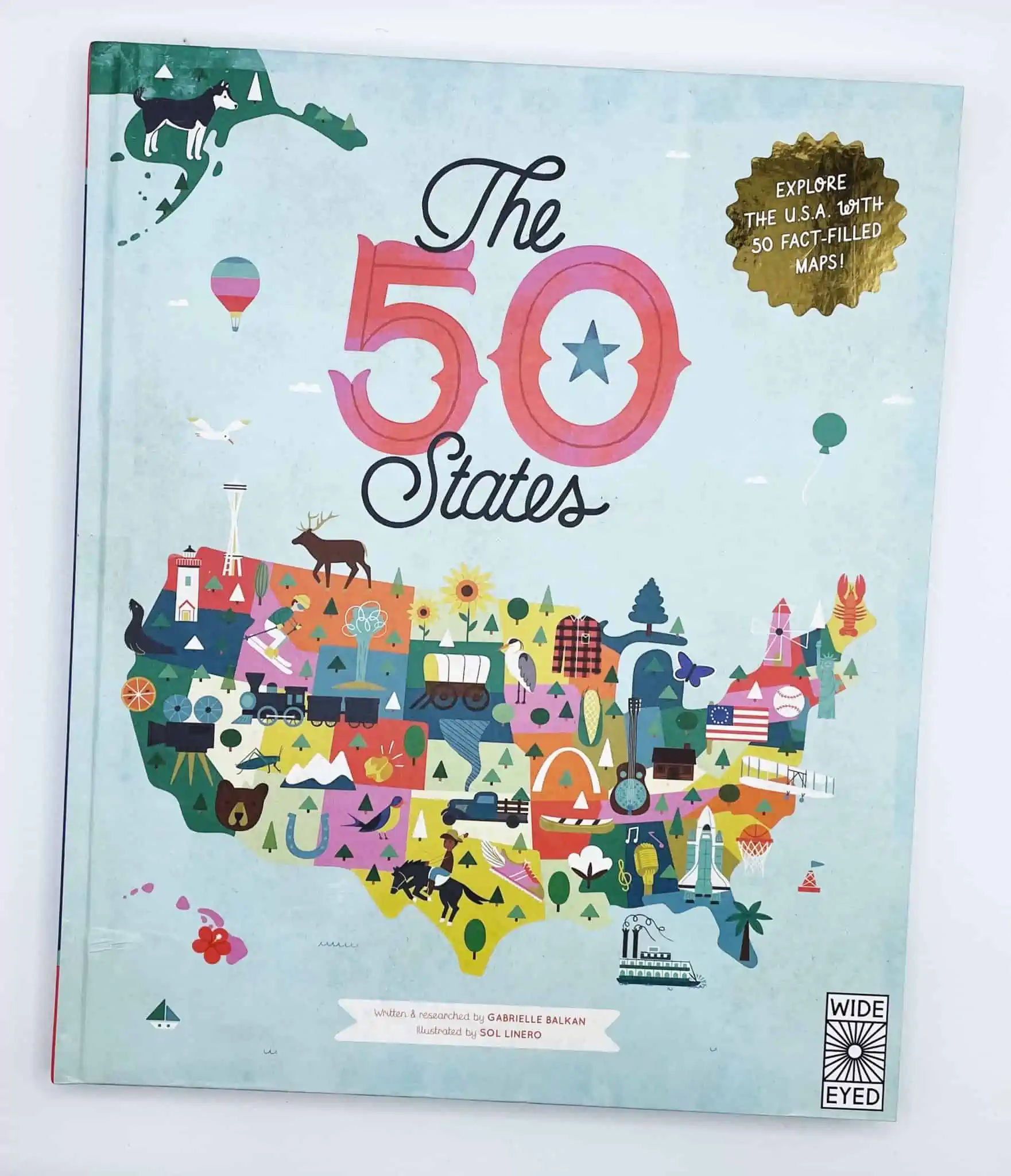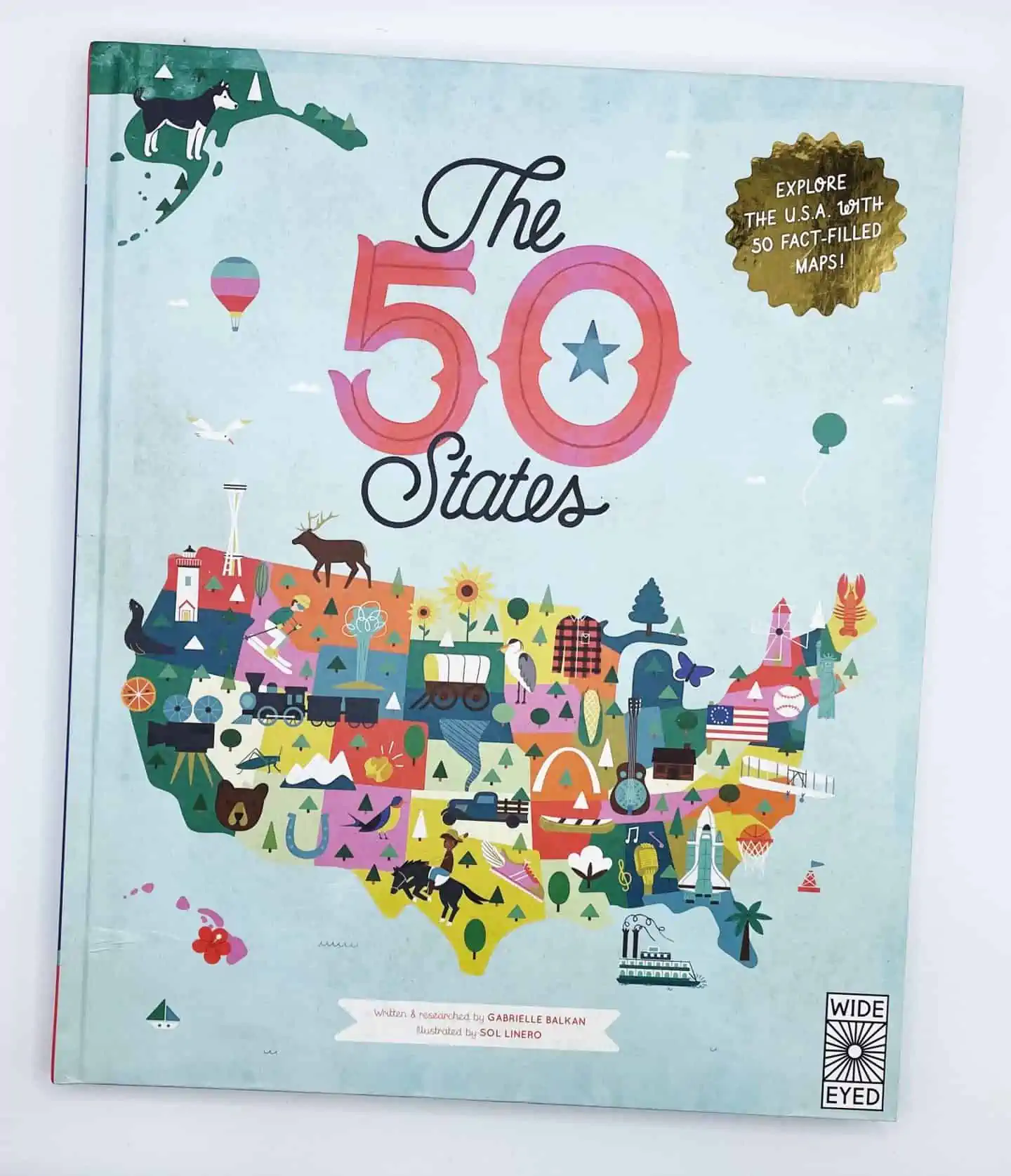 Fun fact, I saw the late James Brown perform in the UK about 30 years ago! He was awesome!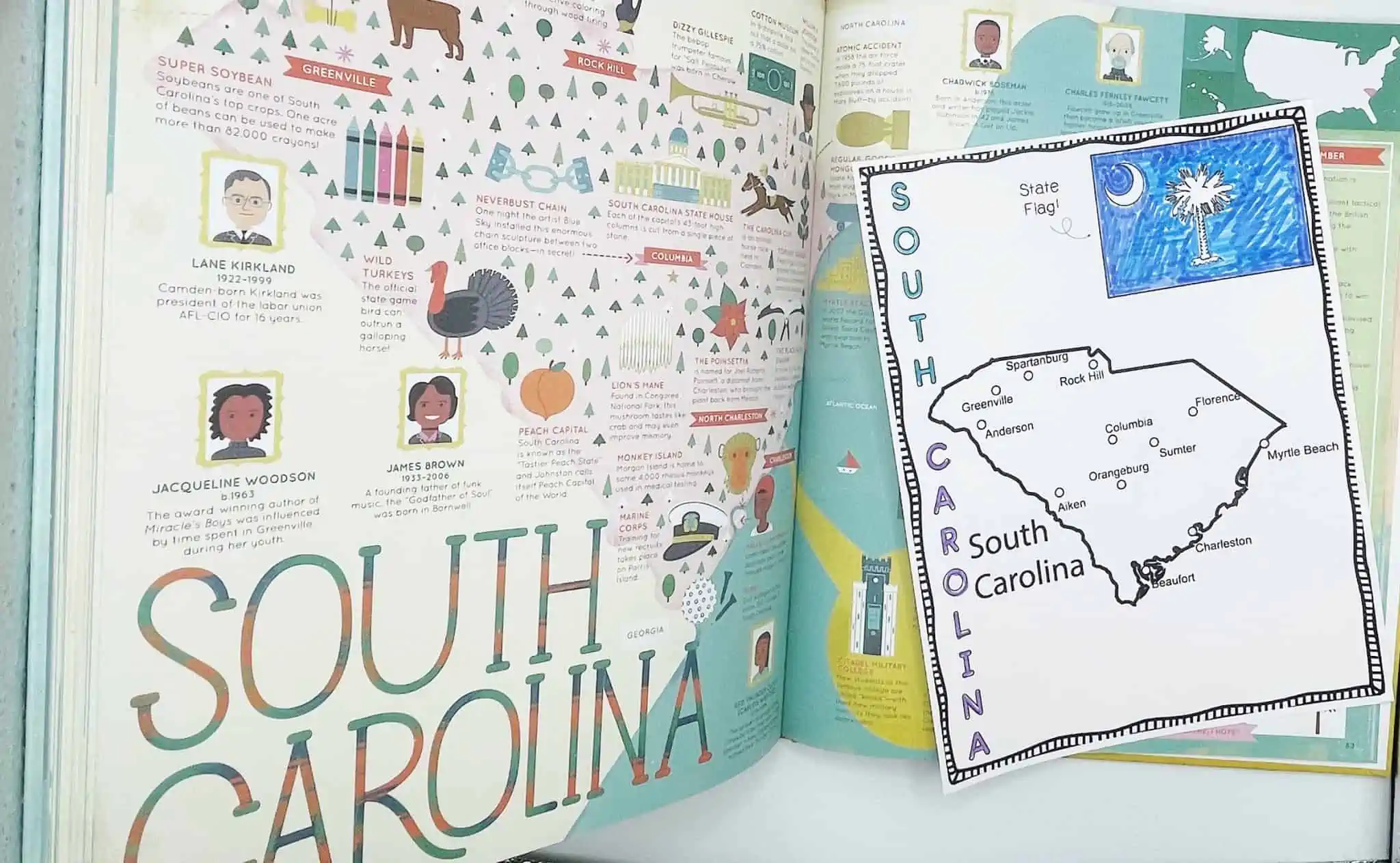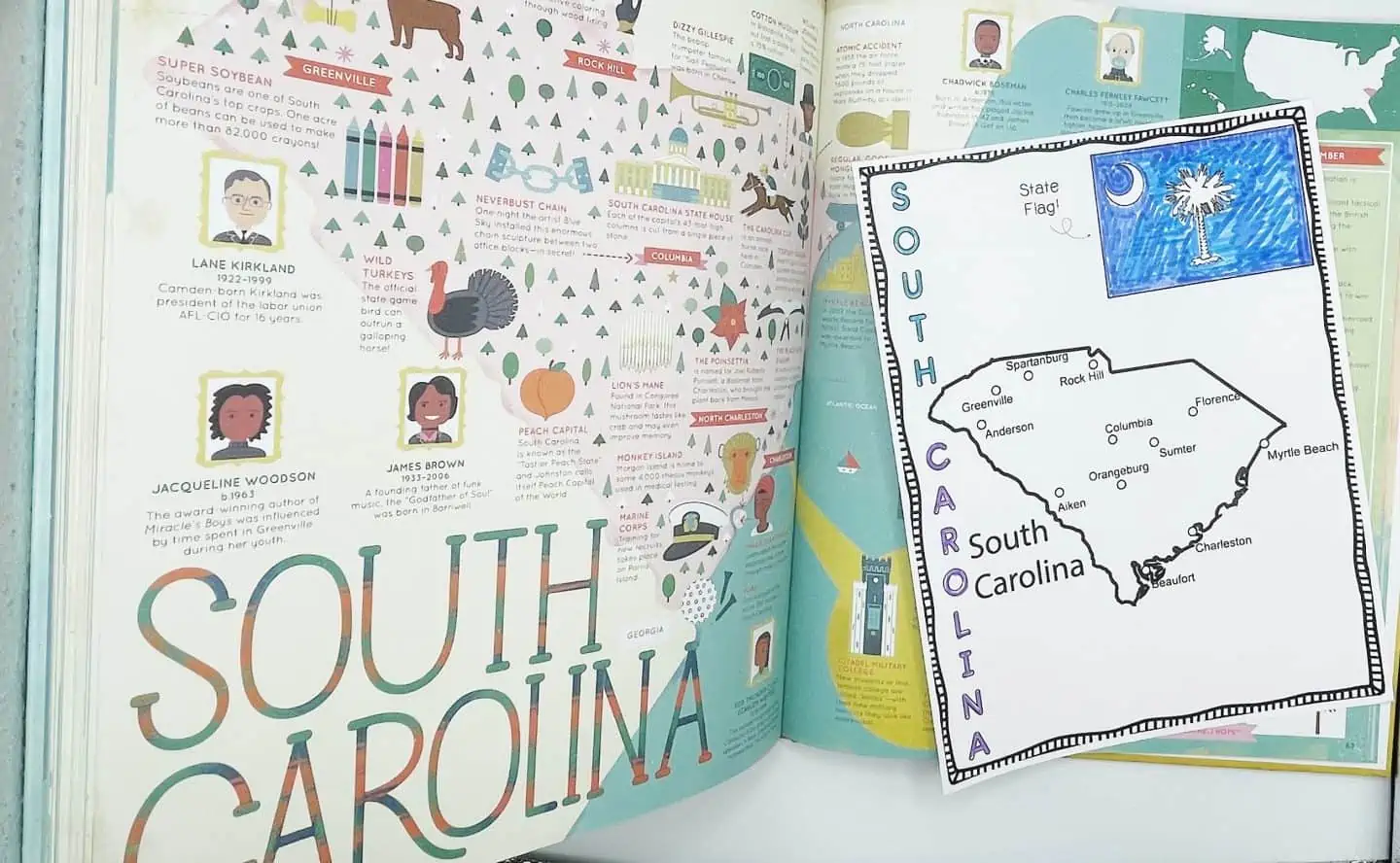 As you explore the pages and learn about the various states, you'll discover interesting facts that make each state unique.
From Alaska's towering Mount Denali to Hawaii's stunning beaches and volcanoes, every state has its own story to tell.
We use this 50 States book for all American geography.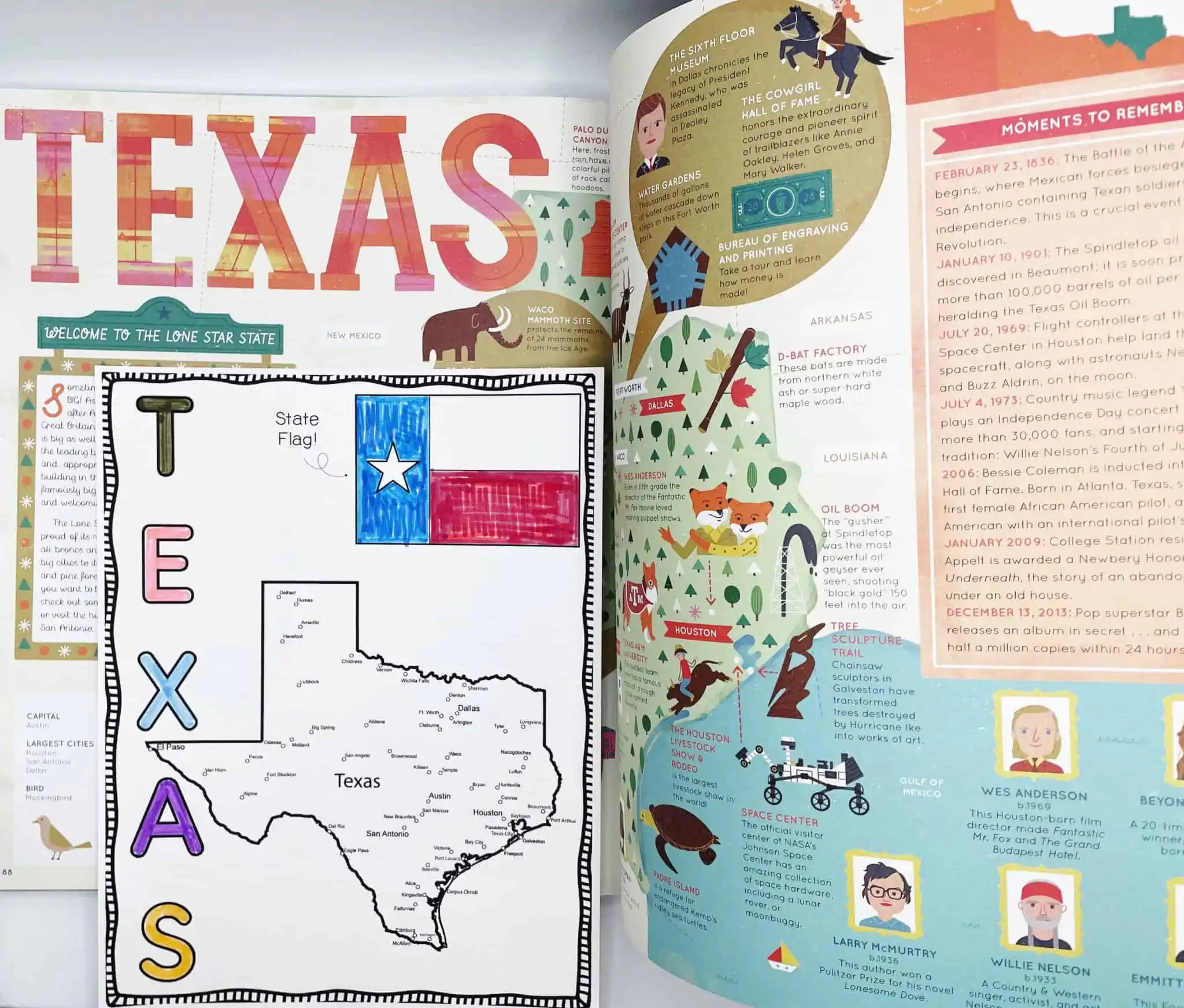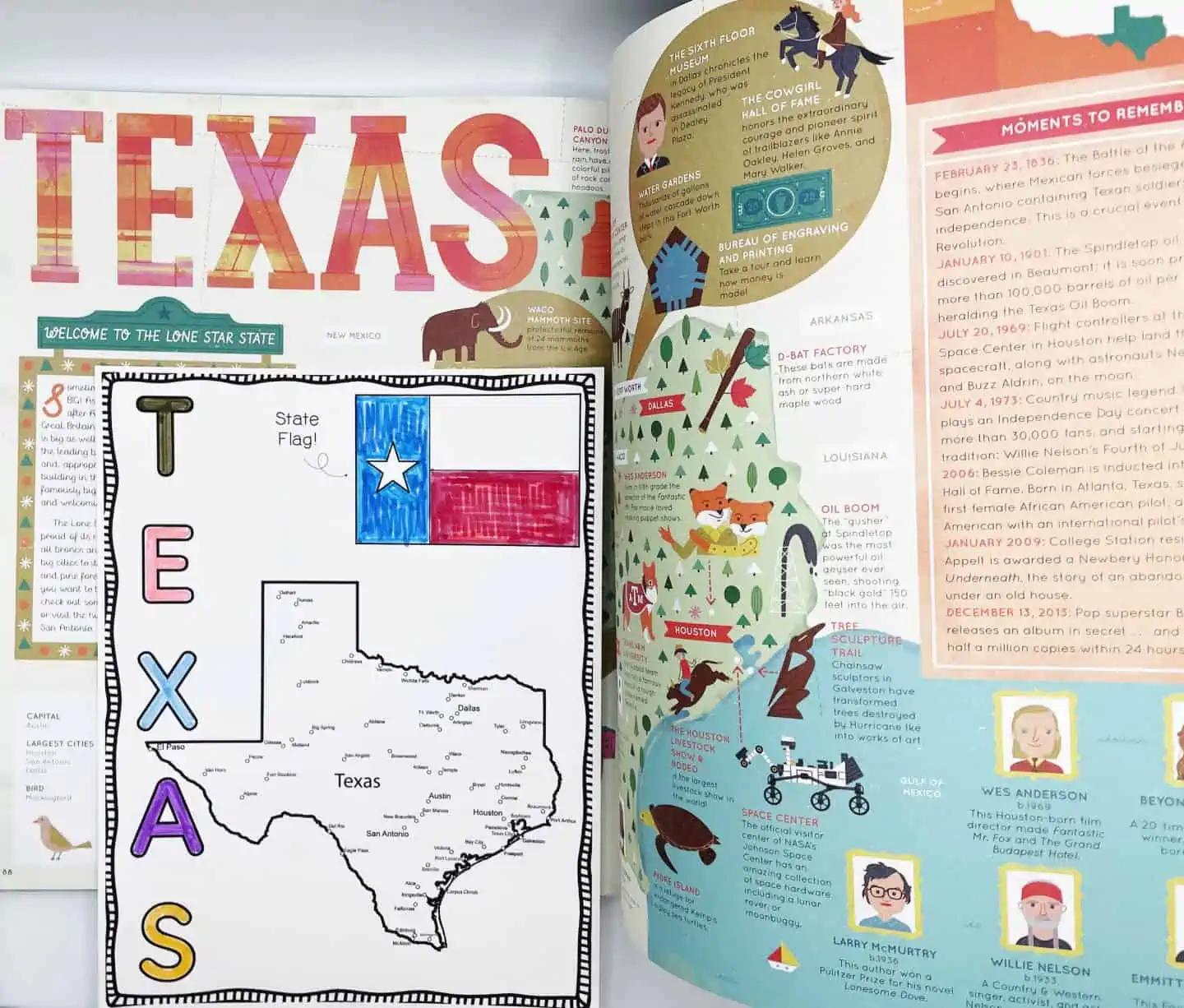 This is the map coloring page of our home state of Florida, as you can see all of the major cities are highlighted.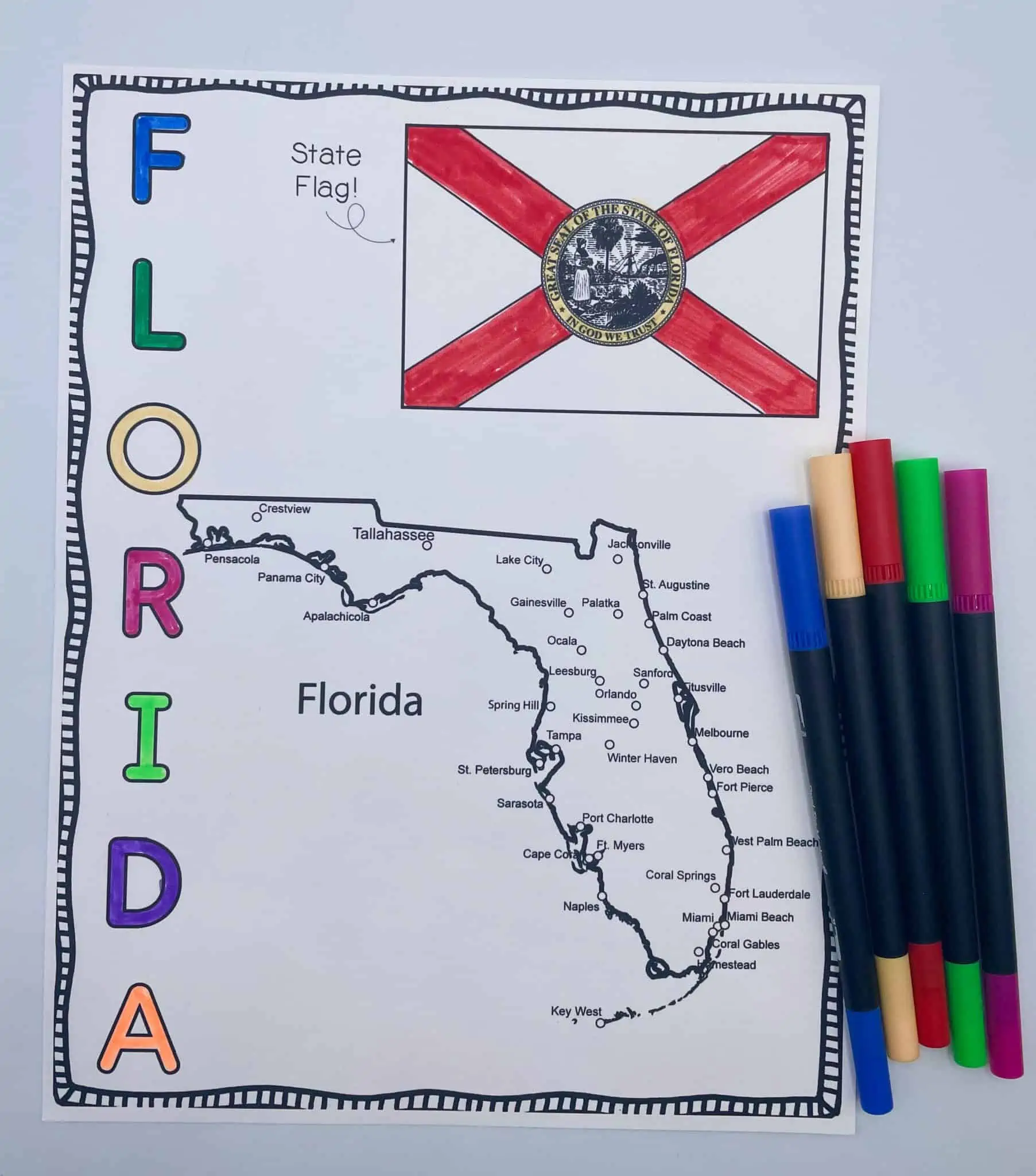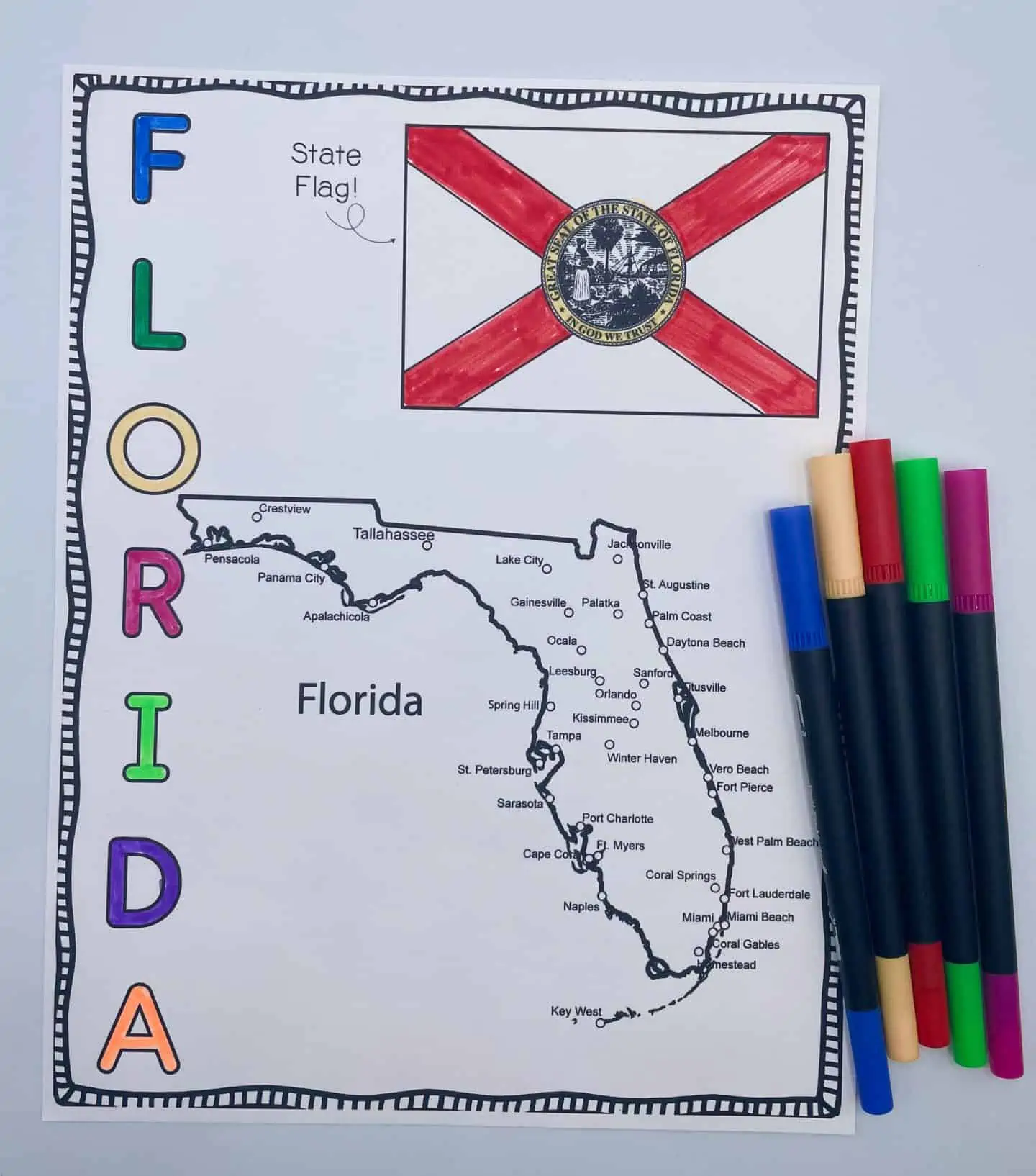 10 interesting facts about the United States of America
Here are 10 interesting facts about the 50 states of America that kids will enjoy:
Alaska is the largest state in the United States and is home to the tallest mountain in North America, Mount Denali.
Hawaii is the only state in the U.S. made up entirely of islands. It is famous for its beautiful beaches and volcanoes.
Wyoming is home to the first national park in the United States, Yellowstone National Park, known for its geysers and wildlife.
California is the most populous state in the country and is famous for its entertainment industry, including Hollywood.
Nevada is known for its famous city, Las Vegas, which is filled with bright lights, and entertainment.
Florida is called the "Sunshine State" and is known for its warm weather and Disney World.
New York is home to the famous Statue of Liberty, a gift from France and a symbol of freedom and hope.
Texas is the largest state in the continental U.S.
Arizona is home to the stunning Grand Canyon, a natural wonder carved by the Colorado River.
Colorado is known for its majestic Rocky Mountains.
Get our best tips on fun ways to learn the 50 States!
Other American geography activities & printables
Looking for more engaging activities? Check out these American geography resources:
Tips for downloading the free files
Below you will see a large sign-up box where you need to add your name and email address, and press I NEED THIS NOW!
Within minutes you will be sent the free PDF directly to your email address, so you can print it out and start using it immediately.
Sometimes emails get a little wonky, so if you can't see it, please check your spam folder where I am sure it is hiding.
Download the free States map coloring pages
Make sure you choose the correct paper size and click on the shrink to fit button. All of our free printables for kids work better when printed on cardstock (this is the one we use and love.)
Last Updated on 17 November 2023 by homeschoolof1