Father's Day Bookmarks Printable To Color (free)
Celebrate Father's Day with a heartfelt twist this year! Looking for a creative and personalized gift idea? Look no further than our Father's Day bookmarks printable.
These free Father's Day printables will make a really cute gift.
All about my dad printable bookmarks are a thoughtful and personalized gift for kids to give their dads.
These printable bookmarks provide a fun way for children to share their favorite memories, qualities, and reasons why they love their dad. Making it a heartfelt and cherished keepsake.
**There may be affiliate links in this post. You can read my full disclosure at the bottom of the page.**
All about my Dad bookmarks printable
Included in the free printable bookmarks to color are 6 all about my dad bookmarks to color in, 3 per page.
These Father's Day bookmarks are free to print but are for personal, library, or classroom use only. Scroll to the end of the post to get the pdf file.
These print better when printed on cardstock (this is the one we like) but regular copy paper will work too.
Three bookmarks will print on each page, and I highly recommend using a paper cutter rather than scissors (unless you have a very steady hand!)
Super Universal Socket Tools Gifts for Men –
Home-Complete HC-1000 16PC Spatula, Tongs, Skewers, Case –
Dad Gifts from Daughter Son, Gifts for Dad,
Gifts for Men, Mens Gifts, Dad Gifts from
Each bookmark measures 2.5 x 8.5 inches and there are 3 on each page. All ready to be colored in with either pens or crayons.
The all about my Father's Day bookmarks have the following:
Happy Father's Day bookmark with 5 stars to color in, a dad trophy, a coloring crayon where the kids need to color in Dad's favorite color, and a place to write Dad's favorite saying.
The next one is all about my Dad, with a place for the children to draw their Dad, and then an area to write why their Dad is the best.
The third Dad bookmark is exactly the same as the previous one, but instead of saying Dad this one is for Daddy.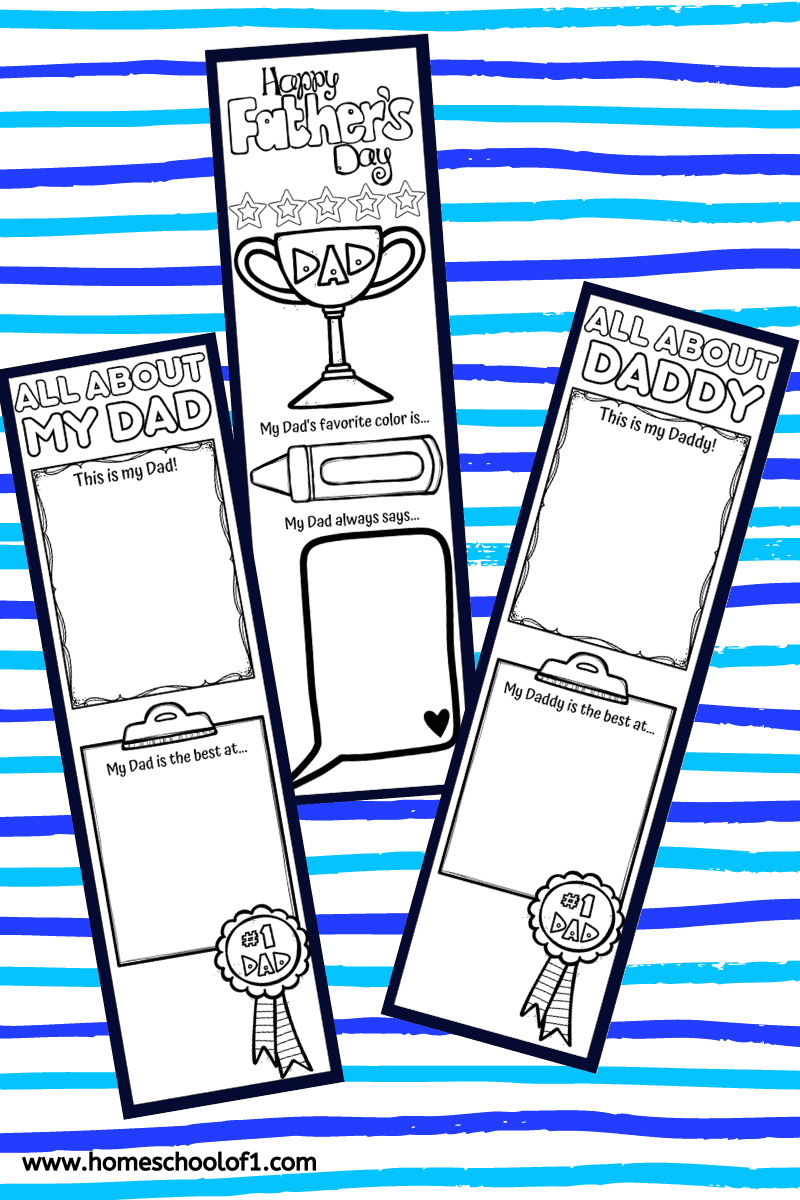 We best not leave Grandad out this year, and we have created some printable Grandpa bookmarks too!
The first one is for Grandpa with 5 stars, a badge that the kids can color in, and a place for Grandpa's favorite saying.
The second one is all about Grandad with a place to draw a picture of Grandad and a place to write what their Grandad is the best at.
The final bookmark printable is the same as the previous one, but this time is to Grandpa.
When the kids have finished I highly recommend using a laminator if you have one to keep them looking newer for longer!
Other free Father's Day handmade gift ideas
Why not treat Dad to even more handmade gifts this Father's Day:
Top Books for Dad on Father's Day
Why not treat Dad to a new book this Fathers Day to go with their bookmark? These are our top 5 this year:
Your Baby's First Word Will Be DADA by Jimmy Fallon. In this funny board book, Jimmy Fallon takes on the challenge of teaching babies to say "Dada" as their first word. Through colorful illustrations and playful animal characters, Fallon playfully engages with young readers, encouraging them to utter those magical words. This heartwarming book not only entertains but also strengthens the bond between fathers and their little ones.
Written by acclaimed author James Clear, Atomic Habits is a powerful guide to understanding and transforming everyday habits. Clear offers practical strategies and insights based on scientific research, helping readers create positive habits and break free from negative ones. With its straightforward and actionable advice, this book empowers fathers to improve their lives by making small, incremental changes.
For the scientifically inclined father, Lessons in Chemistry by Bonnie Garmus is an intriguing exploration of the world of chemistry. Garmus, a former NASA engineer, presents fascinating stories and experiments that bring the subject to life. From chemical reactions to the wonders of the periodic table. This book offers an engaging and accessible approach to understanding the fundamentals of chemistry. It is an ideal gift for dads who love science and want to share their passion with their children.
The Daddy Diaries. In this hilarious and heartwarming memoir, Andy Cohen takes readers on a wild ride through the most important year of his life. The year he becomes a father. From hangovers, after his epic New Year's Eve broadcast to the joys and challenges of parenthood. Cohen shares his experiences with wit, charm, and plenty of name-dropping.
Tips for downloading the free files
Below is a blue cloud with an arrow pointing downward. Underneath that is a large sign-up box where you need to add your name and email address, and press I NEED THIS NOW!
Within minutes you will be sent the free PDF directly to your email address, so you can print it out and start using it immediately.
Sometimes emails get a little wonky, so if you can't see it, please check your spam folder where I am sure it is hiding.
Download the Free Printable Father's Day Bookmarks
Make sure you choose the correct paper size and click on the shrink to fit button. All of our free printables for kids work better when printed on cardstock (this is the one we use and love.)
Last Updated on 2 October 2023 by homeschoolof1