Father's Day Handprints (8 free templates)
Dads are going to love our 8 free Father's Day handprints, these make sure a wonderful keepsake and handprint gift that daddy will love.
These Father's Day printables are such a lovely way to get messy with the kids while creating happy memories.
Creating a Father's Day handprint keepsake is super easy and fun for kids!
Just have them paint their hands and add their colorful handprints to our fun templates.
This personalized masterpiece can then be gifted to Dad. It's a simple yet heartfelt way to make Father's Day extra special!
Handprints for Father's Day
Celebrate Father's Day with a heartfelt touch by creating handprint crafts using our free printable templates.
Capture the love and memories in each unique design, allowing your child's handprints and footprints to symbolize the bond between father and child.
Download the templates and let the creativity flow as you create a cherished keepsake for this special day.
You probably have all of the supplies to make these fun Father's Day handprints.
Craft supplies needed:
washable paints (these are the ones we use for all of our handprint art)
Wipes!! It helps to have these handy so you don't make a complete mess of your table!
How to use the Father's handprint templates:
Print out the Father's Day handprint templates below, they will print out on eight full pages. They will print in portrait on 8.5″ x 11″ paper, so make sure to check the printer settings.
You can of course print this on normal printer paper, but with all of our crafts, they always look better on cardstock.
There are 8 different templates you can have fun with and the templates have the following words on them:
Dad, you are my superhero
Thank you for being a tie-rrific Dad
I love you deerly, Happy Father's Day
Happy Fathers Day
Daddy, I am following in your footsteps
World's best Dad award
I love building memories with you Daddy
Daddy, you're a great catch, Happy Father's Day.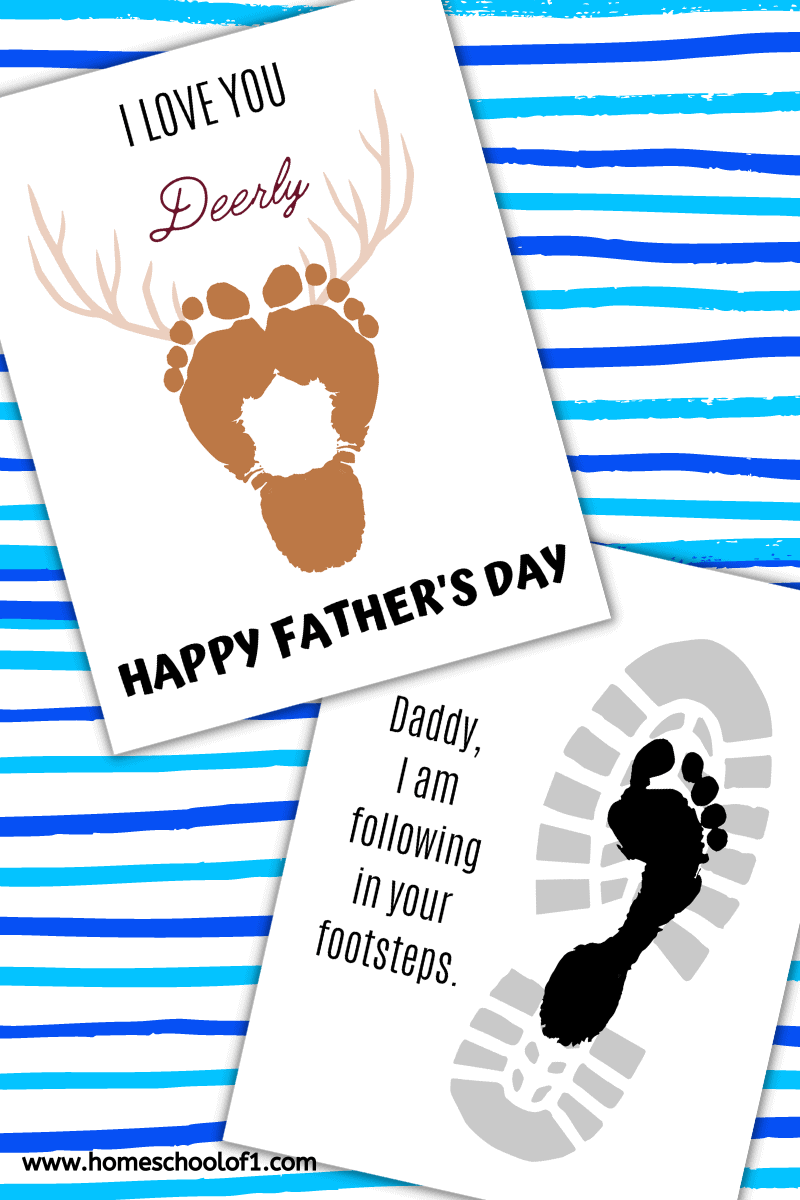 Grab the supplies above and get creating!
Let the kids decide what color handprints and footprints they want to use.
Crayola Washable Kids Paint, Assorted Bold Colors, Painting
Handy Art Little Masters Tempera Paints Set, 16
Arts and Crafts for Kids Girls Ages 8-12
Made By Me Handprint Frame, DIY Picture Frame
Use a small paintbrush to add a thin layer of paint to their hands and feet. Make sure you have the wipes handy!!
Cover their hands or feet with paint and place them on the correct position on the paper.
If you need some help with the placement I have added copies of ours below. Press down all along their hands and feet to make sure they transfer fully.
Pull the child's hand up carefully making sure you don't smudge them.
Other Father's Day Handprint Gifts for Dad
Handprint gifts are a great idea for Father's Day because they offer a personal touch and sentimental value that cannot be replicated by store-bought gifts.
Creating a handprint gift with your child is a fun and meaningful way to spend time together, and it allows your child to express their creativity and love for their dad.
If you are looking for even more handprint gift ideas you are going to love these that are on sale:
Hand casting kit is a great one to add dad's hands and the child's hands together.
If you love handprint crafts you will also love our alphabet handprint series. This is such a fun way to learn the alphabet.
Other Father's Day activities and gifts
If you are looking for even more Father's Day fun you are going to love these suggestions:
Download the Free Father's Day Handprint Templates
Make sure you choose the correct paper size and click on the shrink to fit button. All of our free printables for kids work better when printed on cardstock (this is the one we use and love.)
Last Updated on 28 August 2023 by homeschoolof1