Greek Mythology Word Scramble (easy & hard version)
We absolutely love learning about Greek mythology in our home, it is something that my son finds absolutely fascinating. So we have created a free Greek mythology word scramble to have fun with.
We have created an easier and harder version of this Greek mythology word search, perfect for upper elementary and middle school kids.
These free word scramble printables are perfect for studying Greek mythology either in the classroom, or at homeschool.
There are all 12 Greek Gods and Goddesses to unscramble and to help out I have included the answers in the download.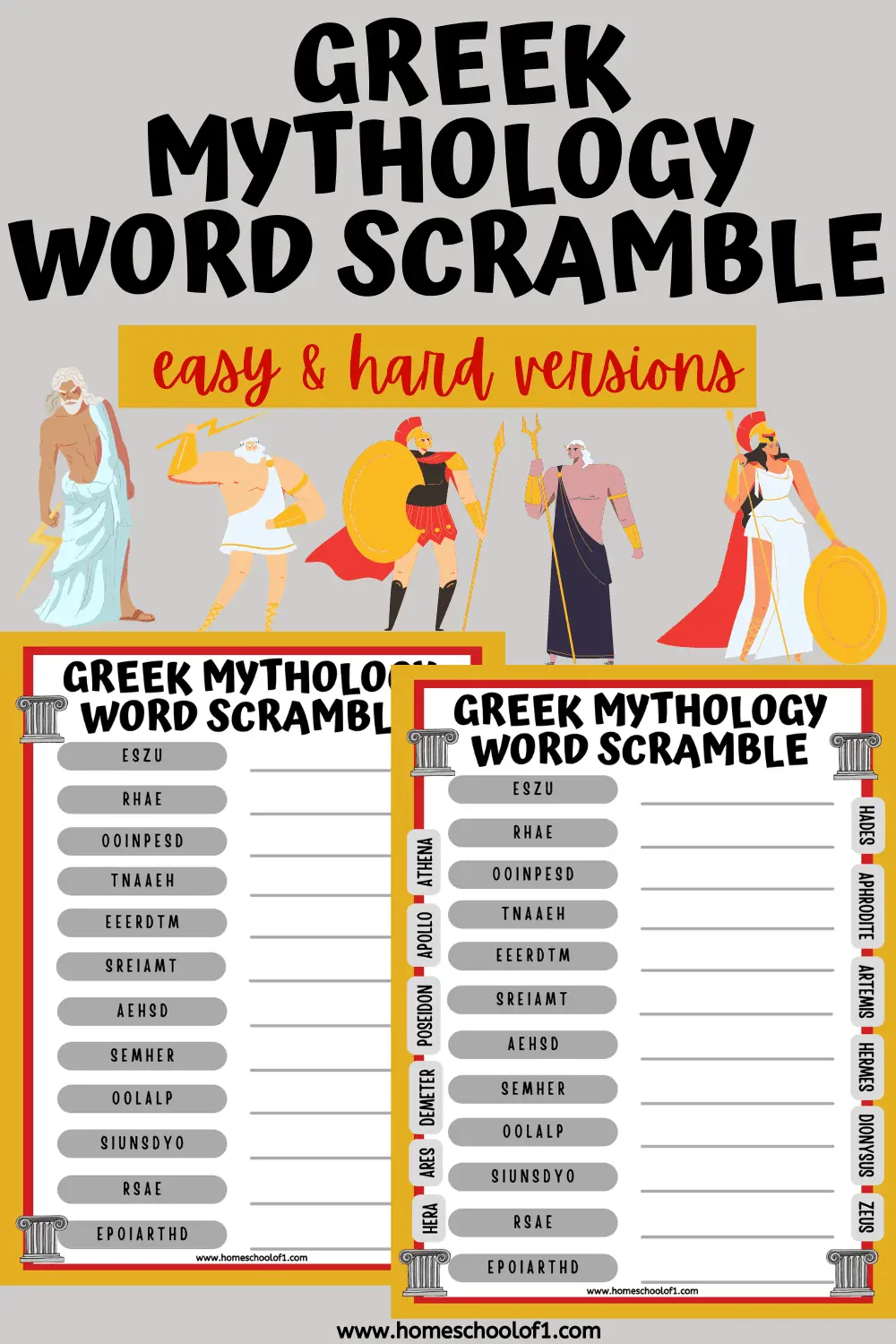 **There may be affiliate links in this post. You can read my full disclosure at the bottom of the page.**
Unscramble the Greek Gods
This Greek mythology word scramble is a great game for elementary and middle school-aged kids.
I have added two versions of the word game.
One has no clues at all, and one has the actual words around the side of the puzzle to make it easier for younger kids.
This free printable Greek Gods word scramble is free to print but is for personal or classroom use only. Scroll to the bottom of the page to get the pdf file.
Print off as many copies as you need and just have fun. Let me know in the comments what your hardest word was.
Percy Jackson's Greek Gods
10-Minute Stories From Greek Mythology – The Iliad and The Odyssey: Timeless Legendary Tales To Inspire Kids Of All Ages
A Child's Introduction to Greek Mythology: The Stories of the Gods, Goddesses, Heroes, Monsters, and Other Mythical Creatures (A Child's Introduction Series)
Weird But True KnowItAll: Greek Mythology
National Geographic Kids Everything Mythology: Begin Your Quest for Facts, Photos, and Fun Fit for Gods and Goddesses
Treasury of Greek Mythology: Classic Stories of Gods, Goddesses, Heroes & Monsters
We also love this funny fill-in book all about Greek mythology from National Geographic. It will make a great additional resource when studying the Greek Gods.
The first puzzle is the easiest word scramble.
They all have 12 Greek Gods and Goddesses to find, but this version below has the answers written in grey around the sides. This will make it much easier for younger children.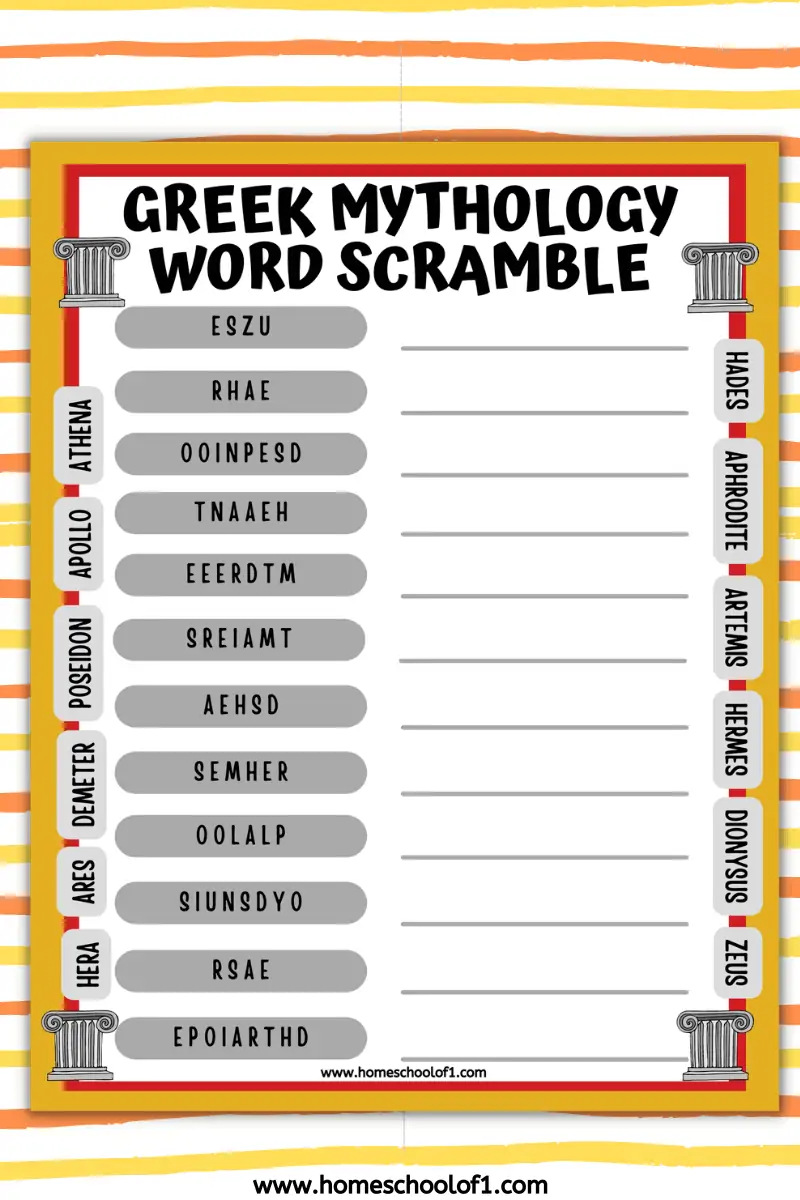 The second word scramble is much harder. There are no answers at all, so the children have to try and unscramble the names.
This is only easy if they can remember all 12 of the Greek Gods!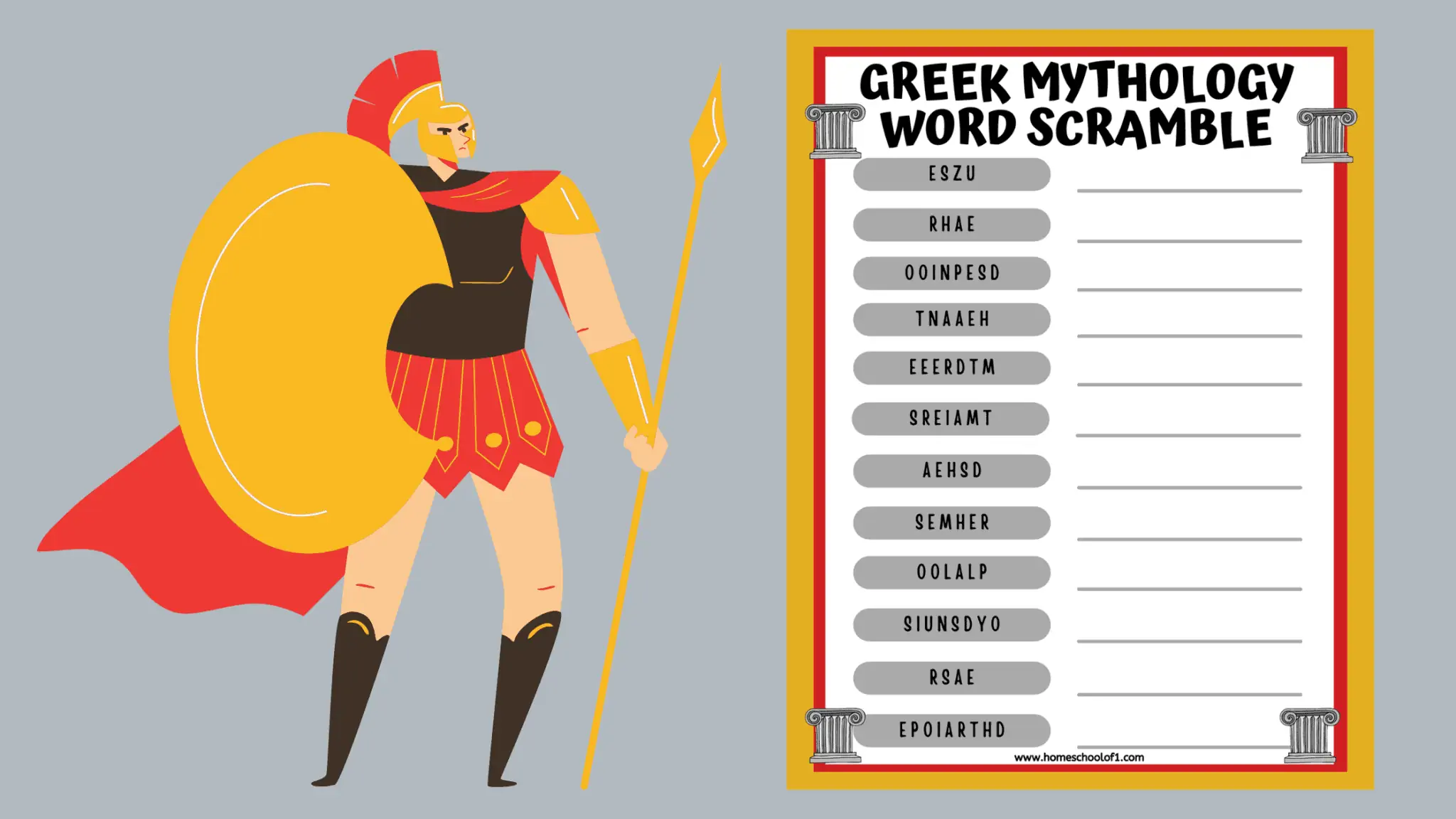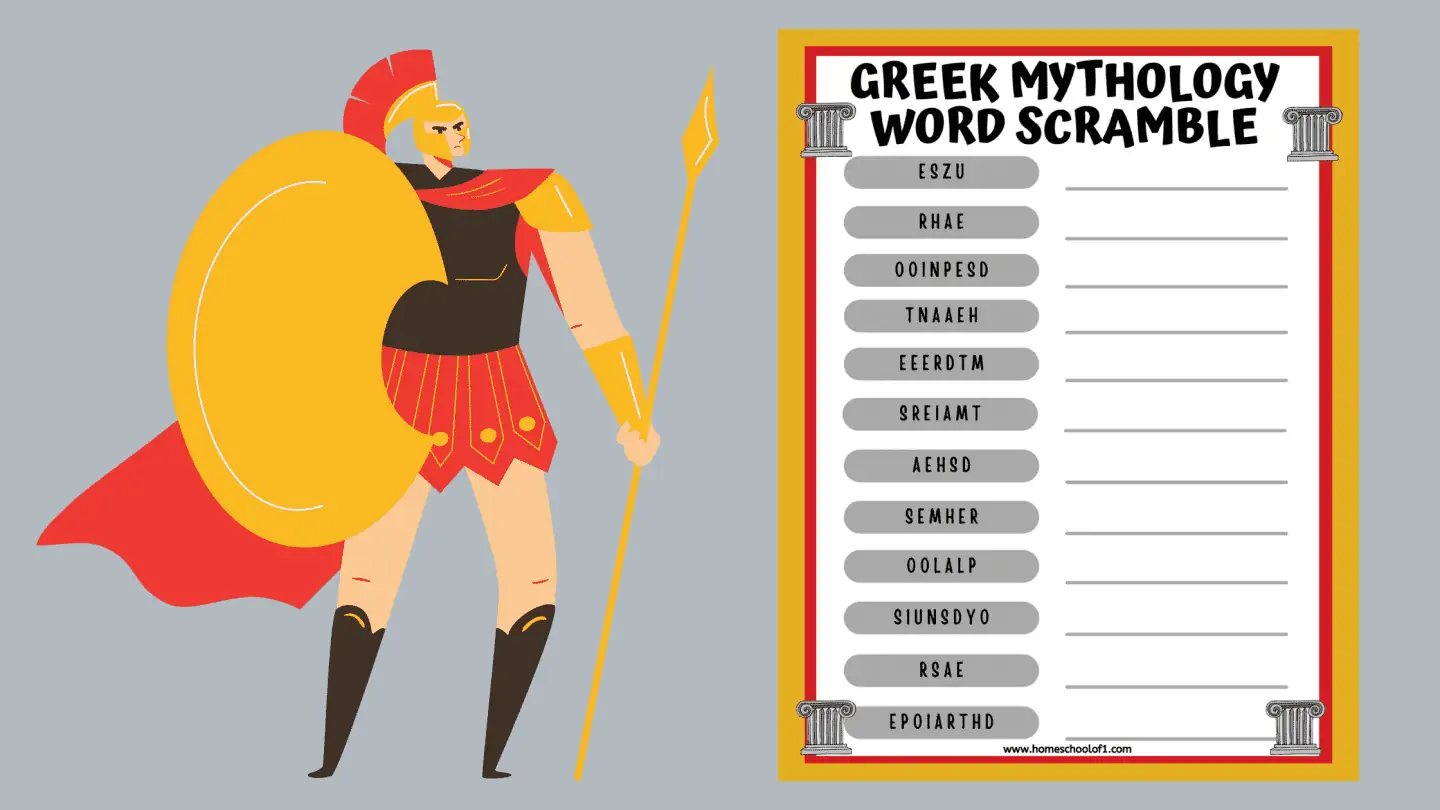 Greek God's Word Scramble Answers
The 12 Greek Gods to find are: ( I have included an answer sheet with the download.)
Zeus
Hera
Poseidon
Athena
Demeter
Artemis
Hades
Hermes
Apollo
Dionysus
Ares
Aphrodite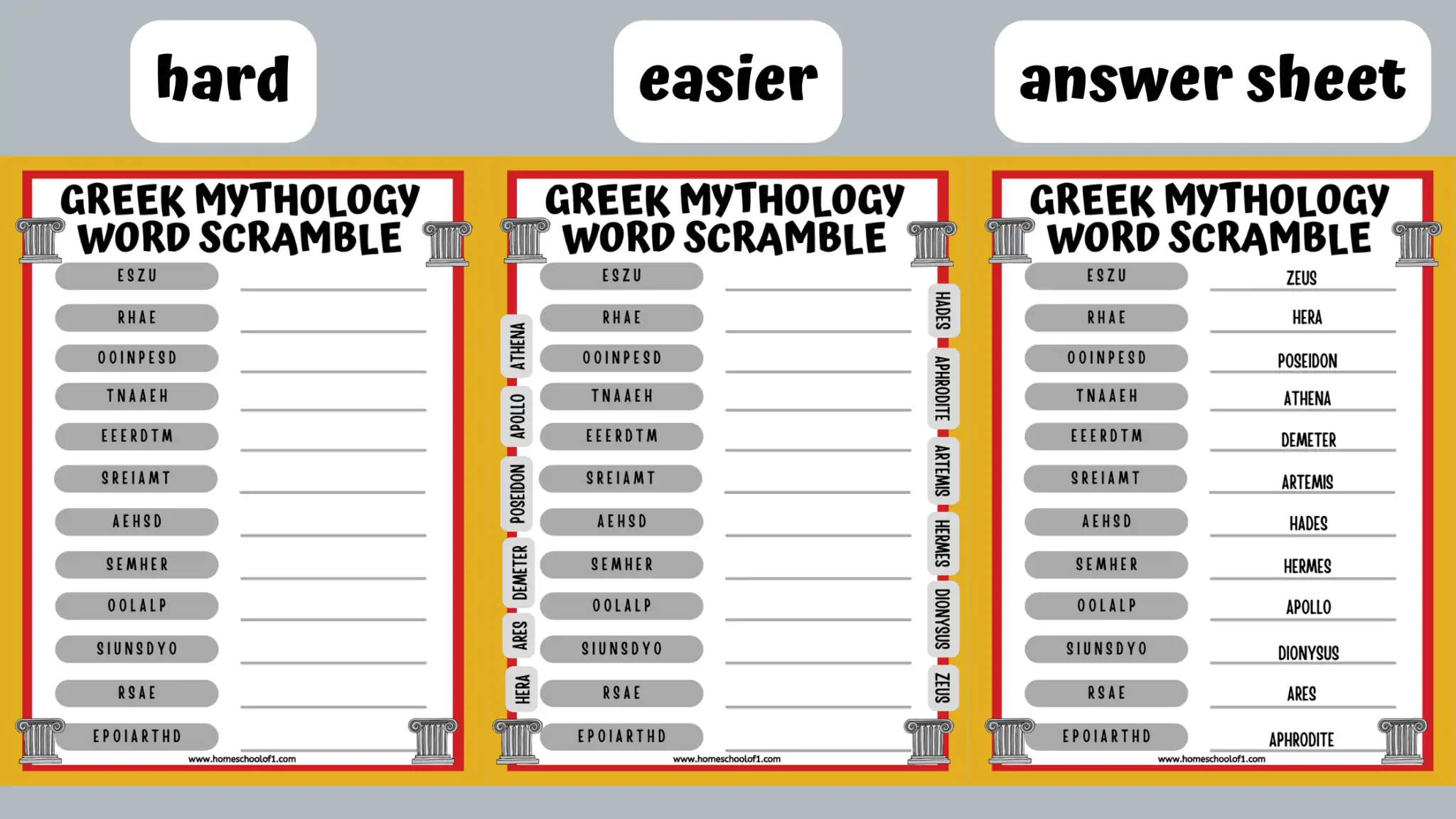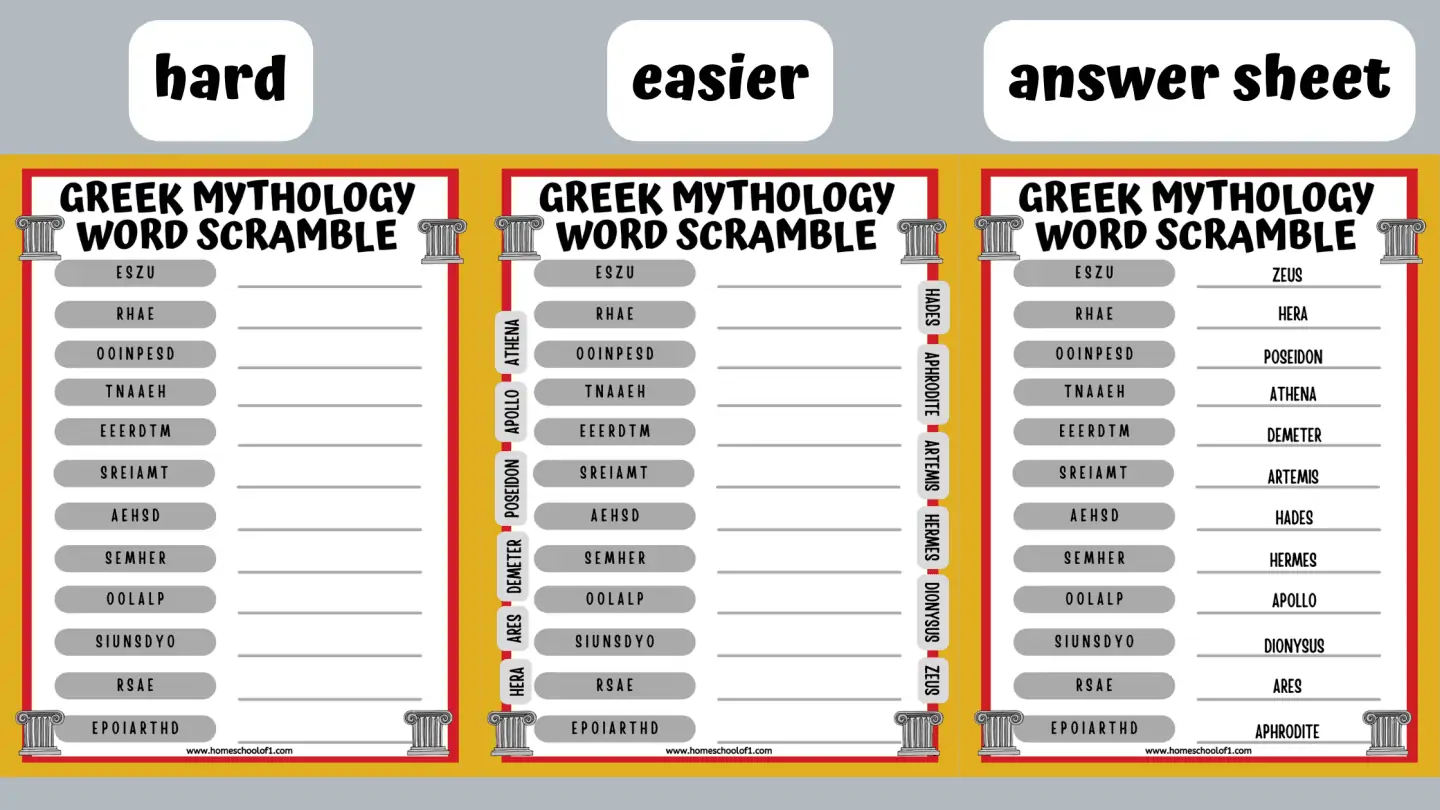 We love word games for kids and this is a great educational game.
Even more fun Greek mythology resources
If you are studying Greek mythology either at school or in your homeschool, here are even more fun resources for you to use:
Print out the free Greek Gods word scramble
Make sure you choose the correct paper size and click on the shrink to fit button. All of our free printables for kids work better when printed on cardstock (this is the one we use and love.)
Last Updated on 29 August 2023 by homeschoolof1