Greek Mythology Word Search (Free Printable)
Whether you're studying the Greek Gods at school or in your homeschool, our free Greek mythology word search is a treat you'll enjoy.
Hunt for 18 key vocabulary words connected to the Greek Gods as you engage in this enjoyable activity.
This word search is a delightful addition to your Greek studies, adding a playful twist to your learning journey.
This fun Greek Gods worksheet offers a playful and educational way to delve into the captivating world of ancient mythology.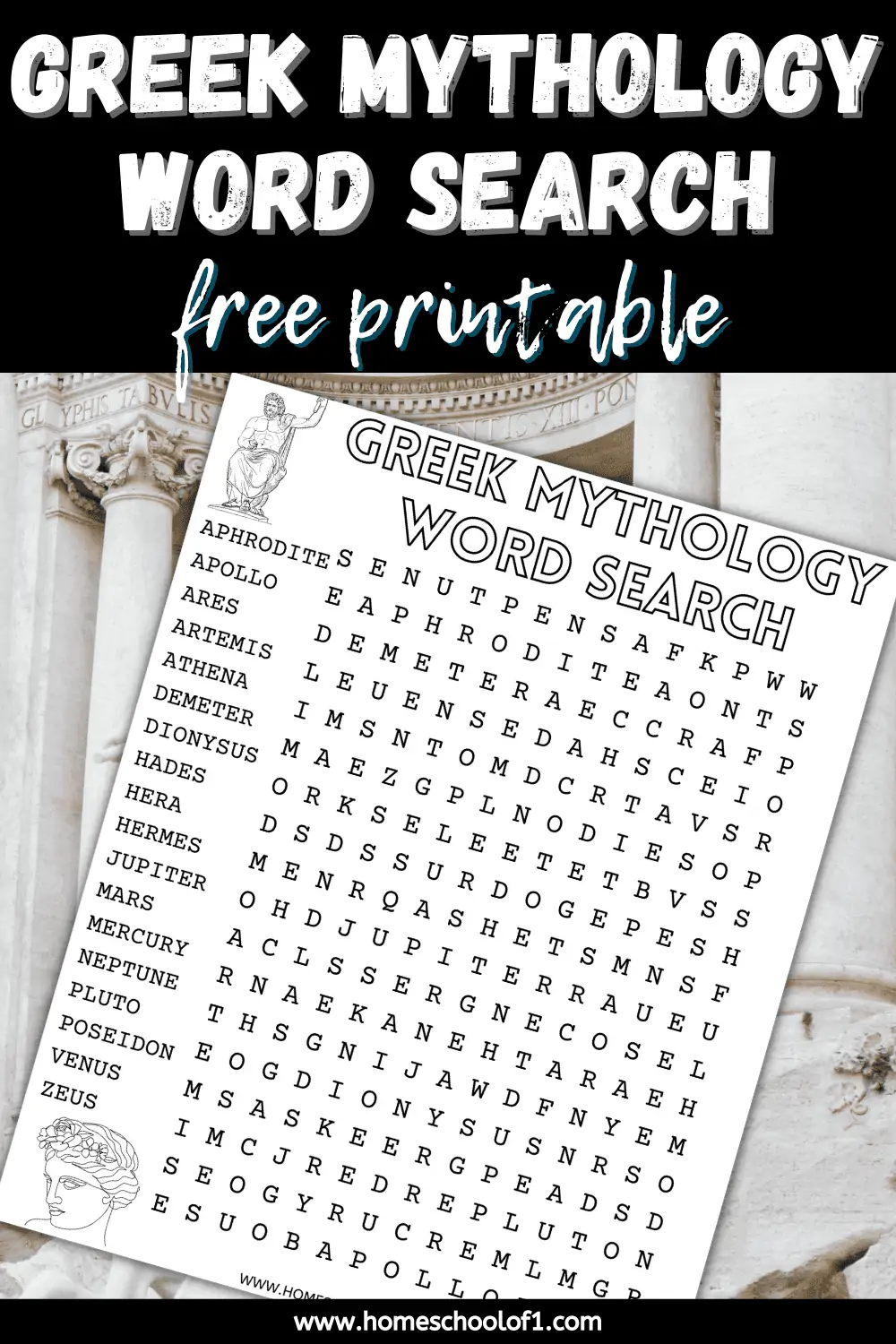 **There may be affiliate links in this post. You can read my full disclosure at the bottom of the page.**
Who were the Greek Gods?
In Greek mythology, the gods were a collection of powerful deities who were believed to have control over various aspects of the world and human life.
There were twelve main gods and goddesses known as the Olympians, who lived on Mount Olympus, the highest mountain in Greece.
Here is a list of the twelve Olympian gods and goddesses and their domains:
Zeus – King of the gods, god of the sky and thunder.
Hera – Queen of the gods, goddess of marriage and childbirth.
Poseidon – God of the sea, earthquakes, and horses.
Demeter – Goddess of agriculture and fertility.
Athena – Goddess of wisdom, war, and crafts.
Apollo – God of music, poetry, prophecy, and healing.
Artemis – Goddess of the hunt, the moon, and childbirth.
Ares – God of war and violence.
Aphrodite – Goddess of love, beauty, and sexuality.
Hephaestus – God of fire, metalworking, and crafts.
Hermes – God of commerce, thieves, and travelers.
Dionysus – God of parties.
These gods and goddesses were worshipped in various temples and festivals throughout ancient Greece and were often depicted in art, literature, and mythology.
But what about Hades?
Hades is another important god in Greek mythology, although he is not one of the twelve Olympians. Hades was the god of the underworld, ruling over the dead and the afterlife. He was the brother of Zeus and Poseidon, and along with them, formed part of the first generation of Olympian gods.
Hades was known for being a feared and powerful god, but he was also seen as a just and fair ruler of the underworld. In Greek mythology, it was believed that when people died, their souls were judged by Hades and either sent to the Elysian Fields (a paradise for the virtuous), the Fields of Asphodel (a neutral place for the ordinary), or Tartarus (a place of punishment for the wicked).
Hades is often depicted as a dark and mysterious figure and was sometimes portrayed as a cruel and merciless god. However, in some myths, he was also shown as having a softer side, such as in the story of his love for Persephone, the daughter of Demeter, whom he abducted and made his queen of the underworld.
Percy Jackson's Greek Gods
10-Minute Stories From Greek Mythology – The Iliad and The Odyssey: Timeless Legendary Tales To Inspire Kids Of All Ages
A Child's Introduction to Greek Mythology: The Stories of the Gods, Goddesses, Heroes, Monsters, and Other Mythical Creatures (A Child's Introduction Series)
Weird But True KnowItAll: Greek Mythology
National Geographic Kids Everything Mythology: Begin Your Quest for Facts, Photos, and Fun Fit for Gods and Goddesses
Treasury of Greek Mythology: Classic Stories of Gods, Goddesses, Heroes & Monsters
Greek Gods Word Search Puzzle
Word search printables are an excellent activity for when the kids just need a break.
Word searches are one of the best educational games for improving vocabulary, enhancing cognitive skills, and fostering a love for learning in individuals of all ages.
This Greek mythology printable is free to print, but they are for personal or classroom use only. Scroll to the bottom of the page to get the pdf file.
The Greek Gods can be found, horizontally, vertically, diagonally, frontwards, or backward! Just to make it that much harder!
I have also added some black and white Greek Gods for the kids to color in too! Perfect if the kids find the words too quickly!
There is also an answer sheet, some of the words are a little tricky to find!
Unscramble these words with our free Greek mythology word scramble.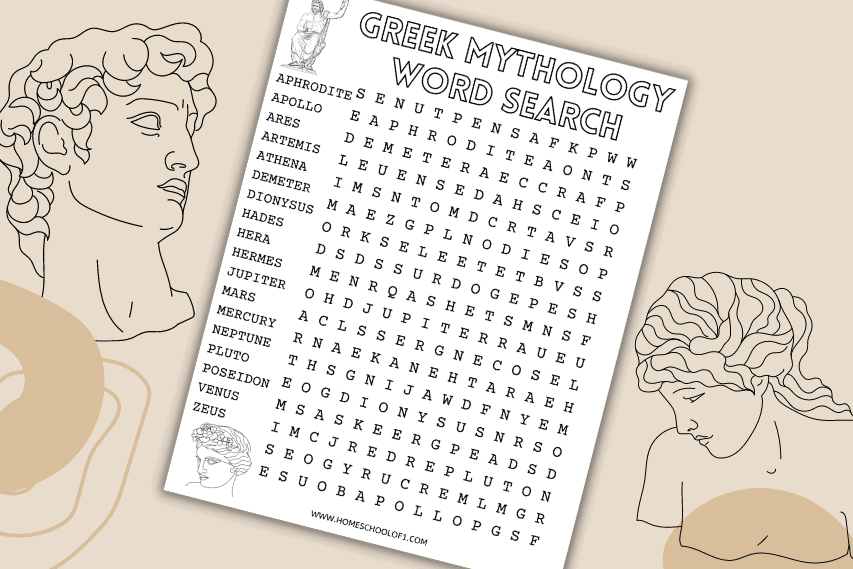 Tip: I recommend either using a highlighter pen or circling around the letters. Do not cross the letters out if you have found a word, as it may be used in another word!
There are 18 hidden Greek mythology words to find (there are actually only 12 Greek Gods, but I have added some of their Roman names too!)
Aphrodite
Apollo
Ares
Artemis
Athena
Demeter
Dionysus
Hades
Hera
Hermes
Jupiter
Mars
Mercury
Neptune
Pluto
Poseidon
Venus
Zeus
I have included the answer sheet in the download too.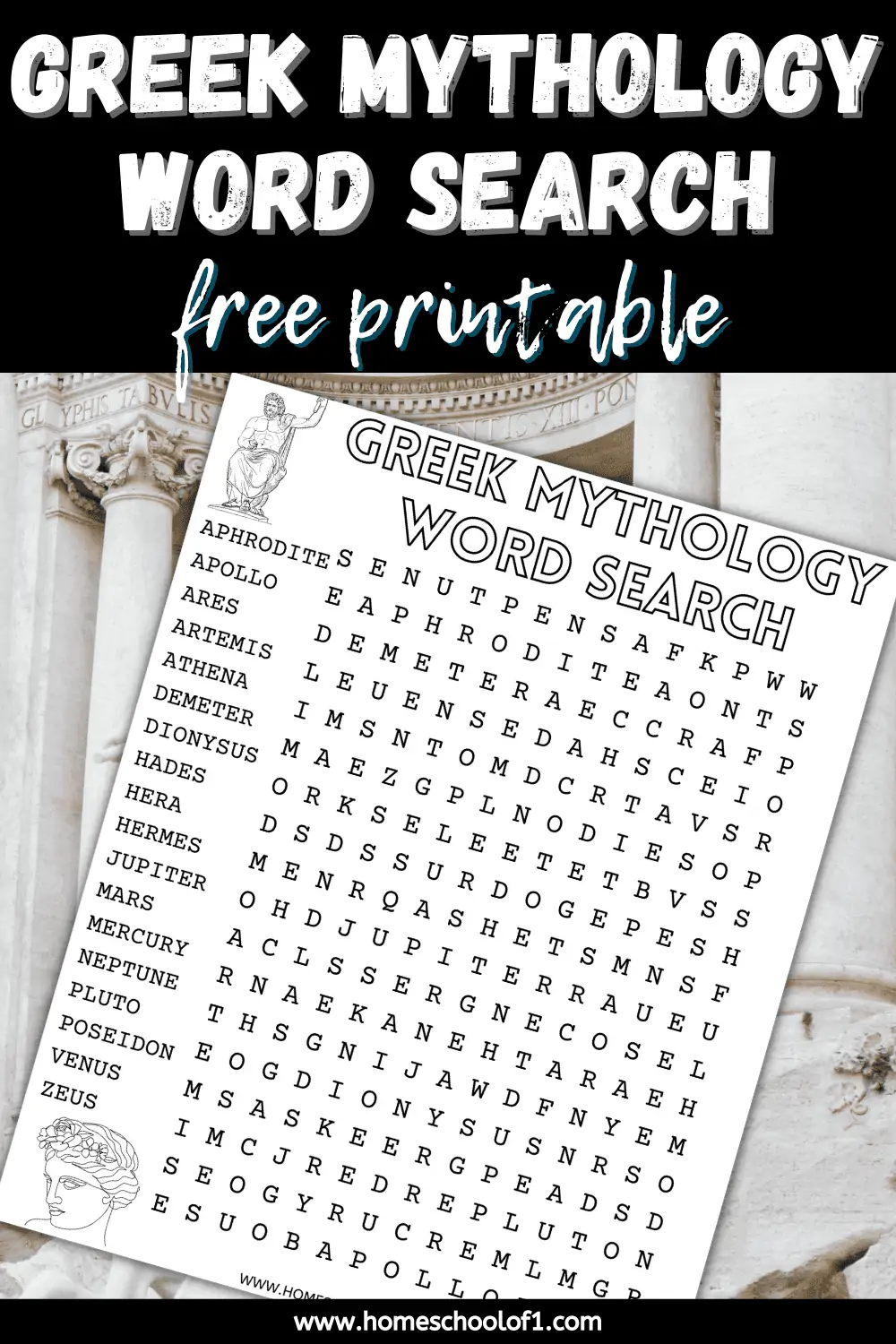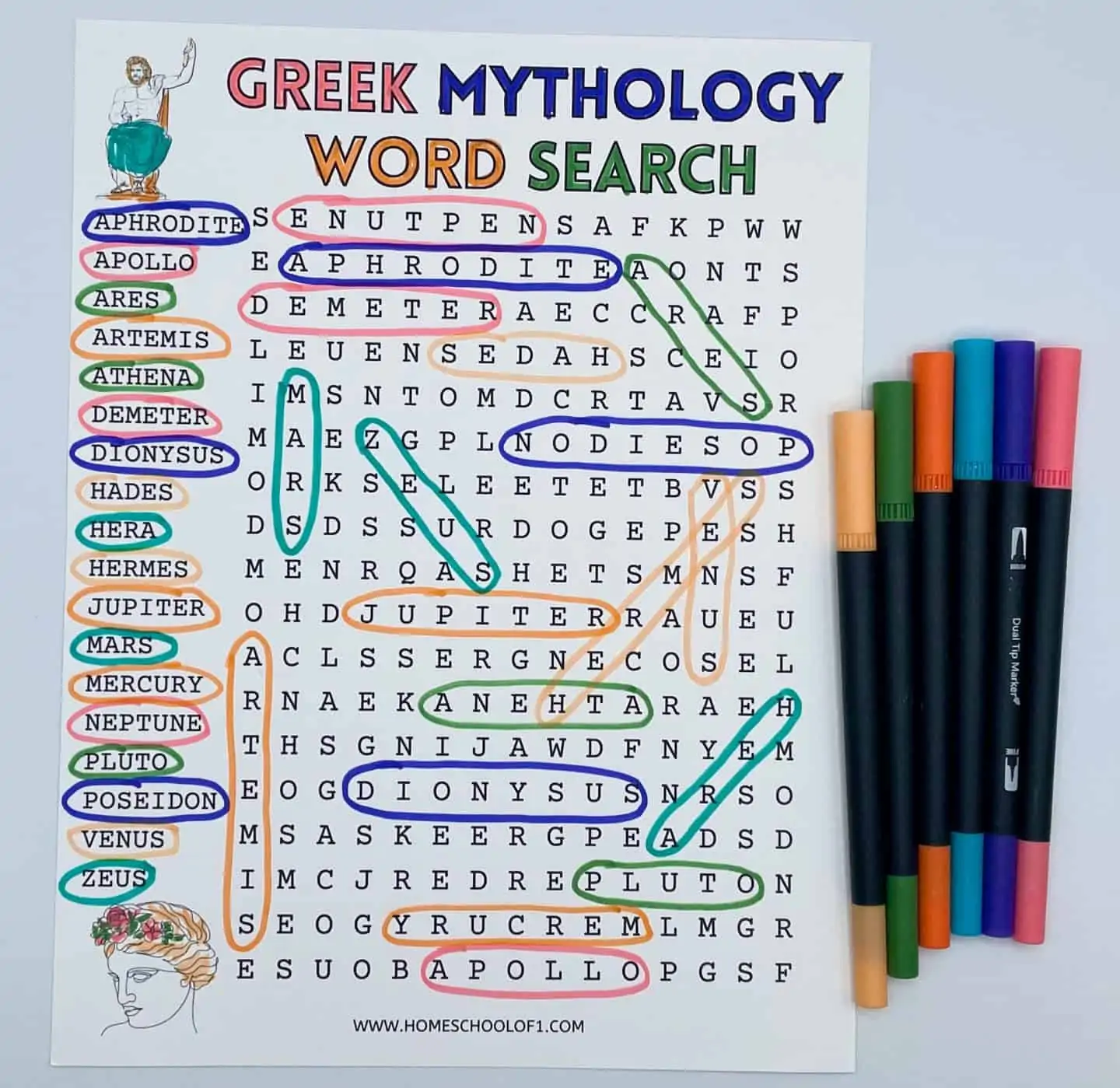 Other history resources you will enjoy
Download the free word search on Greek mythology
Make sure you choose the correct paper size and click on the shrink to fit button. All of our free printables for kids work better when printed on cardstock (this is the one we use and love.)
Last Updated on 1 September 2023 by homeschoolof1