Groundhog Day History Printables (free worksheet)
We all know the movie Groundhog Day, it is a classic. However, do you know how it all started? Download our free Groundhog Day history printables and have fun learning with the kids.
Groundhog Day is a celebration of weather forecasting based on the predictions of Phil the Punxsutawney groundhog. The event happens every year on February 2nd and is celebrated across the United States of America and Canada.
These history of Groundhog Day printables are great as a no-preparation worksheet either for school or homeschool.
When you have finished with this why not have even more fun with our free Groundhog Day coloring pages?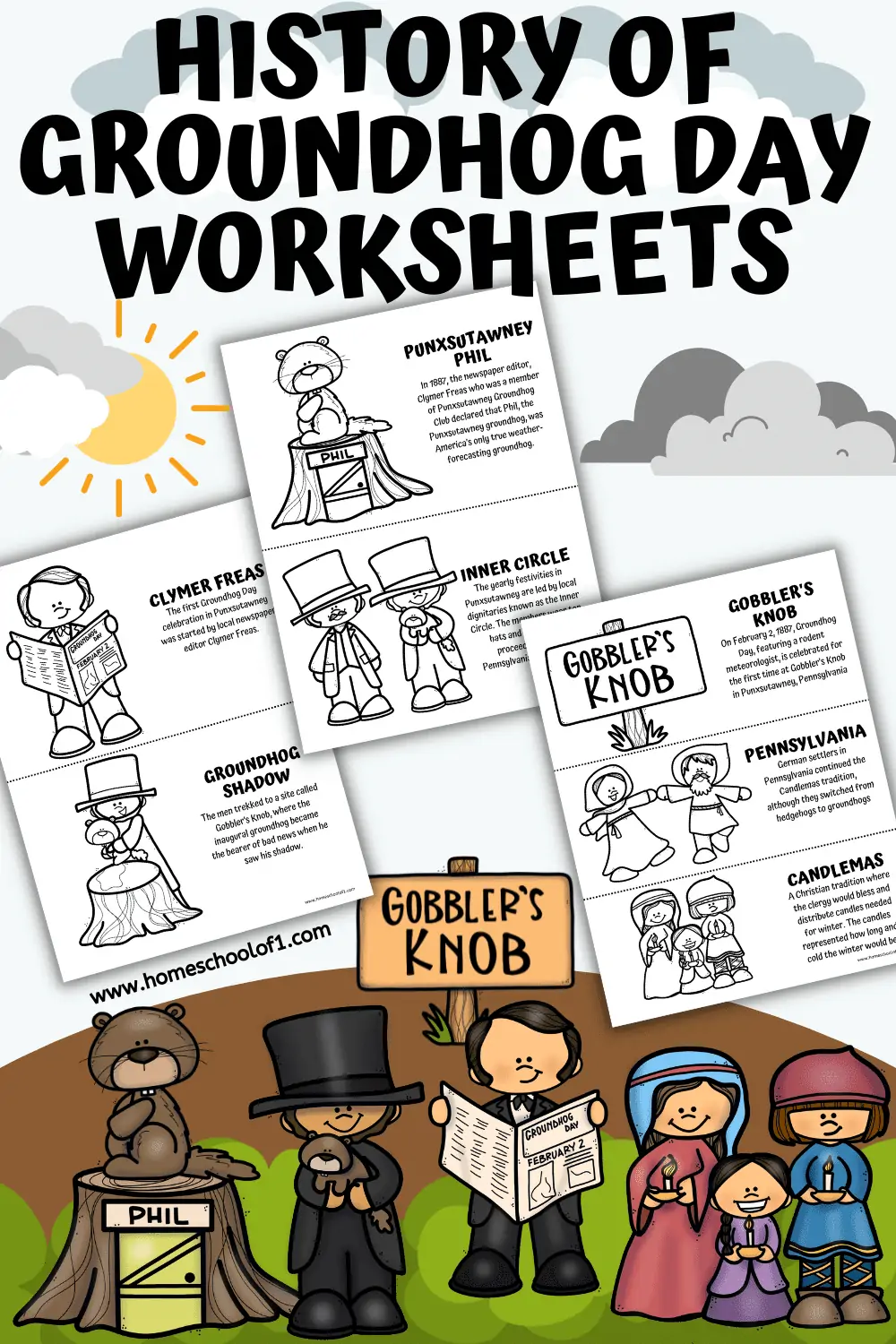 **There may be affiliate links in this post. You can read my full disclosure at the bottom of the page.**
History of Groundhog Day Worksheets
It is also a great last minute activity for both school and homeschool, as there is no preparation required for this.
Supplies needed:
copy paper
crayons or coloring pens
Directions:
Fill out the form at the bottom of the post to get the free history of Groundhog Day printables.
There are 3 pages to print and they will print out in portrait. Make sure to check the printer settings.
Each of the 3 pages has a picture to color in, with the description.
Gobbler's Knob. On February 2, 1887, Groundhog Day, featuring a rodent meteorologist, is celebrated for the first time at Gobbler's Knob in Punxsutawney, Pennsylvania.
Candlemas. A Christian tradition where the clergy would bless and distribute candles needed for winter. The candles represented how long and cold the winter would be.
Pennsylvania. In Germany, they added to the Candlemas tradition and used hedgehogs to predict the weather. German settlers in Pennsylvania continued the Candlemas tradition, although they switched from hedgehogs to groundhogs.
Why not learn a little more about the groundhog with our free life cycle of a groundhog worksheets?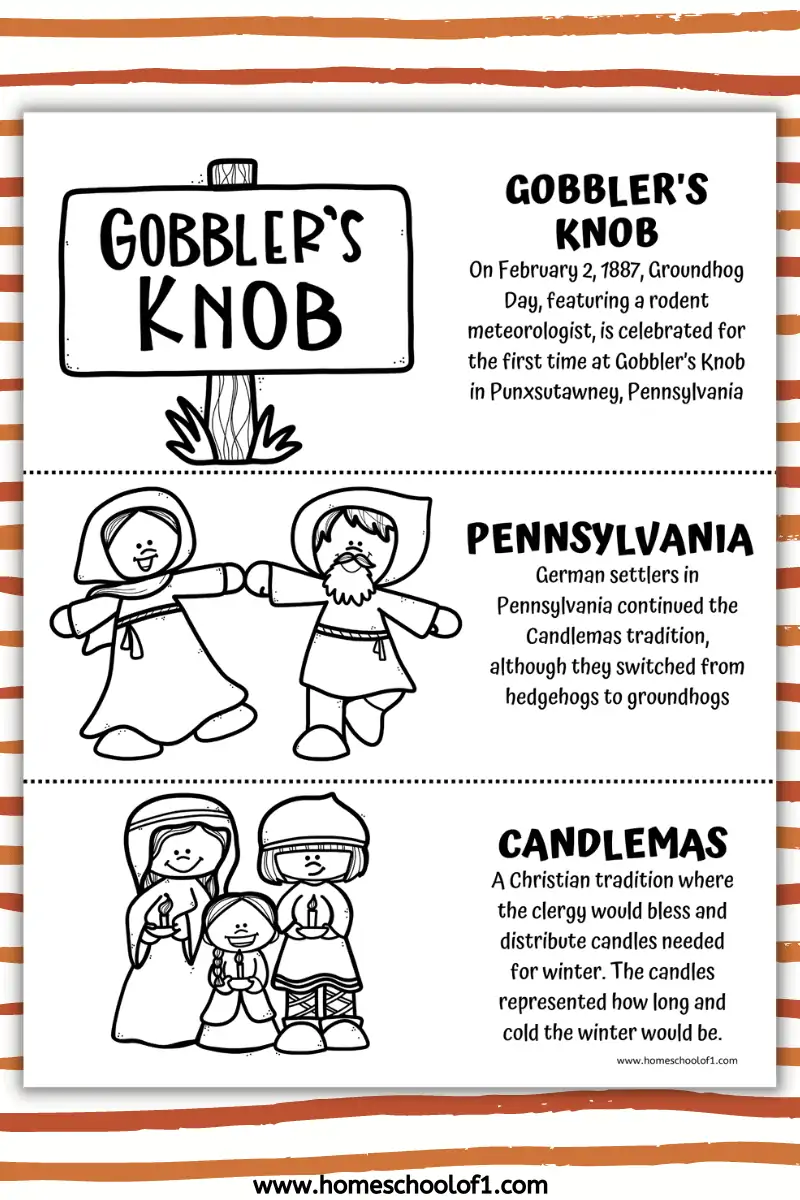 Clymer Freas. The first Groundhog Day celebration in Punxsutawney was started by local newspaper editor Clymer Freas.
Groundhog shadow. The men trekked to a site called Gobbler's Knob, where the inaugural groundhog became the bearer of bad news when he saw his shadow.
Punxsutawney Phil. In 1887, the newspaper editor, Clymer Freas who was a member of Punxsutawney Groundhog Club declared that Phil, the Punxsutawney groundhog, was America's only true weather-forecasting groundhog.
Inner circle. The yearly festivities in Punxsutawney are led by local dignitaries known as the Inner Circle. The members wear top hats and conduct the proceedings in the Pennsylvania Dutch dialect.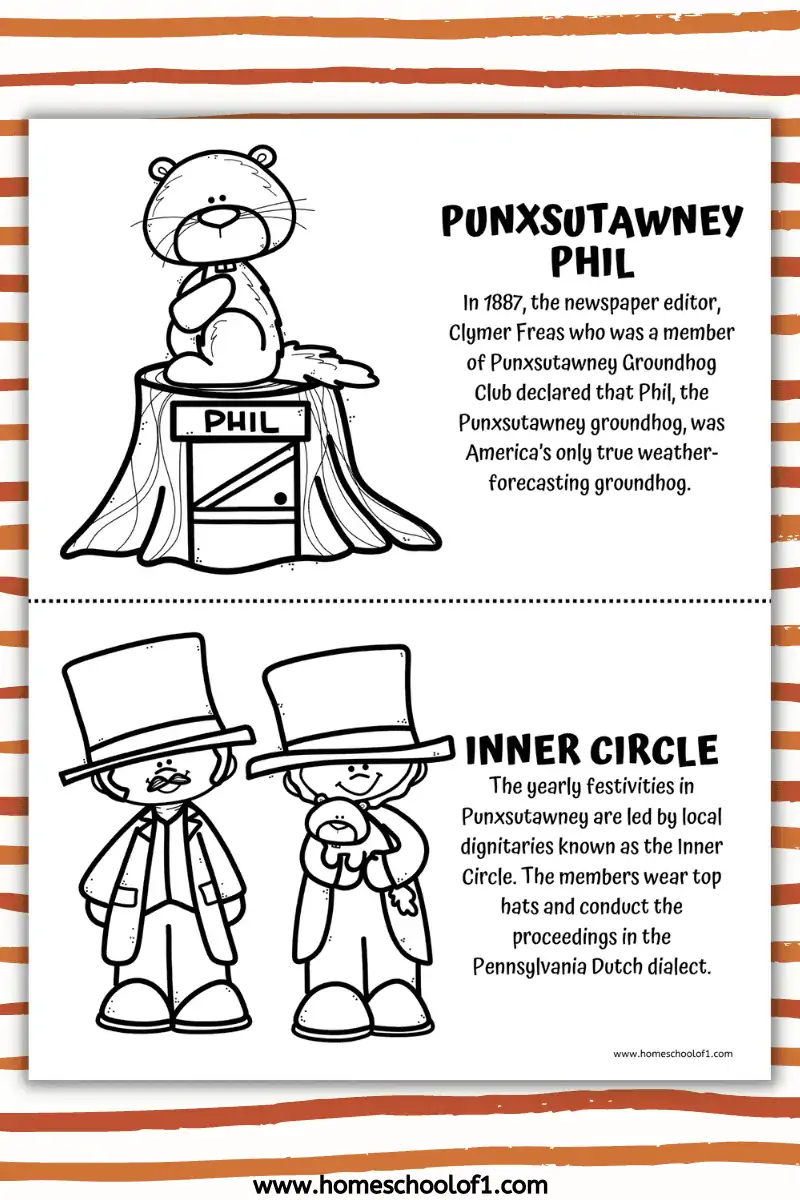 Groundhog Day books
Download free History of Groundhog Day Worksheets
Make sure you choose the correct paper size and click on the shrink to fit button. All of our free printables for kids work better when printed on cardstock (this is the one we use and love.)
Last Updated on 5 June 2023 by homeschoolof1