The Best Gameschooling Ideas for Homeschool by Subject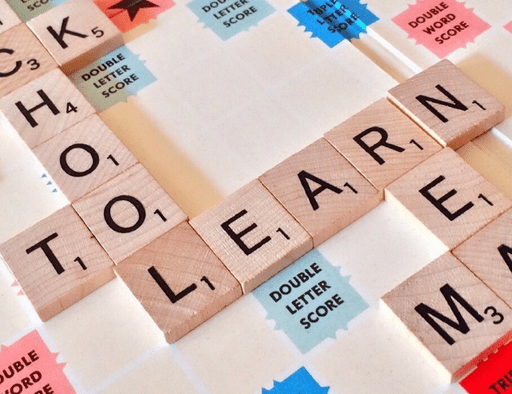 Although we are fairly structured in our homeschool days, we still enjoy playing educational board games for kids as part of our home education. It is just a more fun way to learn that also encourages free-thinking and not feeling like it is a test, gameschooling is the best!
We have come across a lot of board games for kids that are just perfect for gameschooling and we try to incorporate them as much as we can.
**Disclosure – This post may contain affiliate links. This means we may receive a small commission, at no cost to you, if you make a purchase through a link. **
The Best Gameschooling Board Games for Kids
My first recommendation comes without a category. The reason is, I think FReNeTiCs is the BEST educational board game on the market. It is great for maths (adding up the scores), science (learning the periodic table), English (creating words), and strategy (trying to find the best words if there is a double or triple letter tile on the board.) We all love it, even the older kids (20 and 24) ask to play it when they come and visit. It is like a clever scrabble where you have to make words with tiles on the board. However, it is so much harder, all of the tiles are from the periodic tables! I can not recommend this game highly enough, but you can read my full review of Frenetics before you buy.
The Best Math Board Games for Kids
Yahtzee – A really great dice game for 1 or more players, ages over 8. This is often a game we will take on holiday as it comes in a small box and is lots of fun.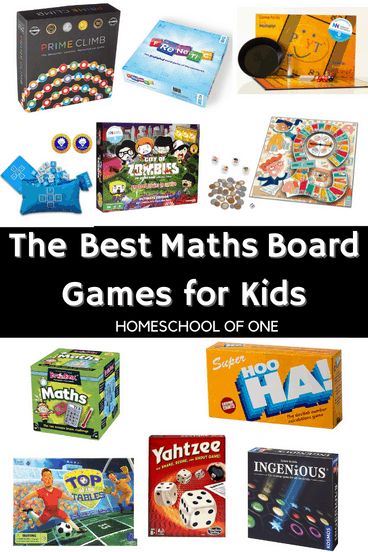 Brainbox Maths is a fast and fun memory game that does not require any pens, pencils, paper, playing board or even a table! Each round takes 10 seconds so all players are involved. A game lasts as long as you want it to. 10 minutes is the norm, but playing for 5 minutes is great fun also. BrainBox is educational and is perfect for families and groups of friends to play, wherever they are, on a level playing field. You can play solo or with as many people as you want. A player simply picks a card and studies it for 10 seconds before being asked a question from the back, chosen by the roll of a die. A correct answer means the card is kept, if not it is returned to the box. The player with the most cards after 5 or 10 minutes wins!
Brainika this is not a board game, but a math game played on Roblox! I love this idea, as the kids can "play" while learning!
Prime Climb is a mathematical board game designed for 2 to 4 players. Roll the dice and add, subtract, multiply and divide your way to the centre of the board. Picking up Prime cards and bumping your opponents back to start as you go. The first to land both pawns on 101 wins the game! Everyone can learn to multiply and divide using Prime Climb's unique colour coding. Inspire deeper mathematical understanding while mastering arithmetic. Prime Climb can be used as an aid for home educators to teach and reinforce KS2 and KS3 maths content. Simple enough for kids (ages 10 and up), and dynamic enough for professional mathematicians. Prime Climb is a perfect game for families.
Learning Resources Money Bags Coin Value Game. Children can get hands-on with money skills with this award-winning money board game from Learning Resources. Children practice identifying and counting HM Treasury approved realistic coins in this Money Bags Coin Value Game. Players simply roll the dice and move the corresponding number of spaces around the money-themed game board. Players note the financial amount shown on the space they land on and spin the spinner. The spinner determines which coins can be used to make value on the space. When a player passes the finish line, all players count their money. The player with the most wins! For 2-4 players. Suitable for ages 7+
The Best Word Gameschooling Board Games
Bananagrams is a fast and fun word game that requires no pencil, paper or board. All you need is a table. One hand can be played in as little as five minutes. It is great for family fun as well as being educational. Bananagrams' portability makes it perfect for travel. Just grab the pouch and go.
Scrabble – This needs no introduction and is a game that every family should have in their cupboards. It is a great game to play whether you homeschool or not. In fact, on some occasions, myself and my husband can be found playing it with a glass of wine!
Boggle – Earn points by spotting words your friends don't before time runs out. Shake the grid to mix up the letter cubes. Then lift the lid and flip the timer. Players have 90 seconds to write down as many words as they can find on the grid before time is up. At the end of the round, score the words. If two or more players find the same word, that word doesn't count. The player with the highest score wins. The game comes in an easy to store travel case for both timer and dice.
Story Cubes – Simply roll the nine dice and begin your story – Once upon a time…. and use the embossed images to spark your imagination. With just four lines of instructions and no time or story length limits and no right or wrong answers, anyone can become a storyteller. Rory's Story Cubes are a fun way to inspire creative thinking, encourage social confidence, develop language, improve vocabulary and promote problem-solving skills for ages six and above. Presented in a little magnetic box Rory's Story Cubes are suitable for travel. The nine dice, each with an individual image on all sides holds a total of 54 images. This means that with every roll, there are over a million combinations to use for storytelling inspiration.
Strategy Board Games for Gameschooling
Chess – Again another game that needs no introduction. We have always enjoyed playing chess especially when the stepchildren were younger, so Freddie has been playing chess for a number of years. In fact, he is so good he can beat me now.
Pandemic– This is a great game of strategy, and if you would like to read my full review of Pandemic please do so.
Ingenious is a game that is in a league of its own. Quick to play, beautiful and one of the more "clever" board games for kids. The game involves scoring points by placing your colour tiles on a hexagonal board while trying to block your opponents from scoring points. Although it sounds simplistic, the game actually is a real challenge. The game has a nearly unlimited amount of strategies and with its unique scoring system. Every game is different and challenging.
Carcassonne – players build the area surrounding this impressive city, one tile at a time. They then place a follower on fields, cities, roads or monasteries in order to score as many points as possible. These followers will become knights, monks, farmers and thieves, depending on where they are placed. Check out our full review of Carcassonne
Ticket to Ride – A cross country train adventure. The longer the routes the more points you earn. Check out our full review of Ticket to Ride.
Geography Board Games
Flags of the World – Name the country, claim the flag in a trivia trip around the world! Ideal for geography-lovers. Flags around the world is the family game with multiple-choice questions about every country. Learn about countries and capital cities as you collect Flags to win. 2-5 players; age 8+.
What are your favorite gameschooling ideas for kids? Please let me know in the comments below.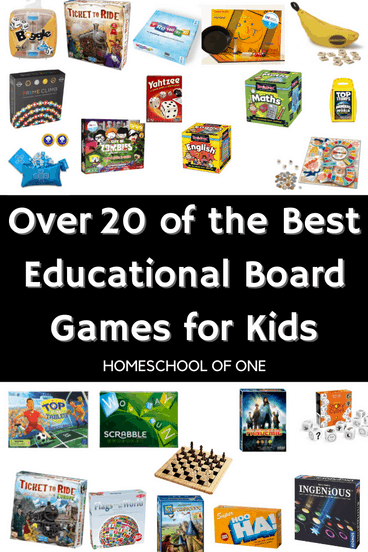 If you enjoy gameschooling check out the best kids science kits check out our favorite 15.
Last Updated on 17 September 2021 by homeschoolof1