Halloween Counting Worksheets (free printables)
Have fun with math this October with our free Halloween counting worksheets for preschoolers and kindergartners.
Learn to count from 1 to 10, with our spooky Halloween activities for kids. These spooky counting worksheets make counting much more fun!
**There may be affiliate links in this post. You can read my full disclosure at the bottom of the page.**
What are the benefits of using Halloween counting worksheets?
Using Halloween counting worksheets offers a range of valuable benefits for young learners:
Halloween counting worksheets provide an engaging way for children to practice their counting skills. By adding up the Halloween theme images, they develop a stronger understanding of numbers and basic arithmetic.
The inclusion of Halloween images makes counting more visual and relatable for children. Associating numbers with recognizable images enhances their ability to grasp mathematical concepts.
Interacting with the images by counting and writing numbers fosters hands on engagement, which is essential for active learning and skill retention.
Repetition is key to learning. Halloween counting worksheets help reinforce counting concepts and gradually build proficiency.
As children work on adding up different images, they're engaged in basic problem solving. They learn to analyze and solve simple mathematical challenges independently.
Counting individual images and writing the corresponding numbers requires careful attention to detail, which contributes to the development of focus and concentration.
Counting involves understanding the order of numbers. By following a sequence to count Halloween images, children enhance their sequential thinking abilities.
Incorporating these Halloween counting worksheets into lessons or home activities not only aligns with the festive spirit of Halloween but also provides an effective way to promote math skills and cognitive growth in young learners.
Halloween Math Worksheets
These Halloween free printable counting worksheets are free to print but are for personal and classroom use only. Scroll to the bottom of the post and add your email address to get the pdf file.
Halloween counting worksheets are a great way to encourage the kids to practice counting and writing numbers.
These free worksheets can be used with children as young as toddlers, but also preschoolers and kindergarteners will all love learning how to count with this Halloween themed math activity.
The Halloween counting worksheets only go up to a maximum of 11 objects.
If you are wanting to have lots more fun with math, we highly recommend these 20 math board games.
In the first counting worksheet, the children will count 6 different spooky Halloween guests.
The children will be finding how many children are wearing these scary costumes:
skeleton
wizard
zombie
Frankenstein
red devil
witch
In the second printable there are 3 different Halloween guests and 3 balloons to count.
The pictures are of mummies, zombies, witches, and balloons.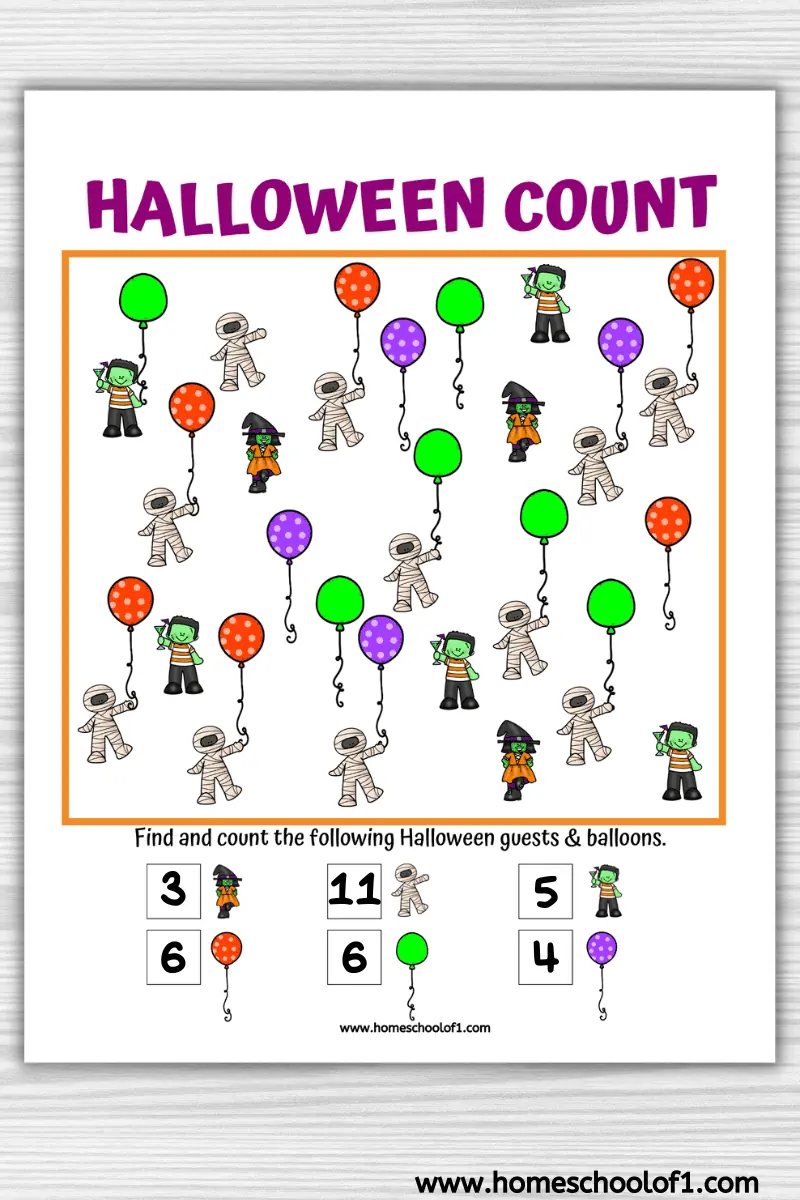 These Halloween math worksheets only go up to counting to 11, count up to 20 with our free missing numbers 1-20 worksheet.
Additional Halloween kindergarten worksheets
Gather small groups of children and play Halloween bingo printable. Perfect for the classroom, or at a Halloween party. There are 5 free bingo cards to download along with a calling card.
Let's get creative with this spider handprint art and make a spooky keepsake.
Have fun with our free Halloween graphing worksheets where you can color count and graph. This is another great math worksheet that can be enjoyed over the fall season.
Have fun at the dinner table with our free Halloween printable placemats.
Have fun reading and being creative with our free Halloween coloring pages.
Ten Timid Ghosts (Read With Me Paperbacks)
The Night Before Halloween
Five Black Cats
Ready for Halloween!
Halloween math stories for preschoolers
Embark on a delightful journey into the world of Halloween-themed mathematical adventures with our specially curated collection of books tailored for preschoolers.
These enchanting stories seamlessly blend the festive spirit of Halloween with fundamental counting concepts, offering young learners an engaging opportunity to explore numbers while immersing themselves in the holiday's excitement.
In Ten Timid Ghosts readers follow the tale of ten hesitant ghosts inhabiting a haunted house who are unexpectedly visited by a daring witch, resulting in an entertaining and heartwarming Halloween adventure.
Ten Little Jack O Lanterns invites young readers to join ten playful jack-o'-lanterns as they partake in spirited Halloween activities, transforming it into an engaging counting book infused with the merriment of the season.
Pete the Cat: Five Little Pumpkins features the beloved feline character on a journey alongside five pumpkins, where they encounter eerie surprises while Pete maintains his signature cool and cheerful demeanor. These charming stories offer the perfect blend of Halloween thrills and educational enrichment for preschoolers.
Download the free counting Halloween worksheets
Make sure you choose the correct paper size and click on the shrink to fit button. All of our free printables for kids work better when printed on cardstock (this is the one we use and love.)
Last Updated on 23 August 2023 by homeschoolof1