Free Benjamin Franklin Coloring Pages & Timeline Worksheets
Whether you are studying the Founding Fathers or the great inventors of America, you are going to love our free Benjamin Franklin coloring pages.
There are 9 different images that need to be matched to the words describing them.
The kids will love these free homeschool printables and be amazed by all the things Benjamin Franklin invented.
There are 4 coloring pages to print out, and a timeline to print out and match with the pictures and order. This is perfect for kindergarten, first, and second-grade students.
Benjamin Franklin was born on January 17th, 1706, and was one of the founding Fathers of the United States.
But did you also know he invented, discovered, and improved many of the devices and civic institutions that people rely on today?
In this free printable the kids will be able to color in some of his most famous inventions, and then match the picture to the date and the description.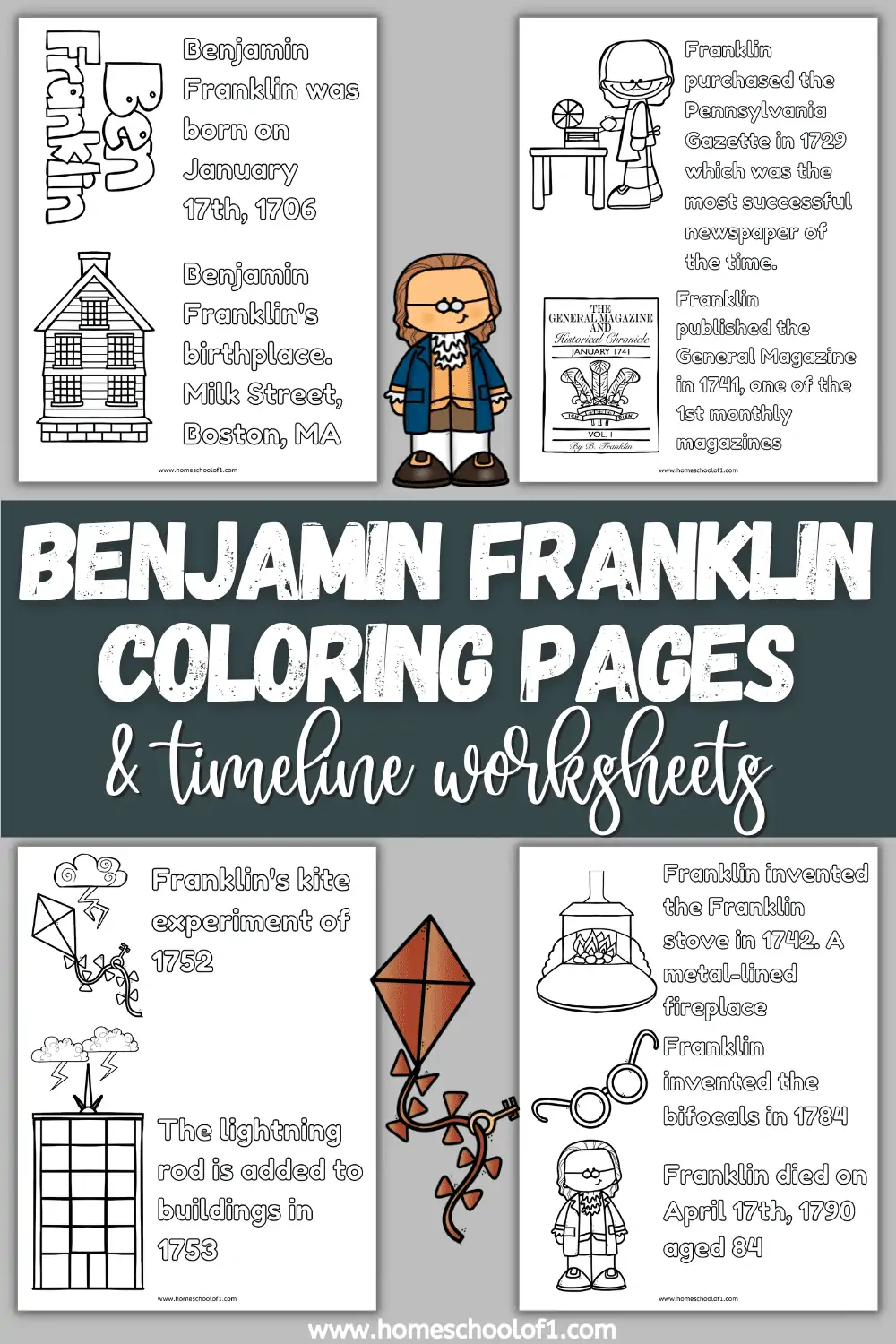 **There may be affiliate links in this post. You can read my full disclosure at the bottom of the page.**
Benjamin Franklin Timeline
The kids are going to enjoy coloring in these Benjamin Franklin coloring pages and trying to match the timeline with the pictures.
This Benjamin Franklin coloring page printable is free to print but is for personal or classroom use only. Scroll to the bottom of the page to get the pdf file.
Supplies Needed:
Instructions:
Print out the 4 coloring pages below, it will print out on four full pages. Make sure to check the printer settings.
You can of course print this on normal printer paper, but with all of our crafts, they always look better on cardstock.
Cut out all of the words and the pictures, I like to use a paper cutter as it is more accurate. However, scissors will work too.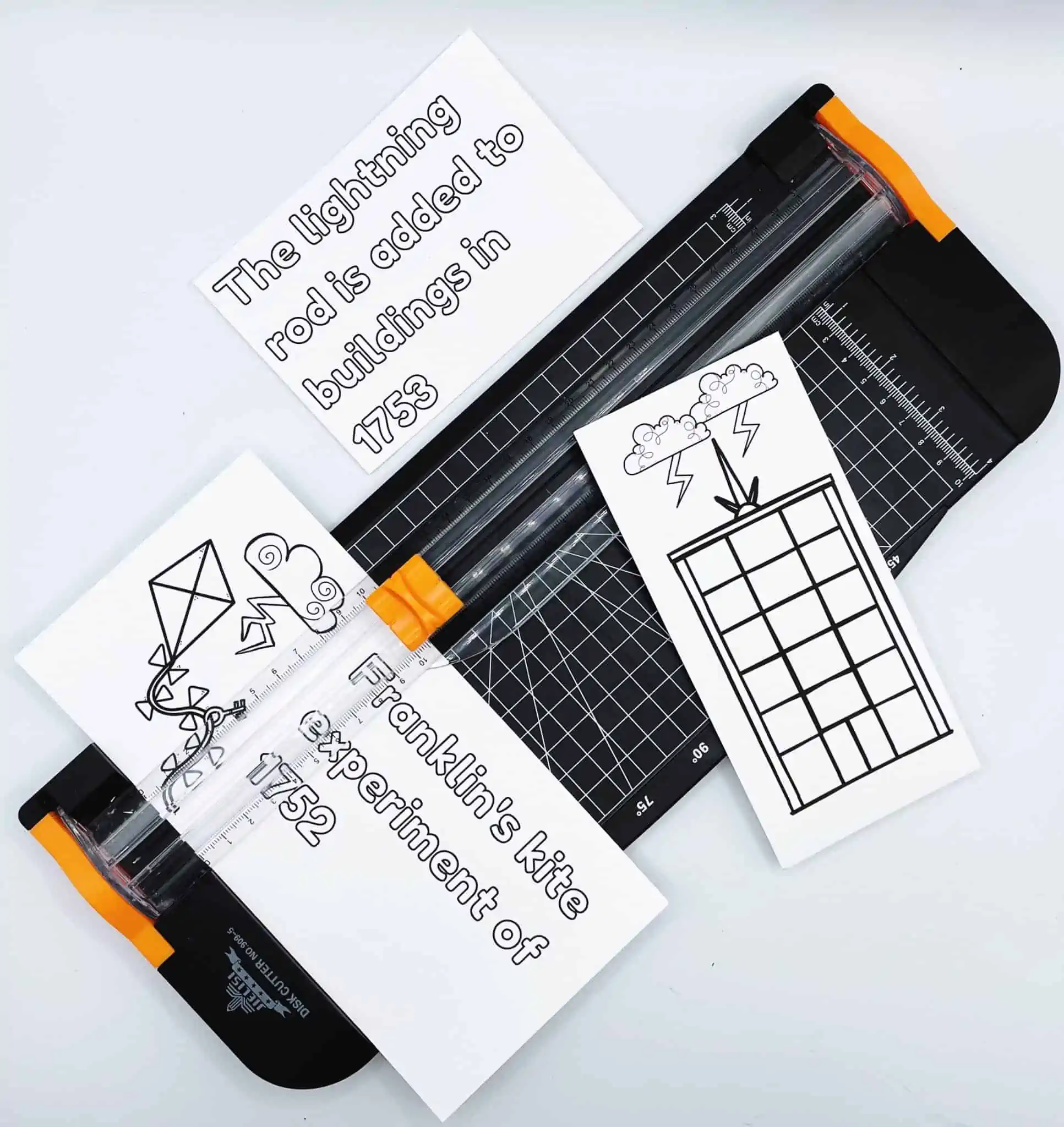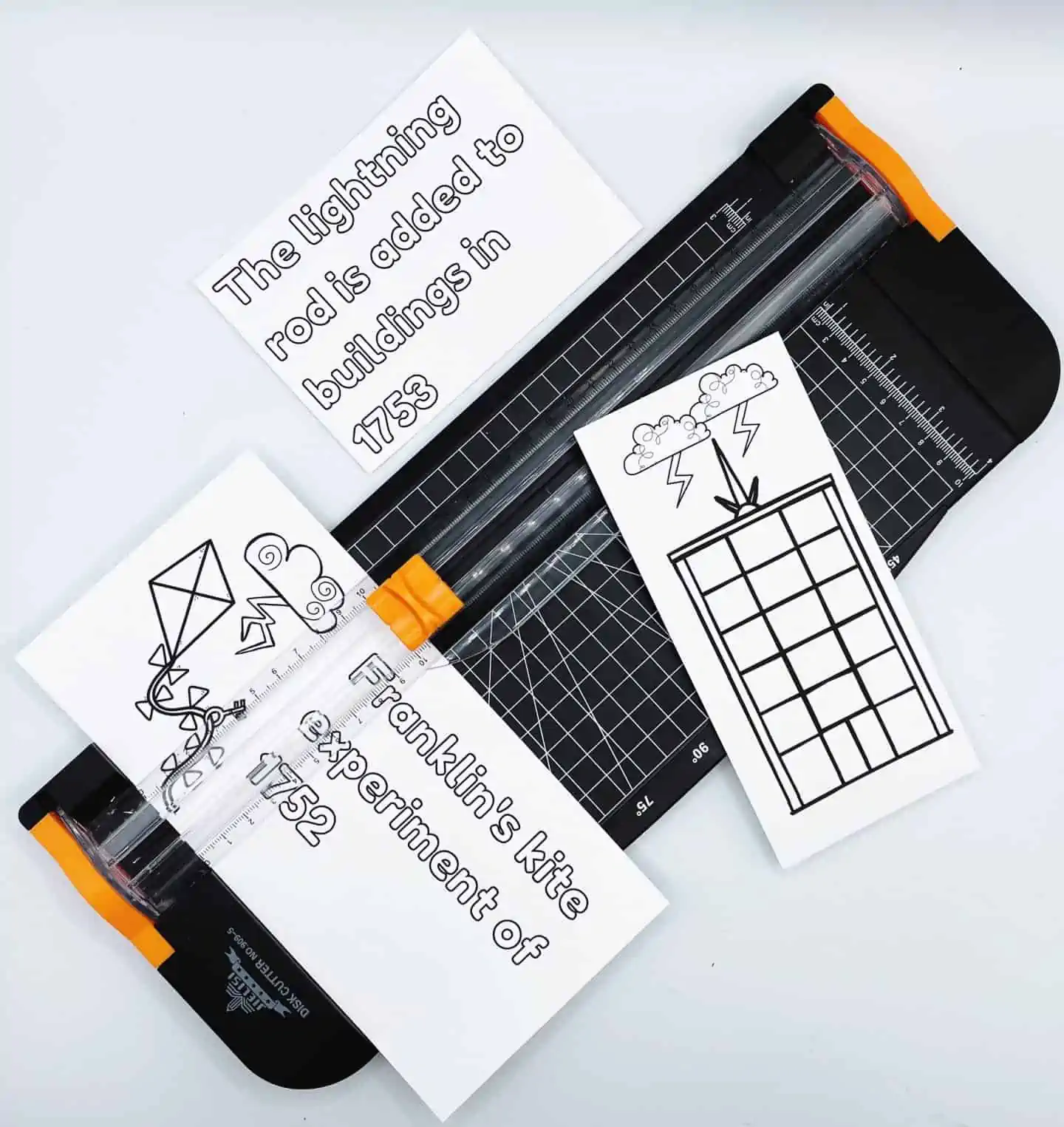 Ask the children to color in all of the images first, there are 9 different pictures to color in.
Ben and Me: An Astonishing Life of Benjamin
Who Was Ben Franklin?: Who Was…?
The Story of Benjamin Franklin: A Biography Book
Ben Franklin Thinks Big (I Can Read Level
I am Benjamin Franklin (Ordinary People Change the
Ben Franklin's in My Bathroom! (History Pals)
Franklin stove
Bifocals
Benjamin Franklin
Kite and key in a storm
Lightening rod on a building
Benjamin Franklin with a printing press
The General Magazine and Historical Chronicle
Benjamin Franklin's birthplace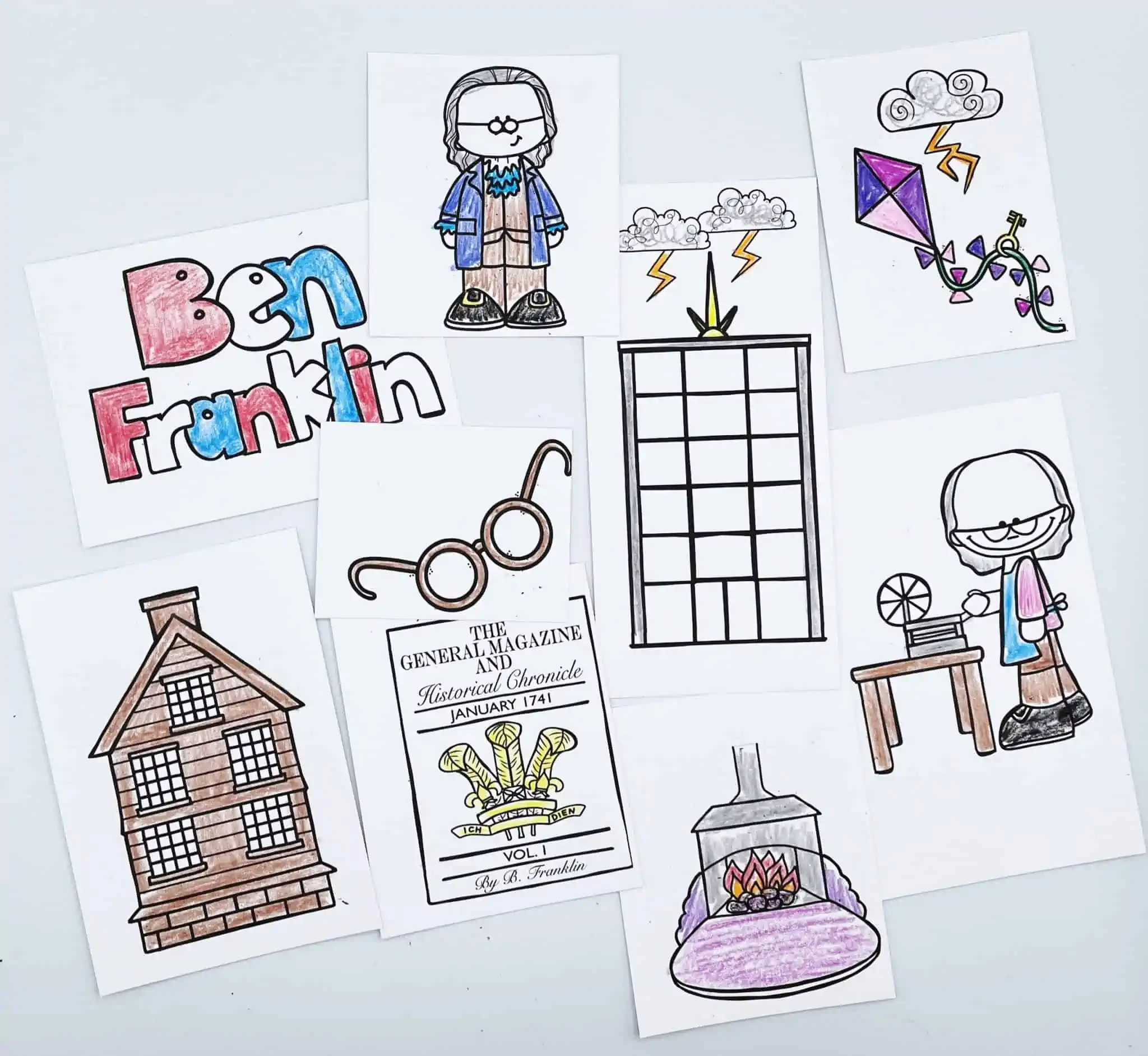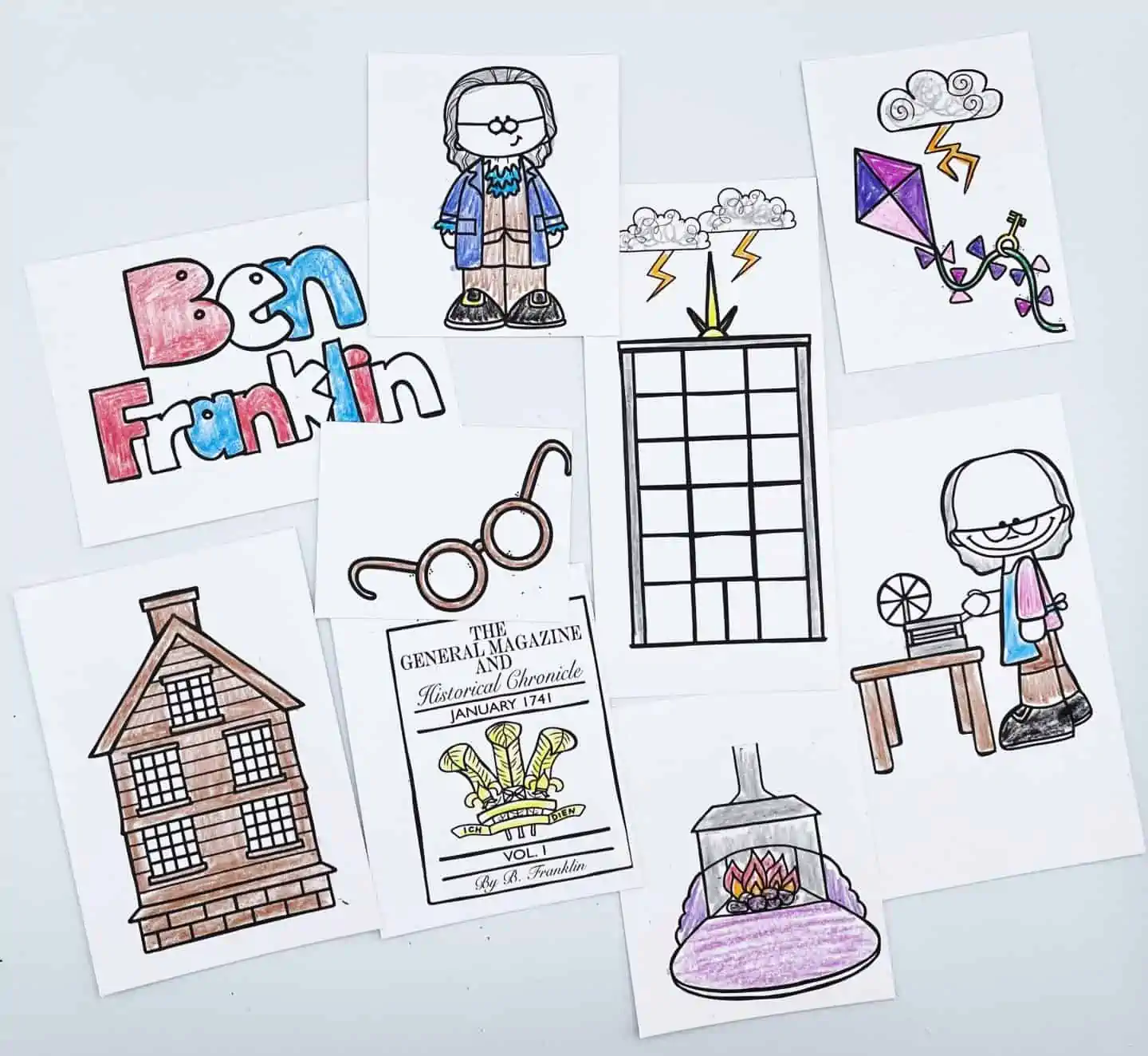 When the pictures are colored in, give the children the timeline words. If they want to they can color in the words too.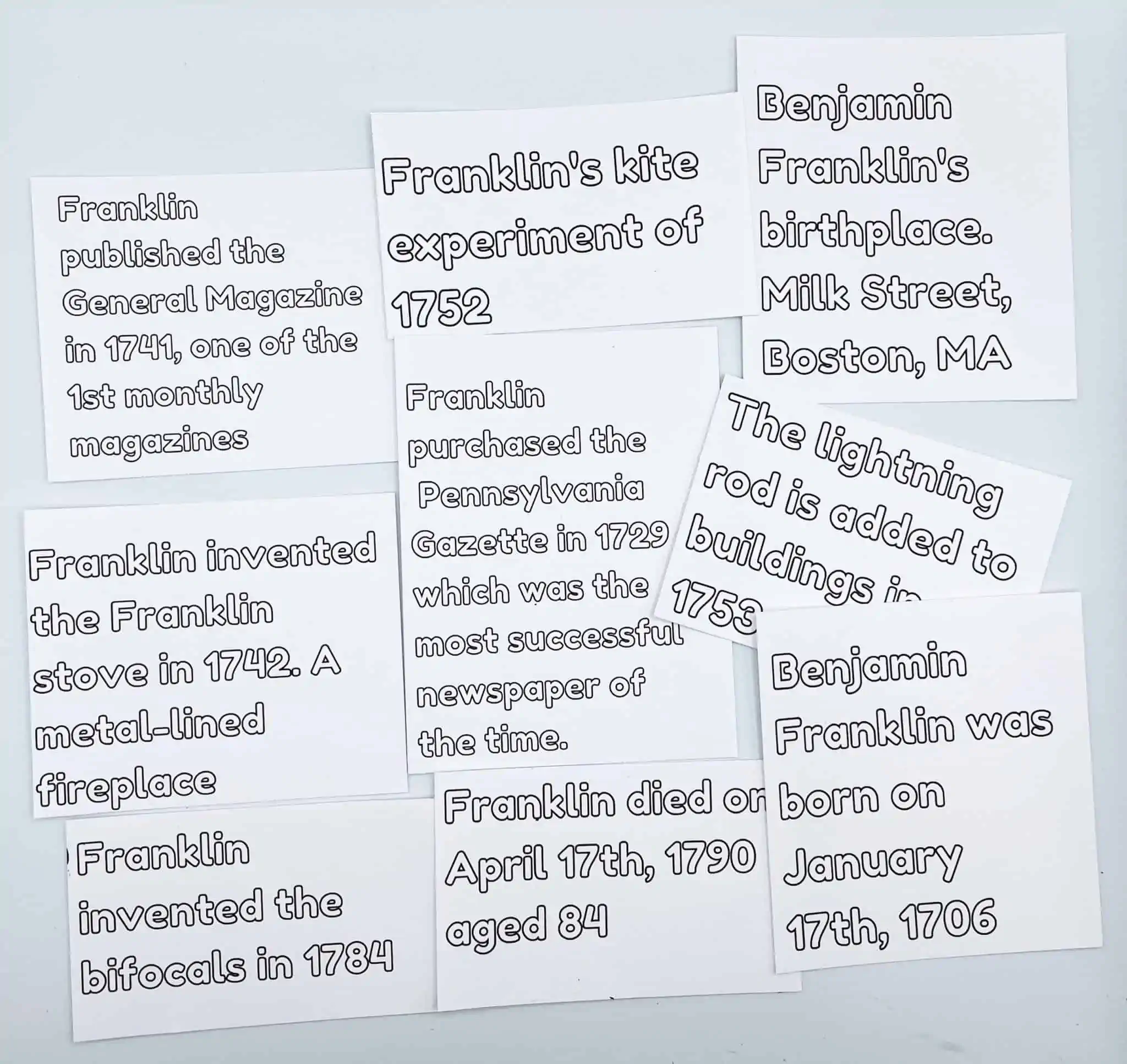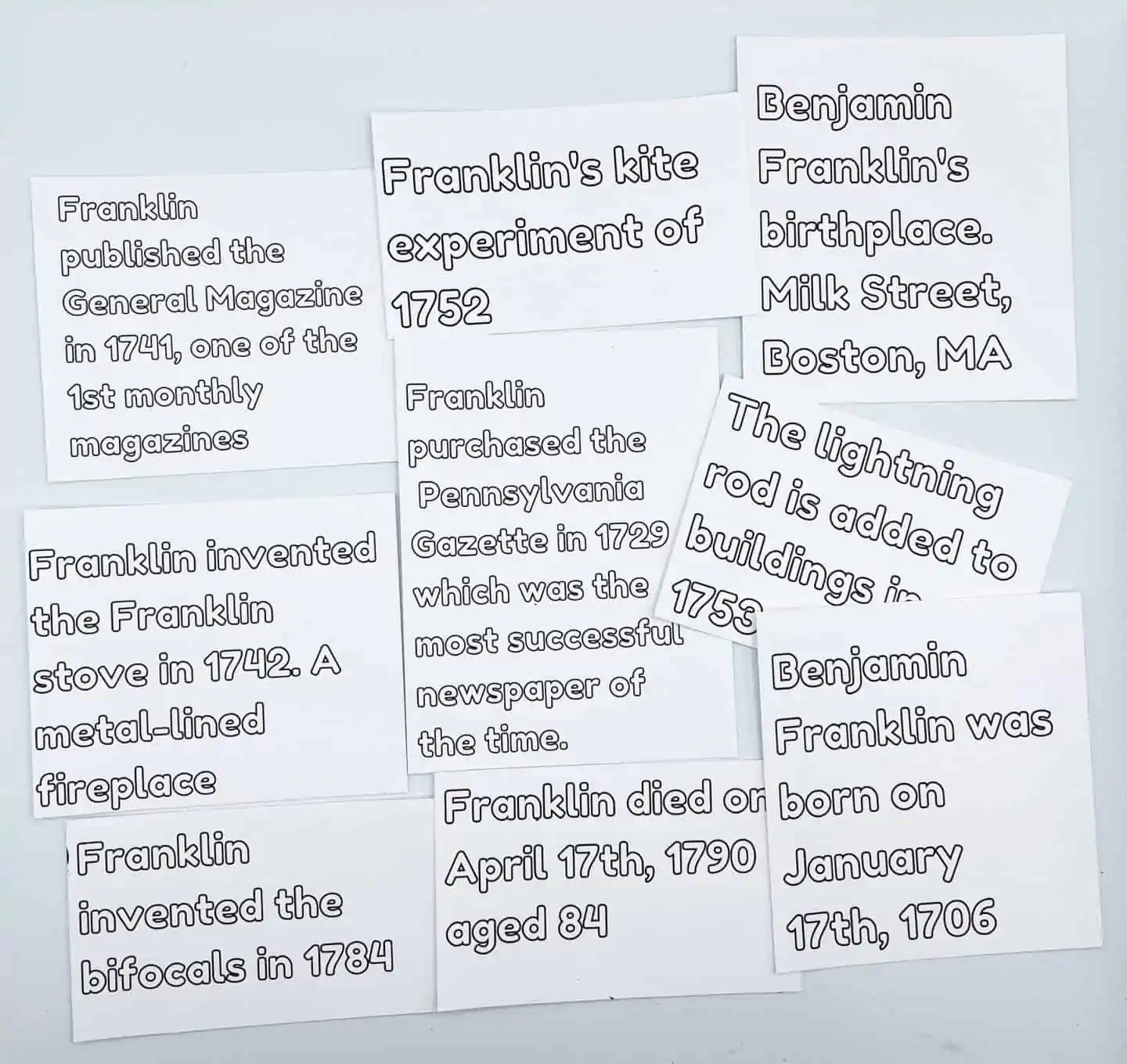 The children then need to match the words with the picture they have colored in.
Benjamin Franklin was born on January 17th, 1706
Benjamin Franklin's birthplace. Milk Street, Boston, MA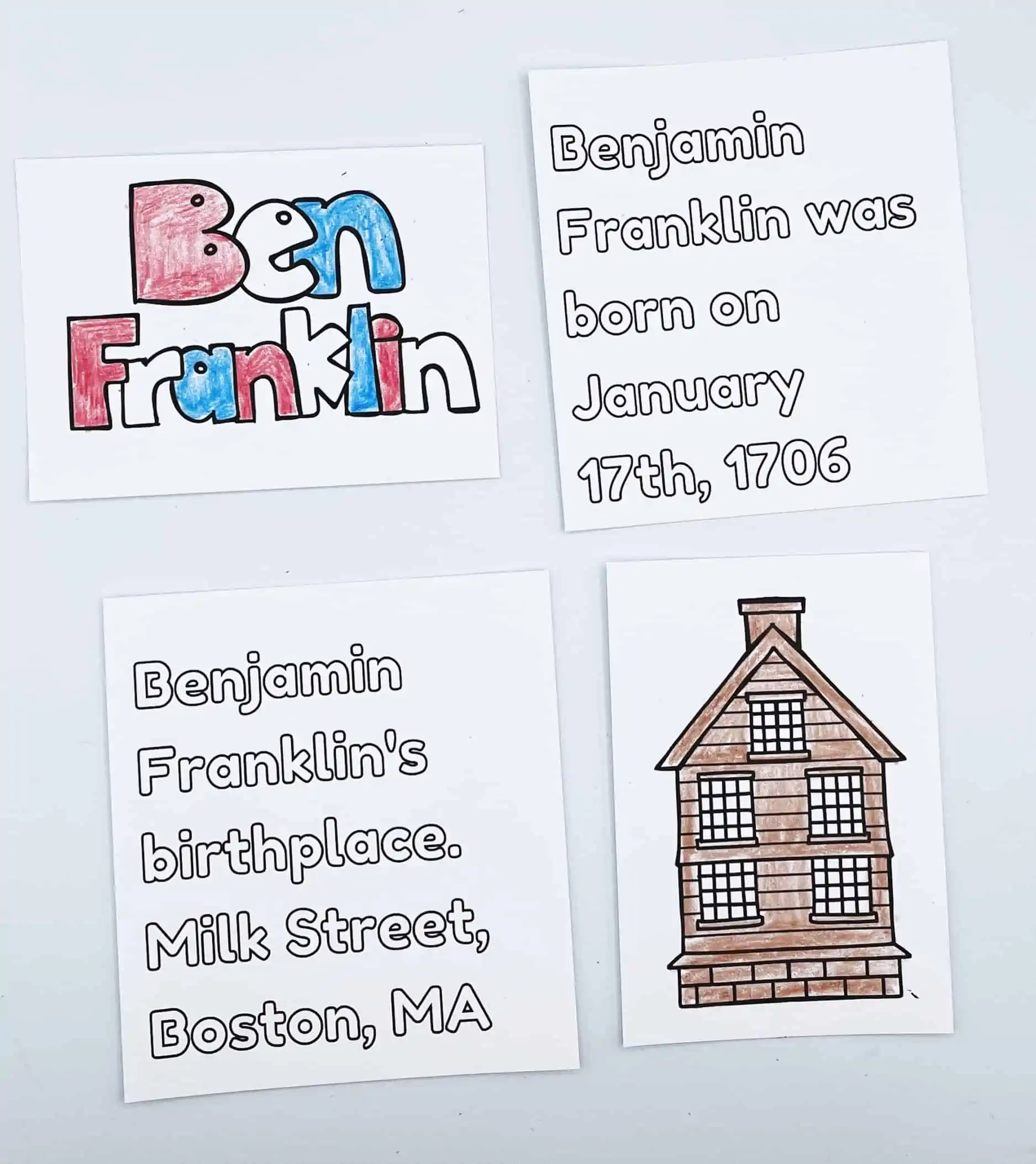 Franklin purchased the Pennsylvania Gazette in 1729 which was the most successful newspaper of the time.
Franklin published the General Magazine in 1741, one of the 1st monthly magazines.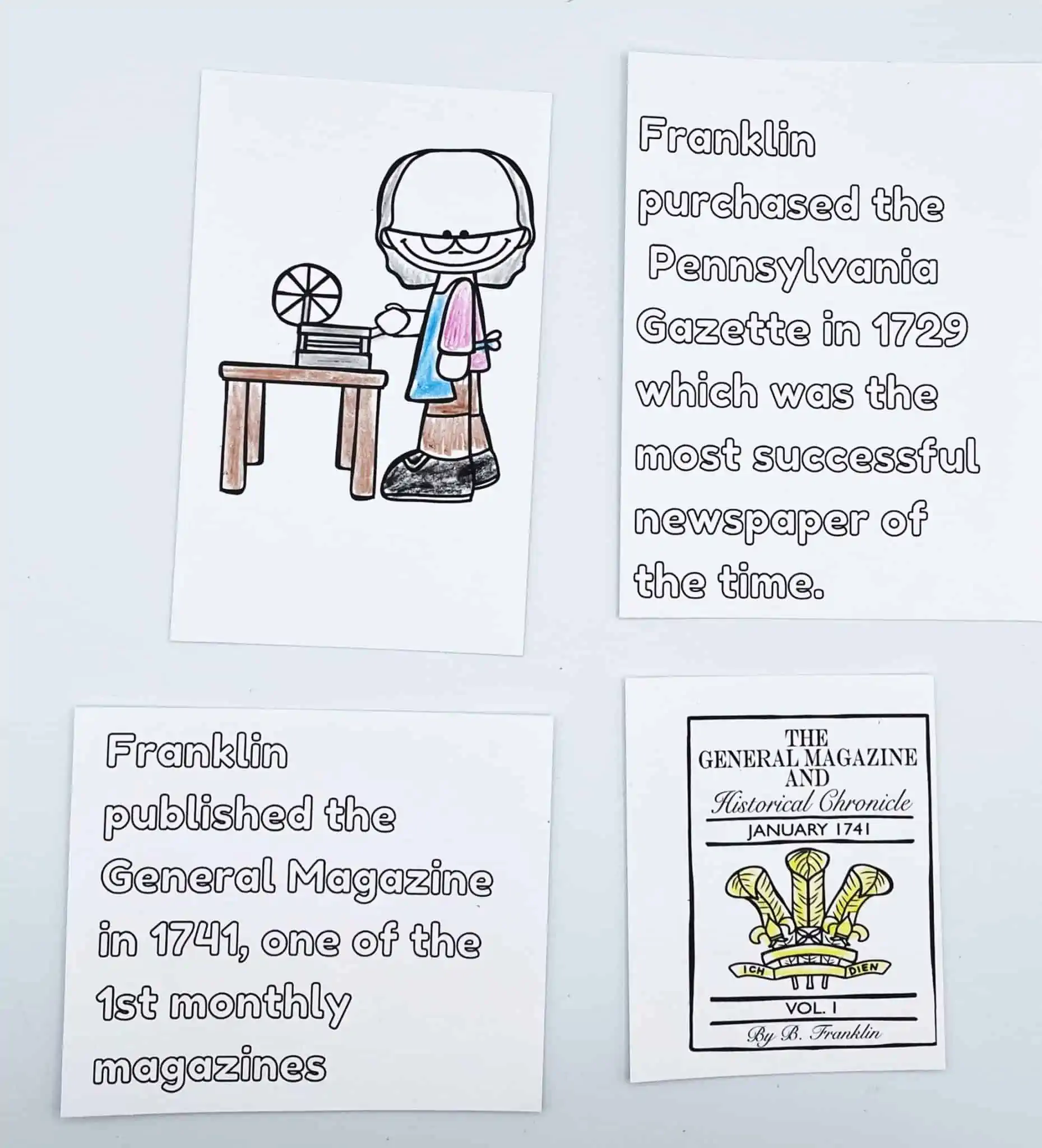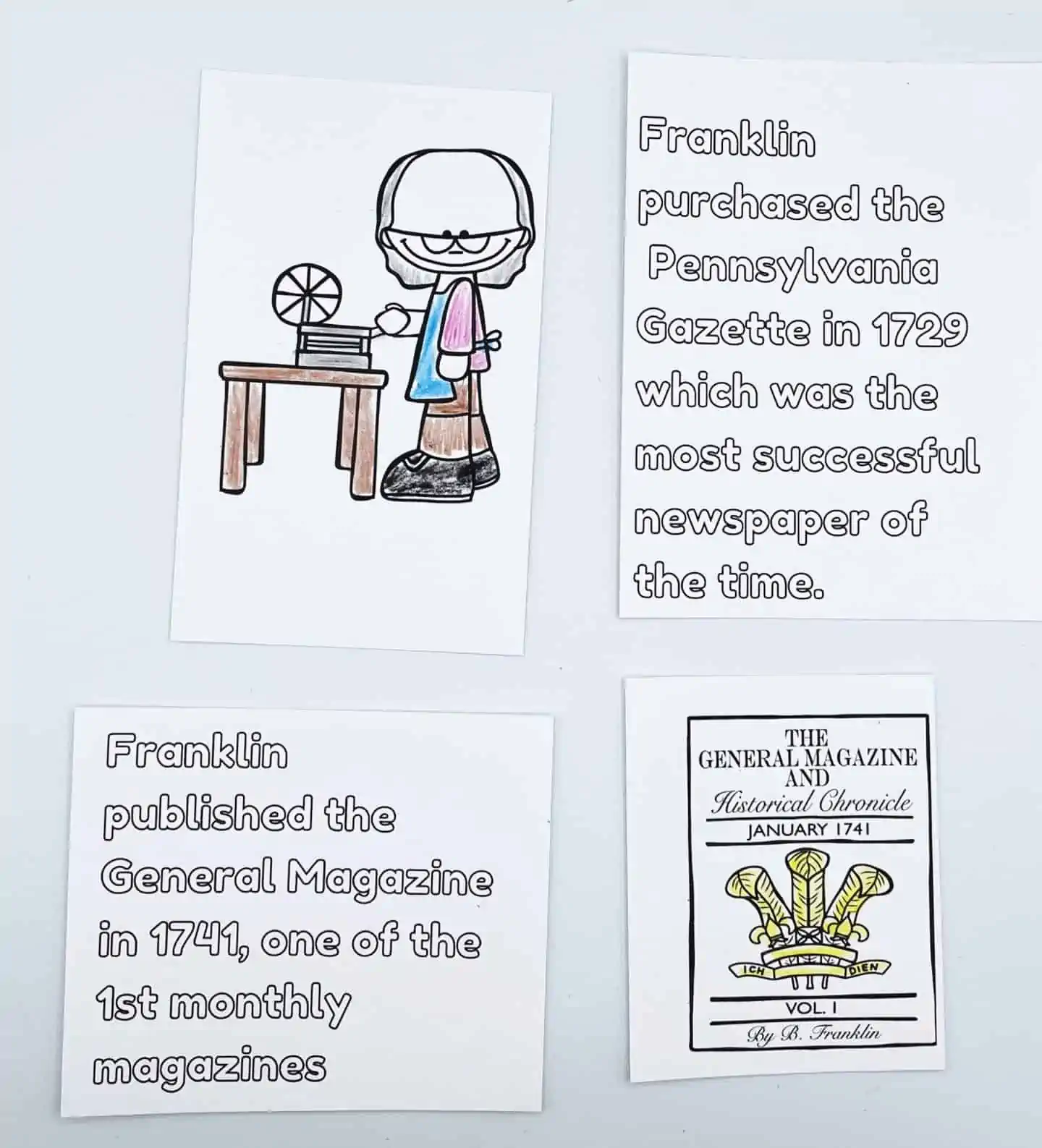 Ben Franklin invented the Franklin stove in 1742. A metal-lined fireplace.
Franklin's kite experiment of 1752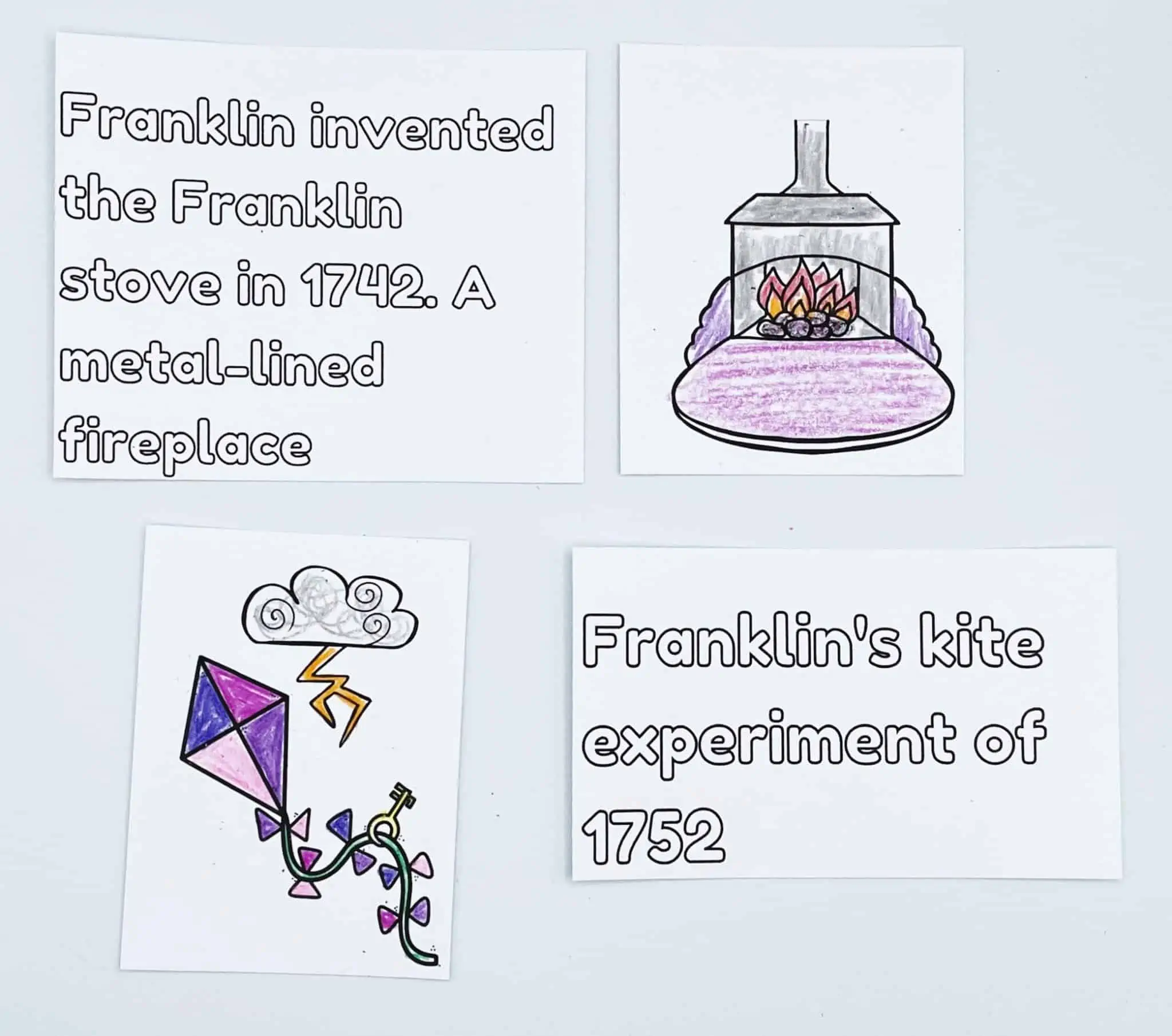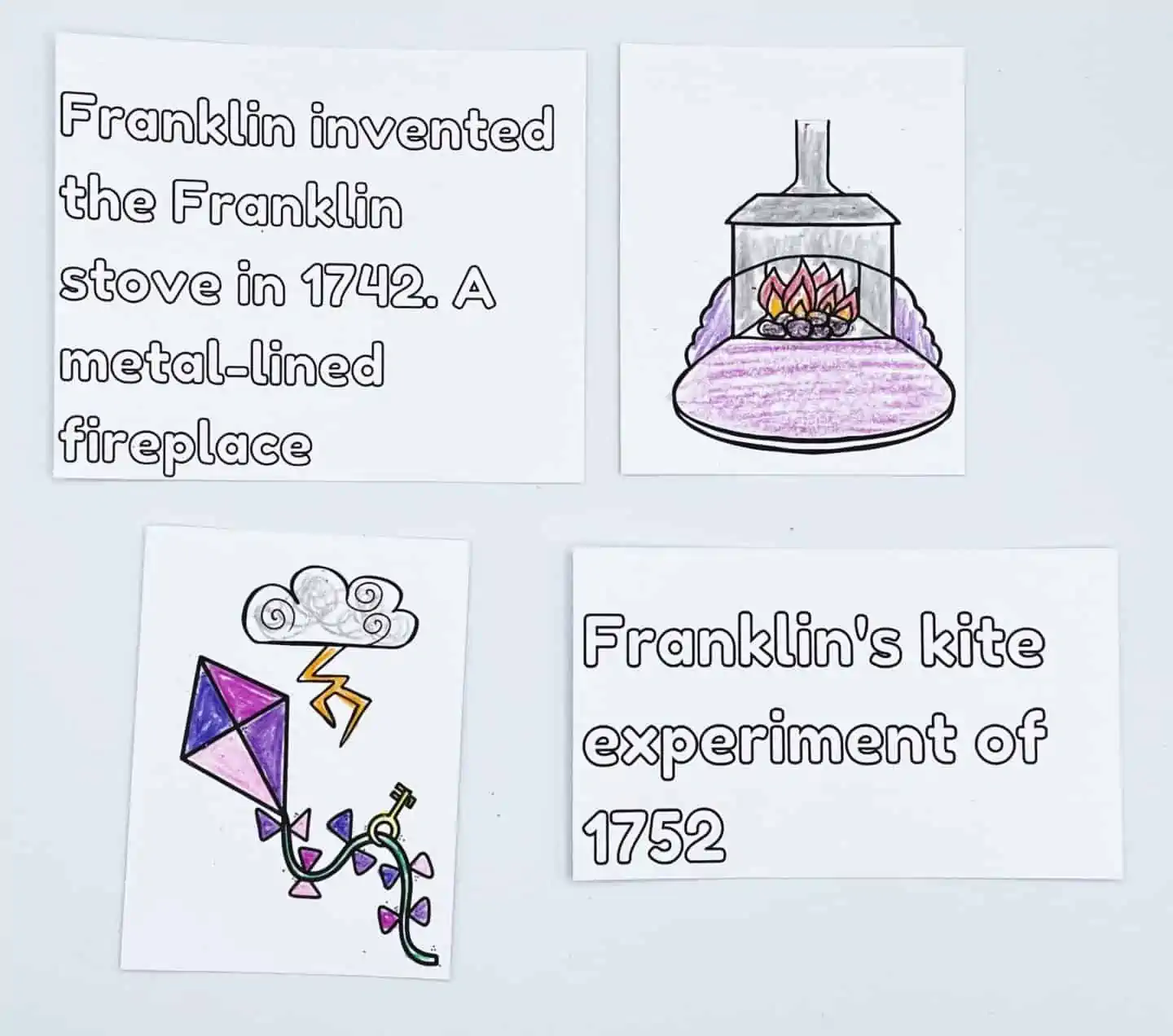 The lightning rod is added to buildings in 1753.
Franklin invented the bifocals in 1784.
Franklin died on April 17th, 1790 aged 84.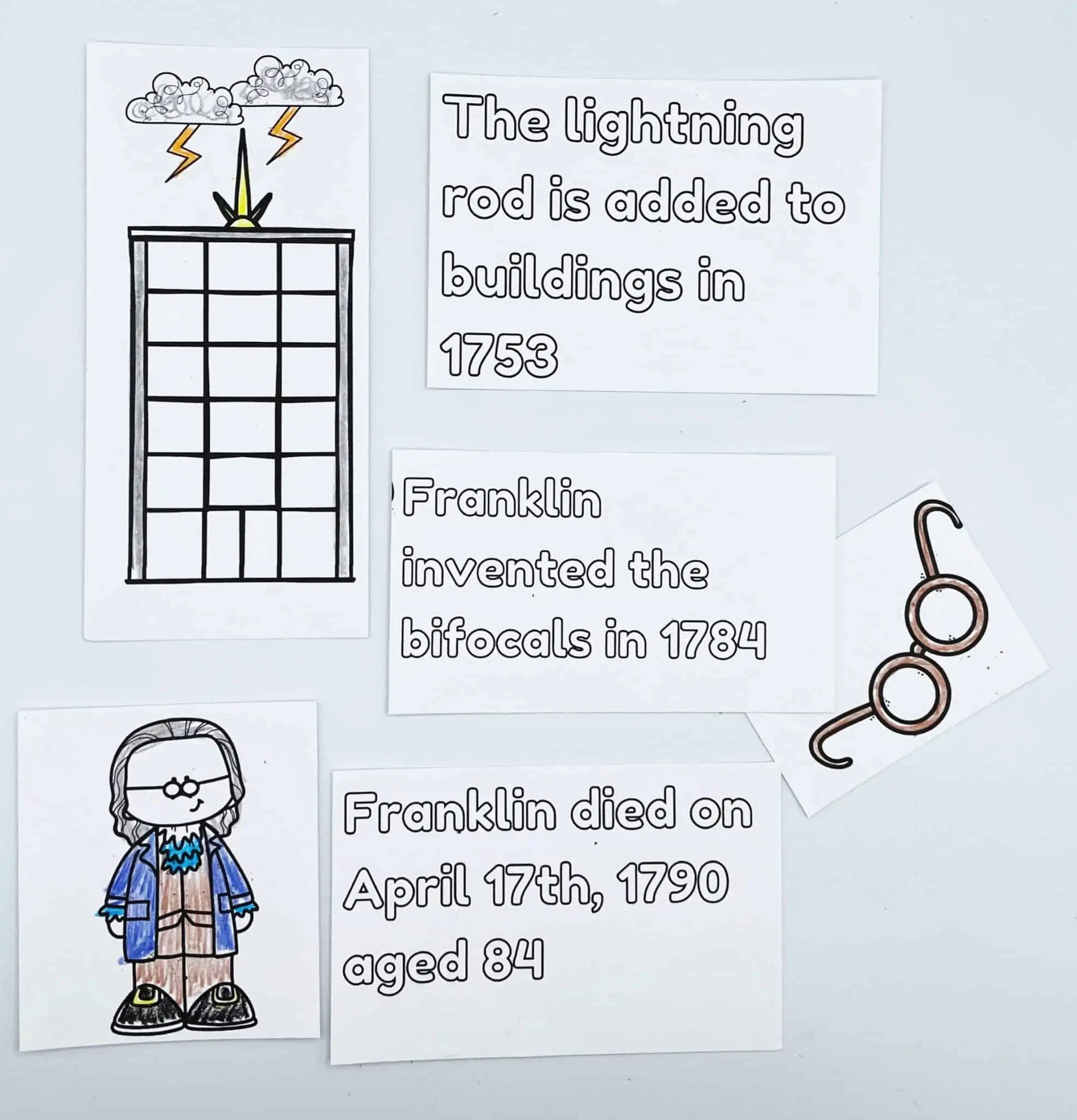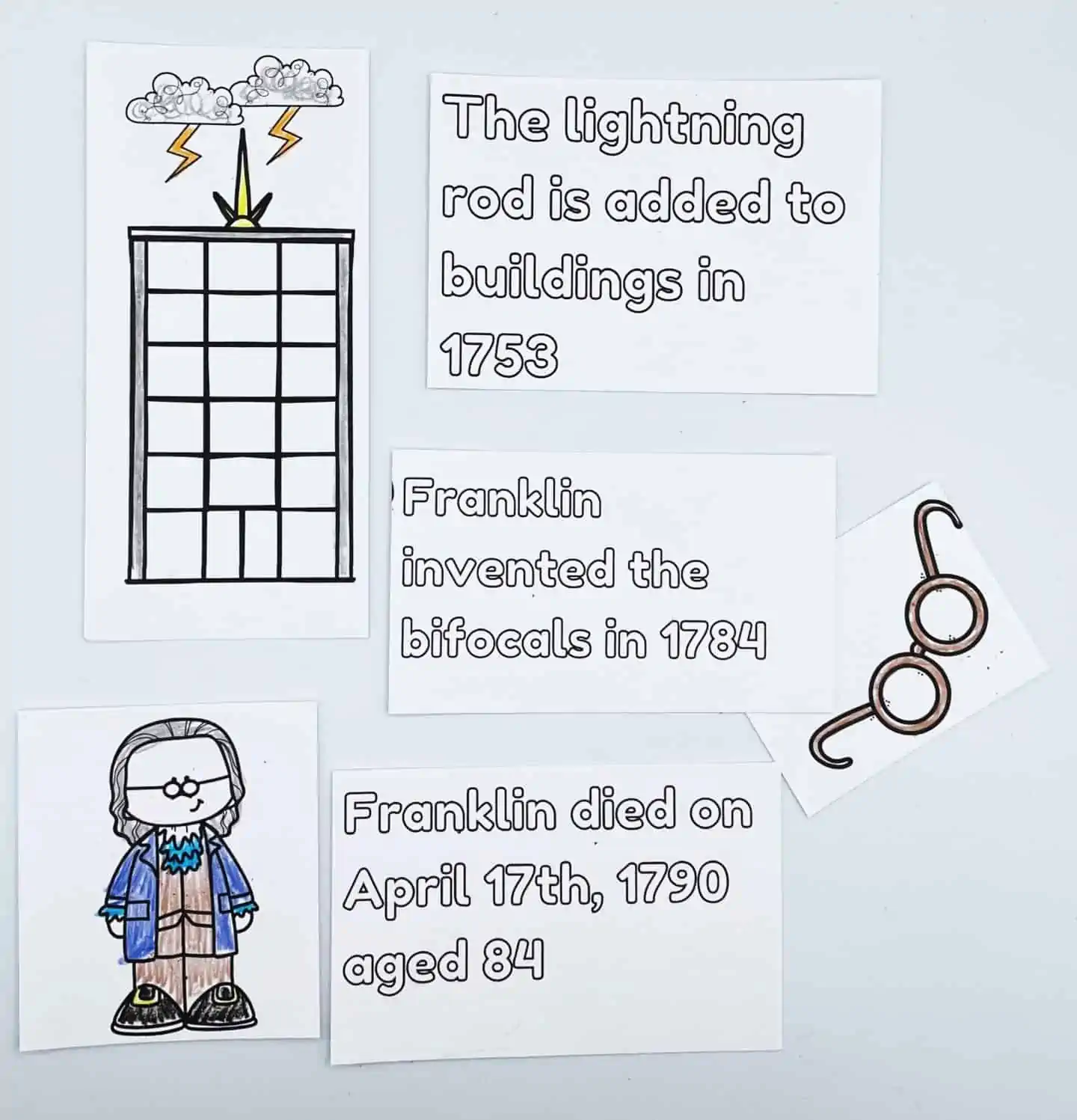 If you are interested in the best inventors of our time, download our free black inventors coloring pages. There are 10 amazing inventors to learn about in this worksheet.
When the kids have finished this why not spend another few weeks learning all about Benjamin Franklin with this unit study? This is a download and go printable and will take kids K-4 about 2 weeks to complete.
Additional free President's printables
We love creating free kids coloring pages, and we either use them as a supplement for a lesson we are studying or to calm the mood! Coloring is a great way for them to refocus and relax, and great for improving fine motor skills.
You will also enjoy our Benjamin Franklin unit study, featuring a research project, 2 coloring pages, and a poster.
Benjamin Franklin Books for Kids
If you are looking for more information on Ben Franklin I highly recommend these Benjamin Franklin books for kids.
Ben Franklin's in my bathroom is a hilarious book for upper elementary-aged students.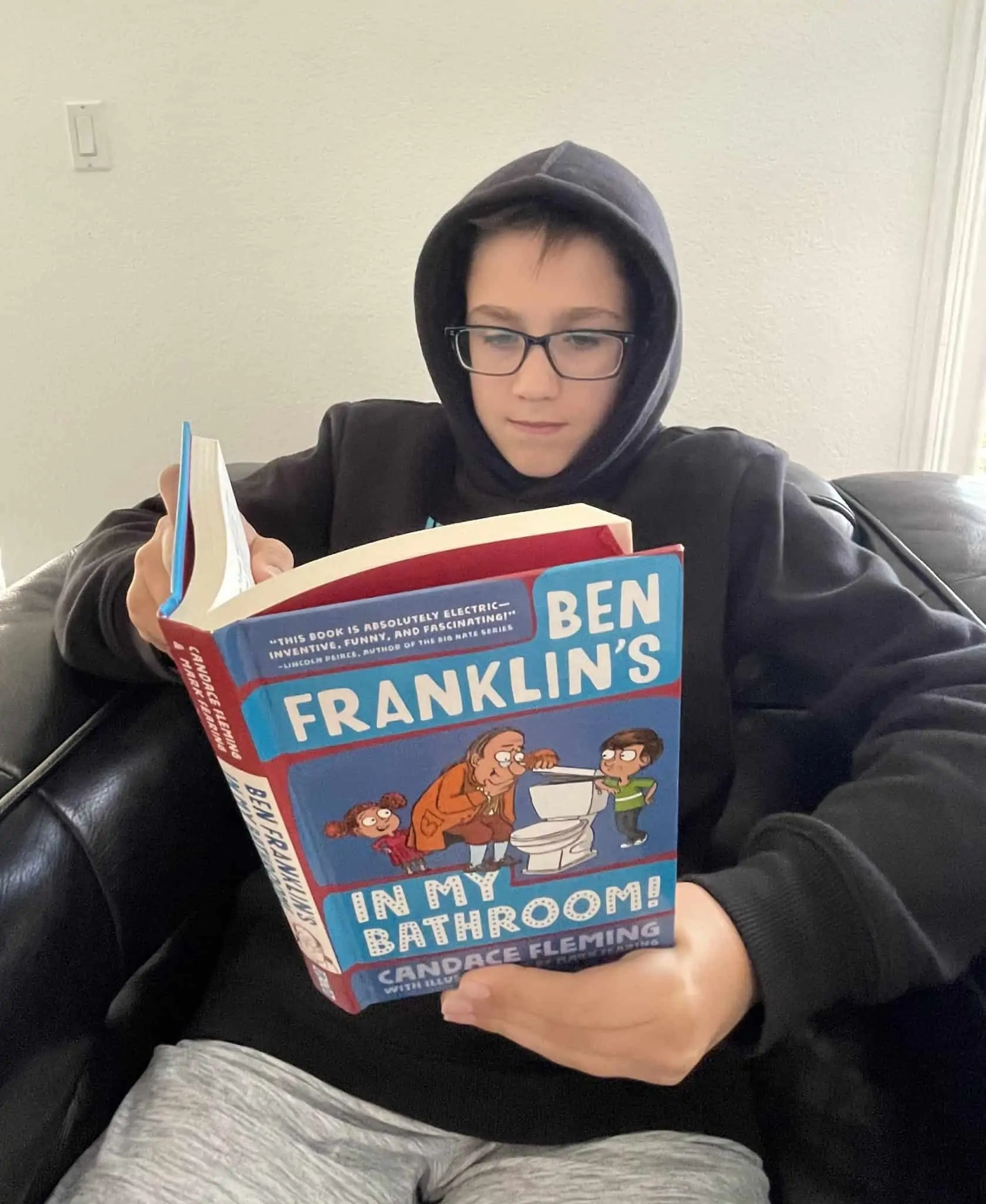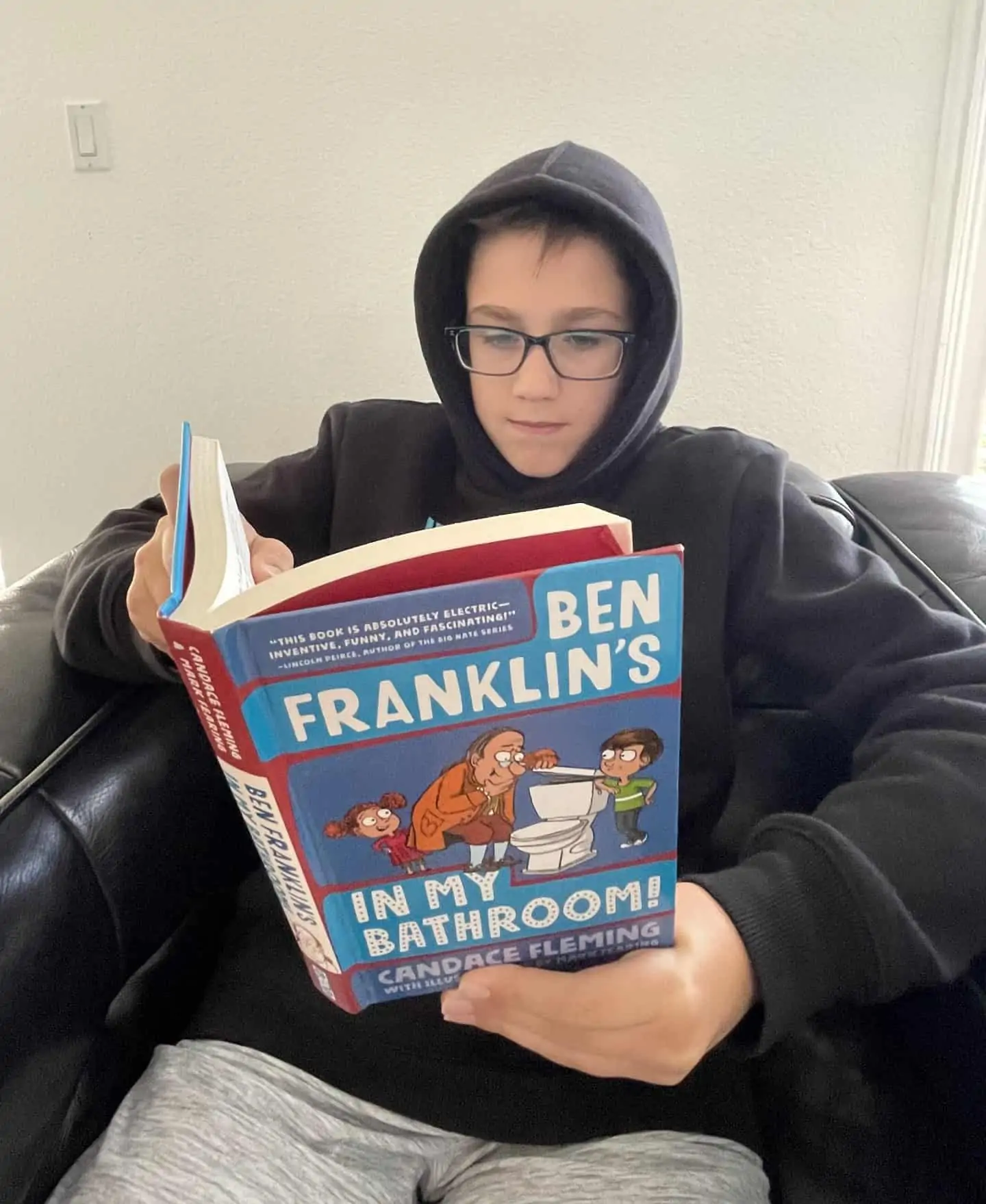 The Story of Benjamin Franklin.
Who Was Ben Franklin? Part of the who was book series, and as always this one is excellent.
Now & Ben: The Modern Inventions of Benjamin Franklin
You will also enjoy our favorite President books for kids.
Download the free Benjamin Franklin worksheets
Make sure you choose the correct paper size and click on the shrink to fit button. All of our free printables for kids work better when printed on cardstock (this is the one we use and love.)
Government Worksheets
For a small fee, you can download all of our government worksheets. There are 136 pages included in this download including:
The Constitution (10 pages)
History of the Flag (12 pages)
Supreme Court (15 pages)
Statue of Liberty (8 pages)
Franklin D. Roosevelt (10 pages)
Abraham Lincoln (11 pages)
Pledge of Allegiance (6 pages)
Founding Fathers (9 pages)
Thomas Jefferson (5 pages)
Government Worksheets (13 pages)
Bill of Rights (10 pages)
George Washington (13 pages)
Benjamin Franklin (4 pages)
Declaration of Independence (10 pages)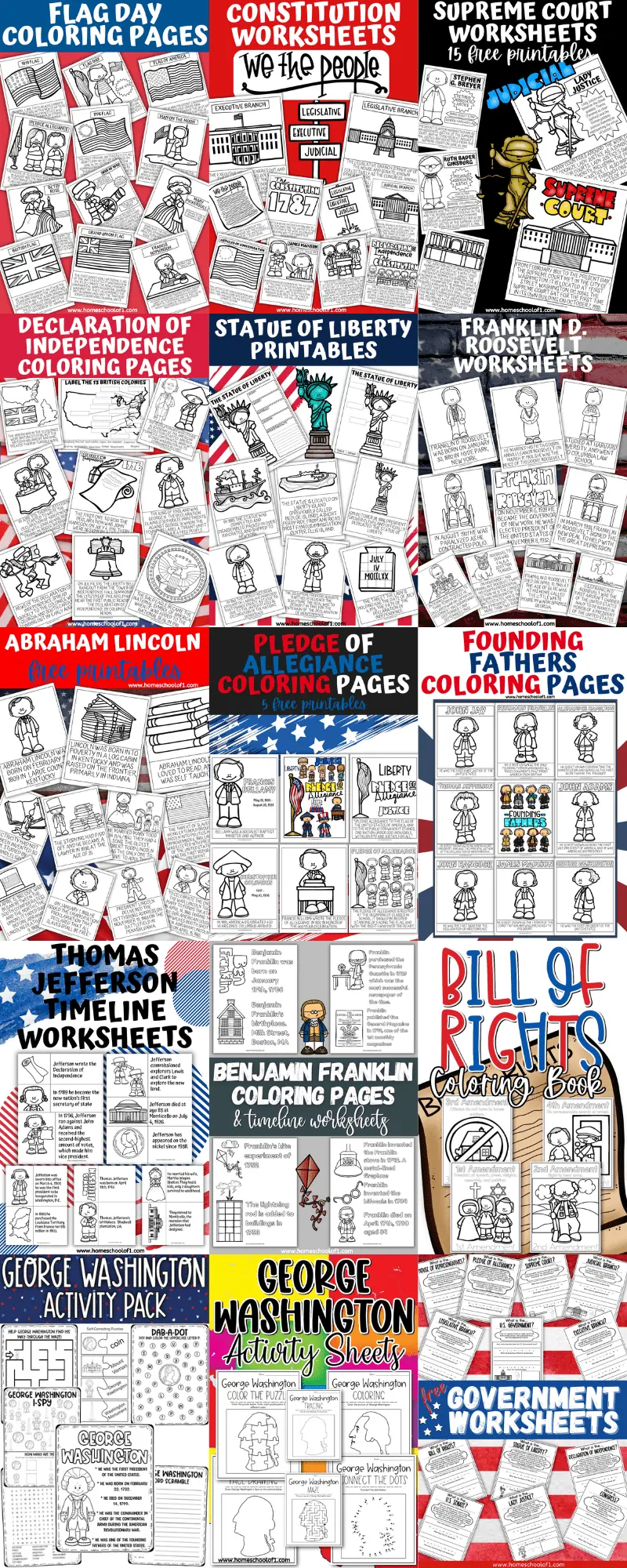 Last Updated on 2 August 2023 by homeschoolof1